If you're reading this, chances are that you think pigs are pretty cute. While we love horses, we also have a soft spot in our hearts for other friends on the farm, too. As part of our new series called Friends on the Farm, I reached out to the owner of Fluffy the Pig.
Fluffy is a pretty little pig with a heart of gold that you can't help but love. But she's so much more than just your average pig; she's got an important job to do, too. When she's not busy being a total cutie pie without a care in the world, she's helping others by making them smile and feel special. And, I must say, she looks downright adorable doing it.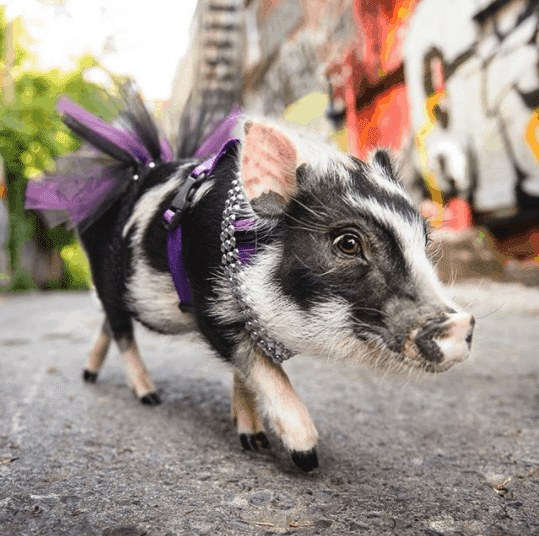 Everyone, meet Fluffy the Therapy Pig. A little girl who was born to spread her joy to the world. Fluffy is a certified therapy pig, and as her Facebook page states, she's all about "providing support and happiness to as many people as possible!"
Are you smitten with Fluffy the Therapy Pig yet? If not, just wait!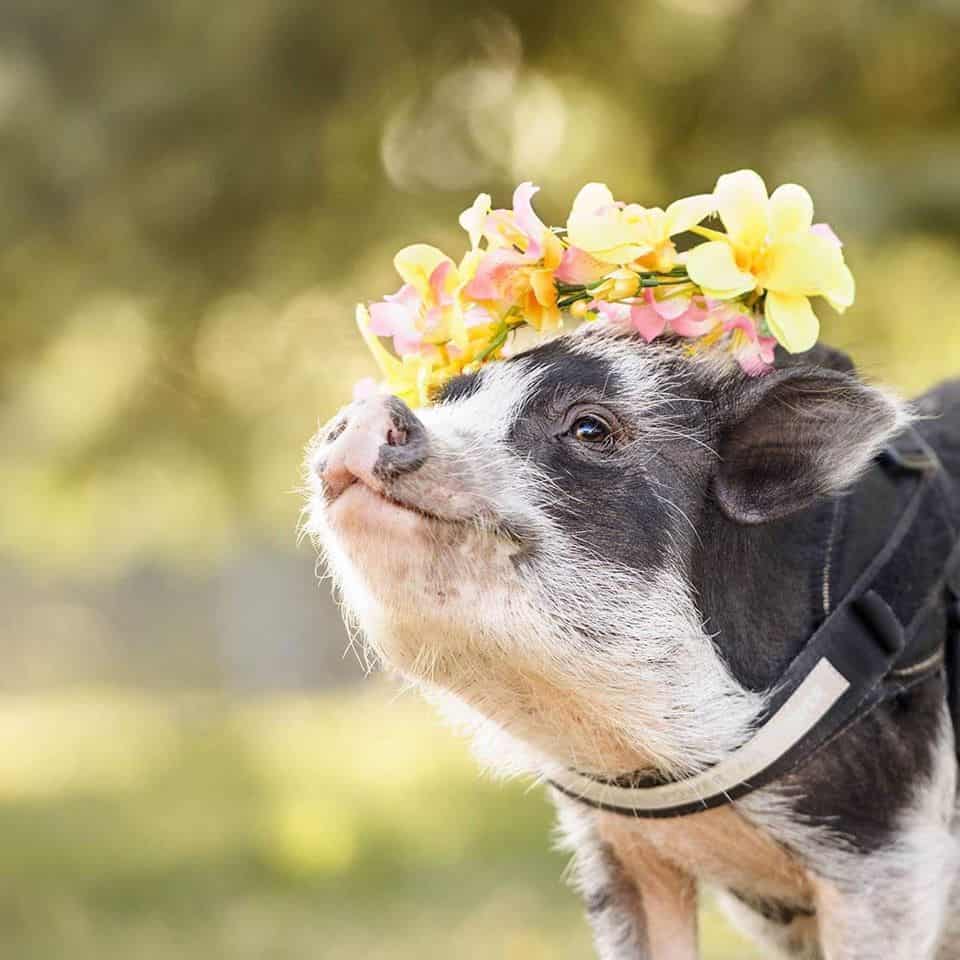 This gorgeous gal lives in Montreal, Quebec, and she's got company at home from other animals who work as therapy pets, too. Fluffy's owner, Erika-May Poulin-Pasmore, holds her Master's degree in Counselling Psychology and is a professionally trained zootherapist. And her company, Khalizoo, specializes in offering support services to the public. Some of the services that Erika-May specializes in include: senior care, grief, learning difficulties, and addiction, just to name a few. If you'd like to learn more about Khalizoo, please do so here by visiting her website.
Fluffy makes the cutest piggy pillow around the house, and she looks just like a little angel when she's fast asleep.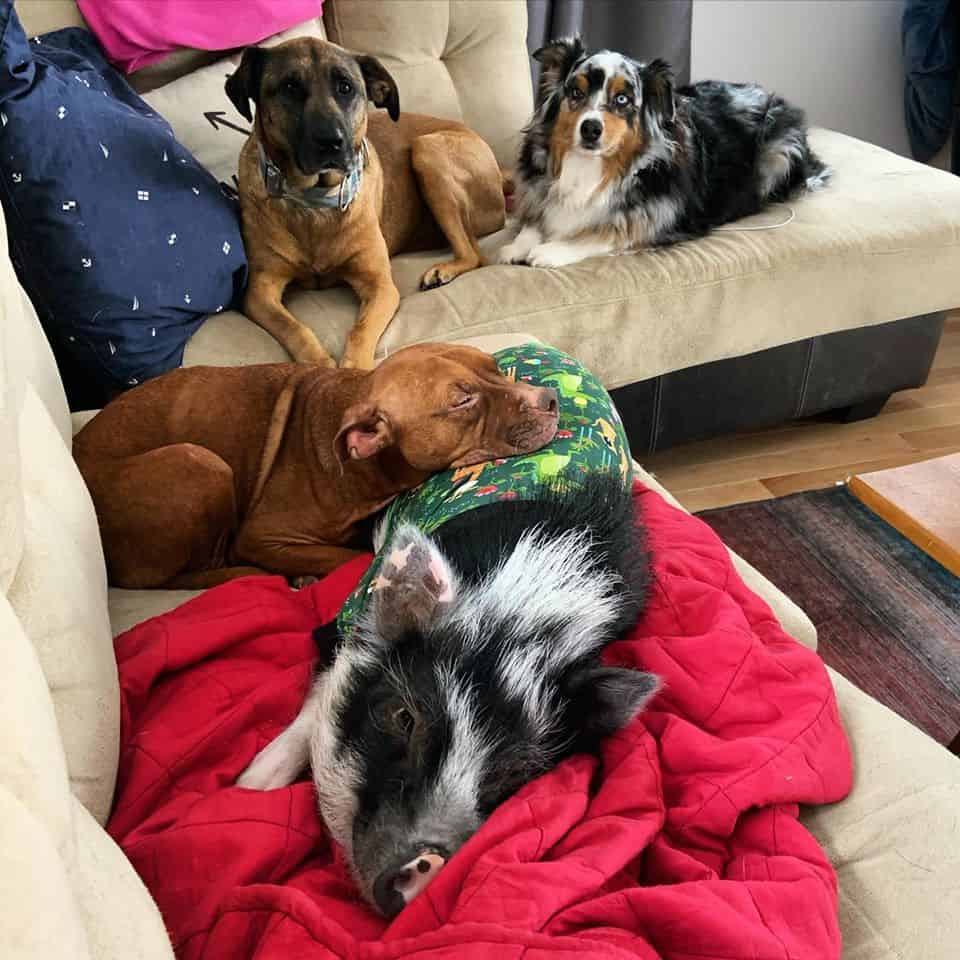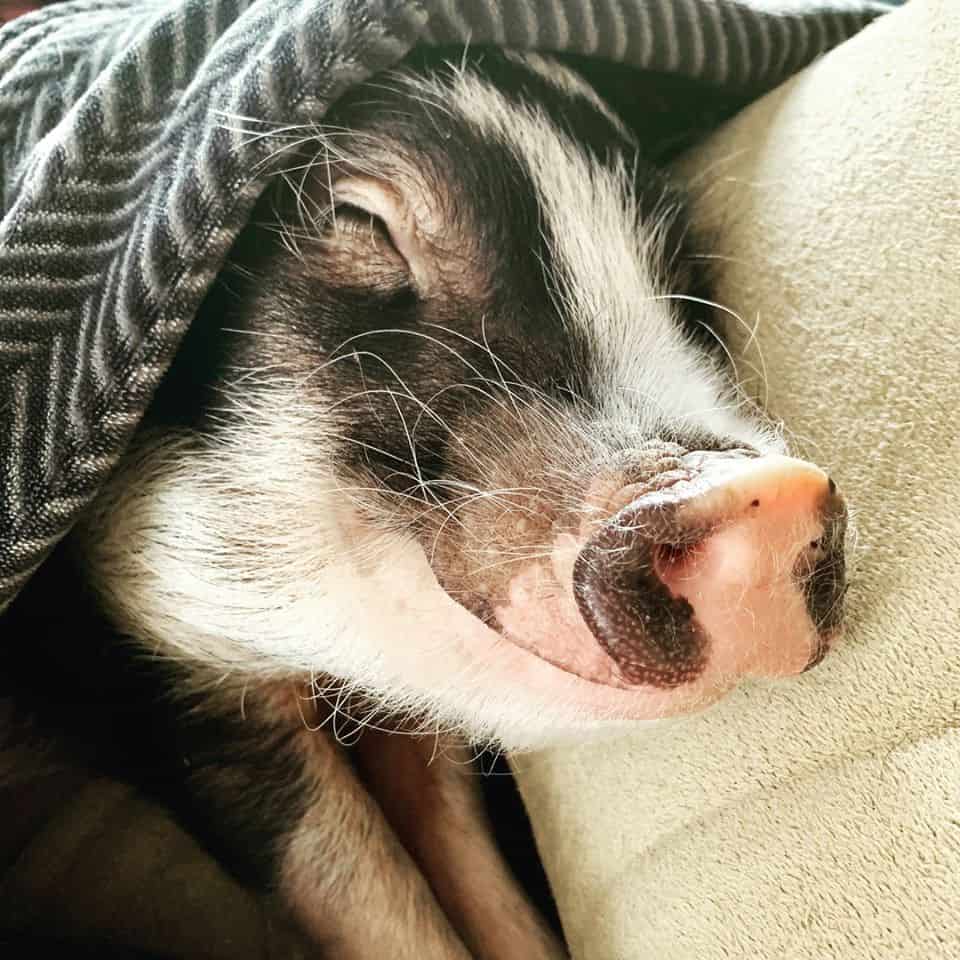 Want to learn more about this cutie pie? Check out the sweet answers that Erika-May gave me about the cutest little piggy you ever did see. Read our interview here:
How old is Fluffy, and how did she come into your life?
Fluffy is 2 and ½ years old. I was looking into a special more unique type of therapy animal (coworker) and came across a few people who had pigs. I got attached and, after doing some research about the proper care of a pig, I felt she would be a great work partner and family member.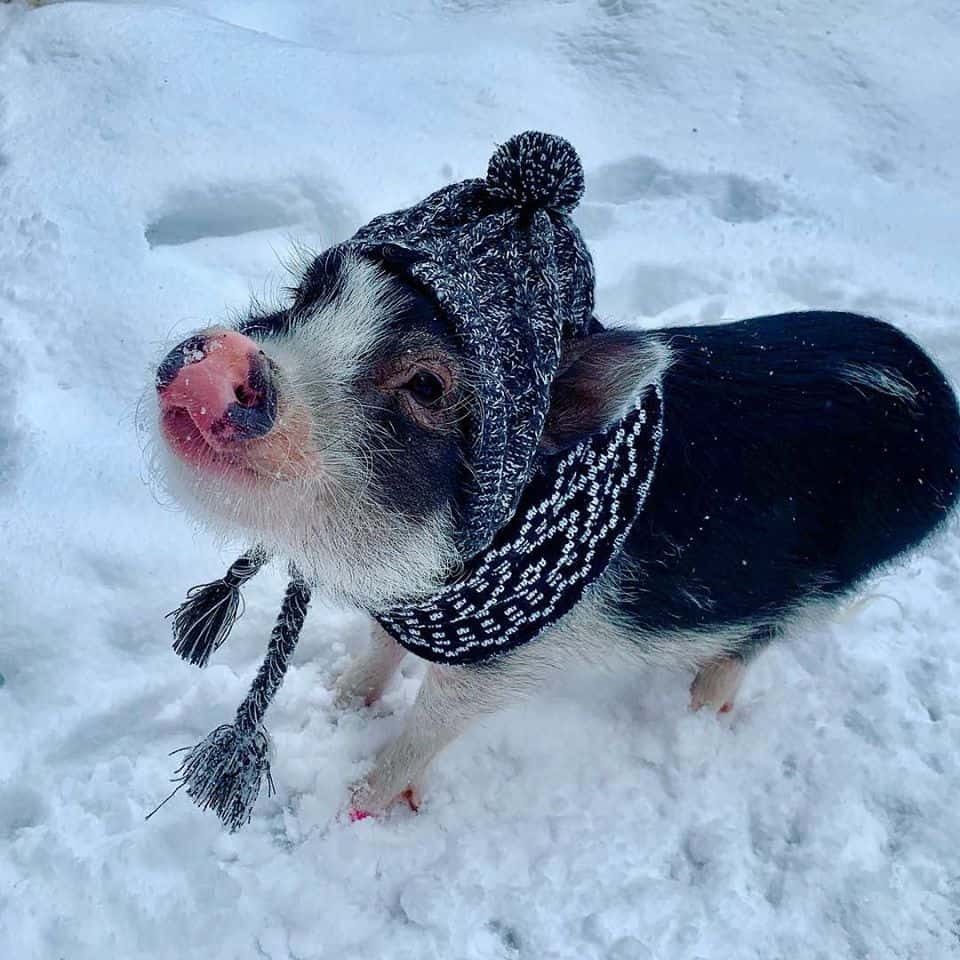 What made you know she'd be perfect as a therapy pet?
She started coming to work with me at about 3 months old, and she immediately connected with people. She seems happy when she comes to work but she gets spoiled, gets belly rubs, love, and treats, which doesn't make it feel like work.
Fluffy as a wee little piggy. Be still, my heart!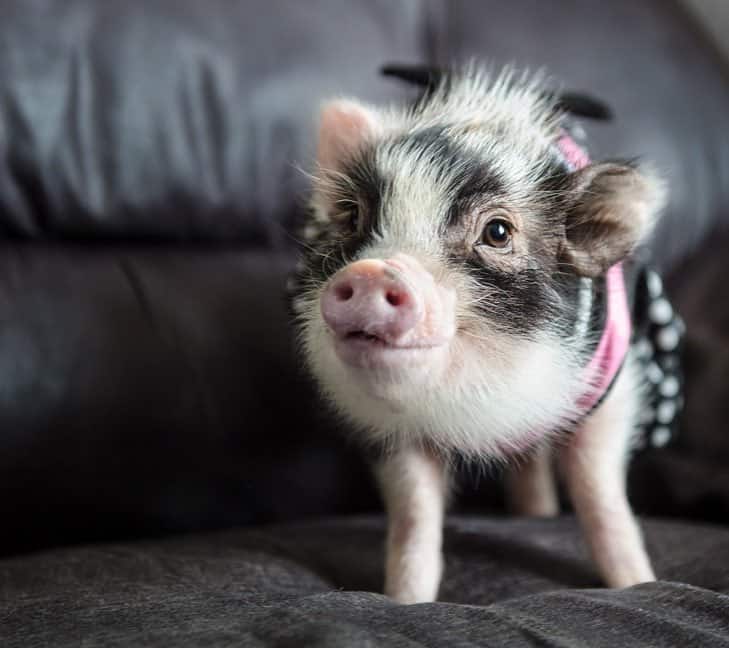 What's something special about her that you'd want others to know?
She is extremely affectionate and loves to cuddle but is also very intelligent. She has learned many tricks (which helps to stimulate her mentally), such as skateboarding, playing the guitar, sit, stay, turn, basketball, etc.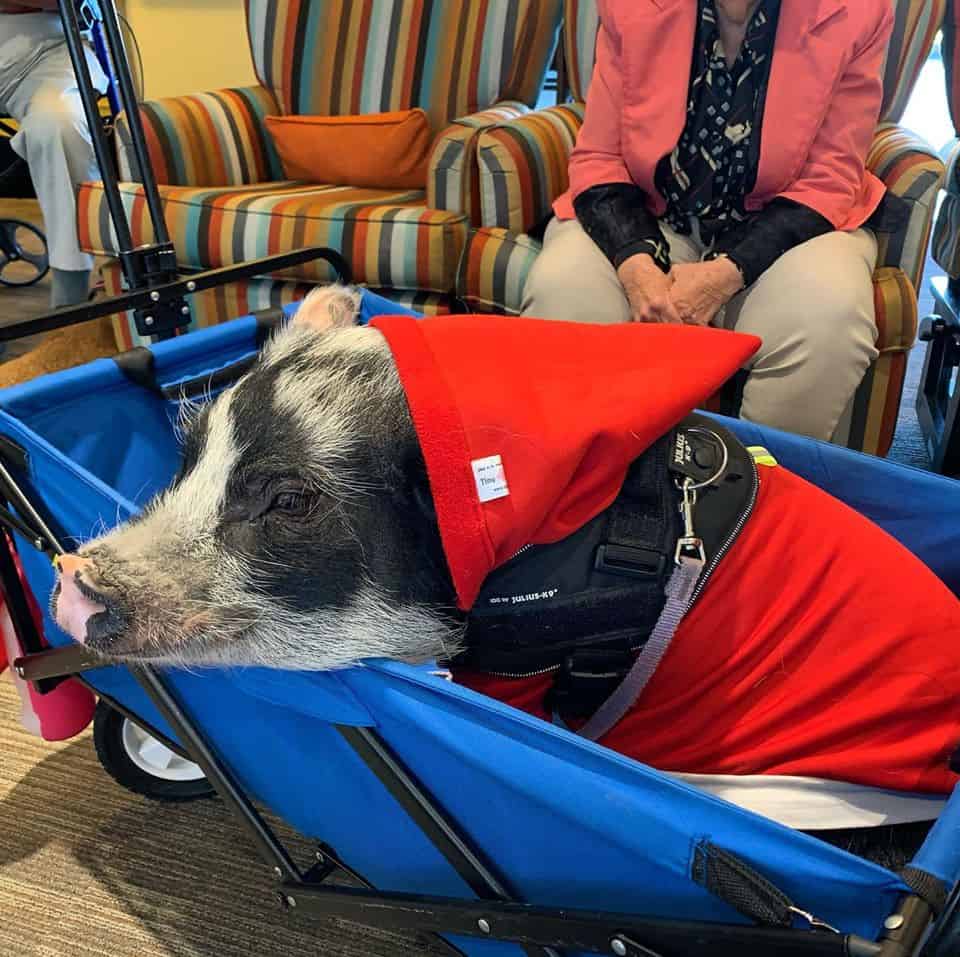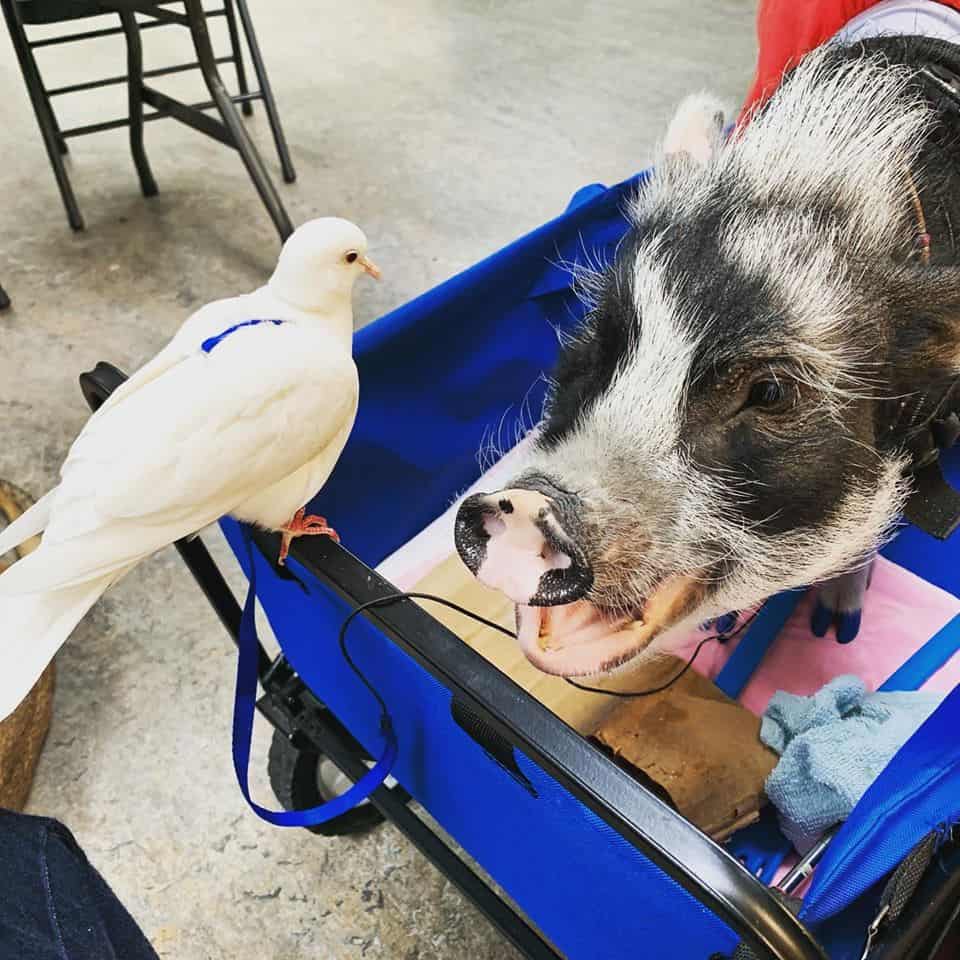 When Fluffy isn't helping others, what else does she love to do?
She loves to cuddle, eat grass, sunbathe, learn new tricks, and sleep.
I'd like to give a special thank you to Erika-May for allowing me to share Fluffy's sweet story with you all. I hope that you guys have enjoyed her as much as I do! Know someone who could use a smile? Share Fluffy with them to brighten up their day.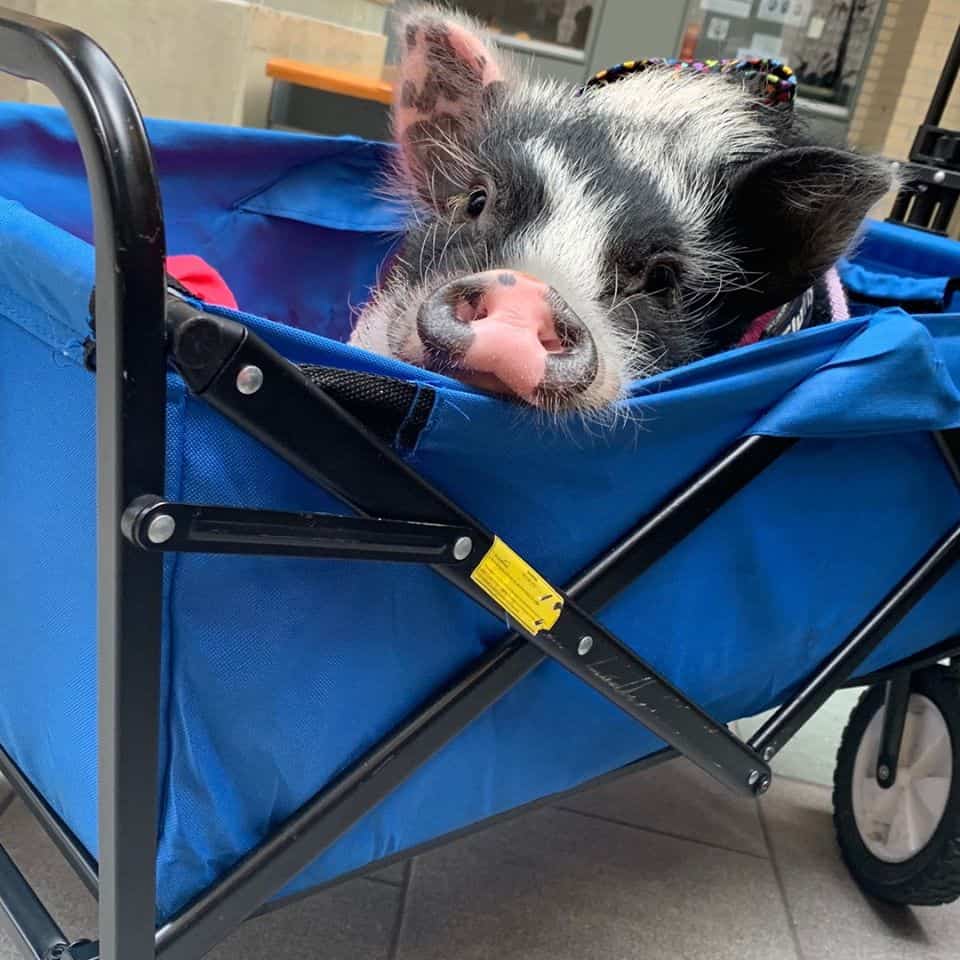 Want to keep up with Fluffy the Therapy Pig's many cute adventures and all around adorableness? Follow her here on Facebook, and find her here on Instagram, too.
All Images Courtesy of Fluffy the Therapy Pig
Want to read about some adorable therapy ponies who spread cheer to seniors suffering from dementia? Check out this story here on iHeartHorses.com.