For a while now, I have been obsessed with vloggers and YouTube content especially all things horse-related. There is just something about ending my day watching videos about beautiful horses. Whether it's a heartwarming story or something I need to know to better take care of my own horses, this list has something for everyone. You are sure to love at least one of these if not all of these YouTubers!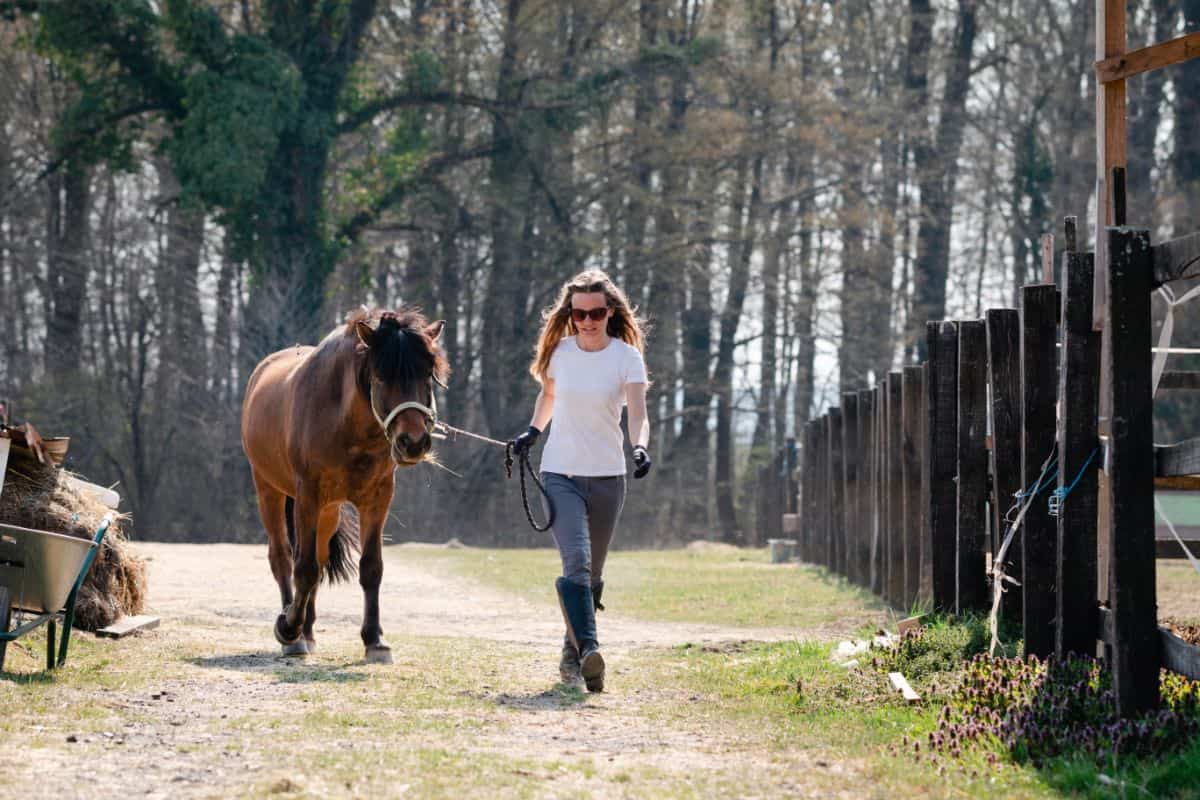 Top YouTube Channels for Horse Lovers
It's so easy to watch a quick video and learn a new horse-related skill, hear about another equestrian's life, or learn more about horses in general. Here is a list of some of my personal favorite YouTube channels ideal for horse lovers. There are tons of great ideas found, videos to cheer you up, and information to make your life with your own horses better.
If you like social media, you might also like our list of TikTok channels for horse lovers. Of course, you may also like heartwarming videos like this one of Arnold Schwarzenneger and his mini horse. So many great videos to appreciate!
Ally Wilson
First up is vlogger Ally Wilson. She is a twenty-something vlogger from Northern Ireland. She shares the adventures of her three horses as well as show videos, riding videos, tutorials, and day in lifestyle videos. She calls herself a passionate eventer and show jumper. She is fun to listen to and I always enjoy hearing her perspective on all things horse-related. Although she hasn't presented any new content in a while, there are plenty of videos to search and enjoy.
This Esme
I must include This Esme on my list because Esme is fun to watch and gives an interesting look at life with horses in England. Her videos are day in the lifestyle vlogs, horse care videos, and riding videos. It's easy to see that she is a real animal lover!
HorseClass
Another great of the top YouTube channels I love is HorseClass. Just as the name implies, this channel provides videos full of lessons, tips, and information on anything and everything horse and rider. There are a variety of instructors so that you never get bored and are always learning from more than one point of view.
US Equestrian
If you are a competitive rider or enjoy watching equestrian competitions, then the US Equestrian YouTube channel is a must watch. Along with a lot of competition videos, they do videos where you get to meet the elite competitors as well as grand champions. There are some teaching videos mixed in as well.
Julie Goodnight
A trainer for riders of all disciplines, Julie Goodnight is well respected for her ability to help riders feel more confident and grow as a rider. She shares her knowledge of horse behavior and gives many practical and easy to follow resources for working with your horse. Julie is a natural teacher, easy to listen to and her channel is packed with videos.
Lauren Allport
Lauren Allport has to be included on a list of top YouTube channels if you love horses. Not only is she an avid rider, but she is also an animal chiropractor and equine sports therapist. Her videos are a mix of all things horse-related.
Free Spirit Equestrian
Shae Manning from Free Spirit Equestrian is always fun to watch. I love this real look at life with a horse. From her dedication to making her childhood dreams come true, to the fact that she is in my own home state of Michigan, she has become a favorite on my list.
Discover the Horse
While this channel has a lot to share, I love Discover the Horse for the compilation of videos of beautiful horses around the world set to soothing music. I can pull up one video and have it playing while I work. It's simple background music that is soothing, and should I glance over at the screen, I will love what I see! This channel is a self-proclaimed, "equine education project, equestrian vlog and adventure series that documents my journey to ride every horse breed". You will love coming along for the ride.
Animals so Cute
While this is not just for horses, Animals So Cute is a personal favorite channel for those adorable little home videos of horses, and all animals, doing fun things each day. My favorites are the videos with horses and different animals like cats, dogs, and ducks. The personalities really shine through!
The Farrier
As a bonus, The Farrier is a personal favorite. While this is something a bit more detailed than you may not regularly need information on, as a horse owner, it's nice to know more about what goes into keeping their hooves healthy. Plus, I have learned valuable information about seeing warning signs that I might otherwsie overlook.
This is just a small list of YouTube channels to consider. There are so many great options out there, and many are sure to be informative, or fun to watch! Please comment and let us know your favorites.
More Horse Tips