TikTok is all the rage these days with teens and adults alike. One of my favorite things about the app is that I have found so many fellow horse lovers! In fact, there are so many great accounts I just had to share a few of them with you. Below you will find the BEST TikTok horse accounts that you should be following for inspiration, happy stores, rescues, and more!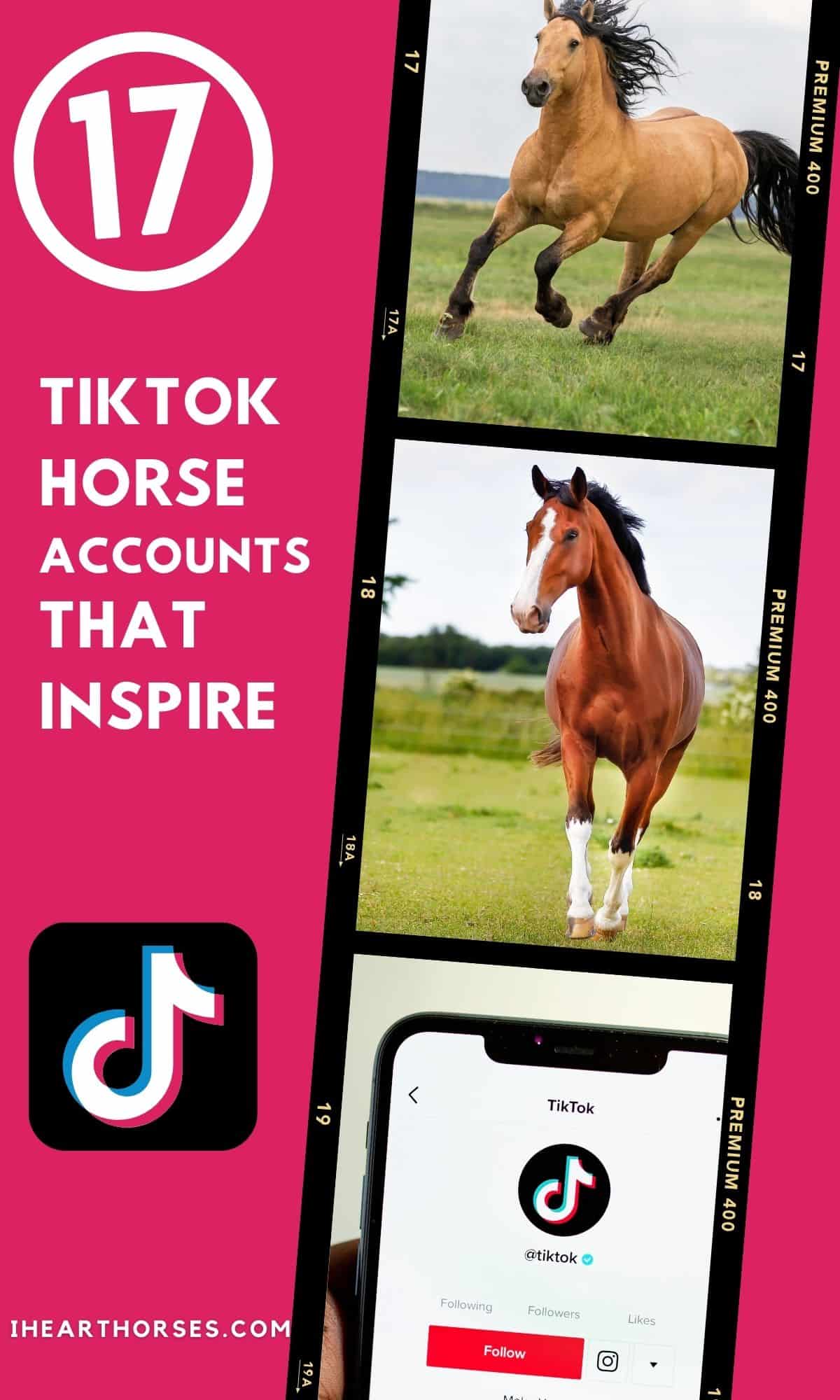 TikTok Horse Accounts To Follow
If you haven't hopped onto the TikTok trend yet, it's a fun app that has clips from 15 seconds up to 3 minutes. While it is widely popular with younger individuals for fun dances and similar little "skits", it is also a great place for connection with like-minded individuals. A quick search of a topic will give you thousands of options of accounts and individual videos that are perfect for entertaining you for hours. Now, to some of my favorite accounts!
If after watching these videos you find yourself wanting to work with rescued horses, we can definitely help lead the way. First and foremost, I would recommend reading this post about things to consider before rescuing a horse. Sometimes, you are just not the best fit for a rescue. Additionally, there are ways to help local horse rescues and even some reasons you should volunteer for a horse rescue. And if you don't know where to begin, here are some ways to find a great horse rescue near you.
OhKay Tacos
I stumbled upon this account with their story of Big John. A rescue horse, Big John once worked for Amish farmers. He came to them damaged, hurt, and a ghost of the strong workhouse he should have been. With love and attention, he now shines and is a loving and sometimes playful horse that I can spend hours watching videos of. Definitely give them a look for some heartwarming stories!
Follow OhKay Tacos HERE.
Horse Humane
This account is new to me, so I haven't been able to catch up on all of their videos. However, what I have seen shows me they truly are all about giving horses a wonderful and humane life. They rescue from auctions on a regular basis and work hard to rehabilitate horses and other animals to be the best they can become.
Follow Horse Humane HERE.
Payton Christian
The Christian Farm rescues many animals, including horses. They have some of the most incredible stories of rescue and rehabilitation i have seen. If you need to feel better about your fellow human beings, this account is going to show you just how far they will go to rescue an animal in need.
Follow Payton Christian HERE.
Poortershoek_Fresians
The name says it all. If you are a fan of absolutely gorgeous Fresian horses, then you will love watching the day-to-day lives of them through short clips on this account. I especially enjoy watching clips of the horses here being sneaky to get out for extra treats, or just being big playful goofs tossing toys around in the pasture.
Follow Pooertershoek_Fresians HERE.
Broncs and Donks
Unlike the ones above, this is more about what they are doing out on their horses, and yes, mules or donkeys. This account also has a matching YouTube account with long-form videos. You'll find great visuals of what it's like to truly be "out on the trail" like a real cowboy.
Follow Broncs and Conks
HERE
.
Rand Ranch Minis
If you have ever wanted to see what a mini horse would be like, this is the account to check out. It is solely dedicated to their ranch of 24 rescued miniature horses. Definitely, a fun account to follow with inspirational and heartwarming videos on a daily basis.
Follow Rand Ranch Minis
HERE.
Erinn Reid
If your interest is more in show horses than in the cowboy vibe, this is a great account. Erin is an equestrian that shows her horses in daily adventures, with fun dances beside them, and behind-the-scenes tips from years of experience. Oh, and she is Scottish!
Horse of My Dreams
The short and fun clips of Karina and Wester make this account a joy to see pop up on your FYP. They often use trending songs to showcase day-to-day things like just giving snacks, bathing, or letting out to pasture. Always a pleasure to see.
Follow Horse of My Dreams
HERE
.
Maya Denis
Maya showcases clips of her jumping competitions along with daily clips of her horse. While the account is simple and features only one horse most of the time, it is inspirational to see a young girl focusing so much on her hobby and potential future as an equestrian. I love seeing her smiling face pop up on my feed alongside her lovely horse.
Follow Maya Denis HERE.
RD Farrier Practice
While this account isn't what I would initially label as inspirational, I love learning from it. Following a farrier around on his day-to-day rounds is not just intriguing but informational. You'll learn more about what to watch for and when to call your farrier. Plus, if you are new to being a horse owner, it is great information to help you find those little red flags that indicate care is needed.
Follow RD Farrier Practice HERE.
Van Diego Rico
Sarah joins her horses on her rollerblades for exciting adventures tooling up and down the roads. I love watching these cool little clips. What a lovely friendship they share! Not only do you see her, but three horses that are going to become some of your favorites to watch.
Follow Van Diego.Rico HERE.
Hekluhester
If you are looking for true beauty, this is definitely the account to follow. This page is all about an Icelandic horse farm. You will see stunning views right alongside some incredible animals. This account never disappoints.
Follow Hekluhester HERE.
Steady Rein
The beauty and scenery in these videos always get to me. This account is operated by a "buckaroo in an RV". A gentleman cowboy traveling the states and sharing his latest views and horses with you. Definitely, one of those accounts you'll enjoy seeing pop up on your FYP.
Follow Steady Rein HERE.
Half and Bad Ass
If you don't mind a bit of cursing here and there and some humor, you'll love this account! There is always a funny story or video being shared featuring a mule, a horse, or both! You'll love these and find yourself watching for something new to bring a smile to your face.
Follow Half and Bad Ass HERE.
Nortons Farm
You'll find a little bit of everything on this account from horses to ponies to cows and all animals in between. A fun place to stop and see a bit more about some of your favorite animals in a natural every day environment.
Follow Nortons Farm HERE.

Gentle Giants Draft Rescue
Another incredible horse rescue that really focuses on the draft horses. YOu'll find rescue stories, rehabilitation videos, and fun playful videos with horses here to warm your heart and inspire you!
Follow Gentle Giants Draft Rescue HERE.
Tenerife Horse Rescue
This horse rescue has some of the hardest cases come their way. While there are many sad stories of horses that just couldn't be saved, I love this rescue because whether a horse thrives or is taken over the rainbow bridge, they give every horse the same love and attention from the moment they set foot at the rescue.
Follow Tenerife Horse Rescue HERE.