How did you first discover your love for horses? Perhaps you read a book featuring horses as a child or watched a film that focused on a horse. These are pretty common introductions to the equestrian world. But if you have done much riding yourself, you now know that books, films, television, and other media often portray horses pretty inaccurately. If you are becoming interested in horses but have little experience with them as of yet, you might be surprised by just how many things authors and filmmakers get wrong about equines.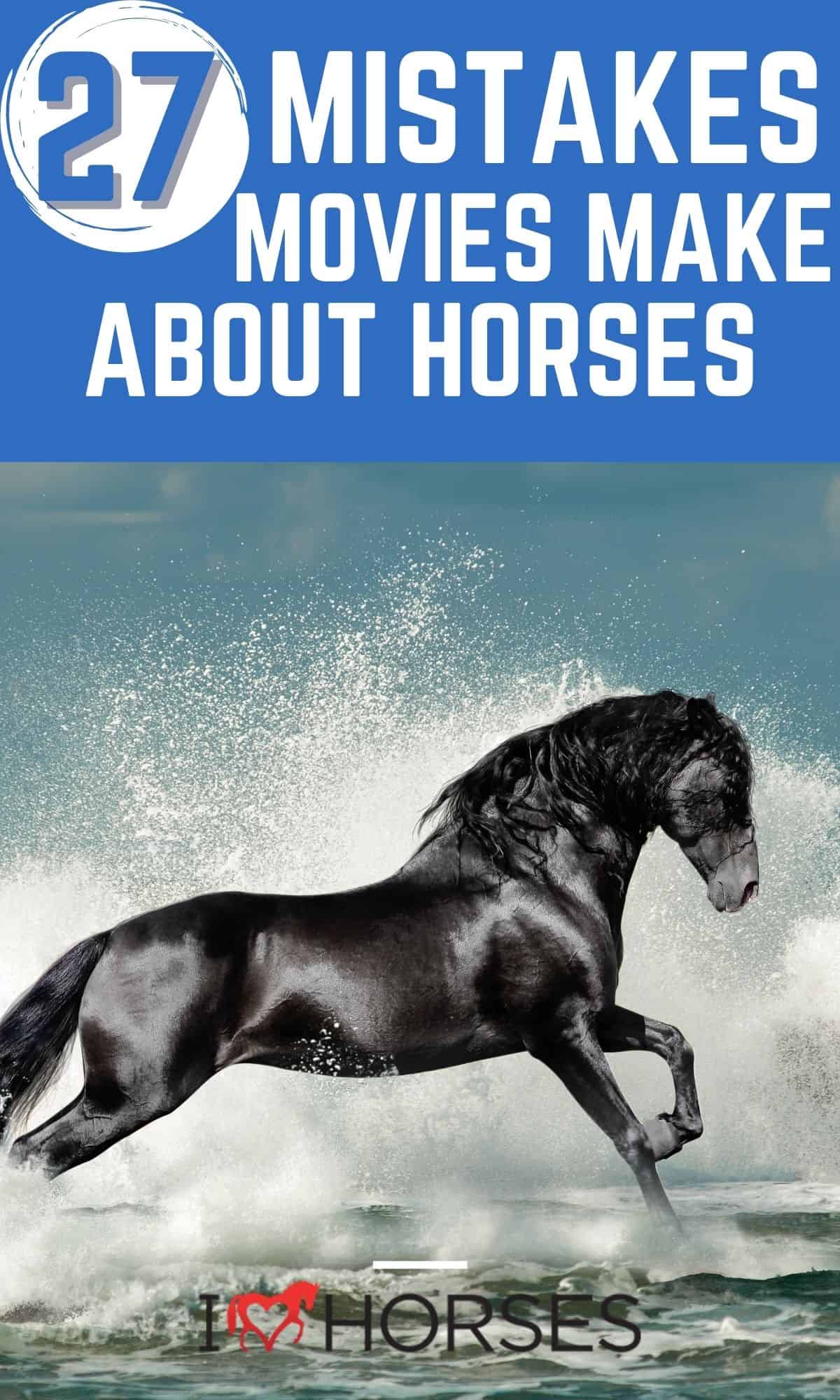 Mistakes Books and Movies Make About Horses
Indeed, if you are writing about horses and have no real-life experience with them, you probably are making some major errors too. Let's go over some of the most common mistakes and misrepresentations now. Even if many of these are new to you, once you stop to think about them, you'll be startled by how obvious some of them seem to be.
If you are new to horses, you may want to begin with some of our helpful posts like these hacks for horse owners or just a bit about the best breeds for beginners. Start slow and learn before diving in too deep and feeling unprepared!
Horses neigh all the time.
For some reason, horses in movies neigh a lot, as in, constantly. They neigh for no obvious reason at all much of the time and rarely engage in any other vocalizations.
In real life, horses do not neigh constantly like this. When and why do they neigh? It is usually an expression of heightened anxiety. Sometimes it indicates confidence, however. Sometimes when horses neigh in books or movies, they are doing so at appropriate moments. But they also seem to do so at numerous inappropriate moments.
Indeed, if you had never been on a horse, after watching a typical film that features one come out you might think that you can expect your horse to neigh at literally everything it sees. Even horses that do neigh excessively do not neigh nearly that often. And as with all other vocalizations, horses neigh to try and communicate something specific. They do not neigh meaninglessly.
What are they trying to communicate about?
Well, in real life, a horse may whinny if it is in a life-or-death situation, or thinks it might be. It also may neigh if it is nagging someone to do something for it (this is the confident variety of neighing). Additionally, neighing can be an expression of separation anxiety. If you take a horse away from another one it is attached to, it might neigh in protest.
What a horse won't likely do is neigh just because you have reached a bend in a road. It is also really unlikely you'll hear whinnying while a horse rears. Yet that seems to be their favorite time for it in the movies. Instead of assuming they neigh a lot, check out this post about common horse sounds and their meanings.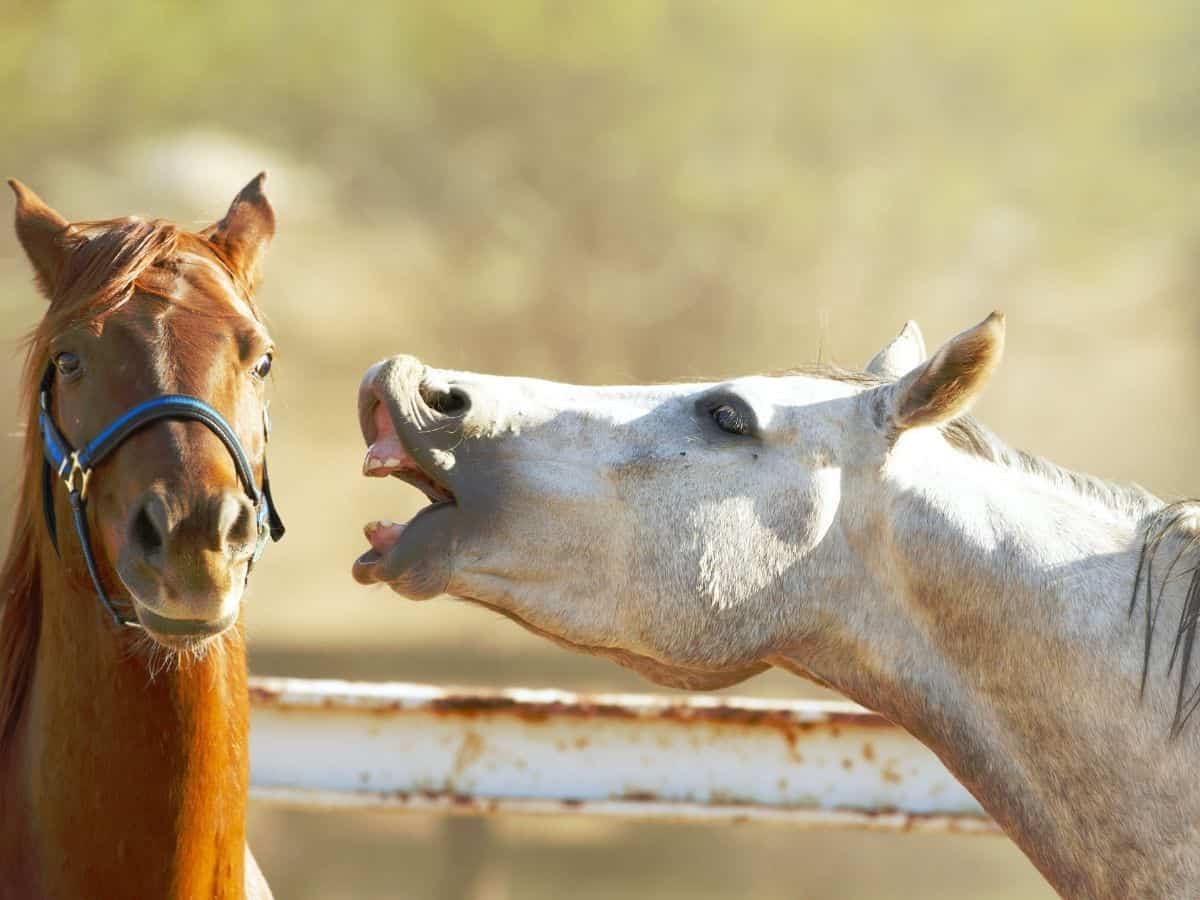 Horses are essentially set props, not living animals.
The majority of authors who put horses in fantasy novels—especially if the horses are not the focus of said books—seem to have little to no experience with them in real life. As a result, they throw them in there where they feel they are expected, but often do not really think of them as alive. They are just convenient set pieces with no actual needs of their own.
Diana Wynne Jones explains this in humorous terms in her book The Tough Guide to Fantasyland. Here is the relevant excerpt:
Horses are of a breed unique to Fantasyland. They are capable of galloping full-tilt all day without a rest. Sometimes they do not require food or water. They never cast shoes, go lame or put their hooves down holes, except when the Management deems it necessary, as when the forces of the Dark Lord are only half an hour behind. They never otherwise stumble. Nor do they ever make life difficult for Tourists by biting or kicking their riders or one another. They never resist being mounted or blow out so that their girths slip, or do any of the other things that make horses so chancy in this world. For instance, they never shy and seldom whinny or demand sugar at inopportune moments … horses can be used just like bicycles, and usually are.
In that one paragraph alone, Jones spots tons of issues with how horses are described in books. Put simply, horses in real life are living creatures with their own needs and wants. They are not there simply at the convenience of an author or rider. Jones has more amusing things to say about horses in fantasy books as well, but I recommend reading The Tough Guide to Fantasyland yourself for the rest.
All it takes to handle a stallion is a stout heart.
A lot of books and movies imply that stallions, while unruly, can be managed by someone whose heart is in it. If you want to train a stallion, you certainly will need a stout heart, but you will also need boatloads of patience and experience.
Because this is such a common writing error, it is also a common error among first-time horse buyers. If you have taken a few riding lessons and think you can handle a stallion as your first horse because you read about it in a book, stop.
Your first horse should be a gelding (preferably) or a mare (maybe). But if you want to see a beautiful stallion, I recommend this video post about a gorgeous Fresian stallion.
Nobody bothers cooling down horses.
After exercising a horse or riding quickly across a long distance, you need to cool down your horse. Failure to do this can have serious consequences for a horse's health.
Characters in books and movies, however, seem to be entirely unaware of this rule or otherwise indifferent to it. If, for example, a character has pushed a horse hard to escape the forces of the Dark Lord, Diana Wynne Jones alluded to, it is rare for them to bother to cool it down after.
In the best-case scenario, they ask the stable boy to do this at their destination. Worst case scenario, they just climb down and go do something else without a second thought. This just isn't realistic and could be harmful to the horse.
Keep in mind these ways you can help your horse with summer heat and that horses can suffer from heatstroke. Be safe.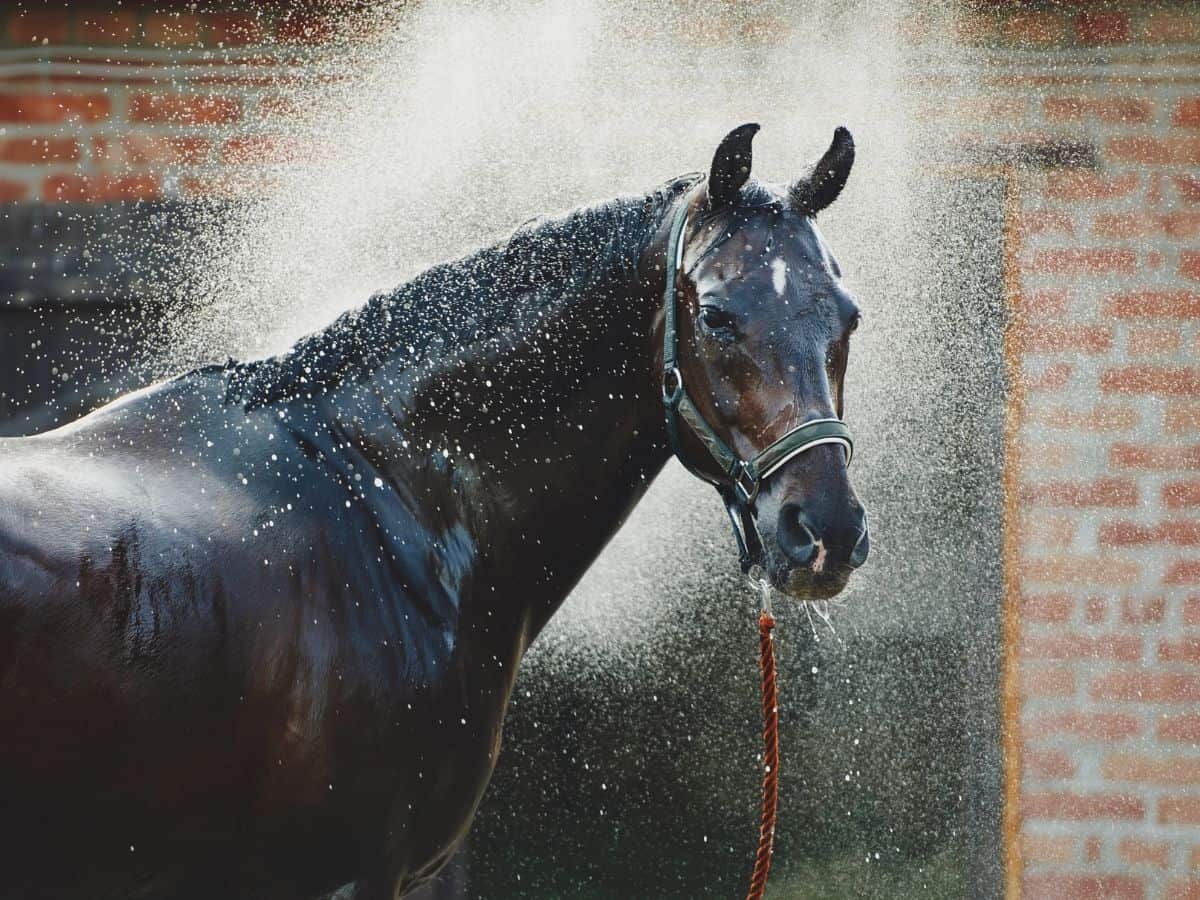 Horses do not experience personality changes in response to events.
Unless the plot of a story revolves around a horse's struggle to rehabilitate physically or psychologically following an injury, it is rare to see a horse change in any fashion in a book or movie.
In most books, no matter what kind of painful or terrifying event befalls a horse, that horse just charges on as usual with zero reaction. But horses are just like humans in that they learn from their experiences. They adapt to change or maladapt to it.
Even if the horse is not the focus of a story, if something dramatic happens to it, it should react in some way, not just in the moment, but afterward too.
Riding apparently never chafes.
When people ride on horses bareback in movies, the image is one that is wild and carefree. The same goes for when people jump up on a horse's back in whatever they happen to be wearing without any thought to proper leggings.
Either of these decisions is bound to result in a lot of chafing. While we may be used to images of maidens in flowing dresses riding unicorns at a full gallop bareback in fantasy films without a care in the world, they shouldn't just be chafed when they dismount. They should probably be bleeding.
Also, you might benefit from checking out these signs that your saddle doesn't fit correctly. This can cause discomfort easily.
Like neighing, rearing is a constant.
Horses in books and movies not only love to neigh all the time, but they love to rear when they are doing it—and when they aren't doing it. It is understandable that horses rear a lot in films and TV shows. A horse rearing is beautiful to look at, and an iconic image.
But just because it suits the cinematography of a story does not mean it is realistic for it to happen so often. As for why horses are always rearing in books, it is probably because the authors writing them learned about how horses supposedly behave from movies. And if for some reason you have a horse that does, here are some reasons why and what to do about rearing in horses.
Horses have human levels of ingenuity.
Horses are smart. But they are not as good at problem-solving as human beings by a long shot. There are legit stories about horses that have protected their riders and even saved their lives.
But a horse is not likely to execute a complex series of steps to do this as is sometimes depicted on a screen or in the pages of a novel. Likewise, your horse is not going to understand that you want it to show up at a specific place at a specific time of day so you can do something heroic and have it be there on time to help you out.
There are some things horses can figure out how to do. But there are lots of things they can't. When horses manage feats that only human minds should be able to execute, we are seeing unintentional personification taking place.
All horses are ludicrously tall.
Did you know that horses usually are about 15-16 hands tall? Now think about some of the measurements you have run into in books. Some of them were probably 25 or more. That is not realistic.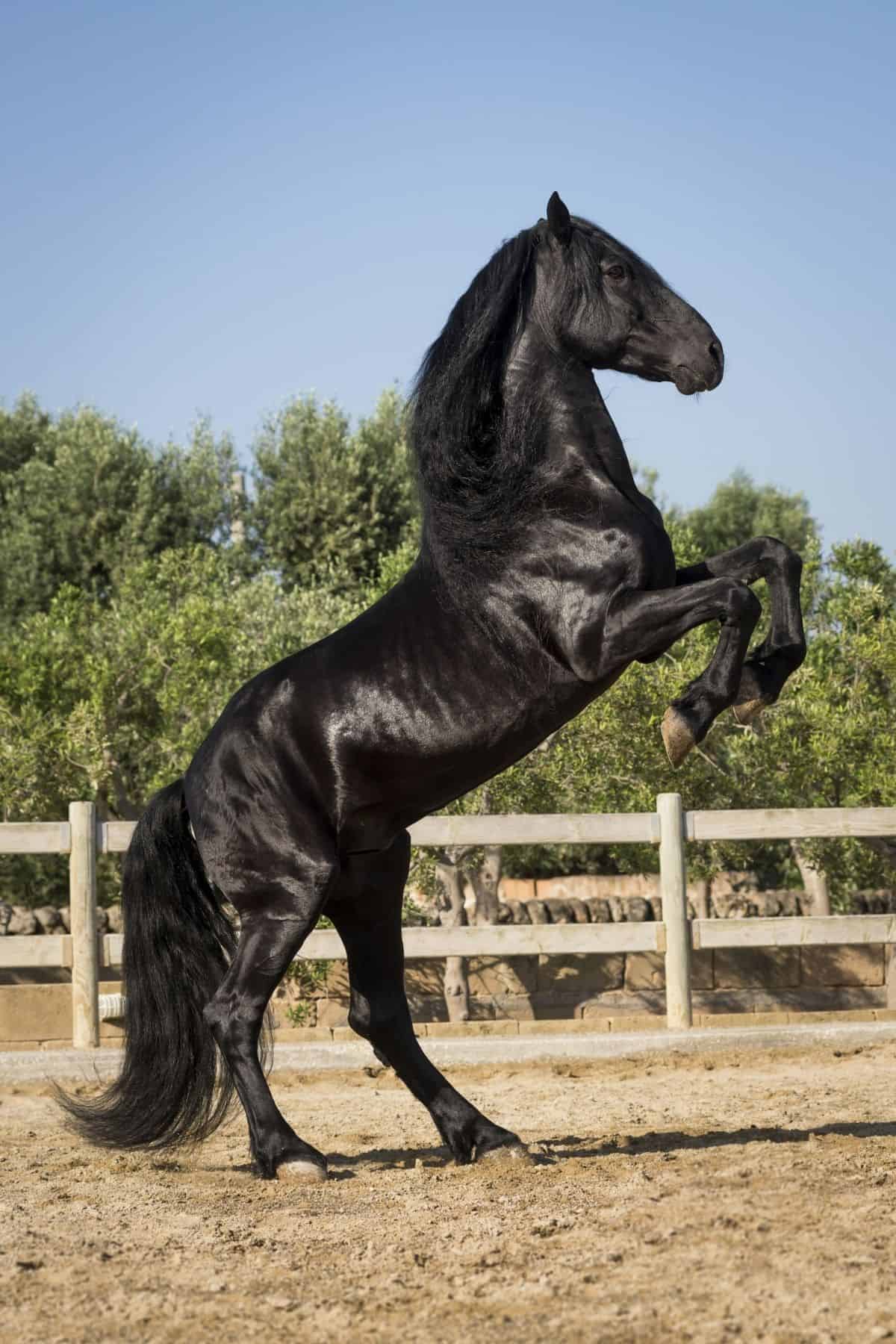 Nobody gets injured on a horse.
Previously we talked about how riding doesn't chafe storybook heroes and film characters at all. But here is another thing—they also do not get injured. Obviously, if we are following characters in a rodeo, that is an exception. But your standard characters in romance, fantasy, and even western stories often seem extremely unconcerned about what could happen to them without proper gear.
Picturing our fantasy maiden in the flowing dress again, for example, what is she wearing on her feet? If she's lucky, she's got some proper riding boots on. But dainty little shoes are just as likely. In some cases, she may even be barefoot.
What is going to happen if her horse rears (as they are so prone to in such literary settings), and she loses her balance? What if the stirrup snags her barefoot as she falls? It is probably going to take some serious damage.
Thankfully for her, these types of injuries are extremely unlikely in her genre. Even inexperienced riders are not prone to falling out of their saddles. Real-life, of course, is very different. If you have fallen from a horse and aren't sure about getting back to it, here are some tips to get back in the saddle.
Horses don't have different moods from day-to-day.
Just as horses' personalities often seem fixed across a story in a book or movie no matter what happens, those personalities also do not seem to have any day-to-day variations.
In real life, horses have moods that change from one day to the next, just as we do. But if a horse in a book is characterized a certain way, we rarely see any divergences. For instance, a horse that generally handles well still will have days in real life when it won't. But in a book, you usually won't hear about this.
Reins are a tool to stay on your horse.
If you are an experienced rider, you know that you use your legs for support. But if you have never ridden a horse, you'll be forgiven if you assume that you hold onto reins for support like the handlebars of a bike.
This is a pretty common error that shows up in writing. You won't see it on a screen because you really can't ride a horse this way. But you will often run across book characters clinging to their reins as if that is going to keep them in the saddle.
Any horse is battle-ready.
Horses spook pretty easily in general. This shouldn't be surprising. They are herbivores, which means that other things eat them, and they are programmed by nature to be on high alert for predators. It doesn't take much to startle a horse. With that in mind, horses take some time to acclimatize to new situations—even new situations that are not all that unsettling or chaotic.
Now think back to all the fantasy books you have read where the hero suddenly finds himself riding into battle—often on the same horse, he originally borrowed from the village stable. Somehow, this marvelous mount has managed to adapt to every circumstance. It has gotten used to crossing vast distances over all manner of terrain, keeping unusual hours, and has weathered all manner of unusual situations with only minimal complaints.
Now, that horse is being ridden directly into the middle of hundreds of other horses and soldiers who are all actively trying to kill each other with swords and maces. It is the height of noise, chaos, and life-threatening mayhem. Even though our horse has never been near such a mad situation, it faithfully ferries around our hero (who likely also doesn't have a jot of combat training). Somehow, the two manage to survive, thanks apparently to their stout hearts. At no point is the rider in any danger of being thrown off.
That's pretty impressive for a horse that in real life might endanger its rider because it spooks at a loud noise on a quiet forest path. Of course, the exception might be if our author decides they are fatigued by the battle sequence. At that point, the horse might throw the rider so they can conveniently be knocked unconscious.
But this will more likely result from a blow to the head from an enemy weapon. If you happen to have a horse that is a bit skittish, you might benefit from these tips for riding a spooky horse.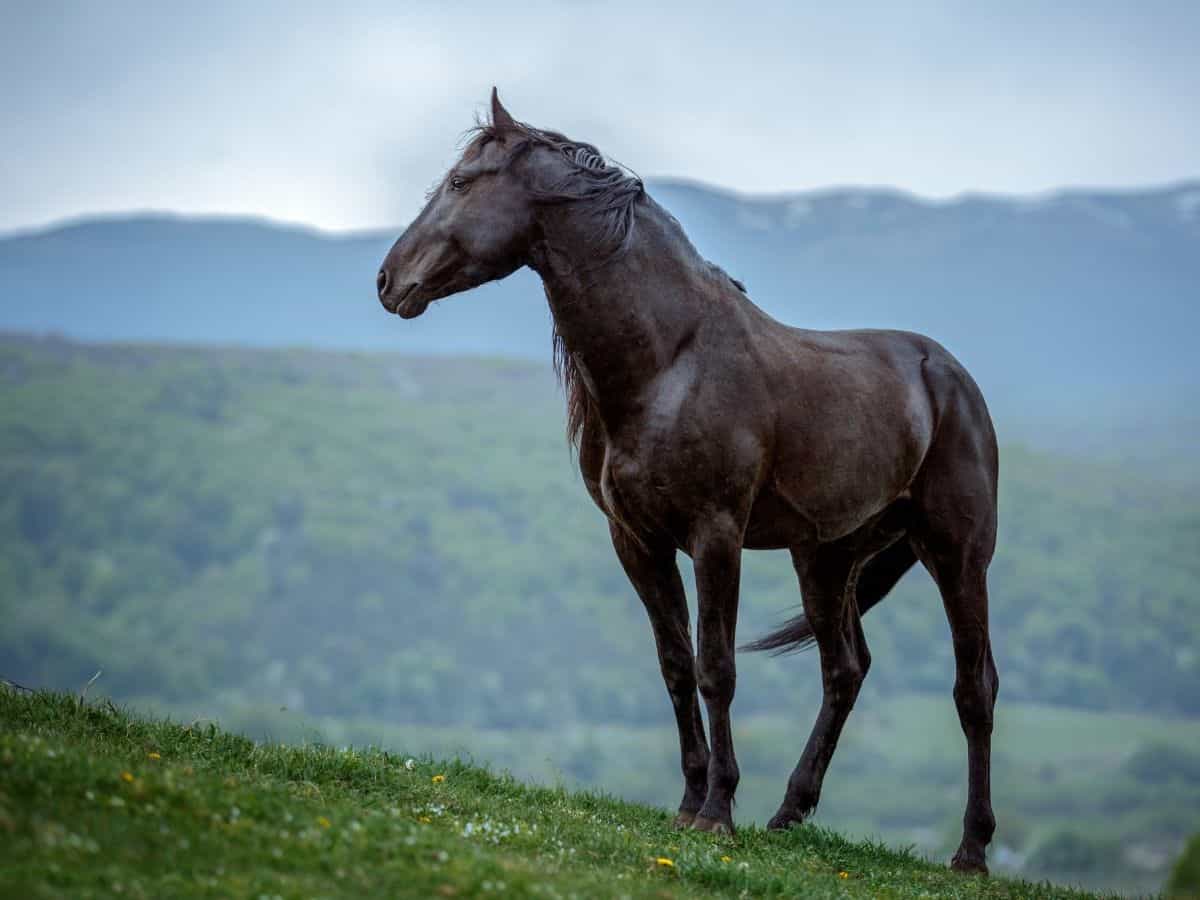 Horses do not need to pace themselves and/or running a horse into the ground isn't a big deal.
How long can a horse gallop before it fatigues? If you are to believe many of the movies you have watched or books you have read, you might answer "days." In real life, the answer is very different. In fact, if you can get a few miles at a full gallop, that is pretty good. Movies and books misrepresent the stamina of horses to a ridiculous degree. If you try to keep pushing a horse to continue at a full gallop past that point, the same thing is going to happen to it as would happen to you if someone did that to you.
The horse will be too winded to continue. At that point, it is either going to slow down, or you are going to do serious harm to it. Indeed, it is possible to ride a horse to death. You might think a horse would eventually start to ignore you, but if you are harsh enough, the horse will register you as a mortal threat and will continue to run, even if it kills it.
But what about endurance horses? They can go fast for long distances, but not at a full gallop.
Not only do movies and books get horse endurance wrong, but they also tend to gloss over situations where a rider kills a horse through overexertion. Indeed, a character who rides a horse into the ground to arrive swiftly at a destination is often welcomed as a hero for having gotten there so fast, even sacrificing their mount along the way.
But let's consider the problems here that go unaddressed:
First of all, riding your horse into the ground leaves you horseless, which is hardly an efficient way to close the remaining distance. Of course, the messenger tends to arrive at their destination at the moment the horse expires, so this is not an issue.
Riding a horse to death is extremely inhumane. The horse doesn't keep going because it feels a noble calling to do so—it keeps going because it is registering its rider as a mortal threat, and is now more scared of the whip than of continuing to run. Both such a process and the subsequent result—a dead, possibly beloved, mount—are never addressed as the deeply traumatic events they would be for all parties involved.
Riding a horse to death is not just tragic, it is exceedingly cruel. When stories fail to acknowledge this, that is a major error with respect to not just the experience of the horse, but the experience of the rider as well.
A horse will wait patiently right where you left it while you do something else.
How often in just about every genre have you seen a rider park their horse like a car, dismount, and then casually stride off to go fight some bad guys, etc.? When they have wiped out the bad guys, they stroll back to where they left their horse, and there the horse is, patiently waiting.
How likely is this in real life? Not very. There is a good chance that one would come back to find the horse had wandered off. Even less likely is that the horse would do what mounts also frequently do in movies, which is miraculously showing up at just the moment they are needed by the hero.
You cannot park a horse like a car. You need to properly hitch the horse or stable it. Now, there is an exception, which is a practice called "ground tying." If you train your horse to "ground tie," the horse will stand where you left it if you have the lead rope on the ground.
But we are pretty sure most books and movies where heroes park their horses like cars have no mention of this technique. Also, there tends to be a fair amount of chaos in the environments where this happens in stories.
Even if you train a horse to ground tie, if there is a sufficient amount of environmental chaos, you cannot expect that horse to be so disciplined as to stay put the entire time you are gone. Considering the level of chaos in most movies where this takes place, it seems more likely that a horse wouldn't just meander away, but would actually bolt.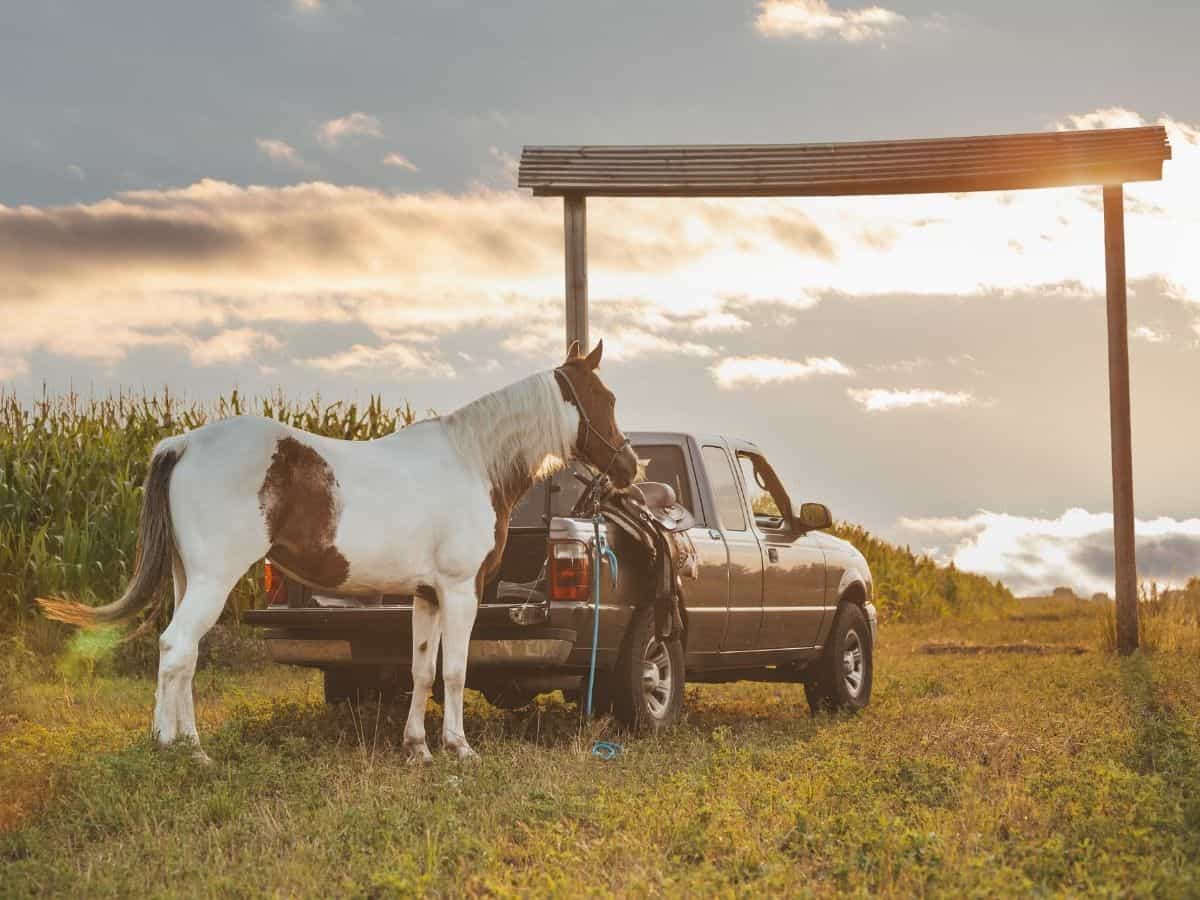 One can always look very clean, fashionable, and energetic while one rides or cares for a horse.
For some reason, everybody always looks eminently stylish when riding a horse in a movie or television show. This is universal regardless of whether we are talking about a fantasy film, a western, a period piece, or a movie set in contemporary times.
Certainly, one can look fashionable on a horse. But in terms of everyday life, it is far more likely one will be dressing largely for protection and convenience. Safe riding clothes can be fashionable, but fashion will take a back seat to safety considerations. Plus, there is a very good chance that one has blown most of one's budget on taking care of one's horse, will not have much leftover to purchase the trendiest riding clothes.
There is a matter of cleanliness. After a hard day working at the barn, you will probably be grimy and covered with dirt and sweat, and potentially a bit of blood, depending on what you have been up to. You may be reaching for these tips for getting the barn smell out of your clothes.
Characters in movies and television shows seldom look this way when they are tending to their horses. Not only that, but they usually do not look dead tired even after a full day of work. We seldom see signs that they are injured or sore and stiff all over.
They always seem to be fresh and energetic and ready to go. If you have any experience at all taking care of a horse, even if it isn't your own horse full-time, you know that this is a fantasy.
Having a conversation with another rider is always easy, no matter the situation.
It is possible to conduct a conversation on horseback with another rider on a different horse. It will be easiest if you are both on a quiet path and the horses are walking, not trotting, cantering, or galloping. But in movies and television shows, you often see full conversations taking place between two riders who are going at a full gallop, sometimes a fair distance apart from each other. Sometimes it even happens in the wind or rain.
Actually, even on a calm day, there is a lot of wind to contend with when you are riding a horse for the simple reason that you are moving fast—especially at a gallop. Trying to have a conversation under those conditions is pretty difficult, even if you are shouting at top volume. But often, characters conversing at a gallop aren't even yelling. They are just talking at a normal volume as if there is no wind, no clopping of hooves.
Audio editing and dubbing can help make this happen on screen, but not in real life. If you are riding fast in real life, you will need to wait until you slow back down to have an intelligible conversation.
Jumping down onto a horse's back from above is okay with your mount.
Sometimes in movies, there will be a scene where a character who is up on a rooftop, balcony, or high ledge will leap down onto their horse's back. You can do this, but here's the thing—your horse is not going to be happy about it. If it is well-trained, it will behave as you drop down into the saddle, and then you can go on about your way.
But you would not want to do this casually on a regular basis. Think how you would feel if a heavy object dropped down on your back from above. This is not fun for a horse, and you would not feel good about having to do it to an animal you care about.
Unruly horses adore pretty girls and will do anything for them.
In what seems to be an extension of the unicorn myth, there are a ton of books and movies that feature beautiful young girls who form unlikely bonds with stubborn, otherwise uncontrollable horses. Even though experienced trainers fail to get these animals to behave, somehow, these young girls are able to magically get the horses to calm down and do as they are told.
Clearly, they are not managing this feat through experience. Instead, it seems that they are on a higher wavelength with the horse, sharing a bond that no one else can touch or understand. Can particular humans forge unlikely connections to particular horses? Sure. But an inexperienced equestrian is not going to be able to simply "win over" a difficult animal and get it to behave through sheer charm.
Nor is there anything about pretty young girls that makes them any more appealing to difficult horses than anyone else. Although we see these stories across genres, not only in fantasy books (indeed, they seem more common in contemporary settings), they are pure fantasy.
Whether you are a pretty girl or not, love does not overcome all obstacles with a horse—at least not by itself. If you love that horse enough, what that might do is give you the perseverance and dedication to doing the hard work that will actually be necessary to handle the horse. And that is going to take more time than is typically depicted on the screen.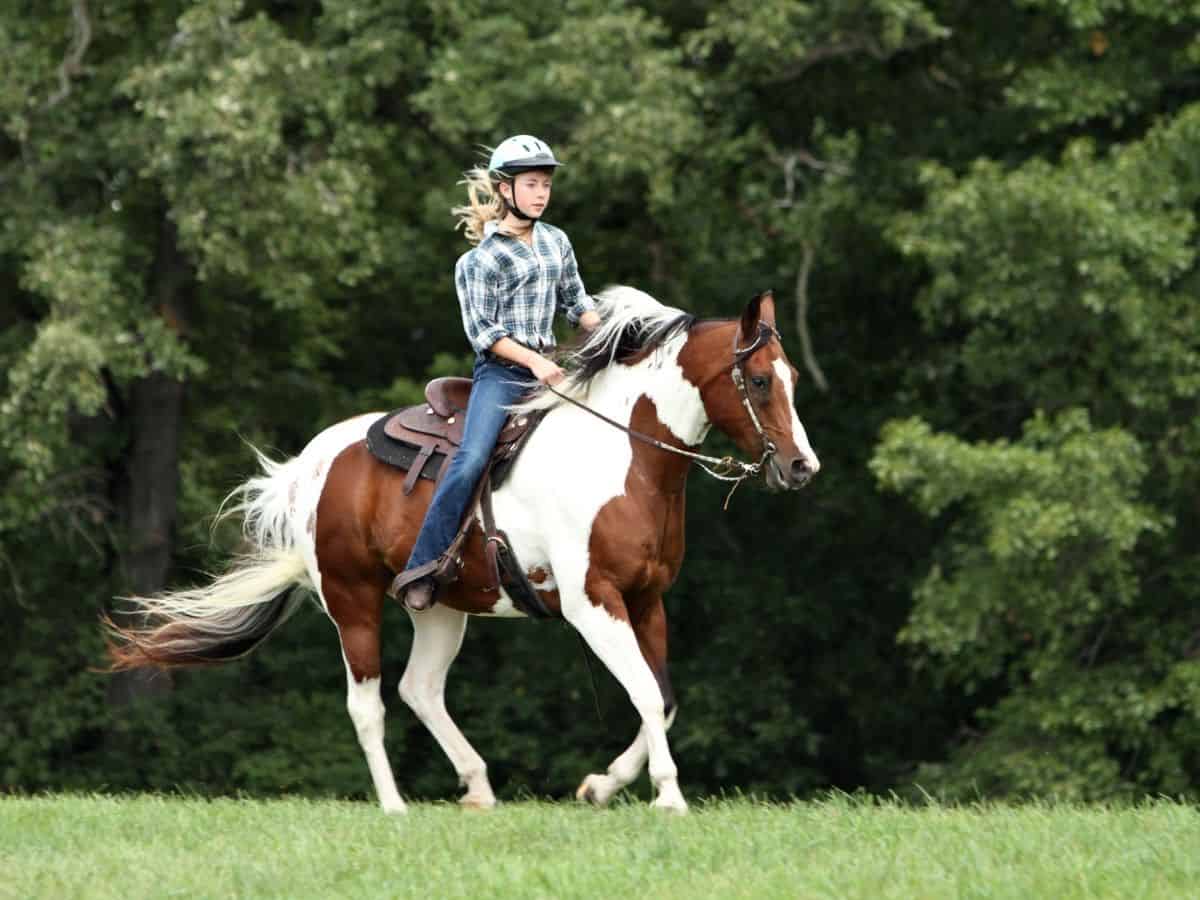 Competitions don't have strict rules.
Just as there are characters in some movies to whom the rules don't apply with respect to training (i.e. the beautiful girls who can tame wild stallions with a glance), there are also characters to whom competition rules also do not appear to apply. These characters will enter competitions making choices that are not just unusual but should be illegal.
They might, for instance, opt not to use important safety gear that all riders have to wear to compete. But instead of having to follow the rules, they are allowed to just do whatever, and everyone marvels at how their bizarre choices somehow pay off.
If you're interested in actual competitions, you might first want to check out things like the types of jumps in horse sports competitions that you should understand and know.
Tugging hard on the reins is an appropriate way to steer a horse.
One of the most common amateur mistakes when climbing on a horse is thinking that to tell the horse which way to go, you need to tug hard. The reins are not there to drag the horse this way or that. They are simply communication tools.
You do not need to literally yank on the reins. In fact, a significant portion of your steering should be coming from your legs (indeed, some riders rely mostly or entirely on their legs). But in movies, we are always seeing serious tugging on the reins. Sometimes, you can even see a horse looking distressed on screen because of all the yanking.
But as viewers, we are not expected to notice this. After all, the character is supposed to know what they are doing.
All horses are perfectly groomed all the time.
Have you ever noticed how pristine horses look in movies and TV shows? Even if they have been crossing harsh landscapes for weeks, they tend to look well-groomed. In fact, even wild horses in movies look magnificent.
It is hard to imagine that wild stallions spend much time getting groomed, but by their appearance, it would seem that is exactly what they do. In truth, keeping a horse looking as neatly groomed as what you see in the movies is a lot of work.
There are tips for grooming a muddy horse, horse grooming secrets, and even red flags to look for when grooming your horse. Keep those in mind.
Tack is interchangeable across all regions/eras.
Tack errors are extremely common in movies, TV shows, and novels. If you know your historical tack inside and out, you will frequently spot anachronistic tack showing up in period films.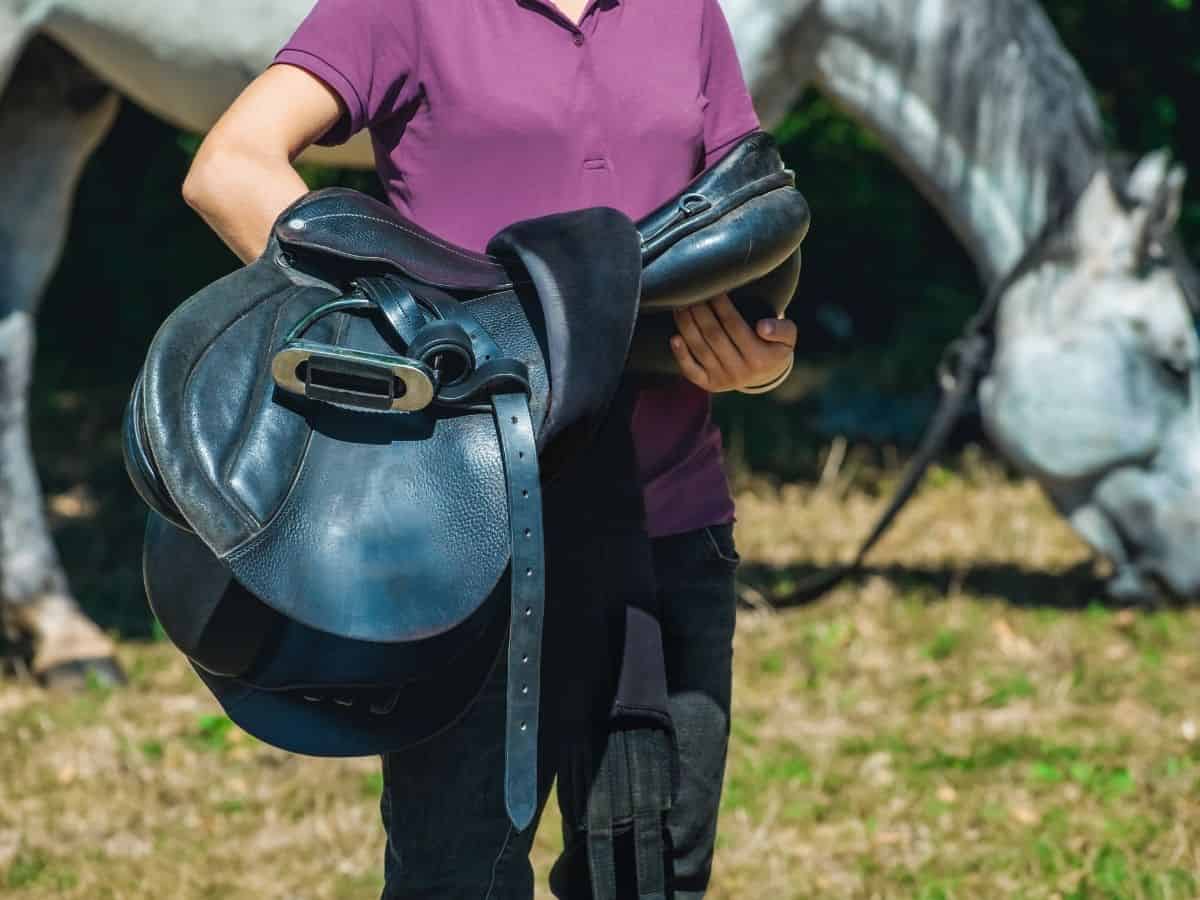 A horse is instantly ready to ride out of the stable.
If you ride horses, think about the last time you readied your horse for a ride and all of the things you had to do first. Chances are good you started by giving your horse food and water, then you conducted a thorough physical check to make sure nothing was wrong. Then you had to get all of your gear ready, and so forth.
All of that took you a lot of time. You certainly did not just walk into your barn, open the stall, and ride out. But characters in stories seem able to do this at a moment's notice. We can imagine in some cases that a noble's stable might have a full-time worker instructed to have at least one horse ready to go at a moment's notice. But even this seems far-fetched.
And in a lot of cases, that isn't the scenario presented in the story at all.
You don't need to bother removing tack from a horse when you are done riding.
Just as horses are instantly ready to go in stories, they also are instantly ready to stop. As we discussed earlier, the cool-down is generally deemed unnecessary by the writer, who also neglects to instruct their hero to remove the horse's tack once it is in the stable.
Once more, perhaps we have a convenient stable worker who will take care of all of this behind the scenes, and we can follow our hero off to read about something the writer deems more interesting. But if that isn't the case, the hero should be taking the time to remove all of that gear for the well-being of the mount.
The only reason we can picture one ever wouldn't do this is because one is worried that one will need to get back in the saddle and ride like the wind at a moment's notice. But even if the hero expects to enjoy a full, safe night of rest, they often just abandon their horse with the saddle, harness, and other tack on.
Your horse can run around safely in tack without a rider.
What is worse than leaving your horse in tack for the night in the stable? Letting your horse run around by itself with tack on. Sometimes the hero will just get off the horse and let it roam around and have a break without removing the tack.
Other times, the hero may tell the horse to head on home, and will once again not bother to remove the tack. Do you happen to own a cat or a dog that you allow to roam around outside? If so, you probably worry about what will happen if your pet's harness or collar ever snags on something.
You know that your pet could become trapped or might be strangled. Now think about letting a horse run around alone in tack and what could go wrong. The situation is much the same. No responsible equestrian would ever just walk away from a horse in tack in the wild for any reason. Doing so poses a huge risk of injury or even death.
Shooting accurately from horseback is a breeze.
Finally, here is one more misconception about riding horses that can crop up in westerns, period pieces, and fantasy stories, and that is that ranged combat from horseback is easy. Even trying to hold a gun steady to get an accurate shot while completely stable on your own two feet can be difficult.
Now think about being jostled about by a horse while you are trying to aim at a target with a gun or a bow and arrow. It isn't impossible to hit your target (indeed, mounted shooting is a competitive spot), but it would take a lot of training to be at all reliable. Even if you were an expert rider and marksman, mounted shooting isn't something you'd likely be successful with unless you had practice.
Nonetheless, we are used to seeing heroes in stories who have limited experience with horses and/or weapons jump into the saddle and shoot at outlaws and other thugs with astonishing accuracy.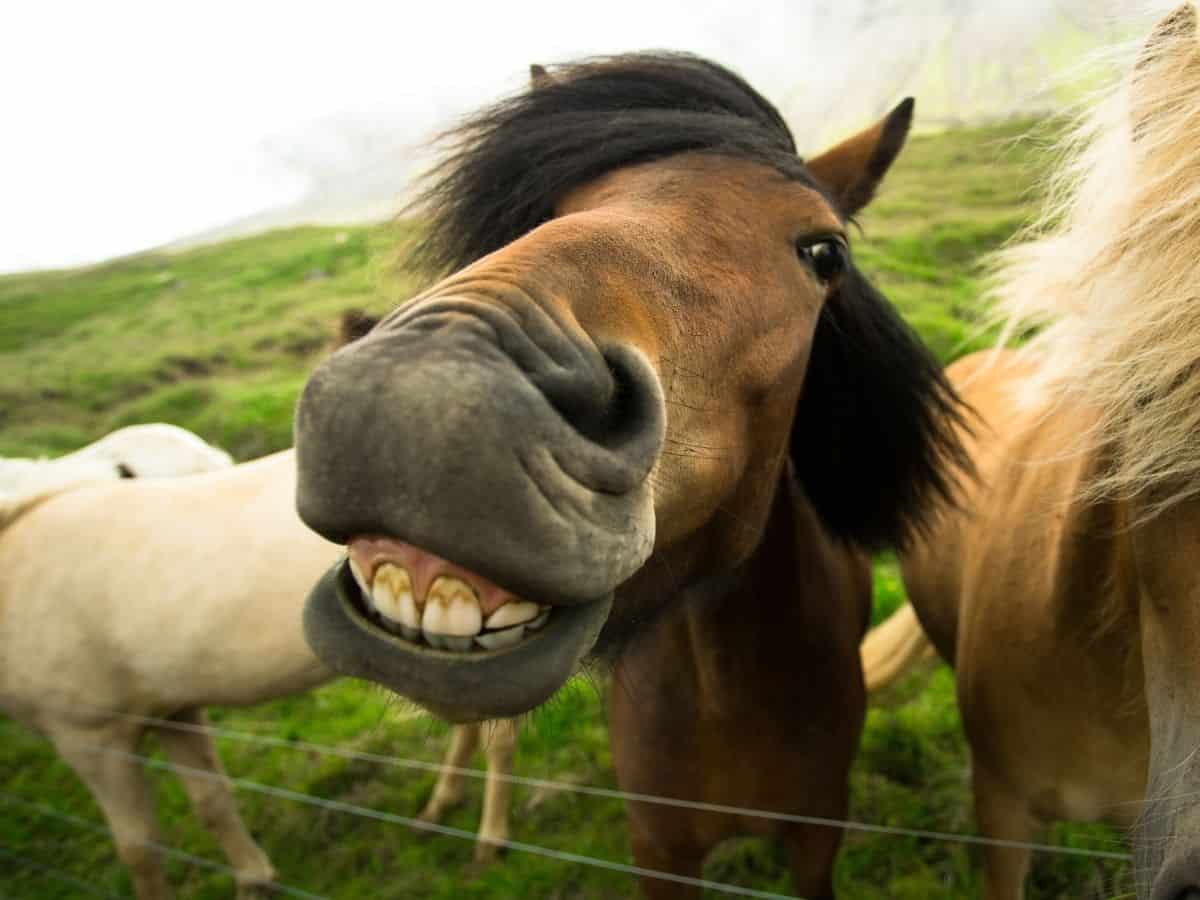 Want to Find Out What Horses Are Really Like? Try Riding One.
Now you know about some of the most common errors that books, movies, and TV shows make with respect to horses and riders. If you are a rider yourself, hopefully, some of these pointers will help you to avoid common mistakes.
It can be challenging to accurately portray horses or to imagine what it is truly like to ride or care for them if you do not have any real-life experience, even if you do the research. So, whether you are an author trying to write about horses or a reader or viewer who just wants to learn more about what they really entail, consider booking some riding lessons.
Even just riding a horse a few times can give you a better idea. Taking lessons for several months can make a huge difference. Just be aware that taking care of horses, training them, and riding them is much harder than books and movies make it out to be. But you know what? It is also a lot more rewarding. Horses in stories tend to be set props, there to help a character get from A to B.
But in real life, a horse can become one of your closest companions, a complex creature with its own wants, needs, and emotions. If you are willing to do the hard work, you can build an inseparable bond.