Do remember that old question, "Were you raised in a barn?" It usually came up when someone was criticizing your manners, and it was never a compliment. But for some of us, that question prompted a proud response: "Yes, yes I was!" I'm talking about us equestrians who spent the best times of our childhood in a barn or dreaming of one. We have always felt our best when covered in hay and horse poop, and we wouldn't choose any other life.
If you can proudly say that you were born in a barn, and even if you fell in love with horses later in life, there are certain things that will always ring true. Keep reading for signs you're an equestrian at heart.
How many of these can you relate to?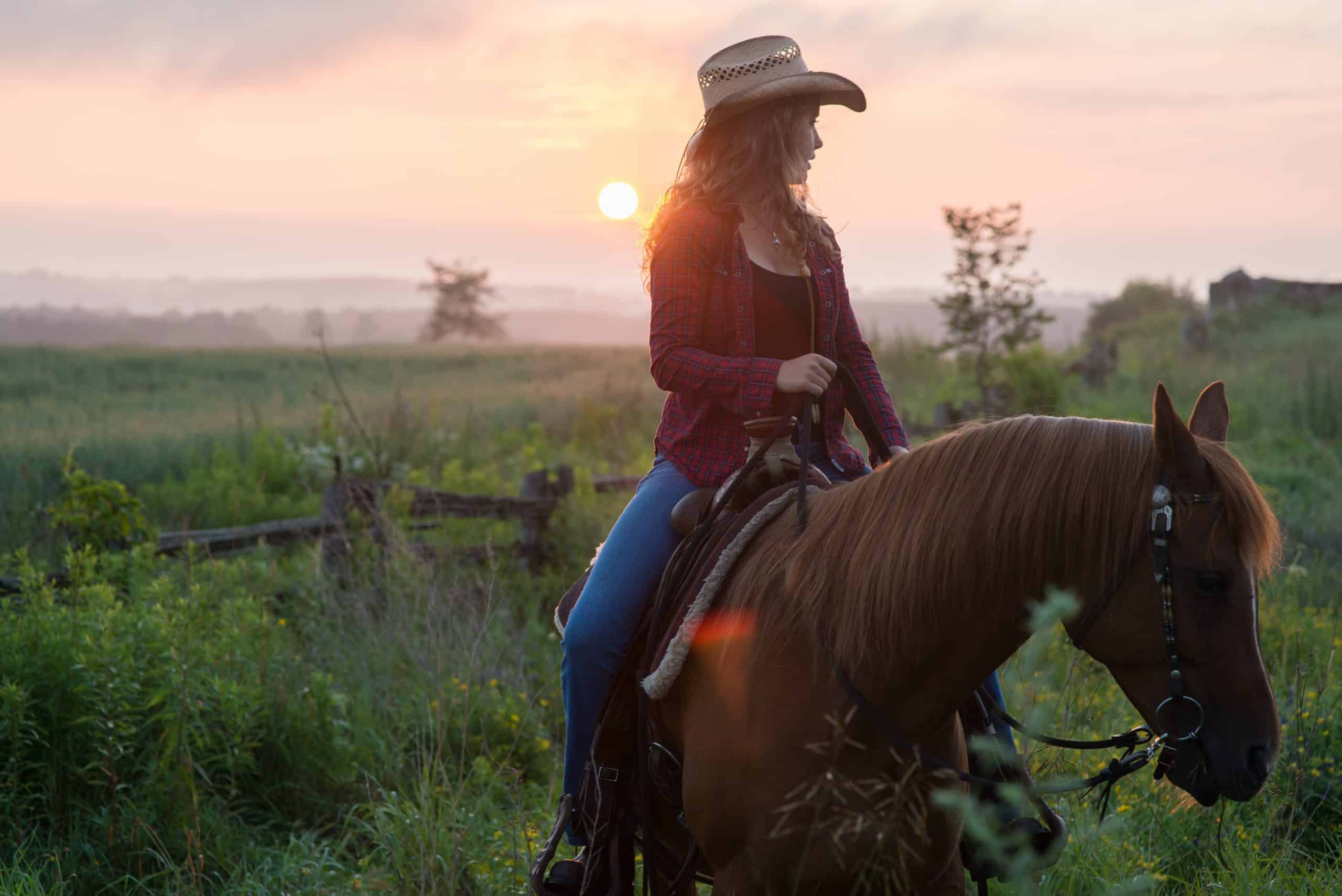 #1 – You love the smell of a barn.
I'll never forget the looks on my non-horse friends' faces when I would bring them to my barn for the first time. I never understood it. I LOVE that smell—the hay, the horse, even the manure. Even if it's been years since you last stepped foot in a barn, that smell can transport you back to the happiest days of your life. You're a true equestrian if that smell equates to heaven in your mind.
#2 – You'd rather be riding.
Raise your hand if you've ever canceled plans because you'd rather go riding. Your friends all go out to the bar Friday night, and you head to the stables. You even skip dates or family gatherings if they interfere with your riding schedule. Your non-horse friends might give you a hard time, but you're still going to do what makes you happy. There just isn't enough time in the day to get in all the riding you want, so you have to take advantage of every opportunity.
#3 – Weather doesn't matter.
There are some riders who only spend time with their horses when the weather is right. They prefer it to be not too hot and not too cold, and you'll never catch them at the barn when it's wet and muddy. But a true equestrian doesn't care what Mother Nature has to say. It could be 100 degrees, or it could be snowing. You might not be able to ride, but you still want to spend time with your horse.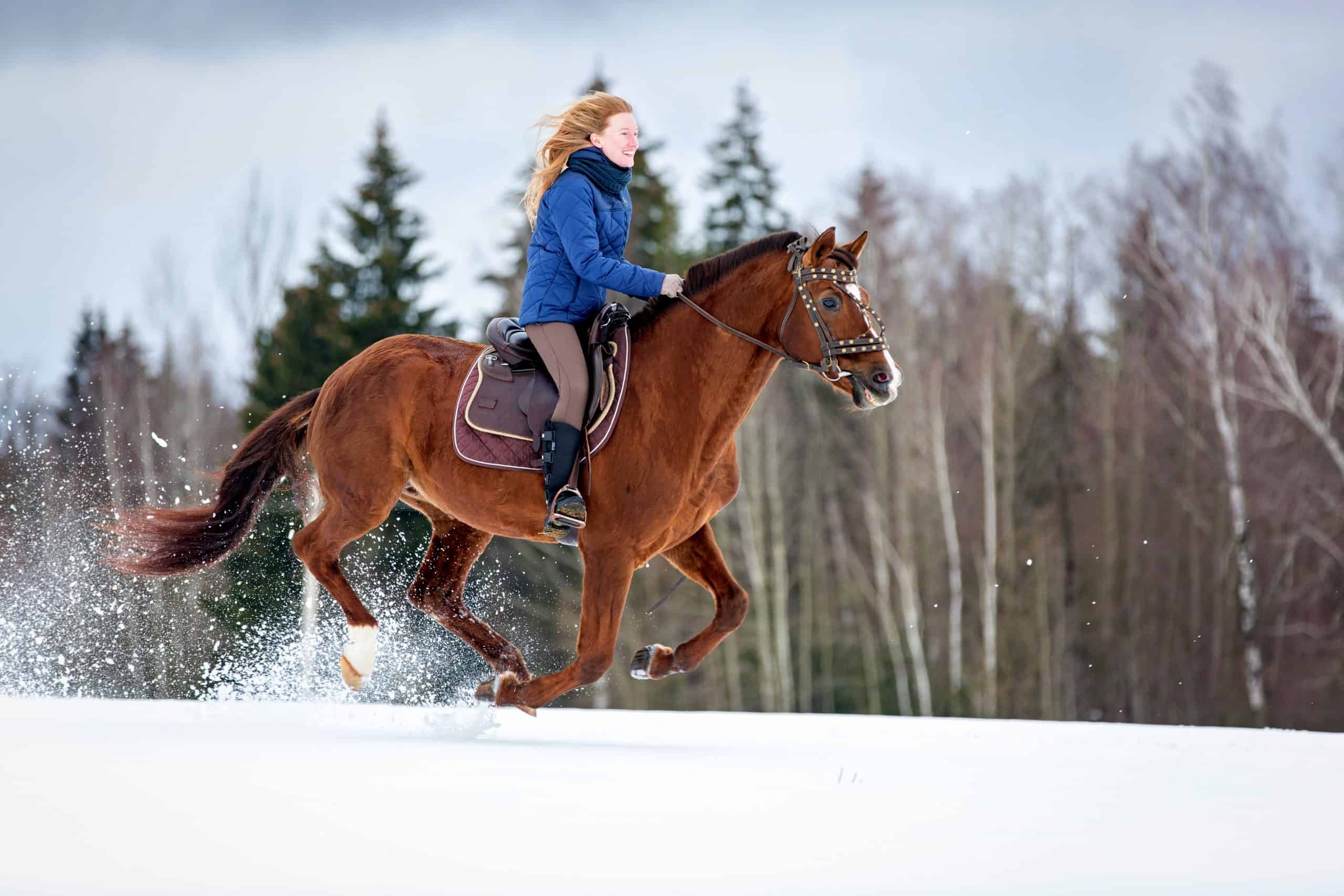 #4 – A good looking person goes by on a horse, and you comment on how beautiful the horse is.
To which your friend promptly responds, "No wonder you're still single!" A pretty horse is always more exciting than a pretty person. You might eventually realize a good looking person who also likes horses is worth your attention, but that comes after you've guessed the horse's breed and age. It's about priorities, people!
#5 – You "cluck" at people to get them to move.
A lot of us click our tongues or cluck when we're interacting with our horses. It's an auditory signal we use during training, riding, and just general time spent together. We do it so often that it turns into a habit we don't even realize we're doing. You know you're a true equestrian when you start making that sound at people. I've caught myself on several occasions doing this to my dogs, too! How about you?
#6 – Your favorite shoes are riding boots.
Forget Steve Maddens or Jimmy Choo (by the way, I had to look up these designers!), your favorites are Ariat and Dubarry. It doesn't even matter that they're usually caked in mud and smell like a combination of manure and foot sweat. Once you break in a pair of good riding boots, there's nothing more comfortable. We'd gladly splurge on a quality pair of boots and shop discount brands for all other footwear.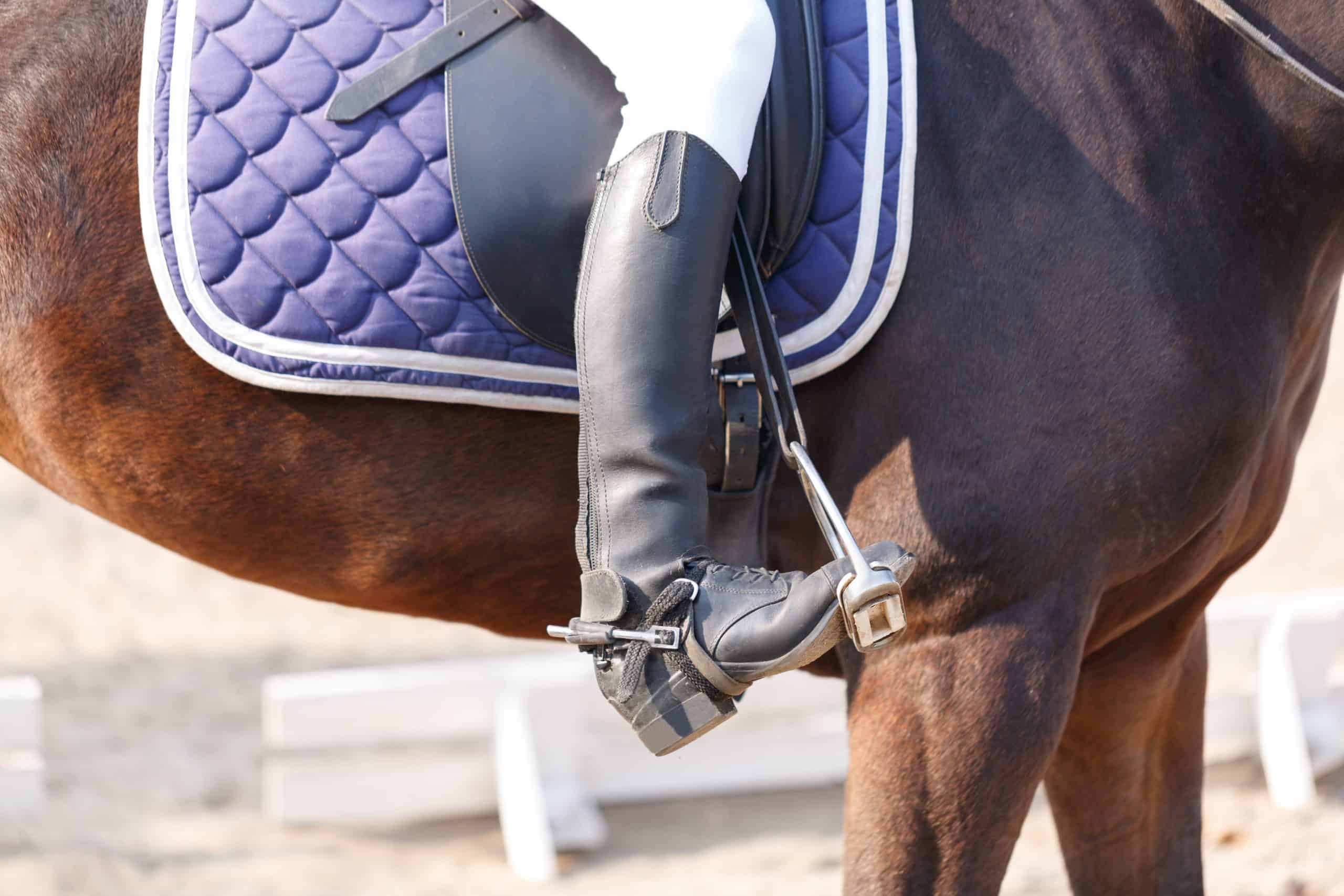 #7 – You say "whoa" when you are stopping someone.
Just like clucking, saying "whoa" is something we do without thinking. Our brains are programmed to relate that word to stopping or slowing down. As a result, we end up saying it even when we're nowhere near a horse. We say it to our siblings, parents, friends, and even random strangers. You might also let out an accidental "whoa" when you hit the breaks of your car.
#8 – Your favorite outfit is jeans or breeches.
Forget fancy clothes, your worn-in jeans and comfy t-shirt are your preferred outfit. It doesn't mean you don't occasionally dress up, but what's the point of wearing nice clothes when they'll get dirty at the barn? Your uniform of practical, casual clothes is perfect for (almost) any occasion.
#9 – When someone talks about frogs, you ask what's wrong with their horse's hoof.
You're half listening to a boring conversation until the word "frog" peaks your interest. You jump into the conversation and start asking questions about their horse's frog, only to find out they were talking about the frogs in biology class. It's an embarrassing, but completely understandable, mistake.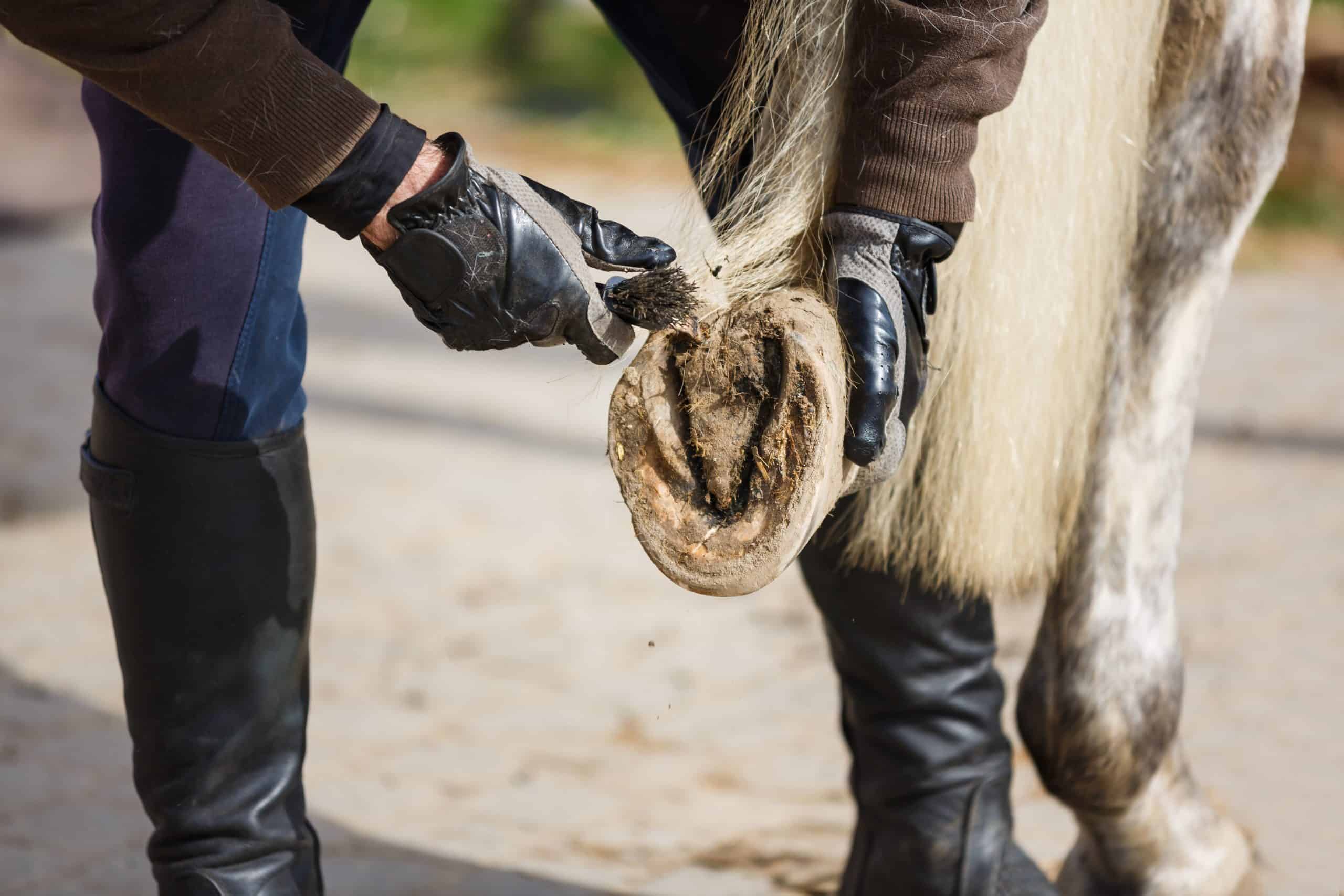 #10 – You go to the store in your riding clothes.
We already talked about how there aren't enough hours in the day to ride, so why would you waste precious minutes changing clothes? It doesn't matter what kinds of stains or smells you've collected during your time at the barn, you're perfectly confident going out in public wearing your riding clothes. The best are the spurs…you always get looks if you are wearing spurs.
#11 Your cowboy hat is your only hat.
Society likes to think that the fancy hats worn at the Kentucky Derby are the trademark symbol of horse life. But those people couldn't be more wrong. You wear your cowboy hat so often, it's now perfectly shaped for your head. We'll give you a pass on this one if you mostly ride English.
#12 – You never tuck your jeans into your cowboy boots.
This seemingly simple fashion choice is a clear sign you're a true equestrian. People who go to the rodeo once a year and have never been on a horse tuck their jeans into their boots. You know the proper way.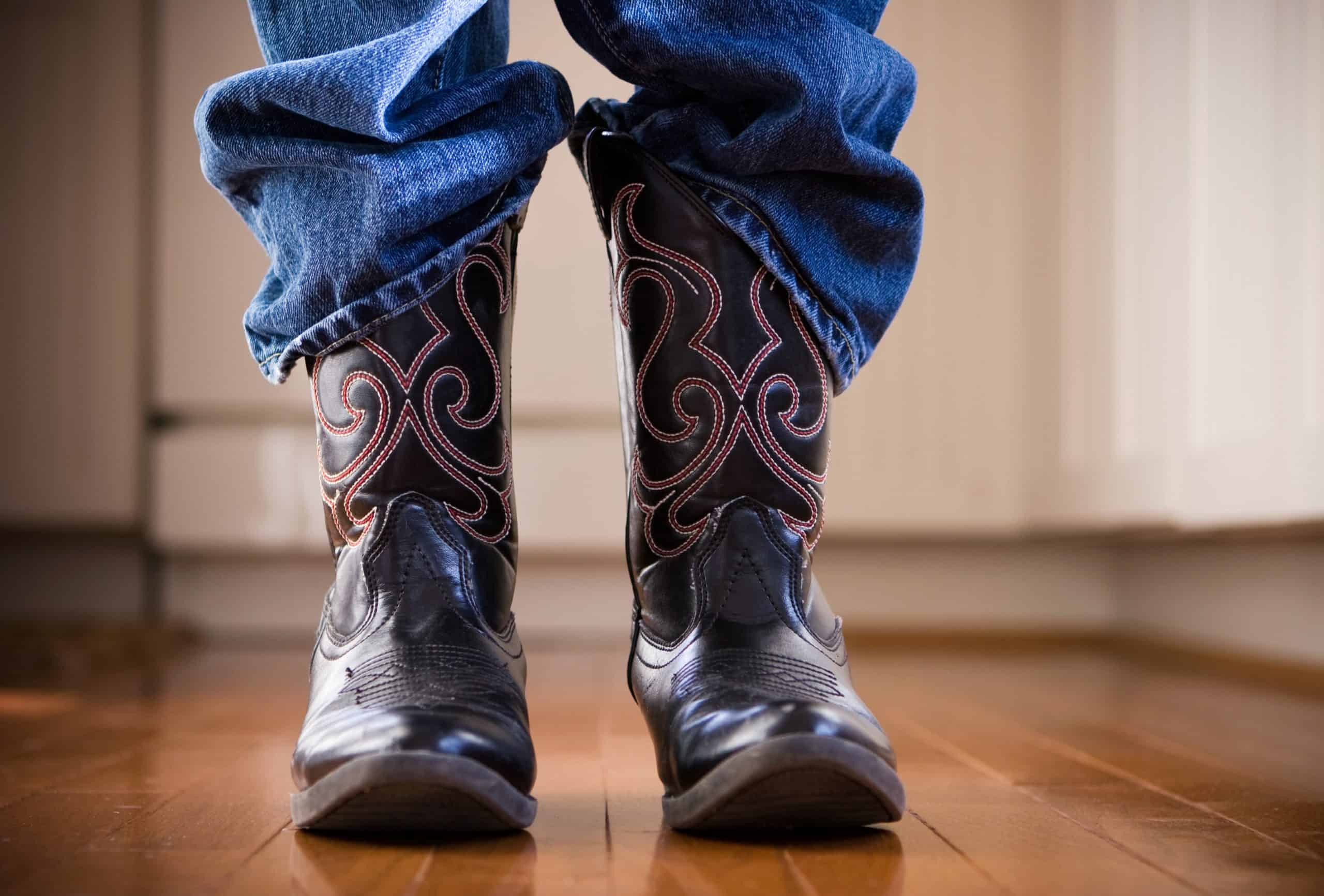 #13 - You style your hair so a helmet fits over it.
It doesn't matter what the current trend is, you have a few rules when it comes to your hair. First and foremost, your hair needs to fit under a helmet. It also needs to stay out of your face. It might look like a sweaty mess at the end of your ride, but all that matters is that it didn't get in your way. You stick to your low pony tail or braids for a simple, no-fuss look.
#14 – You think golf courses are a waste of good pasture.
Some people look at a golf course and picture themselves nailing a hole in one. But you, my equestrian friend, see that large span of green in a completely different way. All that green grass would be perfect for your horses. And there are even shade trees and water features!
#15 – People don't knock on your front door, they just go to the barn to see if you are home.
Anyone who knows you knows that there's no point in knocking on the front door. If your car's in the driveway and you're supposed to be home, there's little chance you're actually in the house. Visitors have a much better chance of finding you if they walk themselves back to your barn. Why would you be anywhere else?
Would you add anything else to the list? Let us know!
Need a laugh? Check out these perfectly timed horse photos.