It was a long night for Florida firefighters when a call came in about a senior horse in a perilous situation. At 40 years old, the horse named Buddy Bear unknowingly walked over an open septic tank. He put one foot over the tank, and he fell deep into the pit. It was late and the scared horse was submerged in sewage, but quick thinking and ingenuity ended up saving the day.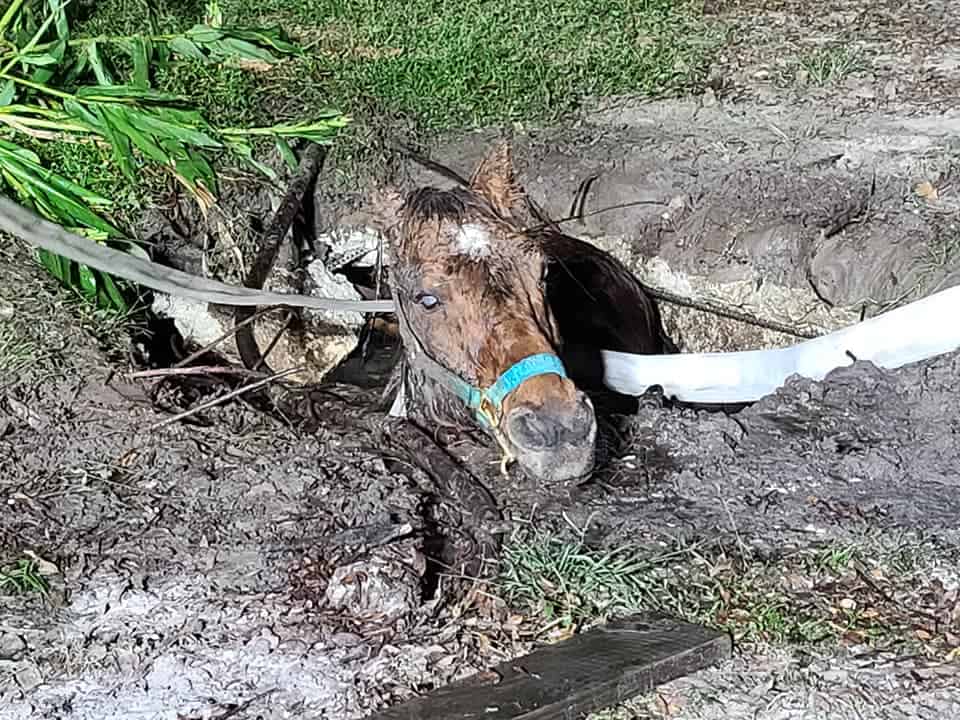 Marion County Fire Rescue responded to the 911 call after the concerned caller realized there was no way Buddy Bear could make it out of the septic tank on his own. It took only six minutes for firefighters to arrive on scene, and they didn't waste any time trying to help. With no way of knowing how deep the septic tank really was, the firefighters called in the MCFR Special Operations HAZMAT Heavy Rescue and Technical Rescue teams to assist.
Buddy Bear's body was 75% submerged in sewage, and he was quickly losing energy and strength. He had to keep his head above the surface, and his fear didn't help the situation. Thankfully, one of the firefighters on call grew up in the horse industry. He took control of the situation and came up with a solid plan to get Buddy Bear out of the tank both quickly and safely.
The firefighters decided to use a hose to fashion a make-shift sling that could support the horse's weight. They made a DIY box cinch to stabilize the frightened horse, and put an additional section of hose to support Buddy Bear's weakening back end.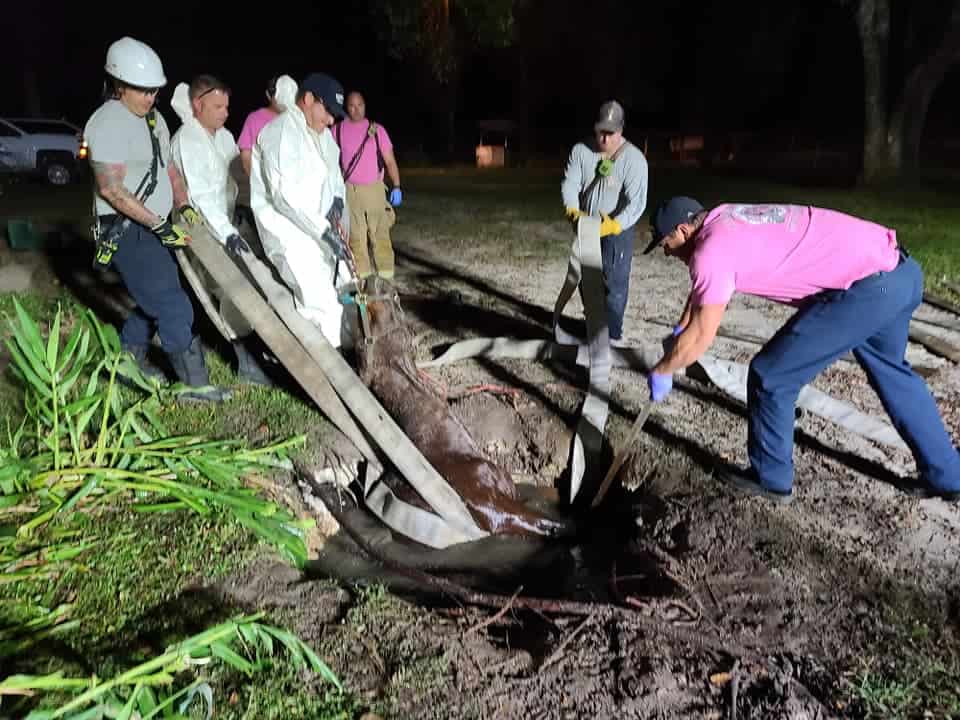 With their makeshift sling in place, the firefighters then helped Buddy Bear maneuver to a position where they could pull him out of the sewage. It took the strength of seven men, but the firefighters successfully pulled Buddy Bear back onto solid ground.
With the hard part accomplished, a vet was called on scene to check on the exhausted senior horse. Buddy Bear is going to need plenty of rest and relaxation, but fire officials report he suffered no major injuries.
Buddy Bear is now recovering from his scary ordeal, and we're so thankful that creative-thinking firefighters were around to save his life.
All images via Facebook/Marion County Fire Rescue