Horse owners know that the only safe way to transport a horse via vehicle is with a horse trailer. It doesn't matter if it's a goose neck or slant load, but transporting a horse always comes with risks, and proper safety measures can't be ignored. Motorists in Tennessee were shocked, however, when they witnessed a pickup truck traveling with a full-grown horse in the bed. Now that the picture is going viral, authorities are hoping to identify the driver and place charges.
Nick Beres with Nashville CBS affiliate WTVF first reported the story when a viewer shared the photo of a older model Ford pickup traveling along I-40 in Tennessee. The viewer claims the truck was traveling at least 45 miles per hour on the busy highway. And while the horse looks to be saddled, it did not appear to be tied down in any way.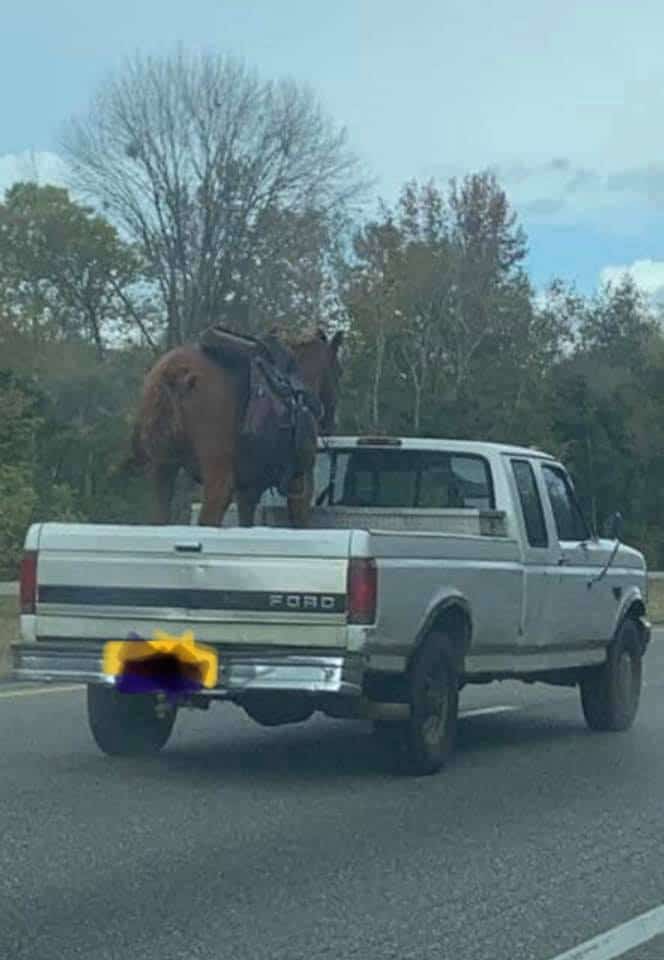 Beres blurred the truck's Mississippi license plate before posting the photo, but he also said authorities in Tennessee and Mississippi have been notified. The Humphrey County Sheriff's Office is reportedly investigating the incident, and Tennessee Highway Patrol has also been involved.
Beres wrote on his Facebook page,
"Authorities tell me this is wrong and dangerous. I do not know if there is a specific law prohibiting this on the books. But, I'm told the charges could be anything from reckless driving to animal cruelty"
Whether there's a specific law forbidding horses from traveling in pickup trucks or not, the driver of this vehicle put many lives in danger. Not only was it extremely dangerous for the horse, there was also the risk of injuring, or even killing, other people on the roadway. If the horse spooked and tried to jump from the truck or lost its balance, it could have caused an accident.
Horses in pickup trucks might not be specifically illegal, but the fact that the animal was not secured in the open truck bed violates federal law. The USDA has reportedly started their own investigation.
The latest update from Beres is that authorities have been able to track down the truck, but they have yet to identify the driver or locate the horse. And unfortunately, this serious lapse of judgement is not the first time this has happened. In March of last year, a driver in Texas was cited with animal cruelty for doing the same thing.
Consider this a lesson of what NOT to do with your horse.