Regardless of whether Verity Smith ever wins a gold medal, she is an incredible athlete, competing blind in a sport that definitely has risks, even for those with full vision. She is currently competing at Prix St. George in open competition (the highest level ever achieved by a blind rider in Britain). But she would at least like the chance at that medal in this year's Summer Paralympics in Rio. But a new ruling by the International Paralympic Committee (IPC) and the International Equestrian Federation (FEI) may dash her dreams before she even gets to compete.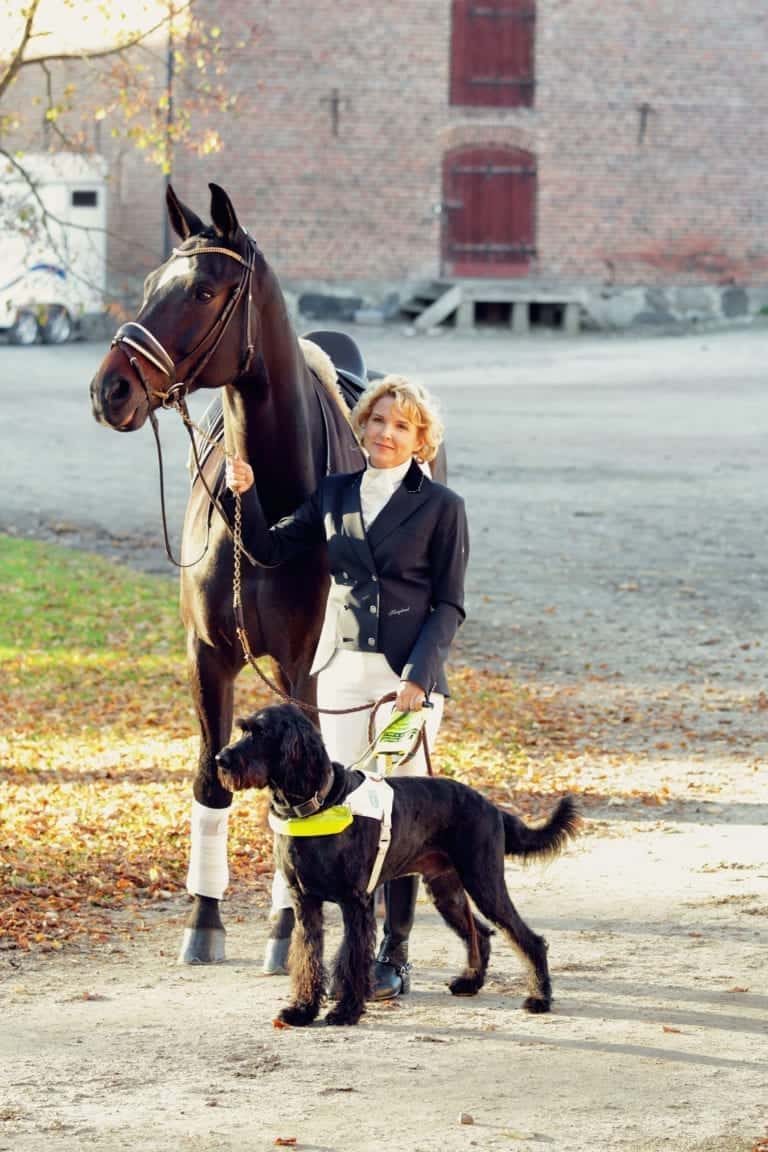 The recent ruling will require Smith, and other Dressage riders, to blindfold themselves while competing. Smith is registered blind with 10 percent residual vision, like many who are registered blind. She uses that little bit of light she sees to help her ride.
Classifications & Fairness In The Games
The IPC uses a classification system to help ensure "Fair and equal competition" at the games. According to their website:
"The impact on the sport must be proved, and each in Paralympic sport, the criteria of grouping athletes by the degree of activity limitation resulting from the impairment are named 'Sport Classes'. Through classification, it is determined which athletes are eligible to compete in a sport and how athletes are grouped together for competition. This, to a certain extent, is similar to grouping athletes by age, gender or weight."
With blindness, they have different grades depending on the residual vision the rider has left. The IPC claims the blindfold is to level the playing field for all blind riders. The ruling was made two-thirds of the way through the 2015 training season – so riders who are now facing the blindfold only have a few months to learn to ride with one if they want to compete in Rio.
Is It Fair?
Smith has put her Rio dreams on hold because of this ruling, which she says makes it impossible for her to compete at Olympic level. She is trying to fight the ruling – not just for her, but all the blind riders – explaining it's downright dangerous.
On her Change.org petition, Smith explains that it is "...dangerous and debilitating as most registered blind people have some residual light and dark. Horses have always been my sanctuary, allowing me to quite literally ride the storm of my blindness . When I ride I am free I am afraid of nothing but in the blindfold I am a prisoner frightened of the dark."
Smith elaborated to iHeartHorses, explaining why the ruling does not make sense:
"Most blind people are not black blind, this is very rare. The majority , like myself, have light sensitivity but this is not to be confused with being able to see. The 10 percent of light and dark sensitivity that I have is my night and day.  My brain is so finely tuned to patch together a tapestry of my world from the little information that my eyes detect, albeit simply light and dark.  It is impossible to ask the brain to re-calibrate its equilibrium for the 7 mins of a dressage test.  If you imagine having lost 9 fingers and only having a thumb left, you learn to use that thumb to its maximum and this is how people with light sensitivity use their light recognition, to take it away is so disabling.  It is like putting a hood on a kestrel, my ability's wings are clipped and I am left a prisoner in the dark, my worst nightmare."
"When I have a blindfold on, I don't think about winning, I think about surviving," She says in the below video interview conducted by the BBC Gloucestershire about the recent ruling:
We would love to hear your opinions on the new rule in the comments. Do you think it's fair? If you would like to sign her petition to get the ruling changed, go here and follow her progress on Facebook.