When it comes to animals, sometimes they can accidentally get themselves stuck in some pretty unfortunate situations. For Girlie the Mule and Tick the horse, they found themselves in an extremely life-threatening situation just this past week. On Sunday August 16, at approximately 5:00 p.m., Marion Fire responded to a call at Merrow Farm on Converse Road.
Marion Fire / EMS in Marion, MA, shared a post on Facebook just a few days ago, alerting their followers about this pair that is very lucky to be here today. The crew responded to a call of "two horses" stuck in deep mud. And when they quickly arrived to the scene they knew they had to get to work—and fast.
For three hours, they all came together and worked hard to free the animals who were experiencing labored respiration due to the stress of being stuck in such high mud. Marion Firefighters, Animal Control Officer (ACO) Susan Connor, and the owners of the animals worked hard to reduce the intense pressure the mud was placing on the animals as they worked to free them. By 8:00 p.m. that evening, the scene was cleared.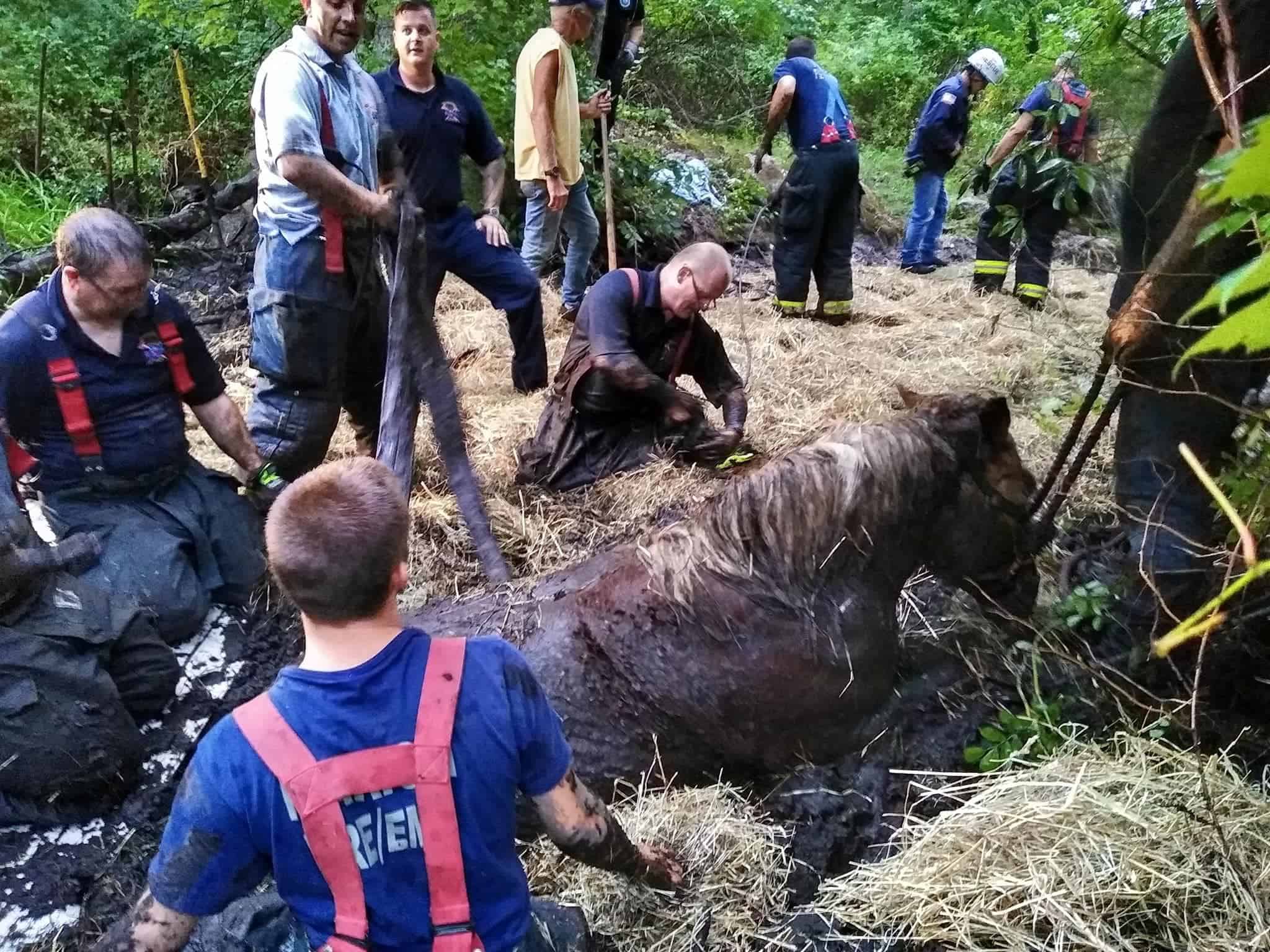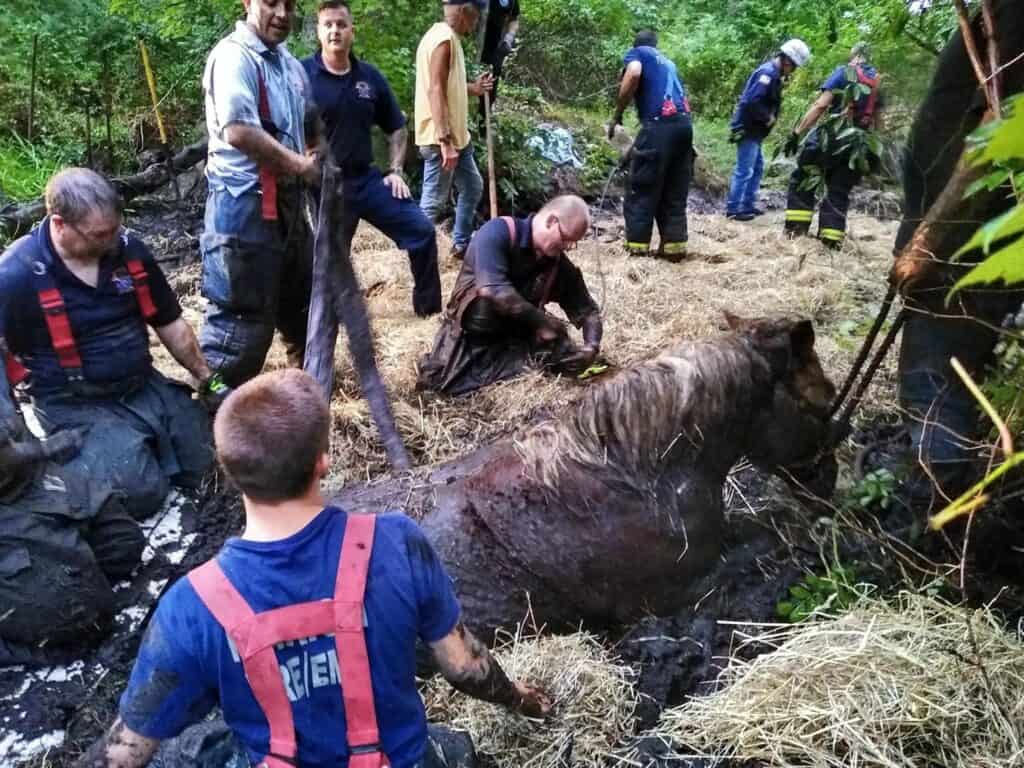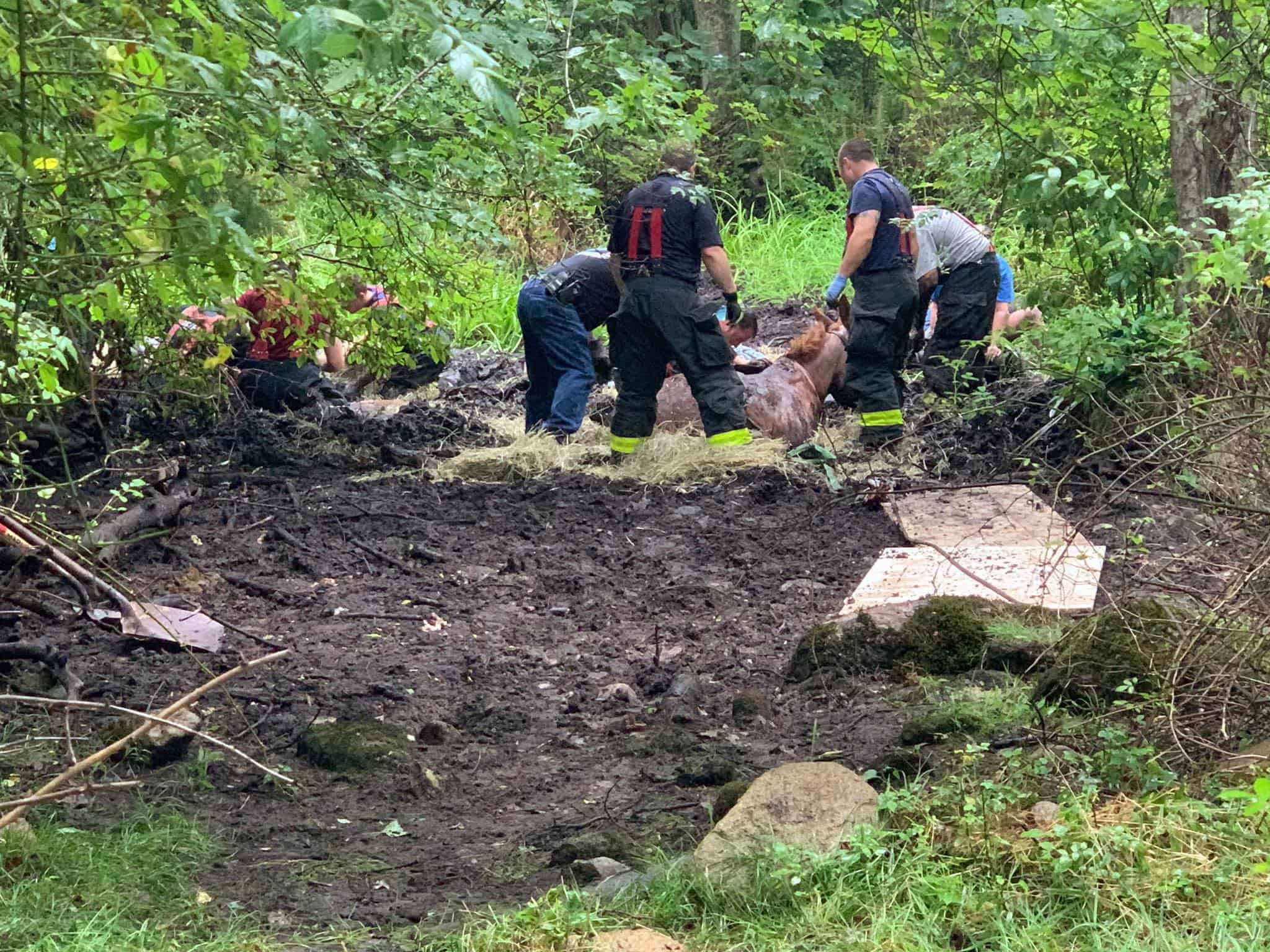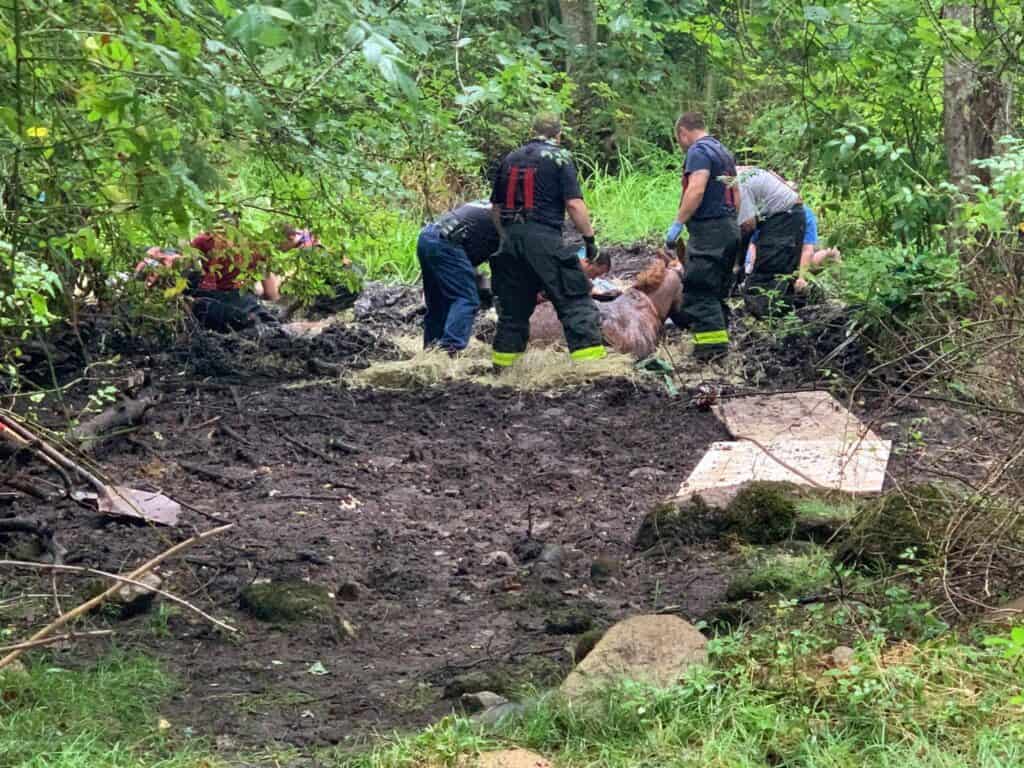 "17:06 members were dispatched to a rescue call for two horses that became stuck in the mud off Converse Rd. This operation took time and expertise by all members. Total operation [time] was three hours. We are happy to say that both horses are recovering and well. Special thanks to all the members of the department who worked tirelessly in this effort. Responding units: C-1, C-2, A-1, E-1, S-2, Breaker -127. Plymouth County Tech Rescue. Thank you Mattapoisett Fire Rescue for providing Station Coverage."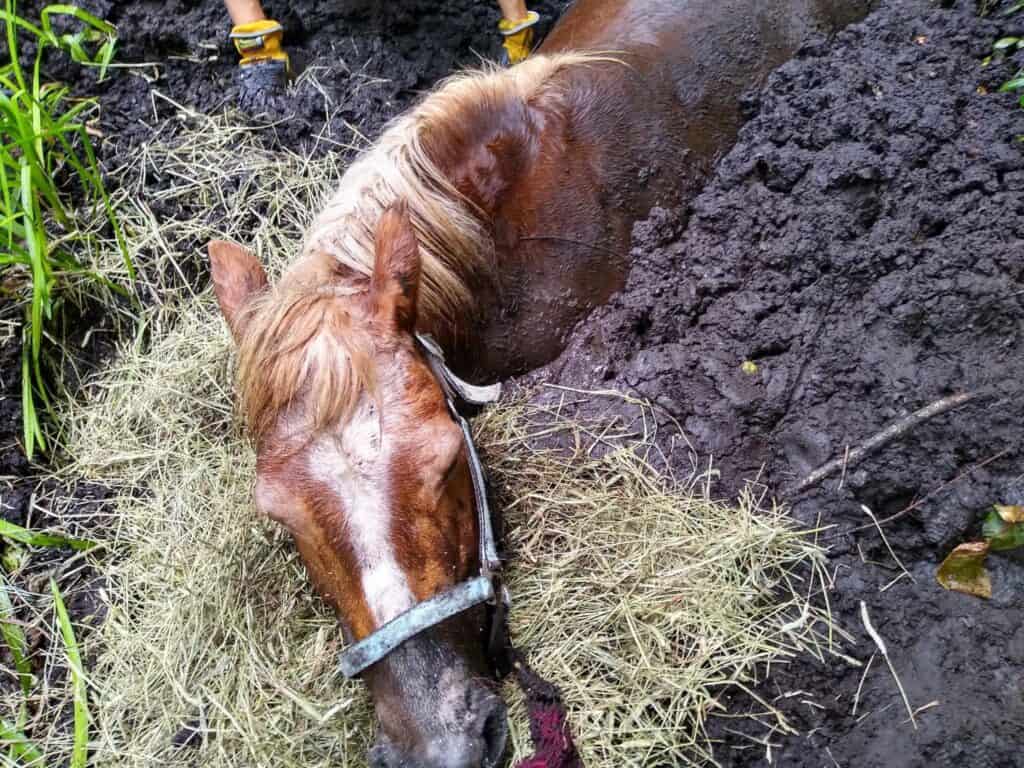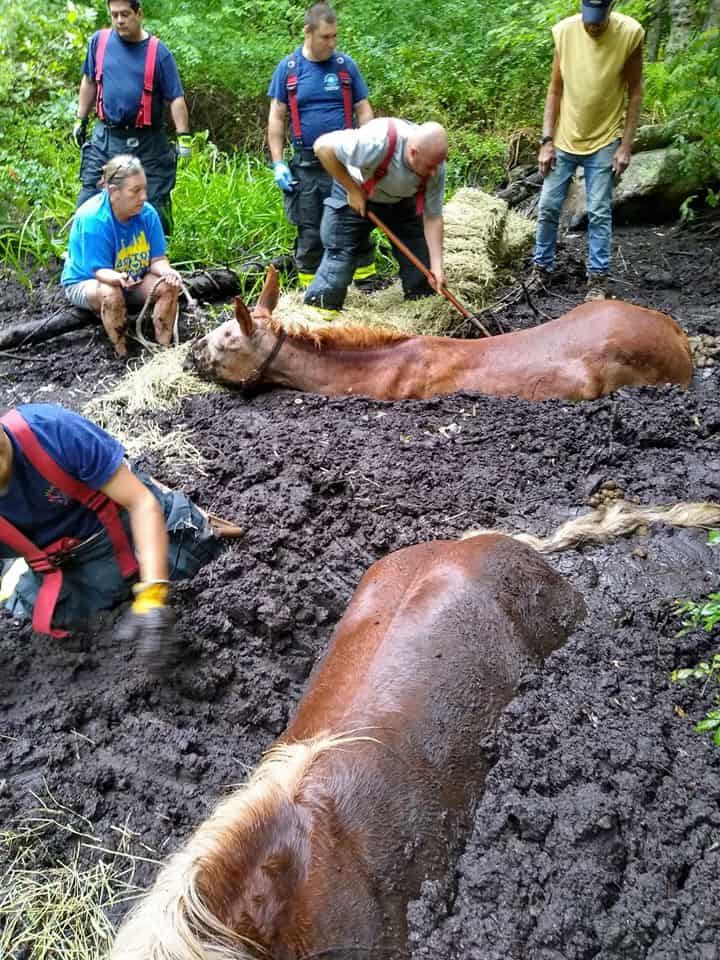 According to local news reports, a winch from the department's brush breaker, pulleys, straps, and a sling were used to extract the animals. I'd like to give a special thank-you to all those involved in this rescue mission. From the photos alone, it did not look easy. Both Tick and Girlie are recovering well, and I know that if it weren't for this team of brave women and men, they wouldn't be here today. The pair is being well cared for, and both have cleaned up nicely since their rescue!
Police Chief Brian Jackvony of Marion P.D. said, "We are pleased to report that both animals are recovering and doing well at this time. I'd like to commend all members of the department who worked in this effort to save them. I'd also like to thank Plymouth County Tech Rescue and Mattapoisett Fire for their assistance. All parties worked cohesively for a positive outcome."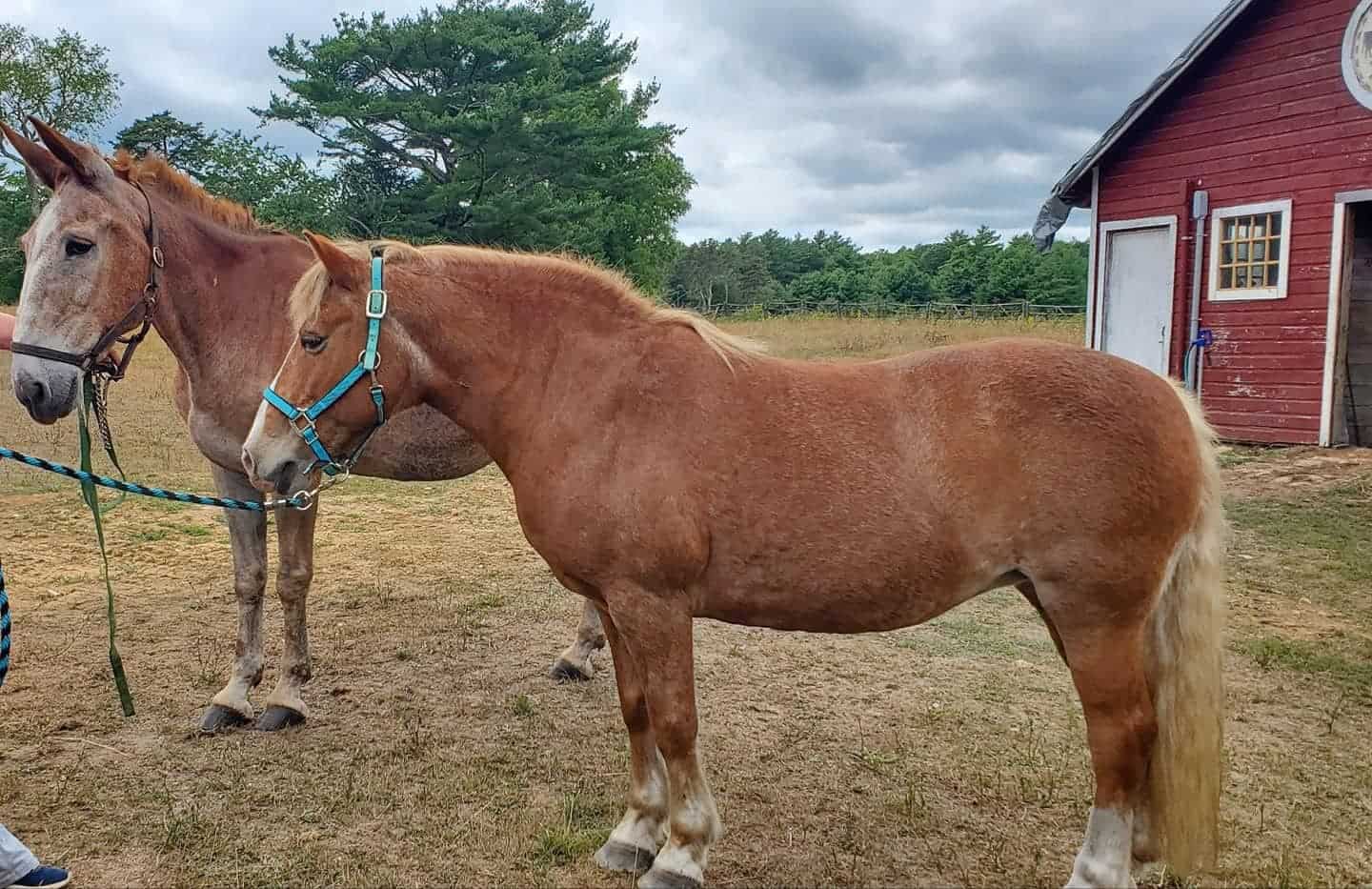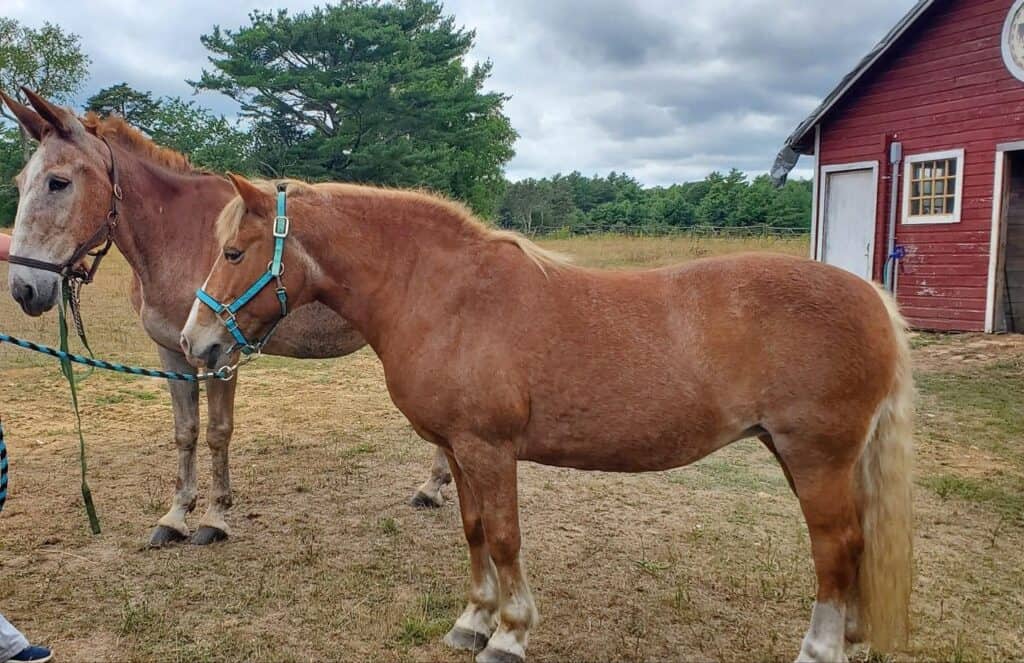 All Images Courtesy of Marion Fire / EMS on Facebook