By now you have probably heard of Charlotte, the Houston Texas Police Department (HPD) horse that was killed while on duty in a tragic traffic accident.
While on duty, Charlotte backed into a truck's wheel well, breaking her leg. Her partner Officer Herrejon suffered three broken ribs, a possible torn rotator cuff and possible torn ligaments in his left knee. While he was being transported to the hospital, Officer Ronald Curry, who was Herrejon's human partner that day, covered Charlotte's head and laid with her – staying by her side until her last breaths when she was euthanized on the scene. The compassionate image has gained national attention:
The police department posted a loving tribute to Gen's Shaking Ice, aka "Charlotte" who had been with the force since she was two years old and had served for four years:
"Charlotte came to HPD as an unstarted 2-year old Tennessee Walker from Oklahoma. She thrived in HPD Mounted Patrol's barefoot and natural horsemanship programs. She passed her evaluation period with flying colors and was working the streets of Downtown Houston within a short time of being started under saddle. She loved her job and was always ready to go to work putting bad guys in jail or giving nuzzles to children. She served the citizens of Houston for 4 years"
This picture was taken just the day before she passed.
The entire city is saddened by her passing, she was well-known to many as the comments on the Houston Police Department's Facebook attest.
A Touching Tribute
Loreen Pantaleone is the founder and artist behind The K9 Hero Portrait Project, a non-profit that creates stunning portraits of falling K9 heroes (such as police, military, search and rescue, etc.) for free to give their partners as an eternal tribute.
Pantaleone told iHeartHorses that she has just been asked to do a portrait of Charlotte for the city.
Though she always has a list, due to the nature of the accident, Charlotte will be the next portrait she does. The below image is the one they decided to use as the basis of her portrait.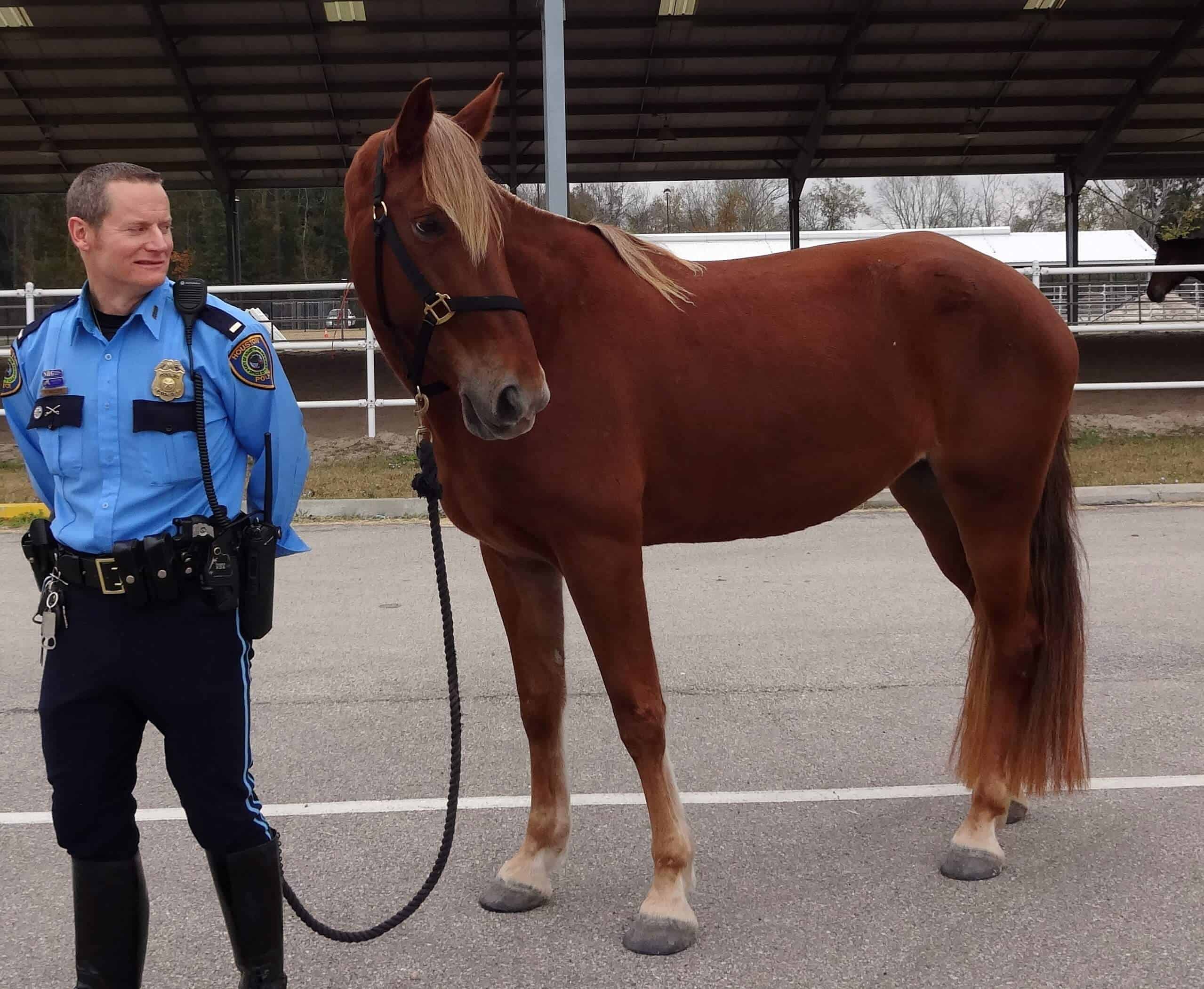 "I will be painting her with all of her uniform tack, so it's going to be a tricky portrait, but if you've seen the other paintings, rarely are the vests on the K9 in the original photos, it's something I add myself," explains Pantaleone.
The portrait will be large, 30"x40" and Pantaleone is planning on doing an in-person presentation for this special portrait. The original will most like hang in the Houston Police Department, though that has not been decided for sure.
"So many people adored her we couldn't decide on one single person, so it's best if the tribute stays with the PD," Panteleone explains.
Canvas reproductions will be given to those who knew and worked with her, including: Herrejon, Wallace, Wills, Van Horn and Curry.
In a tribute penned by Cris Van Horn, who bred Charlotte and donated her to the HPD and Lt. Randall Wallace, they speak about her amazing "horsenality" just a few months on the job:
On August 15, Lt. Wallace said, "Oh my gosh!  I wish I would have kept a journal!  She is doing amazing.  I took her downtown Tuesday and patrolled alone, and she did fabulous.  She ran up three steep flights of stairs like she's been doing it all her life.  She backed up a flight of stairs on her first try.  She wrote 8 tickets and never broke a sweat in 100 degree weather.  She isn't scared of anything."

In September 2013, Charlotte participated in her first parade downtown, and acted like she had done a hundred of them.  She worked her first protest the following October and was in the Houston Thanksgiving Day parade in November.  With her unflappable "horsenality," willingness to please and overall awesomeness, Charlotte was used as a mount for dignitaries at various functions.  Because of her high confidence level, she was also used as a Mentor horse on first trips to downtown for new horses coming into the Houston Mounted Patrol program.  All of these accomplishments were within the first year of her being under saddle—absolutely amazing!!!

…

Even though Charlotte's time on earth was very short, she served bravely and willingly for the three years.  She patrolled the streets of Houston and fought crime with her human partners.  She touched the lives of many all over the world who followed her accomplishments.  She was a wonderful addition to the Houston Mounted Patrol and an absolutely stellar ambassador to the Tennessee Walking Horse breed.  While her life was like a shooting star, she will always shine brightly in the hearts of all who loved and knew her.  Godspeed over the rainbow bridge, precious Charlotte.  We will meet again.
(Tribute shared by Pantaeone)
In the tribute, they credit Charlotte for being the "impetus behind a myriad of relationships that were forged with the Houston Mounted Patrol. Because of Charlotte, the Houston Mounted Patrol received other equine donations…and for education endowments given to the Houston Mounted Patrol Program."