The battle regarding the famous carriage rides in New York City has been going on for almost two years. It's attracted national attention from animal advocacy groups who want the carriages banned, to actor Liam Neeson, who has long supported the carriage rides, citing that the workers have a "spotless" record when it comes to safety and caring for the horses, who are their livelihood.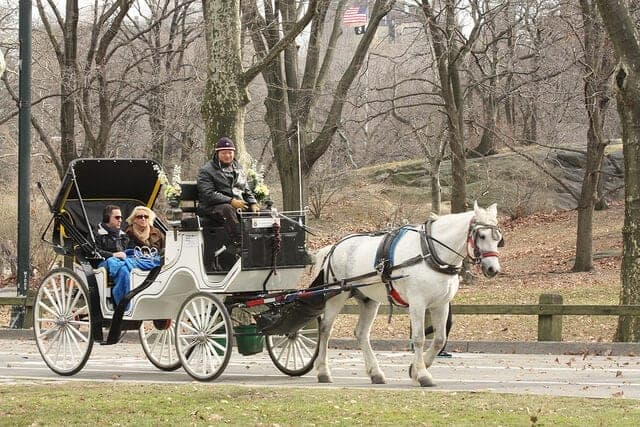 The carriage ride industry in Central Park consists of 68 coaches, 174 drivers and more than 200 horses. This doesn't include the people that own the carriage companies.
This behind-the-scenes interview shows how the owners (and the law) keep the horses well taken care of:
All the working horses must have regular vet check-ups and each horse gets five weeks of vacation a year, where they are sent to a farm upstate.
Animal groups, however, have worked hard to get the rides shut down, including donating millions to the campaigns of any mayor candidate who opposed them. The groups all believe it's inhumane to have horses in they city, as well as dangerous to have them so close to cars and trucks.
Mayor Bill de Blasio wanted to shut down the rides altogether; it was one of this campaign promises from two years ago. He also believes it is inhumane to use horses in the middle of New York City, with cars, bicycles and pedestrians crowding the streets.
The Agreement
Last Thursday, January 14, ABC7 reported that the city officials were close to making a bargain regarding the horses – but it wasn't the deal many were hoping. This deal would allow the carriage rides to continue operation.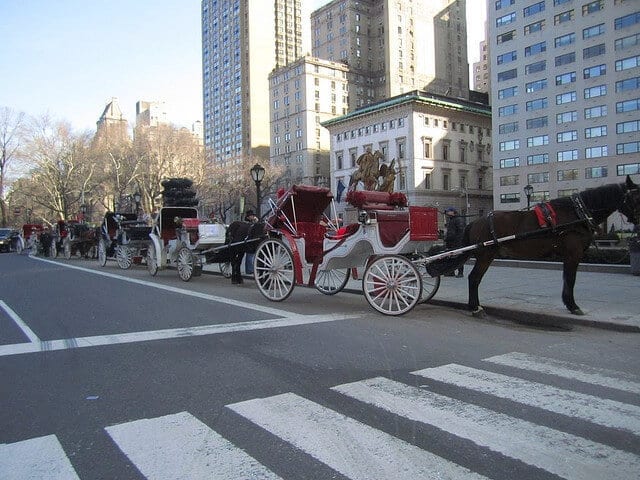 On Monday January 18, it was announced that the city council reached the agreement. The carriage rides will continue to operate in Central Park with some changes for the safety of the horses. The following are highlights of the agreement:
Number of horses will be reduced from 180 to 95 by the time to new barn is built
A permanent barn will be built for the horses inside Central Park (they are currently on private land outside the park) by October 1, 2018
Beginning June 2016, drivers must stay inside the park, except to go to and from their current stable. Once the new stable is built, working horses must stay inside the park.
Horses not working must be boarded outside the city
Operating hours will be limited to 9 hours in any 24-hour period beginning December 1, 2016
Carriages can charge an extra $5 for rides after 6p.m. between November 15 and January 5 and on Valentine's Day and Easter.
Pedicabs will not be allowed to operate in the park south of 85th Street beginning June 1
Take Our Poll!
(H/T: ABC7)