You don't have to be an expert on horse racing to recognize the name Seattle Slew. With an unrivaled reputation as not only a champion and Triple Crown winner, but an unexpected competitor who went on to be the best, this iconic racehorse is in line with other legends including Man-O-War and Secretariat. The life of Seattle Slew has inspired generations, and his time both on and off the track has earned him a spot as one of the most famous horses of all time.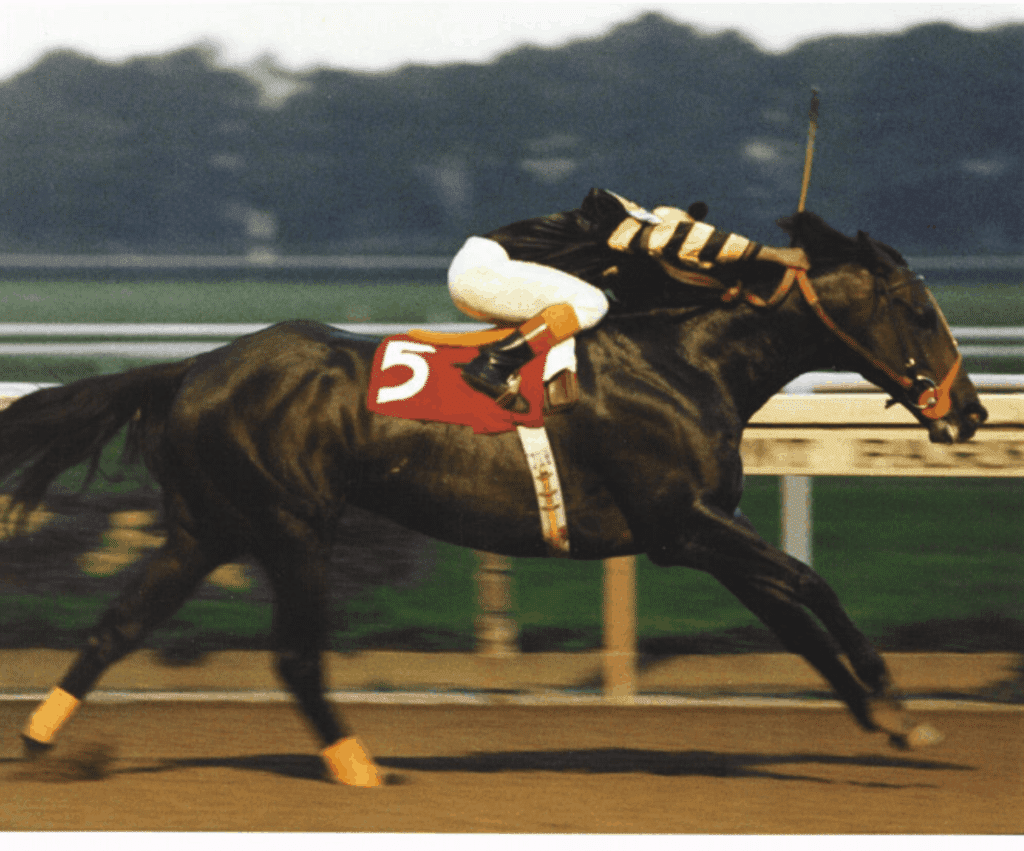 An Unassuming Start
Found at an auction by owners Karen and Mickey Taylor and Jim and Sally Hill, a young Seattle Slew didn't look like he'd grow up to become one of the biggest names in horse racing history. Both his sire, Bold Reasoning, and dam, My Charmer, had yet to make their marks, and the clumsy bay colt attracted only moderate attention at the public sale. But when Karen Taylor saw the spirited young Thoroughbred prance in his pen, she had to have him.
When the bidding reached the couple's agreed-upon limit, a stern look and sharp elbow convinced Mickey to keep going. The Taylors won the bid in a matter of 90 seconds. For a paltry sum of $17,500, they became the proud owners of the soon-to-be-named Seattle Slew.
Named in honor of his owners' home state, the almost-black colt wasn't considered to be particularly attractive. He was big for his age, and his front hoof was obviously turned out. With his over-sized body, young Seattle Slew was more clumsy than anything else. In fact, his unwieldy ways earned him the nickname Baby Huey, after the cartoon duck. Some even compared his likeness to a mule.
As he matured, however, that awkwardness took a shift. Seattle Slew grew into his long legs and bulky shoulders, and he developed a stream-lined running style that was once described as "a falcon in dive." His turned-out hoof didn't slow him down, and his owner's moderate expectations heightened with the promise of potential.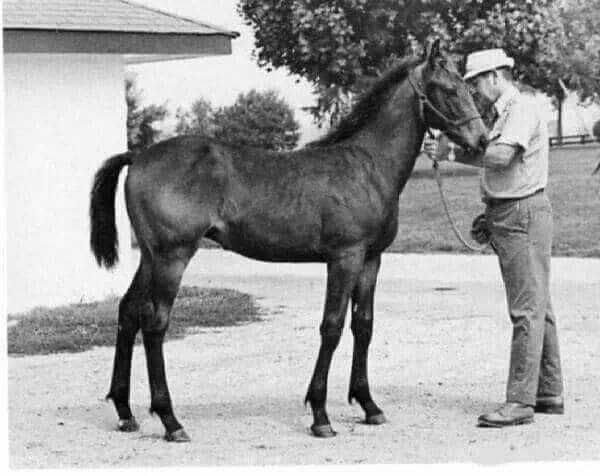 Slew's physical capabilities became obvious as he trained under saddle in Maryland, but it was his personality that truly turned heads. Any horse can run. But all the greatest racehorses have one thing in common--they want to win. From his earliest days of training, Seattle Slew was described as "intelligent, dominant, and determined." He took things seriously and learned skills quickly. The spark of competition was the fuel he needed, and despite his awkward beginning, the young racehorse burst into his career with an impressive start.
The Beginnings of a Legend
By the time two-year-old Seattle Slew made his racing debut, most of the other new competitors had already made their starts. Slew's maiden race was delayed due to a clumsy stall accident, and he didn't get his chance on the track until September 20, 1976.
The fifth race at Belmont Park, the six-furlong race pitched Slew against several strong competitors. He was bet down to the 5-2 favorite thanks to his earlier timed workouts and didn't show an ounce of hesitation as he burst onto the track. That first race was the start of a legendary career. Seattle Slew won by five lengths, and the awkward auction colt never looked back.
Throughout the rest of his two-year-old season and the start of his three-year-old races, Seattle Slew proved to be an unstoppable force. He won again and again, and it wasn't long until the world took notice. He was named Champion Two-Year-Old of 1976 even though he only raced three times.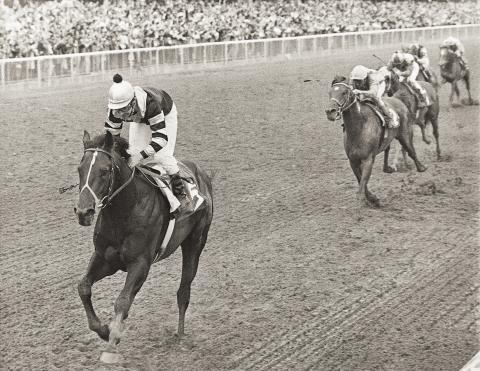 "Slewmania" spread across the country as the big bay streaked past competitors. He raced like he had something to prove, and trainer William Turner's biggest challenge was getting the horse to relax. He continually instructed jockey Jean Cruguet to pull him back during workouts saying that if given the chance, Slew would run so hard and for so long he'd hurt himself.
Leading up to the 1977 Kentucky Derby, Seattle Slew entered only three races. He won all three with ease, and the "Slew Crew" headed to Churchill Downs to take on the most iconic race of the year. No longer the awkward colt, Seattle Slew was the heavy favorite, and thousands of people cheered his name.
Slew's biggest competitor, Run Dusty Run, kept pace, but Seattle Slew ended that race with a 1 ¾ lead. He'd proven his skill and determination, but he wasn't done.
The Race to the Crown
With pressure mounting, Seattle Slew's owners and trainer had their eyes on the most prestigious award a racehorse could achieve: The Triple Crown. Two weeks after his win in Kentucky, Slew completed the Preakness Stakes with one of the fastest times in the race's history.
And then on a muddy track on June 11, 1977, Seattle Slew cemented his place in history. He won the Belmont Stakes by a comfortable four lengths to become the 10th American Triple Crown Winner and the first Triple Crown Winner to conquer the series with an undefeated record. Not only that, Seattle Slew was the first Triple Crown Winner to have been bought at a public auction.
After his historic win, Seattle Slew was a well-known name. The entire country knew of the big dark Thoroughbred. He was voted American Horse of the Year as well as the champion three-year-old. It looked like nothing could slow him down.
But despite his achievements, Seattle Slew's unprecedented winning streak came to an end during his first race after the Belmont Stakes. The champion came in fourth and was then sidelined after a pre-race injection missed the intended vein and caused his jugular vein to collapse.
It was a slow recovery, but Seattle Slew eventually made it back to the track. Everywhere he went, he invoked awe. At 16 ½ hands tall with powerful shoulders and a somewhat cocky attitude, seeing the racehorse in person was considered a momentous occasion. His fame surpassed the world of racing, and his owners syndicated him for a then-record of $12 million.
By the time of his retirement in November 1978, Seattle Slew had a total of 14 wins out of 17 races. Small numbers compared to other racing legends, but he had also earned his owners $1,208,726—an unimaginable amount after an initial investment of only $17,500.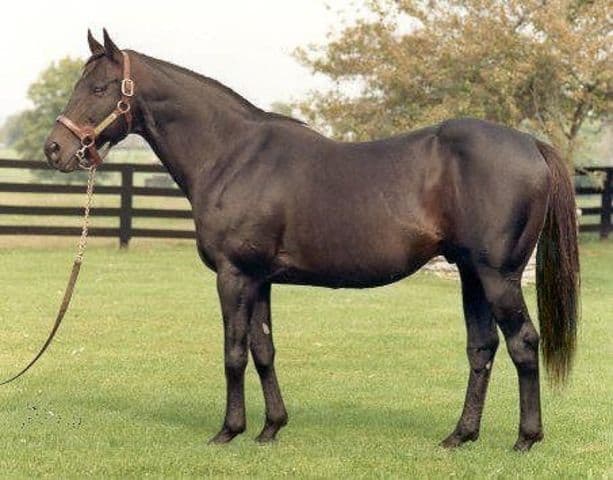 Seattle Slew's Legacy
Seattle Slew died in his sleep on May 7, 2002, the 25th anniversary of his Kentucky Derby win. A statue was erected in his honor, and he was buried whole with his favorite blanket and a bag of peppermints. He was 28 years old.
From his retirement at age four until his last breath, the legendary racehorse lived in comfort and luxury. He became a sought-after stud and sired 1,103 named foals. Many of his offspring followed in their father's hoof prints to become successful racehorses.
Today, the world remembers Seattle Slew for his fierce determination. He was inducted into the National Museum of Racing and Hall of Fame in 1981, and he's been the subject of several books and documentaries. He went from auction colt to champion, and his legacy lives on.
Sources: The Baltimore Sun, History Link, America's Best Racing, Thoroughbred Racing Ancestry
Featured image via America's Best Racing
Interested in learning more about great racehorses? Read this article about Seabiscuit next.