A horse is a horse of course of course…unless it's the famous Mr. Ed! Mr. Ed (1958-1966) is an iconic sitcom for so many reasons. First, it's one of the few ever created what was centered on a non-human star. Second, the show involved some pretty amazing acting skill on the part of the horse, a palomino gelding named Bamboo Harvester. He was an American Saddlebred/Arabian cross and was trained by Les Hilton, whom Will Rogers has coached. Bamboo Harvester passed away in 1970, at 19, two years after the show was cancelled.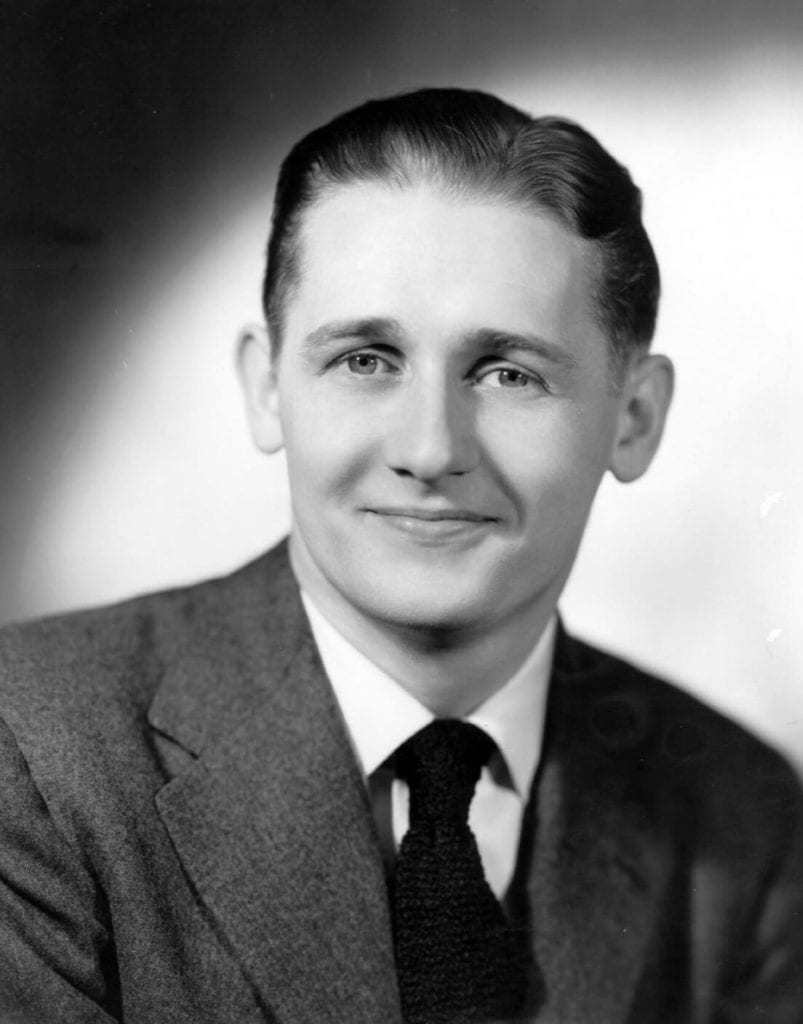 The talented Alan Young, who played Wilbur Post, Mr. Ed's owner and best friend, passed away last Thursday at the age of 96. It was reported by the Motion Picture & Television Home in Woodland Hills, California. He died of natural causes with his children by his said, officials report.  It is said that he was chosen for the part because "he looked like someone a horse would talk to." I know I would have talked to him - he sure was handsome!
In honor of this great actor and his horse counterpart, we rounded up some of the best quotes from the Mr. Ed TV show. Enjoy!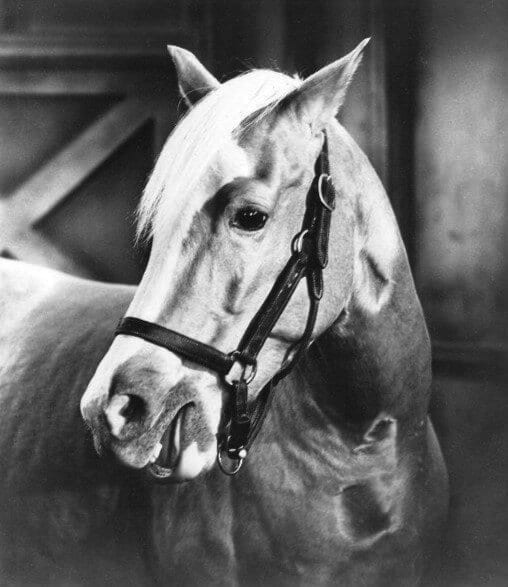 (After realizing for the first time that Mister Ed can talk)
Wilbur Post: This is incredible. I don't understand how it's possible.
Mister Ed: Don't try - it's bigger than both of us.
***
Wilbur Post: (to Mister Ed) Why didn't you talk to my wife?
Mister Ed: I hate skeptics!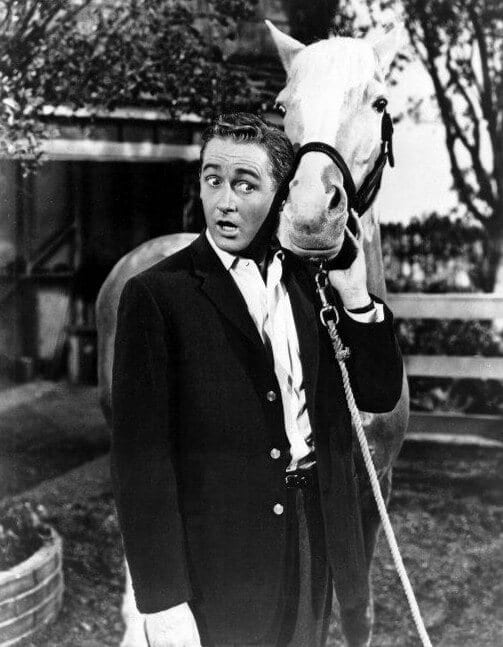 Wilbur Post: I can't believe this. My neighbor, my wife... my own wife whom I've known for three years, thinks that I'm crazy. I tell them that I have a horse that talks and they don't believe me.
Mister Ed: Why should they? It's ridiculous!
***
Mister Ed: Boy, am I glad I remained a bachelor!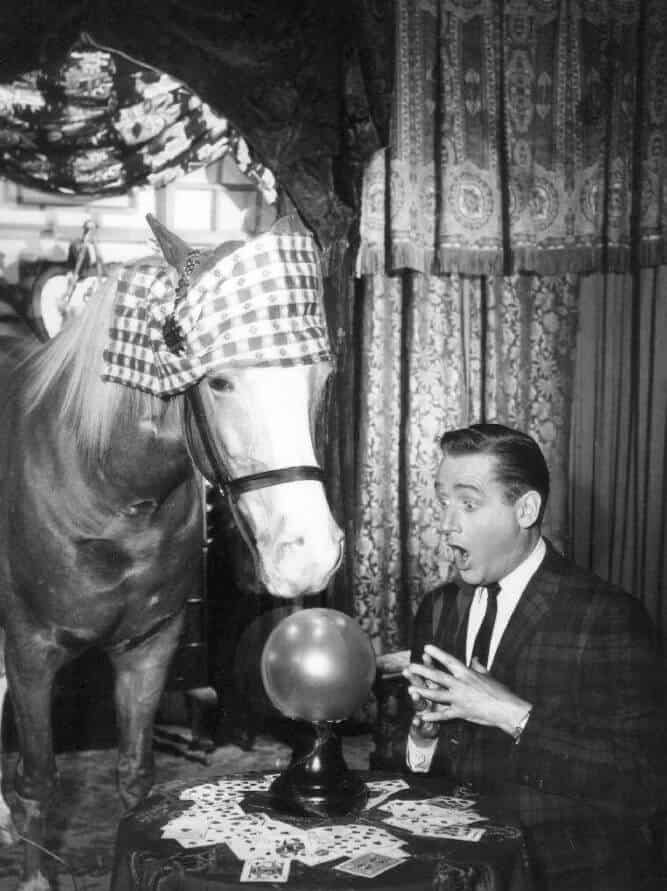 Mister Ed: Wilbur, I'm attending college because I want to become a P.H.D.
Wilbur Post: P.H.D.?
Mister Ed: Palomino Horse Doctor.
***
(Mister Ed looks up and sees a park ranger helicopter hovering above him)
Mister Ed: Gee, look at the size of that vulture. He's got two men in him and he's still hungry!
***
(Mister Ed, wearing dark goggles, a beret and a scarf sees the rented milk truck he's about to drive])
Mister Ed: My first solo. Now I know how Lindberg felt.
***
(Mister Ed drives his truck and sees a sign that says "One Way")
Mister Ed: One way street? Oh, well that's okay. I'm only going one way!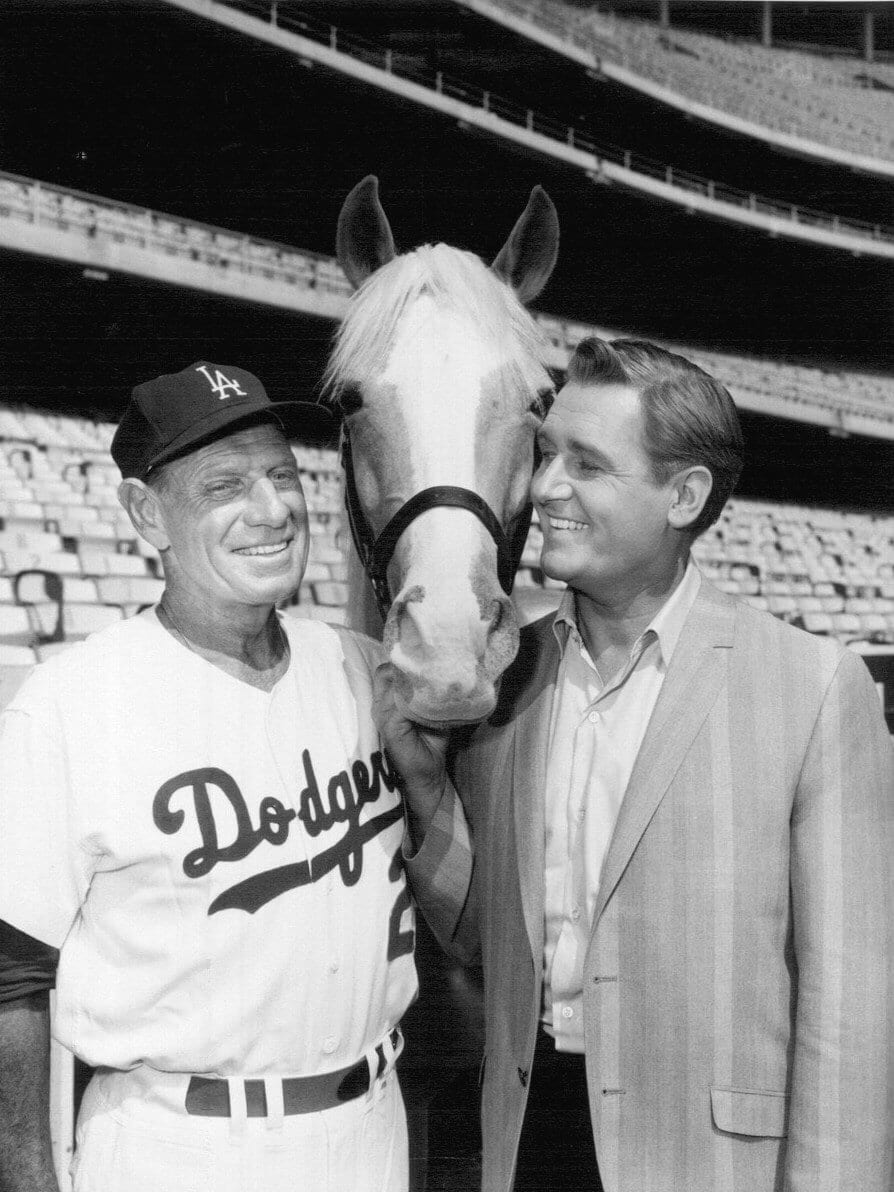 (Mister Ed, alone in his stall, picks up Wilbur's ringing office phone)
Mister Ed: Hello?
Kay Addison: [voice] Hello? I'd like to make a reservation. Is this Trans Continental Airlines?
Mister Ed: No, lady. This is the Pony Express!
(hangs up)
***
Mister Ed: It's a strike all right, Wilbur. I'm pulling out every horse from under you.
Wilbur Post: Just because I'm wearing a horse outfit to a costume party?
Mister Ed: You make fun of horses, and all you'll be riding is a pogo stick.
Wilbur Post: Ed, if you don't call off this ridiculous strike, I'll trade you in for a rocking chair!
Mister Ed: (scoffs) You're going to look real silly trying to ride that on a bridle path.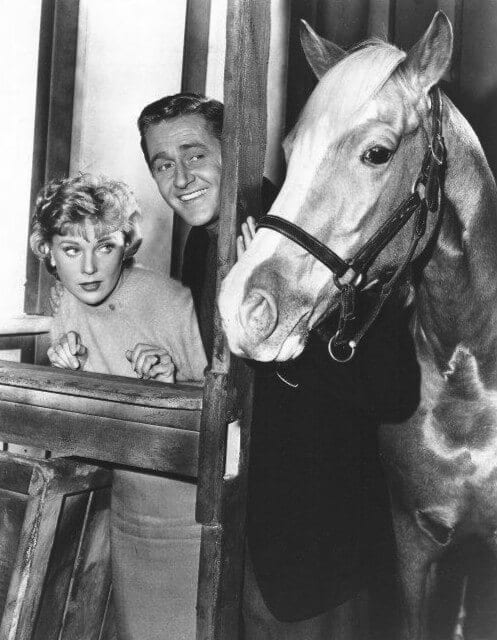 Wilbur Post: (referring to Robin Hood) He used to steal from the rich, and you know why?
Mister Ed: Because the poor didn't have any money.
***
Wilbur Post: (placing telephone away from Ed) You phoned the feed store, again, didn't you, Ed? I thought I told you that I was the one to give the orders around here. Ya know, that's the fourth load of hay we've had delivered this week.
Mister Ed: (talking while chewing mouthful of hay) Well, I'm hungry.
Wilbur Post: How come other horses don't eat as much as you do?
Mister Ed: 'Cause they can't phone the feed store.
***
Mister Ed: Wilbur, why don't we write a letter to Dear Abby? She could give us advice on what I should do.
Wilbur Post: Okay, we'll write Dear Abby. How's this? "Dear Abby, my horse told me that he wants to leave home and have his own swinging bachelor apartment. Do you think he's right? Signed, Butterfly Net." Because that's exactly what they'll throw over me.
Mister Ed: You don't have to say your horse told you. Tell her it was your cat.
***
Mister Ed: My mother didn't raise her horse to be a jackass.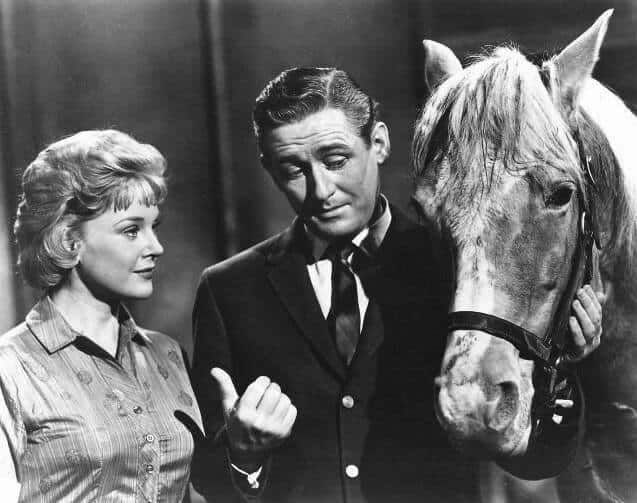 Mister Ed: (about the fact that Ed has caused Wilbur a lot of trouble for a sneaky trick he played on his wife and neighbors, so he could have his birthday party) Don't be sore at me, Wilbur. I'm only a nine year old kid.
Wilbur Post: Well, nine years old in a horse is equal to sixty in a human being.
Mister Ed: Then stop yelling at an old man.
***
Wilbur Post: Thanks Ed, but you could never take Carol's place.
Mister Ed: Why not? I'm more loveable.
Wilbur Post: Ed, a wife is a wife and a horse is a horse.
Mister Ed: Well, have you ever heard of someone say "my kingdom for a wife"?
Probably not, but most of us would give a kingdom to hear our horse talk, that's for sure! So here's to Mr. Ed and Alan Young, maybe they are having conversations together once again across the rainbow bridge.