Chances are, you have never heard of the Ojibway pony – sometimes referred to as the Lac La Croix pony. Named after the indigenous peoples of the area in North American where both used to flourish, the pony is a small, sturdy wild horse whose population has dwindled down to an estimated one hundred.
Randy Stewart, co-operator of RR Spirit Horse Ranch, told iHeartHorses how Rhonda Snow and he came to be guardians of these rare equines:
"Rhonda Snow first heard of these small horses of the woods as a young girl, and I had heard of horses seen along the shores of Rainy Lake, which sits on the edge of Fort Frances. About 12 years ago she was contacted by a vet in northern Minnesota about a small herd of horses in danger of certain death, it was a year of heavy snowfall and the wolves had been decimating the herd. She put together a rescue team, horse trailers and rescued the remaining 9 animals from the wild. That's where the story began for her journey to bring these wonderful creatures back from the brink. She and I connected later on in her journey during a difficult time in her life, we fell in love and I became equally enamored to the horses. Together we run RR Spirit Horse Ranch, a sanctuary and home for rare breed horses. As well as our Ojibway, we have the Nez Perce and the Akhal-Teke breeds, both rare breed horses."
On their ranch, they have thirty-one of the suspected one hundred purebreds left. They are expecting 6 foals this spring.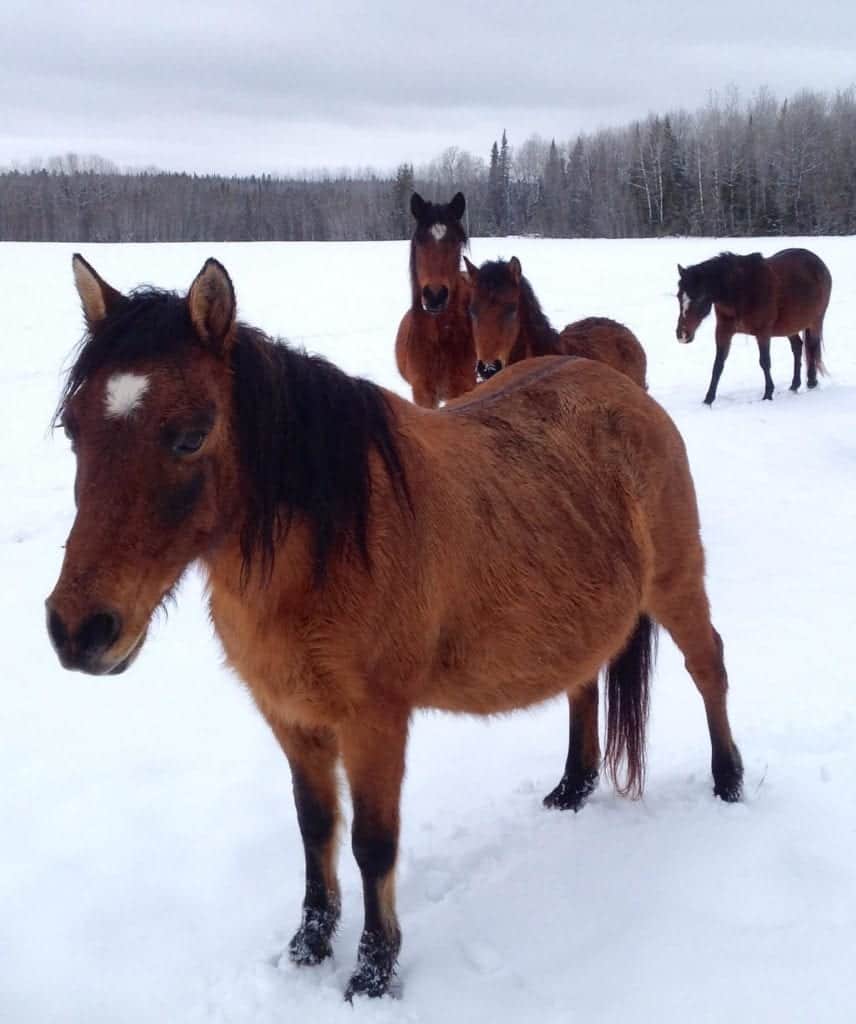 Why these cute, sturdy ponies have almost become extinct is a mystery. However, hunting, loss of land due to logging as well as natural dangers such as high snowfalls and predators have played a factor, Stewart explains. But, as with most things, civilization was probably their biggest enemy.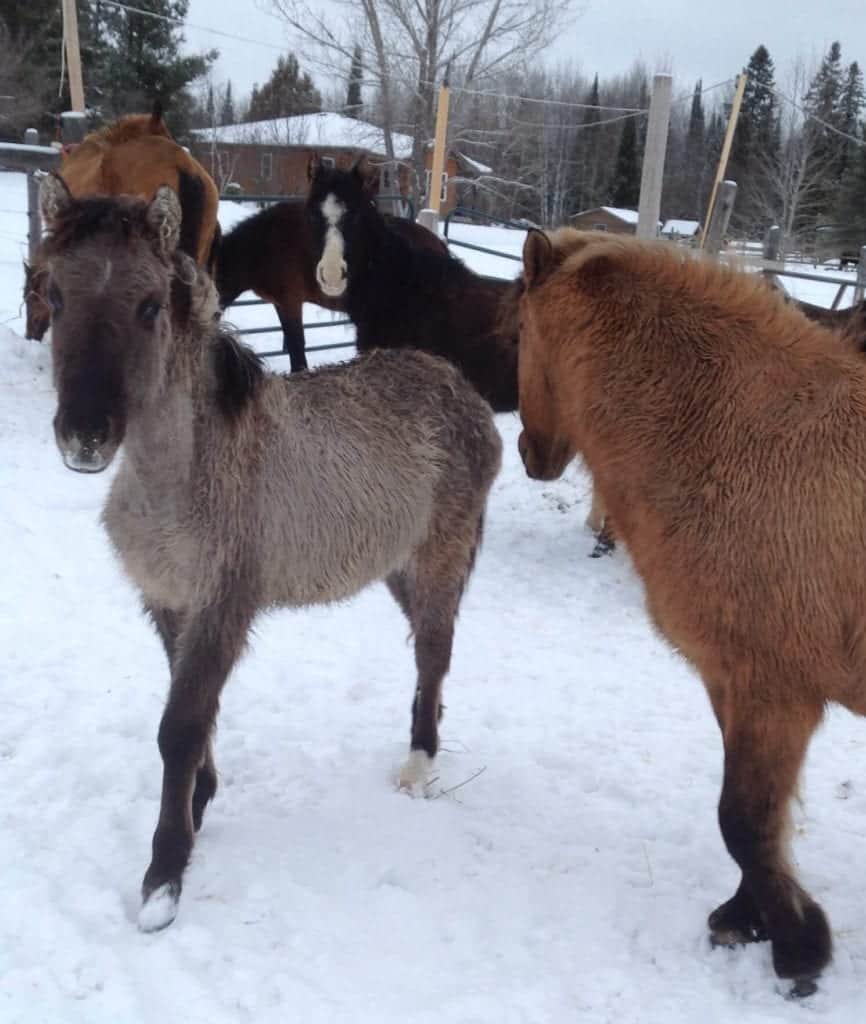 "But one main cause was the decision of the missionaries of the past to forcibly move the Indigenous, native population away from their culture into the western beliefs," Stewart explained. "These horses were a huge part of that culture, there are Elder's stories of interaction with the horses leading back in time, long before colonization began."
"No one knows for certain why they disappeared from the numbers they used to be, logging, hunting, high snowfalls and predators certainly played a factor. It is also said that the religious leaders at the time frowned upon native children being present when the horses were breeding, and many were slaughtered due to those beliefs.
Why Two Names?
According to Stewart, four ponies were found near the Lac La Crois reserve between Fort Frances and Thunder Bay – the name stuck. Stewart and Snow have named them the "Ojibway Spirit Horse."
"At this time, we have been told there are not enough pure bloodline animals to have them recognized as their own by the Canadian Government, they require a minimum of 200 breeding stock to be registered," he added. "However, DNA tracing completed by the University of Texas recognizes them as being distinct from the horses brought to the new world, originally by the Spanish. Their DNA more closely resembles horse breeds in Eastern Asia, leading many to believe, including us, that the followed human migration across the Bering land bridge."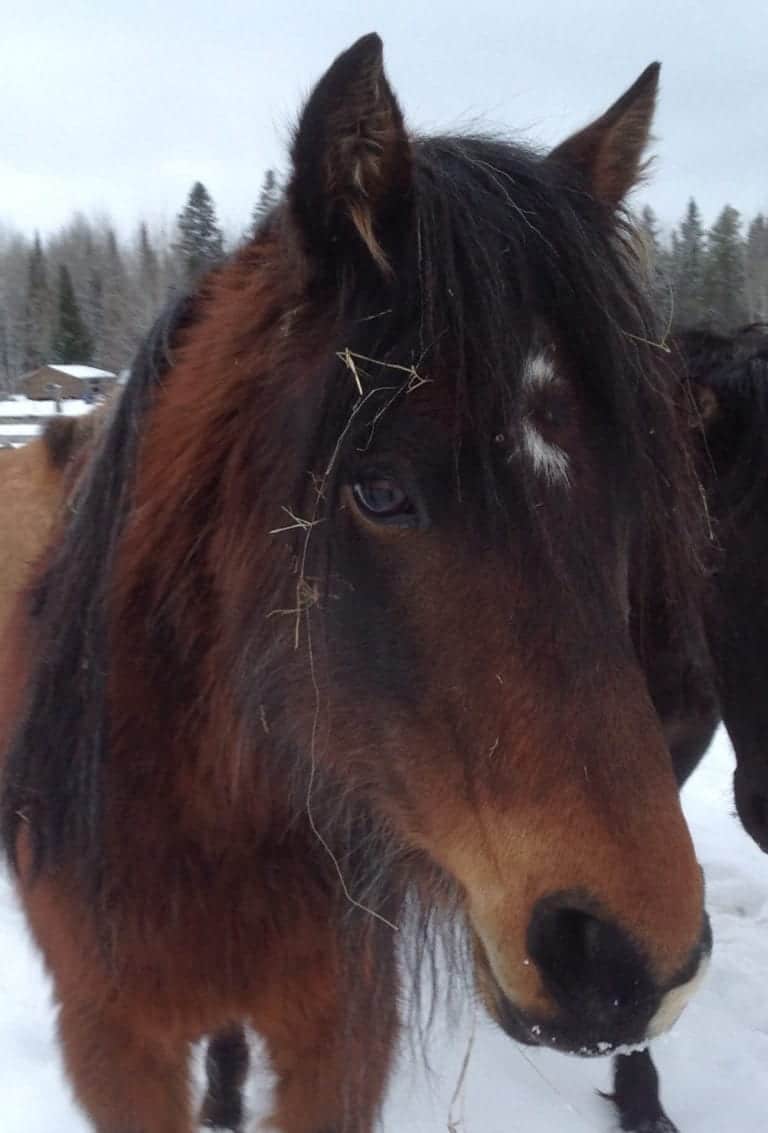 Were They Ever Tame?
"They were indeed wild, but if you meet them you will notice that their disposition is somewhat different than that of mixed breed horses. They are extremely curious, friendly animals, and love human interaction. Natives from long age would collect the ponies from the woods, at times the ponies would just show up! They would help fishermen set nets, haul ice and fish, sleds of families from village to village, receive love and food, and then go back to their home in the woods. There are so many of these stories, many told to Rhonda (who is Meti) by local elders during her journey. She is currently working to put together a book of these stories and the history of these wonderful animals."
It gives you goosebumbs doesn't? Like when the Brumby let's Jim Craig ride him after his faithful steed was shot. There when you need them, but always wild.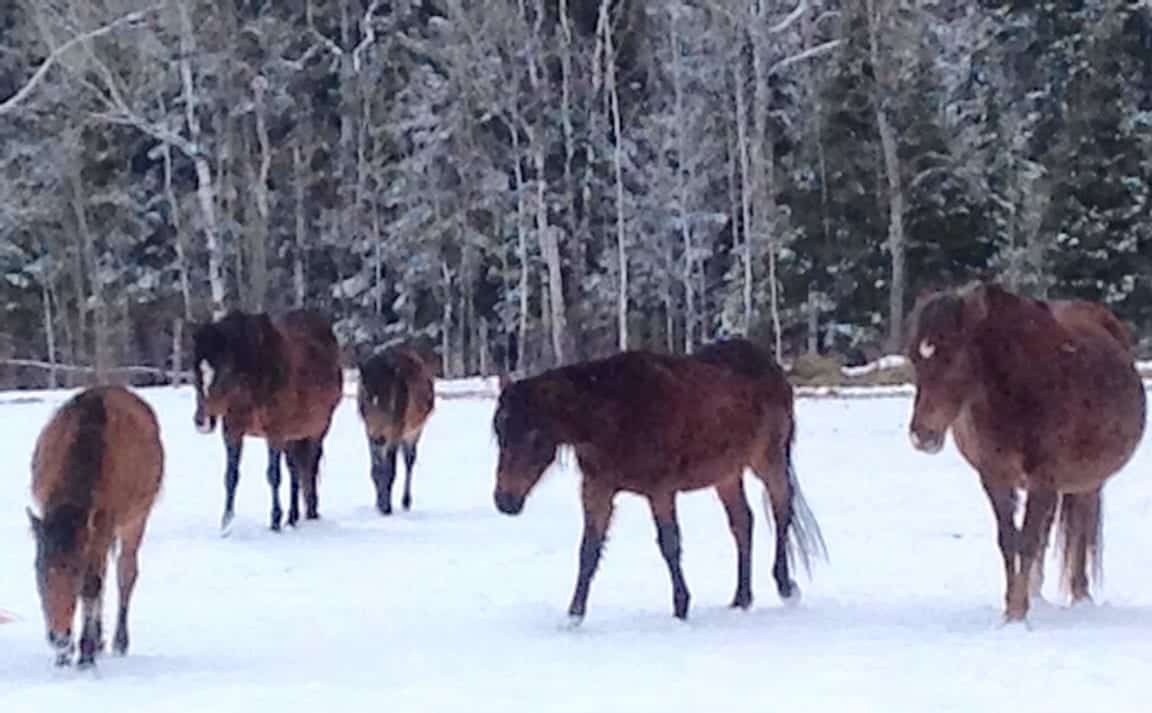 A Large Impact
The RR Spirit Ranch has had a large impact on keeping the breed from dying out. They have the largest purebred herd and are managing their stallions and mares to insure the bloodlines stay intact yet diversified with in the lines.
"I can honestly say that without Rhonda's involvement many years ago, the species would not be what it is today," Stewart said.
For her efforts, Rhonda was awarded the life time achievement award by Rare Breeds Canada, a non-profit organization dedicated to preserving and increasing endangered stock animals.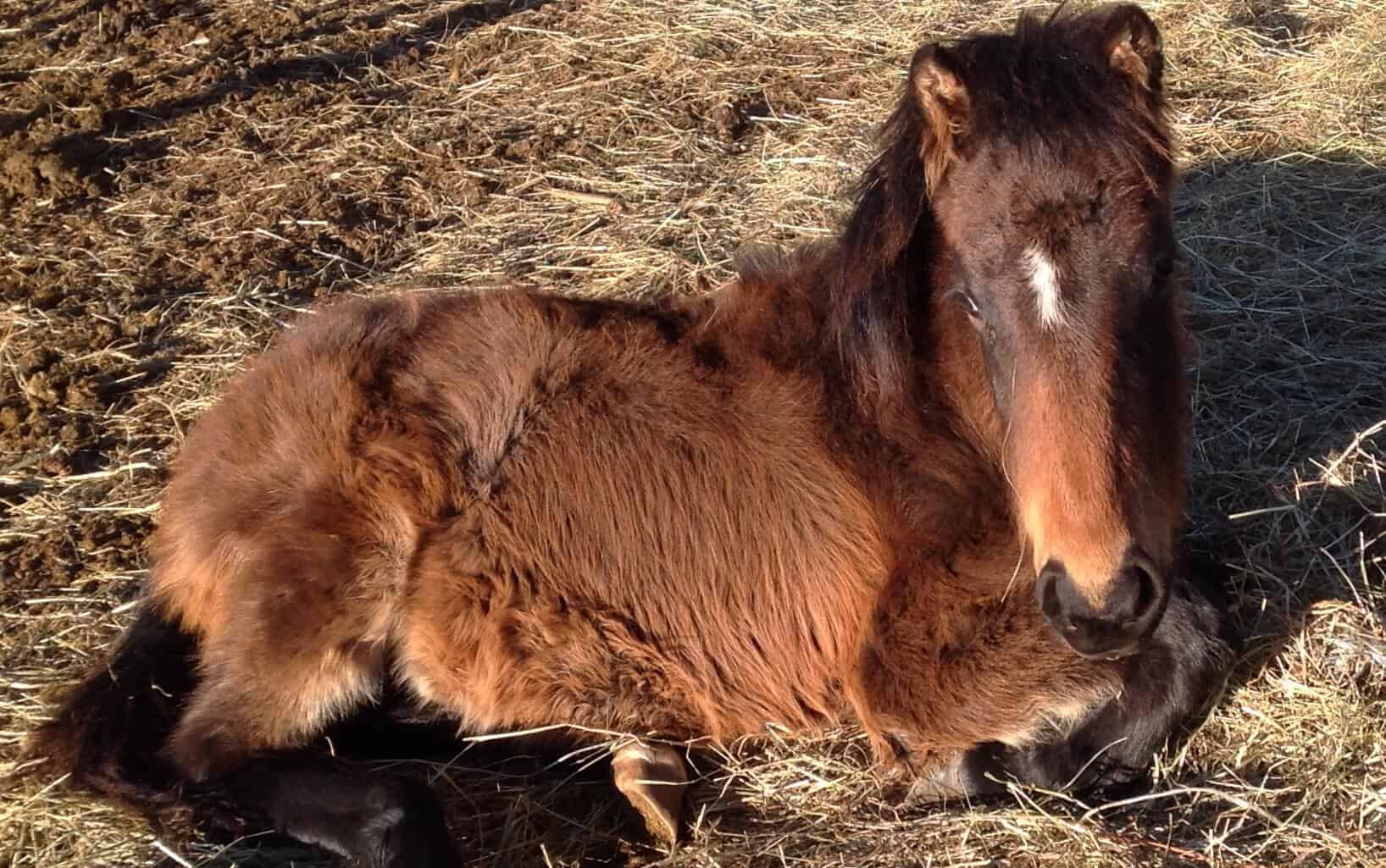 The Future
Stewart says their plans are to continue to follow their path of not just sustaining, but growing the herd they have on their ranch.
"It is a huge struggle for the two of us, physically and financially as we have very little income from the animals, this is a full time job for the two of us and we really rely on outside support. At some point in the near future we would like to move some of our animals to other ranches that operate on the same principles as we do, and are looking at those possibilities carefully. Also, we will be working hard in the future to have them given their own status and recognition they deserve."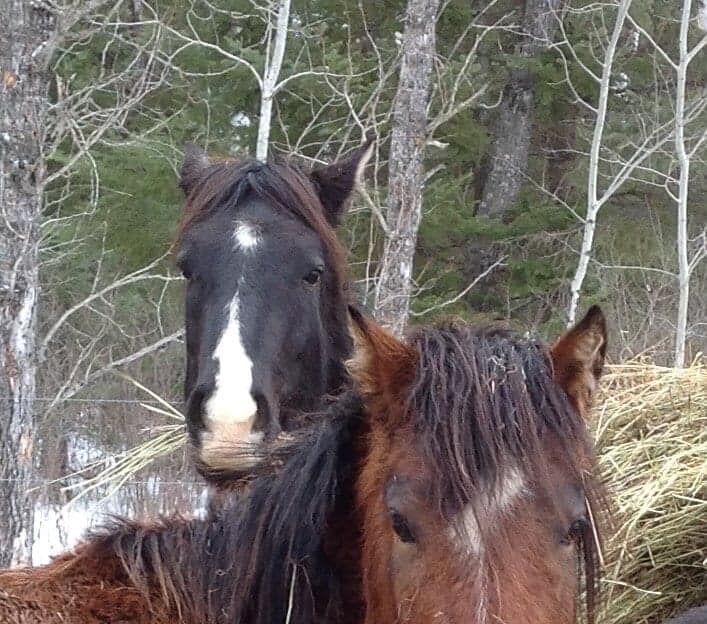 Will they ever be re-introduced into the wild?
"Re-introducing the horses into the wild will be something we might consider in years to come. First and foremost is sustaining and growing the numbers. It would be a tragedy to have them depleted again due to predators, weather and other situations that we cannot control. It would be a wonderful thing to do, but would have to have much more thought put into the consequences."
How You Can Help
Rhonda Snow and Randy Stewart take of 51 horses each and every day, all rare breeds including the Ojibway herd. It costs them $1500 a month in hay just to feed them. It's a fulltime job for both of them, but they are dedicated to the horses. You can help by donating to their cause, here.