Do you ever look at a show horse's mane and wonder how certain looks were accomplished? Some styles are more popular than others; some styles are required for certain breeds or riding disciplines.
Here's an inside look at the 6 most popular mane styles with links for more information on how to do them yourself.
#1 - Hunter/flat braids
Traditionally, hunters braided their horse's mane to prevent it from tangling while out on a hunt. Today, hunter braids, also known as flat braids, are a popular type of braid that adds a sense of elegance to a horse's neckline. These are typically made with yarn that closely matches the color of the mane. There may be 30 or more individual braids up and down the horse's neck!
#2 - Button/rosette braids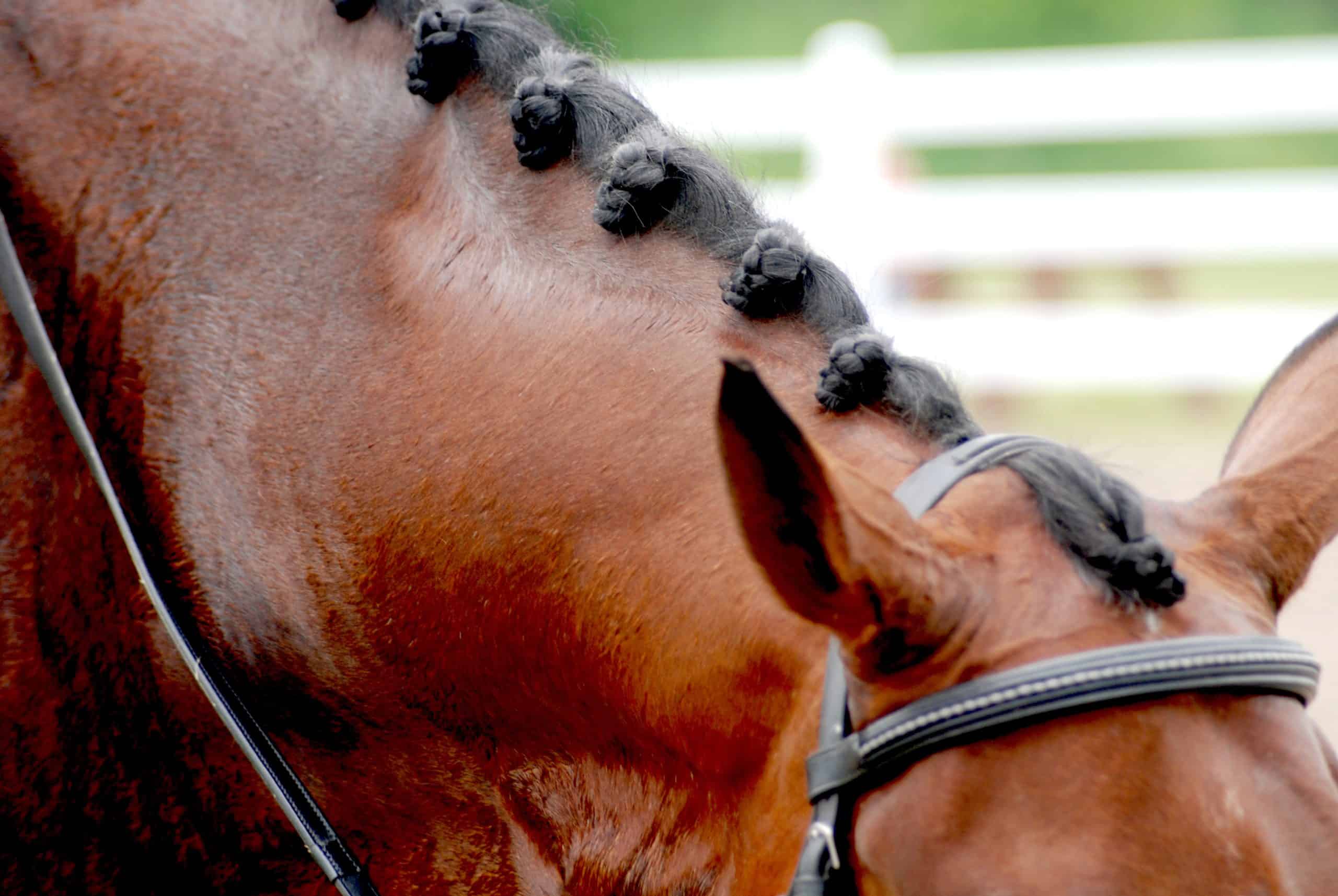 Button braids are a durable braid that's popular in the dressage ring. Traditionally done with a needle and thread, they can also be done with rubber bands or yarn. Sections of mane about the width of a hand are formed into balls. Typically, 9 -17 braids are formed down the length of the neck, and it's traditional to do an odd number of braids. Learn how to make button braids here.
#3 - Running braid
The running braid is a French braid that runs the full length of the horse's neck. This braid requires a long mane and is common for horses that need a long mane for some shows and a braided mane for others, since most other braids work best on shorter manes. Learn how to do a running braid here.
#4 - Continental Braid
Not technically a braid, the Continental is also referred to as Diamond Weave or Woven Mane. It involves sectioning and rubber banding the mane into equal parts near the neckline, then dividing each section into two parts and connecting each part to the neighboring section of hair. The end result resembles netting or macrame. Check out a tutorial video here!
#5 - Mane pulling
Most braids require a short, thin mane. The best way to acquire a mane of the proper length is to pull out longer hairs by wrapping small sections around a metal pulling comb and yanking them out. This produces a more natural look than cutting the hair.
#6 - Roached or hogged
Hate the idea of braiding your horse's mane? Some breeds and riding styles recommend roaching or hogging the mane, which means shaving it all the way off. It can take 6 months to a year for a roached mane to grow back, so it's not something to try on a whim!
Does your horse have a beautifully styled mane? Share it with us in the comments section!
(H/T: Noble Outfitters, Wikipedia, Noble Outfitters)
Which one of these horse mane styles is your favorite? Let us know in the comments below!