Thinking about braiding your horse's mane or tail? You might be wondering whether this is a good way to keep them nice and neat, or whether it could cause any issues. A braided mane or tail is beautiful, but do horses like having their manes and tails braided? Is it good for them?
In this article, we will go over the advantages and disadvantages of braiding your horse's mane or tail. Based on what we learn, we will then include some best practices to follow when braiding either.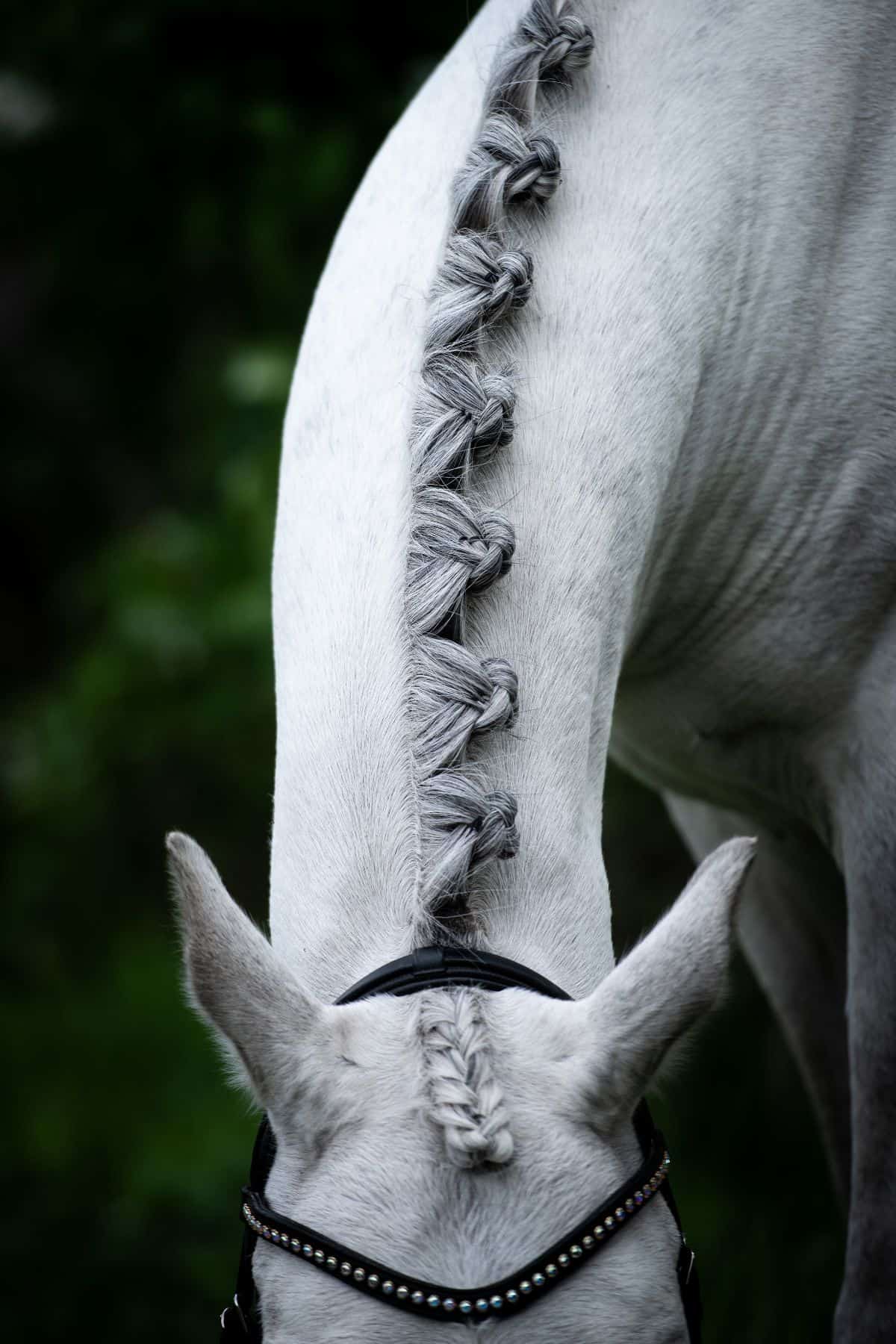 Background of Braiding a Horse's Mane
You might be wondering whether equestrians have been braiding their horse's manes and tails for some time now, or whether this is a new trend. Actually, it is a long-standing tradition. Here are some historical reasons why people have been braiding manes and tails for hundreds of years:
Safety. Some braids that sit close to a horse's body may help to keep manes or tails from snagging on equipment or objects in the environment. For historical workhorses as well as war horses, braiding was sometimes a safety measure.
Identification of horses. Sometimes, people would braid the manes or tails of certain types of horses to readily identify them from others. To this day, there are particular braiding styles that are used for particular breeds.
Convenience. Equestrians for centuries have been using braids to reduce the amount of maintenance required to take care of horses' grooming needs.
Aesthetics. Finally, equestrians have known for a long time that braids can be aesthetically beautiful on a horse.
So, if you braid your horse's mane or tail today, you are doing what equestrians for centuries have done before you.
Another interesting factoid related to braiding horses' manes concerns mythology.
You know how you can walk into the barn in the mornings and look at your horse's mane and think, "Wow, those knots were not there last night. Where did they come from?"
Well, some ancient legends claimed that elves or faeries were dropping by while equestrians slept and tying those knots in their manes, presumably to use as stirrups to go for rides. So, riders would braid their horses' manes and tails to avoid letting the faeries have a go.
We won't list "keep away the pesky faeries" among our benefits below—but you can decide for yourself if this is an extra advantage! Of course, you might also take a look at this list of reasons for a mane or no mane before you start.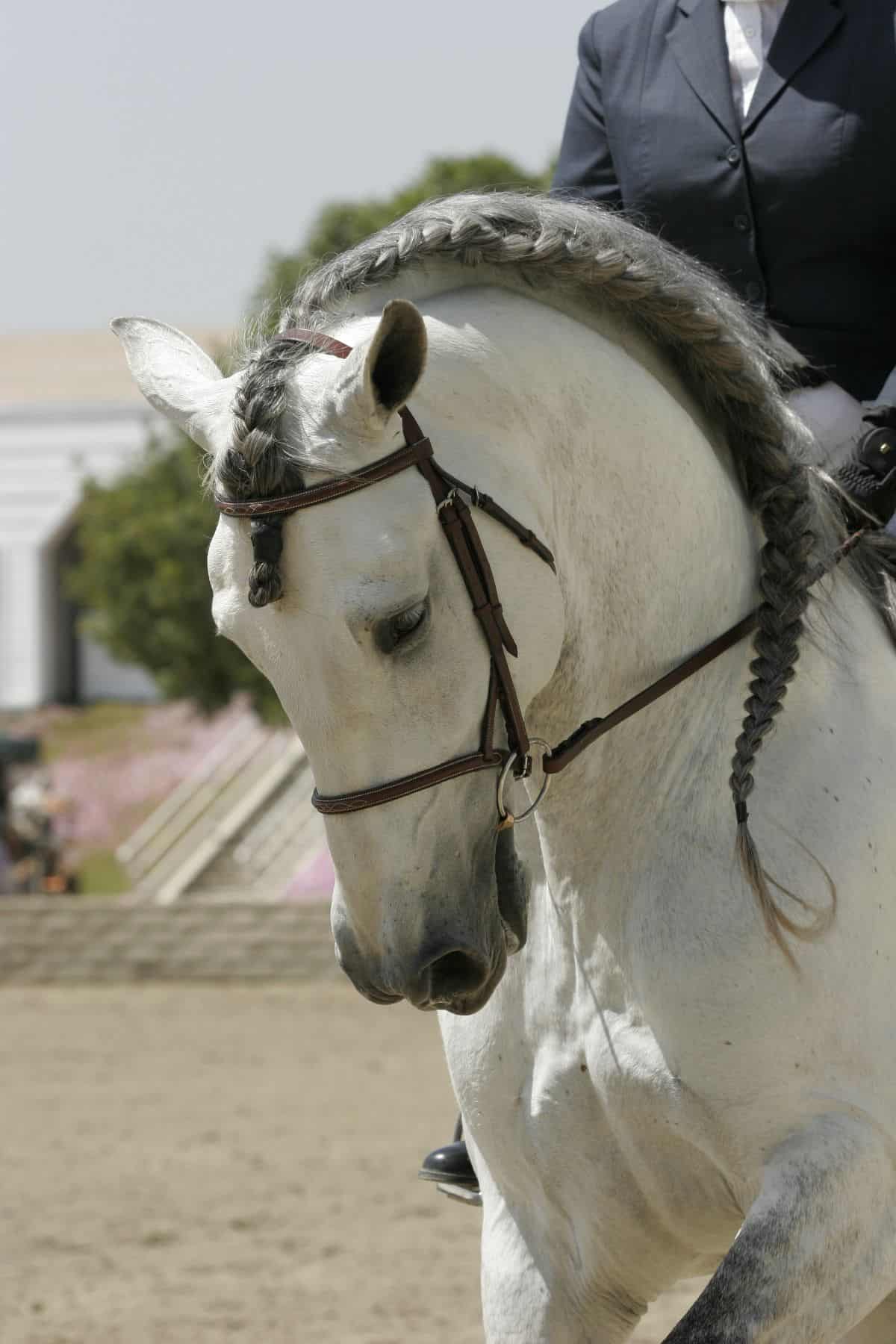 Advantages of Braiding Your Horse's Mane or Tail
Let's begin by going over the pros of mane or tail braiding.
1. Improve safety (maybe)
As we just mentioned, it was the historical practice to braid the manes and tails of horses performing work or serving in militaries. Such horses were able to perform their duties more safely with their flowing manes and tails neatly contained and kept close to the body.
The same could be true for your horse today. If your horse's mane or tail tends to catch on your riding tack or on twigs or branches, that might happen less frequently if you braid either or both. That being said, sometimes the opposite effect can happen—more on that later (there are steps you can take to prevent issues, thankfully).
2. Reduce tangling and dirt
One of the most common reasons why equestrians braid manes and tails is in order to prevent them from tangling or getting dirty. Tangles and dirt accumulation can still happen, of course, but braids do reduce the build-up of both. Braids not only can prevent some snagging incidents but can also keep the wind from tangling fine hairs.
3. Reduce damage to the mane or tail
The less your horse's mane or tail gets caught on things or tangles up in the wind, the less likely the hairs are to break or form split ends. Additionally, your horse's mane and tail will spend less time blowing around in the wind.
Wind can strip moisture out of hair, causing the mane and tail to dry out. When that happens, the hairs will become brittle, which also can lead to more breakage and split ends. The overall appearance of the mane or tail can suffer as well because of the dryness, and both can become less manageable.
But by keeping either or both in braids, you reduce the drying impact of the wind, preventing brittleness. Your horse's hair should be softer and more manageable as a result, and also more likely to have some shine to it. Because the hair is drying out less, you also should not need to condition it nearly as much as you might be doing now if you regularly put it in braids for the day—which brings us to the next benefit.
4. Reduce the amount of work involved with grooming
Grooming a horse can be enjoyable, but it is also hard work. It can be quite time-consuming. If you want to cut back on the amount of time and effort involved in the upkeep of your horse's mane and tail, braiding can reduce some of it.
You will spend less time:
Detangling the hair.
Shampooing and conditioning the hair.
Brushing the hair.
Trimming the tail and mane.
It is true that the braiding itself is a time-consuming activity, but if you sometimes leave the braids in overnight, that can decrease the amount of time and work involved with that aspect of care.
Plus, you can plan to strategically braid your horse's hair when it will make the most sense to do so, i.e., on especially dry and windy days. Those are the days you will derive the greatest benefits with respect to protecting the hair from damage.
5. Braiding your horse's tail or mane can be a fun bonding activity
Another reason to braid your horse's hair is that it gives you an excuse to spend more non-riding time together. This is something that can fall by the wayside if you are not careful. But regularly plaiting your horse's hair can be a fun routine that you can share together. Just make sure that you are braiding gently and not pulling your horse's hair. You want this to be an enjoyable experience for him and not just for you!
6. You can get creative
There are so many different ways you can plait your horse's mane and tail! Just as it is fun to try styling your own hair in a variety of ways, it can be a blast to try out different techniques on your horse's hair.
If you are especially inventive, you might even come up with new plaiting ideas of your own to try. Experiment and see what you can do. Of course, you can start with these popular horse braid styles to begin and work from there.
7. Braids are aesthetically pleasing
While there are a number of practical advantages to braiding a horse's mane or tail, a lot of people do it simply for aesthetic reasons. There is a bit of a learning curve with plaiting horse hair, but once you get the hang of it, you may be amazed by just how spectacular your work looks and how much it distinguishes your horse.
Be sure to have a camera handy to capture your work after you complete it. Not only can you get some stunning photos of your horse this way, but you can also study the photos later to help you improve your techniques.
8. After braids are removed, the waves also can be beautiful
If you have ever wanted to put waves in your own hair, you probably have tried that thing where you braid your hair, go to bed, wake up the next morning, and take out the braids. You then get to enjoy dazzling waves through the rest of the day.
This works on your horse too! After you remove the braids from the mane or tail, your horse will have similar striking waves. This is a gorgeous look that is as enjoyable as the braids themselves.
Want to protect that mane? Check out these mane care products we recommend.
9. Braiding is perfect for shows
When you bring a horse to show, one of the things that the judges will look at will be the confirmation of your horse. A horse's conformation is its shape, and it is connected to its athleticism.
Plaiting a horse's mane or tail is a popular technique for enhancing conformation. Your horse's actual confirmation will not change, of course, but you can create optical illusions that make conformation appear superior to what it really is with the right braids.
Plaiting your horse's hair also improves his general aesthetics for a show, which might feasibly influence the judges a little. Plus, when you are showing your horse, you are proud of him and what you have accomplished with him. Braiding his mane and tail is a way to honor that.
Will you actually lose points at a show if you do not braid your horse's hair? No. So, if it seems like too much effort, you do not need to do it.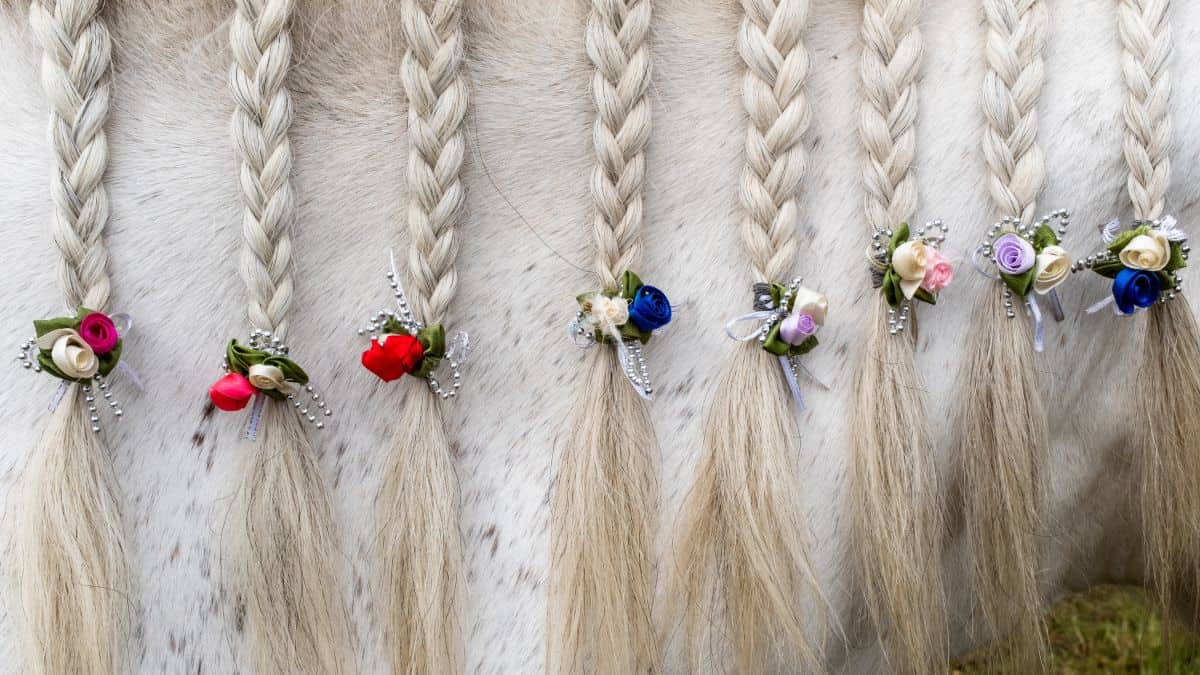 Here Are Some Potential Drawbacks of Braiding Your Horse's Mane or Tail
Now let's go over the cons of mane or tail braiding.
1. Sometimes braids can snag on things, and when they do, they can cause major problems
One of the biggest potential problems with braiding your horse's hair is that sometimes instead of reducing snags, doing so can actually increase the likelihood of snags. This is most likely to be the case if you weave loose braids that are not right up against your horse's body.
In particular, you should be wary of leaving your horse alone overnight with braids unprotected. Snagging hazards are even present in your horse's stall. Issues are most likely to occur if your horse is itching a lot, especially around the tail. When that is the case, your horse may try to rub his tail for some relief and could get his braid caught on something.
Pay attention to your horse's body language before you attempt to plait his hair. If you notice a lot of itching and rubbing, you might want to avoid braiding for now.
What about overnight? Is it safe to weave in braids at all, or should you take them out before you leave the barn each night? If you want to err on the side of caution, the best practice is probably to take out the braids every night before you leave. But if you want to leave them in, you can place a sleeve over your horse's hair to protect the braids and prevent snags.
I would say that this is fine to do with the tail in some cases—but make sure that your horse won't be miserable wearing a tail bag overnight first. And you definitely should not do this every night, or even many nights. Just now and again.
What about the mane? Hypothetically, a hood could protect plaits in the mane, but leaving a horse alone with a hood is probably a bad idea. If the hood should slip, it could end up obstructing your horse's vision. If that happens, the result will probably be panic, making it possible that your horse will injure himself. For that reason, I would recommend that you do not leave braids in your horse's mane overnight, even if you do sometimes leave them in your horse's tail.
And again, it may be safest just not to do this at all if you can avoid it. It cannot be overstated how dangerous it can be for a horse to snag a braid while you are not around. His attempts to pull free can wrench so hard at his hairs that they tear right out. If that happens, he can actually damage his nerves.
If he contorts himself badly doing it, other injuries could also be possible. He could misalign his spine or sprain his muscles. That is not a risk you want to take. And if blankets are a concern, here are some horse mane tips for when they wear blankets to consider.
2. Braiding is a time-consuming activity, especially if you are trying to do it daily. The same goes for unbraiding.
It is true that plaiting your horse's hair can save time when it comes to brushing, shampooing, and conditioning. But it is also true that it is a time-consuming thing to do in and of itself. You will need to decide for yourself whether that investment of time and energy is worthwhile or not.
If you enjoy braiding, you may not mind at all. But if you find it tedious or frustrating, the time and effort saved on other aspects of grooming may not be sufficient to offset the time and effort you are putting into the plaits.
3. Your horse will not be able to use his tail to swat at insects.
Your horse's tail serves a functional purpose when it comes to keeping flies and other insects away. If you braid the tail, your horse can still use it to some extent to swat insects, but it will not be as effective as it would be the regular way.
And if you are using a tail bag to protect the braids overnight, this functionality of the tail is lost entirely. Depending on the time of year and your location, this may not be a problem at all. But if it is the peak season for insects, you might want to avoid braiding the tail for more than short periods of time.
4. Tight braids can cause problems with circulation.
Braids snagging is one major potential hazard you want to avoid, but another is cutting off circulation. Think for a moment about how it feels if your hair is braided really tightly. It isn't too pleasant, is it?
One of the reasons is that tight braiding can disrupt blood flow. Thankfully, getting around this problem is usually pretty easy. You just need to keep your braids a little loose and don't start from the very top if you can avoid it.
5. If you braid too tightly, your horse will be uncomfortable.
Even if circulation isn't cut off with tight braids, they can be (as we just mentioned) uncomfortable to wear. Sometimes they are even painful. This isn't something you want to put your horse through. But again, avoiding it is easy. Once again, just avoid plaiting the hair too tightly or too high up.
If you do need to make braids that are higher up or on the tighter side for a show or such, don't leave them in for longer than you need to.
6. Tight braids can damage hair.
If you braid your horse's hair tightly, all that stress that the individual hairs are subjected to can strain them, weakening their structure. As a result, breakage can occur. You may be familiar with this from braiding your own hair or even putting it in a tight ponytail.
In extreme cases, the damage can look really bad, especially if it happens again and again with frequent plaiting. Preventing this from happening is as simple as keeping the braids loose.
Braids do not need to be super-tight to look good. And you want your horse's hair to continue to look good out of the braids as well.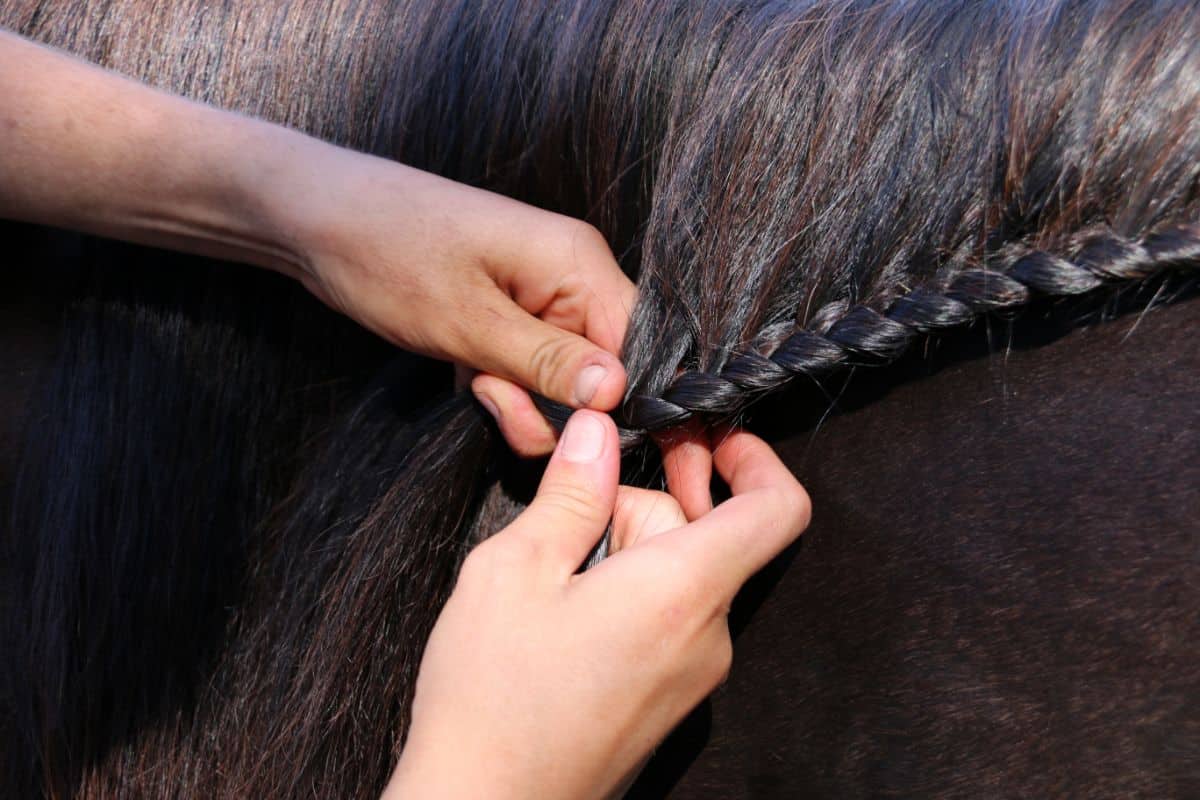 Verdict: Braids Can Be Safe and Beneficial With The Right Practices
While we did find a number of pros and cons to braiding horse hair, it seems that on the whole, the advantages outweigh the disadvantages. Based on everything we have learned, let's go over those best practices now.
Best Practices for Braiding Your Horse's Mane or Tail
If you are worried about snagging braids while your horse is out of the barn, keeping plaits close to your horse's body may help prevent this from happening. But you should monitor your horse while he has the braids unless you have covered them with a tail bag.
Never braid manes or tails too tightly. Doing so can cut off circulation and also be really uncomfortable for your horse. Additionally, it may damage hair.
Start the braid little ways down. Try to avoid starting a braid right at the top, and instead leave a little extra space. You can think about how you braid your own hair for comfort to visualize how much space you need.
Avoid leaving braids in overnight. Now and again, it might be okay to leave your horse's tail braid in overnight in a tail bag. But in general, for reasons of both safety and comfort, you should avoid doing this too frequently. Leaving your horse's mane braids in overnight is probably not safe, since you'd need a hood to cover them, and that could cause additional safety problems.
Don't braid horse tails when insects are swarming. Your horse swishes its tail around to get rid of insects. You don't want to interfere with that function, because doing so will make your horse uncomfortable.
Braid hair on windy days. Days that are especially dry and windy can dry out your horse's hair easily and also lead to tangles. From a practical standpoint, braiding is most beneficial in this type of weather.
Be creative. You can watch tutorials to help you learn existing styles for plaiting horse hair, or you can come up with your own cool styles.
Have fun! Last but not least, enjoy braiding your horse's hair! It truly is an art form, and a great way to spend more time with your horse.
Have Fun Plaiting Your Horse's Hair
Now you know all about the pros and cons of braiding horse hair, and you have some best practices to follow for safety, comfort, and convenience.
Looking for ideas for different types of braids you can try? Check out this post and this one to get inspired.