First aid emergencies can happen often when you are working in and around your barn and with your horse. Whether it is an injury to yourself or to your horse, there are some items that are handy to keep on hand just in case. While these are nice to have, none of these is a substitute for proper medical care for yourself or your horse. Make sure you always call for help in emergency situations!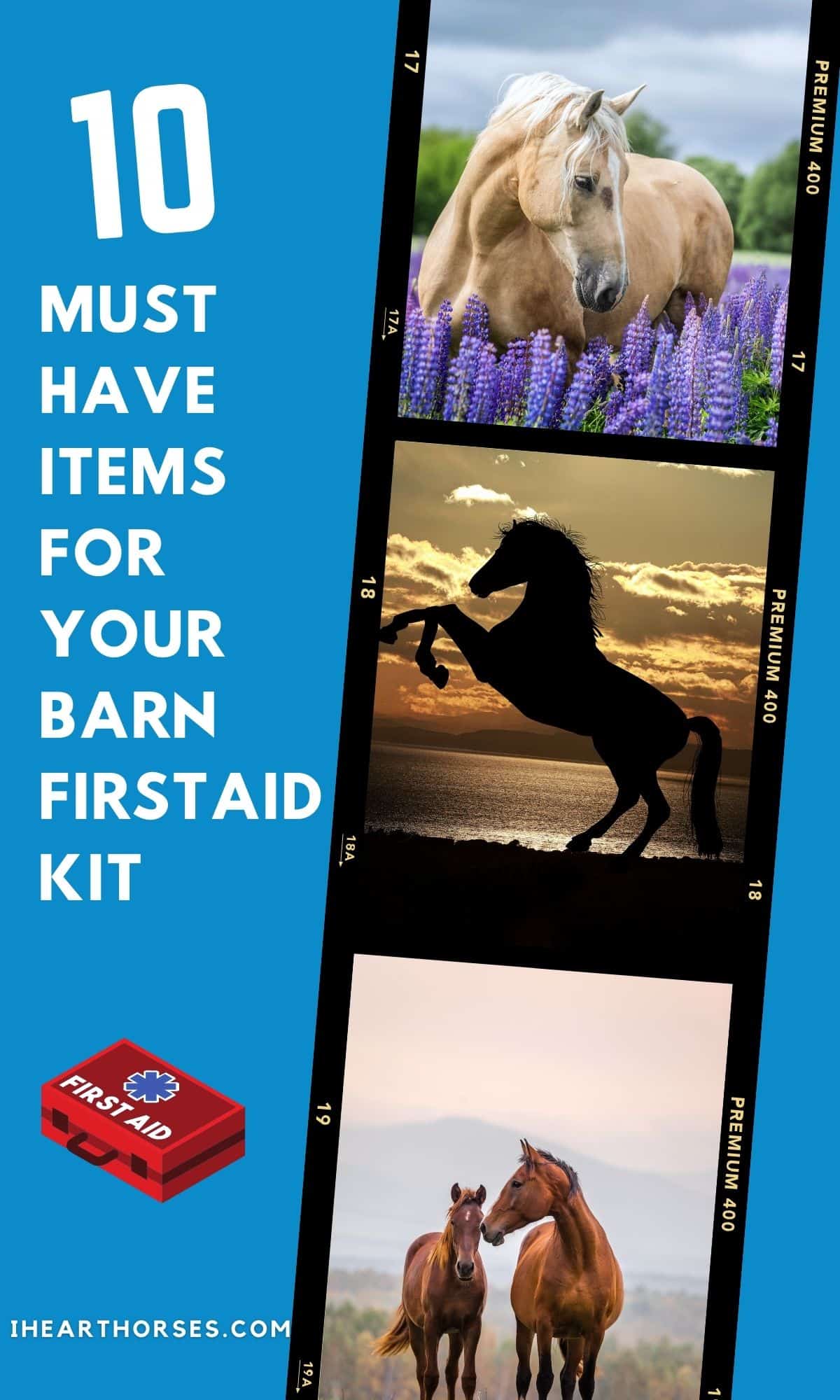 10 Items Needed in a Barn First Aid Kit
Being prepared for first aid emergencies can drastically change the outcome of a minor or major horse injury. The key is to make sure your first aid kit has items you will need to care for your horse until you either speak with your veterinarian or the veterinarian arrives. Take a look at this list of handy first items for your barn, then stock your own first aid kit today.
You may also be new to horse ownership and not sure what to watch for. If that is the case, then you may want to check out this post with common horse injuries and this one that goes over some of the more painful horse injuries you should watch out for in your horse. These tips will help make your first aid kit work better for you, or perhaps even become unnecessary.
Headlamp
Always have a headlamp in your barn first aid kit. You never know when extra light might be needed when dealing with a first aid emergency, plus a headlamp will allow you to have light but keep your hands free for working with your horse. Just remember to check the batteries periodically or better yet use one with rechargeable batteries so you can plug it in near the rest of your first aid kit.
The Gearlight LED headlamp comes in a two-pack for under $15. It's a great option to keep on hand. Of course, you might also prefer the ENERGIZER LED headlamp with the brand name that is more popular. Both are reasonably priced and great for having on hand in each stall if possible.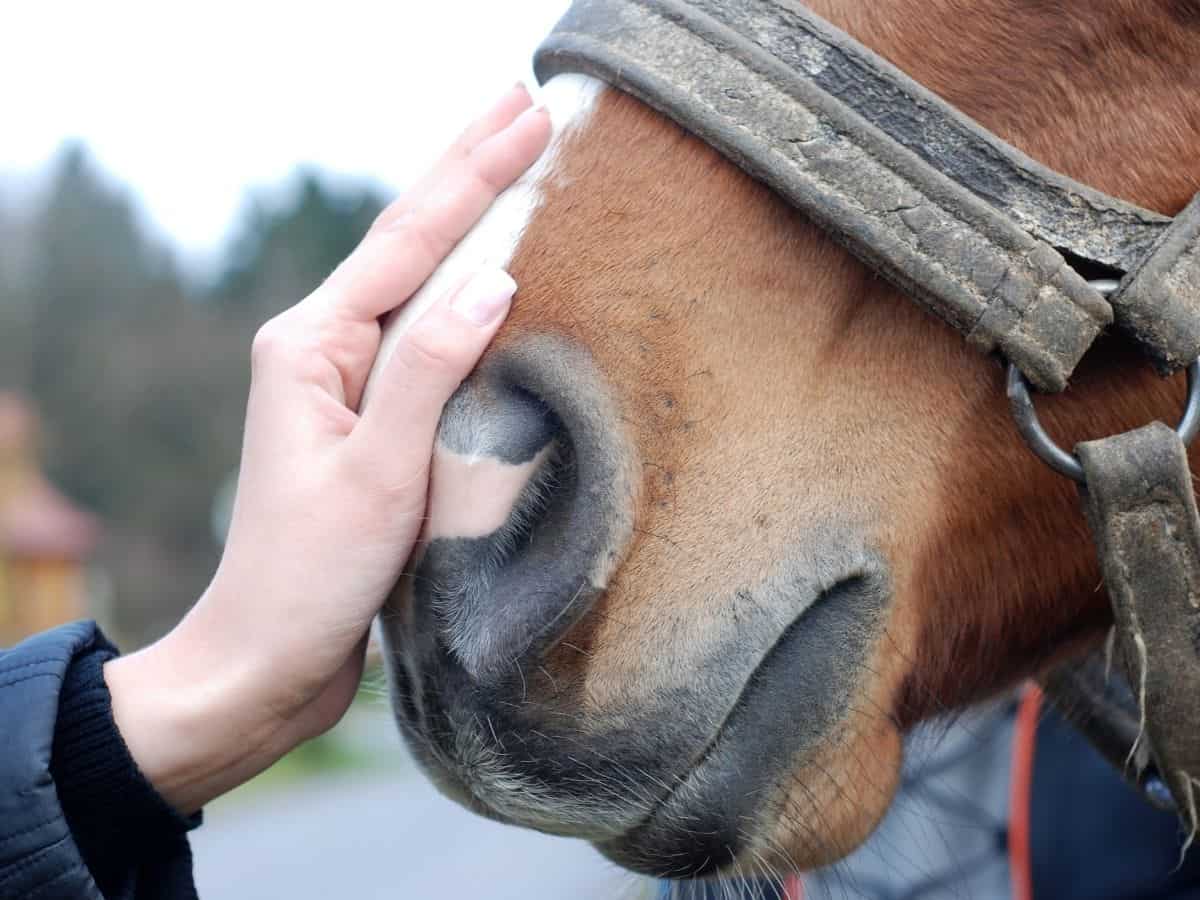 Rectal Thermometer
A rectal thermometer is another of those not fun to use but necessary items to keep in a barn first aid kit. A plastic digital version that is horse safe is ideal to have in your first aid kit. Be sure that you know how to take your horse's temperature and have practiced a time or two, so you aren't trying to figure it out during an emergency. A horse's normal temperature is between 99.5 F and 101.5 F.
This is not a typical thermometer you pick up in the pharmacy and definitely not the one you would use for yourself or your children. A heavy-duty probe style thermometer is needed for larger animals. The SHARPTEMP-V is a good stainless steel probe thermometer that is under $30 and easy to find. If you have a large number of horses or cattle, you can put in the money to purchase something like this GLA M900 veterinary rectal thermometer. It is more for cattle use, but can come in handy with horses, but is upwards of $500, so not something most owners will require.
Stethoscope
A stethoscope is important to include in your first aid kit so that you can check your horse's heart rate or even check for gut sounds. A normal resting heart rate for an adult horse is 28-44 beats per minute.
You can pick up a stethoscope for as little as $10 but if you will be using it on a regular basis, I recommend going with something like the 3M Littman Master Classic II. It's a quality stethoscope and will stand up to the test of time with accurate results.
Multipurpose Tool with Sharp Knife
A good multipurpose tool with a sharp knife has many uses in your barn first aid kit. I like this one from Leatherman since it has 14 tools in 1 including a sharp knife, pliers, and a wire cutter. This tool can be used to free a horse from a fence or if your horse has a foot stuck in a hay net. It can also be used to cut bandages or tape for wounds.
Of course, you can have a basic pocket knife or an inexpensive multi-purpose tool, but if you are going to use it often, then the upgrade to the Leatherman is a must. Plus, you can find many options with warranties and repair options that make it worthy of the higher price tag.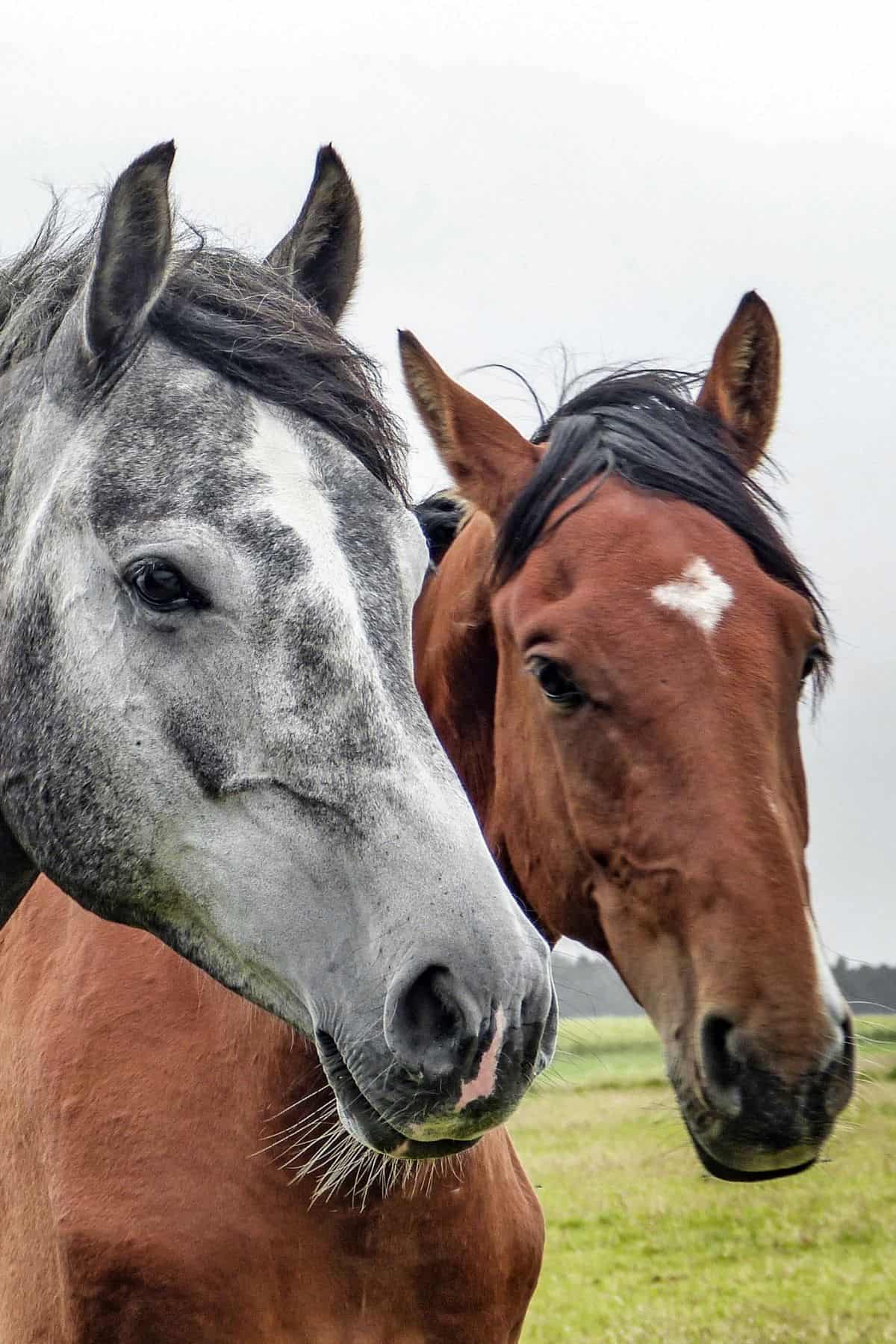 Wound Treatments
Since horses can suffer from a variety of wounds a good variety of wound treatments are helpful in a first aid kit for your barn. Your kit could include an antiseptic scrub such as Betadine and hydrogen peroxide for cleaning and rinsing a wound. Antiseptic wound cream or triple antibiotic ointment can help prevent infection and aid in healing. Rubbing alcohol can be used for sterilizing tools and saline solution can be used for flushing wounds especially near sensitive areas such as the eyes.
Before you begin helping an injured horse, you might want to read up on these bandaging tips for your horse's limbs. Sometimes you need to wrap just for small wounds, and other times it is a bigger issue, and this is a guide to make it easier for you and safer for your horse.
Diapers or Feminine Hygiene Pads
Diapers or feminine hygiene pads make the list of things to add to your barn first aid kit because of their durability and absorption capacity. These can pad a wrapped foot, absorb blood from a wound or serve as a bandage once the wound has been cleaned.
They are even featured in our list of horse care hacks because it is such a handy option for so many different things. I've even seen our farrier put them around a hoof to protect when treating an abscess.
Duct Tape
Of course, duct tape is always ideal to have in a barn first aid kit. It is waterproof and durable so you can use it to wrap a hoof or secure a bandage. Everyone should have duct tape in their barn, horse trailer, back of their truck, in their house, and in their desk at work. It's the standard for "what one product can do thousands of things"!
Cold Pack
Cold packs, specifically the chemical packs that create an immediate cold are convenient to reduce swelling or to substitute for an ice wrap if one isn't available. I like buying SuperBand Instant Cold Pack since they are inexpensive, but they may not always be the size you need. Of course, if using a chemical cold pack option, do not leave your horse unattended at all. They work great but do have things in them that are harmful if eaten. Safety first!
Towels
Be sure to include a couple of full-sized bathroom towels in your barn first aid kit. The uses are endless including your own clean-up after helping take care of your horse.
ProTip: Go to your local thrift store and look in their home goods department for towels, sheets, and blankets. These can be laundered by you and placed in the barn for a number of uses. While they may not be the blanket you put on them in the winter (totally different item), they are handy for cleanup and are super cheap.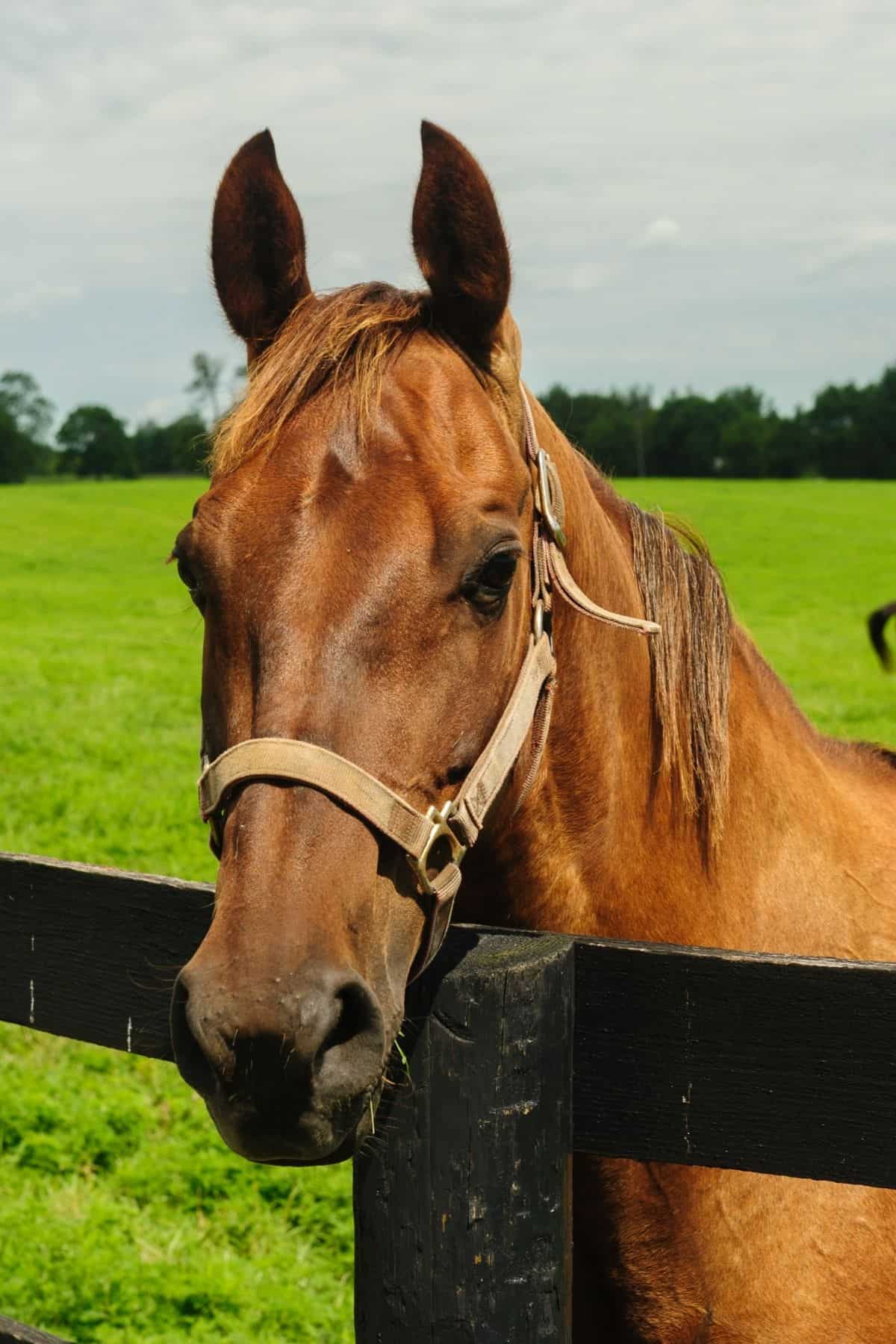 Disposable Gloves
And lastly on our list of items needed in a barn first aid kit are disposable gloves. Disposable gloves are helpful in protecting you from anything you might encounter while dealing with a wounded horse. They keep your hands clean, don't transfer contaminates, and are just much easier to deal with than cotton gloves or no gloves in many situations.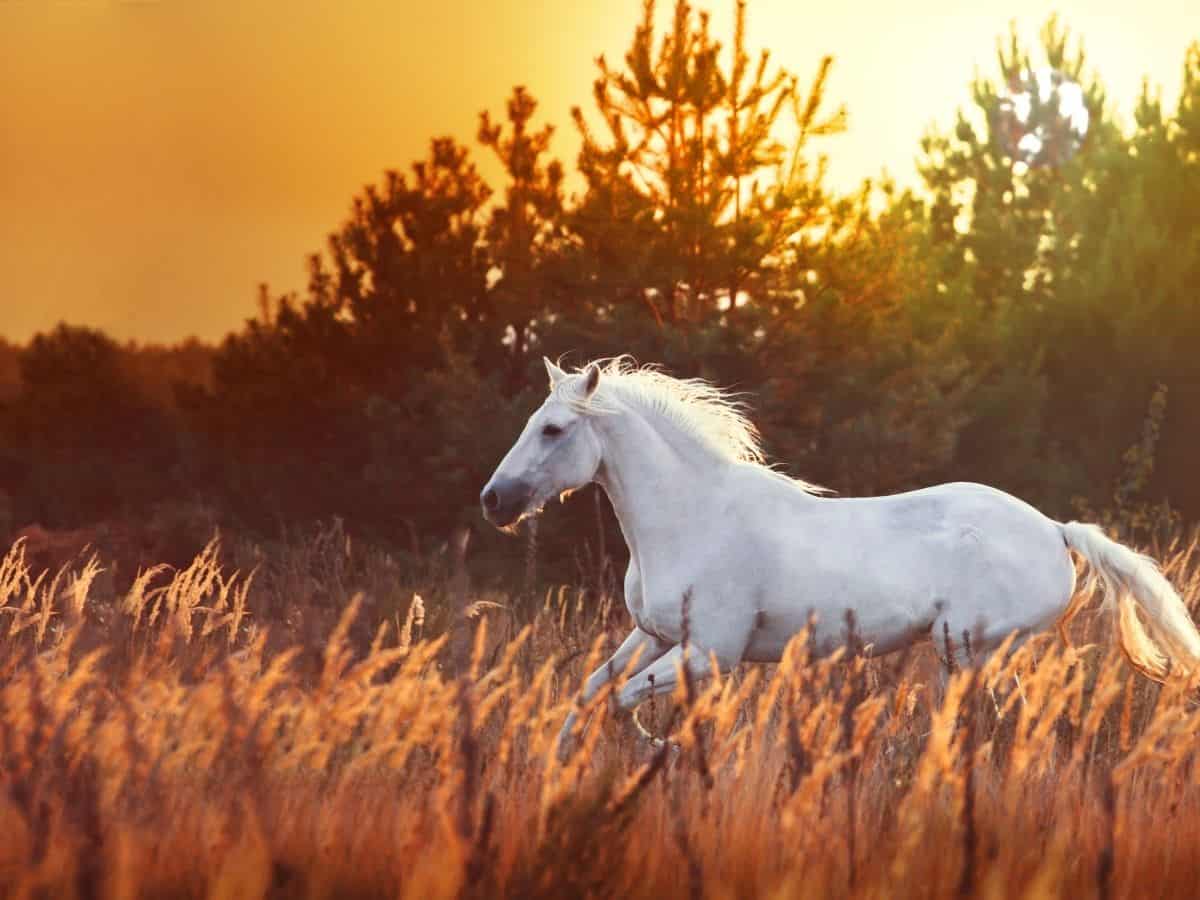 These items are a great place to start when putting together your barn first aid kit. Always remember to seek the help of your veterinarian whenever a first aid emergency happens.