Choosing a horse as an older rider is less about having the fastest or prettiest ride and more about choosing a calm and sweet disposition. You want an enjoyable, smooth ride, but you're also interested in safety.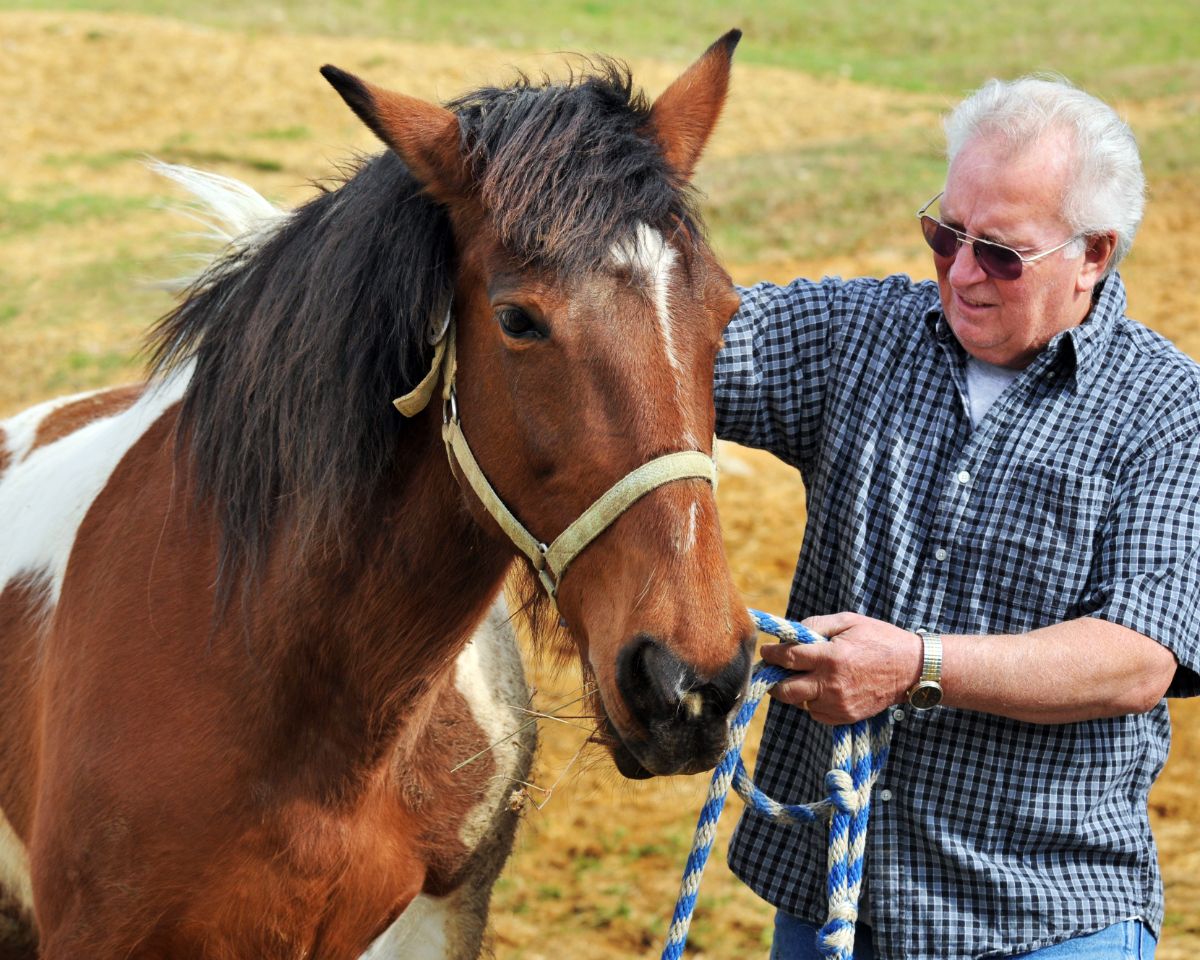 No-drama horse personalities make the best horse breeds for elderly people. Mature horses exhibit patience and have kind qualities. Here are our top seven choices for horse riders with a little more gray in their hair.
Remember: Each horse is its own being, so even the most gentle-giant breeds have the occasional wild spirit. This guide shares information about the best horse breeds for elderly people, not individual horses.
Jump to:
Gaited Horses for Elderly People
Gaited horses make an excellent choice for older riders. These breeds focus more on pleasure riding than speed-training racehorses. So anyone with arthritis or back issues prefers the smooth ride that gaited horses have. In addition, these horses generally don't require a lot of direction from their riders. They are usually sturdy mounts that are gracefully amblers.
1. Icelandic Horse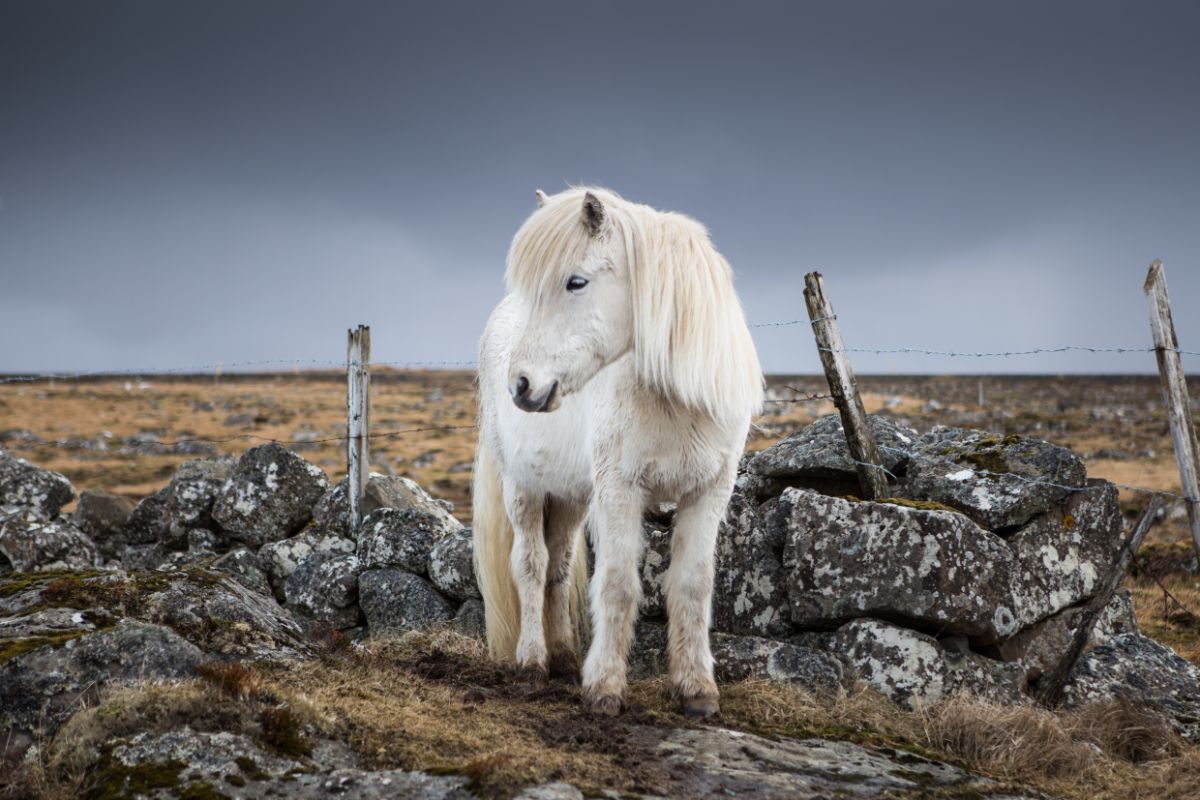 These majestic beings arrived in Iceland between 860 and 935 AD aboard the Viking ships of Norse settlers. Icelandic horses adapted to wintry surroundings and regularly crossed glacial rivers and rocky terrains. As a result, the horses are easy keepers and extremely hardy. Their exceptional health gives them long lives, averaging 40 years.
These gentle horses naturally have five gaits. In addition to the common gaits of walk, trot, and canter/gallop, Icelandic horses have a "tölt" and a "skeið." The tölt is a four-beat lateral ambling gait that gives the horse an exceedingly smooth trot, which feels like a quick glide.
The skeið is a flying pace, a two-beat lateral gait. Each side of the horse's feet moves together, with a brief suspension between footfalls. So riders experience this quick gate as flying. Besides learning a couple of Nordic "gaiting" words, you can brush up on general horse terminology.
In addition to their smooth rides, Icelandic horses have gentle temperaments. They're approachable, friendly, and not easily spooked, making them excellent choices for older riders.
2. Missouri Fox Trotters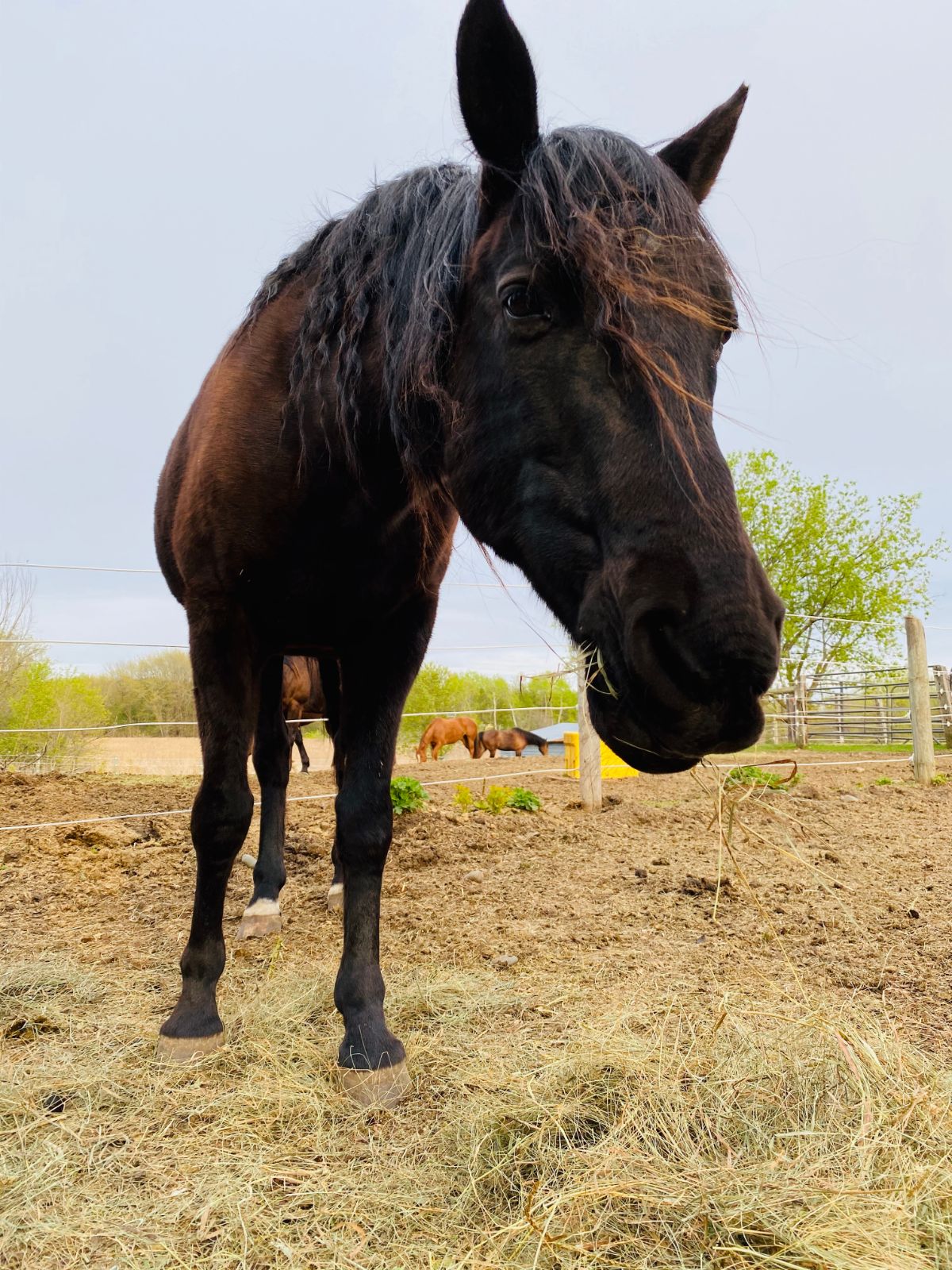 The next best horse breed for elderly people is the Missouri Fox Trotter. These horses stroll along with their heads down and tails up. Thanks to their smooth gait, they travel through the rugged Ozark Mountains without a worry.
Early Missouri settlers bred stock horses with gaited horses to develop this majestic breed. Today, you'll find Missouri Fox Trotters earning their keep, carrying forest rangers. They are well-known trail riders who easily navigate mountain passes and dangerous terrain.
Their calm temperament, stamina, and good nature make these relaxed animals great companions. In addition, they enjoy human company, so they make a natural choice for older riders.
Missouri Fox Trotters are calm and sweet with a very smooth gait. That combination gives stability and balance to riders needing an extra dose of tenderness. You can ride these sturdy horses with confidence in your personal safety.
3. Paso Finos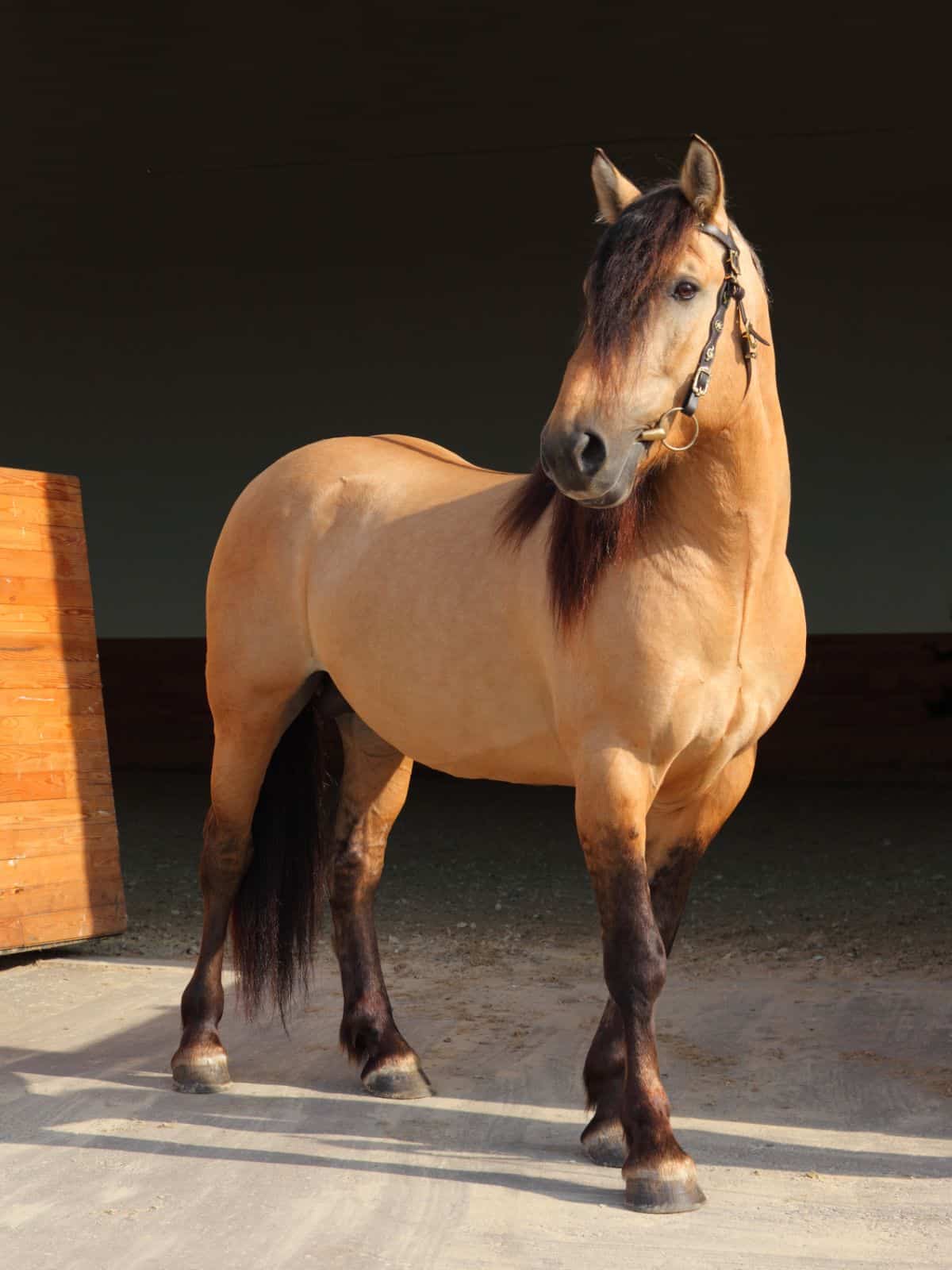 These Caribbean beauties are called "Los Cabellos de Paso Fino," meaning the horses with the fine walk. They have a cultured heritage tracing back to Columbus' second voyage. The elegant Paso Fino strides so gracefully that riders allegedly can hold a glass of wine while riding and never spill a drop. Now that's a smooth gait.
They are surefooted enough for trail riding so that this horse can carry wine without spilling or cold sodas for your mountainside picnic. Their gait is very smooth, with three paces and a walk and canter.
Classico fino - slow forward movement
Paso corto - a graceful trot
Paso largo - the fasest pace
Many Paso Fino owners appreciate the comfortable gait, making this a favorite horse for any rider with back or joint pain. Elderly horseriders may never choose another breed once they've ridden a Paso Fino.
4. Tennessee Walking Horse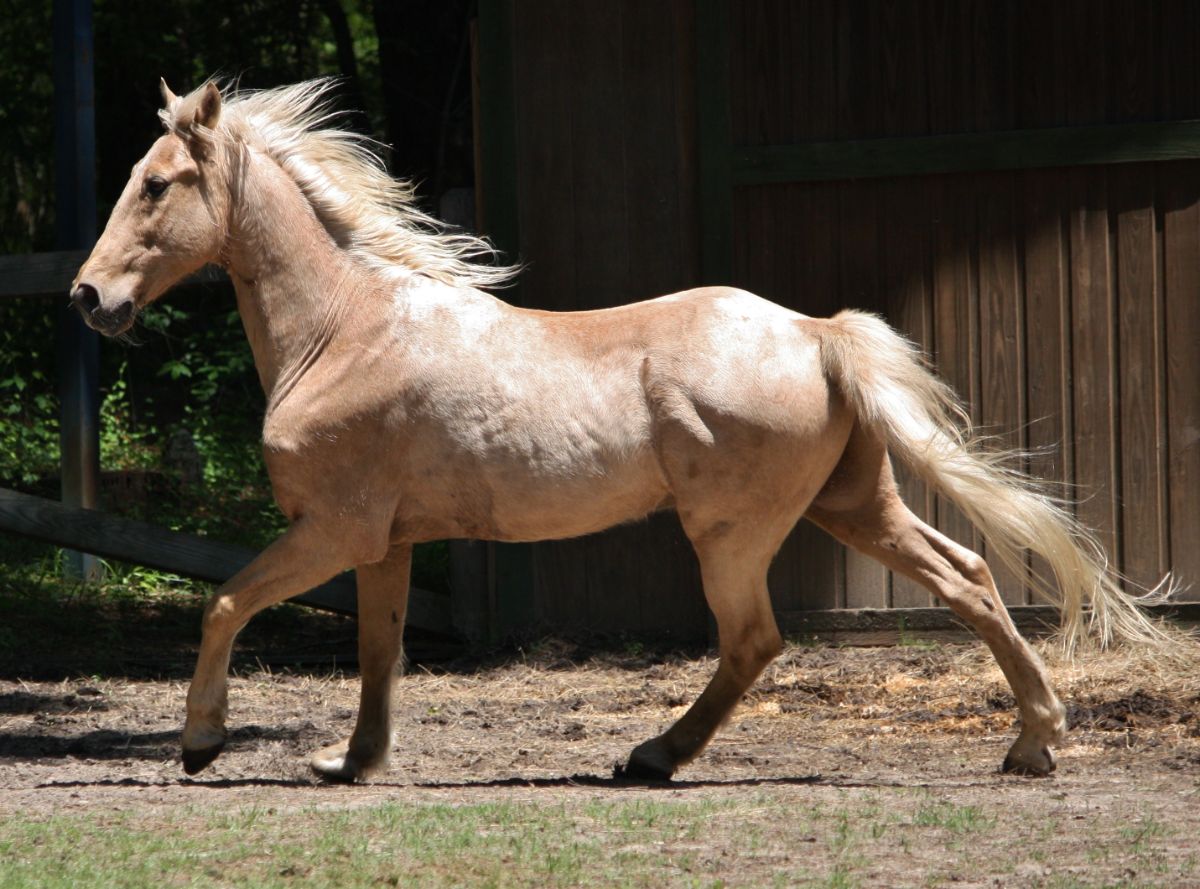 The last gaited horse in this list is the Tennessee Walking Horse which has more of a glide than a trot. You'll experience a swaying step rather than a bumpy one, making this horse one of North America's favorites.
These horses were selectively bred in Tennessee's Bluegrass region to give farmers a smooth ride as they tilled the land and road comfortably under saddle. Crossing breeds resulted in this prized gaited horse with a smooth running walk.
Tennessee Walking Horses are among the best horse breeds for elderly people because they are calm and sweet. Their comfortable ride soothes older riders without jarring their joints.
Best known for their running walk gait, horses can reach ten to twenty miles per hour following the same footfall pattern as their flat walk. Their overstride makes their hind feet travel ahead of their front feet path.
The overstride increases with speed, feeling more like guiding than running. So their running walk gait feels buttery smooth. Their nature head bob to their gait-rhythm gives them an even more elegant appearance as they fly over the earth.
Best Beginner Horses for Elderly People
Good horses for elderly people just learning to ride are calm and mature. Like their human counterparts, older horses are more predictable than young ones. They have more patience, and they've ready for a slower pace. The following breeds make excellent beginner horses for older riders.
5. American Quarter Horse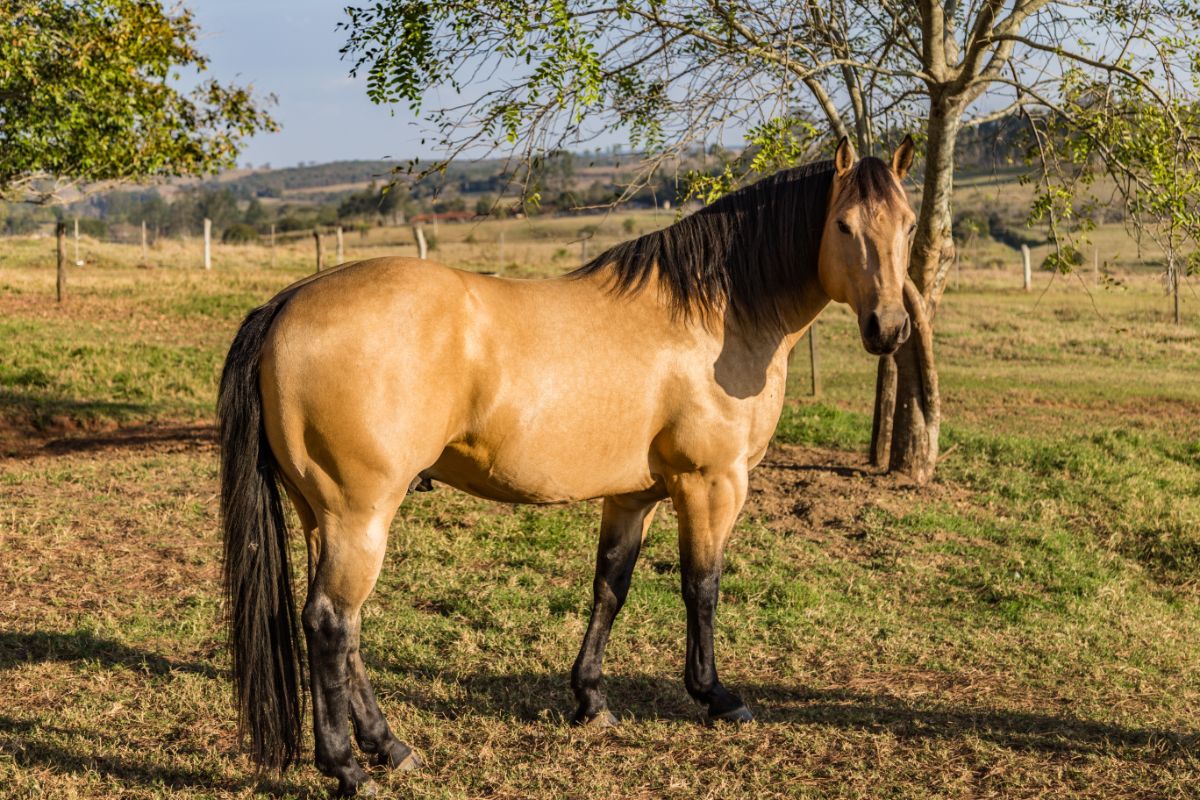 Even though they are "non-gaited," a mature American Quarter Horse is an excellent horse breed for elderly people. They're among the world's most popular species because of their temperament, agility, and loyalty. On top of all that, they are beautiful animals.
What makes an older American Quarter Horse great for elderly riders is their friendliness and easiness of training. They are also sure-footed, reliable mounts, so even beginner riders will appreciate this gentle beast and family pet.
You may recognize this breed from Western movies since they have an unmistakable muscular silhouette. They were a favored choice of pioneers heading for better lands in the Western United States due to their steadiness, even at faster speeds. These horses cross rough terrain with "cow sense," a natural cattle-moving skill.
6. Connemara Pony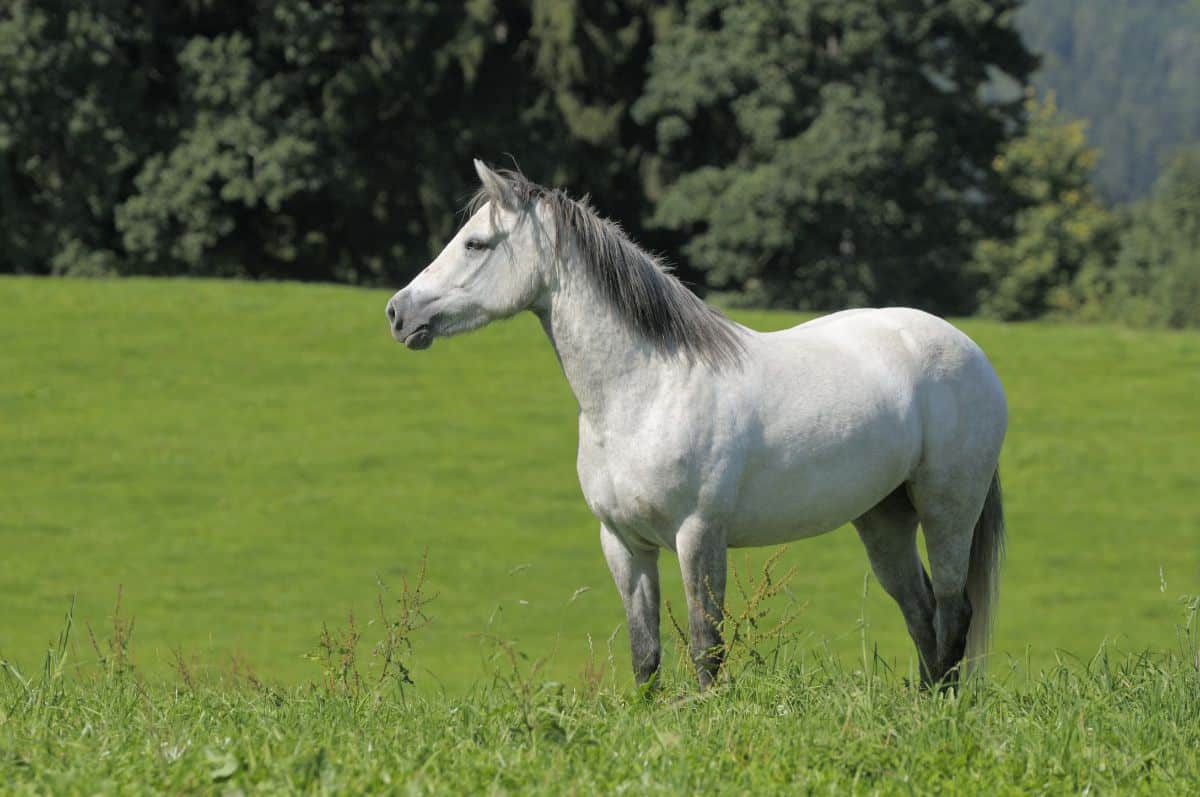 A pony is not a baby horse; that's a foal. Instead, they are fully grown, easy keepers from rugged, cold climate regions. Connemara Ponies are Ireland natives, where they are known as "Capaillin Chonamara."
The Connemara is well-known for its sure-footedness since it evolved on Ireland's rocky west coast. The Irish weather and harsh landscape made this breed resilient and adaptable.
They have beautiful natures with many calm and sweet attributes, making them excellent for elderly people. Owners sing their praises, and their personality traits include:
Inquisitive, lively nature
Safe and sensible
Easy to handle
Kind and caring
Trusting
Gentle disposition
Thrive on human affection
Their best attribute is their eager intelligence, which makes them very trainable and an excellent mount for seniors.
Connemara Ponies are one of the larger pony breeds with an average height of 13 to 15 hands. They mature around year five and live into their 30s, becoming even sweeter as they age.
7. Norwegian Fjord
The last of the best horse breeds for elderly people is the Norwegian Fjord, with its calm and gentle temperament. They are not easily spooked when circumstances change, making them reliable mounts.
Purebred Fjords have three gaits for balance, cadence, and energy. Some have genuine pride in the quality of their paces, shown with a higher step and uplifted neck. These horses thrive on activity, whether it is farm work or riding. They are cooperative, reliable, and generally well-mannered horses.
They have good endurance as a trail mount. And their calm, patient demeanors make them a go-to choice as therapeutic riding lesson horses. They are well-mannered horses who are willing to work.
Children and elderly people alike find the Norwegian Fjord a fantastic choice for learning to ride. But they are also prized by experienced riders looking for a calm demeanor and friendly horse.
Horse Round-Up
These seven horse breeds are excellent specimens for elderly riders. They have calm and sweet demeanors, especially as they age. Choose a gaited breed for its sturdy sensibility that doesn't require much work from the rider. The smooth gait is perfect for anyone with back issues, joint pain, or other aging symptoms.
Choose a mature pony breed, American Quarter Horse, or Fjord, for its kind demeanor and easy-going personality. Like older adults, mature horses show their riders patience and gentleness.