Strength, balance, precision, and trainability are qualities the best horse breeds for dressage should have. So, which horse breeds have these features?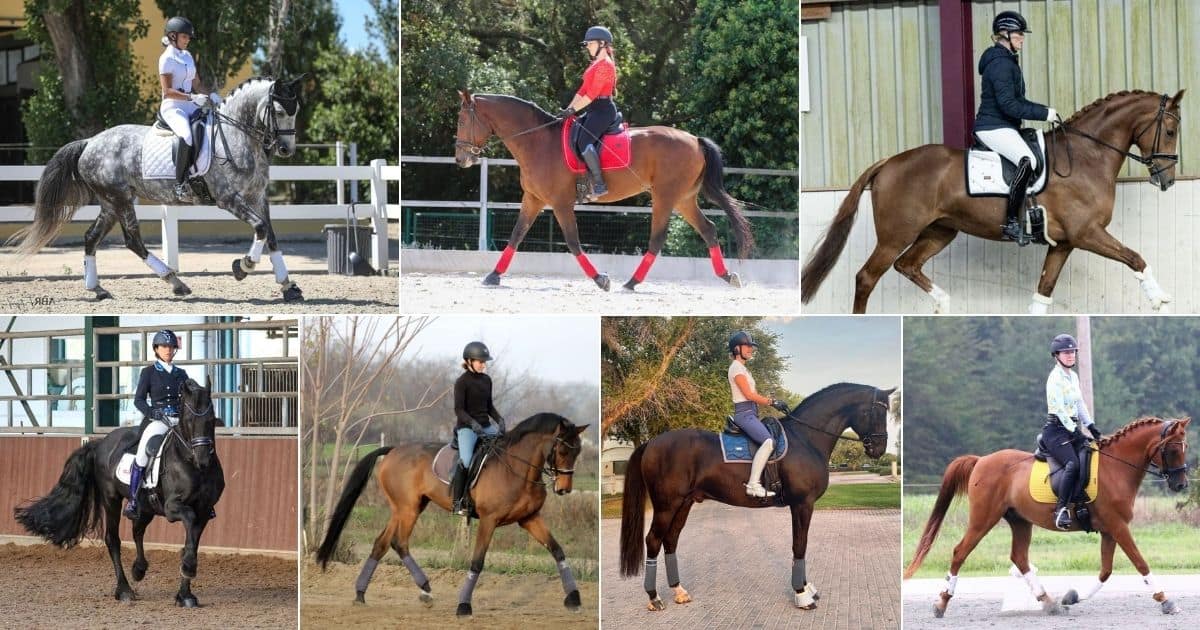 Warmbloods are the most popular dressage horses for beginners, intermediate, and expert riders, as most have the ideal dressage conformation. But other breeds also have the same conformation and features, making them perfect for dressage.
They include Friesian, Arabian, Andalusian, the Irish Sport Horse, Lusitano, Selle François, Morgan, and Gypsy Cob. Let's dive deeper into what makes these breeds perfect for dressage.
Jump to:
1. Warmbloods
Warmbloods often grace the stages of top dressage performances. They are athletic, trainable, and friendly horses. The warmblood breeds suitable for dressage include:
Hanoverians
Intelligence, obedience, confidence, athleticism, trainability, and temperament are among the top features that make Hanoverians great dressage horses. These horses can learn and remember new moves quickly.
Oldenburg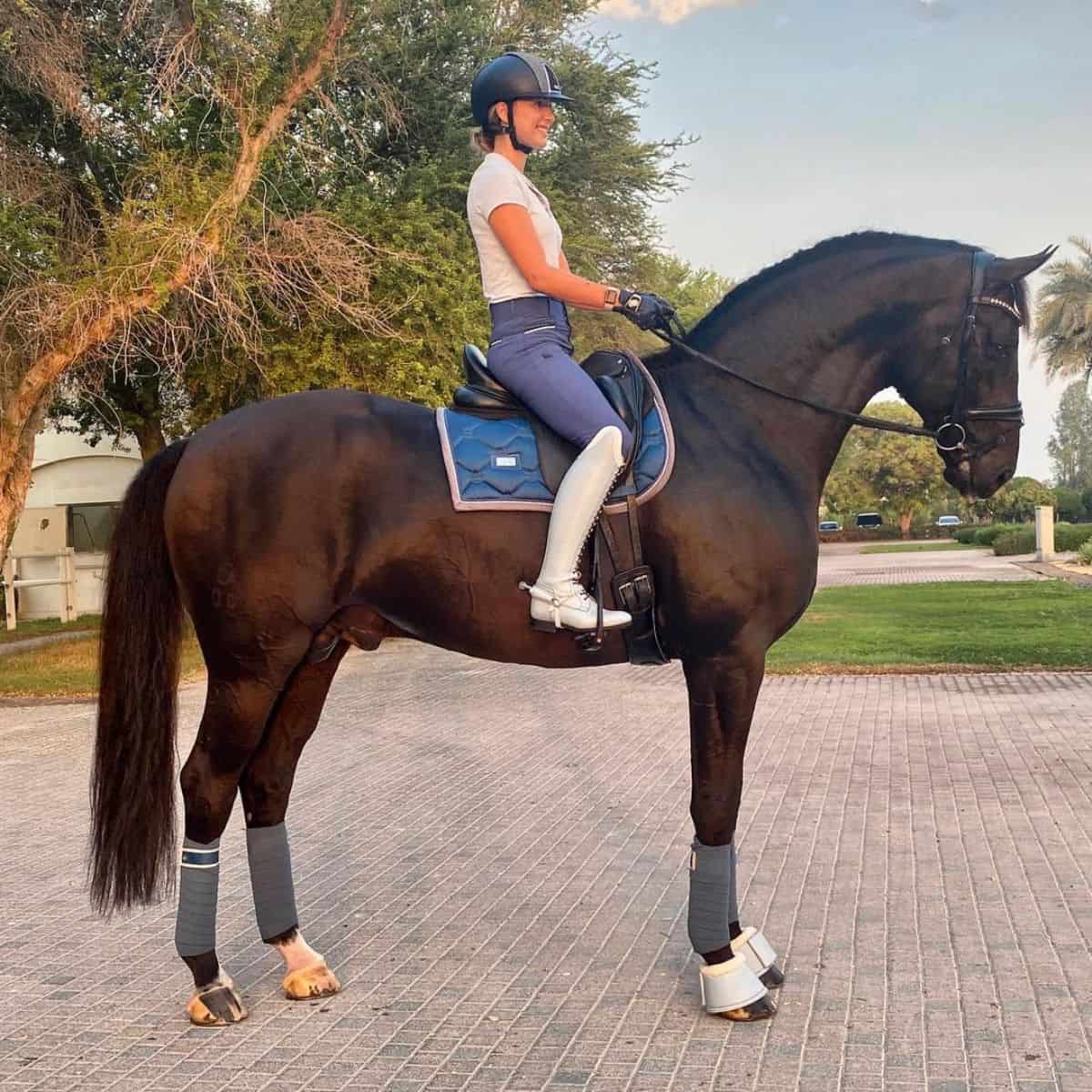 The Oldenburg breed makes up the majority of dressage horses in the world. The horse is intelligent, willing to work, and trainable. It also has a solid temperament and smooth, long strides for great dressage.
Holsteiners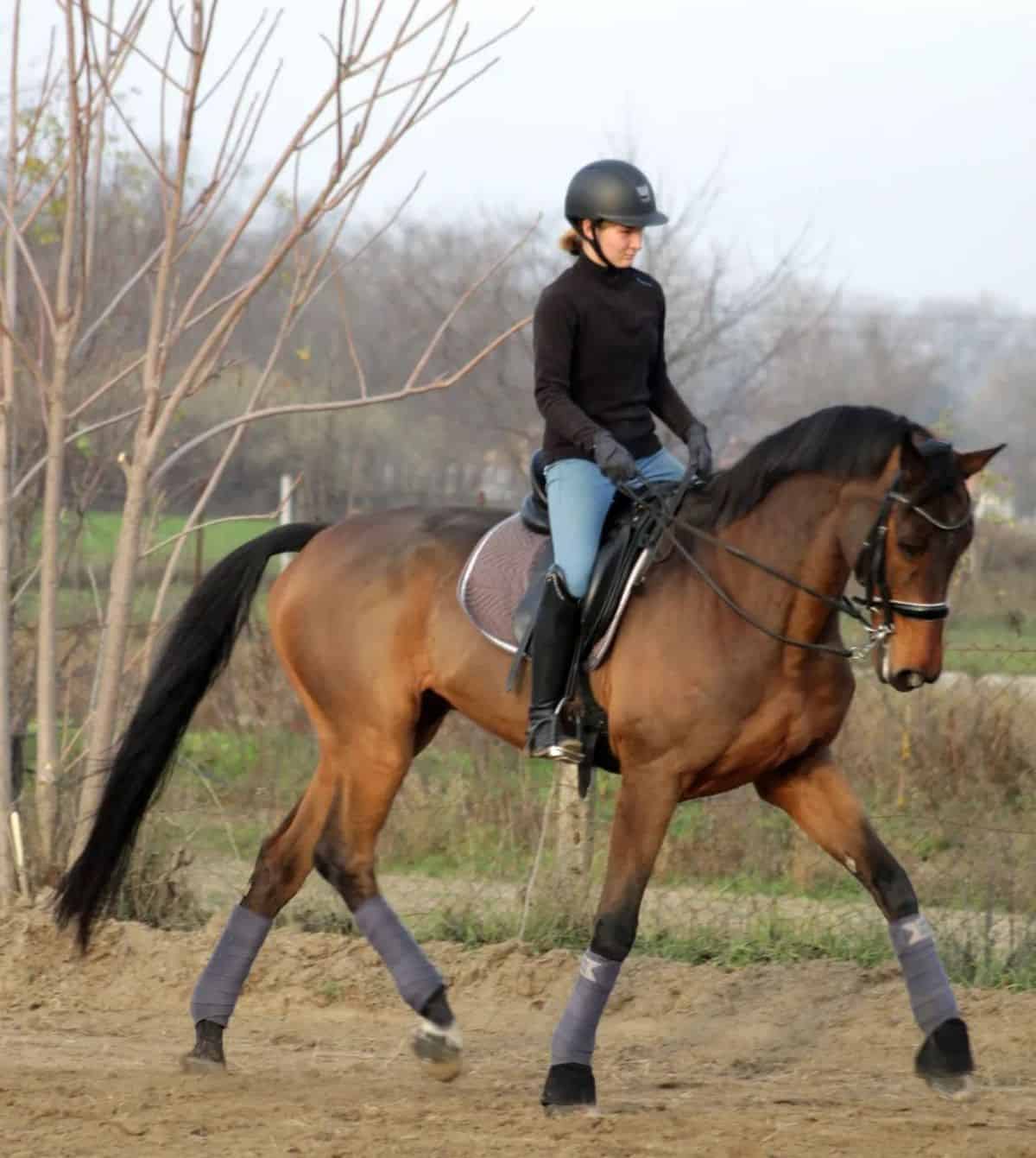 The Holsteiner is a horse breed made for dressage. It is agile, responsive, muscular, and balanced, making it a great dressage horse. This breed is capable of advanced dressage movements as well.
Westphalians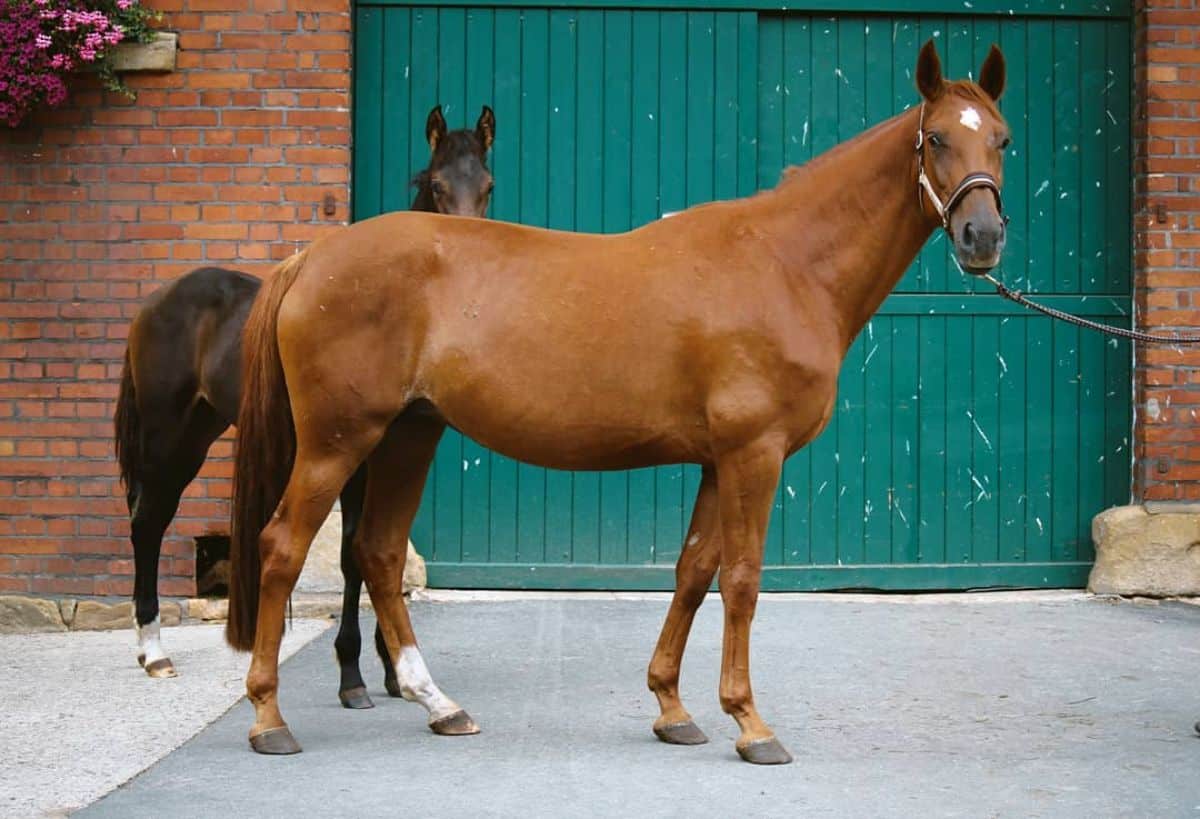 Westphalian warmbloods are strong horses with high endurance levels. They are gentle, even serving as companion animals. Their intelligence and trainability contribute to their excellence in dressage.
Dutch Warmblood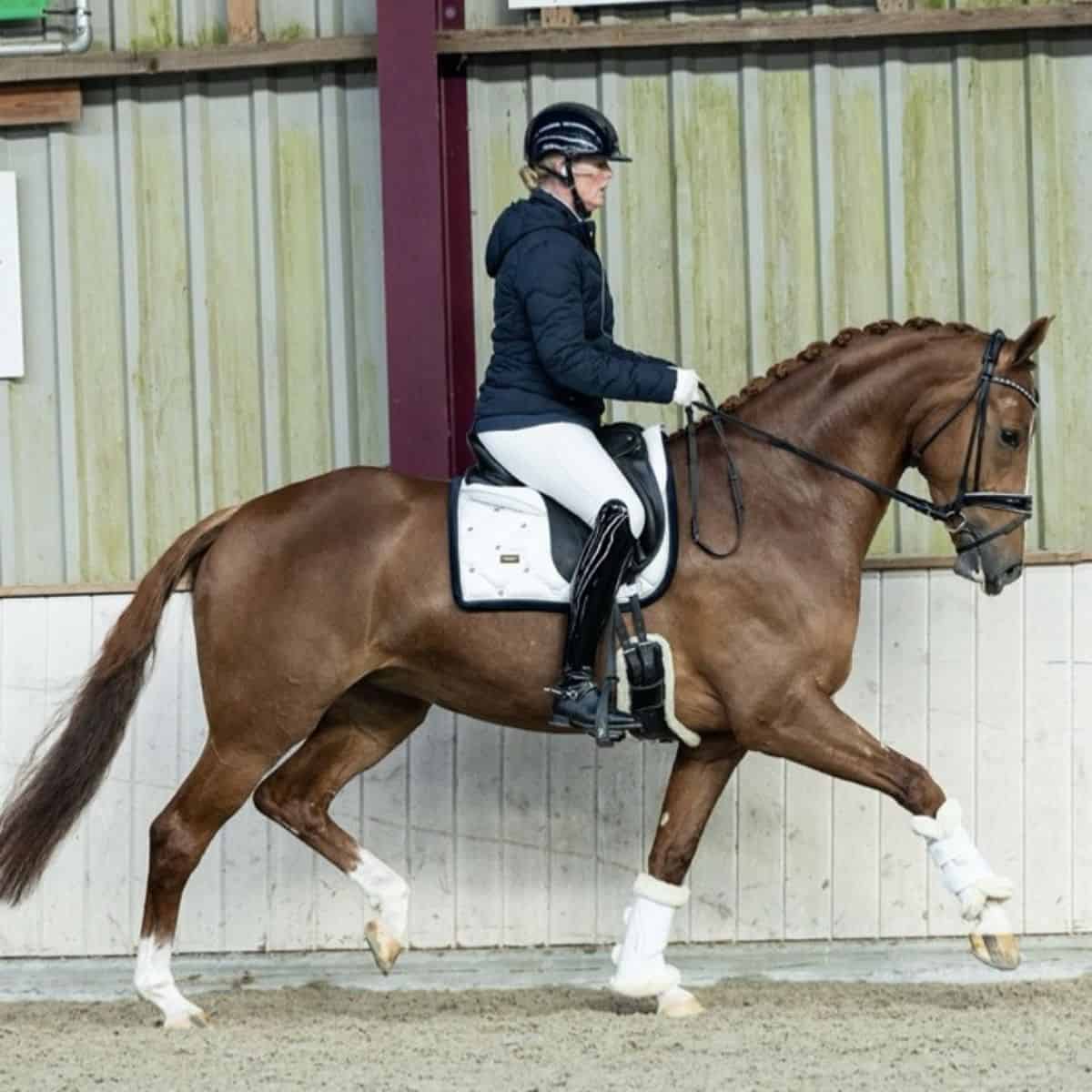 The Dutch Warmblood is a gentle and kind breed, ideal for all riders. It's one of the most successful dressage horse breeds thanks to its willingness to learn, good gait, and control.
Trakehner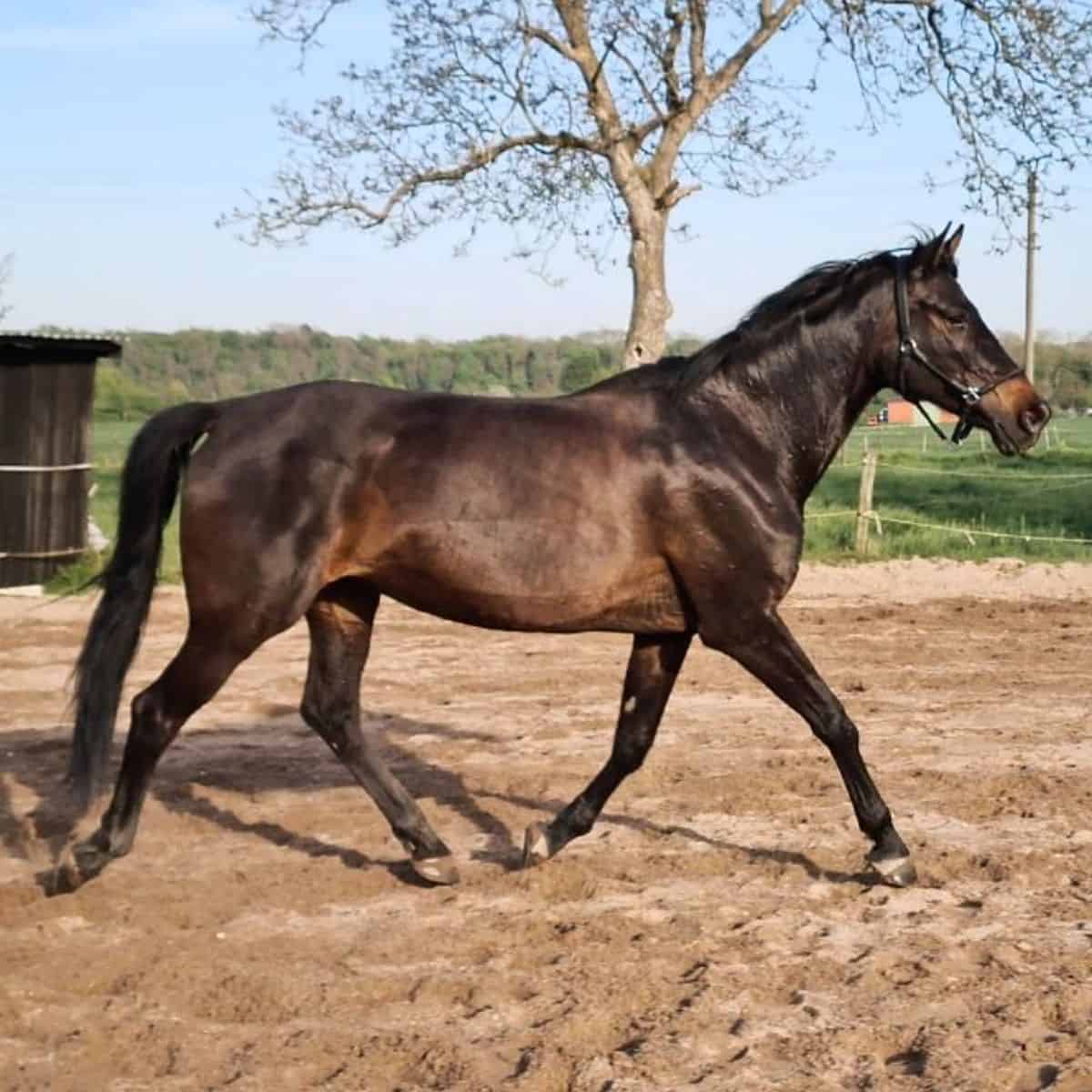 The Trakehner has natural athleticism and good conformation for dressage. It's strong with a great temperament and trainability. It is one of the warmbloods in beginner to advanced dressage competitions.
2. Friesian Horse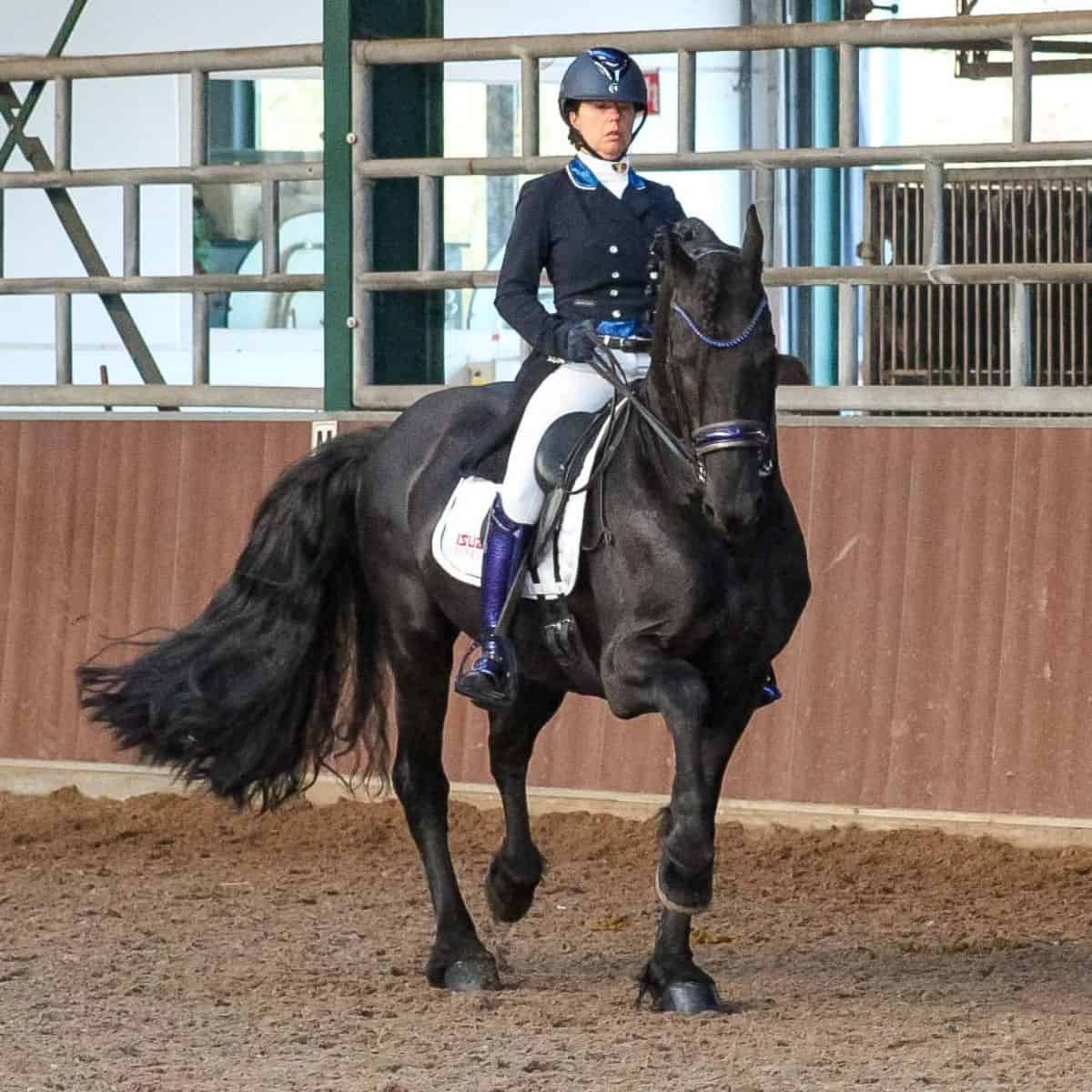 The Friesian Horse originated in the Netherlands. They are usually an elegant black, although some can be chestnut-colored. Friesian horses have an average height of between 14.2 and 17 hands at the withers.
They have a baroque body type with powerful shoulders, sloping hindquarters, and muscular bodies with comparatively shorter limbs. They are energetic, highly active, intelligent, and willing to learn.
Their elegant presence, uphill conformation, powerful hindquarters, and high-stepping gaits make them the perfect dressage horses.
While most Friesian horses have a baroque body type, some with the modern body type are more refined and ideal for modern dressage.
A classic example of a dressage Friesian horse with a modern body is Adel 357, the first horse of this kind to participate in the International Grand Prix.
3. Andalusian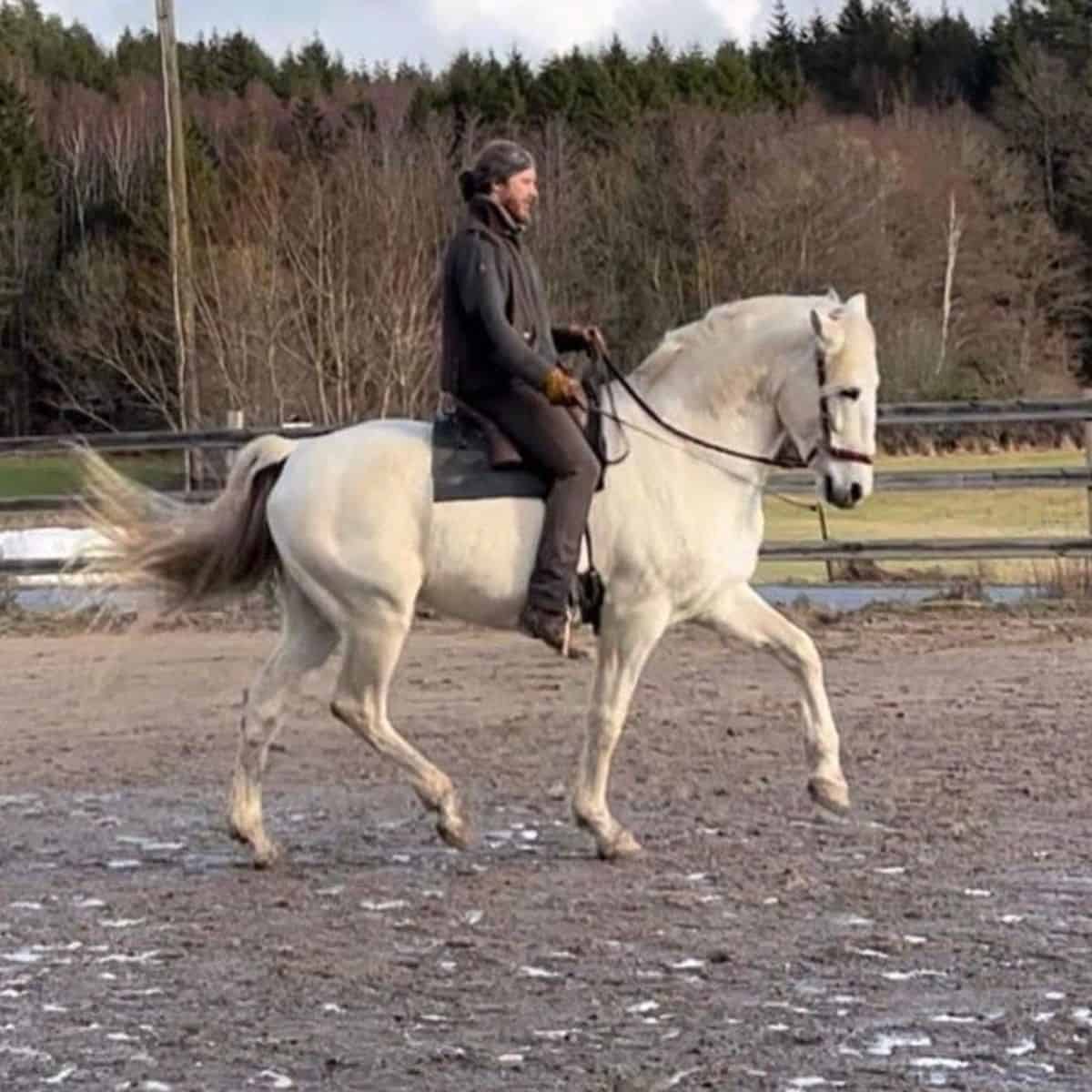 The Andalusian's athleticism, responsiveness, control, and intelligence make it one of the best horse breeds for dressage. Andalusian horses have a strong, compact build with a thick, elegant mane and tail. They have an average height of 15.2 and 16.5 hands.
This breed traces its origins to Andalusia, Spain, where it served as a warhorse. And while they might sound aggressive, they are docile and sensitive horses. Their success in dressage lay in their speed and agility, including the ability to turn on their haunches.
Andalusians are highly trainable in the right hands. Their inclination to obedience makes them perfect for dressage, as it requires collaboration between the rider and horse.
Some famous Andalusian horses that have participated in dressage competitions include Babieca and Fuego XII.
4. Irish Sport Horse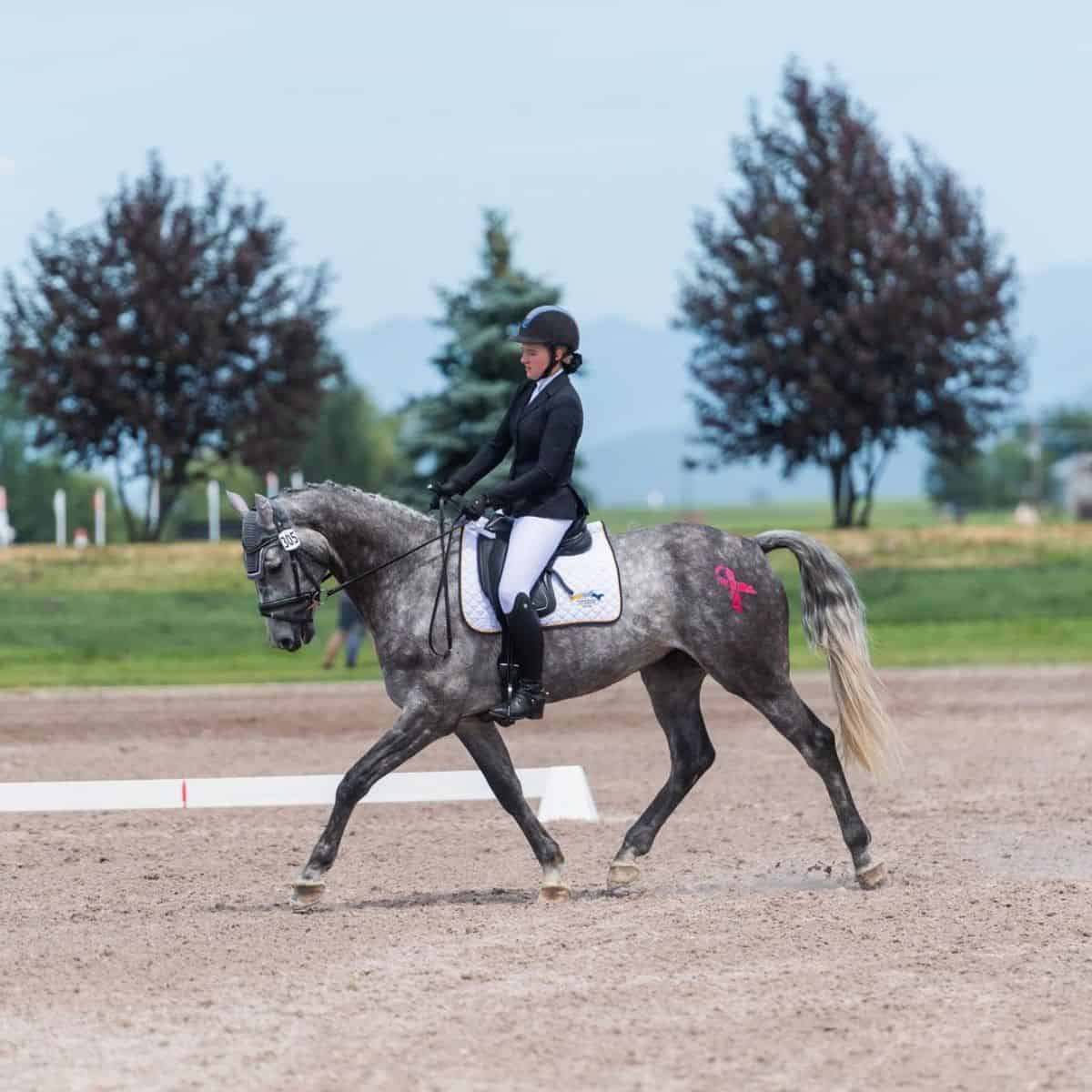 The Irish Sport Horse is bred from the Irish draught and warmblood to produce an athletic sporting horse for dressage and show jumping. This breed is fast, strong, and versatile. Irish sport Horses have strong hindquarters, which gives them balance.
They are not the best for beginners due to their high energy levels, but they are gentle and friendly. They, however, demand your attention to develop a connection. Irish Sport Horses also require more exercise to keep them healthy.
5. Arabian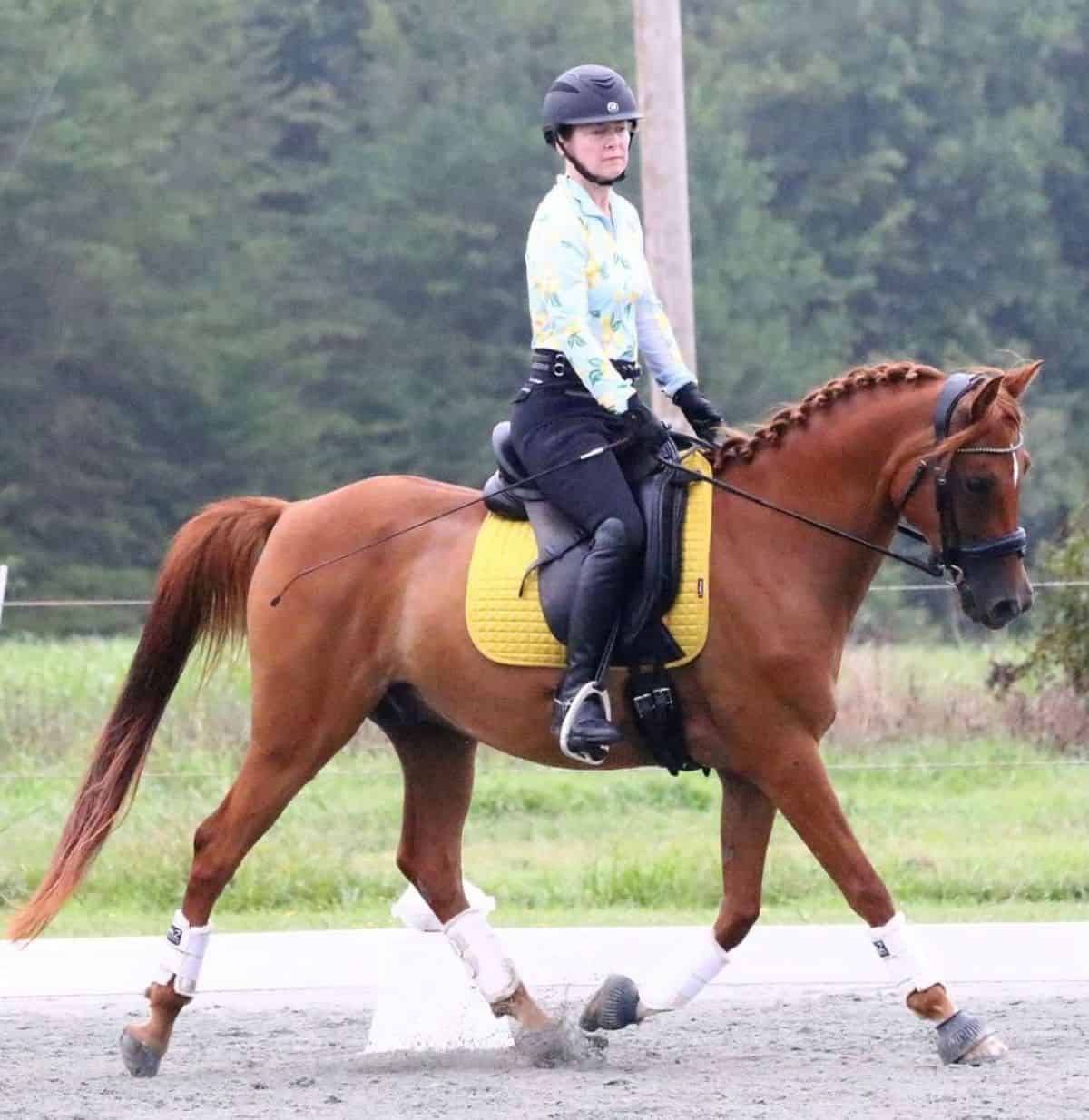 The Arabian is a versatile horse breed for diverse equestrian sports, including dressage, eventing, show jumping, horse racing, and endurance riding. They display high stamina, intelligence, alertness, and sensitivity.
While it's a friendly horse capable of forming a cooperative relationship with riders, the Arabian requires respectful treatment.
Despite their small compact frames, Arabians have dense bones, a short back, and strong feet that give them significant physical strength that could match the larger horses. Arabian horses may differ in their conformation, meaning that not all of them will qualify for dressage.
6. Lusitano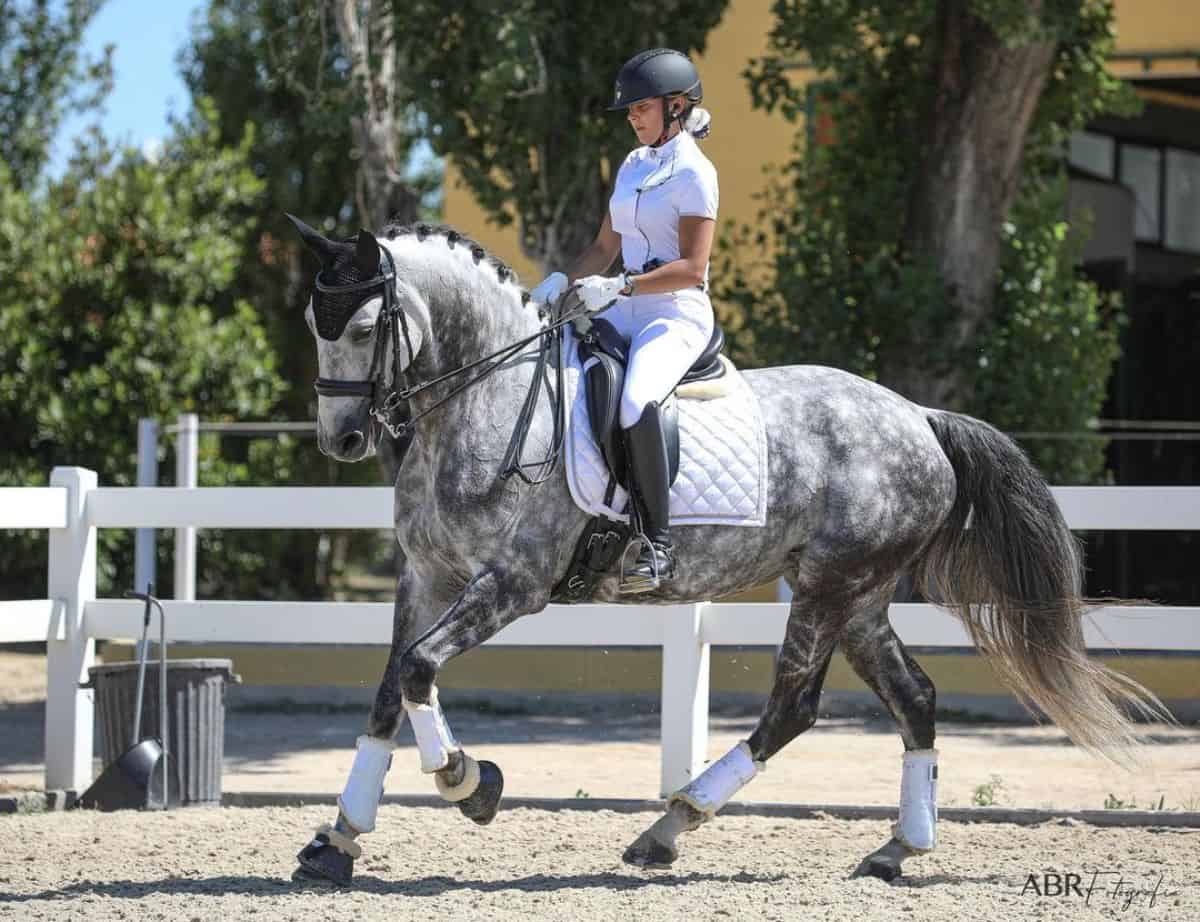 Lusitano, a close relative of the Andalusian horse breed, originated in Portugal. This horse traces its origins to the native horses of the Iberian Peninsula, which were later bred with the Arabian horses to produce the Lusitano breed.
The Lusitano breed excels in several sports, including dressage, driving, and bullfighting. Lusitano breeds have participated in award-winning worldwide dressage competitions.
They are courageous, intelligent, and agile. Their baroque-type body and eagerness to learn makes them perfect for classical and advanced dressage techniques. Lusitano horses are friendly towards people, forming deep relationships with riders in most cases.
7. Selle Français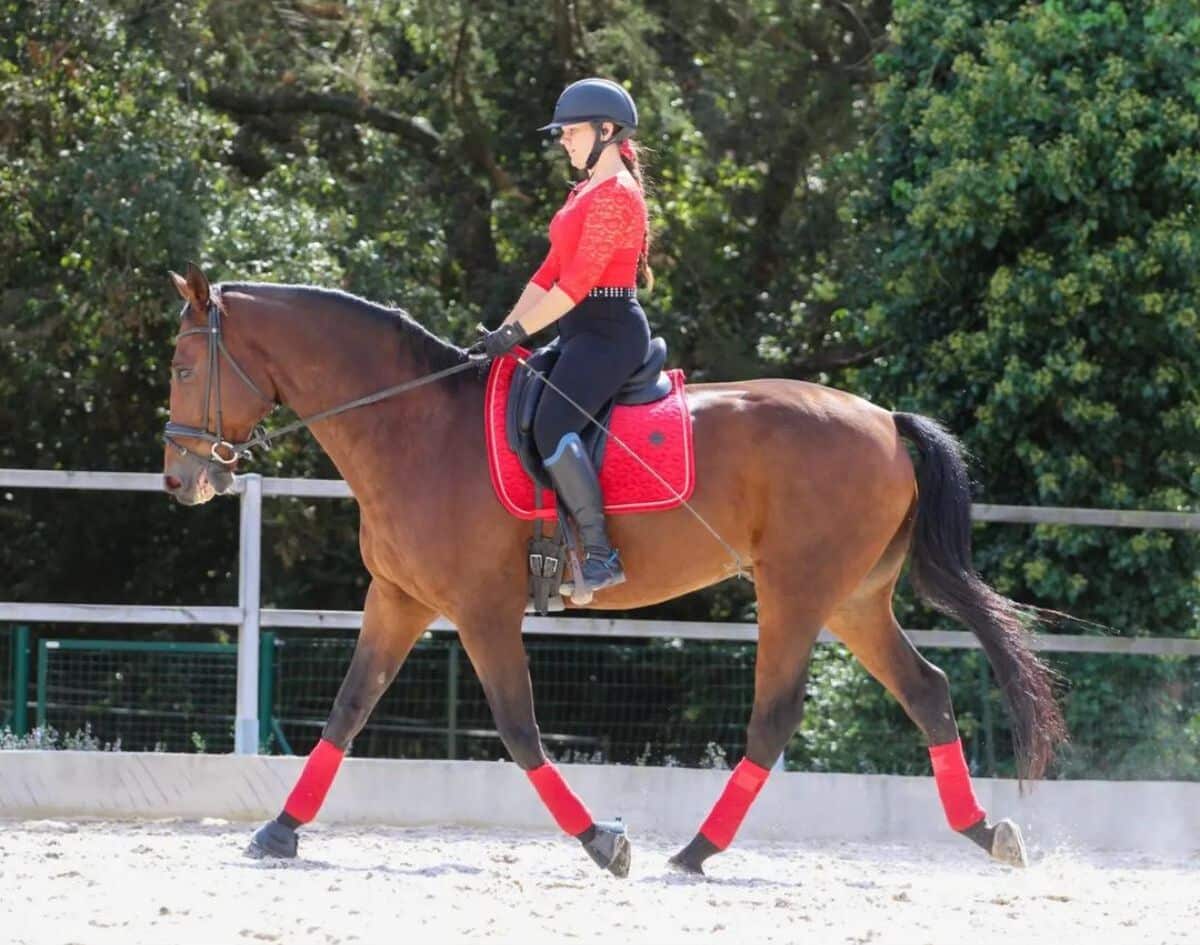 Selle Français is a versatile horse breed from France. It is a sports horse with a strong and athletic build. The horse exudes elegance with its height of between 15.1 and 17.3 hands, strong hocks, and broad hindquarters. It has a steady, balanced, and powerful gait.
It is an intelligent and willing horse, making it perfect for dressage and show-jumping. This horse also participates in vaulting, eventing, competitive driving, and trail riding.
Selle Français stands out for its fast-learning ability and willingness to please its riders, making it the perfect horse to perform demanding performances like dressage. This breed is accommodating to beginner and expert riders.
8. Morgan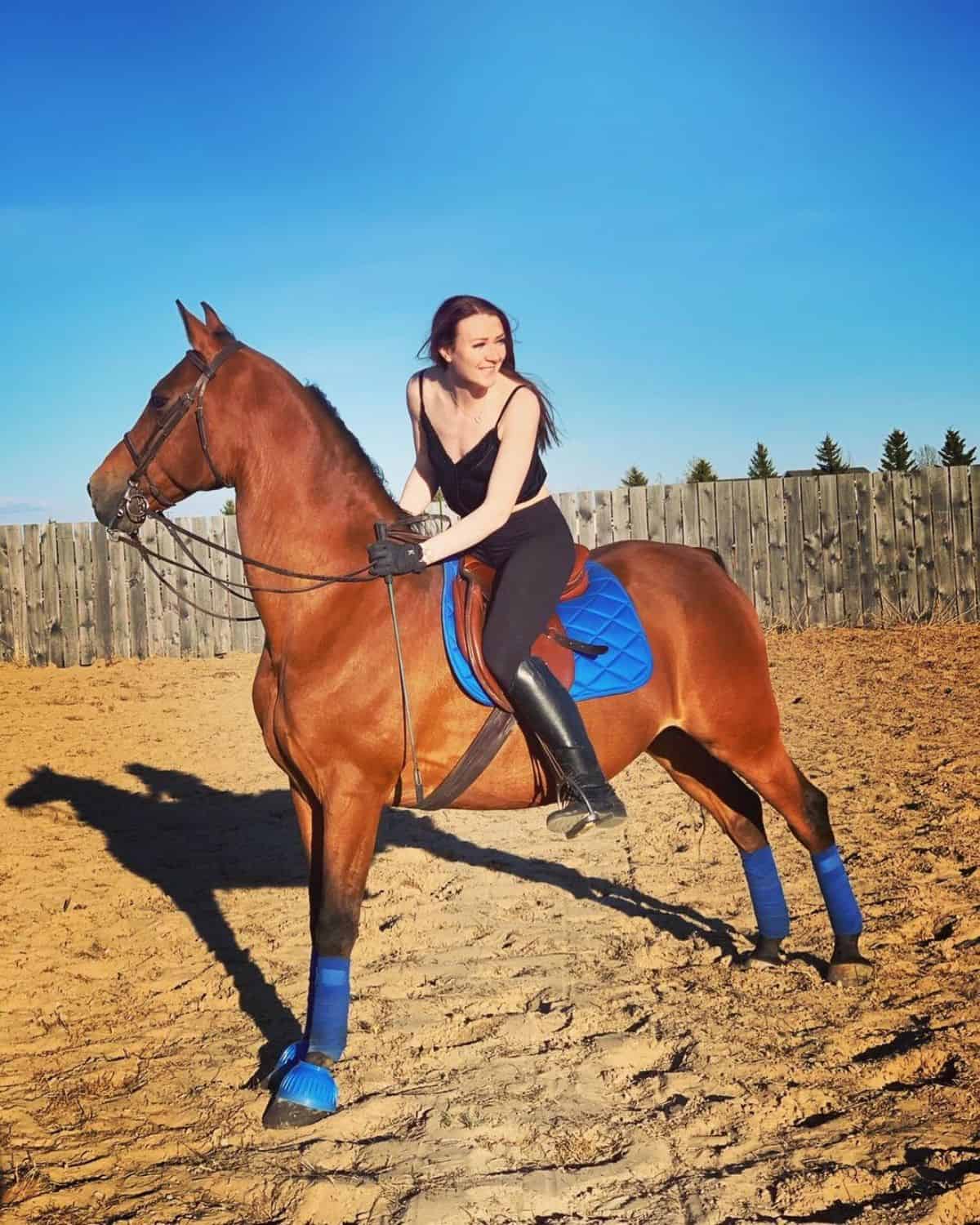 The Morgan horse traces its origins to the 18th-century sire, Figure. This horse rises to a height of between 14.1 and 15.2 hands and has an animated, elastic, and steady gait.
Morgan horses are intelligent, highly trainable, courageous, and gentle, making them one of the best dress breeds.
In addition to dressage, Morgan horses excel in other activities, including endurance riding, show jumping, driving, and Western pleasure cutting.
While they lack the larger build of the Warmbloods, their trainability, and stamina allow them to perform complex dressage acts. Morgan horses are perfect for amateur, young, and professional dressage riders.
9. Gypsy Cob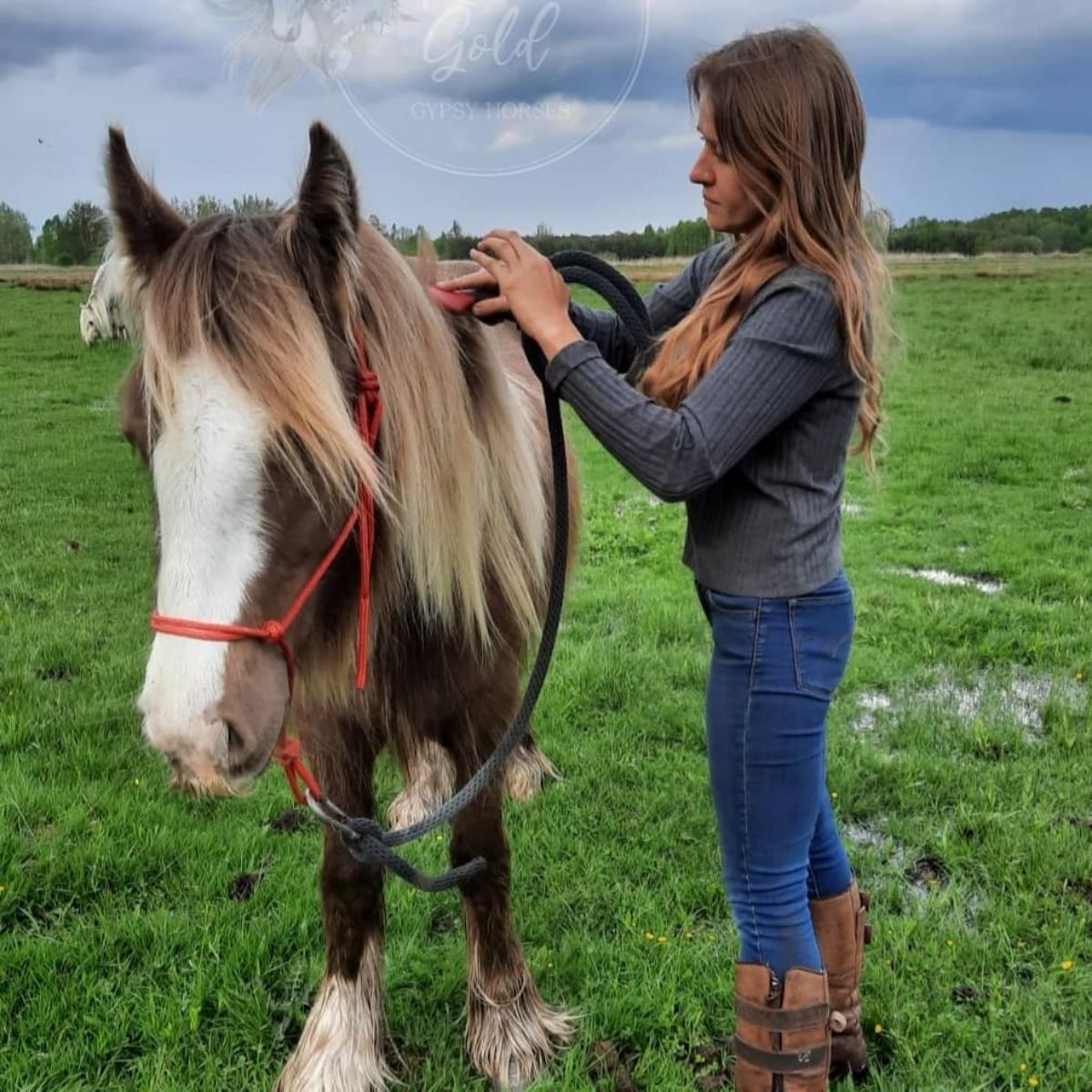 Also known as the Irish cob, the Gypsy Cob is a small horse of about 12.2 and 16 hands. Gypsy Cobs are versatile, trainable horses that engage in dressage, competitive driving, jumping, and trick training.
Gypsy Cobs have a stocky, powerful build but display excellent body style and athleticism. They have a long-full mane, a lush tail, and feathers from the knees and hocks.
They are warm, docile, and willing to work with all types of riders, from young and inexperienced to competitive riders. If you're a beginner rider or have lost confidence in your skill, the Gypsy Cob can be a great way to get started.
Keep in mind that Gypsy Cobs are relatively high-maintenance horses, especially with their grooming requirements.
Pick a Horse Breed With the Ideal Conformation
Dressage is about a partnership with your horse. It is about communicating with your horse to execute precise movements.
Whether you're looking for a dressage horse for fun or competitions, you should consider some of the best horse breeds for dressage. While warmbloods are the most popular choice, you can find other breeds with the right physical features for a dressage performance.