We're deep into the throes of winter, the snow is flying, and the temperatures continue to drop. Are you worried about how your horse is coping with this challenging season? These eight tips can help you to keep your horse healthy and comfortable.
Feed Plenty of Hay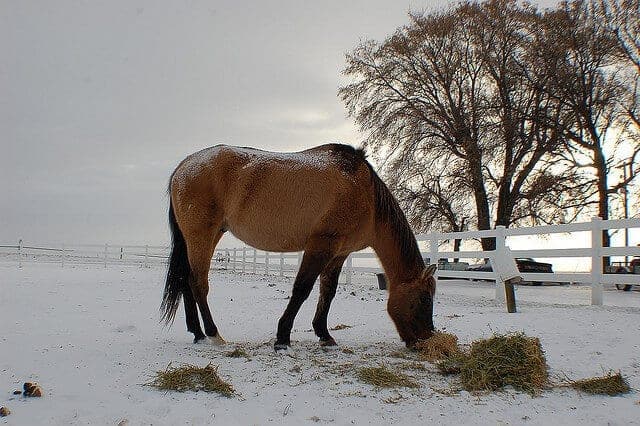 As the temperatures drop, the amount of hay that you feed your horse should increase. The act of eating and digesting hay helps to keep your horse warm, and he will need the extra calories in order to keep his weight on.
Keep Water Accessible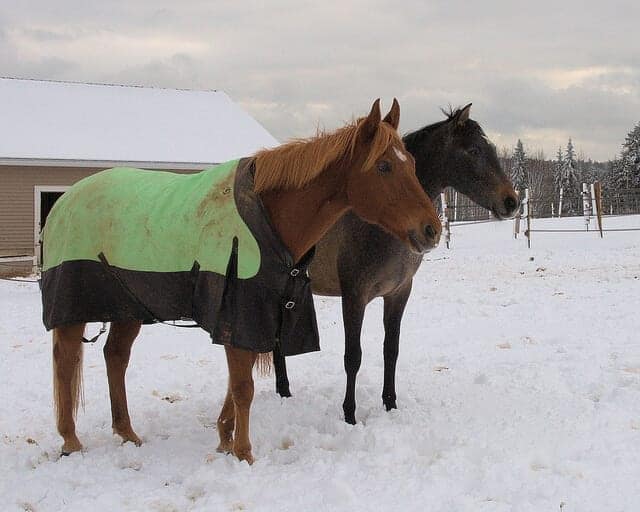 It's so important to keep your horse properly hydrated during the winter. Make sure that your horse has continuous access to clean, unfrozen water. Monitor your horse's drinking habits to make sure that he isn't getting dehydrated, which can put him at risk of impaction colic.
Blanket Appropriately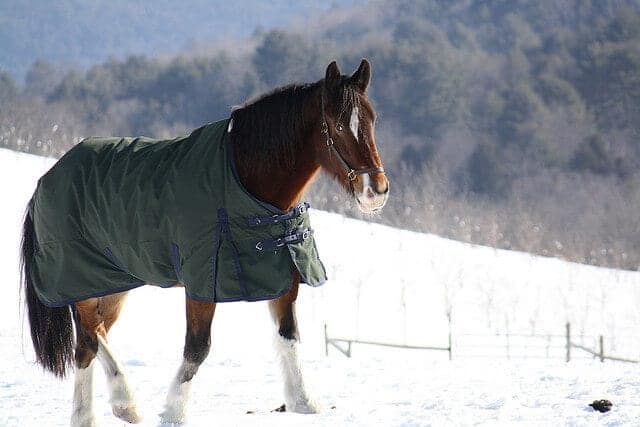 If you choose to blanket your horse, then do so appropriately. It's necessary to change your horse's blankets as temperatures change, or if a blanket gets wet through to the underside. If your horse has a thick coat, then he may be perfectly fine without wearing a blanket.
Provide Adequate Shelter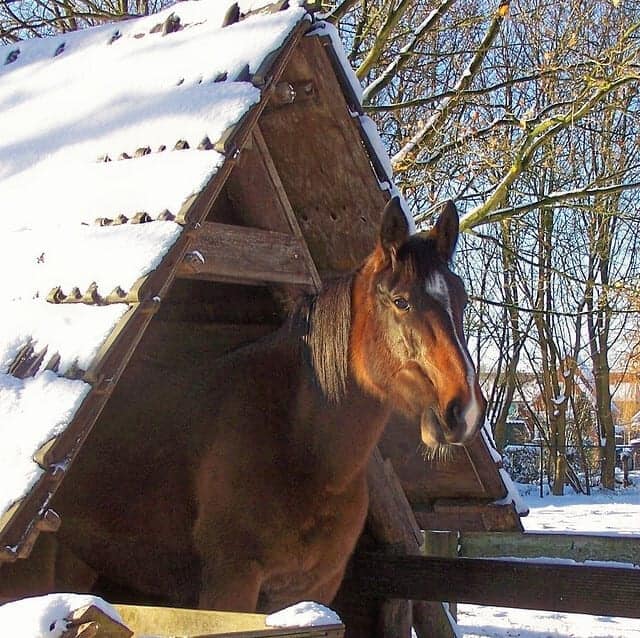 Make sure that your horse has adequate shelter against rain, wind, and snow. Providing your horse with shelter is essential to keeping him warm and healthy during the winter.
Remove Blankets Regularly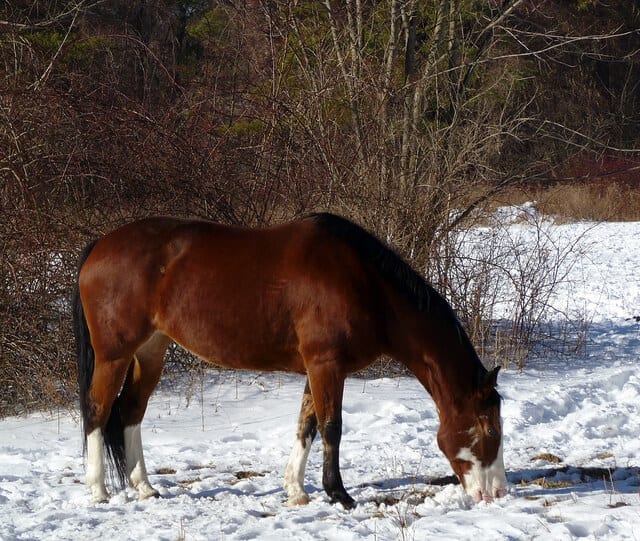 If you choose to blanket your horse, then it's important to remove his blankets regularly. When you remove your horse's blankets, check for blanket rubs and assess your horse's weight to make sure that he isn't losing weight.
Groom Your Horse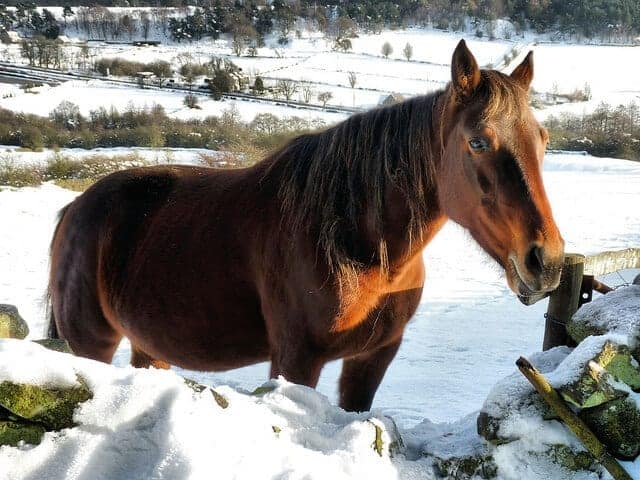 Your horse can become very itchy beneath his blanket, and when he wears a blanket, he can't scratch himself while rolling as effectively as he can without a blanket. Give your horse a good currying session at least every few days.
Keep Air Moving Through Your Barn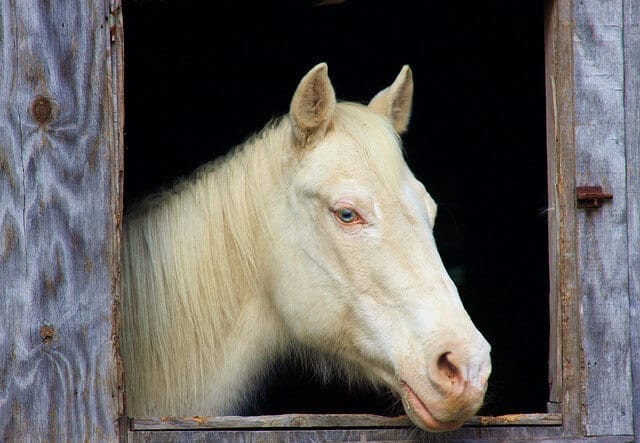 It might be tempting to seal up your barn against wind and drafts, but your horse needs fresh air in order to keep his respiratory system healthy. Even if you close the barn doors, leave a few windows open to keep fresh air moving through your barn.
Monitor Footing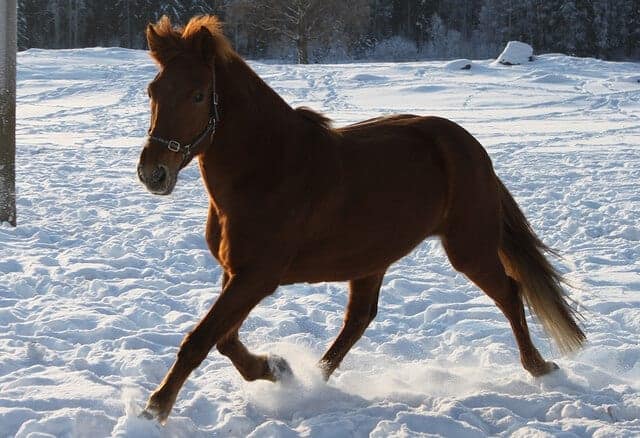 Sometimes your pasture's footing may become too icy to be navigated safely. In cases like this, it is wise to relocate your horse to a different pasture, or to keep him inside until conditions improve. If you're dealing with smaller icy patches, you may be able to sand them to improve the traction.
Caring for your horse during the winter requires some additional time, but you can help your horse to cope with winter just fine.