We may never see the likes of this horse again. Secretariat not only clenched the Triple Crown with ease, but he cemented his place in racehorse history that day. Even non-horse people know who Secretariat was. To win a race by several lengths is impressive. But, he did what no horse had done or probably ever will do again – he won that race by a ridiculous 31 lengths (the below video says 25, but the official call was 31 lengths).
Look at that stride!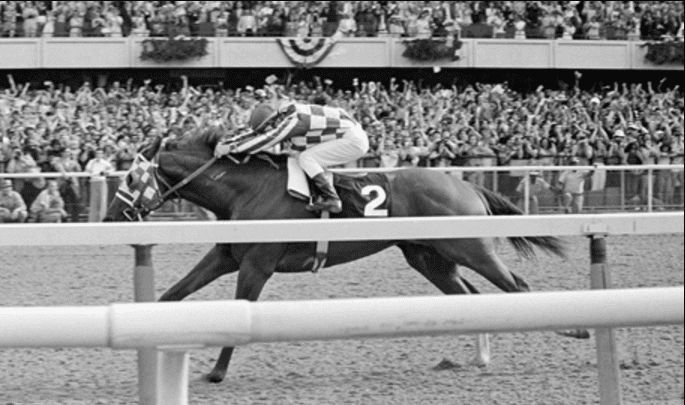 What made Secretariat the fantastic runner that he was we may never understand fully. We do know that his heart weighed approximately 22 pounds, or two and three quarters times the size of an average horse's. But if you read the writings of those who knew him – Penney Chenery and the racing team – Secretariat had something else, something in his personality that made him want to win.
In 1973, the year he clenched the Triple Crown, he also suffered three losses on the track. Interestingly, each time he lost, he came back and broke a record. Those that knew him said he was making up for his losses:
"He'd get beat, he'd go right to the back of the stall," recalls Davis. "He'd put his head to the back wall and his rump to the door. That was to tell you, 'I don't want to be bothered. I'm thinking what I can do to make this up.' Then he'd do it. The very next time after he'd get beat, he set a record." (Excerpt from "Secretariat – Super Genius" by Bill Doolitte. Read the entire story here.)
Or maybe he was just tired and the rest they gave him after losing gave him the strength to go on and do spectacular things. It doesn't really matter. What matters is that he lived and ran. The below video is the original footage of the 1973 Belmont Stakes. Something to notice – his jockey never uses the whip on Secretariat – he runs because he loves to.
Watch him in action here...
Secretariat was an amazing horse who truly loved what he did. It's a pleasure to get to watch him again. Who are rooting for in this year's Belmont Stakes? Tell us in the comments!