Horse Haven of Tennessee in Lenoir City is a non-profit known best for saving lives. Every year they take in the neglected, forgotten, and abused horses. They heal wounds, both physical and mental, and they don't give up until each horse has a new life with a new family. Every horse that walks through their barn is worth saving, and every now and then, they meet a special soul with a special talent. One of their most recent rescues, a Belgian named Katie, has quickly stolen hearts and has even made her way into the news.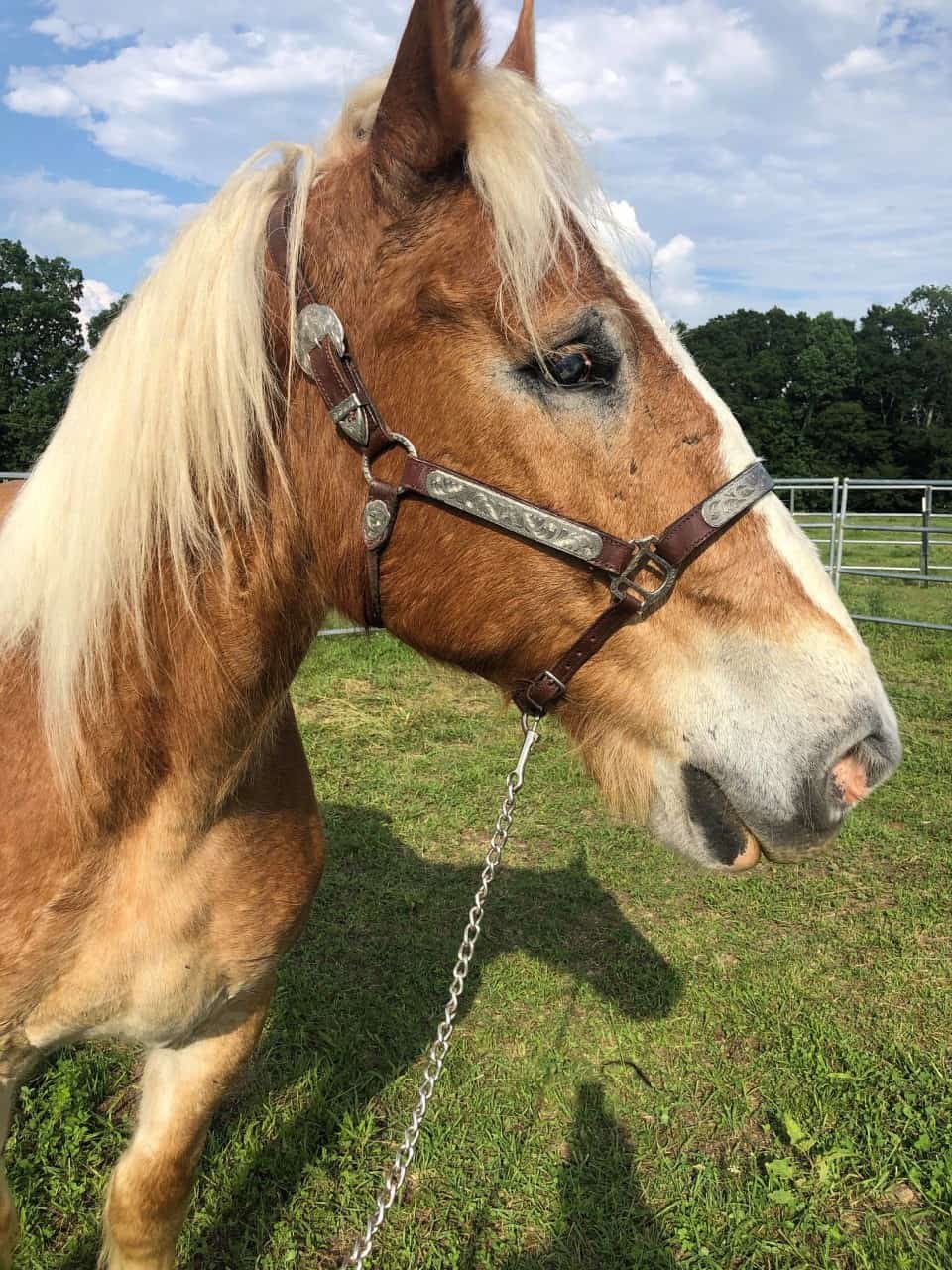 Found in a kill pen, Katie came to Horse Haven after being rescued by A Grazing Grace horse rescue in Tennessee. At 10 years old, it's clear this sweet girl was in need of help. It's impossible to know exactly how she ended up in a kill pen, but her rescuers soon realized that the big draft horse is completely blind. She can't see, but that handicap doesn't slow her down. She is trained under saddle, and she even has some extra skills that make her stand out.
While Katie received a lot of attention at a recent adoption event, Horse Haven Equine Coordinator Ashley Ford told iHeartHorses that the sweet mare has yet to find her perfect family. While she waits, Horse Haven volunteers and staff decided to try something to not only help Katie find a home, but to also help all the horses at the barn. They gave Katie a paintbrush, and now the talented draft horse is raising money for her friends in need.
According to Ashley, Katie is able to hold a paintbrush with a spoon attachment and nod her head to paint on a canvas. She also paints directly with her muzzle to produce abstract works of art that are pretty impressive considering she's a blind equine artist. Ashley also assures us that all paints are non-toxic and are washed off as soon as Katie is finished with each masterpiece.
Katie's paintings look great in the barn, but Horse Haven is also auctioning off the works the art to raise money for the rescue. The pandemic has put a financial strain on the non-profit horse rescue, and they're hoping Katie's newfound talent will help raise money to continue to care for her and all the other horses at the barn. If they can sell a painting for at least $100, that would pay for the care of about four horses for one day.
So far, Katie has already sold a few paintings, and she's also accepting personalized commissions. Buyers can request specific colors, and Katie will do her best to create a unique and personalized piece of art.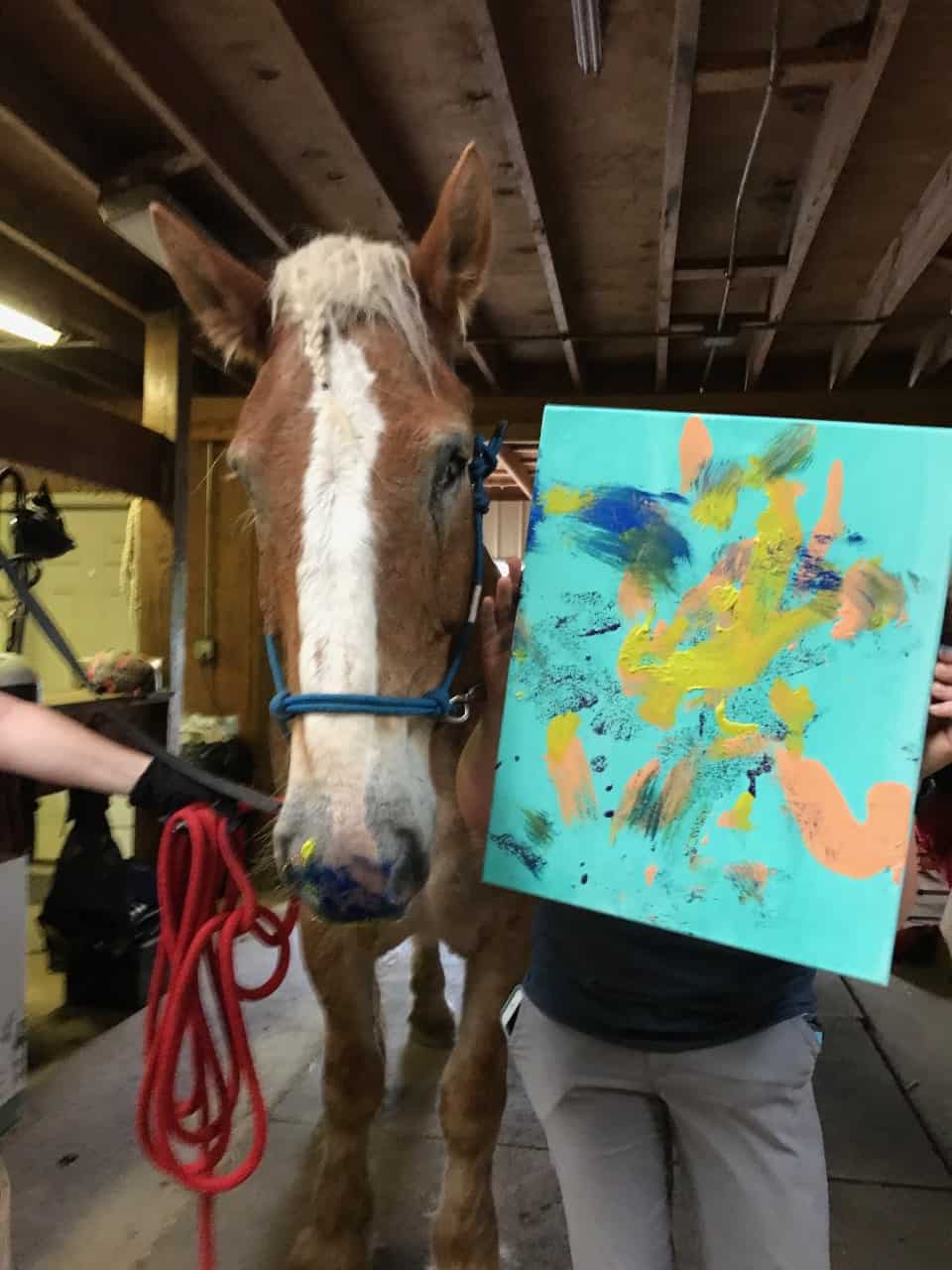 While Katie is having fun with her painting, Horse Haven's ultimate goal is to find the beautiful girl a loving home. Ashley said,
"Katie was quickly one of our volunteer favorites! She absolutely is the sweetest mare with the biggest heart! She LOVES water and loves to paint!"
To adopt from Horse Haven, staff screen applications based on a person's ability to financially care for the horse and provide for their basic needs. Katie will need a safe place to call home and someone with the patience to help her grow accustomed to her new surroundings.
Horse Haven is hopeful that Katie will soon find the perfect new family. They're surprised she's been with them this long and look forward to helping her take the next step in life.
If you're interested in adopting Katie or purchasing one of her paintings, send an email to [email protected]