One of my favorite things to do is look at beautiful pictures of horses. Some like cats and dogs, but for me, it's all about the horses. This list of horse's jumping is made to make you smile. Most of these are from competition jumps, but a few are more candid. There is something amazing about seeing the strength of a horse captured like this mid-jump.
15 Pictures of Horse's Jumping
If you are already a fan of sports involving your horse, you may have even entered horse competitions in the past. I love the idea of part of a routine with your horse jumping. It's so much fun and great exercise for your horse but a real rush of adrenaline for you. Of course, being safe is a must, so while these photographs are stunning, know that you shouldn't hop on a horse and attempt a jump without proper training and comfort with the individual horse.
The image below is my favorite on this list. It is a combination of a natural shot of this lovely brown horse jumping, and a bit of photo editing that really makes it look surreal.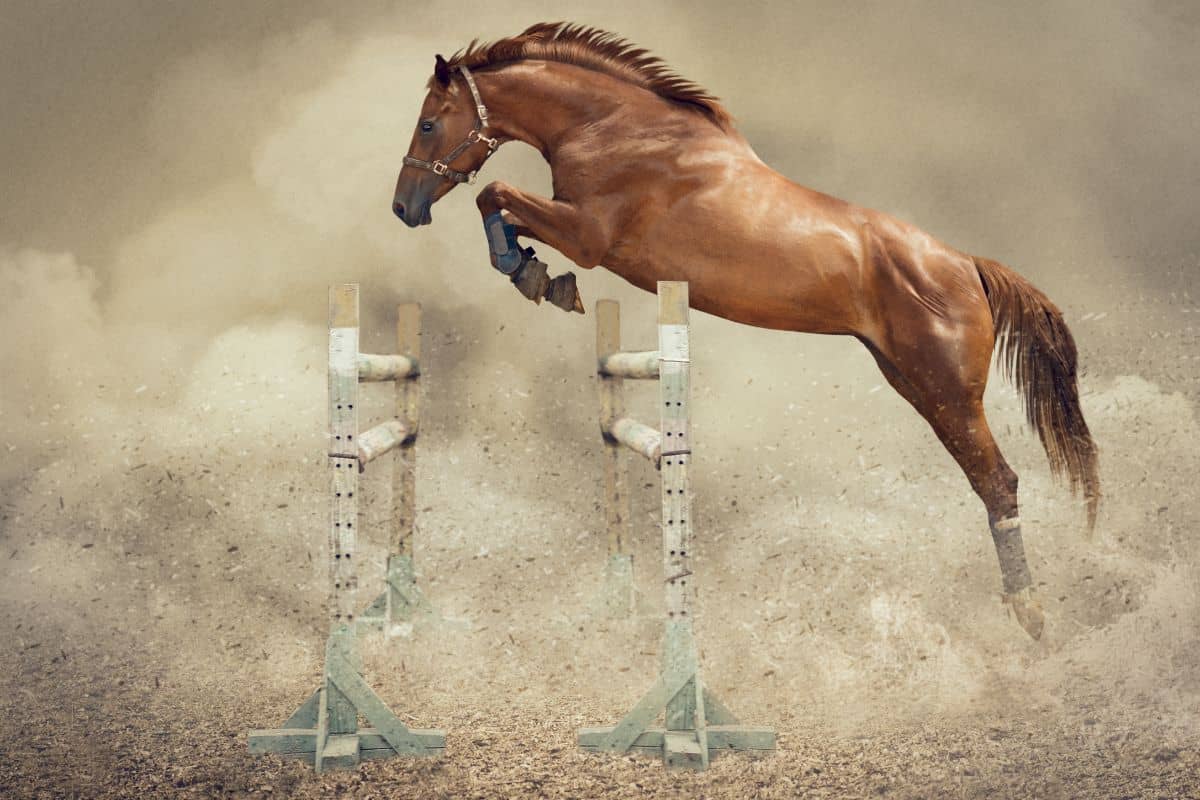 What Jumps Are Safe For Horses?
While I won't go into details here about the safety of all jumps or any competitive equestrian sports, I can encourage you to check out our past posts about jumps in horse sports and the best horse breeds for jumping. There are a lot of things shown in movies or even in these images that really look like they are simple. The reality is that any jump with a hose poses danger and should be done with safety in mind.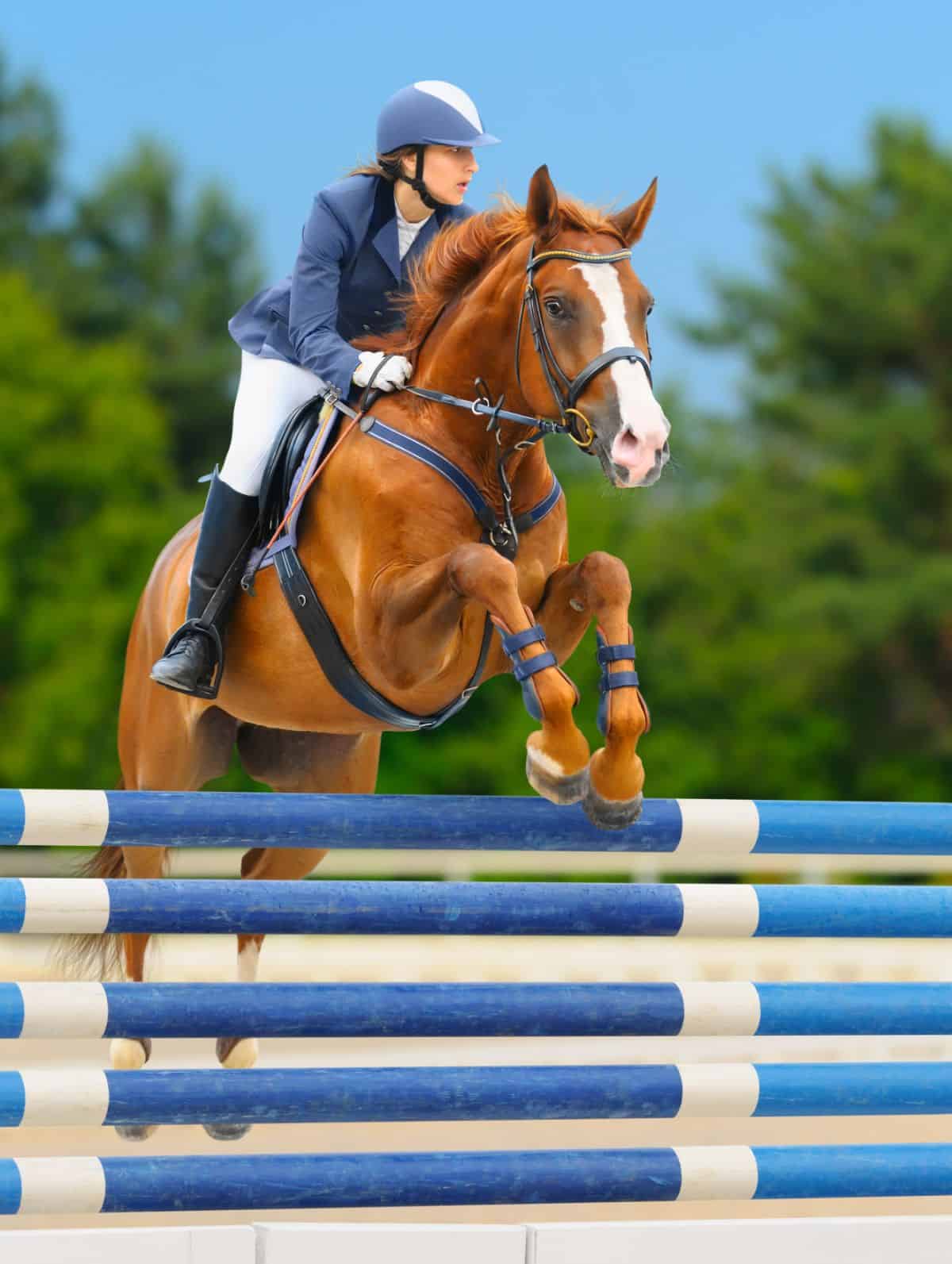 How Old Should I Horse Be to Begin Competitive Jumping?
While many animals are considered adults after one year, in this case, a horse isn't truly fully grown until at least 5 to 7 years old. So, while that adorable pony you just bought may seem like the perfect horse to get started in competitions, you will need to wait a few years before you begin to practice. The mature horse will be strong enough to carry you as well as perform the jumps. Plus, at that point, their temperament is well-known and easy to deal with when beginning competitions.
I love this set of images below. The first shows the horse going over the wooden beams as the start of the jump begins.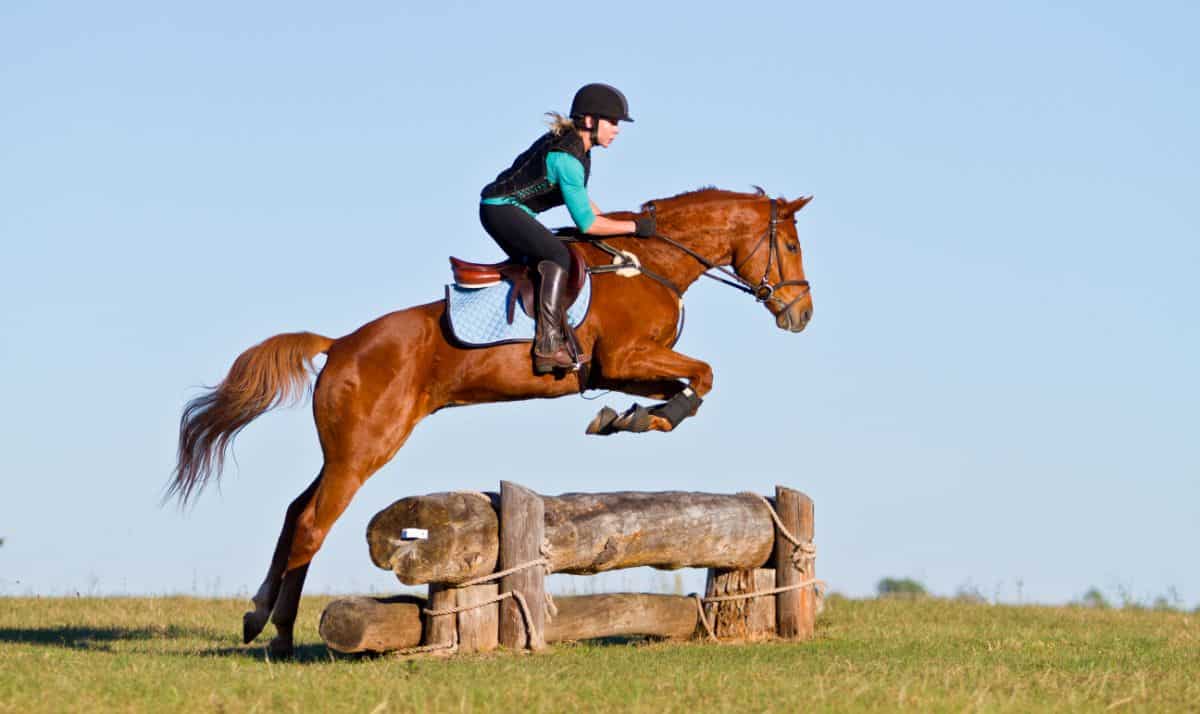 The second image shows the horse over the top and coming back down after the jump. I love seeing this series because it feels like an action shot. Almost the stop motion type of movie in play!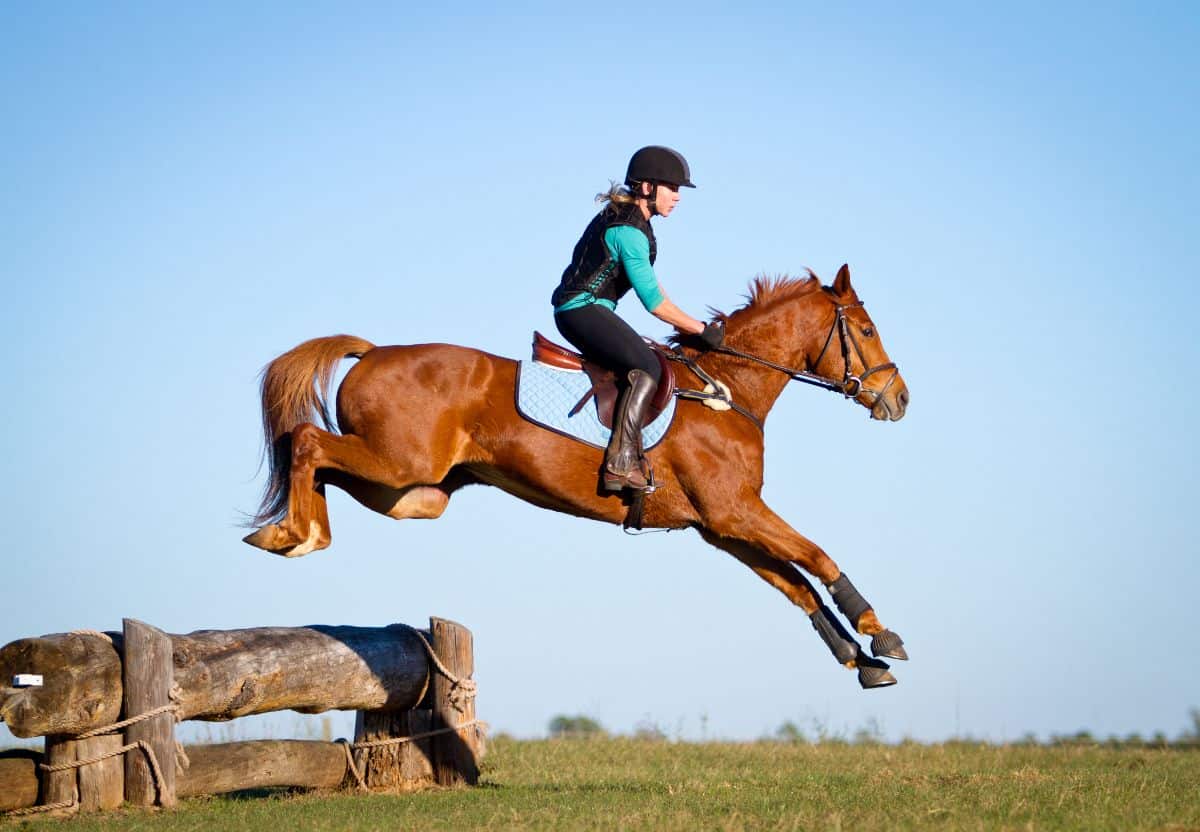 Are Mares or Stallions Better At Jumping?
Honestly, it depends upon what you are looking for because each has benefits. Mares tend to be gentler in many instances, so may be easier to train and guide, but the strength of a stallion may be the advantage you need to win the competition. What sex the horse is matters less than the individual strengths and temperments of the horse.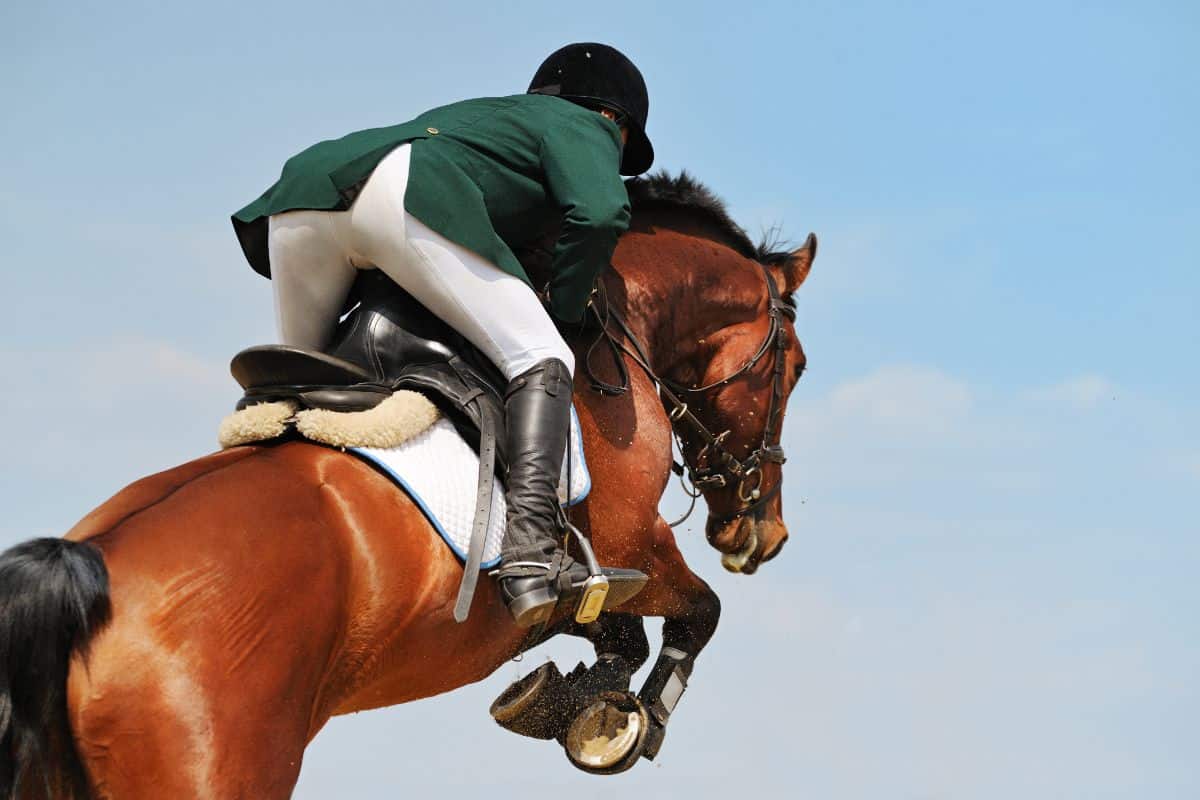 The strength of the horse really is important, but a larger horse can also be at a disadvantage in competitions. Agility and ease with going distance is a must, and while the horse above is muscular, it isn't overly large either. As with many things in live, and with horses, sometimes all you need is something in the middle ground to have the most success.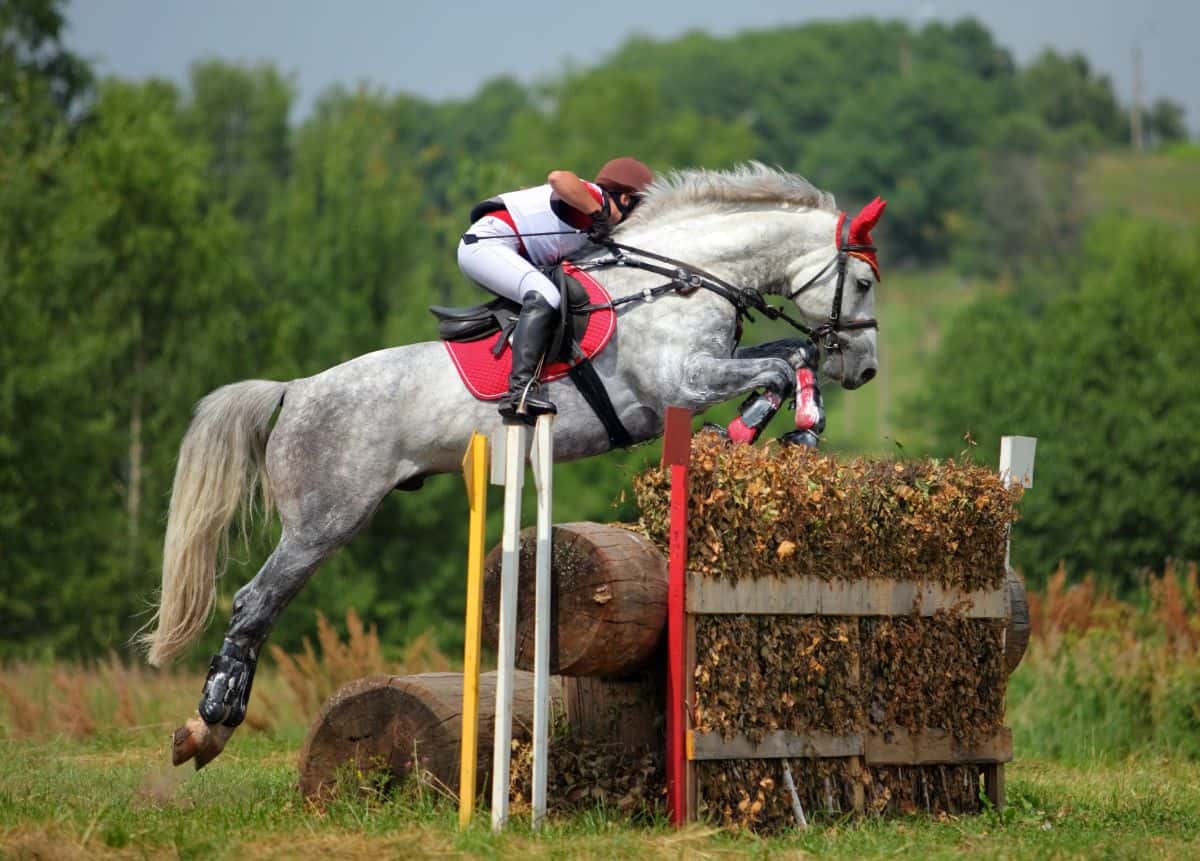 How Long Does it Take to Train a Horse for Competitive Jumping?
An experienced rider with a horse that is easy to teach can be ready in as little as one month. That time, however, is not common. Typically you will find it takes upwards of six months for a rider and horse to both be comfortable enough for jumping. Of course, it may be even longer in some instances. So, if deciding to get into competitive jumping, I recommend giving yourself at least six months to one year to practice and prepare.
Below is another image that is stunning and really showcases the beauty of the horse and the strength of its body in motion.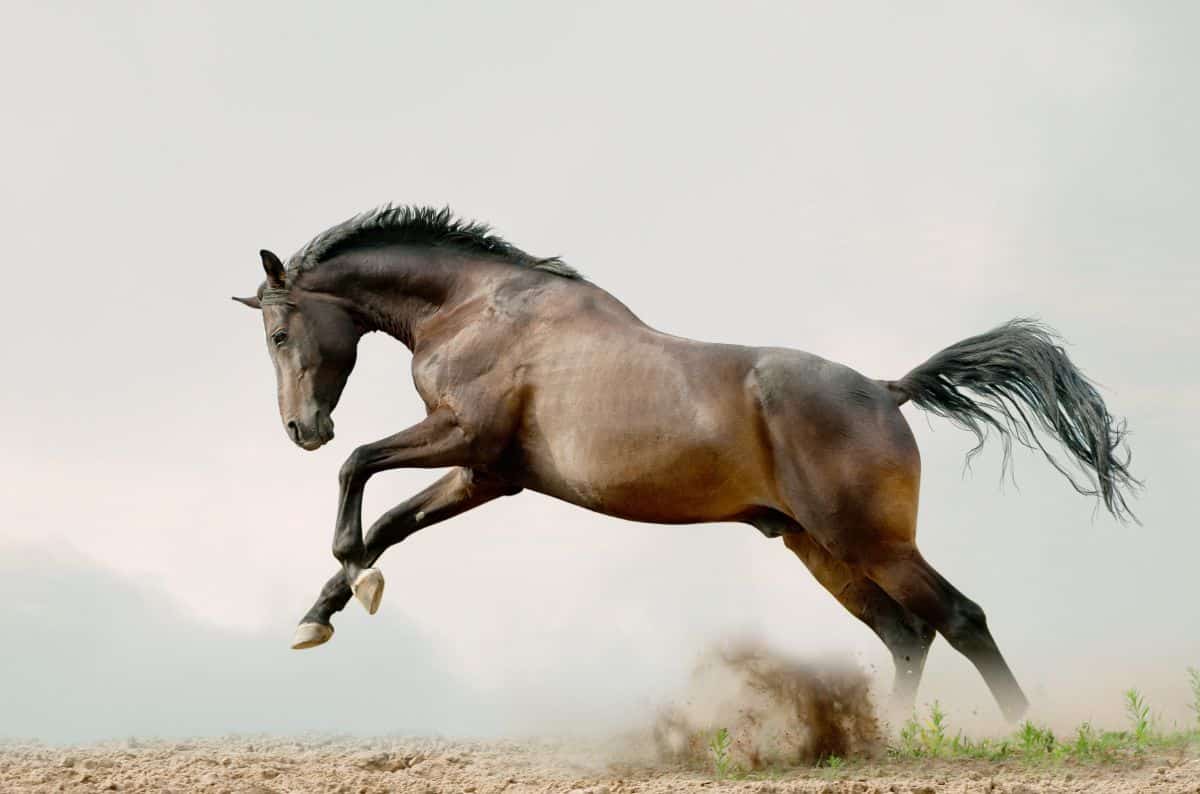 But jumping isn't just about the horse. So much of what makes it a successful sport is the pairing of the rider with the horse. There are many riders who can easily get on a horse and jump with no real practice with that horse, but the best teams are those who work together to create a level of trust and subtle understanding.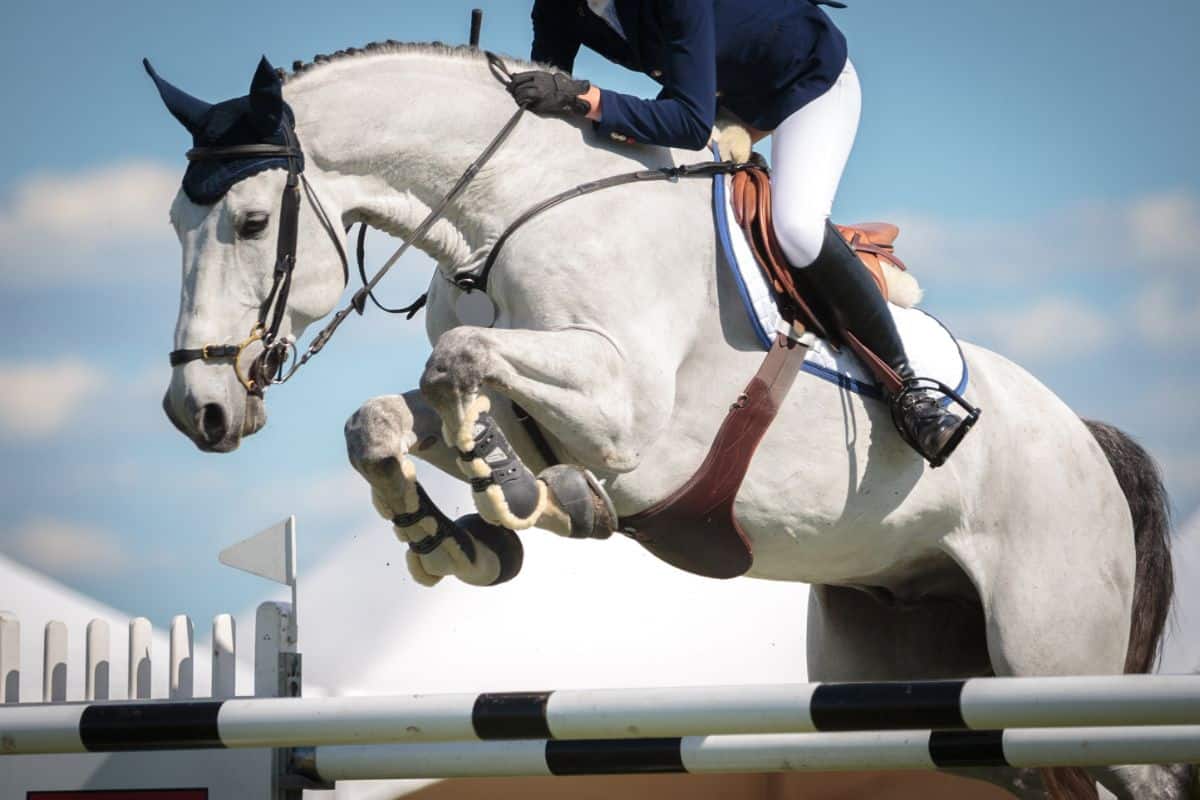 Some horses, like the one below, glide seamlessly over the barriers as if they are born to jump. With a rider that is fully committed to the sport, you can see a horse enjoy the competition as if they were born to do it!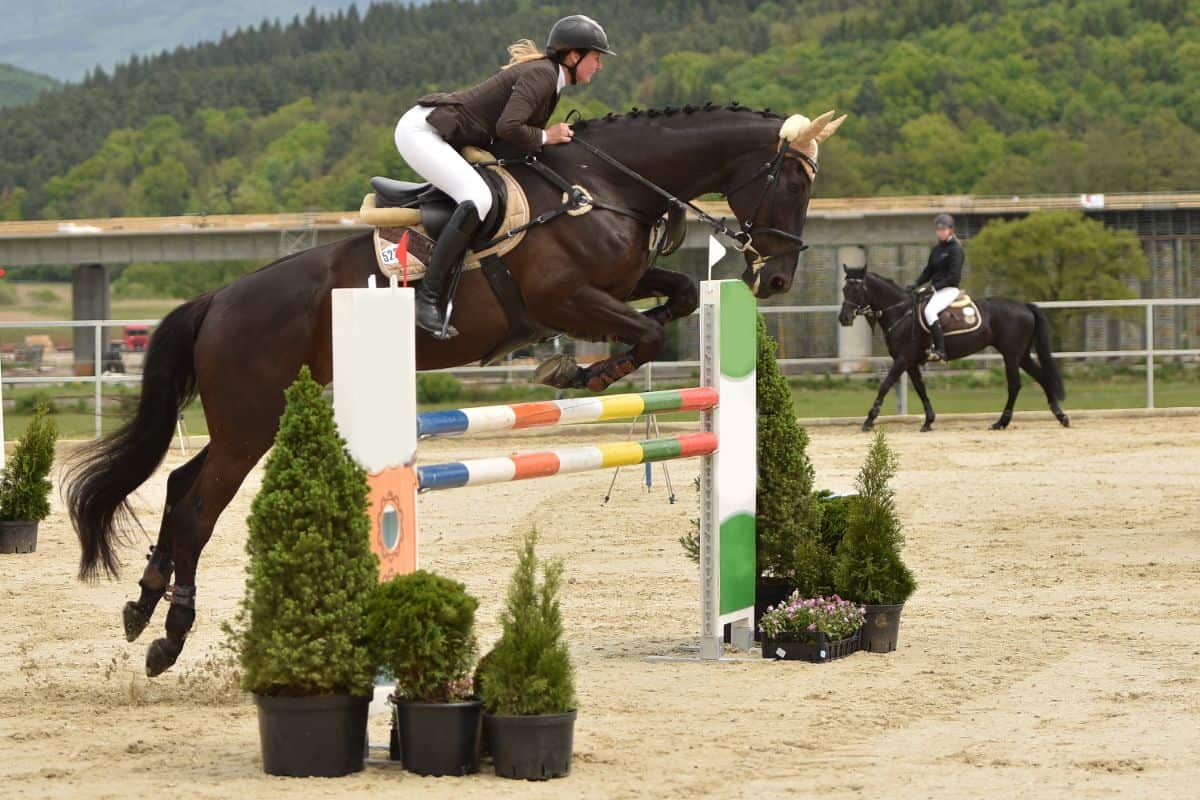 How Can I Get Good Images of My Horses Jumping?
If you want to duplicate some of these shots, or just make sure you take a few great pictures as you are at competitions, then you have tons of options. I love the idea of setting up a tripod with a timer or remote to grab more natural shots. Of course, other ideas include hiring a professional to photograph you at competitions.
The best tip is to simply take a lot throughout the practice of jumping so you can get multiple views instead of just one that may or may not turn out great. If you constantly click the camera you are sure to find at least one great image to use for display or just have to hold a cherished memory.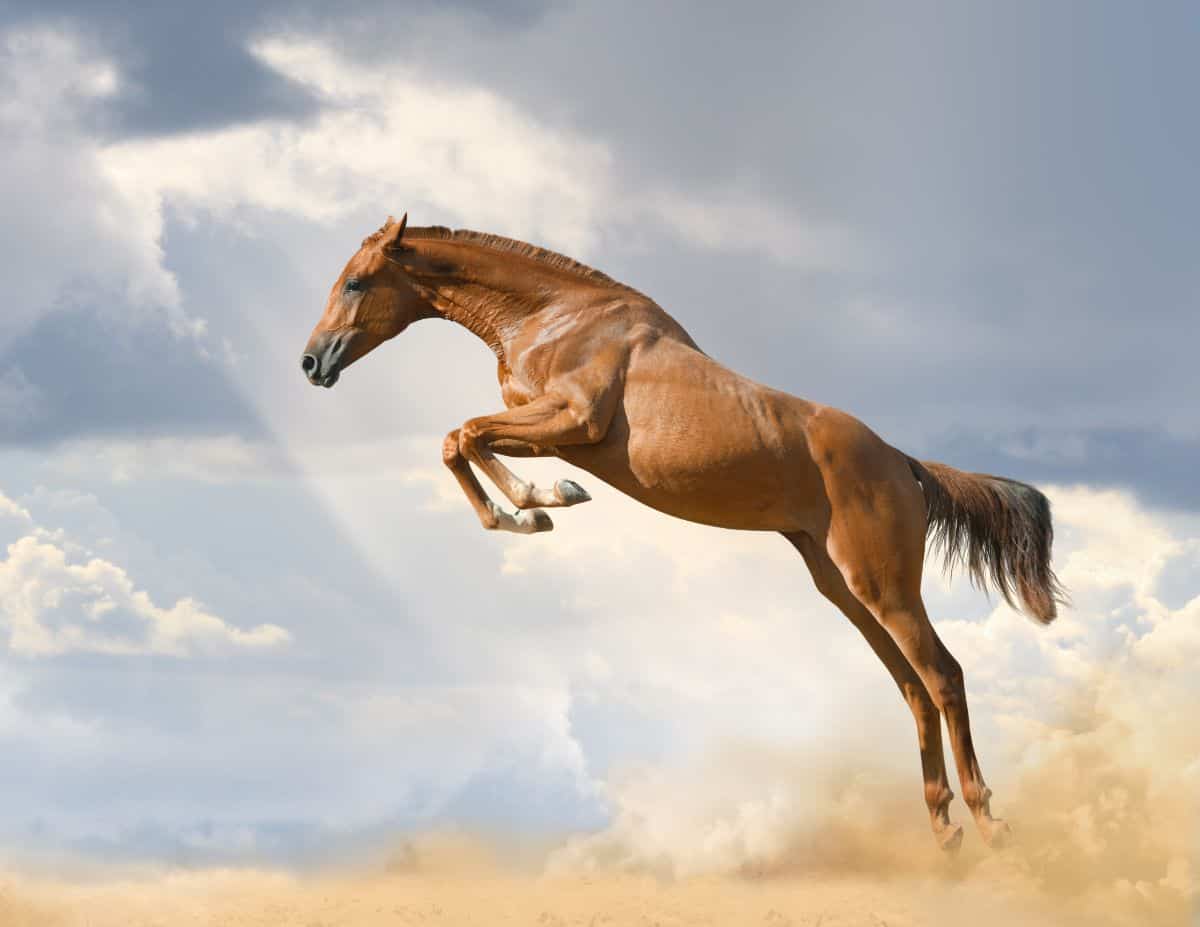 The image below is a perfect shot of the horse in motion over the top of the barrier. These images are the best showing just how the horse moves, and are actually great for use to study movements for potential improvements.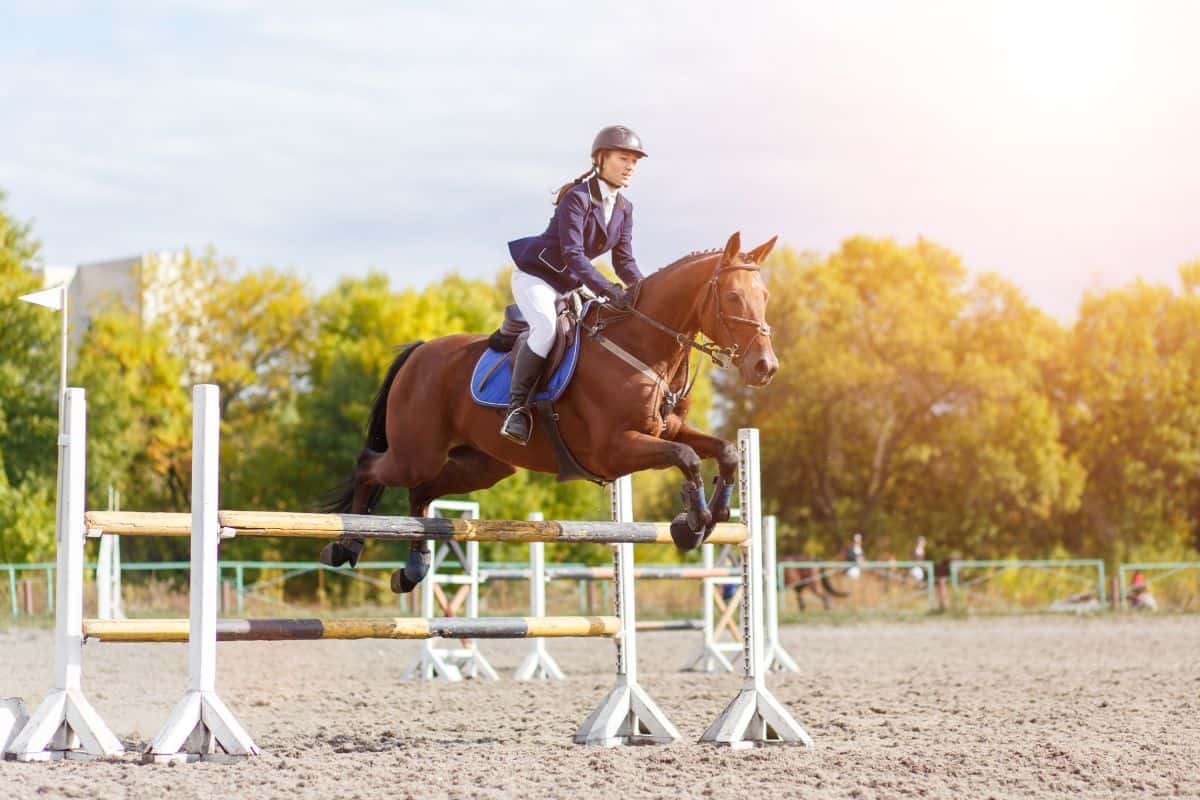 And below, you'll find one of my favorite images in this list. The black and white or greyscale really is a wonderful way to show the movement of the horse as they jump. Plus, it takes away the distractions of color around the image and helps you focus on the main piece, the horse.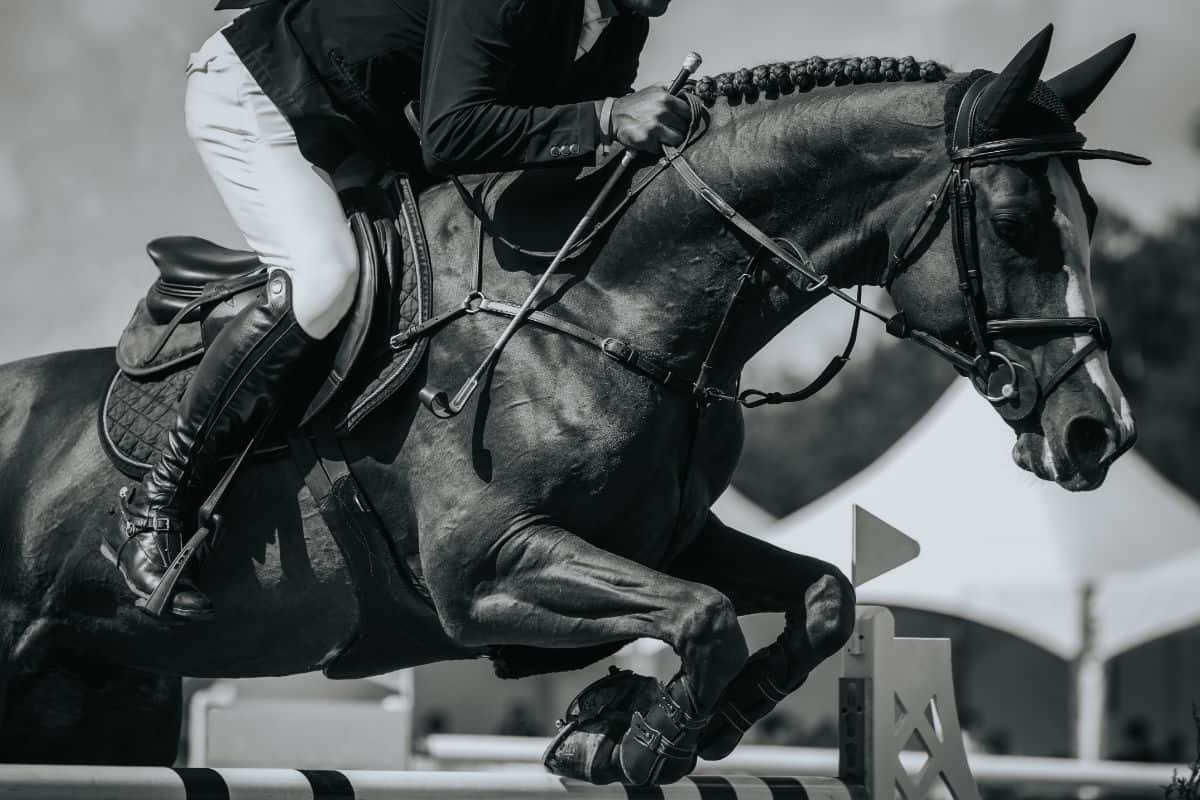 Could I Sell My Own Pictures of Horses?
Yes! While you may just want to look at pretty horses here today, don't miss out on the opportunity to make this a profitable hobby. Start practicing with your own horses, then move on to competitions and offer images to friends or fellow competitors. This is a great thing for those who don't have the skill themselves, or even may be on a budget and don't have the income for a professional photographer.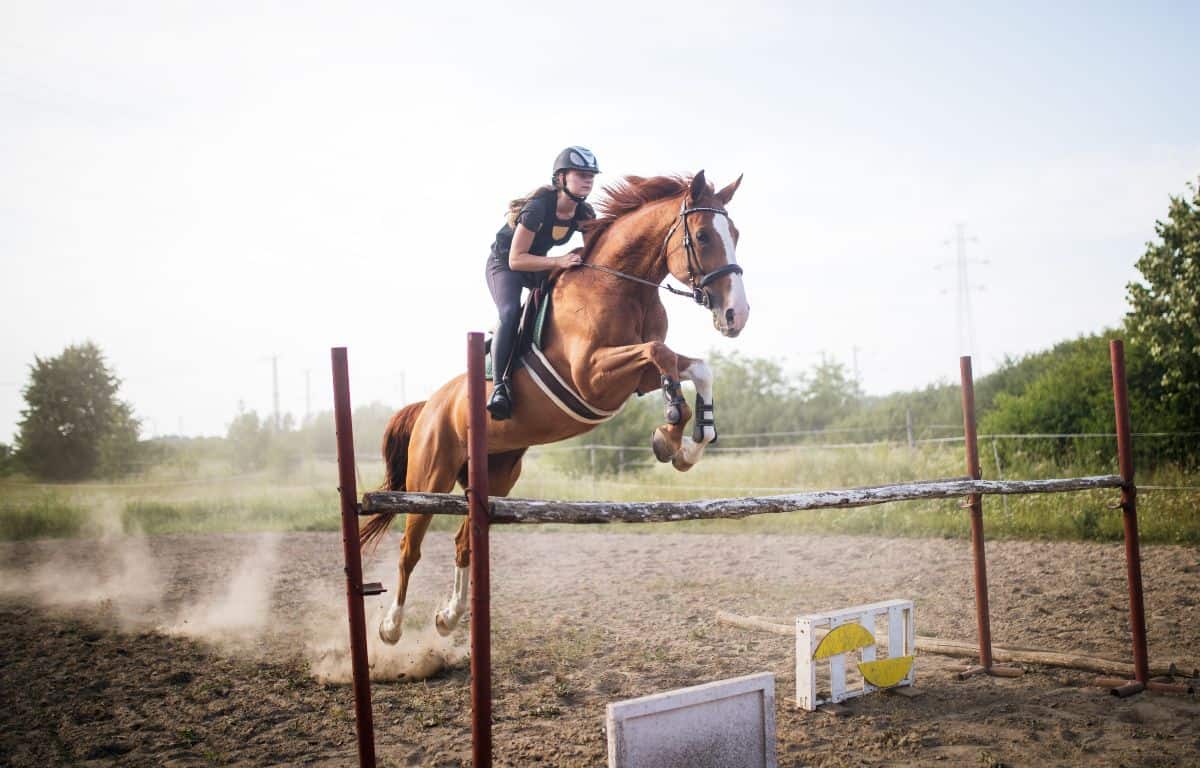 Now, for my last few images, I want to share some favorites. Below, the horse is jumping so smoothly over the barrier, but it's the beautiful connection between the horse and the rider that I love. They look to be one unit as they flow over the top of the beams.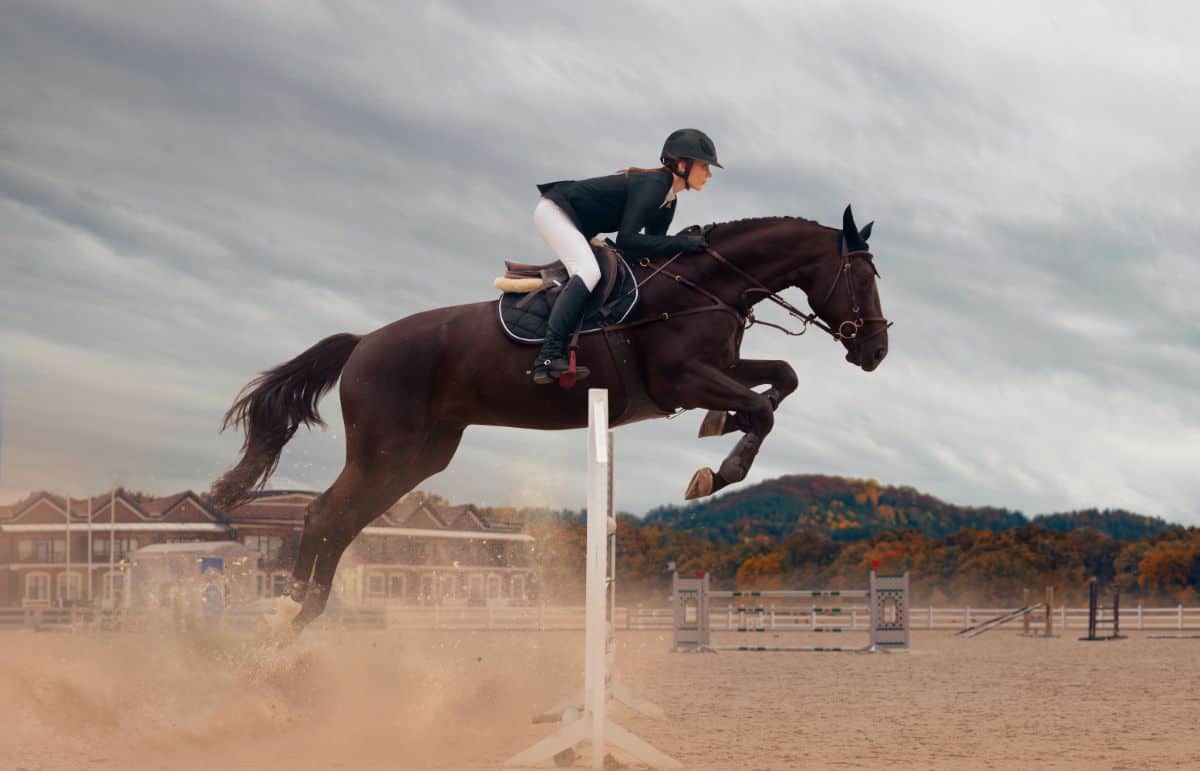 And lastly, sharing a candid shot of this horse out in a natural environment jumping over an obstacle, is one of my personal favorites. It just adds to the beauty of the image and reminds you that these animals are strong and capable, without our handling.