It's official, there's a newest and cutest addition to the Disney World family. Her name is Lilly, and at only a few weeks old, she already has fans swooning over her adorable antics and sweet personality. One day she'll help pull Cinderella's pumpkin carriage, but for now, the pure white cutie named after Walt Disney's wife is enjoying life as a pampered Disney World pony.
According to Disney, Lilly is the first white Shetland Pony ever born at the Tri-Circle-D Ranch at Disney's Fort Wilderness Resort & Campground. She was born in March of 2019, and you might recognize her parents, Lady and Ferdinand, as two ponies who currently pull Cinderella's carriage during Disney World events.
Lilly, Lady, and Ferdinand live full-time at Tri-Circle-D Ranch along with around 90 other horses that also work within the park. With a team of 35 ranch hands to take care of her and plenty of other horses to interact with, Lilly lives like royalty—no fairy godmother needed.
https://www.facebook.com/DisneyWeddings/photos/a.10150639423968424/10155753536333424/?type=3&theater
For now, Lilly looks like she's having a blast being introduced to the wonderful world of Disney. She's been featured in a few shows near the barn at Disney's Fort Wilderness Resort & Campground to get a taste for her future career. When she turns two years old, she'll officially start her training. And a year after that, she could make her debut alongside her mom and dad. The adorable family will be featured in Disney's Fairytale Weddings and parades at the Magic Kingdom Park.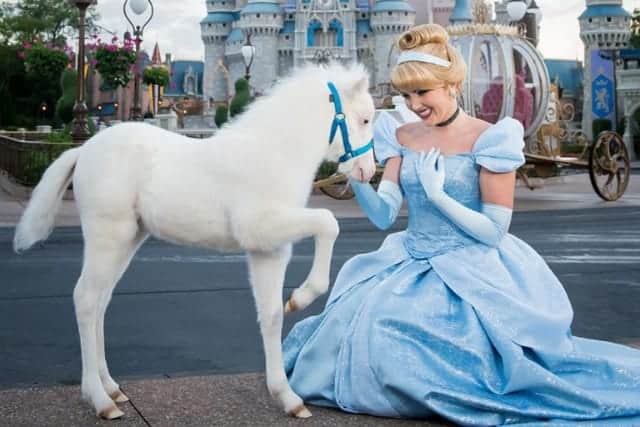 As a Shetland Pony, Lilly is expected to grow to be around 14 hands high, and with her snow white coat, mane, and tail, she sure looks the part of a fairytale steed.
If you're planning a Disney vacation in the near future, you could attend one of her shows near the barn or say hi to her parents as they trot their way through a parade. And in a few years, we can't wait to see how she flourishes into one of Cinderella's most magical friends.
Check out the adult white horses getting pretty for Cinderella's wedding day at the park just a few weeks ago!

And the other horses at Tri-Circle-Ranch have important jobs to do, too!

If you'd like to know what else the Tri-Circle-Ranch has to offer, you can visit their site here. And if you'd like to follow them on Facebook, find them here!
Featured image via Disney Parks