We all know mustangs are beautiful animals, but every now and then, we see a wild horse with something special. There's Picasso, a wild stallion with an inspiring legacy of freedom, and now iHeartHorses would like to introduce you to Cirrus. Rounded up by the Bureau of Land Management in 2018, this pinto mare is easily recognized by her incredible markings.
A representative with American Wild Horse Campaign (AWHC) first noticed Cirrus' unique coat pattern while observing wild horses in Burns, Oregon. You don't have to look too closely to spot what exactly makes Cirrus so special. The white patch on her neck clearly resembles a horse—including a perfectly placed brown eye and a flowing white mane.
When looking at Cirrus from the side, it gives the illusion of two horses galloping side by side.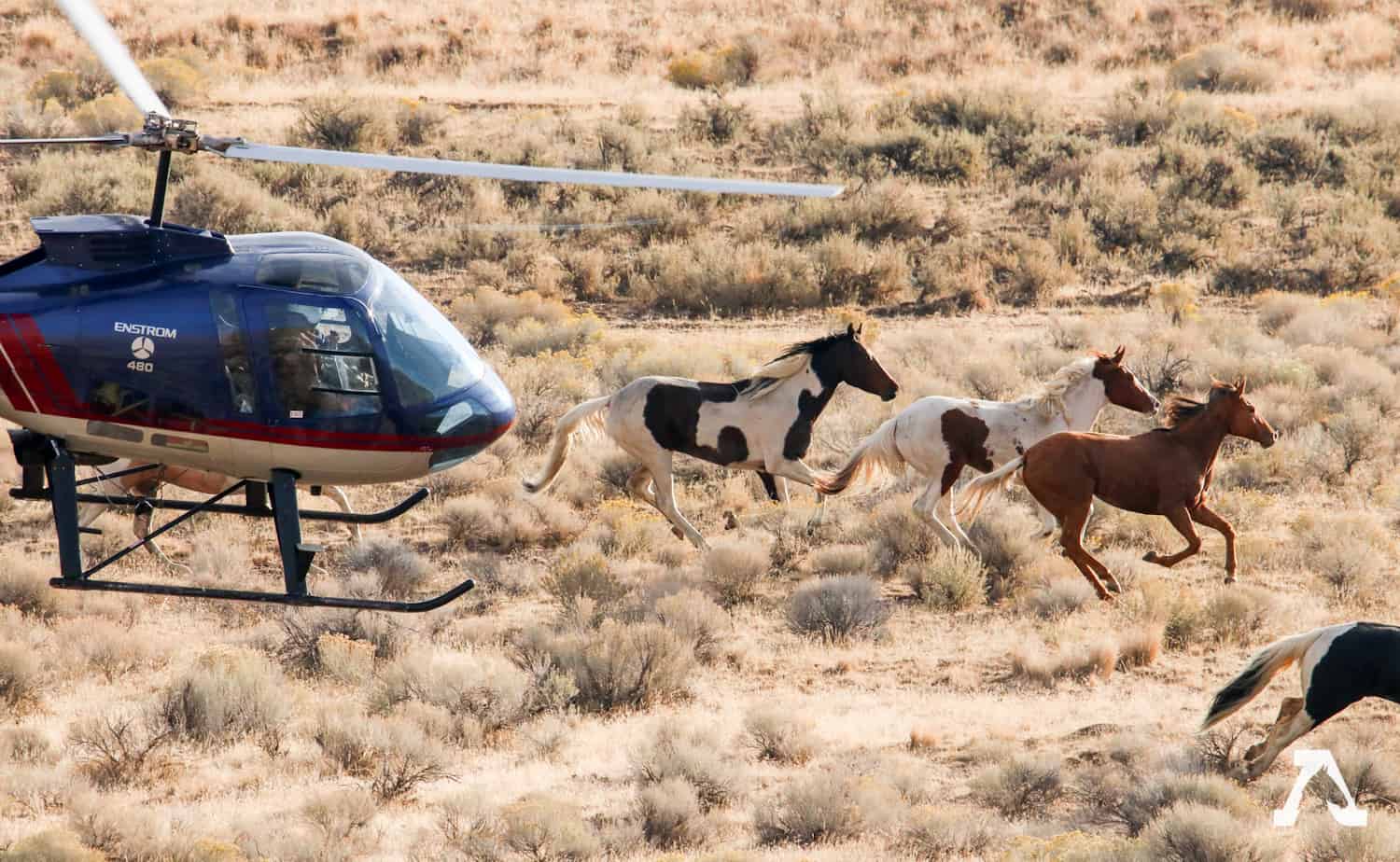 Seeing Cirrus live wild and free was a remarkable experience, but the beautiful mare's life changed forever when helicopters descended on her herd.
In a continued effort to manage wild horse populations in the western United States, the BLM conducted one of their many roundups in 2018. Cirrus happened to be one of 846 wild horses that were taken from their home lands and transported to government holding facilities.
While some of the feral horses and burros captured by the BLM are successfully adopted into good homes, it's common knowledge that many of the horses suffer from much different fates. AWHC is an organization dedicated to defending America's wild horse populations and preserving their habitat. When they heard Cirrus's future was at risk, they worked hard to secure her a better life.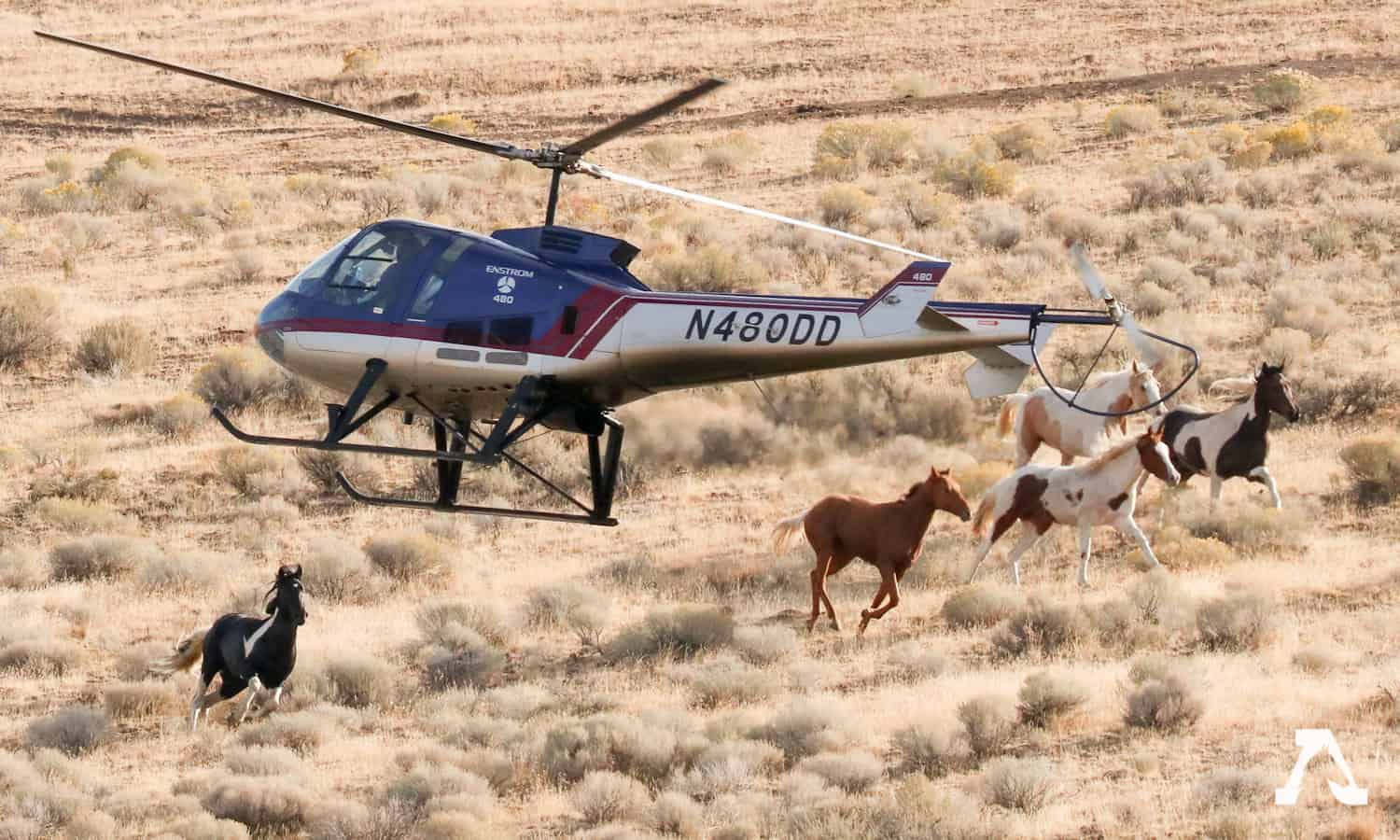 Two years after she was captured, Cirrus is finally safe.
AWHC joined forces with a wild horse sanctuary in Northern California called Montgomery Creek Ranch. With 2,000 acres of pristine habitat, Montgomery Creek Ranch is where wild horses and burros reclaim their freedom. They take in horses with nowhere else to go, and over 200 wild horses are currently living completely free within the safety of the sanctuary. The organization also has a training program for certain younger horses with potential to be adopted.
In March 2020, Cirrus finally arrived at Montgomery Creek Ranch ready to start fresh.
Despite living the majority of her life away from humans, ranch caretakers found Cirrus to be surprisingly calm and gentle. She's now 10 years old, and wild horse advocates believe her story needs to be told. It's the same story that happens over and over as wild horse territory is continually restricted.
Montgomery Creek Ranch and AWHC believe Cirrus could be an ambassador for all wild horses. At the ranch, Cirrus' caretakers have started to gently get her used to being around humans. With her natural curiosity and calm nature, the gorgeous mare has already decided that some humans aren't so bad.
Cirrus has been at the ranch for only a few months, and videos sent to iHeartHorses from Montgomery Creek Ranch show her progress.
Video Courtesy of Montgomery Creek Ranch
Above all, Cirrus' happiness is top priority.
Her caretakers will let her decide whether she wants to move forward with training or live with minimal human contact within the large herd at the sanctuary. Either way, the important thing is that the mustang with incredible markings is safe, and her future is secure. The next step is spreading the word and saving even more wild horses.
Join AWHC in their mission by following them on Facebook. And you can also support Montgomery Creek Ranch here.