"Hold fast to your dreams...but temper your ideals with reality."
This is the quote lifetime horse rescuer Victoria Goss lives by (it also happens to be the Vermont state motto). As the founder of Last Chance Corral in Athens, Ohio, her dream is a world where nurse mare foals don't exist. Reality, however, is much different. The cruelty surrounding the big breeding industry isn't going to end any time soon, and that means more nurse mare foals will be left to die every year.
Armed with her dream and aware of reality, Victoria takes on her mission to save horses with incredible determination and gusto. Her equine rescue facility is the largest nurse mare foal rescue in the country, and her story is something everyone should hear.
iHeartHorses had the privilege of interviewing Victoria, and her dedication and unapologetic tenacity is truly inspiring.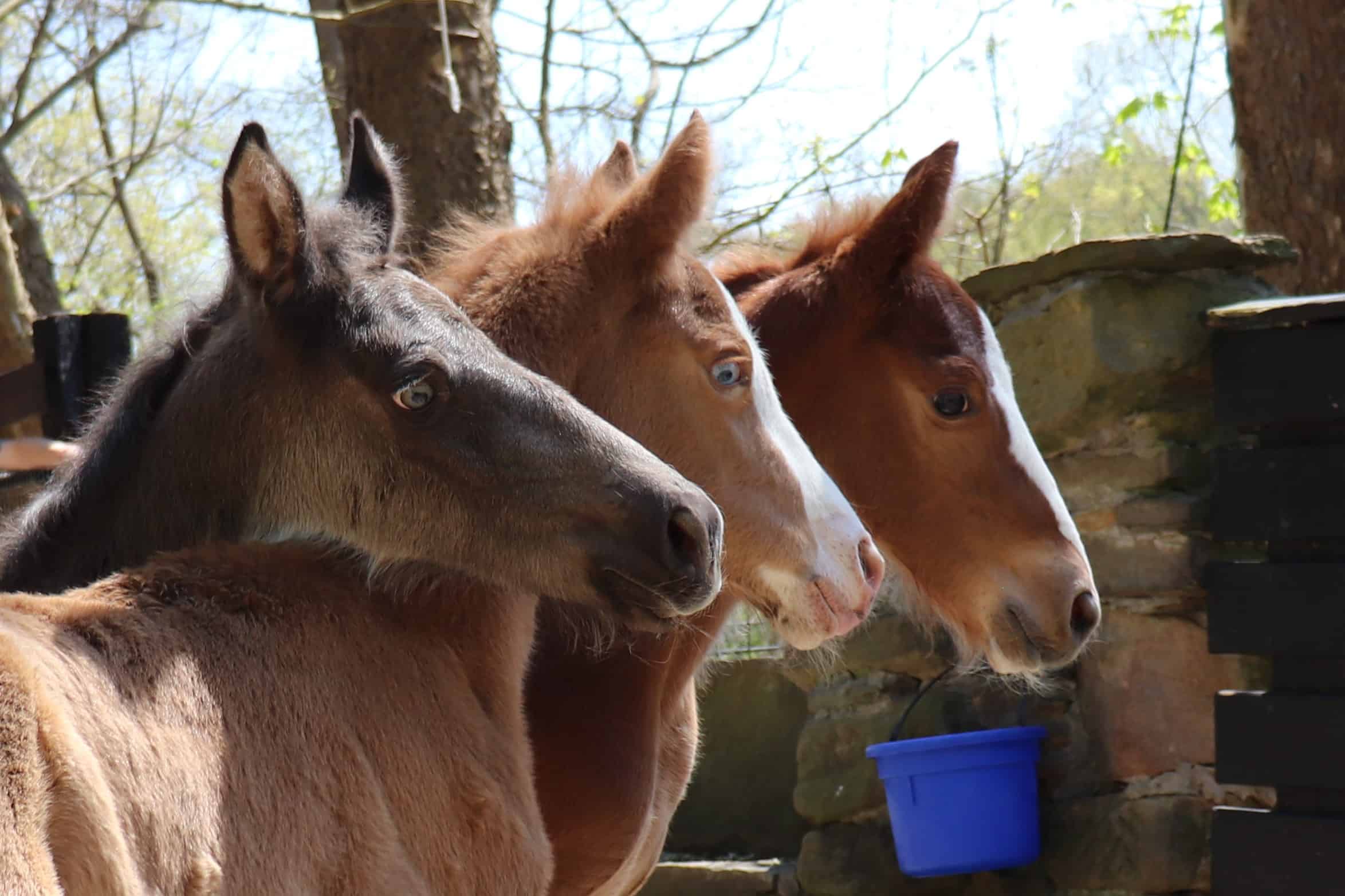 What is a Nurse Mare Foal?
Before we can understand what happens at Last Chance Corral, we need to recognize the reality that happens behind the scenes of the breeding industry.
Breeders invest thousands, sometimes millions, of dollars to carefully pair pedigreed dams with well-bred studs. Their hope is that with the right combination of genes, they'll earn themselves the next Seattle Slew or American Pharaoh.
In the Thoroughbred world, every horse is given the birthday of January 1 regardless of when they were foaled. Because of this, breeders strive to breed their mares early in the year to produce a foal with an age advantage over those born later in the year.
After conception, it takes 11 months for the foal to be born. It's then another two years before that foal has any chance of making its owners money. Because of that long wait, breeders and owners want to breed their Thoroughbred brood mares as often as possible.
Nine days after a mare gives birth, it's time to be bred again. That usually means the mare must travel to the stud farm to be bred under live cover, per jockey club requirements. It is simply too dangerous to transport the newly born and highly bred foal. It must be left behind, but it needs to nurse. It needs milk.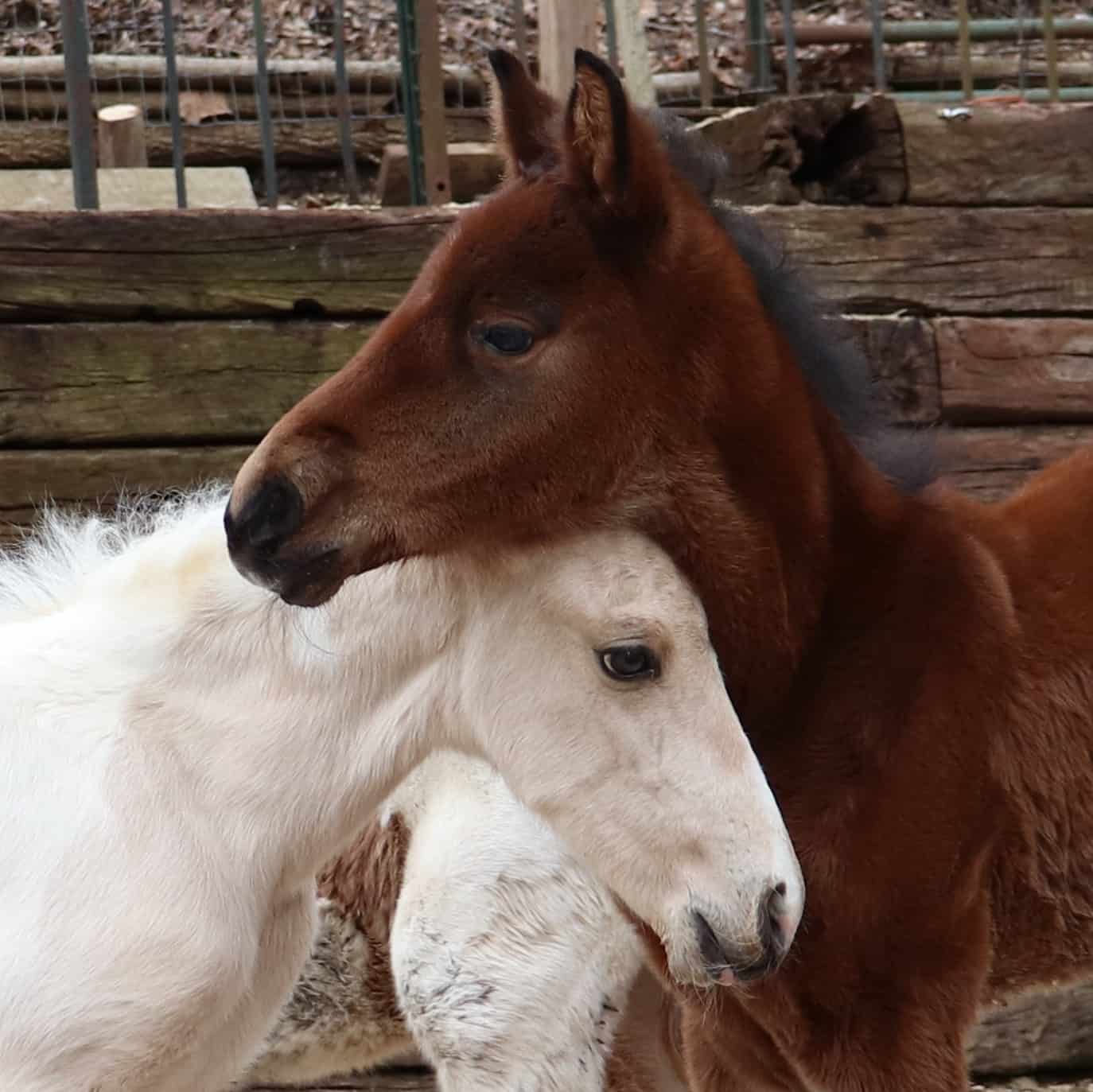 So, what's a breeder to do?
This is where the nurse mare comes in. A nurse mare is a mare that recently gave birth, usually to an unpedigreed offspring. She's lactating, and in the eyes of the industry, her milk could be put to better use nourishing that expensive future racehorse or show horse. With that logic in mind, the nurse mare is taken from her own foal and introduced to the more valuable foal. She feeds that foal so it grows big, strong, fast, and beautiful.
Meanwhile, the nurse mare's own foal is orphaned. It served its purpose the minute it was born. It's not a future racehorse, and therefore, it has no value. With no mother's milk, the foal is either left to die on its own or killed.
Nurse mare foals die so the breeding industry can make money. It's a cruel reality that happens hundreds, possibly thousands, of times a year. And because racehorse breeders make millions of dollars, they're not changing their ways anytime soon.
Equines at Risk
Victoria's hope for a world where nurse mare foals don't exist might never happen. But that doesn't stop the dedicated horsewoman from putting everything she has into saving those young lives. Founded in 1986, Last Chance Corral started as a haven for what Victoria calls "equines at risk."
"Horses that didn't work for the specific goal that the owner had intended, were at risk. Horses that became injured, older, or otherwise infirm were at risk. Horses that had behavioral problems were at risk. Horses that, for whatever reason, became unwanted and valueless in the owner's eyes were at risk."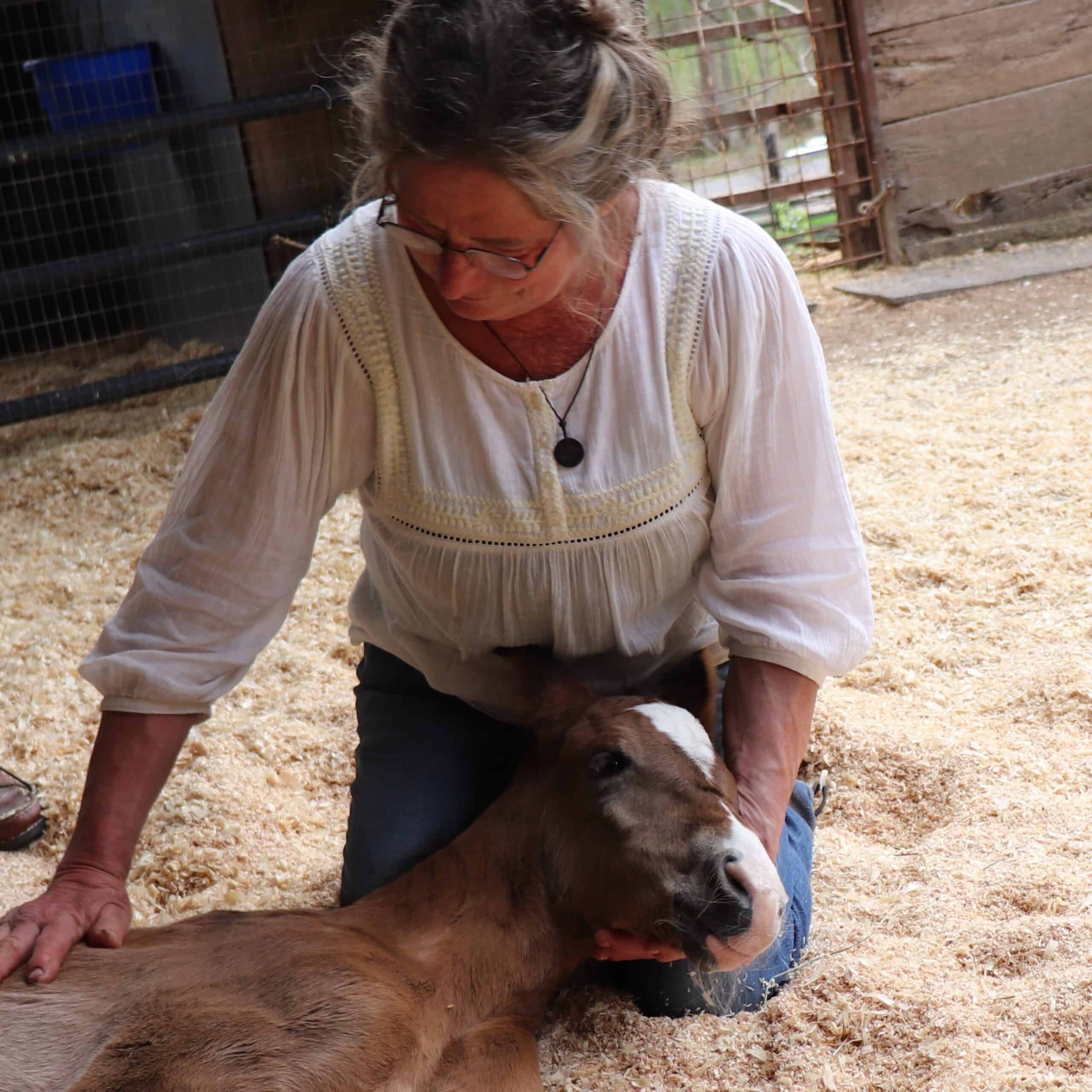 Recognizing the overwhelming problem, Victoria decided to do something about it. She says that back then, horse rescues as we know them today didn't exist. She started by taking in one or two horses at a time, primarily those with behavioral problems. She gradually grew to be one of the most well-known horse rescuers in the country. She started Last Chance Corral as a way to help solve a problem, and she's since saved thousands of horses.
Victoria said,
"One day it just hit me that if there was no place of asylum for these animals, and I was aware of the problem, that it became my responsibility and duty to step up on their behalf. And that is just what I did."
The Largest Nurse Mare Foal Rescue in the Country
Throughout its 33-year history, Last Chance Corral has evolved based on the shifting equine industry and Victoria's ability to help. One of the most major shifts to happen was when the rescue started opening their barn doors to nurse mare foals.
In their biggest year, 210 foals were brought to the farm. Recent years have seen a gradual decline in numbers (a good thing), but it still hovers around 150 for an average year. All the foals that find their way to Last Chance Corral come from the Lexington, KY area. Orphan foals start to arrive in January and continue coming thru June/July as their moms get leased out for milk. This just happens to coincide with the TB foaling season.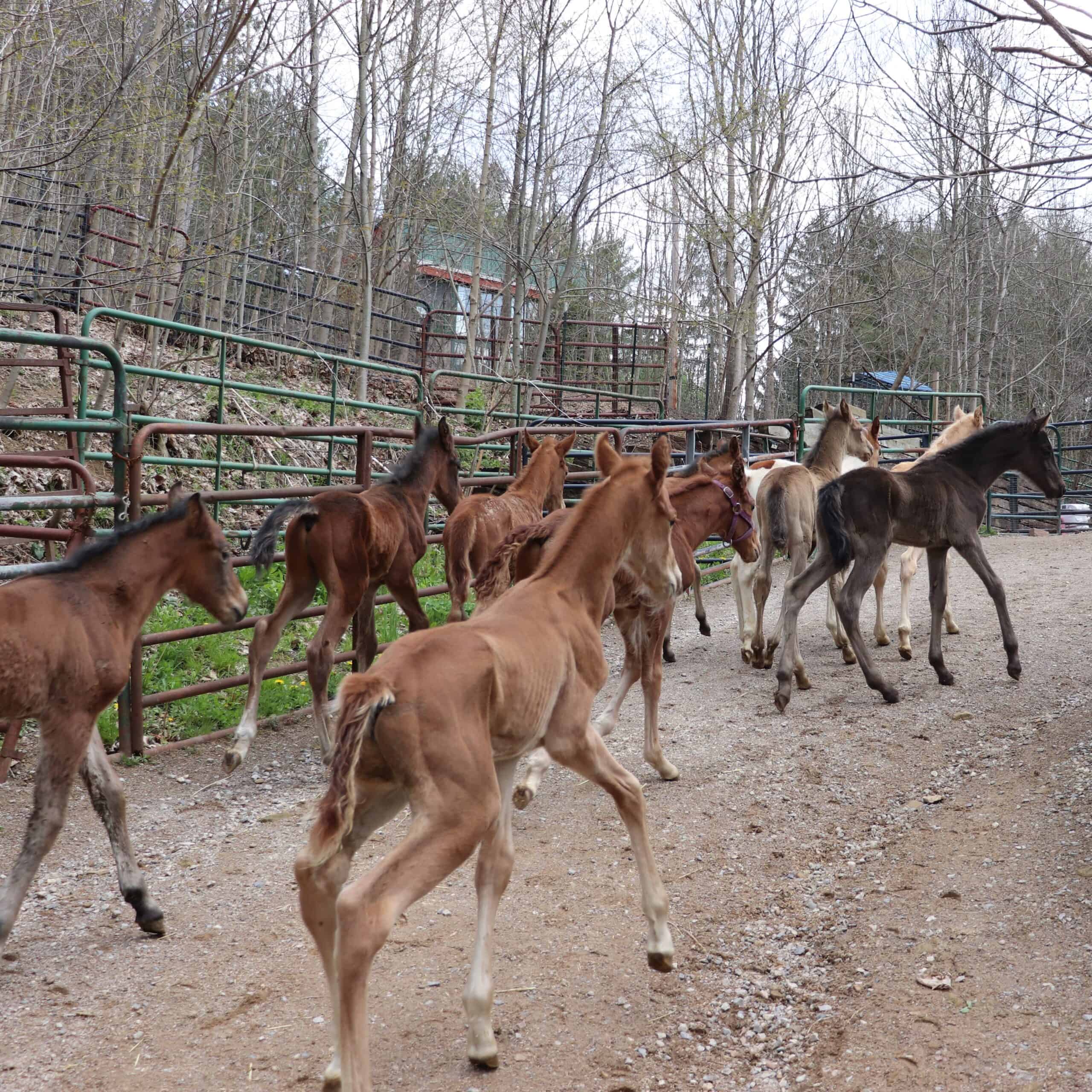 Those numbers make LCC the largest and longest-running independently operated neo-natal equine facility not affiliated with a university or equine hospital. For seven months of the year, they work around the clock to care for these newborn victims of the horse racing industry. From teaching newborns how to eat to providing life-saving veterinary care, those seven months are a whirlwind of emotions, hard work, and sleepless nights.
Victoria compares what happens in their neo-natal barn to a battle. There is no rest, and the specter of death is never far away. The mental stress that comes with saving so many innocent lives is overwhelming. And yet, Victoria and her team do it day after day and year after year.
"I consider myself extremely competitive. If death wants to come at my babies, he's in for one hell of a fight. I don't enjoy losing and I seldom do!"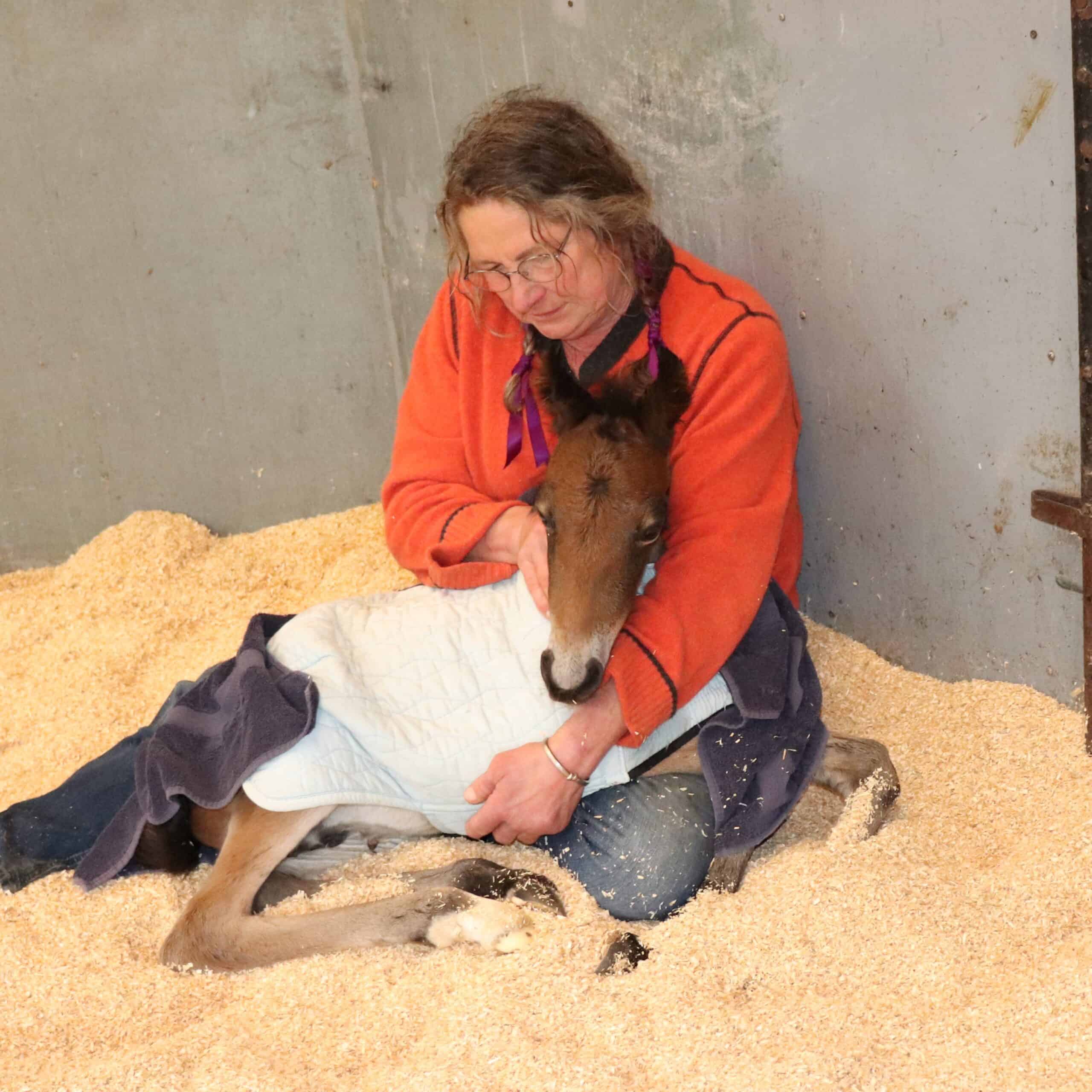 When asked how she copes with the extreme stress and physical exhaustion, Victoria said,
"How you cope is this. You just keep working. There's no time for self-pity or doubt. There's no room for exhaustion. Rally, rally, rally. Tell yourself that even if it is 24 hours a day...it's only seven days a week...and heck it's just for seven months...easy peasy."
The Rescue Way of Life
Victoria has an admirable ability to face the challenge with both steadfast conviction and light-hearted banter. Last Chance Corral is her life's work, and she makes it clear that she doesn't plan on slowing down.
"I will continue to do this work until they pry my manure fork from my cold dead fingers."
Although Victoria accepts the fact that she will do most of the work alone, she has 2-3 rotating shifts of experienced equine nurses that she has trained specifically to care for orphaned foals. She also has the good fortune of daily visits from her vet/best friend. She relies on staff to care for the adult rescue horses during the "off" season. This is when she does the big farm maintenance projects. It is a small, aging property, and there is always a lot going on.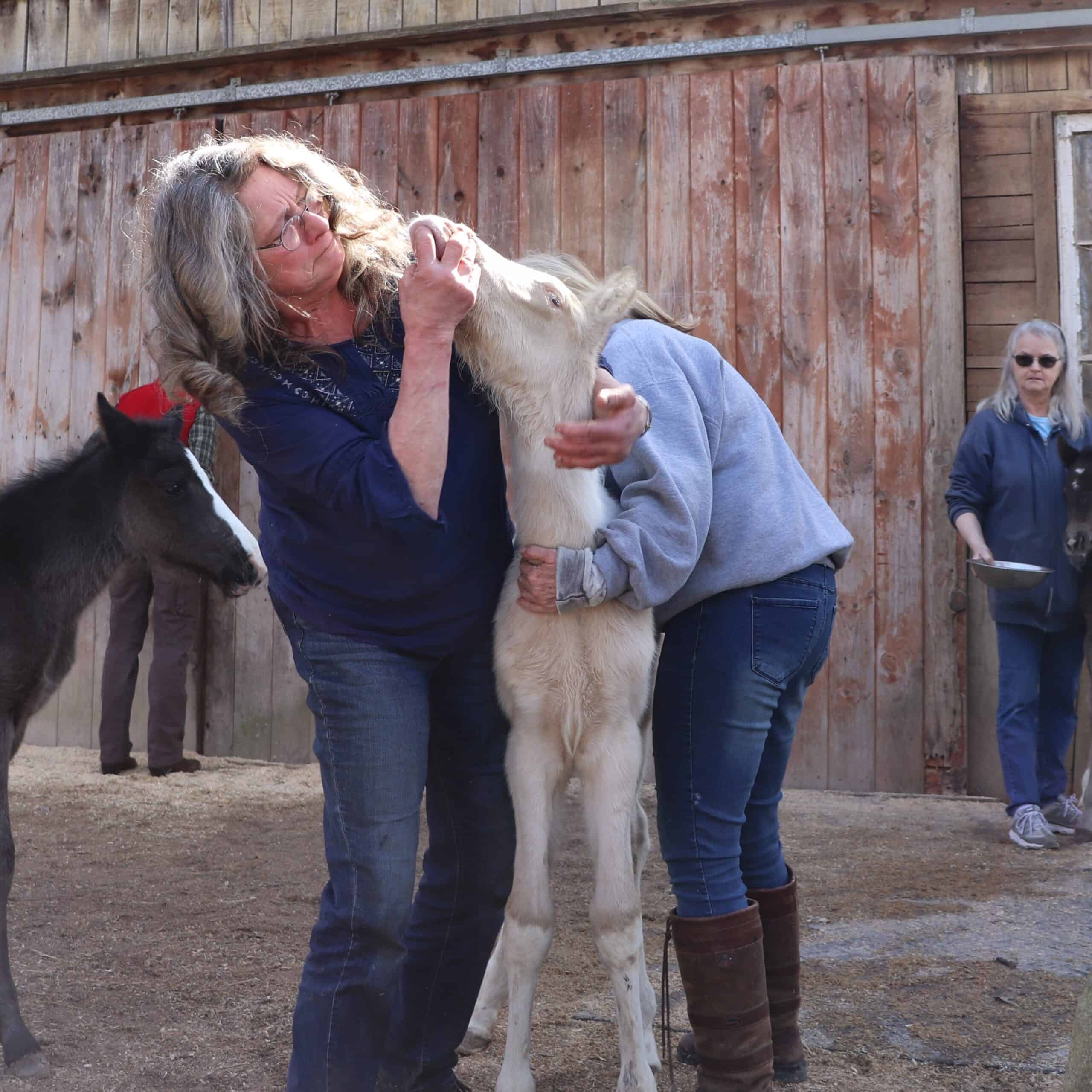 Out of the 150 foals they take in a year, almost all get adopted into new homes. In a typical year, five or six come to the rescue with catastrophic injuries or illnesses, and they are humanely euthanized. As Victoria puts it, "Sometimes the only rescue available is to rescue them from the continued pain."
While the horse racing industry is responsible for most of the pain in a nurse mare foal's life, Victoria and her team are giving life to so many innocent foals. Nurse mare foals were born to die, but the lucky 150 that find their way to Victoria on an annual basis go on to live full and happy lives.
Last Chance Corral is 100% donor funded, and they always need help. Along with the 150 foals they take in a year, they also care for up to 60 adult rescue horses through the course of the year.
If you'd like to support their hard work, visit their website to learn all the ways you can help save lives.
All images courtesy of Last Chance Corral