The Chincoteague Volunteer Fire Co. had an exciting announcement in November, 2019. While reveling in the aftermath of a successful open house and administering vaccinations for the year's buy back ponies, they found one of the wild mares had given birth. Summer, a four-year-old bay tobiano, welcomed her first foal into the world. We don't yet know if the newest baby is a he or a she, but the cutie comes from an impressive lineage of wild ponies. The foal is a descendant of the one and only Misty of Chincoteague.
As arguably the most well-known horse book of all time, "Misty of Chincoteague," was inspired by a real-life pony of the same name. Misty was born in 1946 and belonged to the Beebe family. She was a beloved member of the entire Chincoteague community, and decades later, she's remembered fondly as a local celebrity.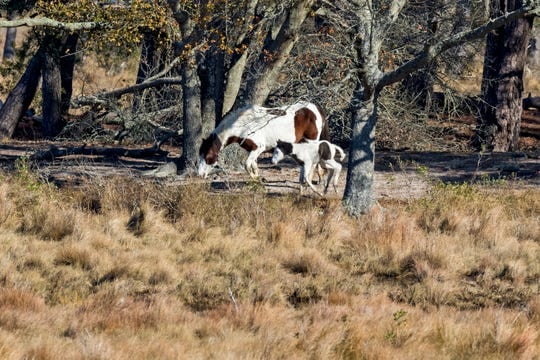 Misty passed away peacefully in her sleep on October 16, 1972. She was 26 years old and left behind three offspring. Those ponies went on to continue her legacy. In 2015, it was estimated that Misty had nearly 200 descendants. Her bloodline continues to be strong throughout the wild herd, and Summer's newest foal is keeping that lineage alive.
Summer herself is a Misty descendant, and so is the new foal's sire, Surfer's Riptide. A bit of a stud, Surfer's Riptide (fondly called Rip), is a 10-year-old stallion with an estimated 50 offspring. His newest foal has plenty of siblings to play with!
https://www.facebook.com/129598427055278/photos/a.2877706658911094/2877731415575285/?type=3&theater
Summer and her baby are both doing well and keeping clear of crowds. People have only gotten glimpses of the new family as Summer enjoys this special time with her first baby. The Chincoteague Volunteer Fire Co. plans to give the pair their space before bringing them in for routine checks.
For the most part, the herd of wild ponies on Chincoteague Island live wild and free. Volunteers help when they're needed, and every year, the fire department hosts an auction meant to maintain the herd's numbers. The herd's island home can only support 150 ponies maximum, and the auction ensures the health of both the herd and environment. It's not yet known if the newest Misty descendant will be included in next year's auction. For now, the foal will stick close to mom and enjoy life as a wild Chincoteague pony.