Picasso, the most famous stallion of the Sand Wash Basin, has carved a spot into the hearts of many horse lovers across the country. A symbol of freedom, perseverance, and strength, Picasso accrued a legion of fans in the many years he spent here on earth. Thought to be born in 1990, the last time Picasso was photographed was in late 2019. I had the privilege of connecting with Gerald Fleck, a wildlife photographer out of Colorado who had the opportunity of photographing Picasso on multiple occasions.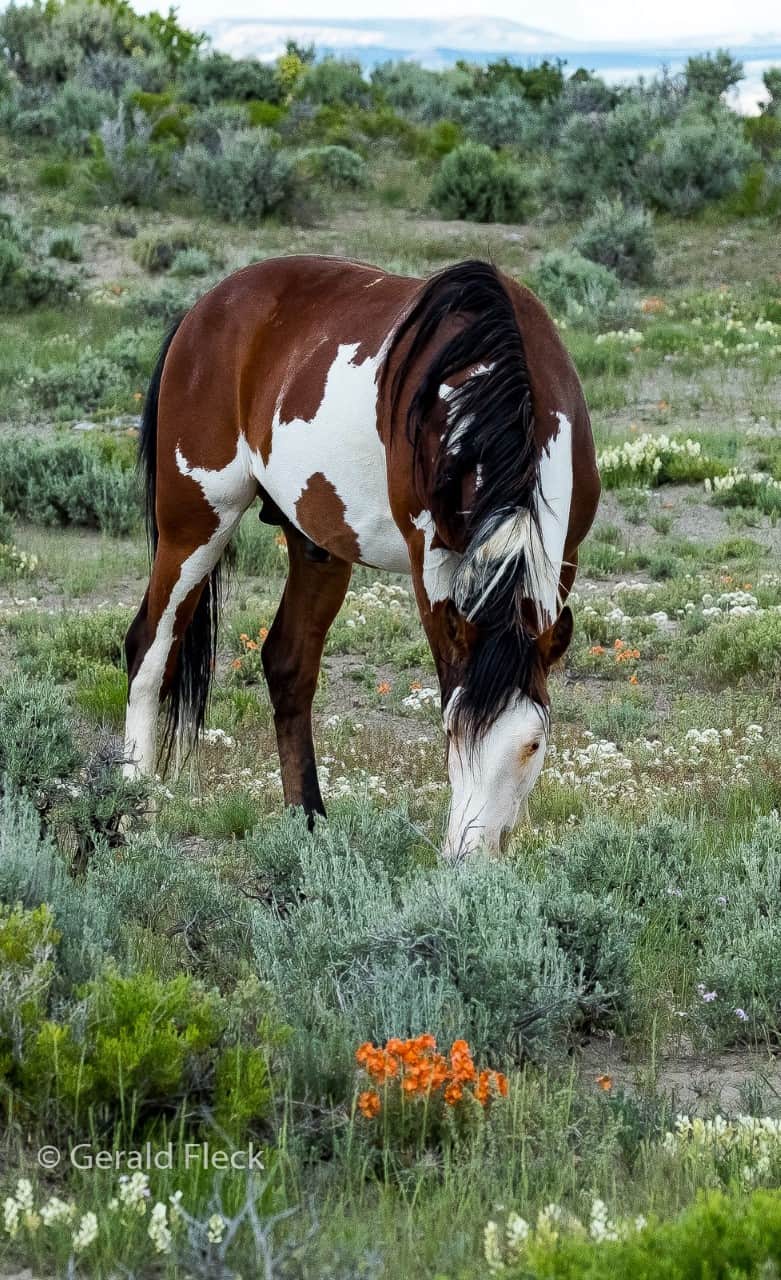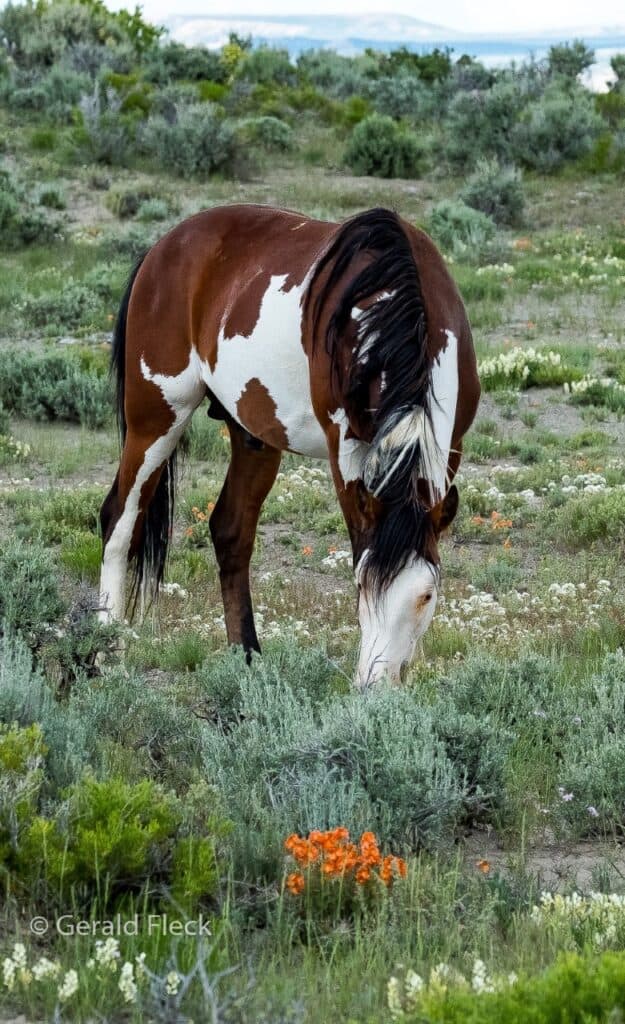 I am completely impressed by his work not only of Picasso, but of other wild horses and wildlife, too. It is as if he has the natural ability to capture these stunning animals in their element doing what it is they do best—being wild. Gerald was kind enough to answer some questions I had for him of this horse that many know in their hearts has crossed over to the next life. And if one thing is certain, he will never, ever be forgotten.
I saw Gerald's post in the Friends of Picasso- Grand Wild Stallion of Sand Wash Basin group on Facebook, and the following quote is something that will probably speak straight to your heart,
"There is rarely a day that goes by that I don't think of this legend."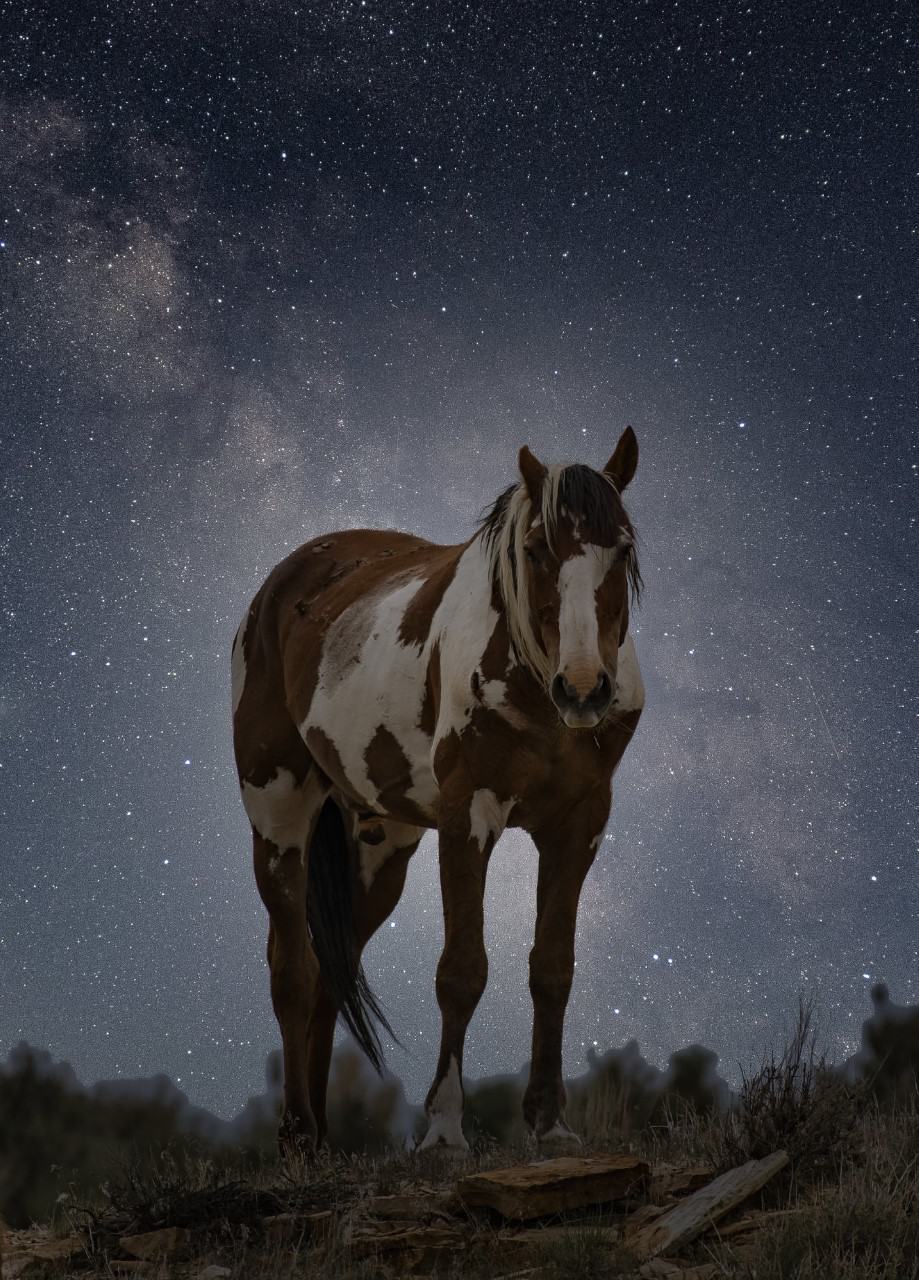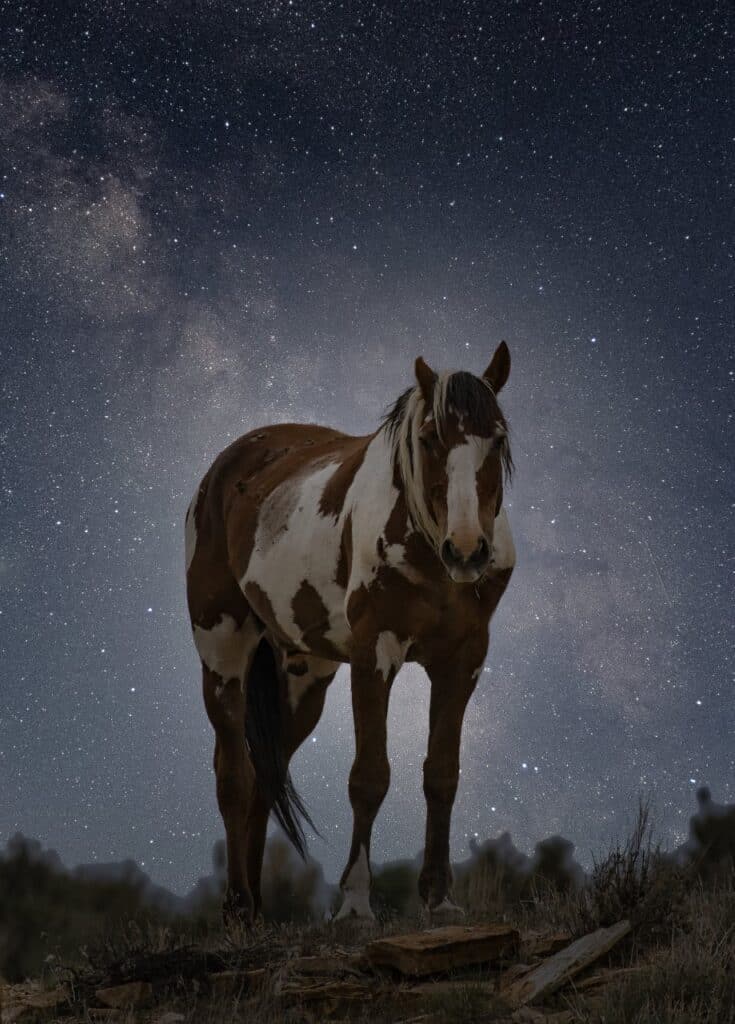 I know that Picasso has yet to be seen this year, with many believing he has passed away. When is the last time you photographed him?
"September 2019 was the last time I got photos."
Can you describe to me what it was like observing him? It must have been such a magical experience!
"First of all, I feel at peace when I am out at the Wild Horse areas, a sense of tranquility falls over me. Well, every trip I've taken to Sand Wash Basin my hope is always to see Picasso. Moments after pulling into Sand Wash Basin I saw him where I often saw him— on the lower section, not far from the entrance. That last time was the first time I ever saw him alone. Prior sightings he was always with a small band of other horses. I was surprised that it was not a challenge to locate him and that he was alone.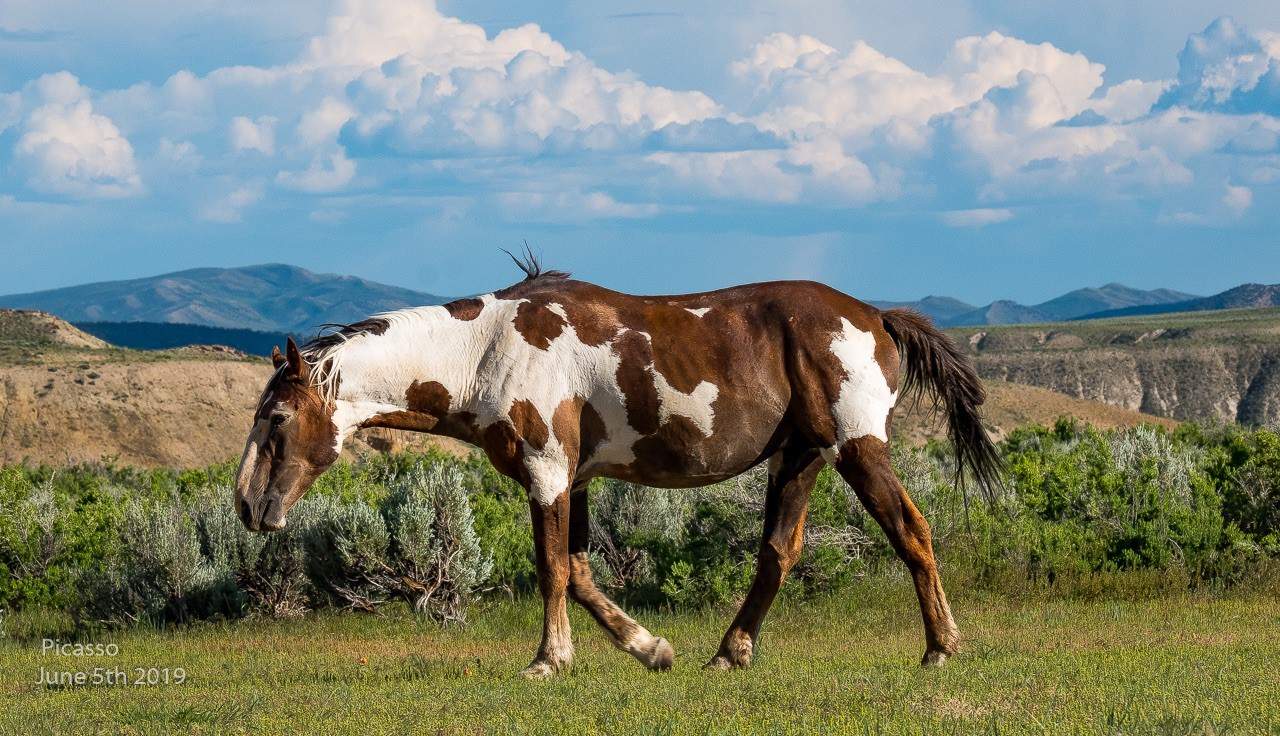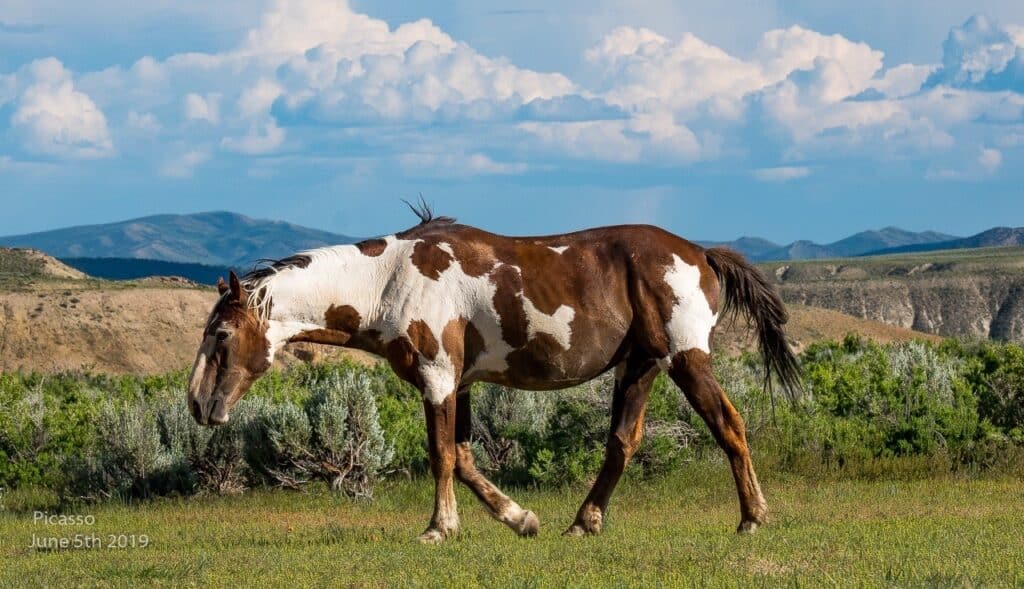 I photographed him and observed for close to an hour. He seemed to be content to be alone. He was grazing. I was happy to see him and he appeared to be healthy other than a growth on his lower stomach area that was most visible on his left side. I also noticed that his front right leg appeared to be swollen at the knee. I had never noticed it before, although he seemed to walk fine. He definitely was showing his age by the appearance of the scars and scrapes on his body that he had acquired over the years.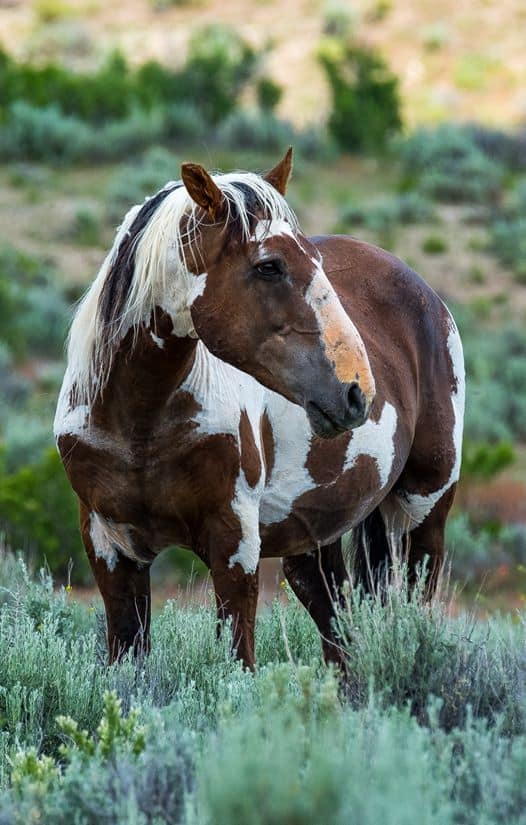 I also noticed that the skin on the top of his nose appeared to be sunburned, which I'm told often happens to many of the horses. After having observed him for about an hour, I proceeded up the road to check out additional horses. I observed 50-60 horses that day. Most looked healthy, and at that time of year, they were grazing or were drinking at the local watering holes. Towards evening as I was leaving the Sand Wash Basin, I saw Picasso in approximately the same area I had seen him earlier in the day. He was on a small ridge to the south of me and decided he was going to cross the road, which he did. His movements seemed fine and there was no indication of injury to slow him down.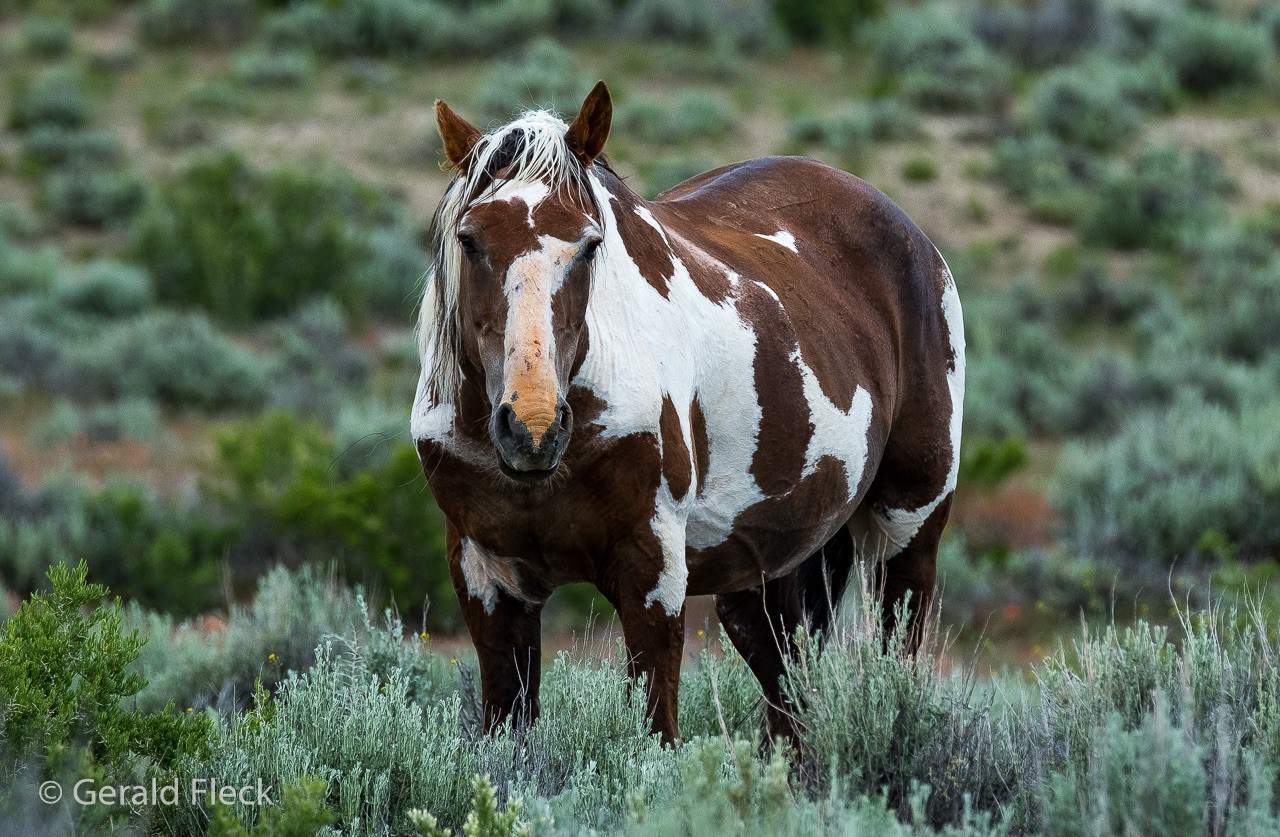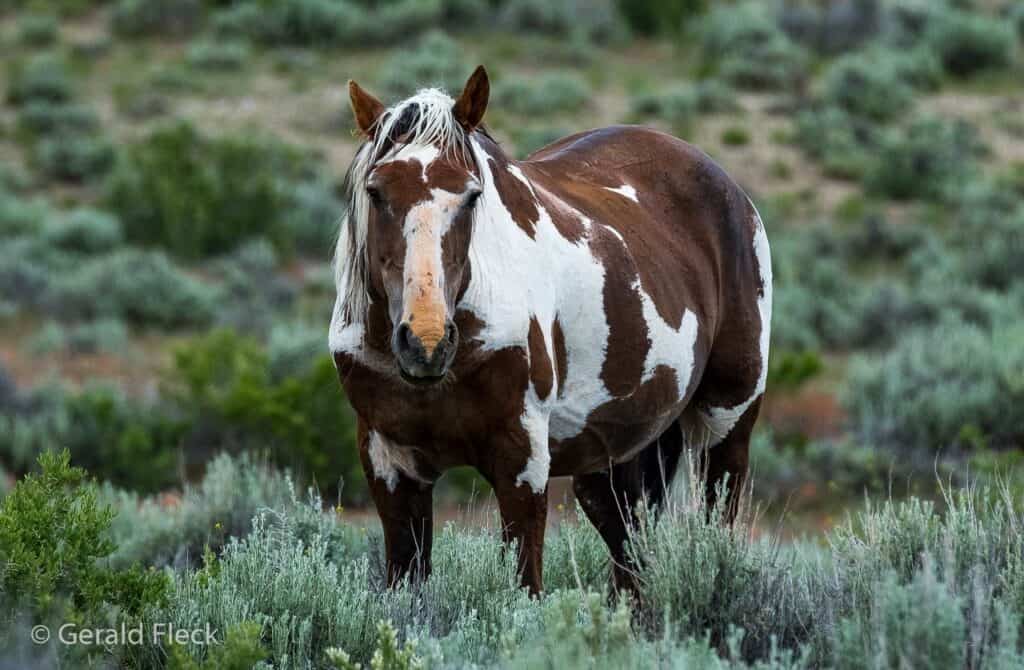 As he crossed in front of me, I felt he was in pretty good shape. As far as his weight, he appeared to have gained since I saw him earlier that spring in May. I continued to photograph him in the sunlight as he proceeded to the northeast up the side of a ridge and disappeared. This was the last time I saw him. It was the first time I viewed him as an aging horse and had certainly slowed down in his old age. I actually wondered if I would ever see him again."
Where is your favorite place to photograph horses?
"Near Dugway, Utah. It's the Onaqui wild horse herd. The BLM property in this particular area is not as harsh an environment as Sand Wash Basin. The terrain is much more pleasing with more grazing areas and available water. There were several watering holes that appeared to be solar power operated wells that supplied troughs for the containment of the water. The horses at Sand Wash Basin were restricted to small holding ponds which were filled by natural springs or runoff from rain and were often dried up, leaving the horses with no water.
"In 2018, wild horse advocacy groups working with the BLM trucked water in to the horses at Sand Wash Basin. The southwestern part of the United States has been in a drought for years and water can become an issue for many of the wild horses. Fortunately, in many areas, through donations from the wild horse advocacy groups to which I have personally donated, solar operated wells and pumps with galvanized tanks have been placed as a reservoir of fresh water for the wild horse herds. The Piceance Creek wild horse basin has several of the solar powered wells and pumps."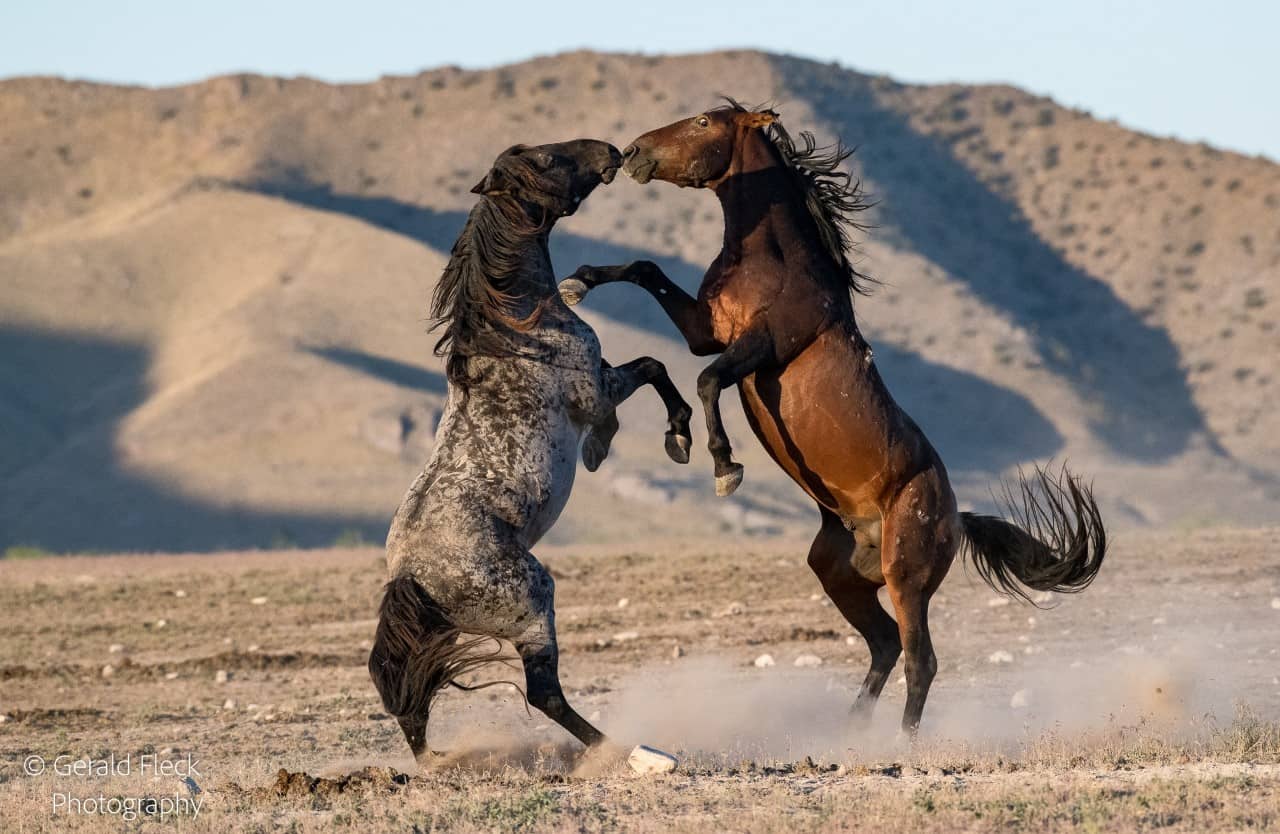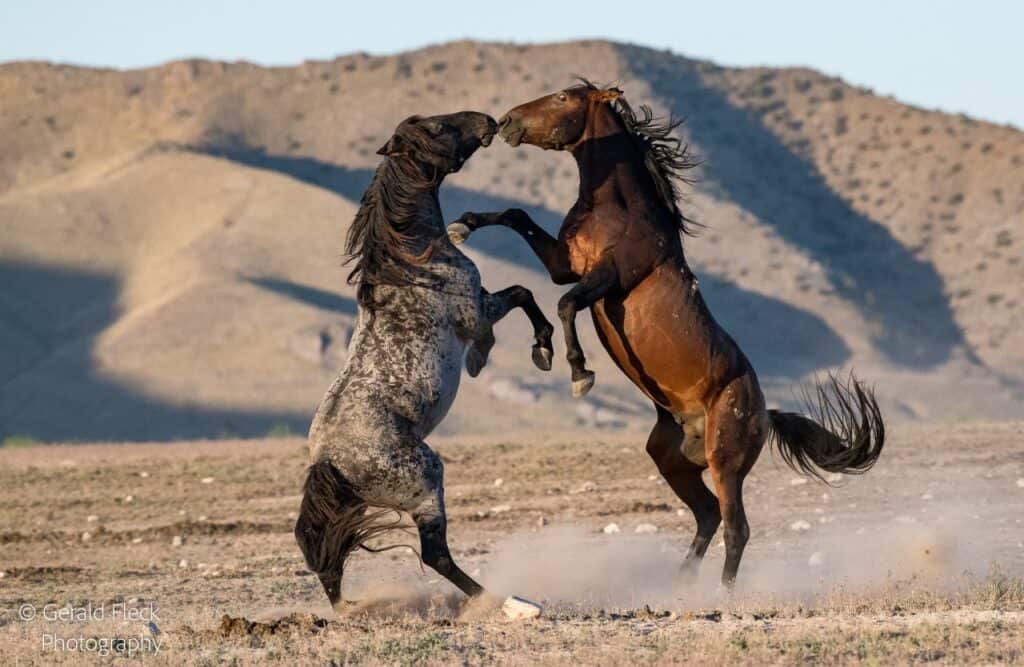 What is something about the wild horses that you photograph that you'd like people to know?
"That most of them in western Colorado are living in a very harsh environment. The Sand Wash Basin area can get down to 40 below in winter months and above 100 degrees in summer. It's an environment with a lot of sagebrush. Grass can be sparse and is not the ideal open grassland. It's surprising that the horses survive."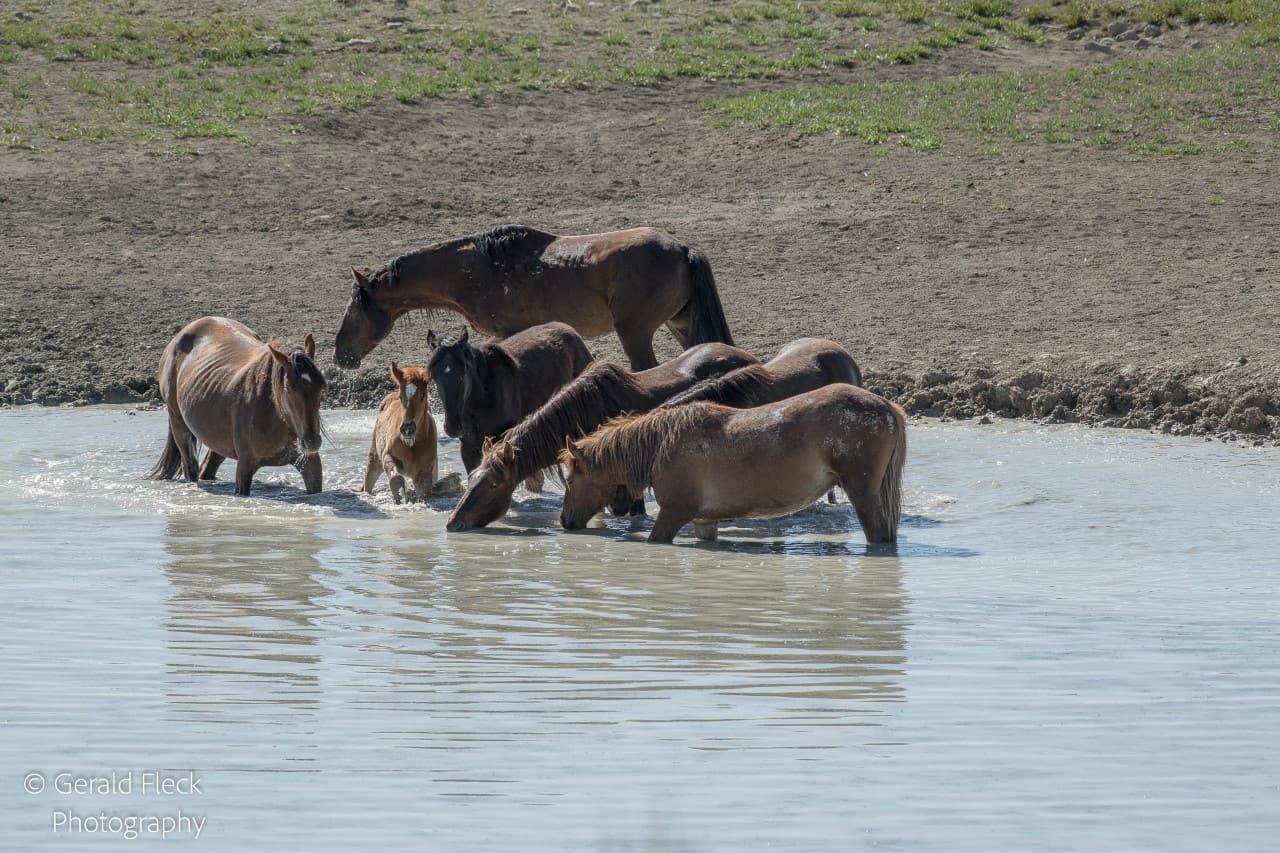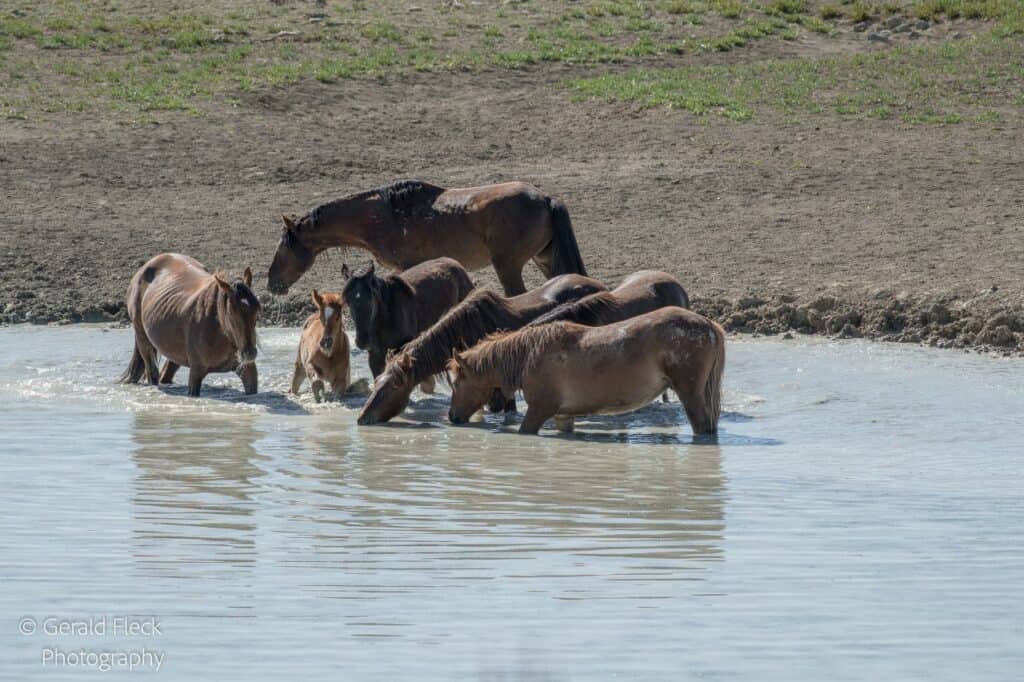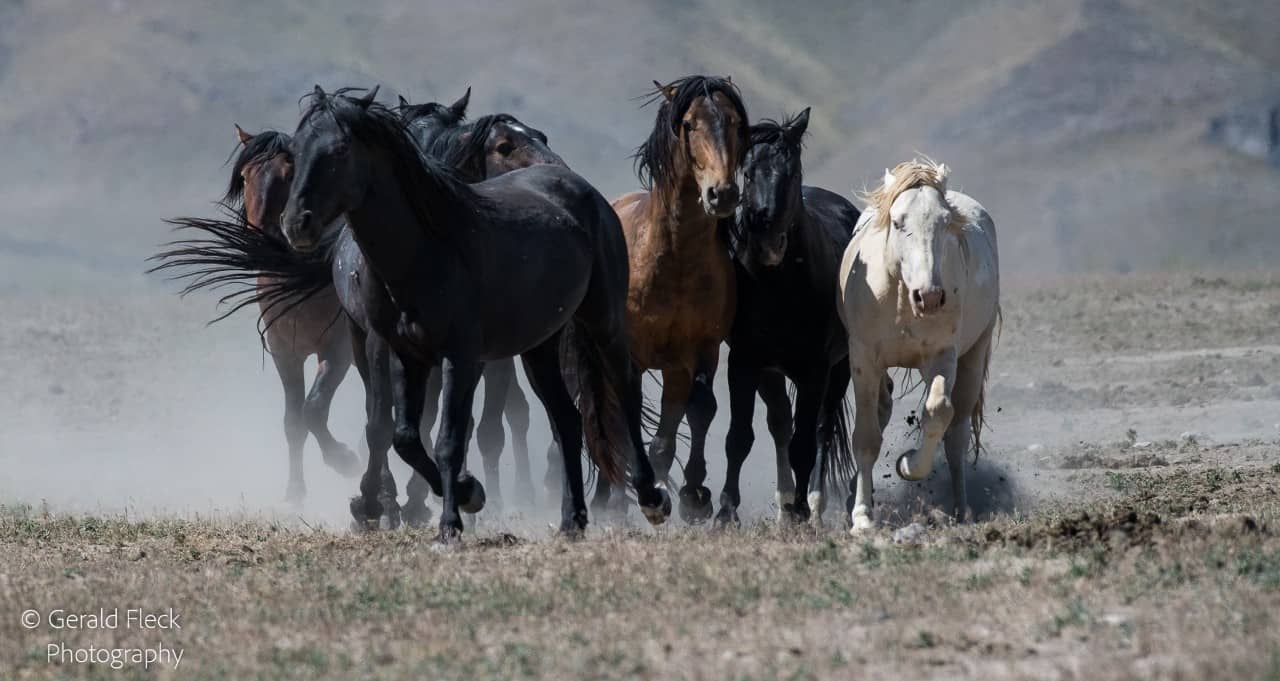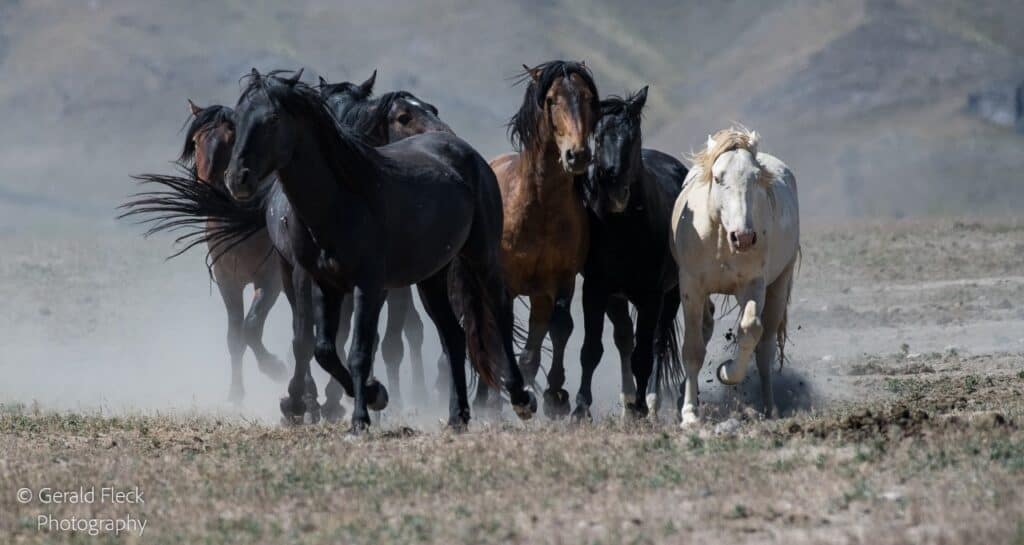 How long have you been practicing wildlife photography, and what are your favorite subjects to photograph?
"Probably close to 15 years. I really don't have a favorite. The biggest challenge has been mountain lion, bobcats and lynx because they are so elusive and rare to see. Living in Colorado, it's common to see deer, elk, bears and antelope living in their natural habitat. They are free to roam as far as their natural habitat will take them and we have a lot of national parks where they are protected and are frequently seen. They don't rely on humans. T
"he wild horses originated as work horses and when humans were done with them, they turned them loose. Offspring of those horses are referred to today as wild horses. Those horses have been moved to property, most of which is BLM land often in the harshest environments. Fortunately, some wild horses are luckier than others. They are placed on land with abundant grass and water. Others are at the mercy of horse advocates to come to their rescue during drought and harsh weather conditions."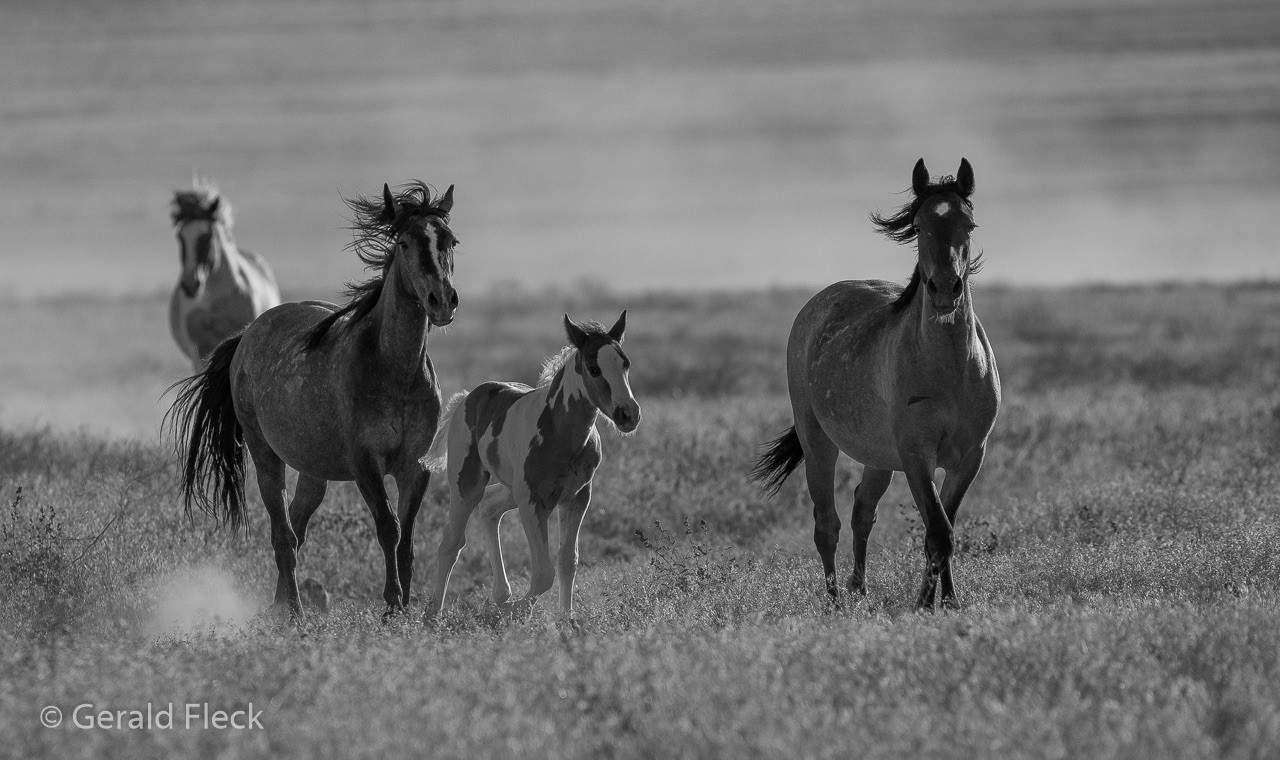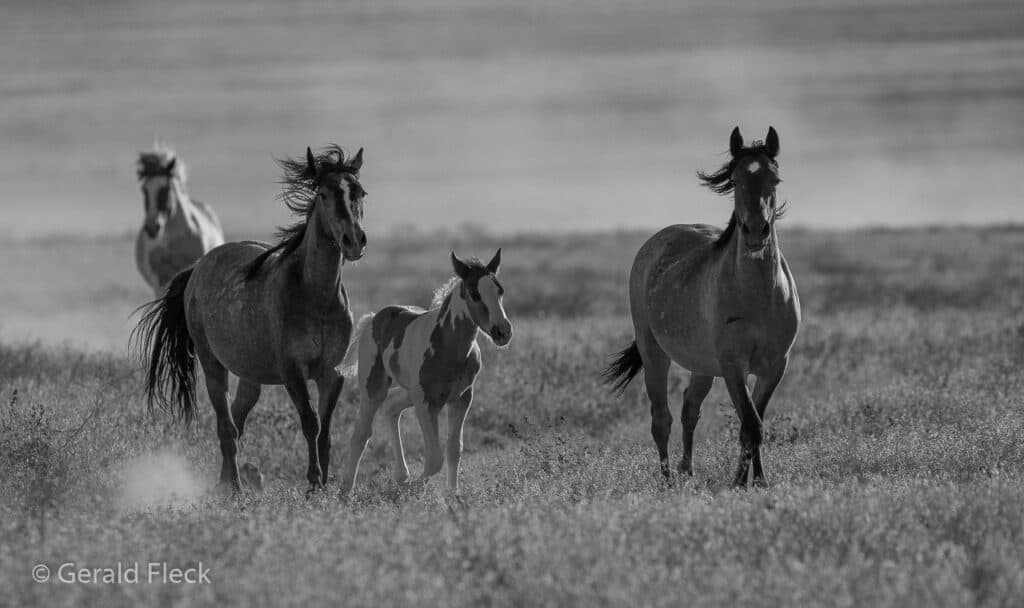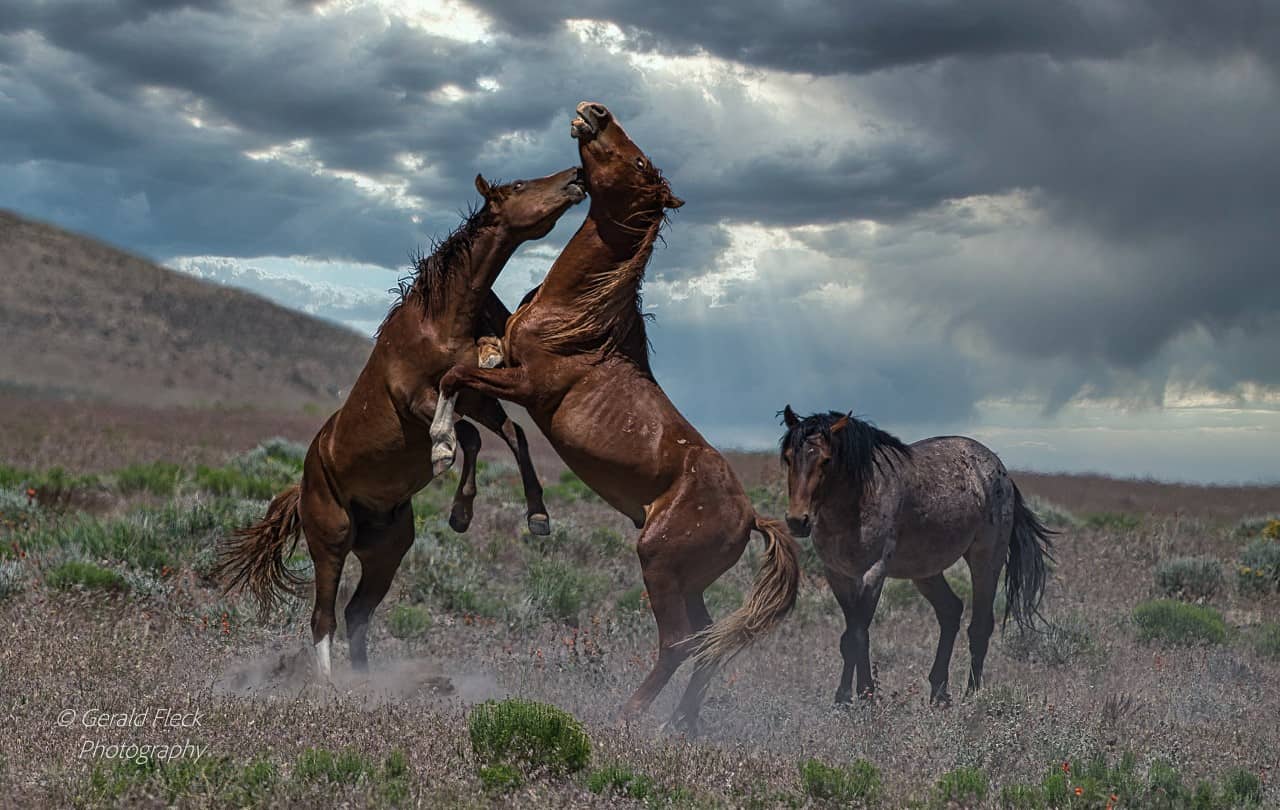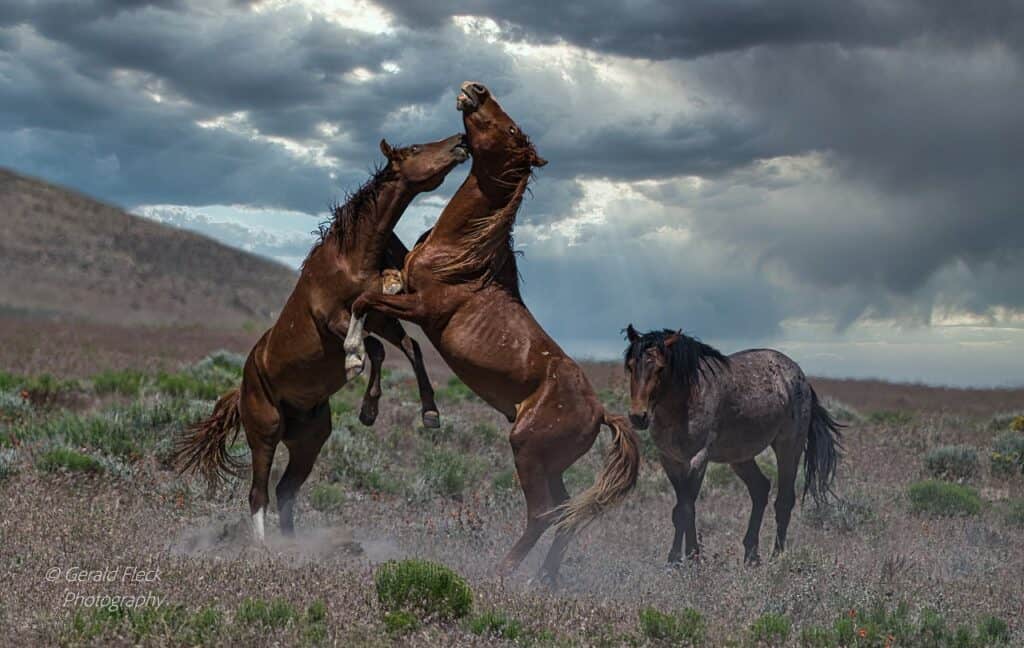 If you'd like to show your support for the Wild Horses of Sand Wash Basin, you should keep up with Friends of Picasso on Facebook. You can also visit the Sand Wash Basin website where you can learn more about ways to help, as well as general information on the well-being of these horses and the best places to observe/photograph them. The Sand Wash Basin encompasses 157,000 acres of federal land, so there is a lot to learn and explore in this sacred area which is home to thousands of America's wild horses. On their website, you can also help by making a donation should you wish.
I'd like to give a special "thank you" to Gerald for allowing me to share his images and answers with you all. I encourage you to check out more of his photography on his Facebook page, his images are as beautiful as they are impressive.