While wild horse advocates in Colorado are beginning to accept the belief that Picasso, one of the most revered wild mustangs in the country, has passed away, we're faced with yet another tragedy for the herd of horses in the Sand Wash Basin. Van Gogh, Picasso's stunning son, was recently found dead next to Highway 318. His body was found alongside that of another wild horse, and the deaths have sparked renewed outrage and concern for the safety of both the horses and motorists traveling on the popular roadway.
Van Gogh's distinctive markings and bi-colored mane were homage to his famous father's good looks. At only six years old, Van Gogh was set to continue his father's legacy as a leader within his herd. His life, however, was cut short.
Photographer Meg Frederick graciously agreed to share her beautiful of photos of Van Gogh.
https://www.facebook.com/MegFrederickPhotography/photos/pcb.1656231074555432/1656230794555460
https://www.facebook.com/MegFrederickPhotography/photos/pcb.1656231074555432/1656230717888801
https://www.facebook.com/MegFrederickPhotography/photos/pcb.1656231074555432/1656230711222135
While no witnesses have come forward, it is believed that Van Gogh was hit by a vehicle and killed. The powerful stallion was often spotted grazing on the lush grass on the side of the highway, and concern for his safety was brought up by horse advocates as recently as two weeks before his death.
For years, a group called Wild Horse Warriors for Sand Wash Basin, along with countless individuals, has been petitioning the Colorado Department of Transportation (CDOT) to install a fence separating the Sand Wash Basin's southern border from Highway 318. There is an 8-mile stretch of land where the wild horse's territory comes in direct contact with the roadway. A basic fence would prevent the horses, and other animals, from roaming onto the dangerous highway.
WHW has raised the funds needed to build the fence, but CDOT has yet to take action. The lack of response and Van Gogh's recent death have sparked a renewed effort to fight for the fence and the overall safety of the area.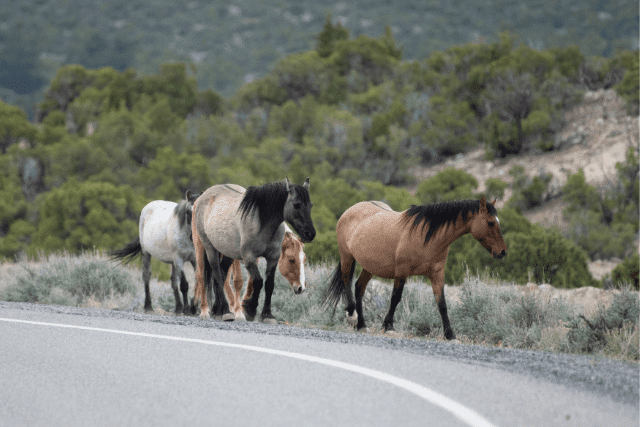 While Van Gogh's death hits particularly hard, several horses die on Highway 318 every year. There has so far been no human fatalities, but it's only a matter of time until a horse in the roadway causes a serious accident. The Sand Wash Basin is fenced on the other three sides, but this section of land is proving to be exceedingly dangerous for horses and motorists.
Everyone who supports wild horses and cares about their safety is urged to contact CDOT about the need for a fence on the southern border of the Sand Wash Basin. Contact the Region 3 (Northwestern Colorado) department by calling 970-243-2368.
If you'd like to further support the cause, contact WHW through their Facebook page or email them at [email protected].