The firefighters of Hillsborough County Fire Rescue in Florida are no strangers to animals in peril. They extracted a frightened kitten from the engine compartment of a citizen's Jeep earlier this month. But that was nothing compared to their full-scale rescue effort to free an elderly horse named Kiersa from the mud on the evening of May 15.
This time, they needed a little help from their friends!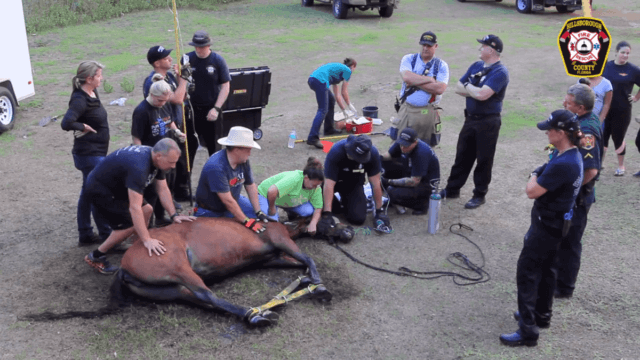 When the HCFR team responded to the scene, they found 25-year-old Kiersa stuck up to her chest in the thick Florida mud. They attempted to pull her free, but the suction was too strong.
HCFR then called in support from The Polk County Sheriff's Office State Agriculture Response Team, Hillsborough County Public Works (DPW), and RVR Horse Rescue. They also contacted Dr. Alexandra Urban from the Brandon Equine Medical Center who sedated poor Kiersa to alleviate her stress.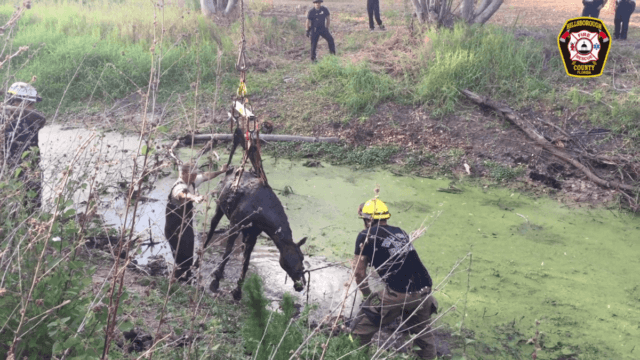 Padded straps were fitted around her body and the old gal was lifted to safety using a massive excavator provided by the DPW. Once on the ground, her vitals were found to be stable by the veterinarian.
Check out the dramatic rescue below!
Kiersa regained consciousness about 30 minutes after being removed from the mud, and according to a post from HCFR:
"Thankfully it appears that there were no broken bones, and Kiersa was able to stand up. Dr. Urban administered IV fluids and antibiotics to Kiersa, and the family is having her monitored for further health complications."
Thank you to everyone who came together to help this horse in her time of need! You are all heroes!