Horses are a staple of advancements throughout history. They are strong animals used in agriculture, military excursions, and the main form of transportation. What many people do not know is horses are intelligent creatures.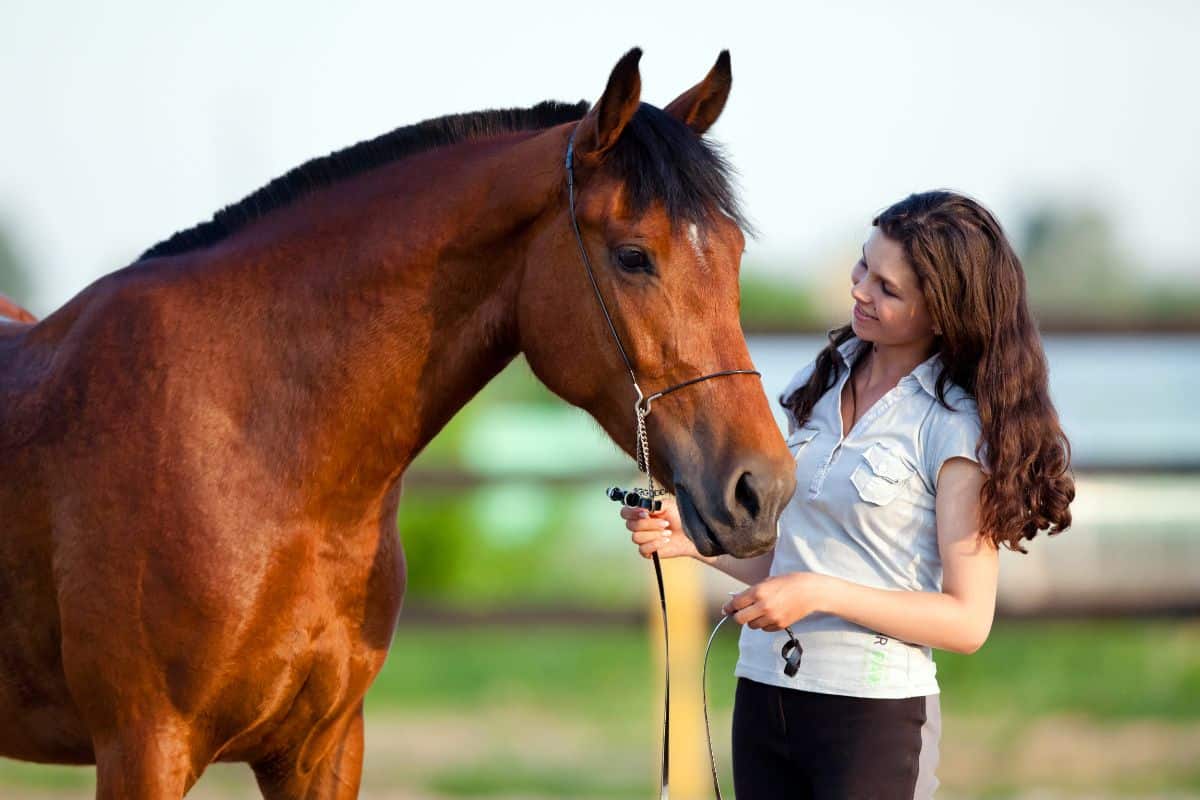 Horses are some of the most intelligent animals on earth. Their ability to learn quickly and their memory gives them this title. They are problem solvers who use past experiences to figure out what they want.
Not all breeds of horses are equally intelligent. Check out the top seven smartest horse breeds in the world!
Jump to:
1. Arabian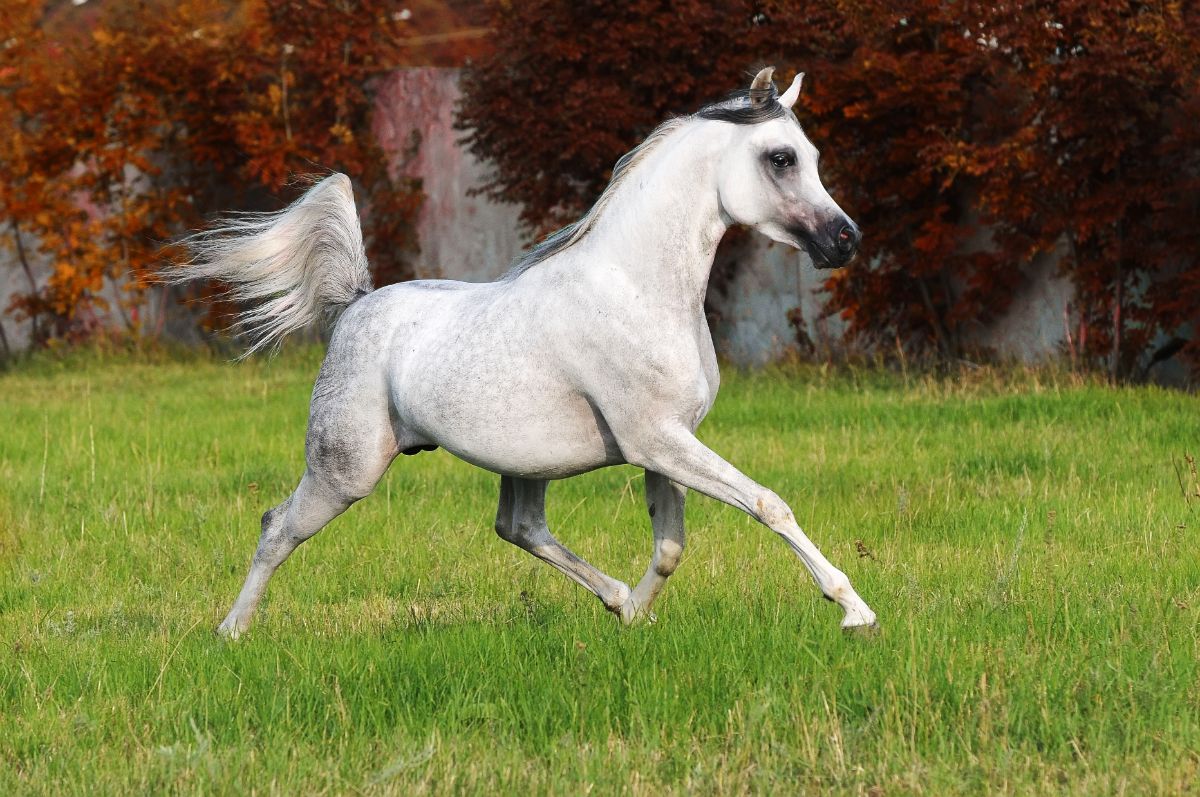 Many people think Arabian horses are the most intelligent horse breed. Arabians take well to training and learn quickly. They have a great memory, are always alert, and are inquisitive. These traits allow Arabian horses to be the most intelligent horse breed.
The Arabian breed is one of the oldest domesticated breeds. The time of their domestication makes them comfortable around humans and friendly to new riders. They are loyal horses that want to please their owners.
Arabian horses are a versatile breed. Their medium build and athletic bodies allow them to excel at most tasks. They are great horses for shows, athletic competitions, and ranch work.
Arabian horses in good health live 25 to 30 years. This long lifespan gives Arabians time to become lifelong friends with their owners. Their intelligence and friendliness make them one of the best horse breeds for every rider.
Arabian horses originate from the Middle East. The Bedouins from the Arabian Peninsula believed Arabian horses were a direct gift from Allah. The horses were companions of the Bedouin people for thousands of years.
2. Saddlebred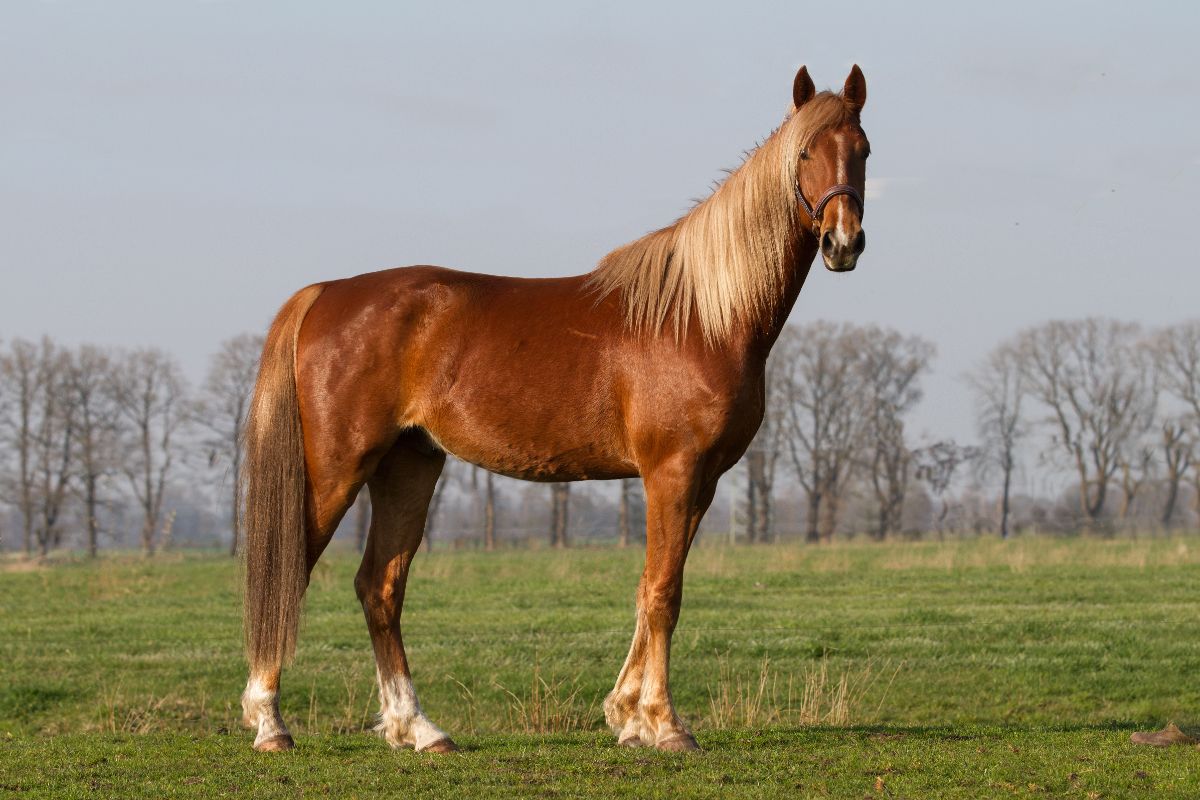 The American Saddlebred is the ultimate show horse with its high steps and elegant demeanor. A saddlebred horse is an athletic animal that succeeds in all areas of the show. Their primary show divisions are Fine Harness, Three-Gaited, Five-Gaited, and Pleasure.
American Saddlebred horses are known for their intelligence and refinement. Show horses that compete in high levels of shows must have the intelligence and trainability to excel in their field. Without high intelligence, riders would have difficulty training their American Saddlebred to succeed in the shows.
American Saddlebreds are medium-sized horses, ranging from 14 to 17 hands tall. An American Saddlebred horse weighs between 800 and 1,200 pounds. American Saddlebred horses come in all colors.
American Saddlebred horses are versatile. They have a smooth gait, good speed, powerful muscles, and intelligent minds. They are known as the peacock of the show ring because of their high stepping and elegance.
Your American Saddlebred is a human-oriented horse. This horse breed strives to please its owner with an alert, happy, and curious mindset. All American Saddlebred owners and admirers fall in love with their horses.
3. Morgan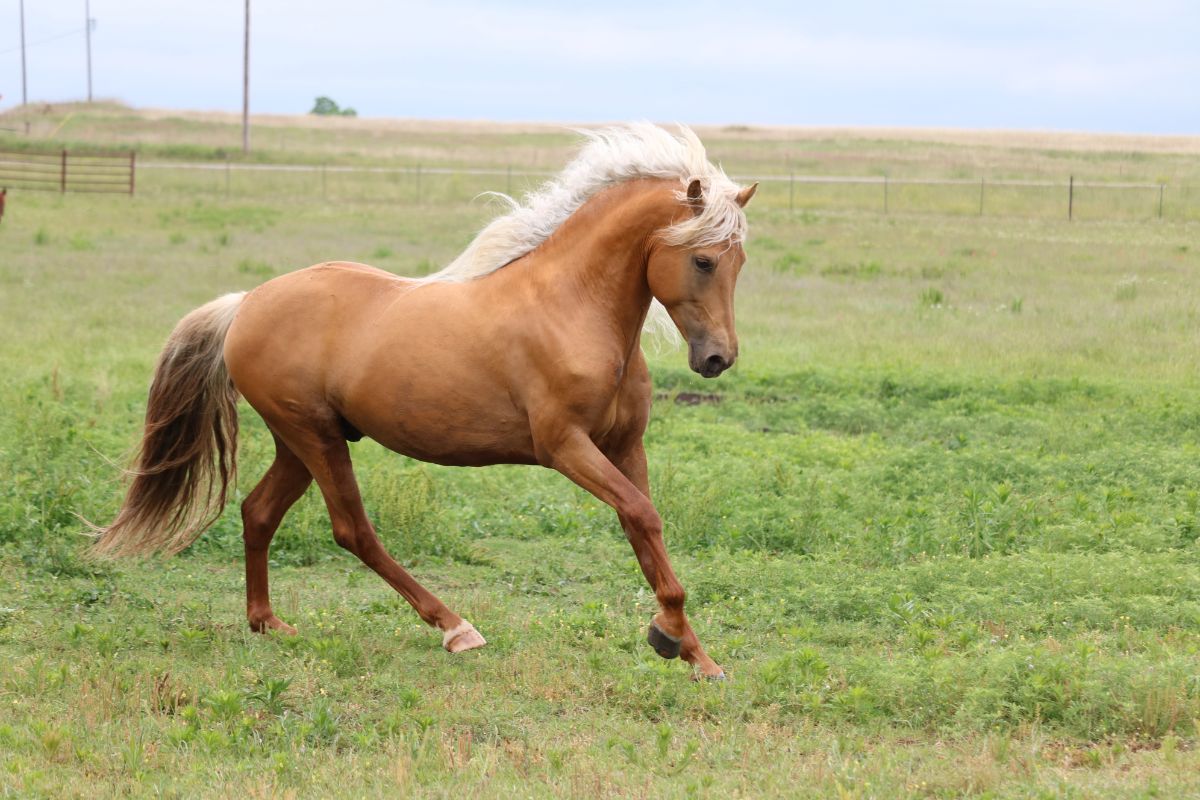 Morgan horses are gentle-minded horses with muscular bodies. Their peaceful temperament makes a Morgan horse perfect for a first-time rider. They ride with elegance and strength, giving each step a sense of sturdiness and security.
Morgan horses are intelligent creatures that are quick to learn. Their long-term memory allows them to remember the orders given by their owners. They have a friendly personality that will attract any horse-lover.
Physical characteristics of a Morgan horse include a crested neck, small ears, and expressive eyes. Versatility and power underlie these graceful features. Morgan horses are medium-sized breed, ranging from 14 to 16 hands tall and 900 to 1,100 pounds.
Morgan horses range in all colors. Their most common colors are black, bay, brown, chestnut, dun, palomino, creme, and buckskin. Morgan horses are also in roan, gray, and silver dapple. Morgan horses cannot have a tobiano pattern.
Morgan horses are compact horses with large muscles. They have a short back, deep flank, thick loins, and a high tail. A Morgan horse's legs are straight with short cannons and are refined. Morgan horses are low-maintenance and are great horses for a beginner because of their friendliness and intelligence.
4. Thoroughbred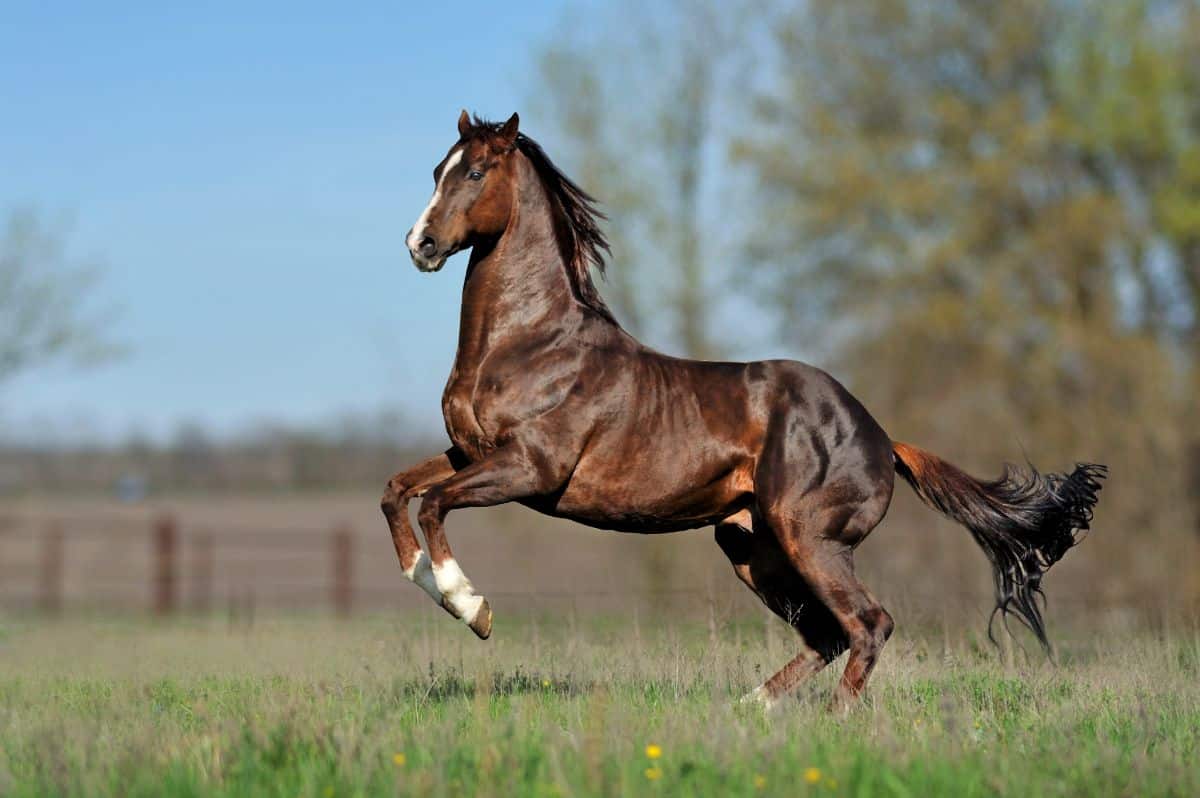 Thoroughbred horses are much like Arabian horses. They have a variety of uses, and their versatility makes them great for any task. Most thoroughbreds are bred for their speed and athletic ability, but Thoroughbred horses are sensitive and intelligent creatures.
Thoroughbred horses are not always the best for beginner riders. Their sensitive attribute makes the slightest touch a big deal. Thoroughbred horses are best for confident and steady riders that know how to control their bodies in the saddle.
Sensitive horses are thought to be unruly, but with an experienced rider, they are the perfect match. Their intelligence allows them to build a bond with their riders and detect the smallest movement and respond to it positively.
Thoroughbred horses have a good heart and want to please their rider. They pick up new things quickly and desire to do what they are told. The rider needs to have confidence in their movement in what they are conveying to the horse.
Thoroughbred horses are natural athletes. They are seen across the board in shows and athletics. They are muscular horses that excel at clearing high obstacles, sprinting, and negotiating sharp turns.
5. Friesian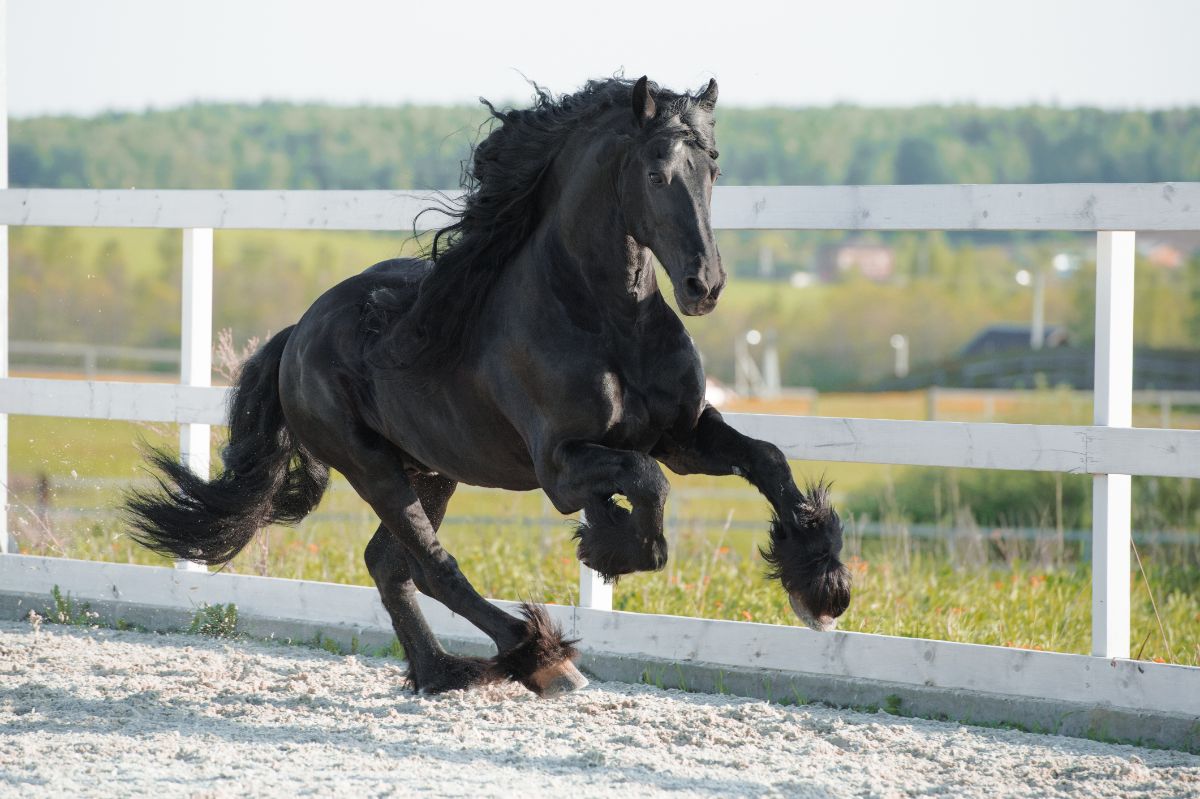 Friesian horses are famous for their great locks. Friesians have long, flowing manes, tails, and forelocks. Most of the Friesian horses have slick hair with feathers on their feet. The long manes, tails, forelocks, and feathering sets a Friesian horse apart from other horses.
Friesian horses have high-set necks, muscular legs, and expressive faces. Friesian horses have a mystical look to them that is often displayed in movies. Their impressive physical features are not the only things unique about a Friesian. Friesian horses are highly intelligent and thrive under an experienced rider.
Friesians originated in the province of Friesland in the Netherlands. They have roots in medieval wars and agricultural use. Today, Friesians are used for a variety of activities, including dressage, western pleasure, saddle seat, and driving.
Friesian horses have an energetic, intelligent, and peaceful temperament. They are always ready to learn from their riders and please them to the best of their abilities. They are trainable horses great for a range of riders.
6. Quarter Horse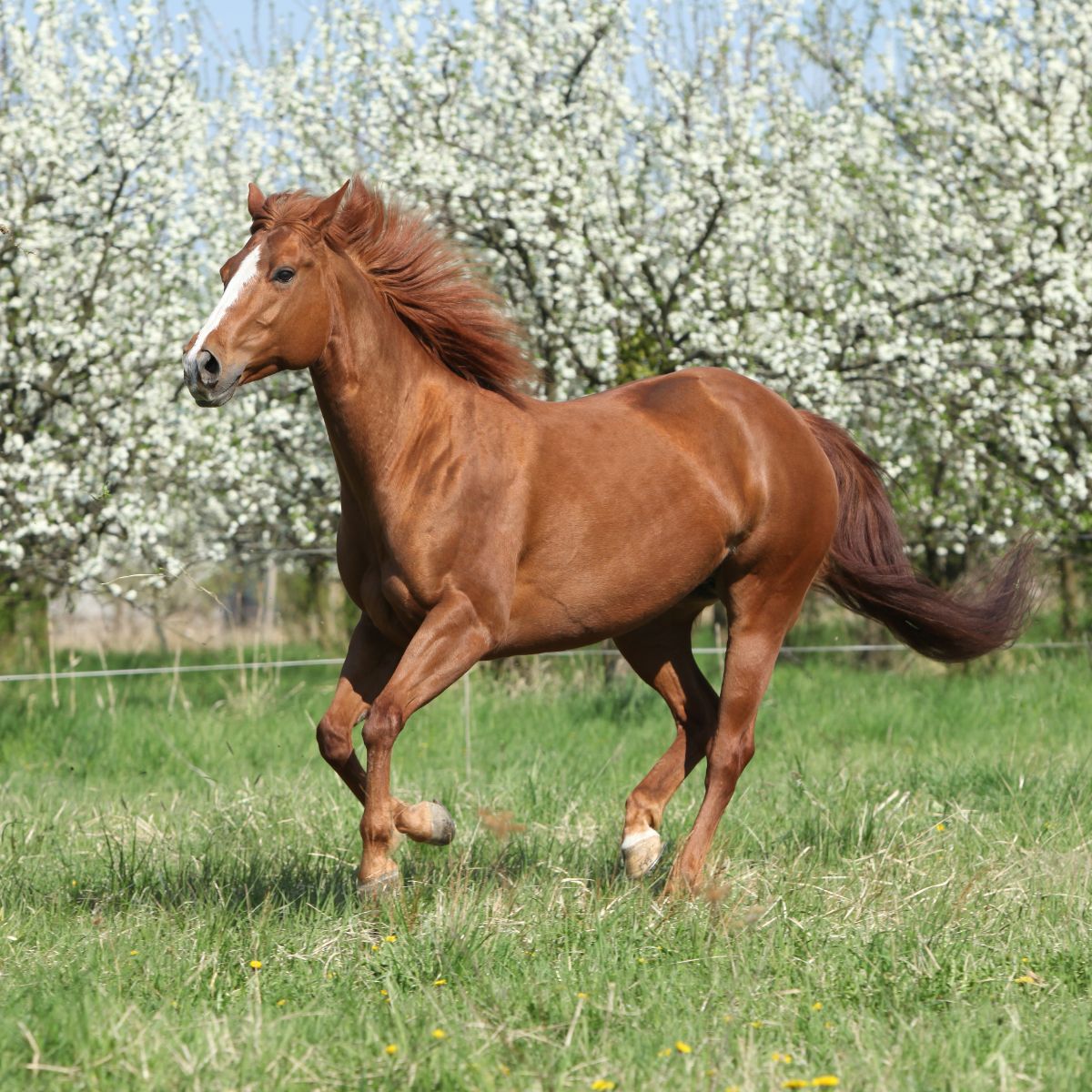 Quarter horses are one of the most adaptable horses on the market. They are in all occupations, including trail riding, urban-mounted police, and breeding. Quarter horses are the most popular horse breed.
With a large variety of quarter horses, specific characteristics are in the competition. Quarter horses who are large, muscular, and have wide jowls are suitable for the show world. The smaller Quarter horses are more popular in cutting and reining due to their agility.
The size of a Quarter horse varies, but they all have powerful legs and high speeds. Quarter horses range in color from chestnut, palomino, bay, black, and gray. They have short, refined heads and straight profiles.
A Quarter horse has immense intelligence. They are quick to learn, and their versatility allows them to be used in many occupations. From show horses to ranching, a Quarter horse has not run into something it cannot do!
7. Clydesdale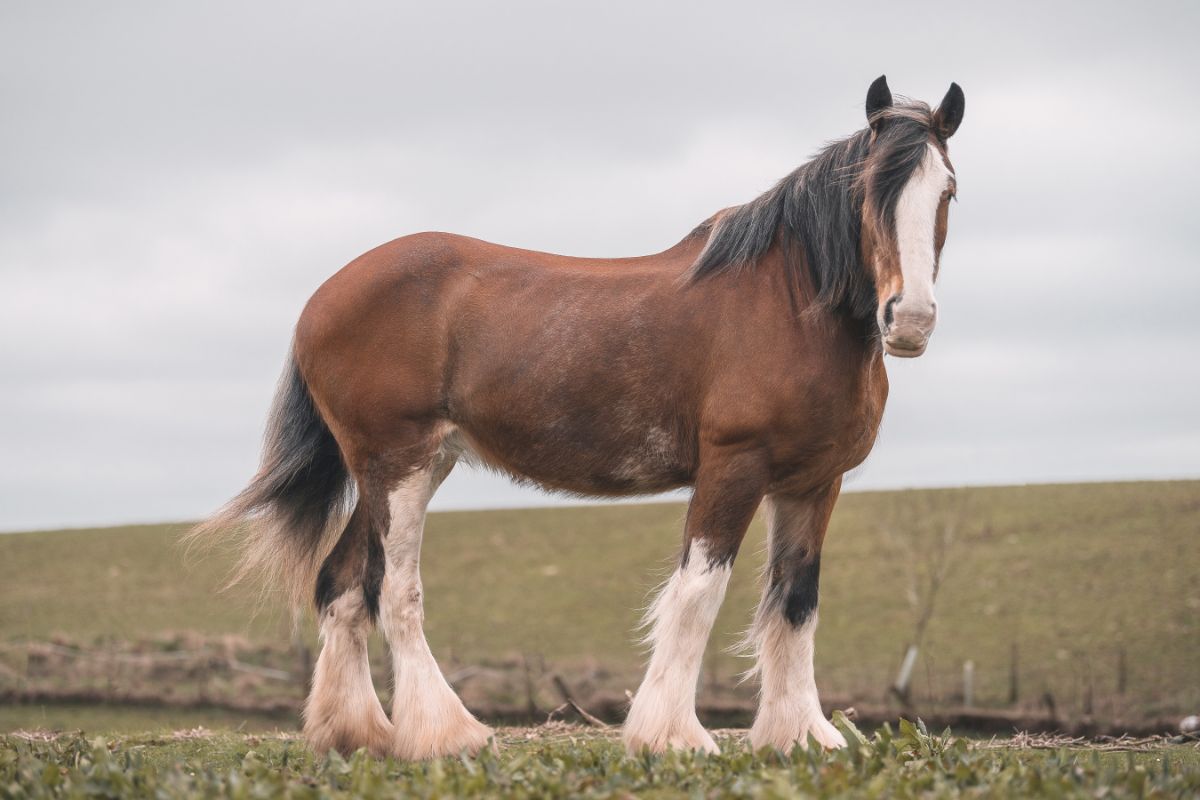 Clydesdales are large horses and are part of the draft horse category. Clydesdales are enormous, with large heads and large hooves with feathering. Clydesdales were used for heavy lifting throughout their history.
Clydesdales are known as gentle giants. Their massive bodies and immense strength can be intimidating, but a Clydesdale will do anything for its owner. Their high intelligence makes learning a breeze for a Clydesdale.
An average Clydesdale ranges in weight from 1,600 to 2,400 pounds and 16 to 18 hands in height. They live up to 25 years if they are in good health and are suitable for any experience of riding.
Their history is full of heavy-pulling and military use. Today, Clydesdales are used for both driving and riding. They are crossed with thoroughbreds to produce a large, strong sport horse.
Clydesdales are healthy horses with a calm and peaceful temperament. They are prone to chronic progressive lymphedema, a disease of swelling in their legs. If they are not properly groomed, Clydesdales develop skin infections beneath their thick leg hair.