Wild horses have captured the imagination of many a horse lover. Even though I was a horse-crazy child fortunate enough to grow up with horses of my own, I was still in awe of wild horses. And in October 2017, I got to have my own wild horse adventure.
I was vacationing in North Carolina. Not everyone knows this, but there are a couple wild herds in North Carolina. Those horses happen to be related to the famous wild horses on Assateague Island in Virginia. The Corolla herd is at the Outer Banks, NC, near the Virginia border. The other herd, and the herd I got to experience, is farther south on the uninhabited island called Shackleford Banks.
Early one morning of my vacation, Mom (my travel companion for the drive from South Dakota to North Carolina) boarded the first ferry bound for Shackleford. On the ferry ride out, the mate reminded everyone of the law to stay 500 feet away from the wild horses and stressed the importance of not trying to feed the horses anything. The safety of horse and human were at stake. When the ferry pulled ashore, we were free to explore without guides.
Mom accepted that she could not handle all the walking my quest to find wild horses might involve, so I made her a bench out of some debris that had washed ashore on a beach. Then I took off walking along the beach, needing to come up with a plan. Finding wild horses on an unfamiliar island would be like looking for a needle in a haystack.
Not long into my walk, I noticed a trail that led away from the beach. It reminded me of the trails my own horses have made in their pasture. Suddenly I had a plan! I would follow that trail! It turned out to be a network of trails through the interior of the island, and I found many hoof prints.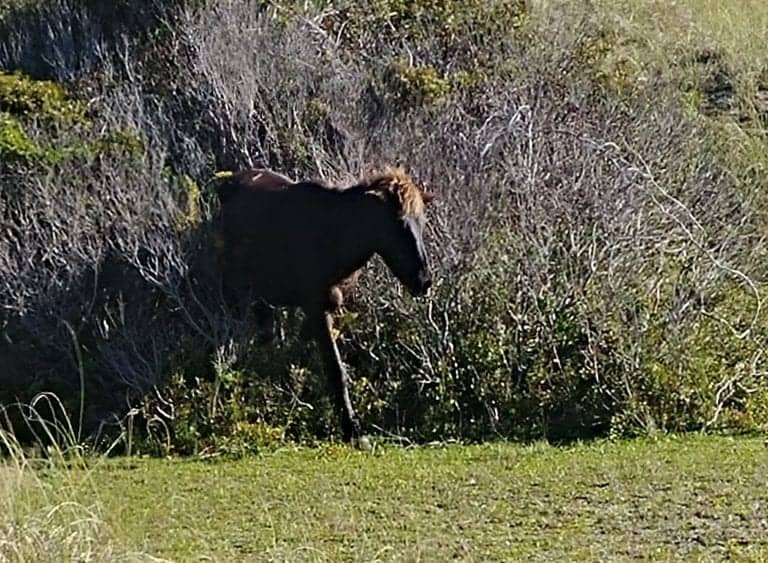 Knowing from experience that horses do not always graze close to their paths, I knew I would eventually need to venture off the trails. When I saw a clump of bush-like trees a short distance away, I made my move. I approached the scrub and heard some rustling. When I saw movement in it, I froze, thinking momentarily that I had encountered a bear. That was foolish because I knew there were no bears on Shackleford!
Then my eyes focused better, and I made out the unmistakable shape of a horse head. Tears of joy flowed at the sight of my first wild horse! By the time I came to my senses and pulled out my camera, the horse had begun to emerge from the vegetation. A few minutes later I saw five other horses, the rest of that harem right. Naturally, I took pictures of them all.
But to this day, that first sight of that first horse remains the most magical moment of my life. It was a dream come true!
About the Author
Noelle got her first pony when she was 3 years old and has had horses ever since. She showed horses in 4-H and spent her summers in college working at a harness racing stable. Although her career is as a human massage therapist, Noelle remains an avid horse lover and a 'til-death-do-us-part horse owner.