When you have horses, knowing how often and how much to feed them is crucial. You want to get them on a schedule to ensure they receive the right amount of food and especially the right nutrition. Not only will this tell you how much to feed your horses, but also more information about the types of food.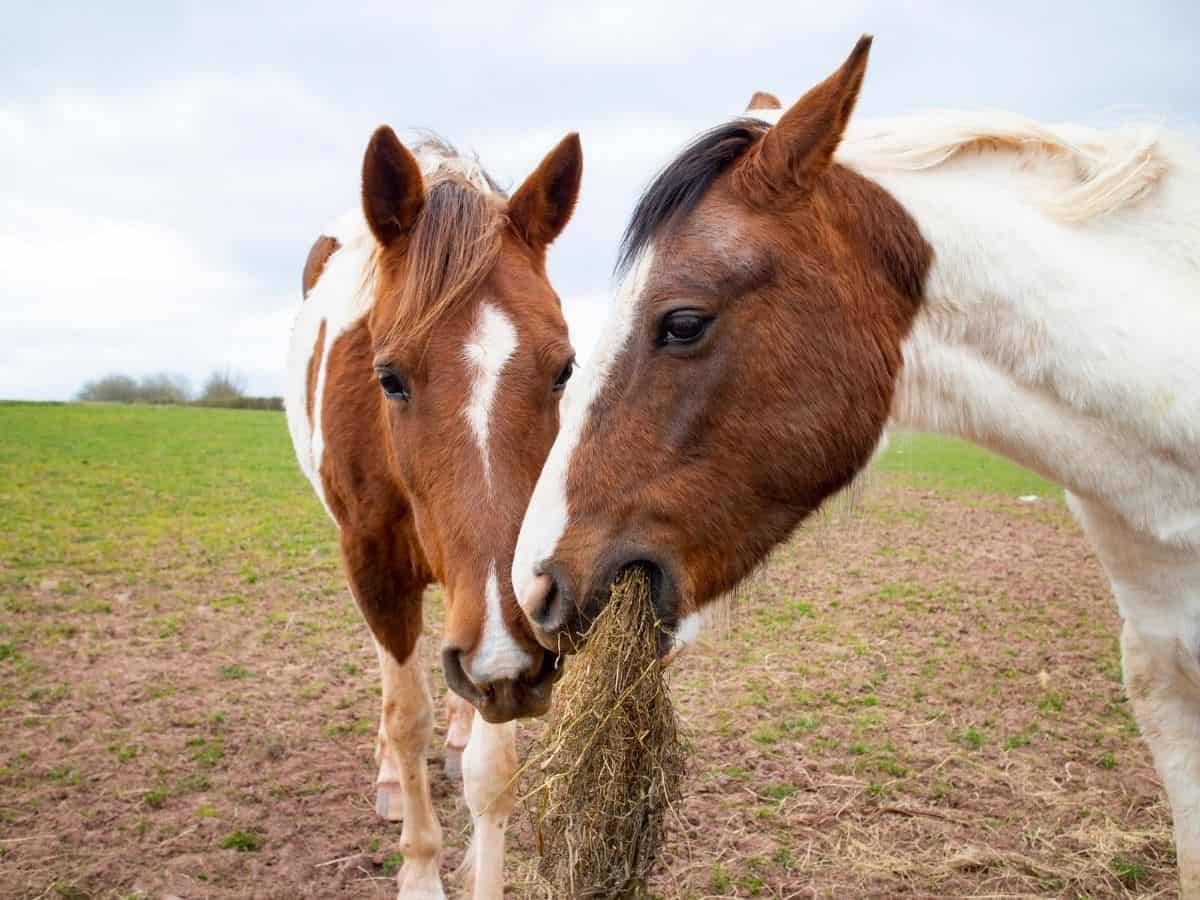 How Much Food Does a Horse Eat Each Day?
The average horse eats up to twenty pounds of hay per day. It might sound like a lot, but you have to remember that these animals are much larger than humans. It is beneficial to stock up on plenty of hay bales and horse feed to give to your horses.
You can't just feed them anything. You'll want to check out this list of foods to not feed horses. It's important to keep them safe and well-fed. It's not just about the amount, but the quality and how often.
How Many Times Should You Feed a Horse in a Day?
Most horses will eat their main meal twice a day. The exact time of the day will vary from one horse to the next. Of course, you can get these animals into a routine that works best for you. For example, you might want to feed your horses first thing in the morning and then once again in the evening.
Horses, will, however, graze throughout the day. So, when in a field, they will go to grass or hay and snack. They don't overeat, so it's perfectly okay if you see them going for a snack here and there.
You'll also want to be aware of food aggression in horses. Sometimes a horse has been deprived in the past and may need access more often for emotional well-being. While two times a day is average, every horse and situation is unique. Especially when dealing with foals and rescues.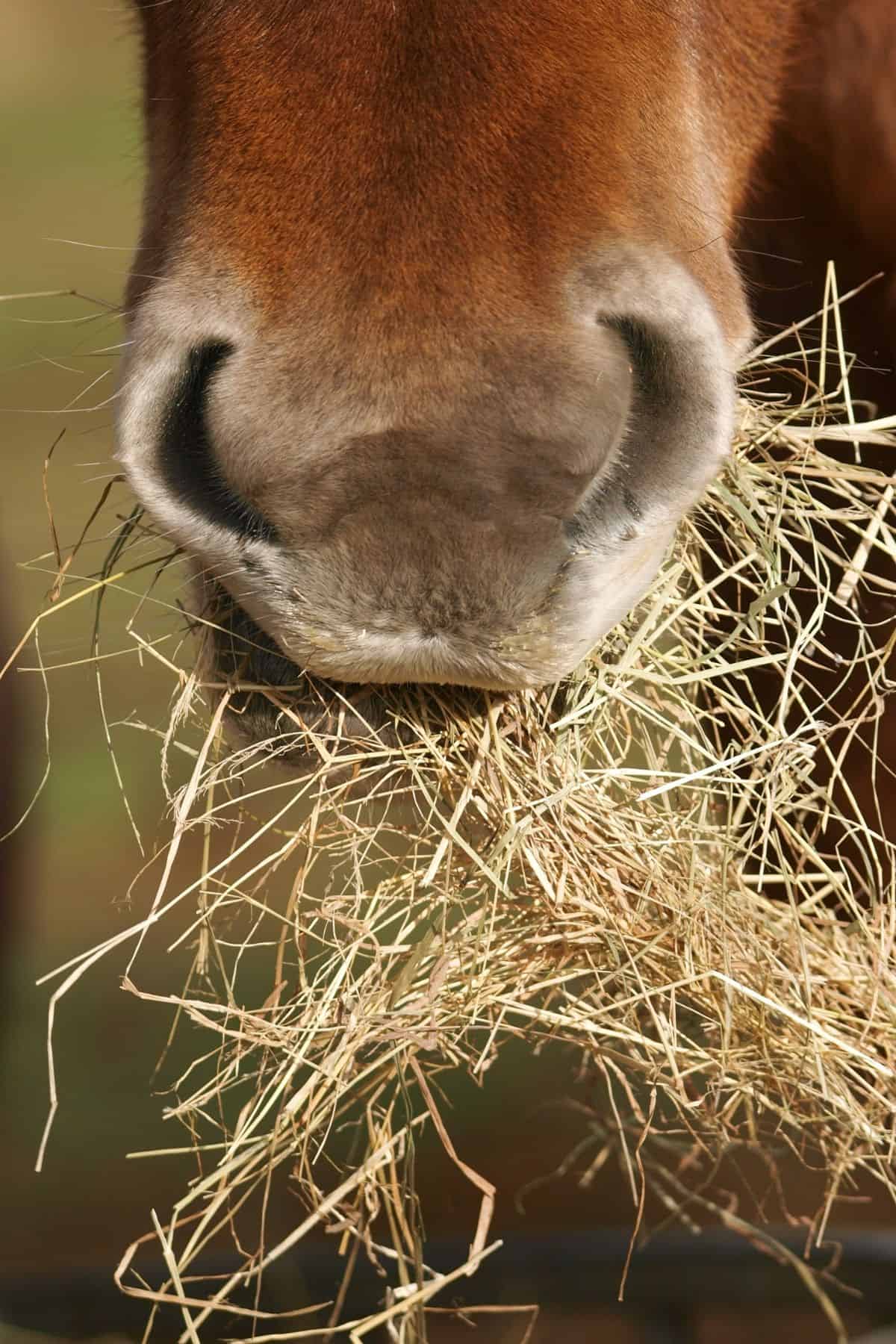 What Types of Food You Should Provide to Your Horse
Hay is one of the essential foods to offer your horses. It is the perfect source of fiber for these animals, and it provides them with plenty of vitamins and nutrients. You can give the horses a large supply of hay in the barn. You do not have to worry about them overeating. They will only chew on the hay when they feel hungry enough to do so. One thing you will rarely see is overweight or obese horse. They are very good with self-regulation.
While hay is one of the foods you should offer to your horses, there are other options to consider providing to these animals. You can give your horses grains, grass, and horse feed. The horse feed typically comes in large containers that weigh 50+ pounds. The number of bags needed will depend on how many horses you have on your land. It will also greatly depend upon what your individual horse needs actually are.
Hay itself may be the base form of nutrition, but what they are lacking, what they do regularly, and what area of the country the hay comes from will all change the type of feed you supplement them with. It's best to check with your veterinarian for the best choices to suit your individual horse(s).
If you have multiple horses you may also benefit from this information on how to keep hay dry for long-term storage. It's best to always have enough on hand so they are never going hungry and you are covered in case of emergency.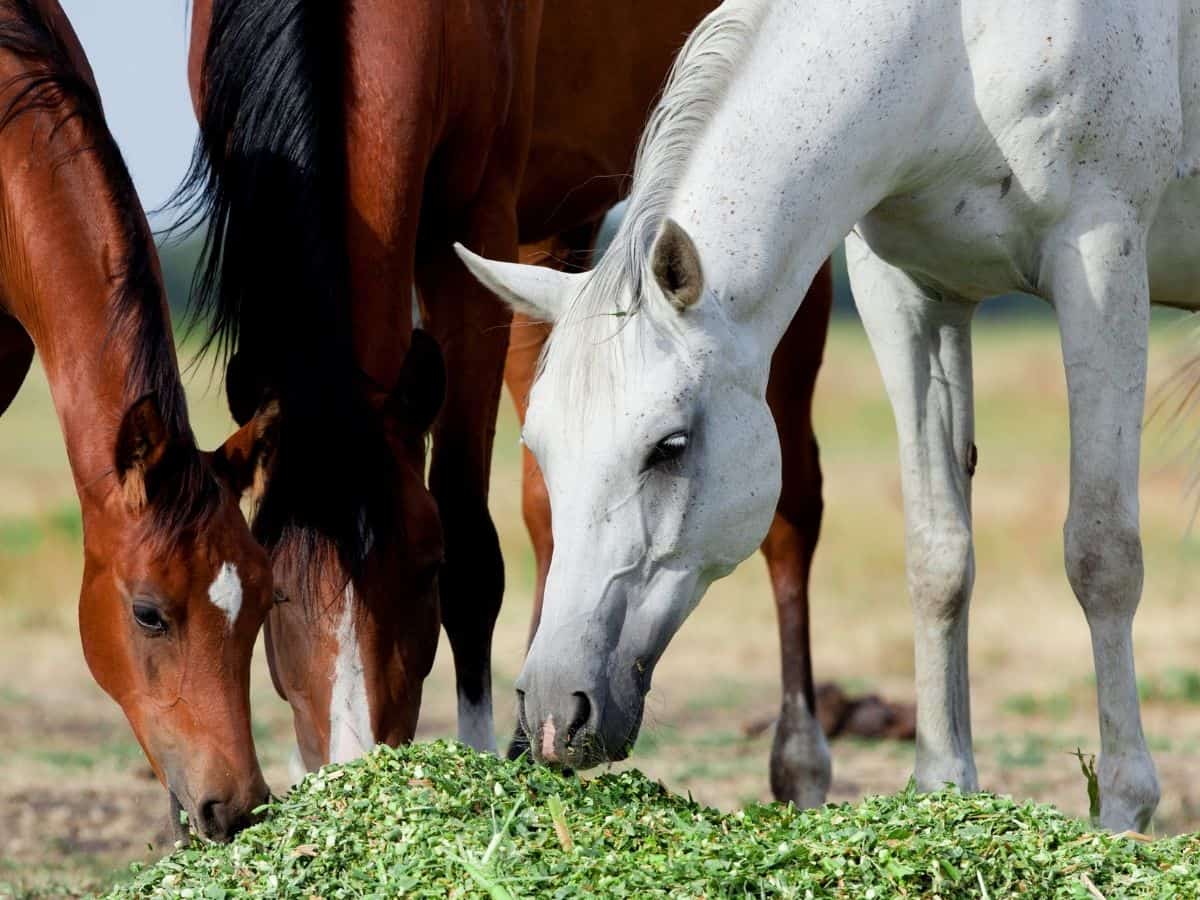 Is It Safe to Give Horses Special Treats?
It is safe to provide horses with special treats. It would be best if you do not go overboard with the treats. However, you can offer them several times throughout the week. If you are not sure which treats are best, consider giving your horses apples, carrots, and sugar cubes. Providing small treats is a great way to reward your horses for good behavior. They will enjoy what you have to offer.
There are several foods you can share with your horse, but there are also foods you should never feed your horse. Make sure you are educated and not tossing a cheeseburger to a horse instead of a healthy treat like the above-mentioned apple.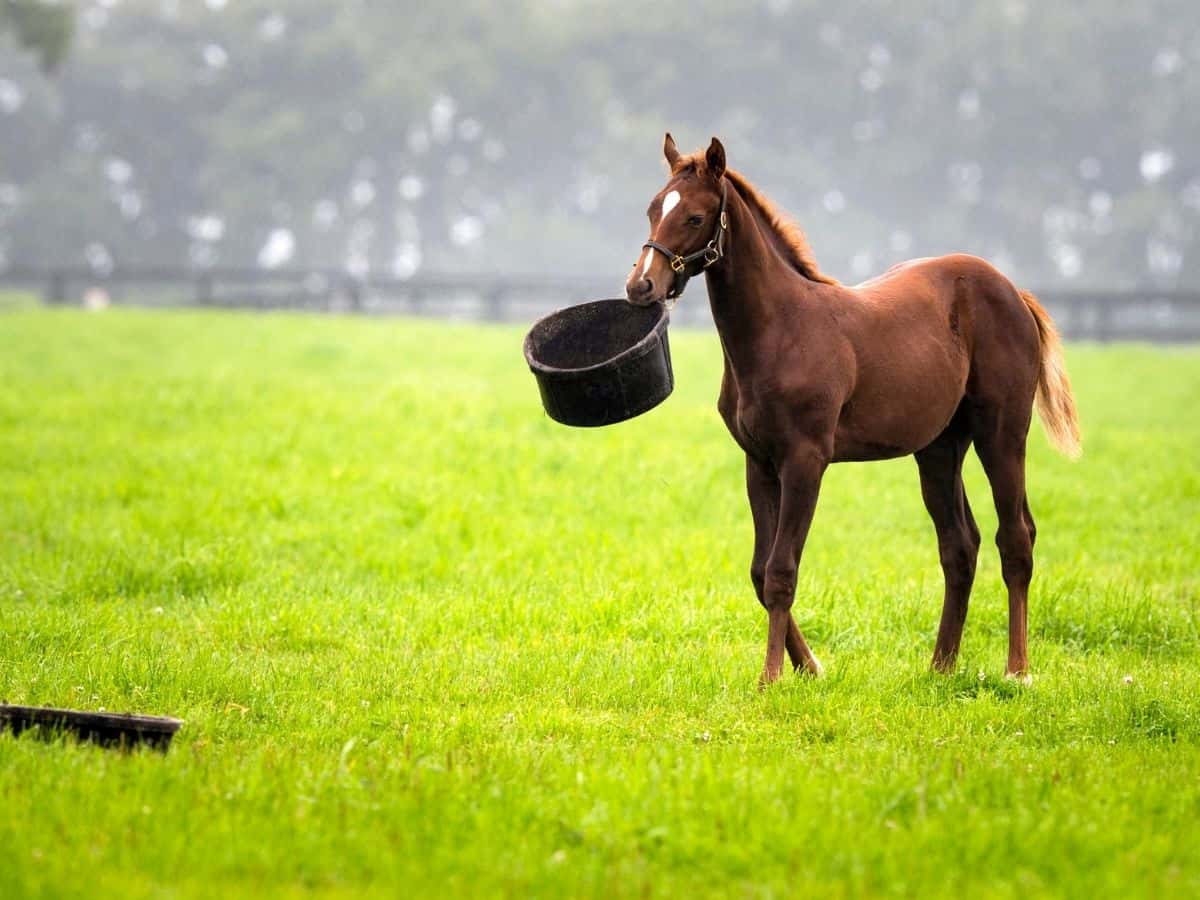 Is It a Good Idea to Get a Horse Food Dispenser?
If you do not already have a dispenser for the food, it is good to invest in one. Horse food dispensers are convenient and can help you save both energy and time. As the horses eat the food that comes out of it, more gets dispensed until it is time for you to refill it all over again. This is handy for many reasons and can save you time and effort if dealing with a busy schedule.
If you purchase a large dispenser, you may not need to fill it up as often because it can hold such a large amount of food for the animals. You can even find timed dispensers that will release food for the animals at specific times throughout the day. If you want to enjoy the extra convenience, look into getting one of the various timed options. Of course, make sure you are not avoiding your responsibilities and spending time with your horses each day.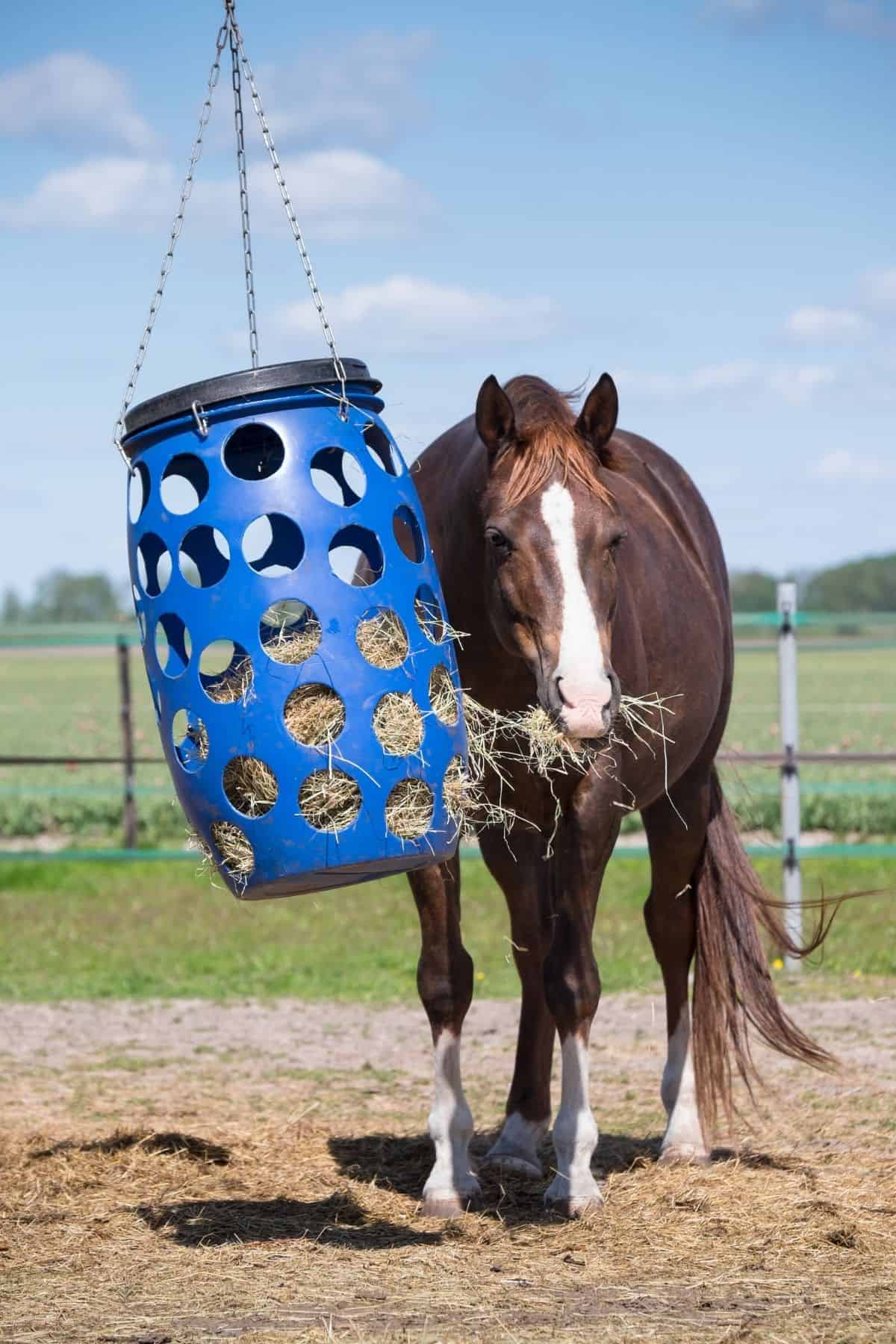 Keep Your Horses Happy With the Right Foods on Hand
Horses eat quite a bit of food each day. They may consume around 20 pounds of hay in just one day! Because they love to eat hay, horse feed, and even the occasional special treats, it is vital to have these essential food items in stock on your land. Make sure you supply your horses with the right amount of food and plenty of water to drink to keep hydrated.