Horses should eat many small meals several times a day. Sometimes they eat more than the forage and grain we provide for them. You are probably familiar with horses eating weird things like wood. But they also like to eat their pooh, properly known as feces. Although it is a yucky subject, there are some reasons behind horses doing this. In this article, we will answer the question, "Why do Horses Eat Feces?".
Horses Eat Feces as Foals
In the animal kingdom, numerous species eat their feces. Horses generally only eat their feces when they are two to three weeks old. Dr. David Ramey, DVM, states this on his website,

"Eating feces is thought to help populate their intestines with the bacteria that help allow the young animals to digest the coarse feed that they live on."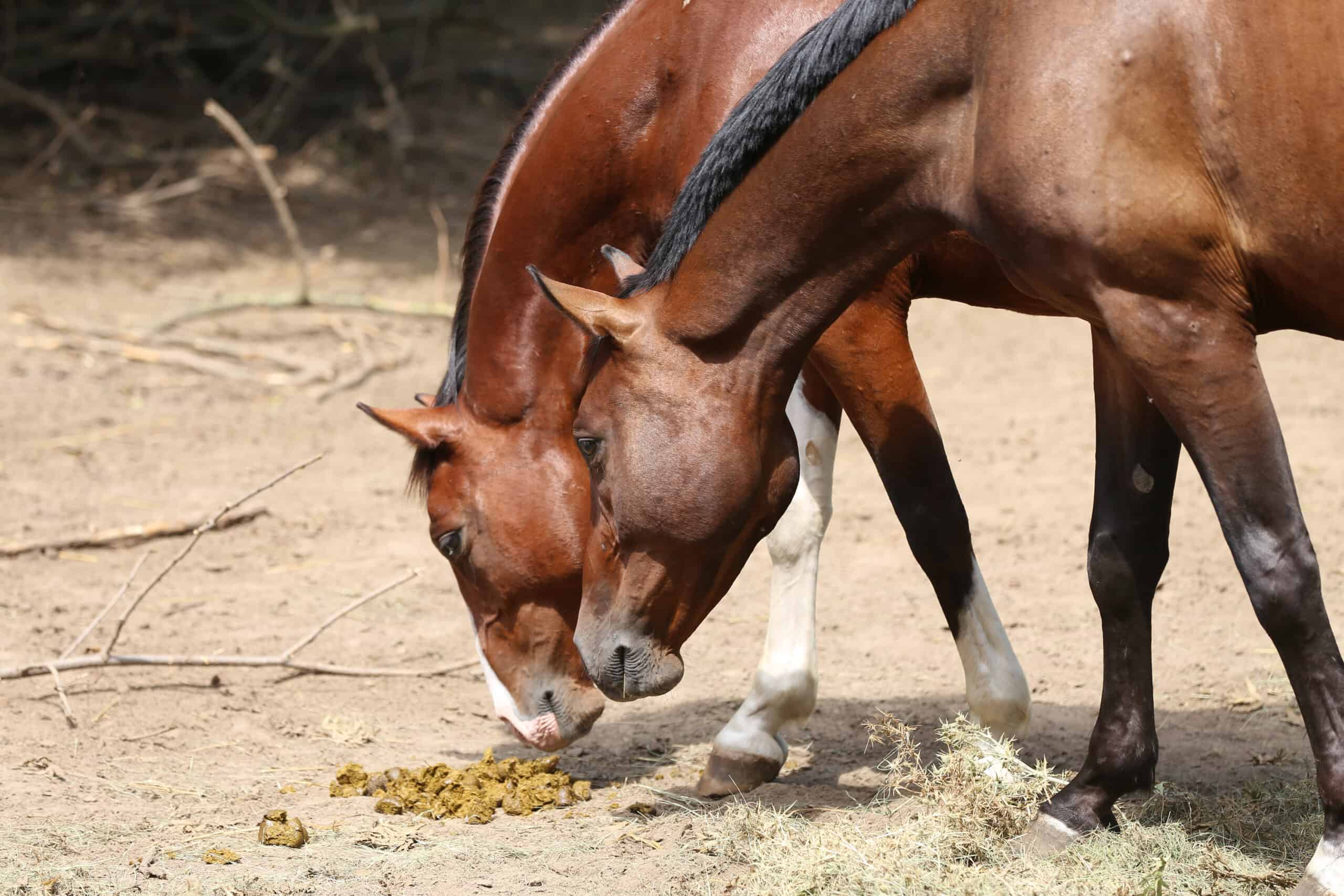 Feces Eating in Adult Horses
The scientific word for eating feces is called Coprophagy. The need to eat feces dissipates as horses age. However, it is not uncommon to see an adult horse eating feces. There are multiple reasons for this. Some explanations will require a veterinarian examination, and others you should be able to address yourself.
Lack of roughage: A horse's diet should consist of 80% roughage, such as grasses and hays. Horses will eat small meals several times a day. If they lack enough roughage or access to roughage, they may start eating their feces.
Starvation: This goes hand in hand with the first reason. Horse feces contain undigested nutrients. A horse that is starving will look for any source of nutrients needed to survive. Coprophagy usually develops when horses are subject to starvation.
Nutritional deficiency (i.e., mineral or protein deficiency): While a horse's diet should be 80% roughage, the other 20% needs to have the correct mineral and proteins. They need water, carbohydrates, proteins, fat, minerals, and vitamins. If your horse is on a hay only diet, you can have the hay tested to be sure it has the necessary nutrients. If it lacks any of them, you will want to discuss a feed program with your veterinarian to provide the missing nutrients. Senior horses will require different nutrients. This is especially true when they have trouble eating rough forage because of worn-down teeth.
Intestinal parasites: These nasty little critters can cause the nutrients your horse eats not to be adequately absorbed into their system. The result is Coprophagy caused by nutritional deficiency.
Abnormal behavior (stereotypic behavior): A horse that has experienced Coprophagy for an extended amount of time for any of the above reasons may develop a habit of eating their feces. This is not a problem if all the above causes are ruled out. However, an extensive parasite program needs to be in place.
Dangers of Horses Eating Feces
Typically, horses eating feces is not dangerous. The dangers arise when there is not an adequate parasite and fly control system in use. Horses do not get parasites from eating manure, but rather indirectly. Dr. Davey Ramey DVM, explains it like this:
"Although eating horse manure is generally harmless (and, apparently, tasty, for some), it is one way that internal parasites are transmitted: indirectly. Horses don't get parasites by consuming manure. But some people with pastured horses insist on spreading manure in their fields, and this compounds the problem of parasite transmission, because it spreads the eggs in the horse poop around so the eggs can hatch into larvae, crawl up the grass, get eaten, and grow into adults inside the horse. The occasional bite of manure is generally harmless."
You can learn more on "5 Ways to Manage Intestinal Parasites In Your Horse" here.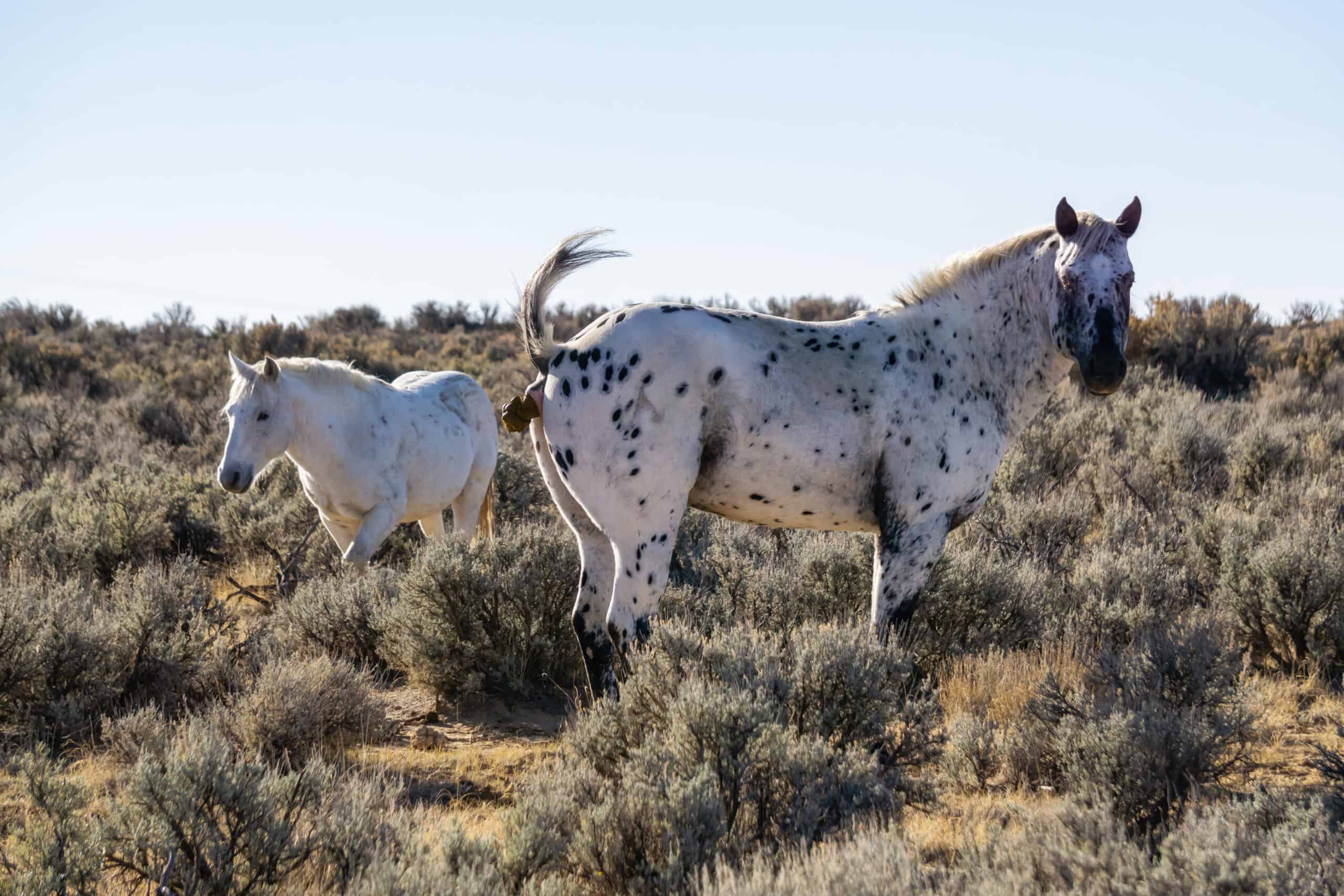 Final Thoughts
Eating feces is common and harmless for horses. Equine feces can hold different nutrients that were not absorbed but instead passed thru the horse's digestive system. If you notice a horse eating feces, you should further investigate their diet and parasite control. Coprophagy may be a natural occurrence, but you may not want your horse to lick you if he prefers to eat their poop.