The size, strength, and majesty of a horse is something to stand in awe of! Horses are such beautiful and strong creatures making it is hard to imagine anyone being fearful of a horse. However, it is important to actually prepare a child to not be afraid of, but have a healthy fear of horses. This is especially true when you have children underfoot.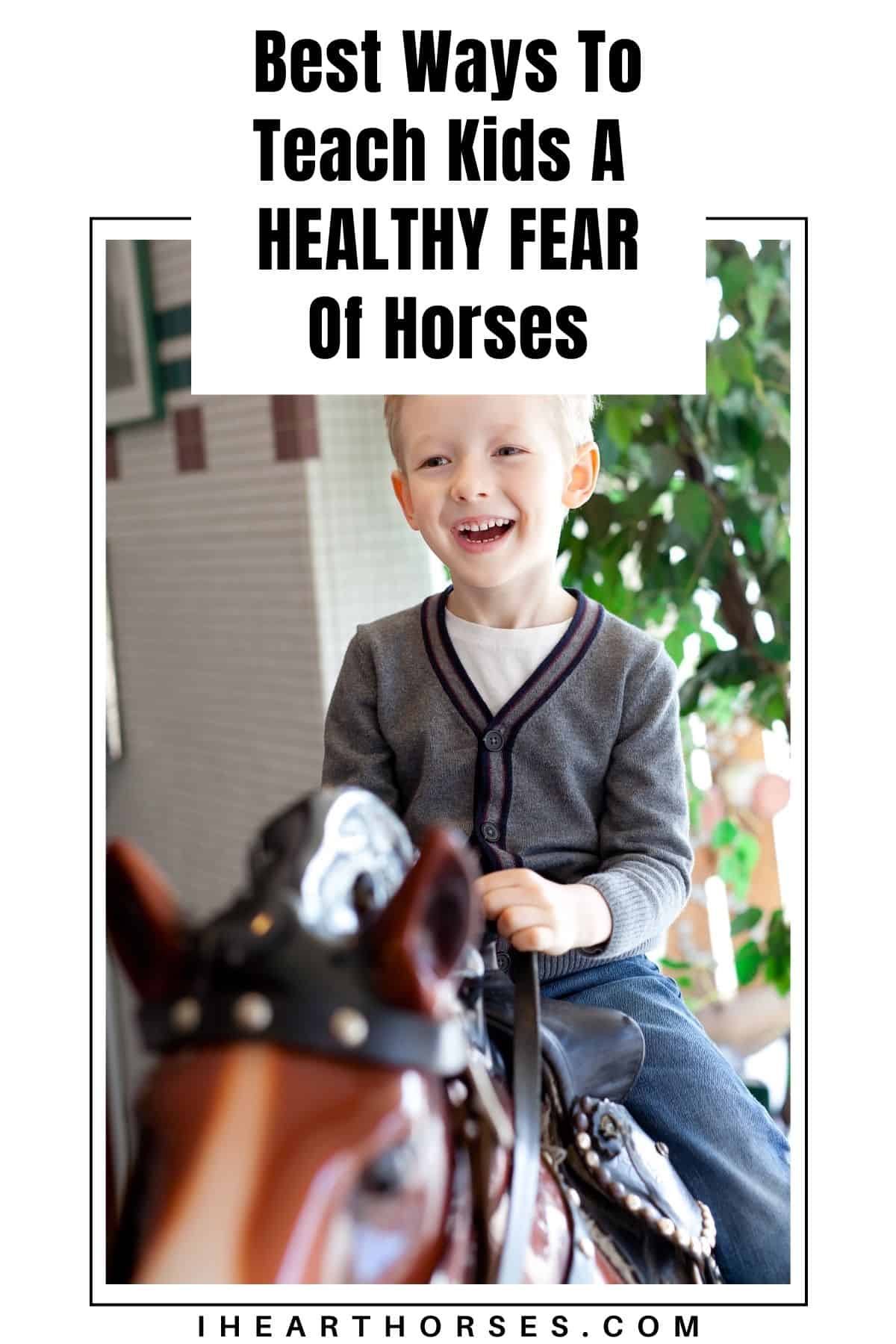 Ways to Teach Kids Healthy Fear of Horses
As a child, I loved horses and wasn't fearful of them at all. I was excited at every opportunity to ride, care for and be around horses. Even my dolls had toy horses!
On the other hand, my sister wasn't a fan of horses and had some cautious fear. While at a birthday party for a friend, she had an unpleasant experience with a horse and that turned a healthy fear into a terrifying fear. Thinking of my sister, I created a list of some ways to help teach kids a healthier fear of horses. Speaking of, she might benefit from these tips for an adult to get over a fear of horses.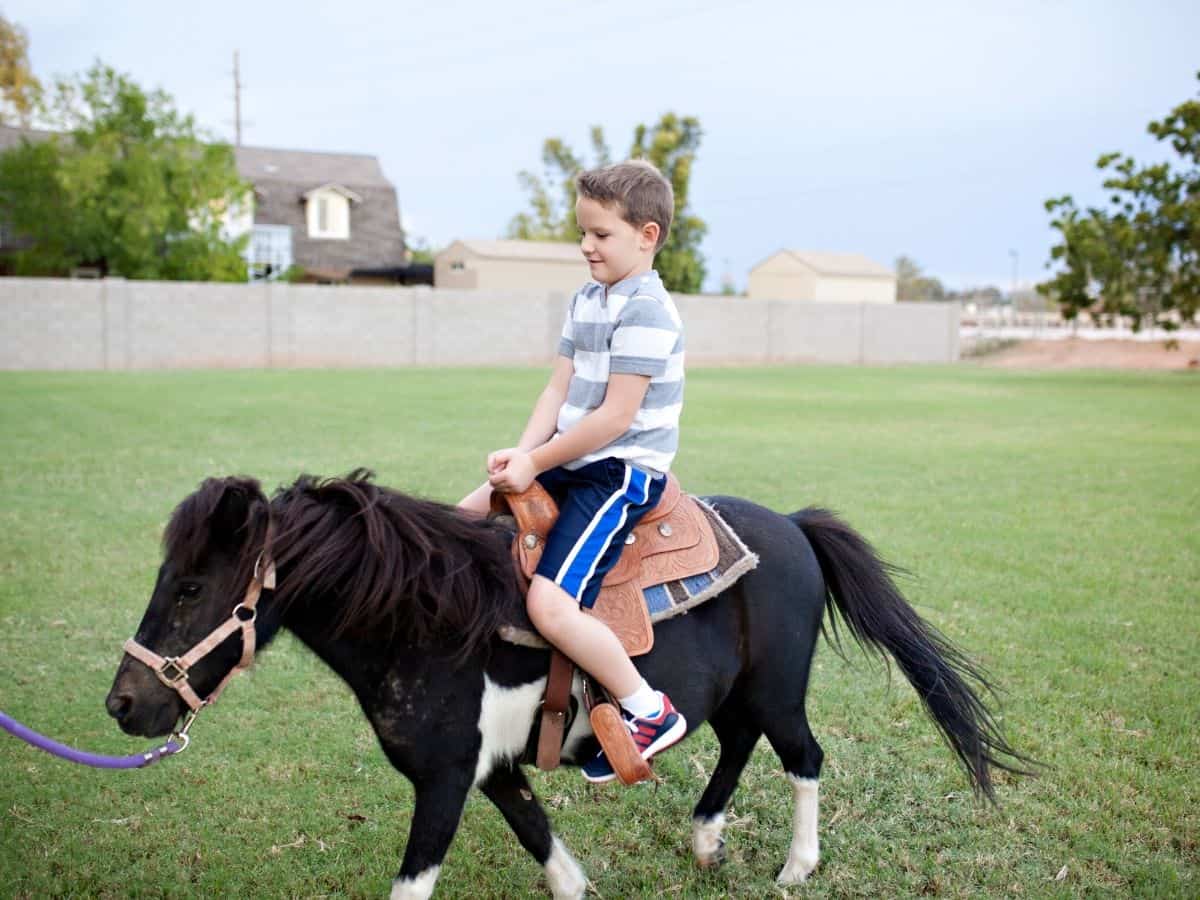 Have Them Around Horses from an Early Age
Start with having your child around horses at an early age. By having your child around horses consistently and early in their life, they can learn proper safety concerns and times to be cautious without feeling like every horse is a danger.
This is one of the best options and results in a deep love of brilliant animals but is understandable that it may not always be possible. Use this if you can, but don't worry if your child is older, there are other ways to make sure your child understands a healthy view of horses.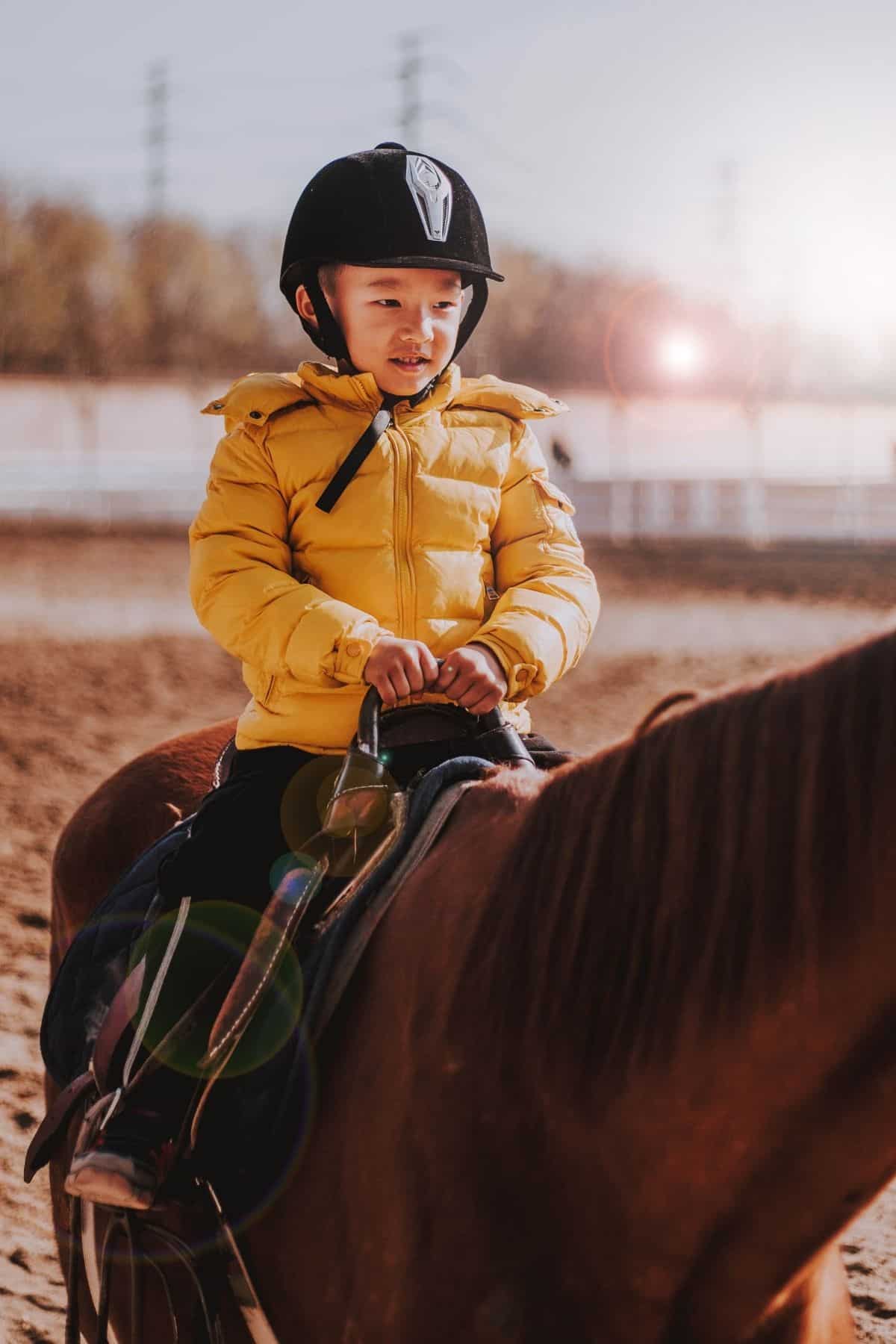 Help Them Have a Love and Respect for Horses
Second, on the list of ways you can help your horse understand and have a healthy fear of the horse, is to help them have a love and respect for horses. Below are some ways this can be done easily and naturally.
Encourage them to watch television shows or one of these movies for horse lovers to help get a bit more familiar with horses.
Buy or read them books about horses or with horses as the main character. Here is a list of great books for horse lovers to start with.
Get them a subscription to a magazine about horses. We shared a list of print magazines for horse lovers recently that is a great place to find some to try.
Visit a variety of horse farms, attend rodeos or horse shows. This will give your child an opportunity to see horses in a variety of settings and develop a love and respect for the capabilities of each type of horse.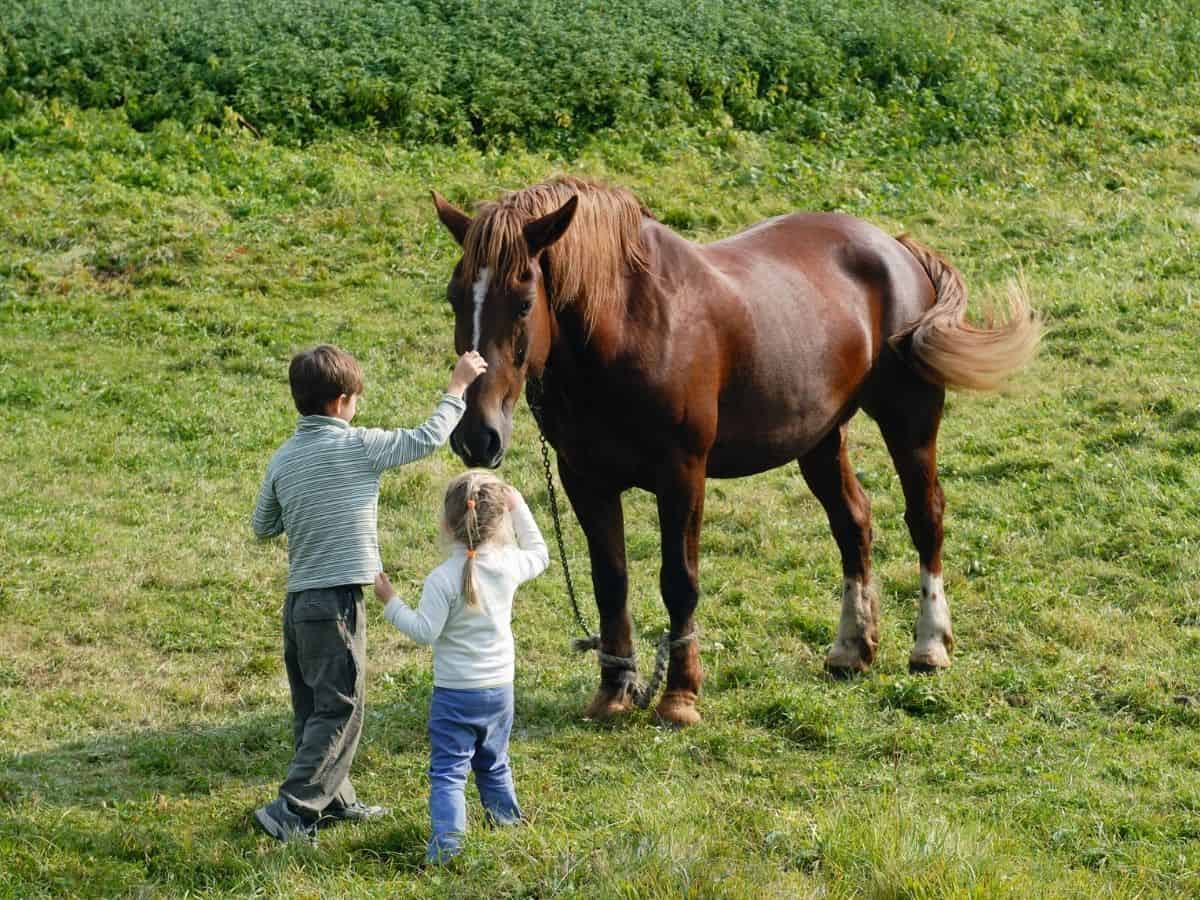 Don't Shame Them for Their Fear
Don't shame your child for their fear. Personally, I think this might be one of the most important ways to teach your child a healthy fear of horses. If they are afraid, it is okay. Just work with them to understand the fear and what part is healthy and what part is not rational or logical.
At the end of the day, we want our kids to love horses but more importantly, we want them to know they can trust us to not make fun of or shame them for a fear that is very real to them. Let your child know that you understand their fear and that fear of horses is a very normal reaction. Ask questions about what specifically they fear and listen to their answers. Work together to find ways to help them overcome their fear.
This is a great time to also mention that equine therapy for children and adults can be wonderful for many reasons, including fears. If nothing else works, look at a therapy center as they often have the most gentle horses and alternatives to help conquer fears.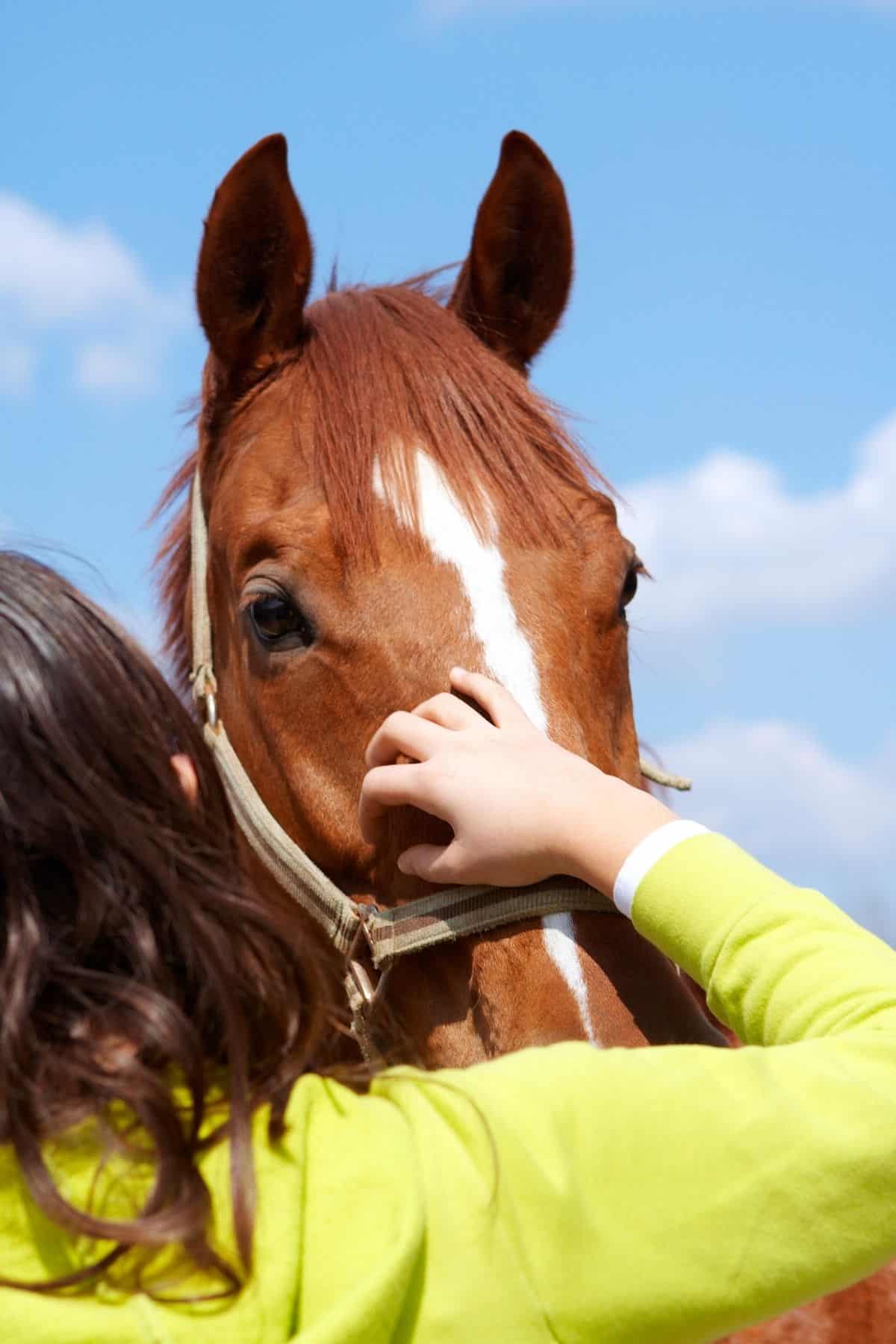 Let Them Work at Their Own Pace and Comfort Zone
I think we can all agree that children and adults alike do not like to be rushed or pushed outside their comfort zone. When a child is fearful of horses it is important to let them work at their own pace and within their own comfort zone.
Start out small by watching horses from a distance. As the child is willing pet the horse, brush the horse, feed the horse all while teaching the child the safest place to stand and do these things. Remember that building confidence can take time but once your child is ready it's a good idea to have them ride with you a few times before trying it on their own.
There may even be some ideas on this list of horse care hacks that will benefit you in this process. Sometimes, it's easier to work slowly than to try to rush something.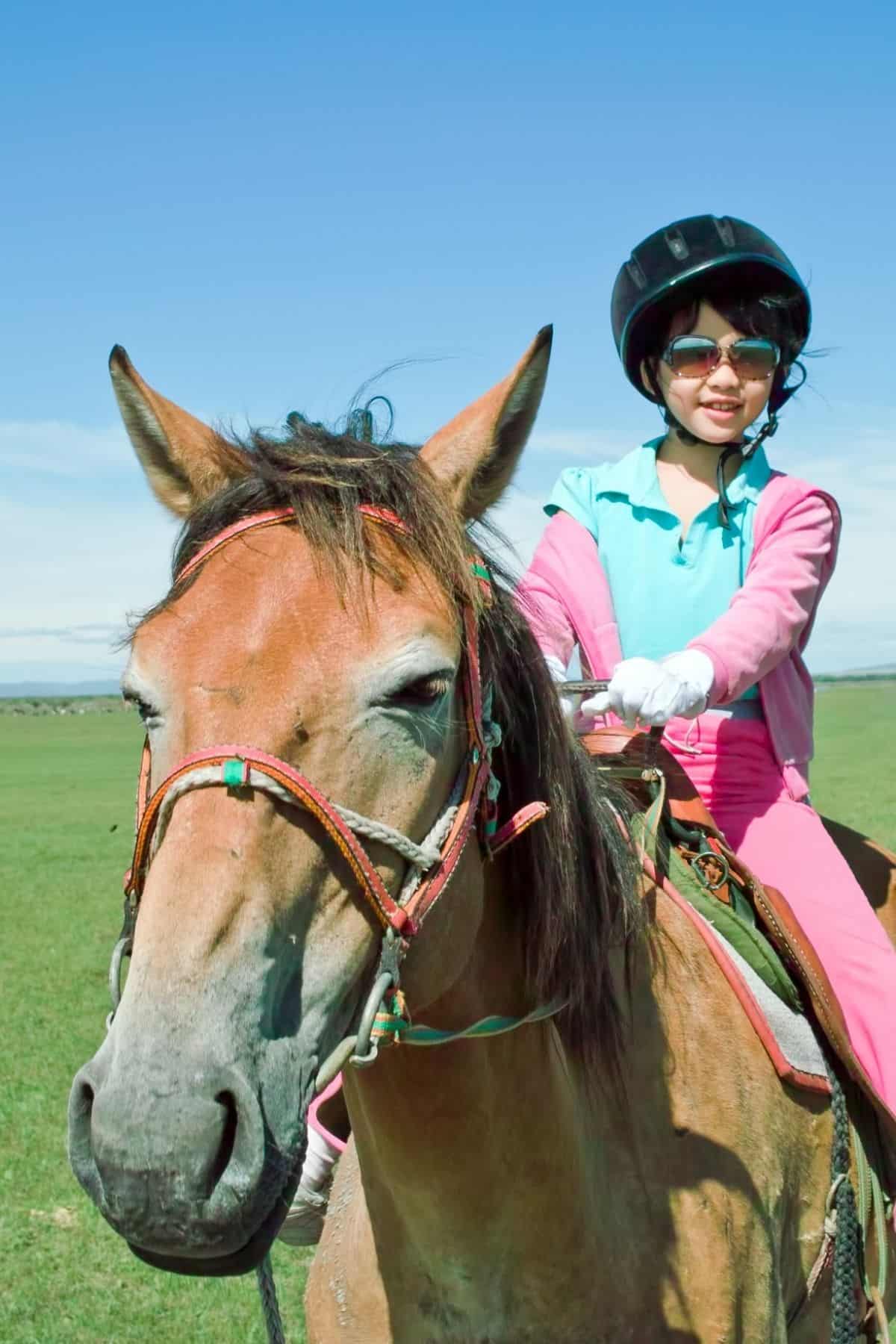 Utilize Local Programs and Clubs
Lastly on our list, is one of the most important. You should look into how you can utilize local programs and clubs. The 4-H program is a fantastic way to expose kids to horses and many other things farm and agriculture-related. You can find your local chapter by visiting their website at www.4Husa.org .
Another great organization is Pony Club. With local chapters, Pony Club is the largest equestrian educational organization in the world. In fact, in the past, we have shared about things learned at Pony Club and how great it can be. Sometimes, it's reaching out to the local options like this that can really make a difference.
There are also, as mentioned above, a variety of therapeutic riding clubs that may be beneficial as a way to work through the fear. Not only do they help with the emotional side of things, they definitely help with the knowledge and understanding of many aspects of horses and their capabilities.
More Tips for Horse Owners