It can be a stressful experience seeing your horse in pain or acting outside its normal personality. Horses are prone to many joint, ligament, and bone issues due to their large size, with DSLD being one of the possible prognoses.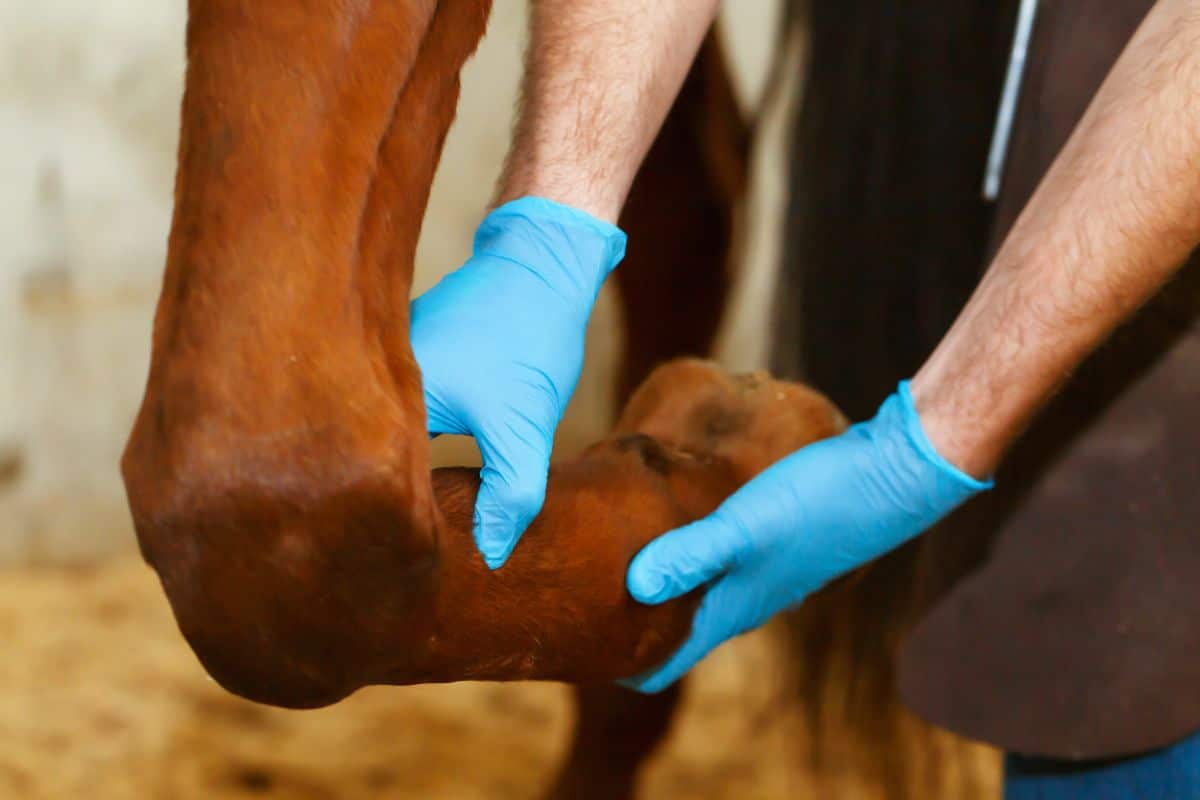 Let's look at what DSLD is and the symptoms of DSLD in horses you need to look out for throughout their lives.
Jump to:
What Is DSLD In Horses?
DSLD is Degenerative Suspensory Ligament Desmitis. It is essentially a disease that causes the connective tissue of a horse's limbs to break down. The degeneration is due to a build-up of proteoglycan in the ligaments, tendons, and collagen.
Proteoglycan is a type of protein that performs multiple duties in the body, including controlling swelling and hydration.
This degenerative disease is most prominent in the following horse breeds:
American Saddlebreds
American Quarter Horses
Arabians
Peruvian Pasos
Peruvian Paso Crosses
Thoroughbreds
A few European horse breeds
DSLD is similar to Ehlers-Danlos Syndrome (EDS) in humans. EDS is also a disease that affects connective tissues, including joints, skin, and the walls of your blood vessels. It causes hypermobility, loose joints and skin, fatigue, and more.
What Are the Causes of DSLD?
The cause of DSLD is unknown by many, and veterinarians and scientists are continuing research to figure out possible causes. However, it seems researchers find that the cause is genetics most of the time.
If a parent horse has the disease, their offspring will likely get it as well.
What Are DSLD Symptoms To Watch For?
Here are 11 symptoms of DSLD in horses. If you have one of the above horse breeds, you should always keep these symptoms in the back of your mind.
1. Lameness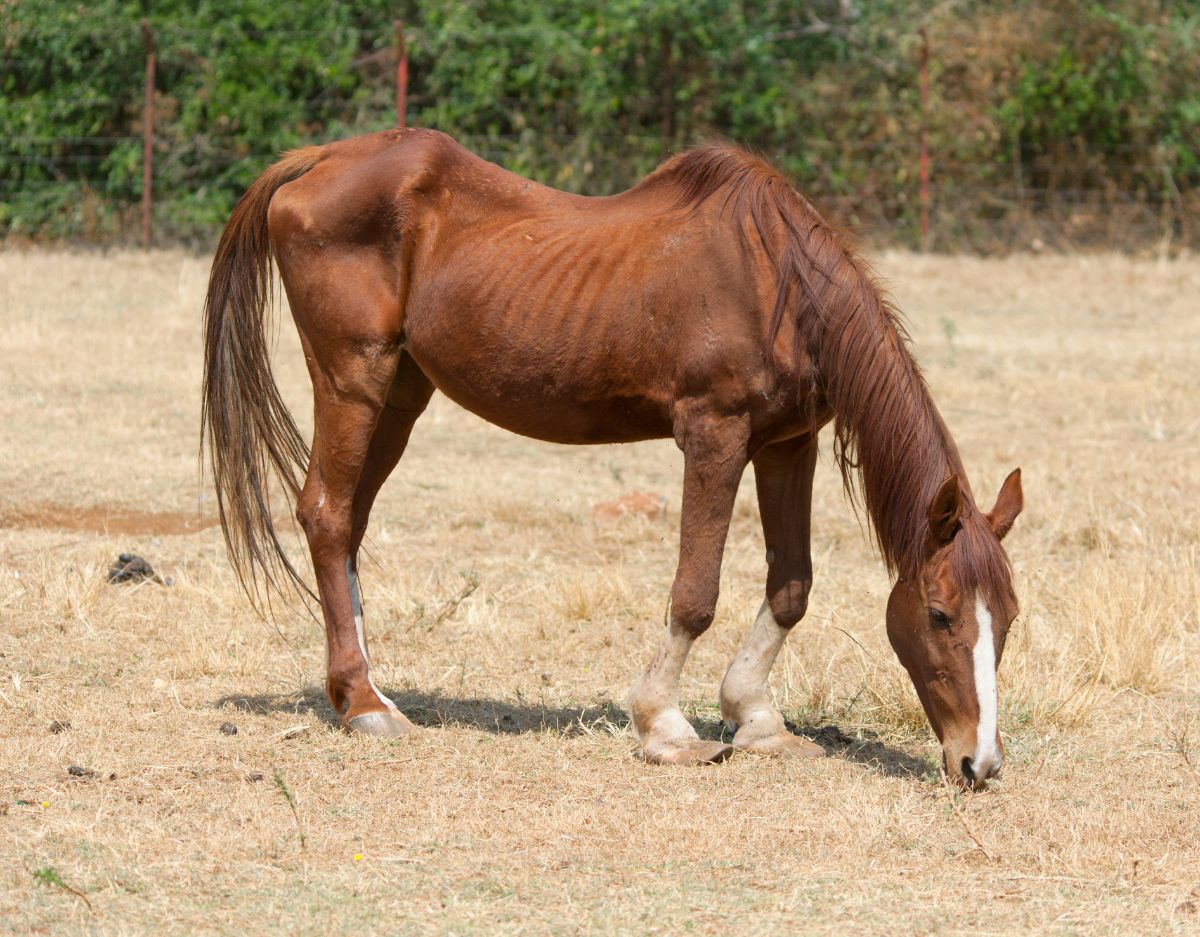 You can identify lameness if you see your horse favoring specific limbs over others. They might tend to lean on one side of their body rather than the other. Your horse might even have difficulty standing altogether.
Lameness might happen because your horse is in pain, and changing its stance can help relieve pressure on the affected limbs.
2. Walking Issues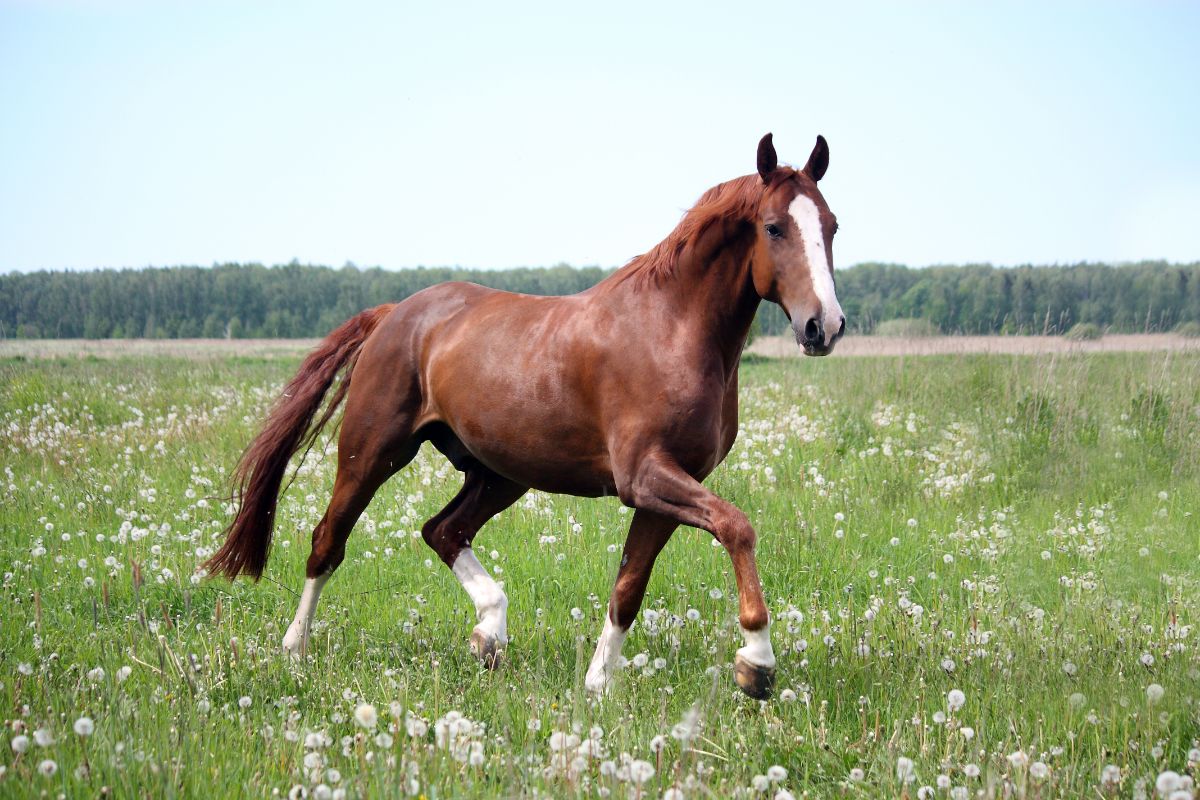 Along with lameness, you might see your horse having issues walking normally. This can come in the form of limping, balance issues, and falling over in extreme cases. The ligaments in their limbs are degenerating and swelling, making their legs weak and painful.
It might almost look like the horse has coordination issues, or it might have a neurological disorder. Many horse owners mistake it for something neurological, but DSLD is usually the answer.
3. Tripping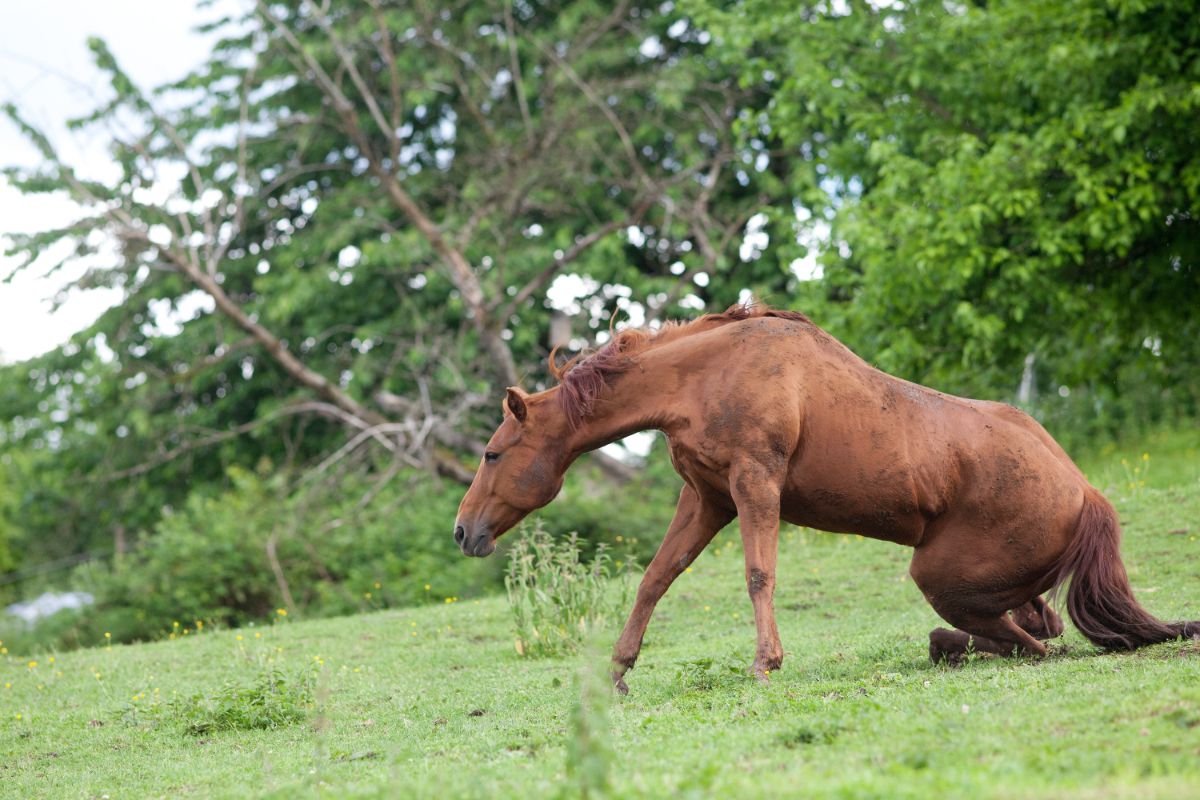 Tripping is one of the more subtle symptoms of DSLD in horses. The disease can make your horse seem more clumsy than usual, as it'll look like they're constantly tripping over nothing or their hooves.
Your horse might also not be able to lift their hooves completely off the ground when walking due to pain and decaying of their connective tissues. The inability to lift their feet can cause them to stumble over themselves and even fall to the ground if they trip or stumble hard enough.
4. Constant Shifting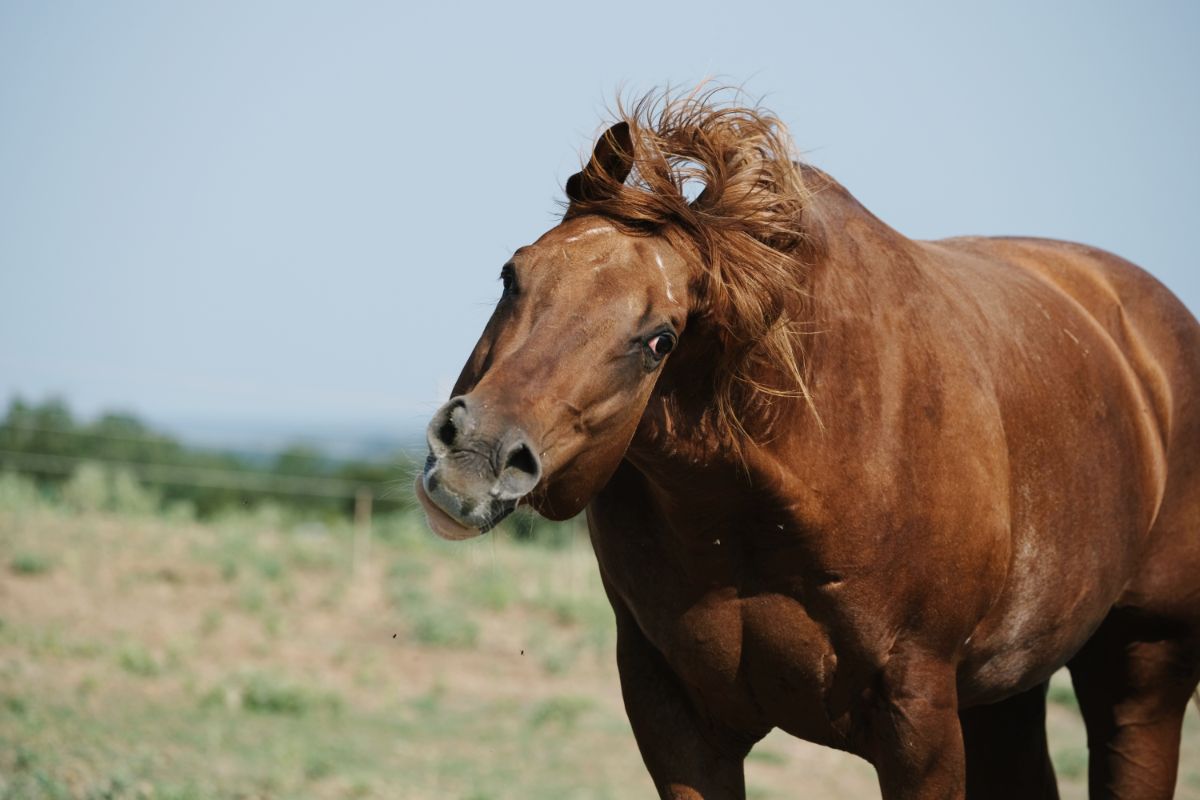 If your horse is hanging out in their pasture or stall, take a look at it for a few minutes to examine how it shifts its weight. Horses with DSLD tend to shift their weight often due to uncomfortableness and pain.
Normal horses and humans alike will shift their stance every once in a while. However, if you see them doing it multiple times in one minute, this could be an indicator that your horse might be suffering from DSLD or another issue.
5. Lying Down Often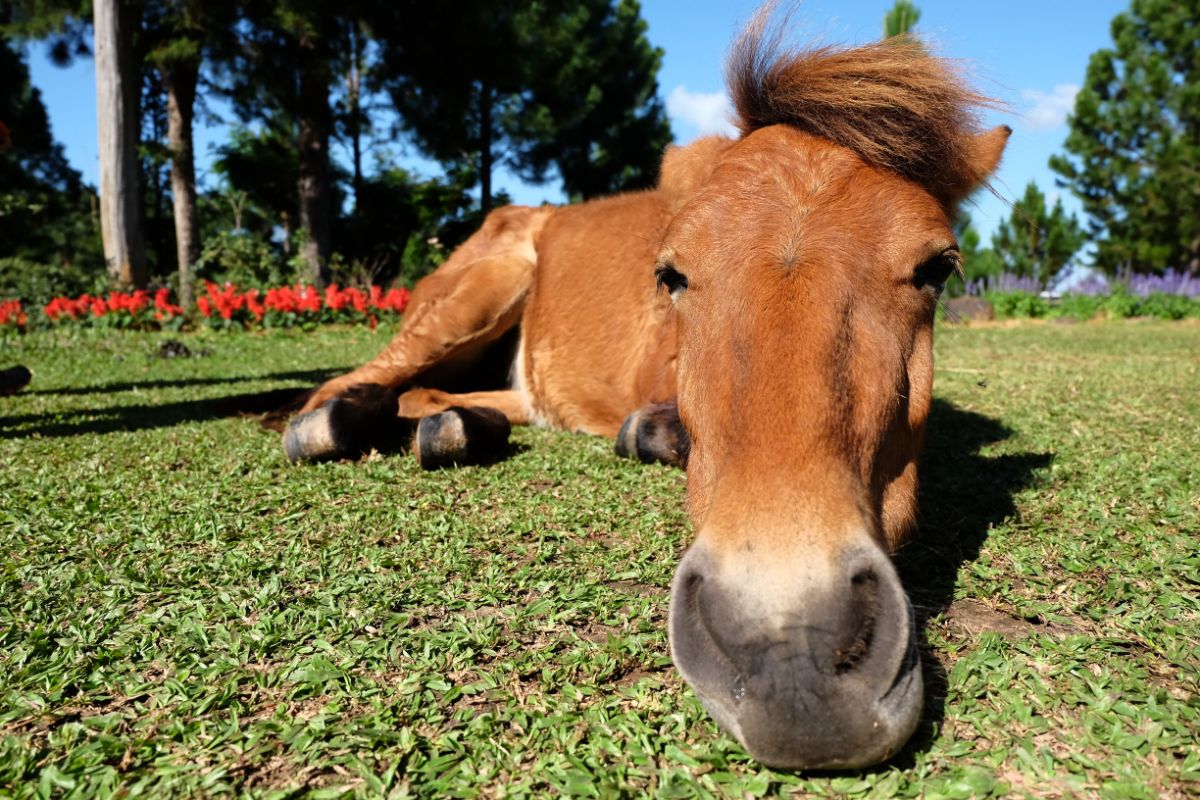 Horses typically lie down for up to three hours each day at a maximum. They'll only do this to get a little deep sleep, as horses usually sleep standing up. Lying down isn't typically a problem, but if they do it too often or for long periods, this can be an issue.
If your horse is in pain due to DSLD, they might resort to lying down often to relieve pressure from their joints and ligaments.
When horses lie down too long, it can affect their blood flow to vital organs like the heart. So, if you notice this behavior, call your vet to come to assess the horse.
6. Swelling of Fetlocks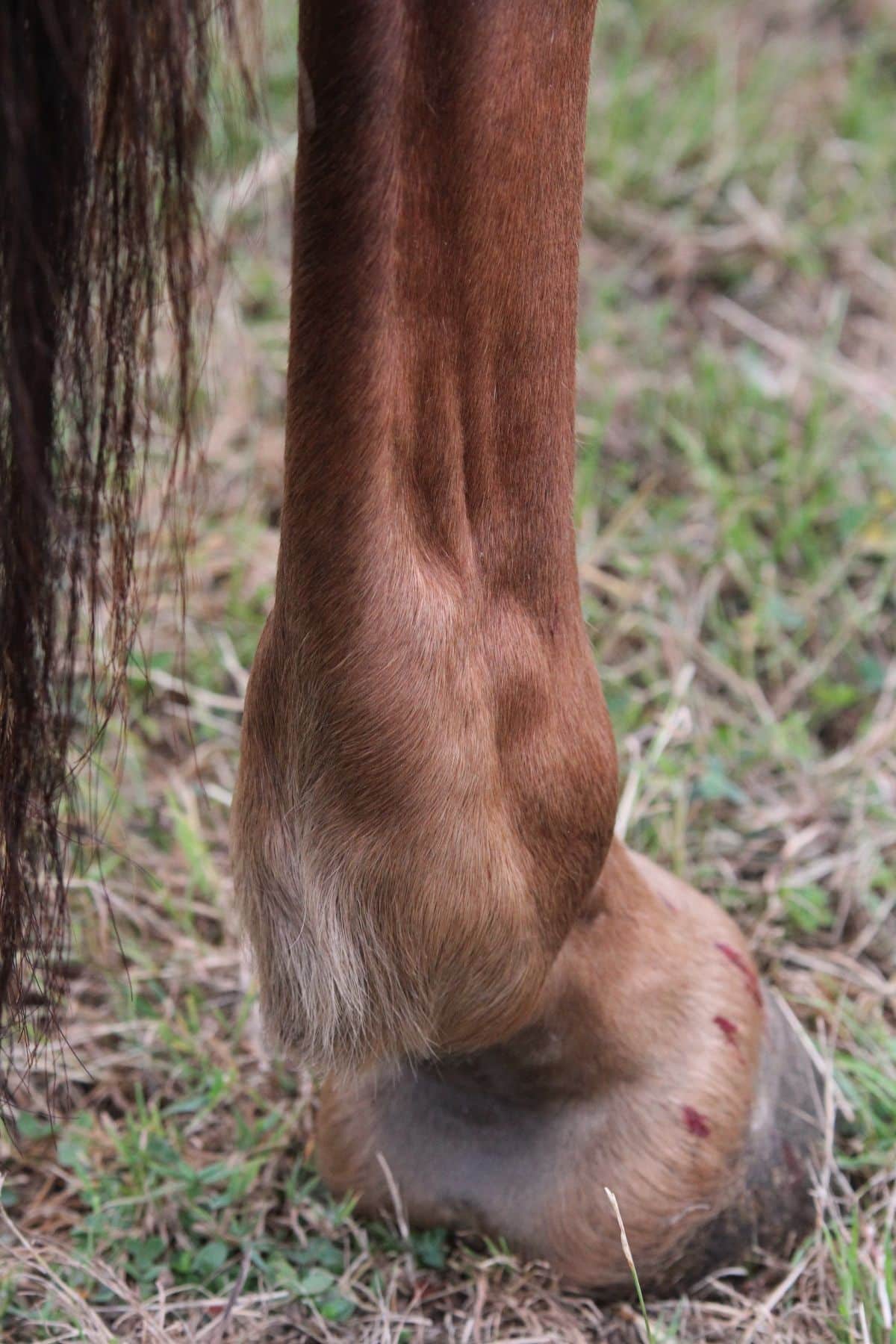 The fetlocks are essentially the ankles of a horse, which contain important joints and bones to help support the horse's weight.
If your horse has DSLD, the fetlocks can swell and feel hot to the touch. The hotness is typically from extra blood flow and an increase in white blood cells that try to fix the problem.
While swollen fetlocks can be from overworking the joints due to running too fast, it can be a clear indicator of DSLD. Swelling from DSLD typically affects at least two limbs at a time rather than just one.
7. Changes In Behavior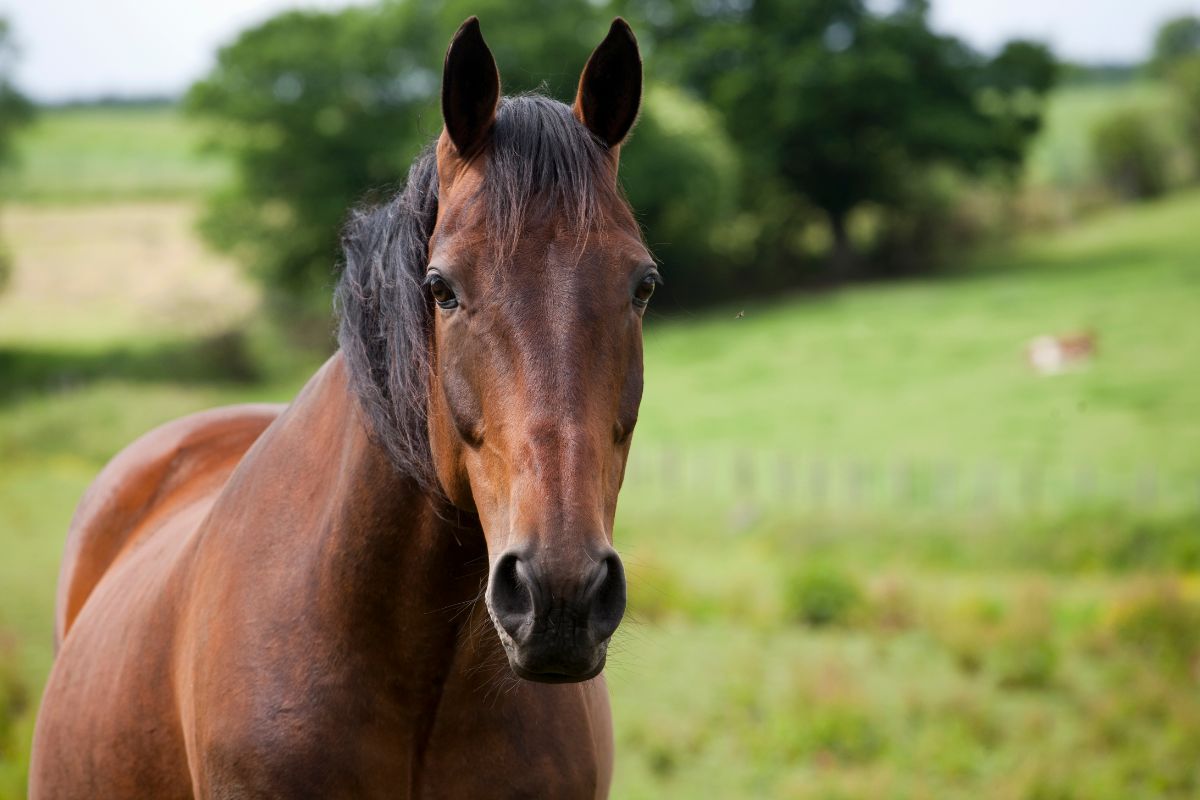 If your normally happy and loving horse turns into a mean horse that doesn't allow you to touch him, this is typically a sign that your horse is in pain.
They'll typically act irritable and won't want to do their usual activities. Their eating and drinking habits might even change due to the extent of the pain.
While irritable behavior due to pain doesn't always mean DSLD, it could indicate the disease if you notice it, along with other symptoms on this list.
8. Sitting on Objects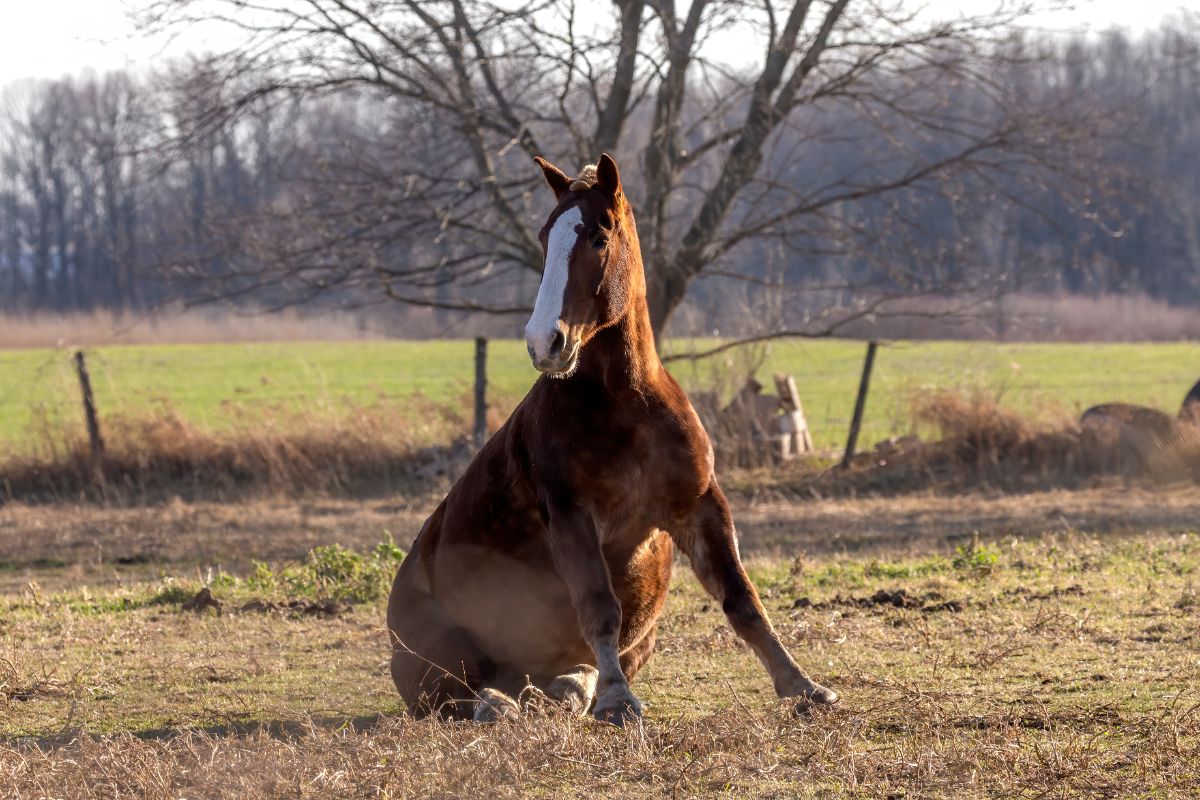 Instead of lying down to relieve pressure and pain, a horse with DSLD might attempt to sit and lean on objects in their pasture or stall. These can include things such as the following:
Buckets
Fences
Feeding and water troughs
Walls
Boulders
Any other large object in their living space
9. Hole Digging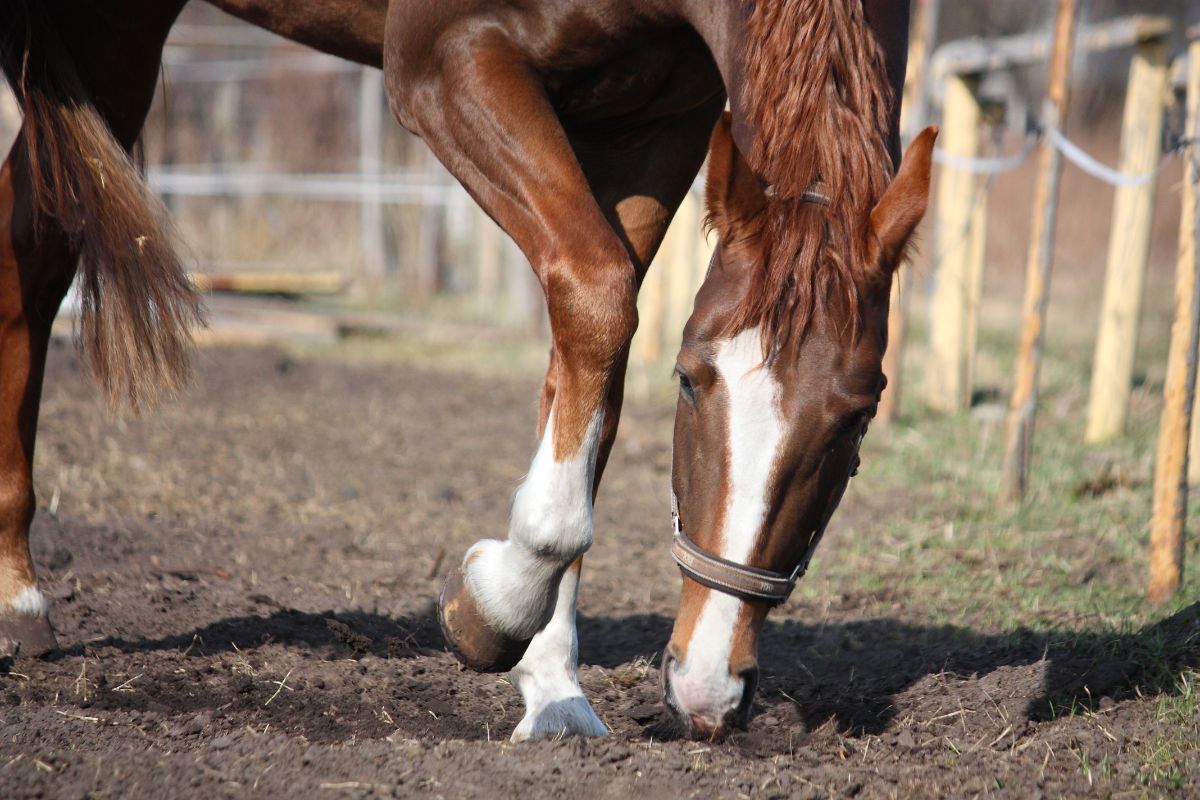 Horses without DSLD might dig holes for fun or if they feel stressed out. So, hole digging isn't always something health-related, which is why this is a subtle symptom of DSLD in horses that often goes unnoticed.
How your horse treats the hole is where you need to pay attention. Horses with DSLD tend to keep the toes of their hooves angled downward into the hole. Doing this can stretch out their fetlocks, joints, and ligaments, ultimately helping with pressure and pain.
10. Stomping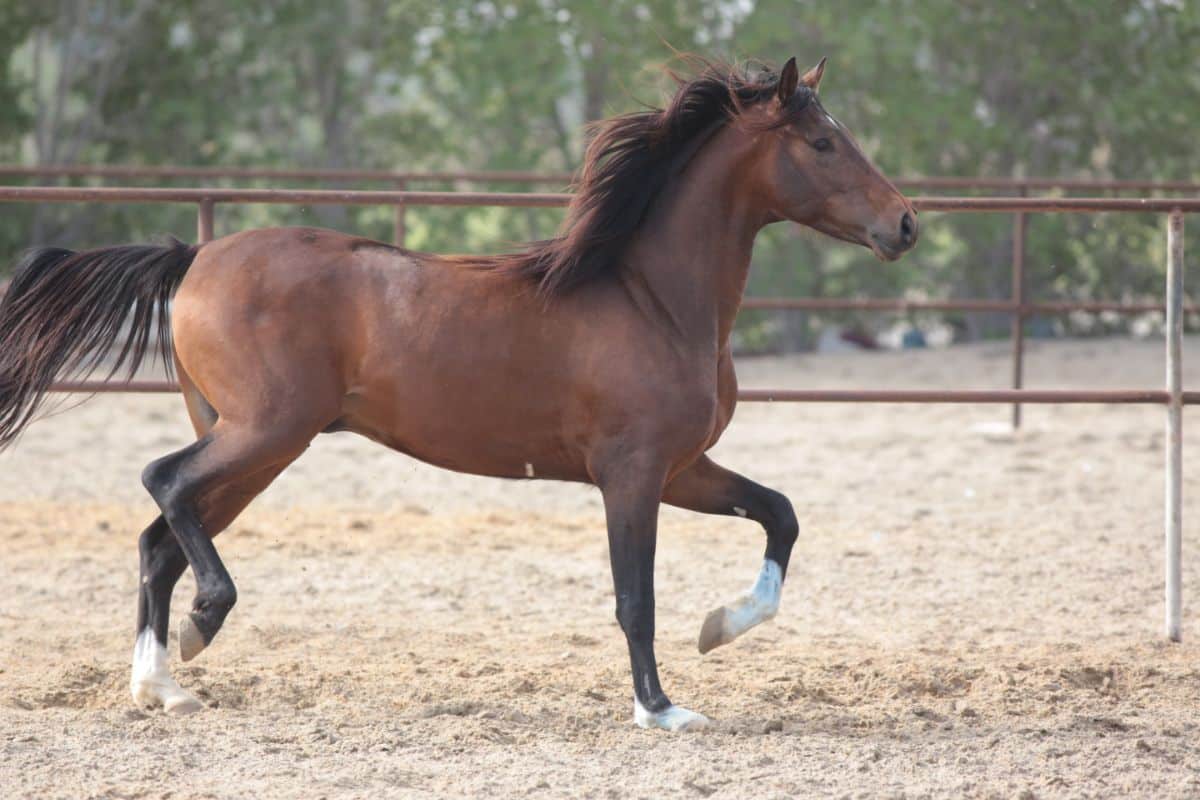 You probably notice that your horse is always stomping around, especially in the summer, because of annoying flies. However, if you see this behavior without the presence of flies, this can show that your horse might feel irritated with limb pain.
Pawing on the ground with their hooves is another sign of limb irritation. It's their way of dealing with the pain and attempting to bear through it. So, if you see stomping and pawing without any physical irritating factors, it could be a sign of DSLD internal pain.
11. Dropping of the Fetlocks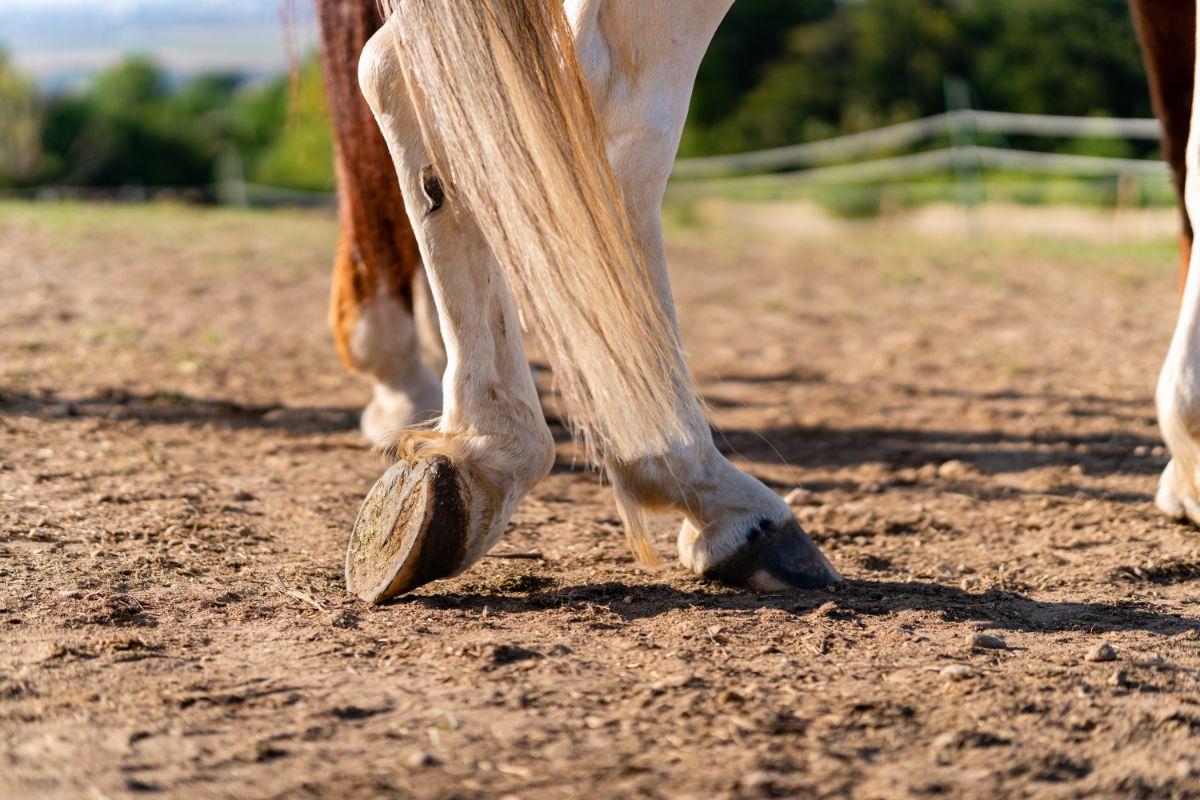 DSLD can be hard to diagnose in the beginning due to some of the symptoms of DSLD in horses being subtle. However, as the disease progresses, it can lead to the dropping of their fetlocks.
When a horse's fetlocks drop, they almost look parallel to the ground. The lower half of the horse's leg might look like an "L" due to weakness in the joints, ligaments, and tendons within a horse's fetlocks. It's almost like they give out on your horse.
Your horse can usually still stand and walk with dropped fetlocks, but it will be painful, and they won't be able to move normally. Dropped fetlocks exacerbate lameness, tripping, and other symptoms of DSLD in horses on this list.
Are There Treatments For DSLD?
Currently, there aren't any cures out there that can rid your horse of this degenerative disease. However, there are treatments to help with pain and symptoms and keep the disease from progressing too quickly.
Some options include the following:
Resting intervals (resting for too long can do more damage)
A halt in activities like riding or any training
Anti-inflammatory medications
Therapeutic horseshoes
Some light, daily exercise
Health supplements along with a healthy diet
Keeping up with vet appointments can also help you get an idea of how fast the disease is progressing. Your veterinarian might also recommend pain treatments that they think your horse can specifically benefit from.
Concluding Thoughts
DSLD can be a debilitating disease that can wreak havoc on your horse's connective tissues. In the beginning stages, it'll be hard to diagnose, as the symptoms won't be prominent.
Use this list of symptoms of DSLD in horses to help you recognize if something is wrong and talk to your vet about pain management options. With ongoing research, hopefully, a cure will become available.