As horse enthusiasts, we want to protect our horses from as many illnesses as possible. Vaccines and vaccination programs for horses play a role in the overall health and wellness of your horse. As you prepare to care for your horse, you will also need to consider things like vaccines, and which ones are beneficial for your horse.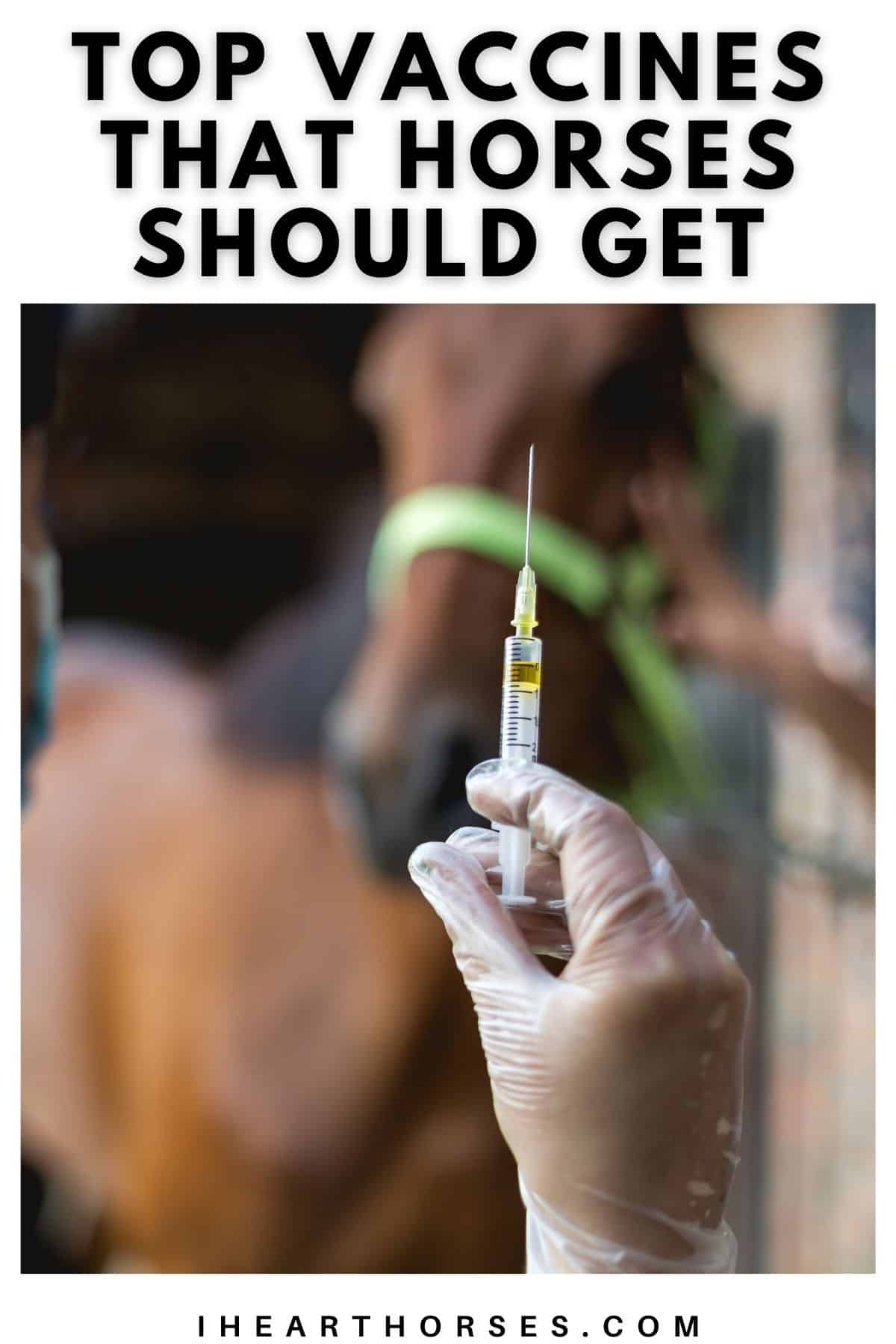 Top Vaccines Every Horse Owner Should Consider
When I first became interested in horses, I was surprised at how many vaccines are available to aid in eliminating common illnesses in horses. From my research, I developed a list of what experts consider the top vaccines that every horse should get. Below you will find not only the vaccines, but explanations of their use, and what you can expect from them.
Along with vaccines, I have found there are different kinds of worms in horses that you need to be aware of and treat your horse for. You may also want to have a better idea of what horse medications to keep in your barn, as well as what vitamins horses need. There is even a whole post about what a vet tech keeps in their bag. These little things can make it easier for you to take care of your horse between veterinarian visits.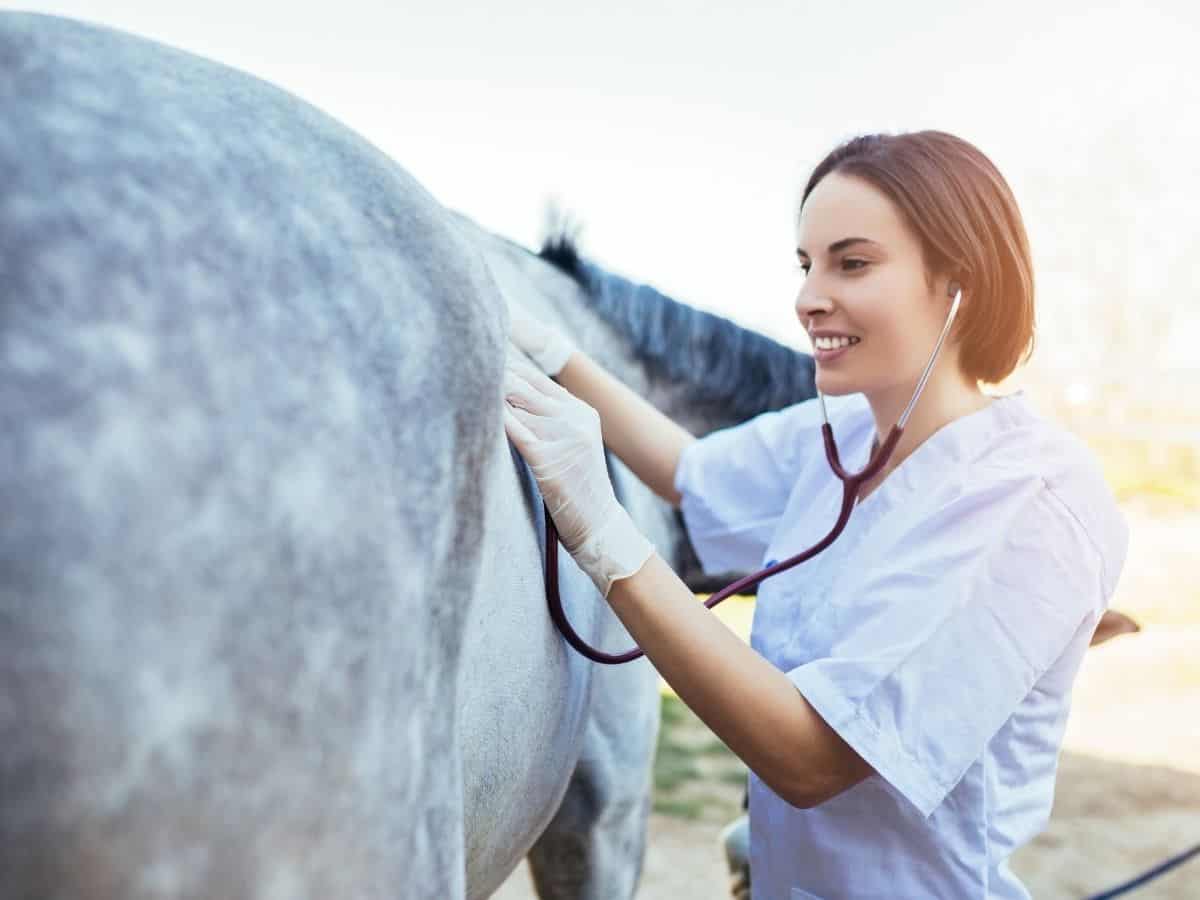 Tetanus
The first vaccine every horse should receive, at least in my opinion, is the tetanus vaccine. Like humans, horses can be accident-prone and easily wounded. Tetanus usually occurs when a wound comes in contact with soil contaminated with tetanus.
Since tetanus lives all over the world it is important to protect our horses, especially given the many odds and ends in the barn, and around a farm, that some may come in contact with at times.
It is recommended that this vaccine is given once a year. When considering this vaccine seek your veterinarian's advice on the proper protocol for foals. And keep in mind that even if your horse is vaccinated, they may need a tetanus booster if they suffer a serious wound.
If you have an injured horse, you may want to look into these ways to make your horse more comfortable. Sometimes, it is the little things we do that can help them recover faster.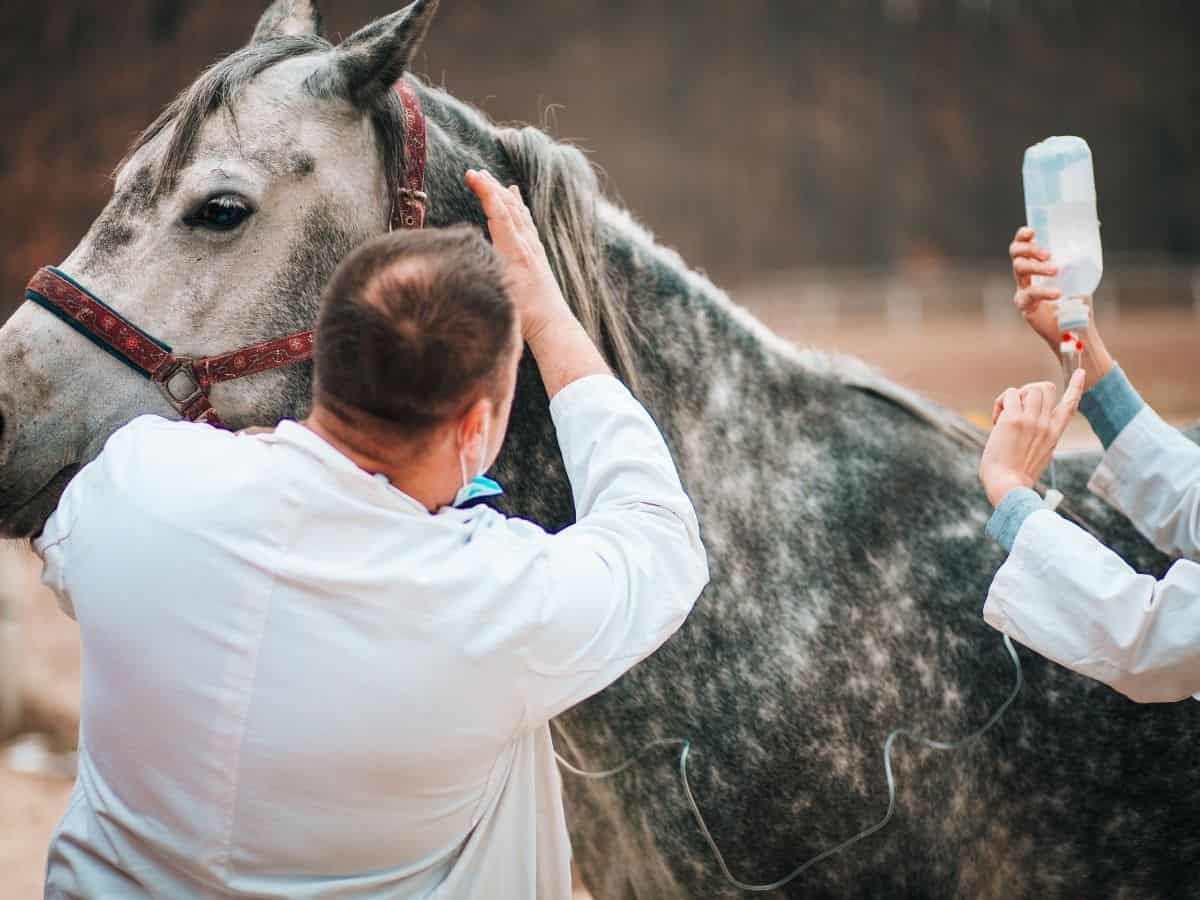 Equine Herpesvirus 1 and 4 (Rhinopneumonitis)
Equine Herpesvirus 1(EHV-1) and 4 (EHV-4) are two more important vaccinations you should consider. According to the Merck Veterinary Manual, RHV-4 virus is the primary cause of respiratory infections, especially in young horses. RHV-1 is the primary cause of spontaneous abortion and neurologic disease in horses.
The vaccine or combinations of the two vaccines, work well to prevent abortion and respiratory disease, however, currently, it does not prevent neurologic disease. Talk with your veterinarian to ensure that you have your horse protected with the proper protocol.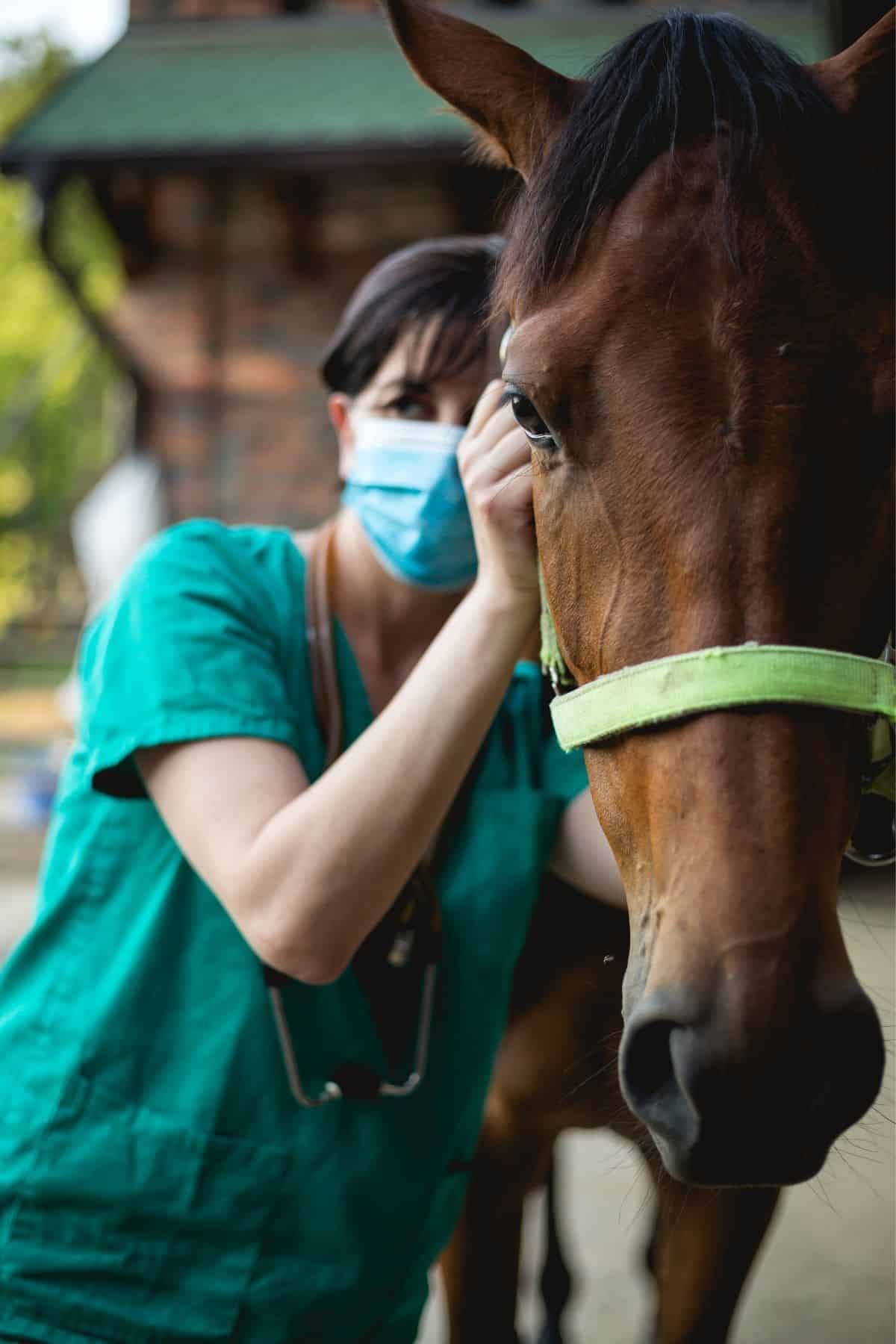 Rabies
Since rabies is fatal and also poses a health risk to you as you care for your infected horse, it is important to keep your horse vaccinated for Rabies. While you are likely fairly alert to any animals in the area exhibiting symptoms, the main way to prevent rabies in your horse is to vaccinate.
The protocol involves adult horses being vaccinated yearly, broodmares vaccinated 4-6 weeks before foaling and foals should receive the vaccine at 6, 7, and 12 months of age. Pay close attention if your horse loses the ability to eat or drink or becomes disoriented or loses coordination as these are all symptoms of rabies.
Of course, some of the eating and drinking issues can be related to strangles in horses, so don't jump immediately to rabies, but always keep yourself aware and watching for changes in their habits.
Influenza
Another recommended vaccination is the influenza vaccine. Influenza in horses is a respiratory disease that is highly contagious. This vaccine is recommended for all horses but especially those horses that are often around other horses such as at races, at shows, or in shipping.
Generally, these overly exposed horses are vaccinated every six months. Check with your vet for recommendations for young foals. It may seem like just a little cold to you, but influenza can be difficult and spread quickly among horses.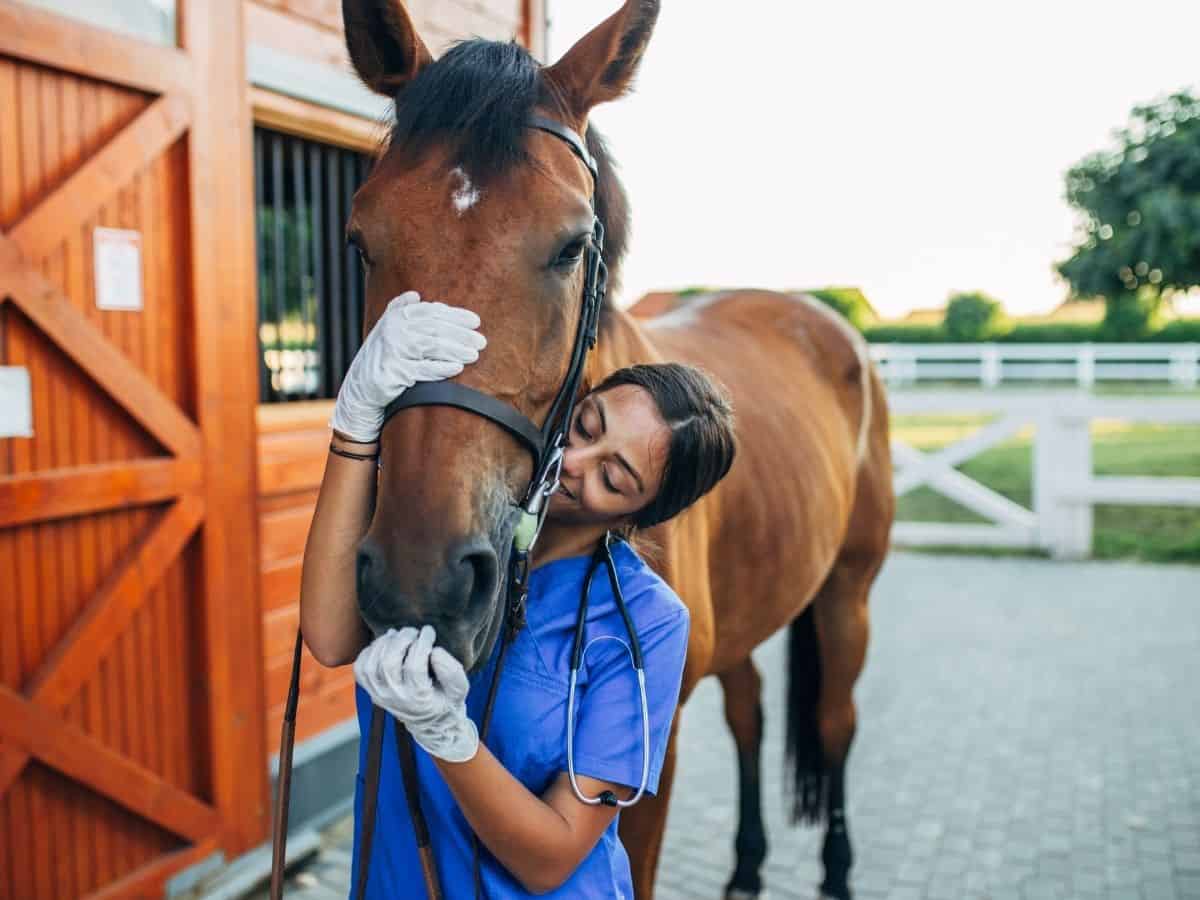 Botulism
Equine botulism spores are found in the soil and are resistant to light, drying or heat. Although botulism types A, B and C have been reported worldwide the bulk of cases are type B and C and occur in the Mid-Atlantic area of the United States. The good news is that adult horses seem to be protected well with the type B vaccine.
Botulism isn't just about canned goods gone bad. It occurs more often in equine situations than with humans, and it's important that you watch for issues and stay up to date on vaccinations.
Encephalitis
Encephalitis rounds out our list of the most important vaccines to consider. This one, in fact, is a problem that we have talked about in the past and feel pretty strongly about preventing. There is a full article on what you should know about equine encephalitis to read for better understanding.
Eastern (EEE), western (WEE) and Venezuelan (VEE) are all versions of encephalitis and based on the area of origin. Unfortunately, EEE, which is widely found in the eastern USA, Central America, South America, and eastern Canada, is nearly always fatal with death occurring within 36-48 hours.
WEE, found in the western USA, is not as pathogenic as EEE and infected horses have a mortality rate of around 50%. Use of VEE vaccine is limited to horses that travel to the areas of Mexico, Central and South America. West Nile virus is a disease similar to the encephalitis viruses and the vaccine protocol is similar to that of EEE or WEE.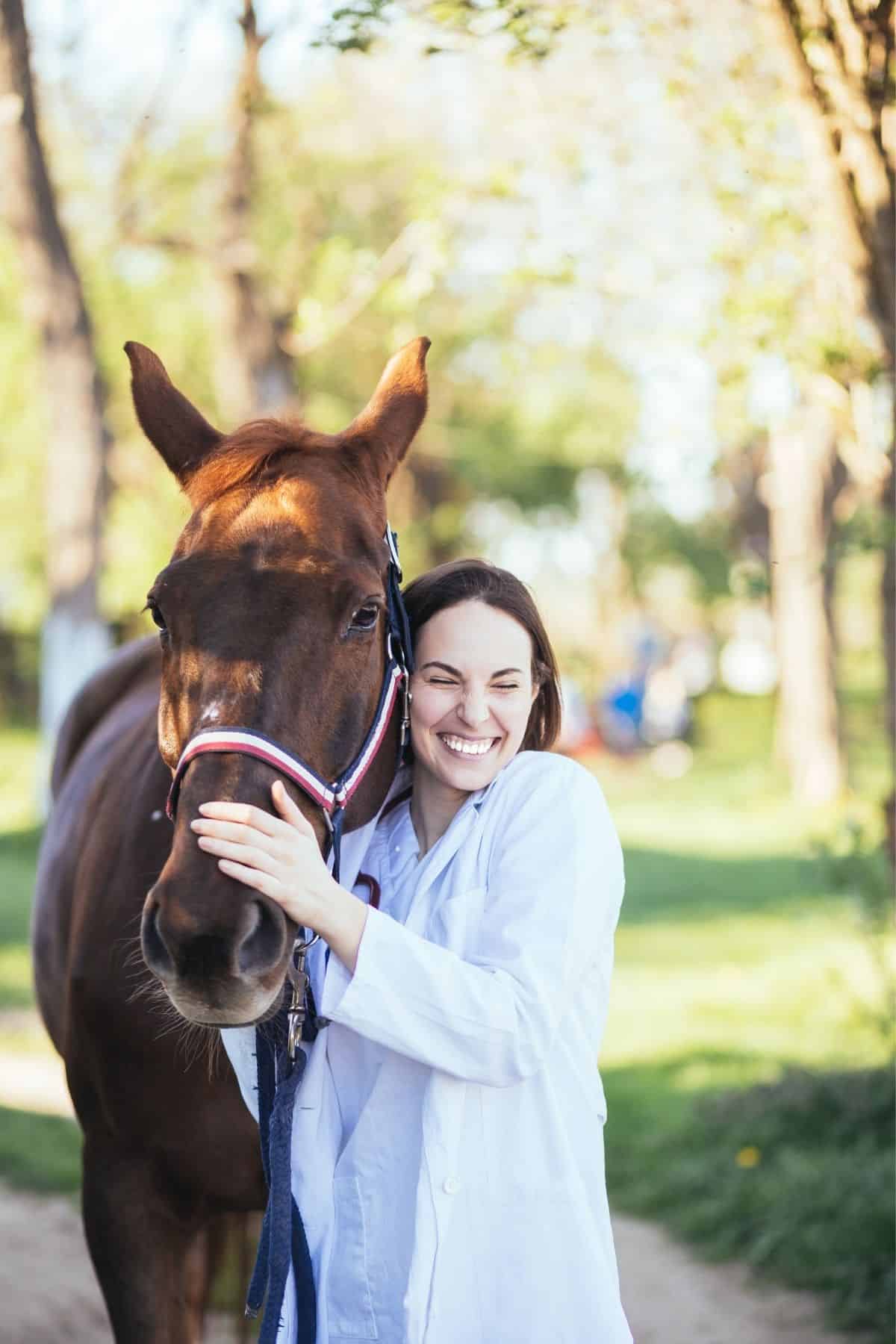 Prioritize Your Horse's Health
These are just a few of the vaccines available to help protect your horse. Hopefully, this list prompts you to talk with your veterinarian to find the vaccines best suited for your horse and the area in which you live. While not every horse gets the same things, it is important to understand the needs and general health concerns that proper vaccinations can be a part of preventing.
More Horse Health Care Tips