If your tack room looks like either a tornado or a cranky toddler recently rolled through, you're not alone. There are blankets and saddle pads thrown haphazard over every surface, and there isn't a single halter or lead rope that isn't part of a tangled mess. Add that to the remains of yesterday's on-the-go dinner, and you have yourself a verified disaster. A messy tack room isn't a surprise, but it's not doing you any favors. You can never find what you want, and you might even end up buying new things because you don't know what's buried beneath the mess.
If this sounds too close to home, it's time to get organized. Here are our best tips to get your messy tack room in order.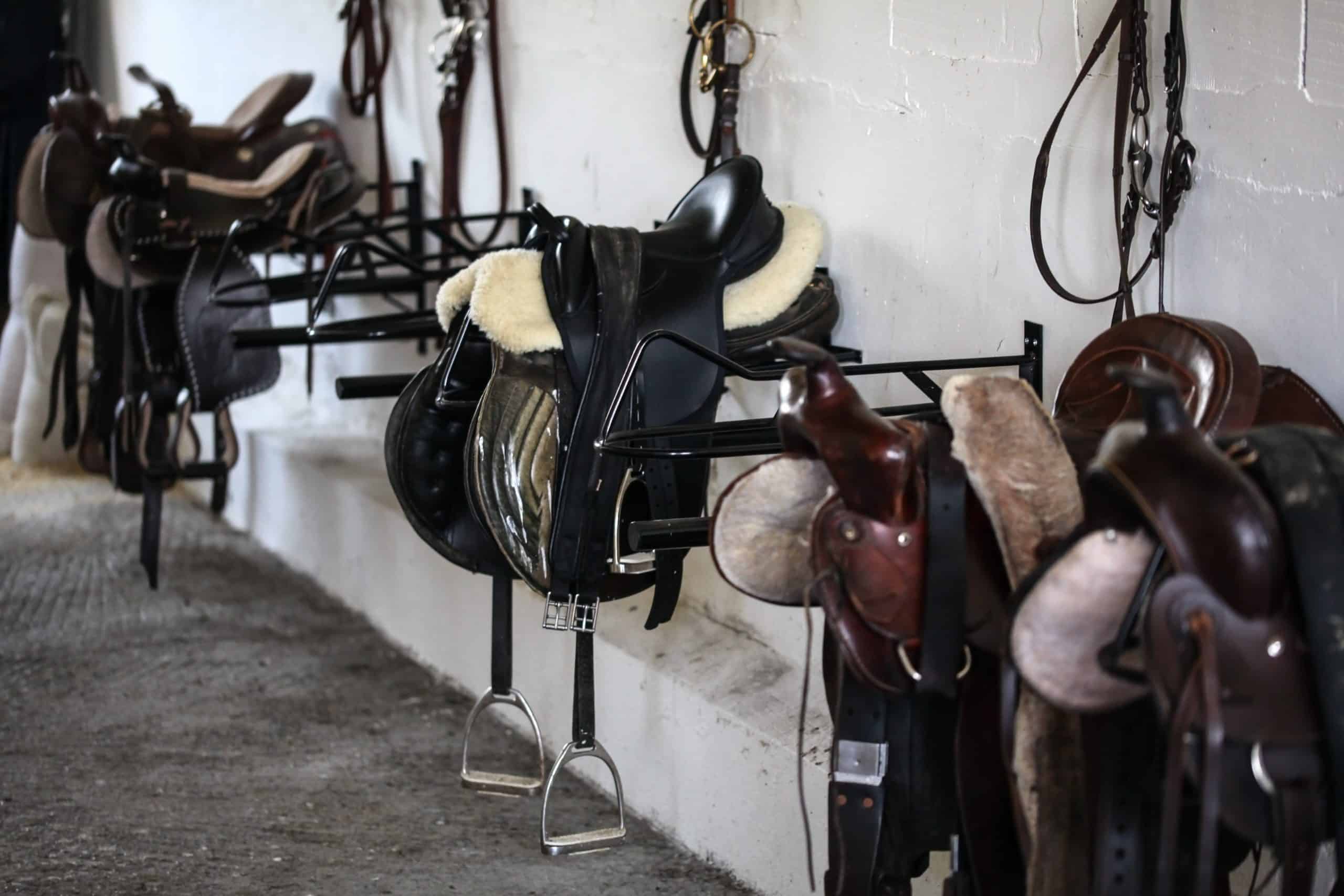 Maximize Wall Space
One of the best ways to organize your tack room is to maximize your use of the room's wall space. Hang saddle and bridle racks up on the wall so you don't depend on the portable saddle racks which take up floor space. Getting these items up and onto the walls will free up much of the room for additional storage.
You can also get things off the floor by installing a few wall-hanging cabinets. Old kitchen cabinets often find their way to yard sales, auctions, and even the side of the road ready for trash day. Finding an old cabinet worthy of recycling is like hitting a gold mine for tack room organization. If you aren't having luck finding any, post a want ad on a Facebook sales page.
Hang Extra Hooks
Once you have your bridles and saddles hanging on the wall, install even more hooks. There's no such thing as having too many hooks. Trust us, if they're there, you'll find a use for them. Just think about all your halters, spare bits, crops, spare reins, and girths. And that's only the stuff you use for your horse.
You can also use hooks for your jacket, a backup sweatshirt, your helmets, and your collection of hats. These extra hooks can be a great way to get your room organized and will replace the mountain of stuff you stack on every available surface.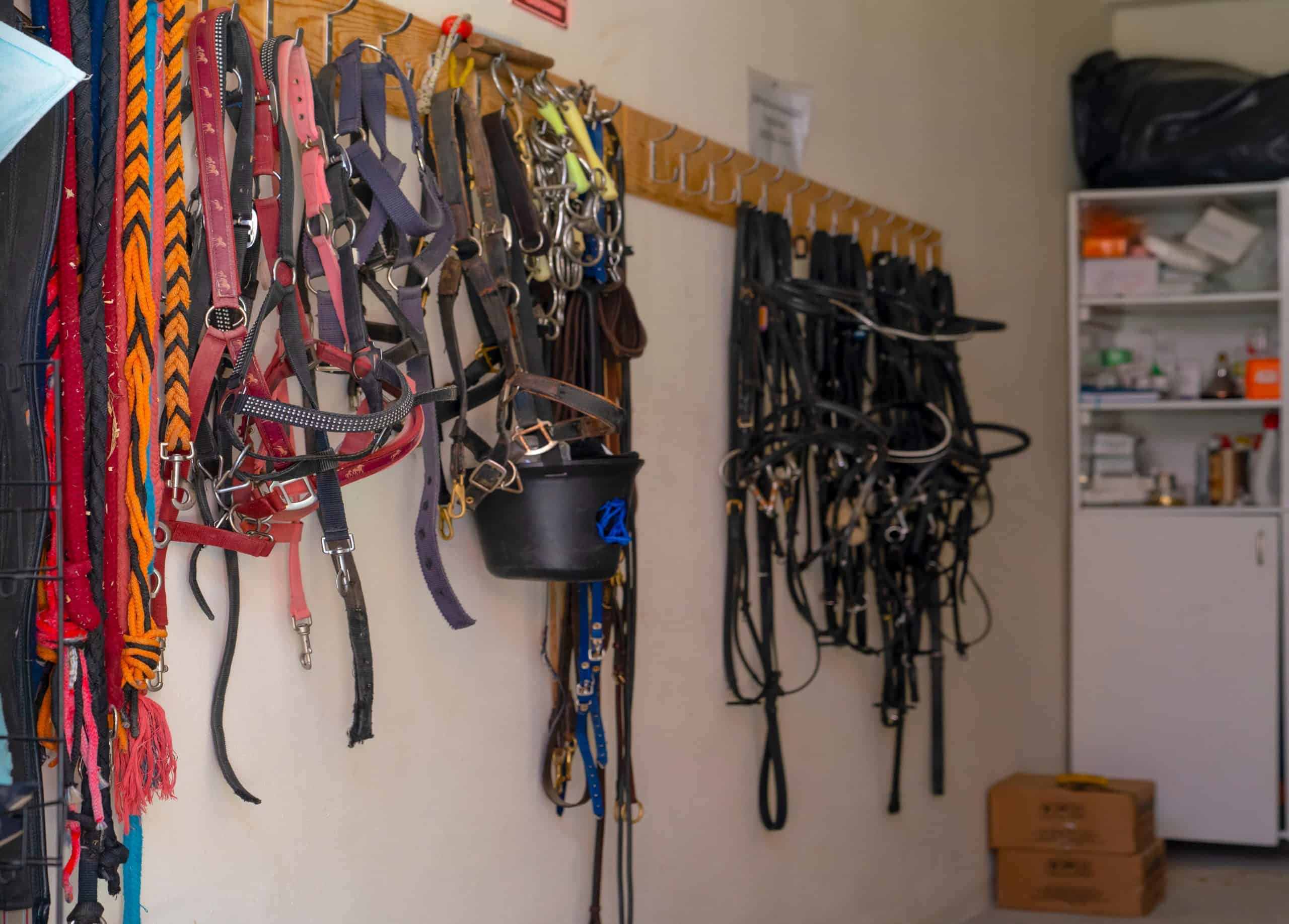 Use Over The Door Organizers
Are you familiar with the back of the wall storage hangers which are intended for storing shoes or other small items? They have rows of pouches and are usually designed to hang on the backside of a closet door. Hanging one of these storage units from the back of your tack room door is the perfect way to store random small items. Extra brushes, leg boots, and spray bottles will all fit in those little pouches.
You could even use them for lip balm, pens, or notepads. Get the kind with clear pouches so you can easily find exactly what you're looking for.
Pack Blankets Away
Having horse blankets spread out across your tack room will only make the room look messier. If you need to store blankets in your tack room, then store them away in plastic tubs or tack trunks to minimize the space that they take up. You really only need blankets for part of the year, and the rest of the time, they just take up space. Take the time to find them a permanent home that's organized and out of the way.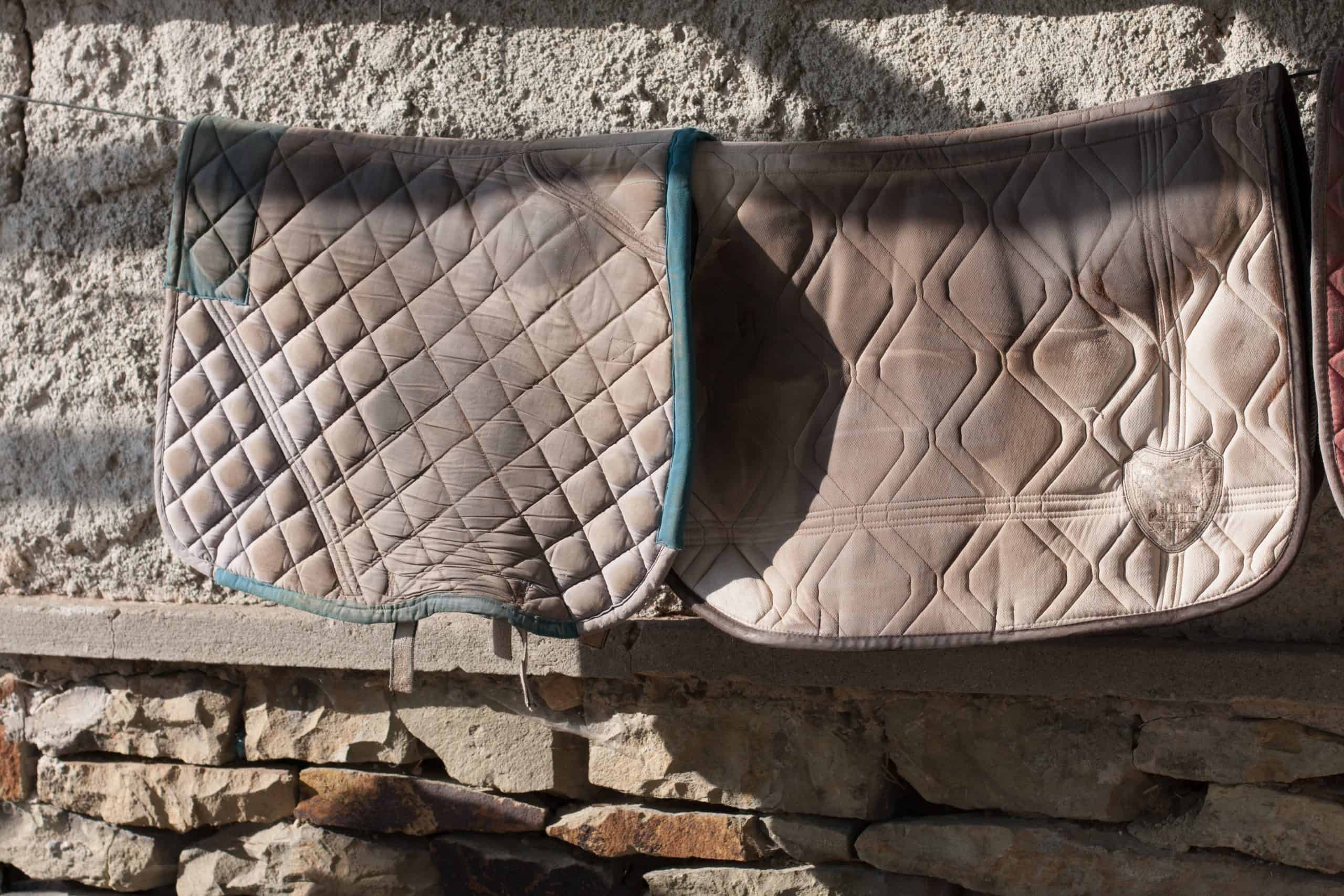 When you no longer need your blankets, wash and fold them neatly. Put them into mouse-proof containers and give them a clear label. The same goes for fly sheets. You might need to invest in the containers, but the extra organization in your tack room will be worth it.
Use Storage Units
It's amazing what a single stack of drawers or shelves can do for an unorganized tack room. If you have room, it'll be worth it to install some kind of small storage furniture. Plastic drawers, crates, or shelves will give you the means to separate and store all your miscellaneous things.
You can have one drawer dedicated to veterinary supplies, one for grooming, and an entire shelf to display all your ribbons and trophies. Check yard sales and thrift stores if you're interested in saving money.
Label Your Totes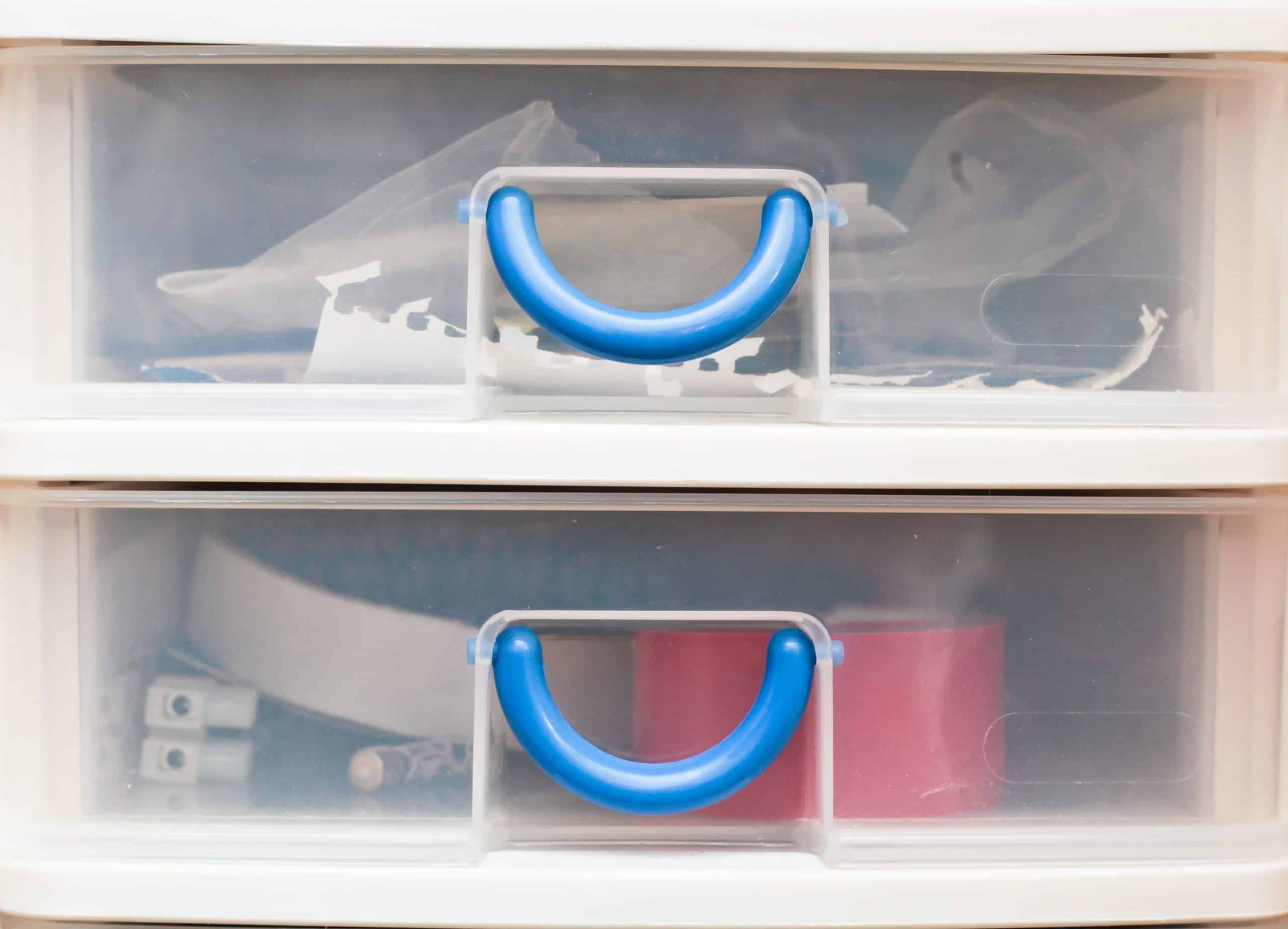 If you're using totes, storage units, or tack boxes to store items that you don't use frequently, then you can keep yourself well-organized by giving everything a detailed label. Don't just write "tack." When you're running around like a crazy person looking for the only bit your horse will accept, you'll thank yourself for being specific with your labels.
It's also a good idea to create a brief list highlighting what each tote or unit contains. Tape each list to the front of the container, or keep them all in a notebook. This way, you can quickly find something without having to dig to the bottom of every tote. Your life will be a lot simpler, and you'll get to spend more time with your horse.
With a little work, you can completely transform your tack room. Do you have any tips to include in this list? Let us know in the comments.
Click here for horse care tips from a vet tech.