Making the most of your horseback riding experience means wearing the right outfits for the job. After all, if you don't have the right clothes on, you could face an injury or other problems while riding a horse, so you'll want to wear horseback riding jeans to improve the experience.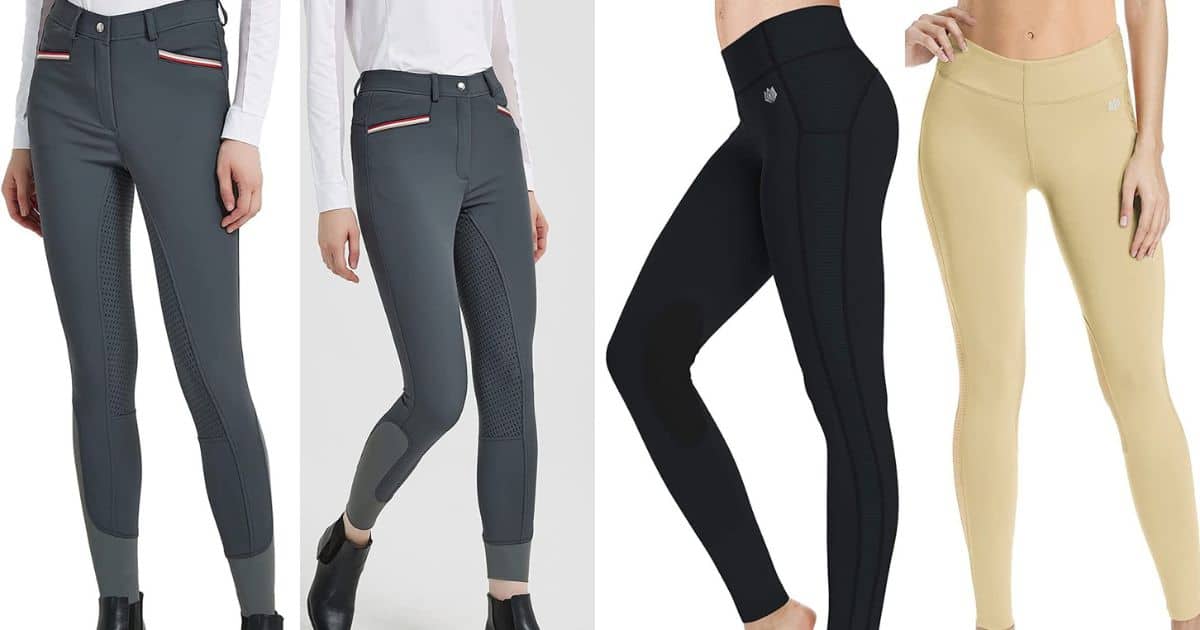 You'll naturally wonder which horseback riding jeans work the best, so you'll cover your needs and enjoy horseback riding. As you go through the seven best types of horseback riding jeans, you'll see which ones you prefer and pick the ideal option for your needs.
Jump to:
Sometimes, standard cotton jeans with a complete seat design work best for your riding needs. The jeans contain additional grip around the seat of the pants while also having a thicker material, helping them hold up while you use them for horseback riding.
Since you must stay on the saddle while you ride, it'll help you maintain a grip while you sit down so you don't slide off or face other issues. The pants also come with zipper pockets, meaning your belongings won't fall out while you ride a horse, adding convenience.
For example, you may want to keep your phone on hand while riding, making the zippers an excellent feature to ensure it doesn't fall out. Otherwise, you could look for your phone by backtracking through the previous area, which could take time, depending on where you ride.
Speaking of good options, you may prefer one with silicone leg grips. Not only does it include grips along the seat of the pants to help you stay on, but it has additional grips along the inner legs. That means you'll have an easier time staying on if you press your legs against the horse.
Such grips work better for people with more experience with horses who know how to grip their legs properly. If you're planning to ride one while having it pick up speed, you'll want to utilize the silicone leg grips to help you stay on and avoid injury whenever you go for a ride.
The pants have a more breathable design, meaning you won't get as sweaty while using them. However, they won't keep you as warm as other options, so remember the weather before using these pants so you don't get cold.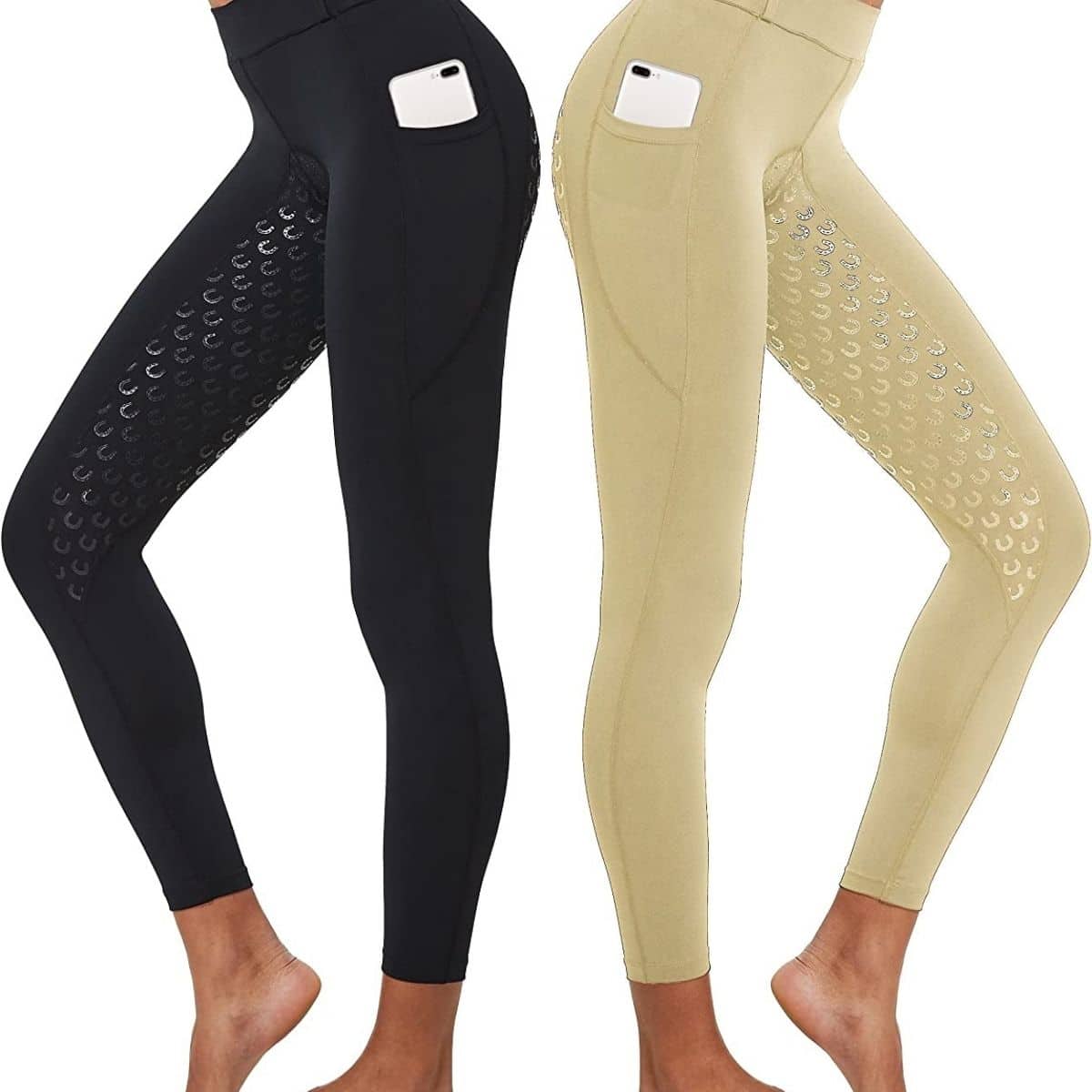 These have a unique approach by utilizing the silicone leg grip, which goes closer to the knees. It also covers the seat, meaning you'll have more grip to work with and ensure you stay on the horse while you ride it, even if you pick up speed.
The design remains tighter around the legs, so even though it doesn't have an enclosure, it stays so close to the skin that the rider won't have to worry about the pants getting ripped or coming loose during the ride.
The pants utilize a polyester and spandex mix to keep the legs safe and make the rider comfortable. They also have large pockets to help you store your phone and other belongings while you enjoy a ride on a horse.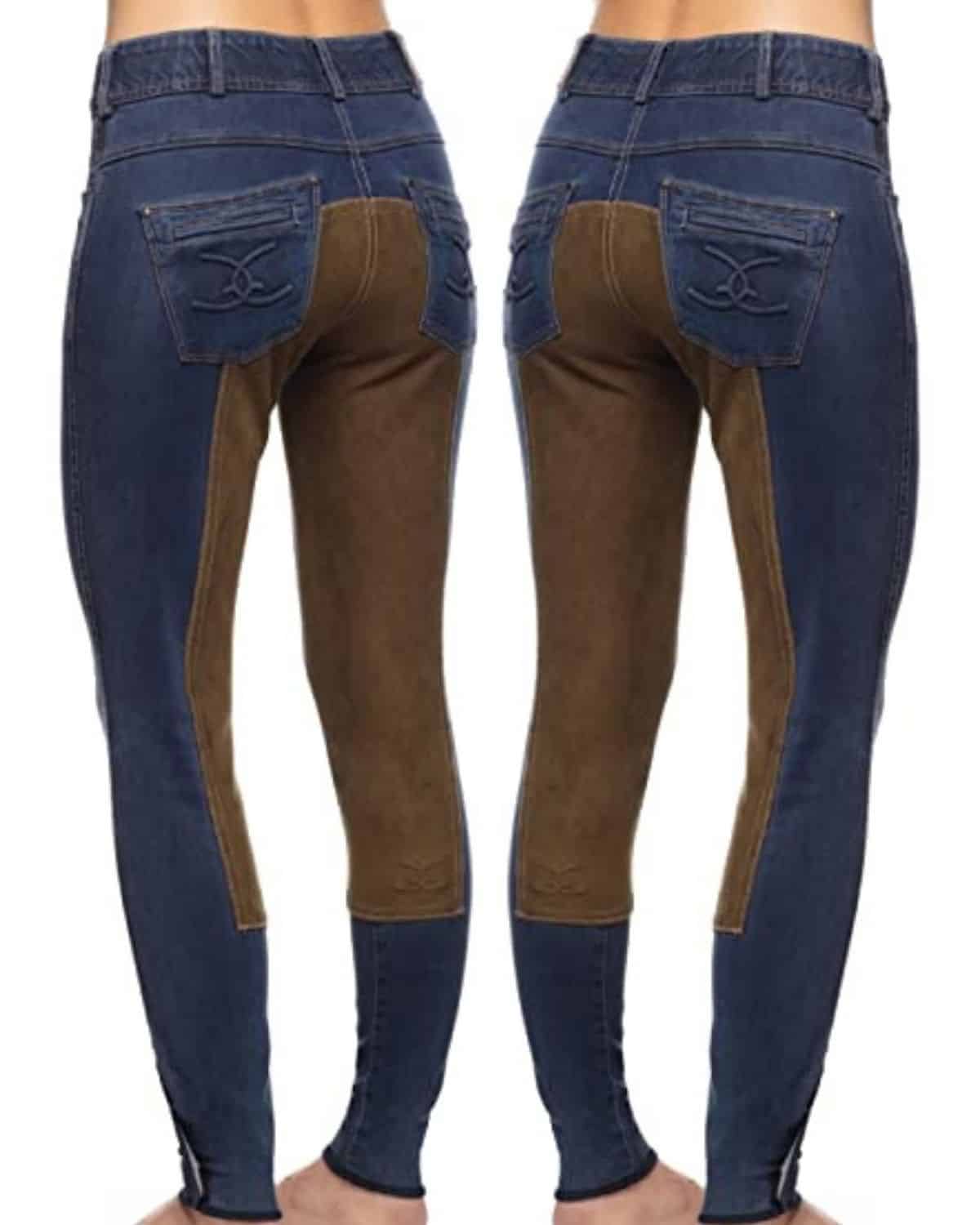 If you want to minimize issues with your pants while you ride a horse, you can choose a pair with a hoop and loop closure. The closure means you can use Velcro on the pant leg openings, keeping your legs closed while you ride a horse, so they won't come loose or face problems.
Some people like this design since they can easily adjust the pant leg and have it tight around their riding boots. The jeans use various materials to improve their durability and make it as solid an option as possible.
The pants include additional padding around the legs and seat, helping it hold up while you ride a horse. You won't need to deal with the standard wear and tear while using the pants, allowing you to make the most of your riding experience.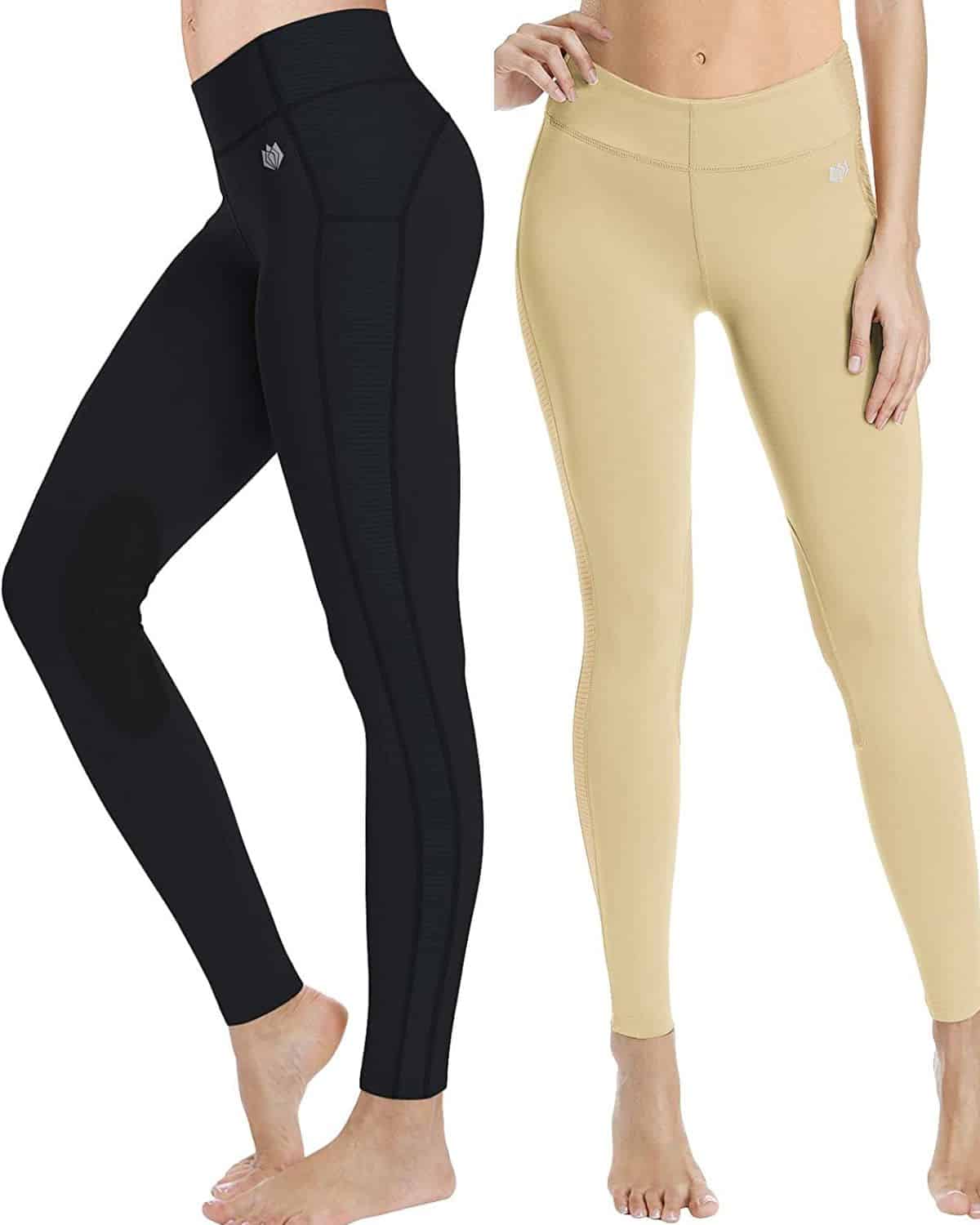 Some people prefer to use their knees while they tackle horseback riding, so they may want a pair with knee patches. They have padding on the knees, and the thicker materials help them avoid breaking down and forming holes, especially as you ride horses.
The pants include pockets for easy storage and have a mesh design to improve the breathability of the pants. You can wear them during the warmer months to minimize sweating while keeping your legs protected as you go horseback riding.
They also have some elastane, allowing them to stay close to the legs and avoid getting damaged while you use them. The pants include a smooth design, meaning they'll be comfortable against the horse.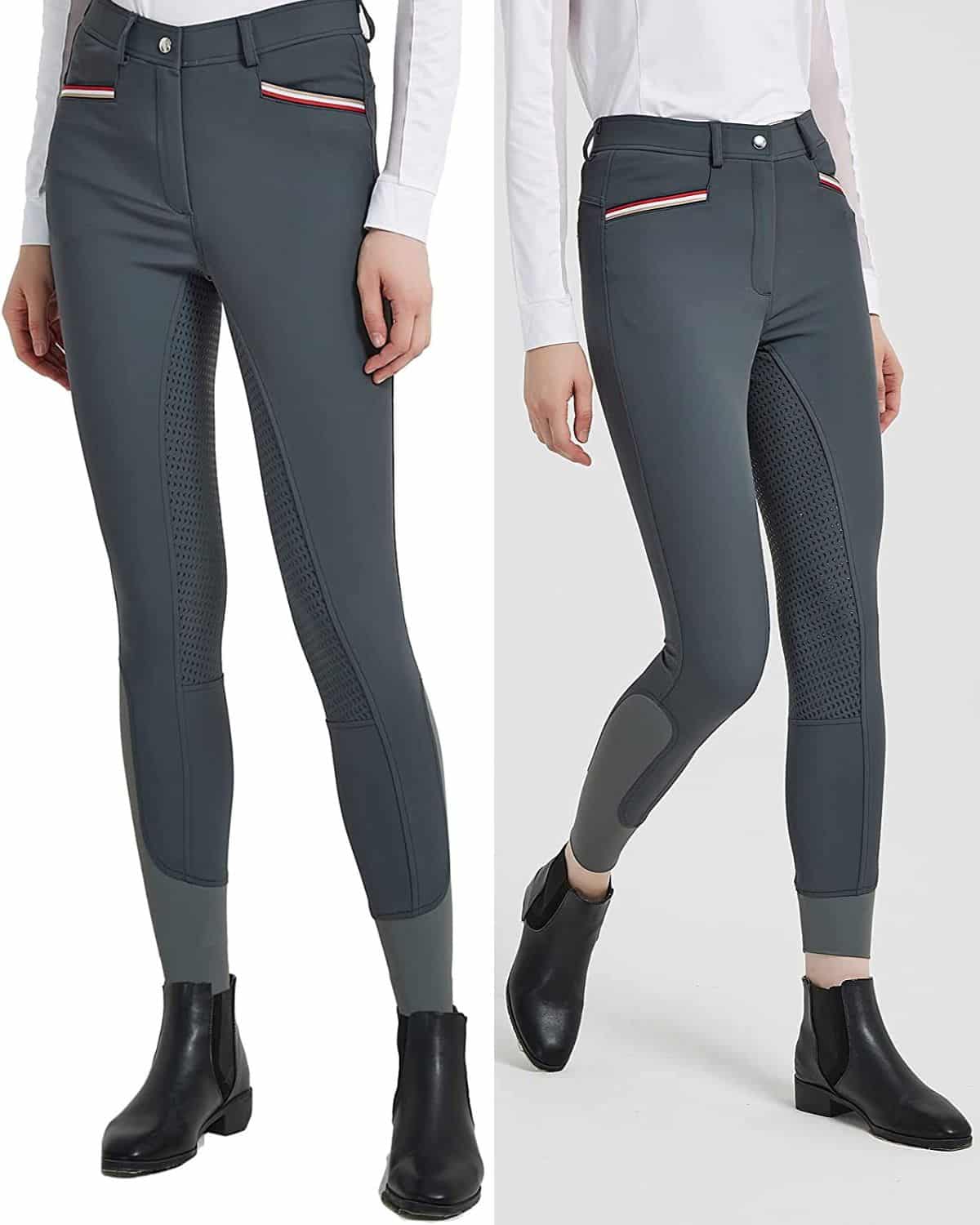 Speaking of full-seat options for your jeans, you have a variation that includes the silicone grip and elastic legs. That means it has elastic throughout the legs to keep the pants tight against the skin, so they won't get ruffled or damaged while you ride a horse.
The additional silicon also helps you grip the legs and stay on the horse's saddle. With that in mind, you'll minimize problems and make the riding experience more comfortable and easier since you won't slip around during the ride.
It also has a stretchy fabric, meaning it won't rip easily whenever you wear them throughout the day. The overall design makes it comfortable and great for people, though some people may not want to use this option.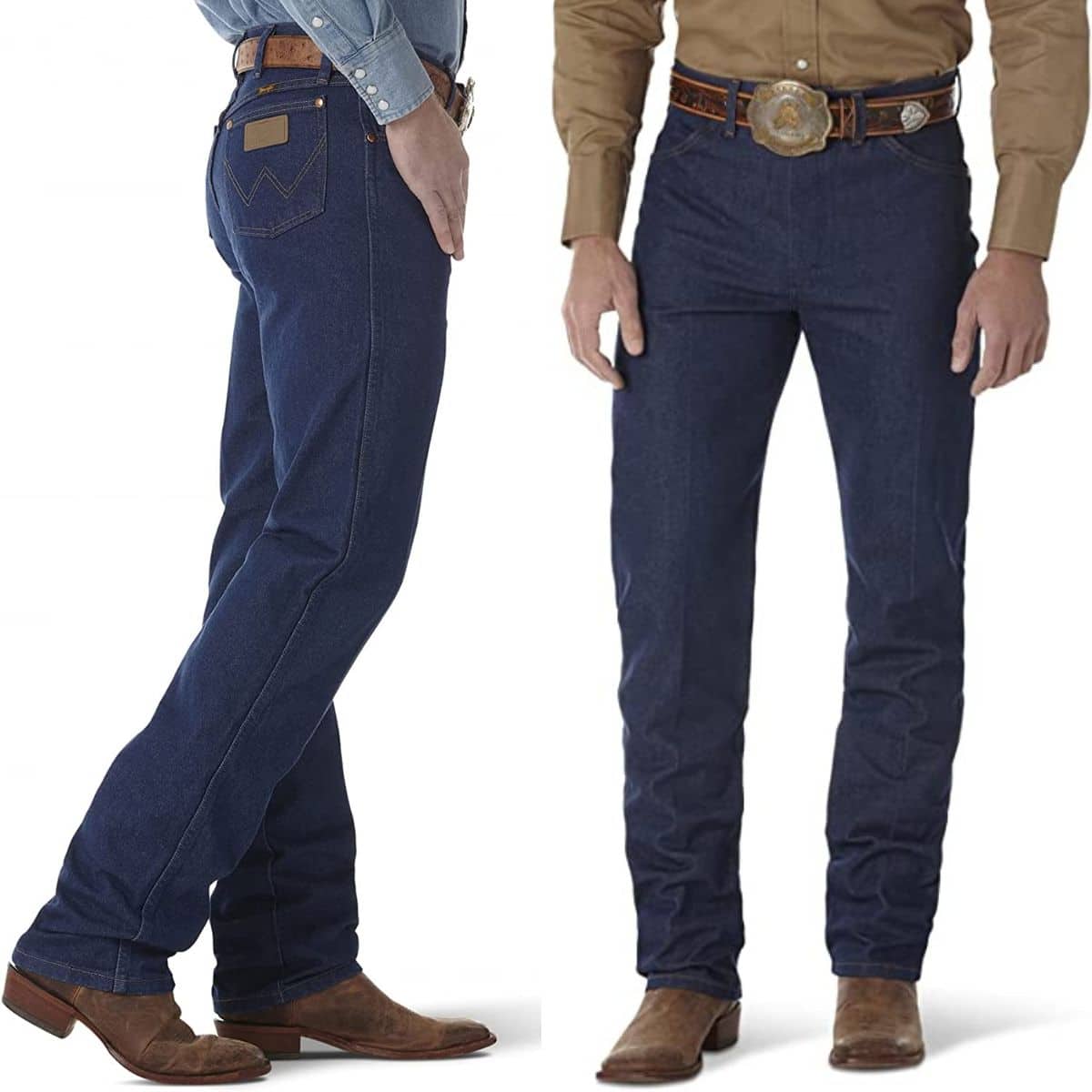 If you don't have other options, you can't go wrong with original-fit jeans. They have a cotton design, meaning they have excellent durability to hold up while you ride a horse and enjoy your time outside.
The jeans have a cowboy cut, so if you like to wear cowboy boots while you ride a horse, you can wear these jeans. In addition, the jeans focus on comfort, ensuring they don't cause problems while you ride a horse.
The jeans are also machine-washable, so you can just throw them into the machine and take care of them once they get dirty. So on top of the machine-washable design and overall durability, you can wear a standard pair of jeans to cover your horseback riding needs.
Final Thoughts
You have multiple options regarding horseback riding jeans, so ensure you go through them and pick your favorite. Since they offer different features, you can see what'll help you with your horseback riding experience and keep you safe as you get involved.
Finding the right type of horseback riding jeans may take time, so ensure you review the choices. You'll help yourself perform better while riding horses and prevent yourself from falling off or getting hurt as you enjoy the sport.