There aren't a lot of desert camels in the northern state of Maine. But in Windsor, a traveling zoo called Pony X-Press is home to a very special camel - one who has taken on the role of "seeing-eye animal" to one of the resident horses!
The camel, named Caesar, had a little trouble making friends at Pony X-Press when he first arrived. Not surprisingly, there are no other camels there for him to mingle with.
"We tried putting alpacas in with him," Ed Papsis the zoo owner, told WGME. "That didn't work out. He's too big. We put the horse [Dolly] in, and she just kind of bonded with him, and he bonded with her."
The two unlikely friends became more than companions; as Dolly started losing her eyesight, she began depending on Caesar to help her get around.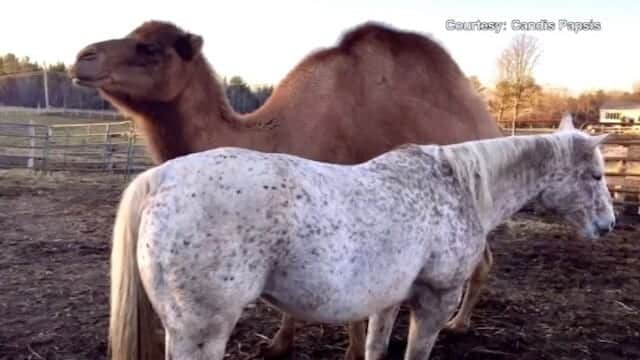 "It worked out good because as she went blind, she relies on him," said Papsis, according to Horse Channel. "She'll follow him around. If we take him out to bring him somewhere, she's always whinnying for him and he's bellowing back for her."
Although unconventional, this sweet pair is certainly perfect for each other! Have you ever heard of a blind horse having its very own "seeing-eye animal"?