Are you looking for jaw-dropping design ideas to transform your old, unused horse trailer into something unique and eye-catching?
Look no further!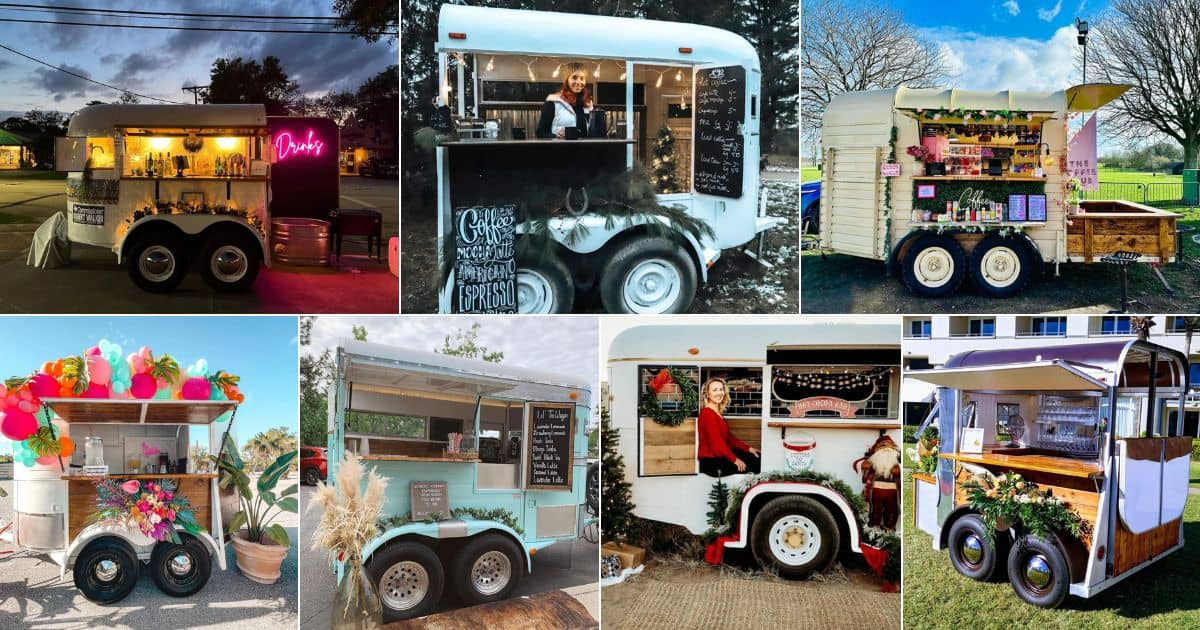 Whether you want to turn it into a mobile business, a camper kitchen, or a cozy reading nook, there are plenty of ways to customize your trailer to fit your needs.
In this blog, we'll explore some of the best horse trailer ideas to spruce up the space into something special. From simple modifications to complete overhauls, we've got all the tips and tricks you need to get started on the perfect design for you.
Jump to:
1. Cold-Weather Coffee Bar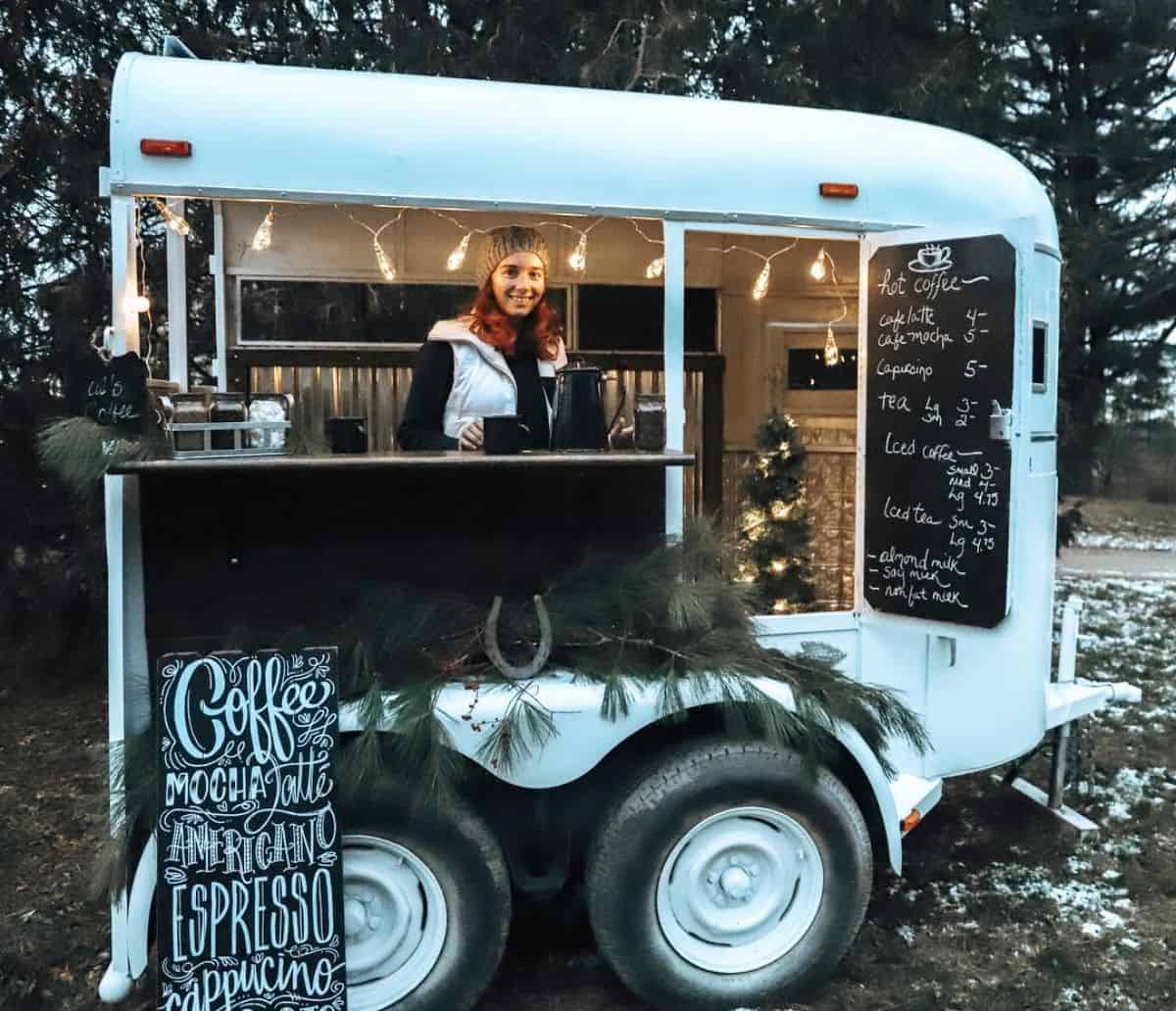 Step inside this upcycled horse trailer, and you'll be greeted by a warm and inviting coffee shop on wheels.
The pastel blue color scheme paired with chalkboard black and lush evergreen boughs creates a beautiful contrast that immediately draws you in.
The vintage horseshoe adorning the wheel wells serves as a charming callback to the trailer's equestrian roots.
2. Tropical Drink Trailer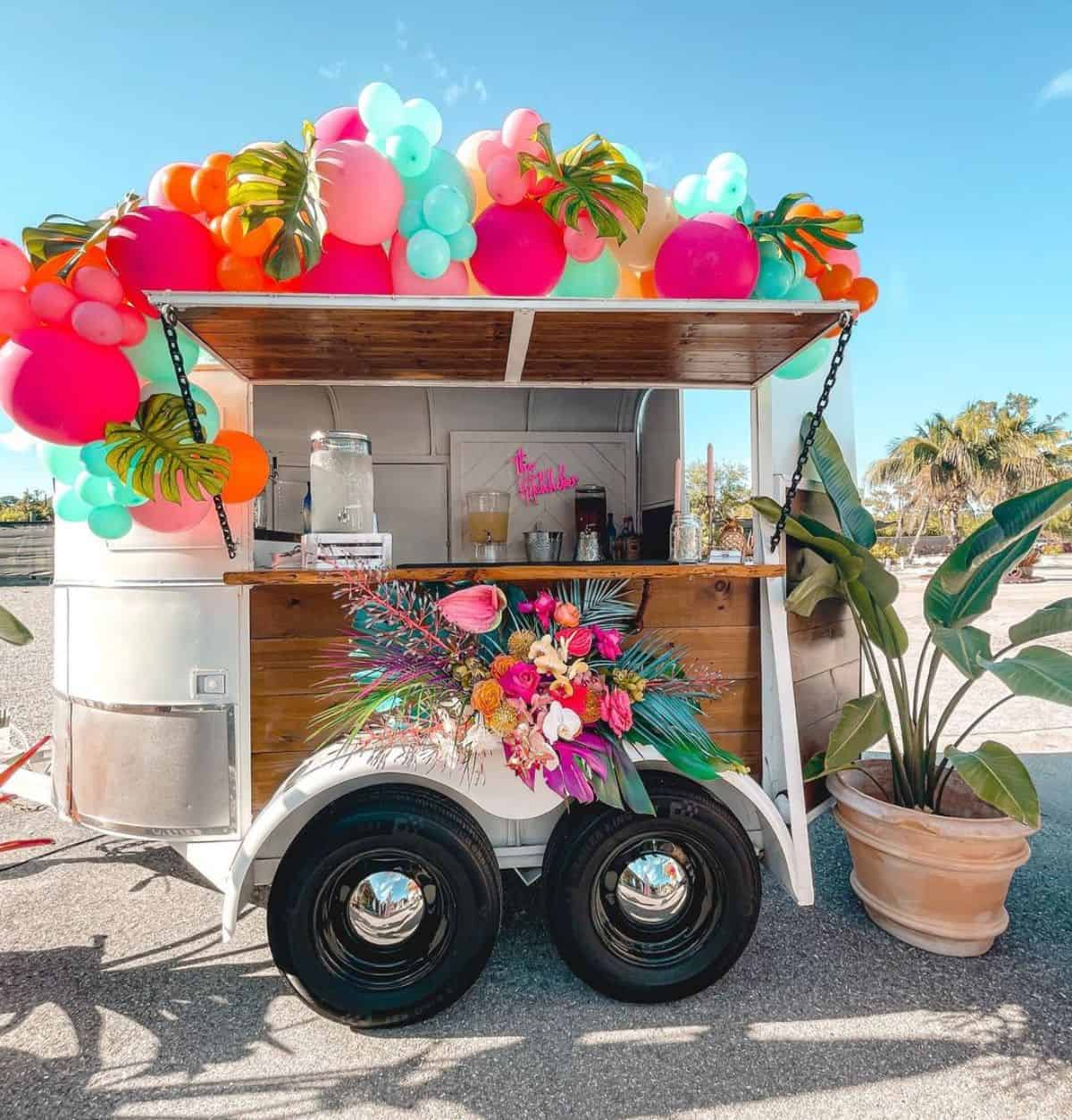 How can you recreate the vibe of an exotic island paradise without making it feel cheesy or over the top?
Take a little inspiration from Little Mobile Bar.
The bright colors, palm fronds, and lush floral sprays create a perfect oasis for those seeking a tropical escape, making it the ideal spot to indulge in a fruity cocktail or two.
And the best part? You get to experience all the fun and relaxation of a tropical island without dealing with the sticky jungle heat.
3. Chestnut Chariot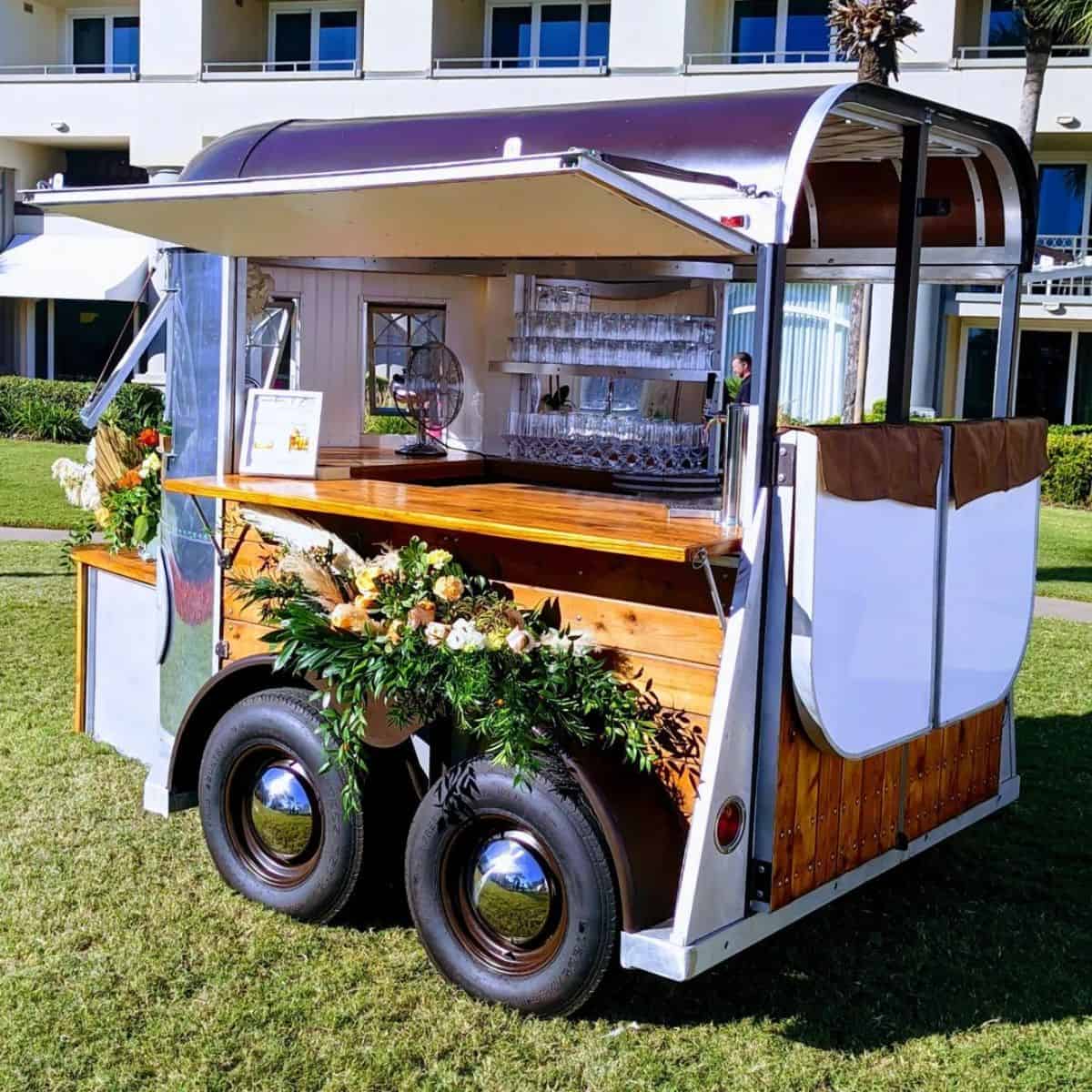 Wood paneling has a reputation for being old-school and outdated, but with a deft hand and high-gloss varnish, you can transform it into something warm and rustic that brings a touch of elegance to any space.
This is especially true regarding horse trailer conversions, where wood paneling can create an inviting atmosphere. The rich brown tones of chestnut wood, for example, provide a striking contrast to the metal frame of the trailer while adding a touch of sophistication to the interior.
4. Glossy Black Pop-Up Shop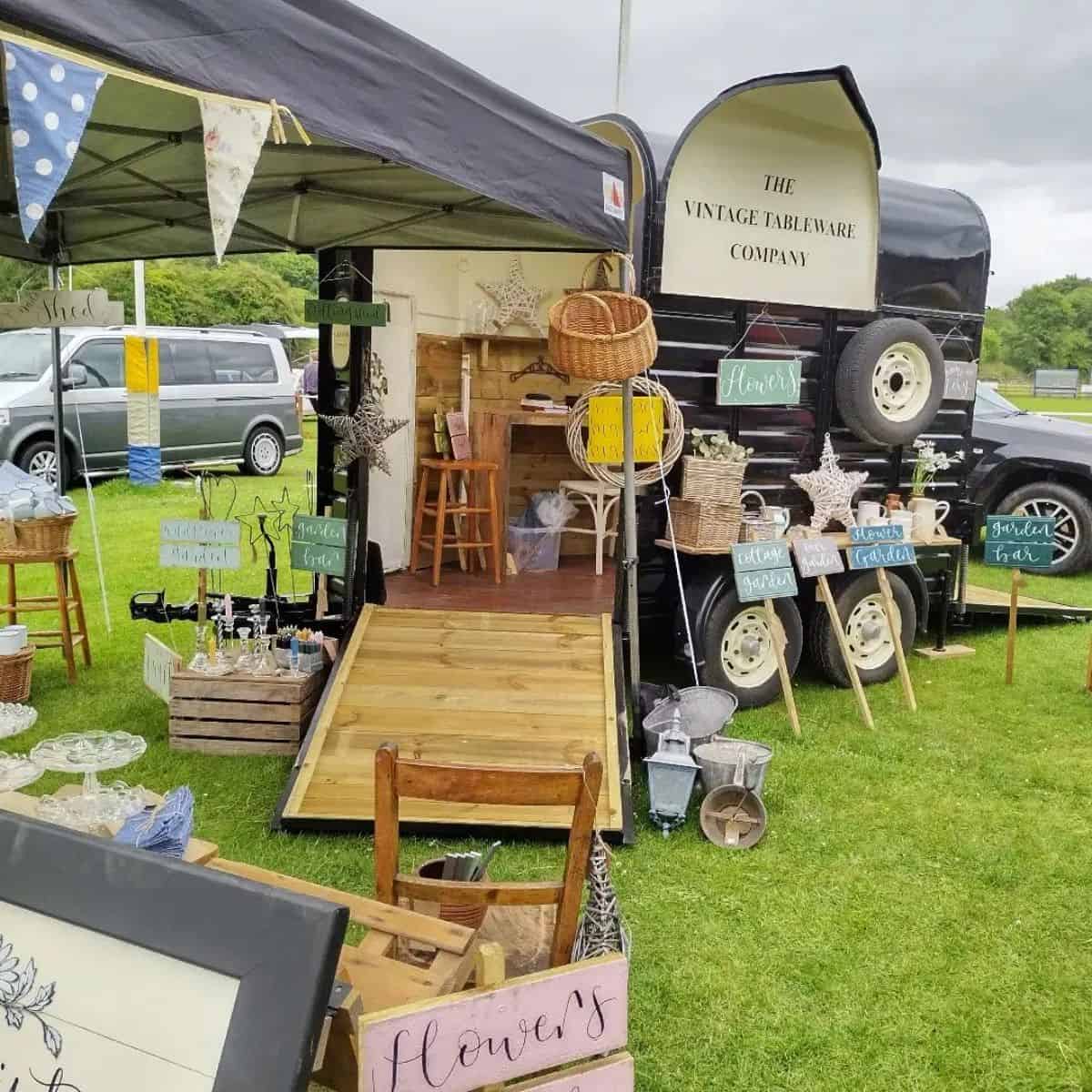 It's incredible how a simple coat of patent black paint can transform a horse trailer into a traveling flea market with a visually exciting stock of eclectic goods.
The attention to detail in the design is impressive, with multi-patterned hanging buntings, wicker baskets, and hand-painted signs adding charm and character to the black backdrop.
5. Pretty in Pastels
Caffeine lovers who visit The Coffee Club, Norfolk, can enjoy their morning cup of joe next to a masterpiece of springtime splendor. The owner adorned every inch in feminine florals and baby-soft colors down to the painted rims.
While the exterior looks in full bloom, the neatly organized interior optimizes every inch of the limited space to create a functional shop.
6. Country Chic Photobooth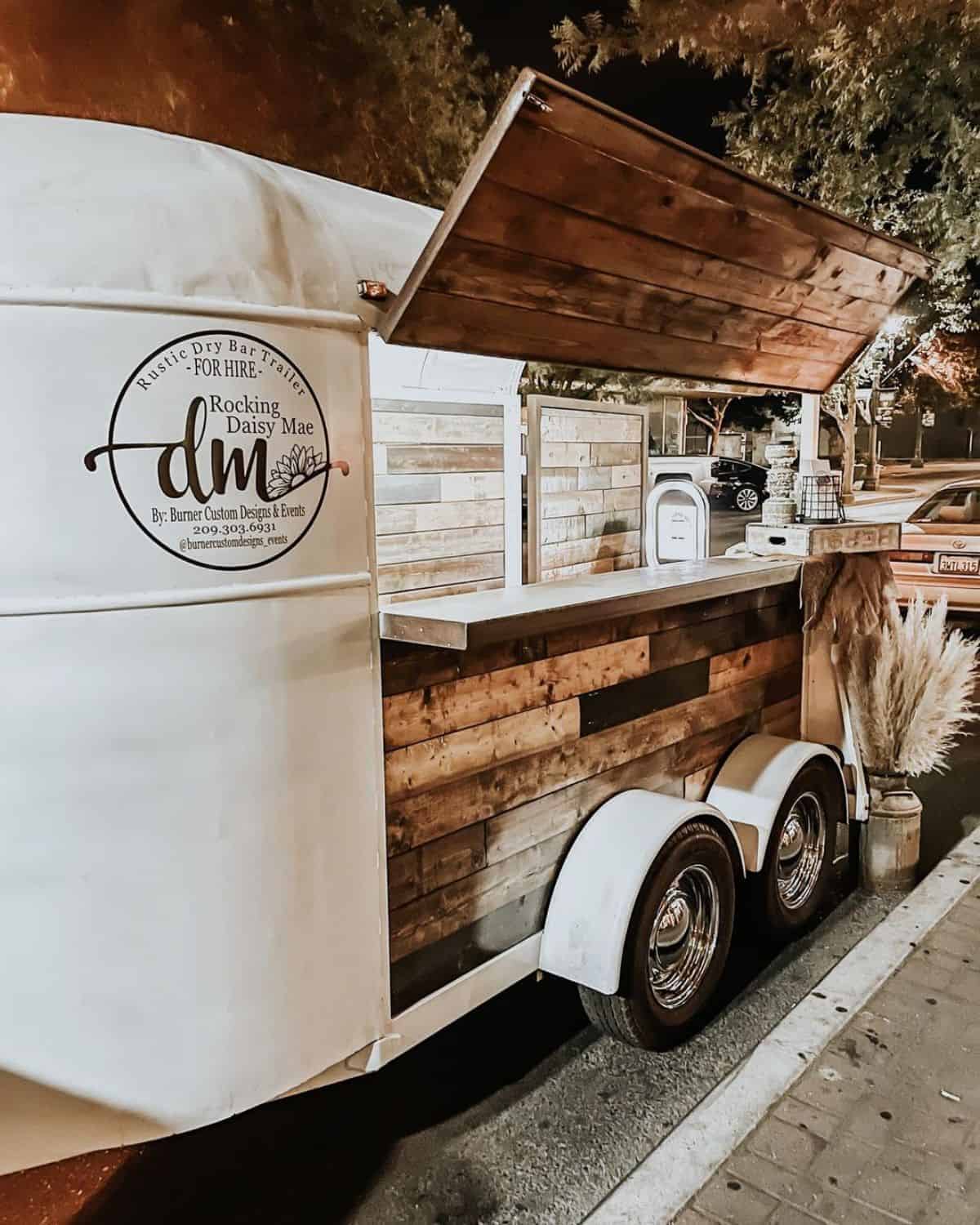 A shabby chic photo mobile photo booth is the perfect addition to any event, adding a touch of vintage charm and whimsy.
This horse trailer design features distressed wood flooring accented with a faux cowskin rug, soft pastel colors, floral accents, and rustic props. Its cozy and inviting atmosphere encourages guests to let loose and have fun.
7. Modern Millennial Pink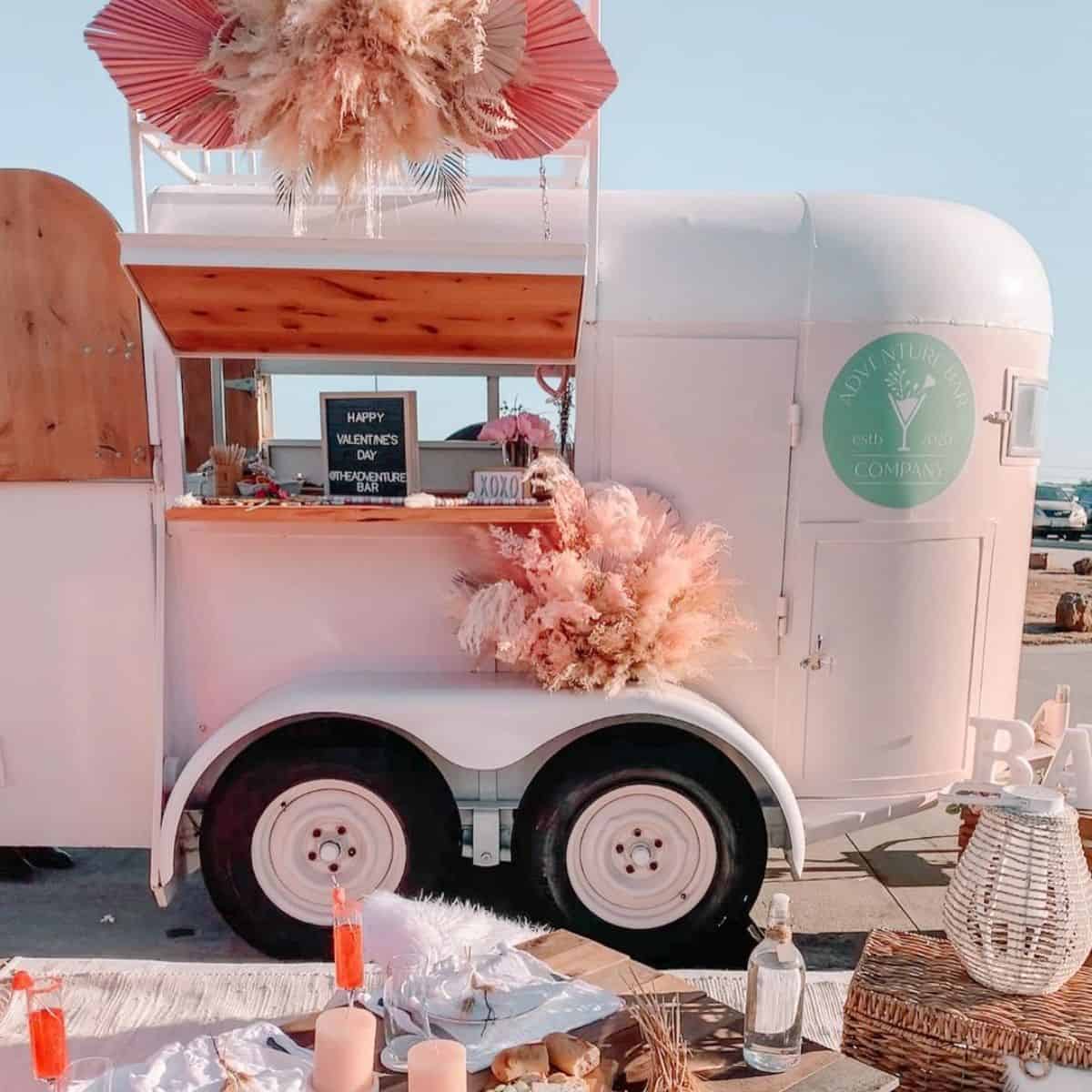 Imagine walking down the street and stumbling upon a stunning matte Millennial pink horse trailer adorned with vibrant flowers and lush greenery.
This unique horse trailer is transformed into a flower shop, complete with a wood-paneled window that welcomes you in to explore the treasures inside.
8. Balloon Bonanza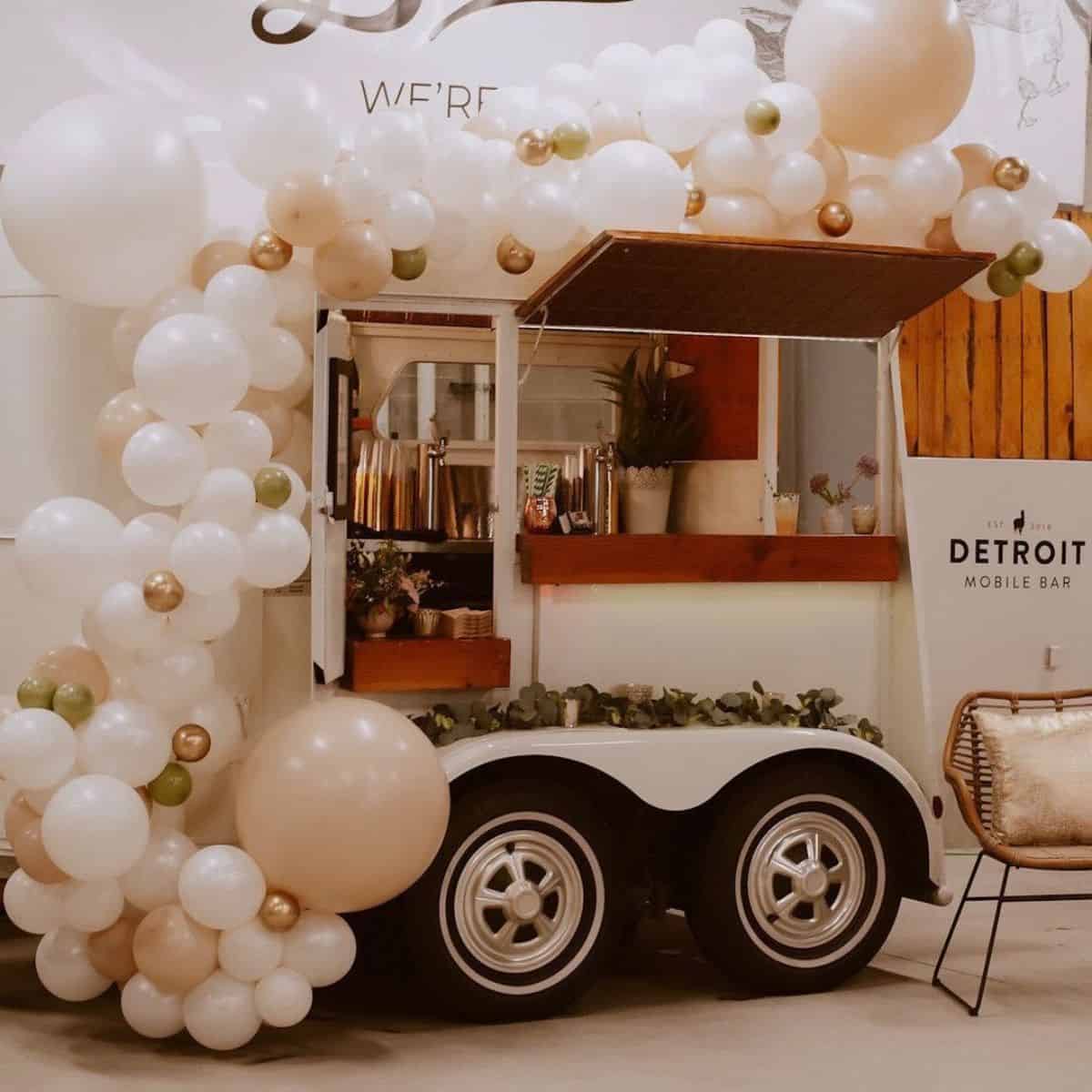 The adorably named Llama mobile bar is a stunning sight to behold. The trailer is compact and stylish, with a sleek design and clean lines, while the white exterior provides the perfect canvas for the dazzling array of balloons that adorn it.
The metallic gold and rose gold hues sparkle in the sunlight, while the soft pink balloons add a touch of sweetness and femininity.
9. Wintertime Wonder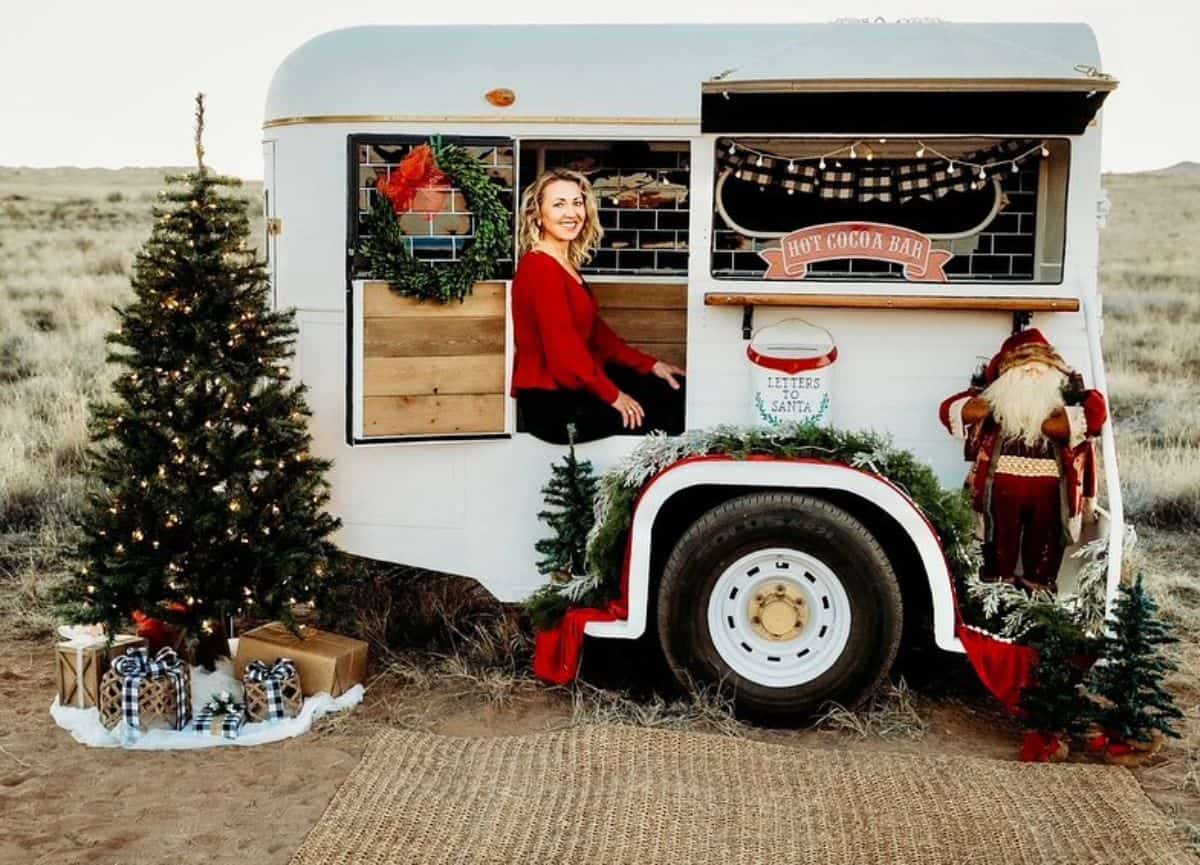 Are you looking for delightful horse trailer ideas to help you spread some holiday cheer at seasonal events and winter weddings?
Piper and Penelope created a festive example of the concept by decking out their hot cocoa bar with twinkling lights, wreaths, and a little Christmas tree, creating a merry and magical ambiance. It's sure to bring warmth and joy to anyone who stops by.
10. Lattes and Lemonade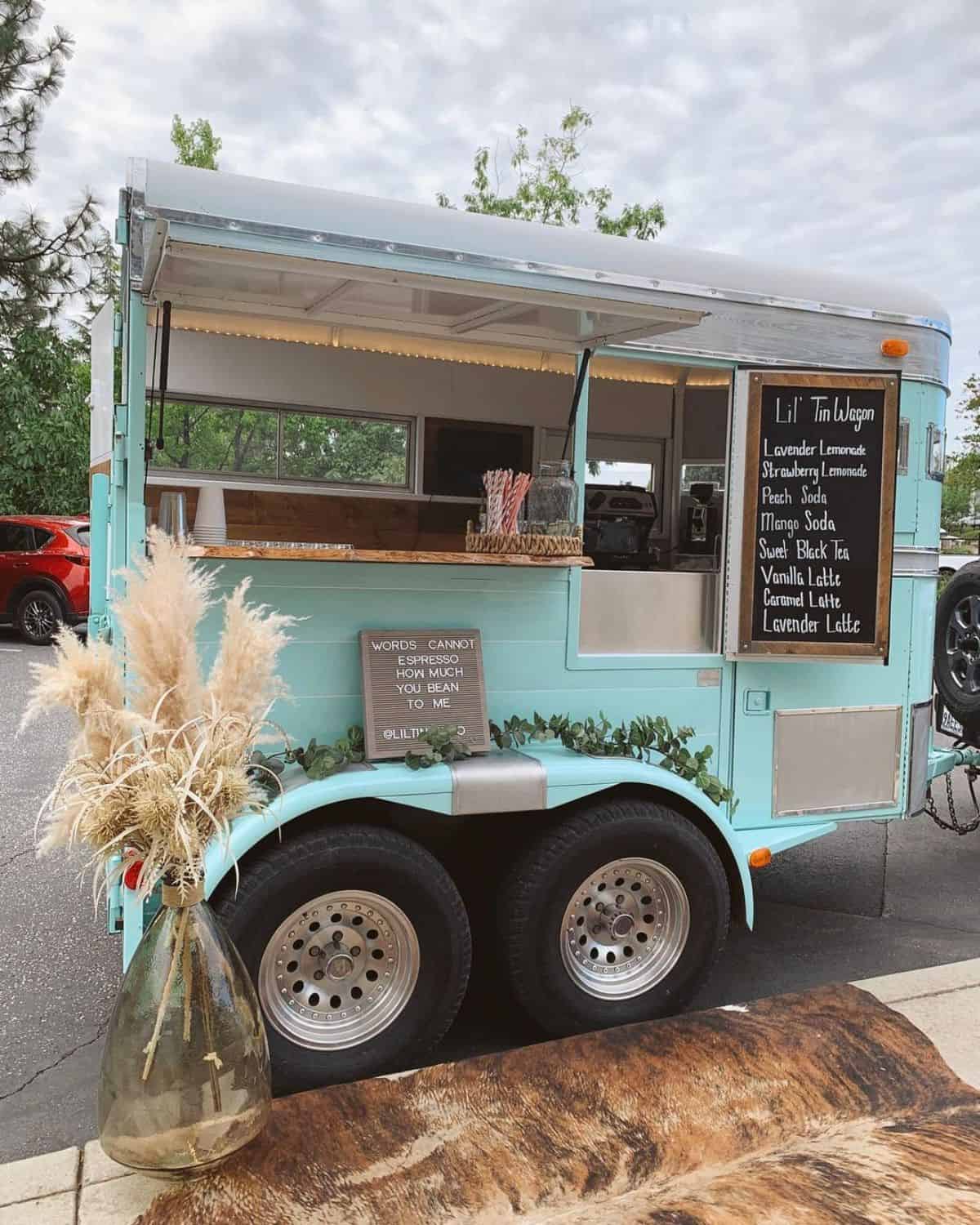 The Lil' Tin Wagon's color palette mixes metallic silver with the soft and delicate shade of robin's egg blue.
The trailer's interior evokes memories of a vintage soda shop with an old-fashioned wooden bar and soft lighting. It's an inviting atmosphere to enjoy classic favorites, such as peach soda or strawberry lemonade, and modern twists on traditional coffee drinks.
11. Rustic Red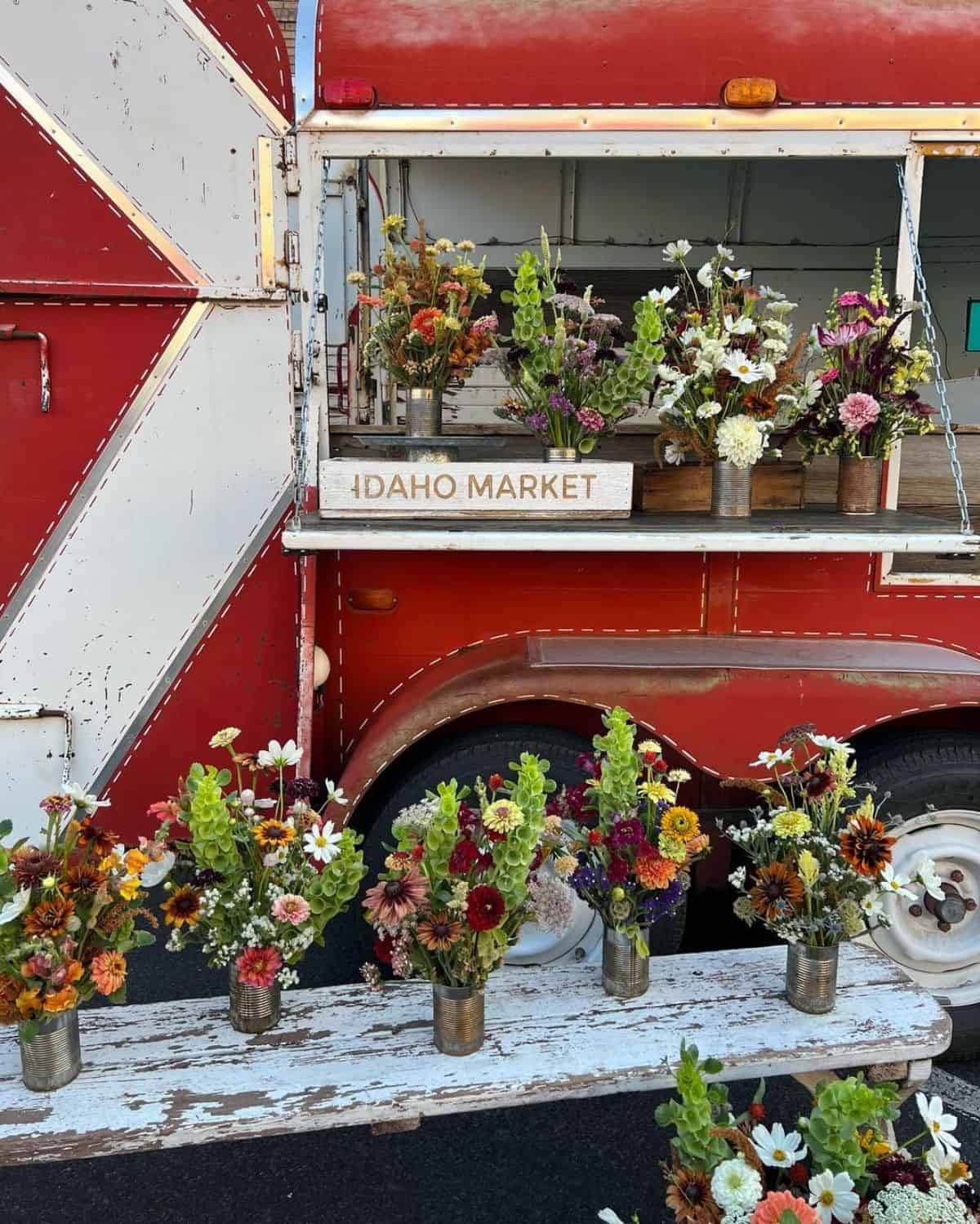 Rustic Petals brought a touch of rural charm to their horse trailer flower shop with a distressed, barn-red paint job and weathered white shelves.
The autumnal bouquets – including seasonal favorites like sunflowers, dahlias, and chrysanthemums – are delightful details that wouldn't look out of place at a fall festival or farmer's market.
12. A Home Away From Home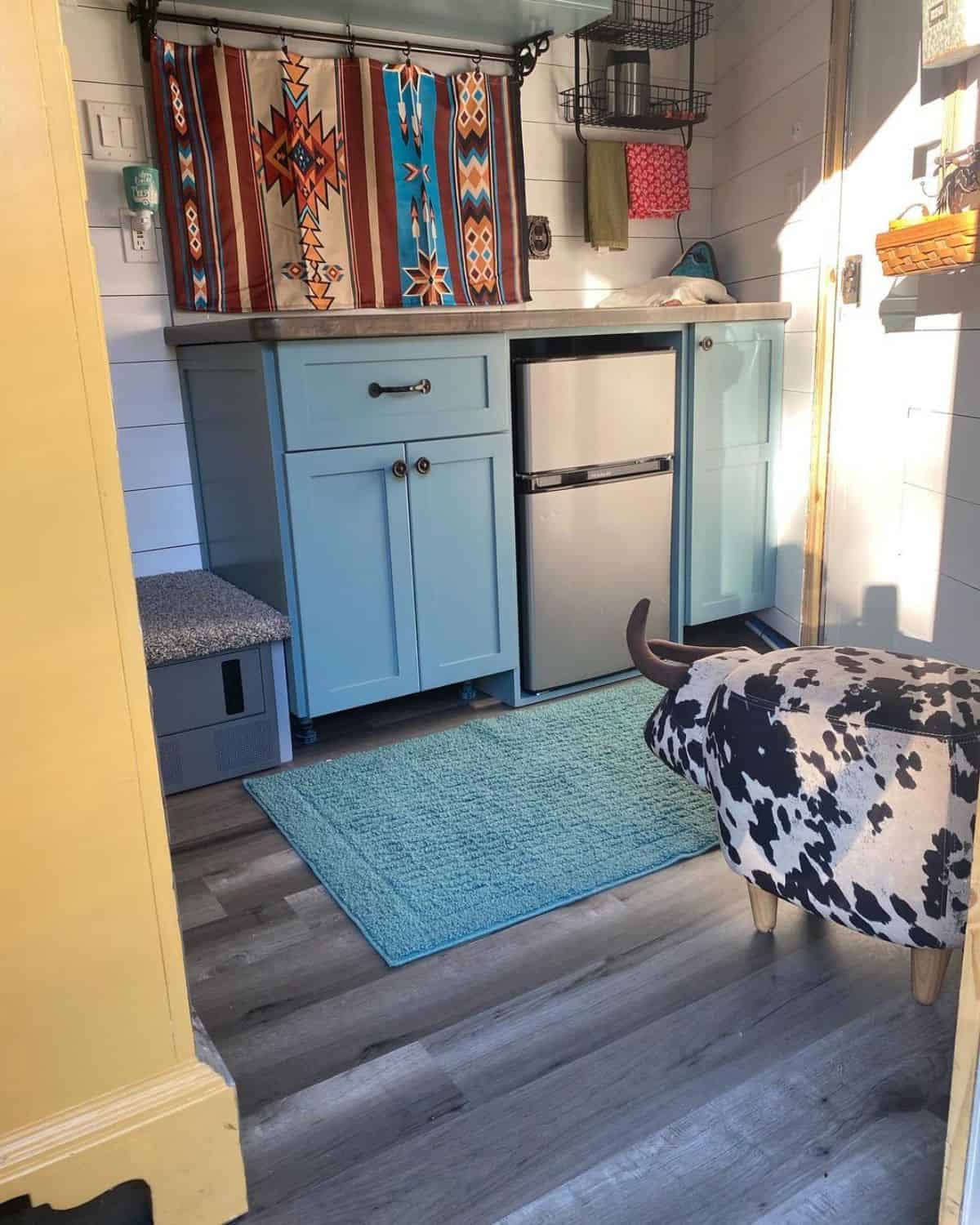 For outdoor enthusiasts who love to explore, this horse trailer conversion is the perfect design. It will serve anyone who wants to enjoy the great outdoors and a hot meal or a cold drink at the end of the day.
The western-themed decor is cozy and comforting, with unique touches like a cow-shaped ottoman, pastel blue cabinetry, and white shiplap walls that add plenty of personality.
With its on-the-go dining amenities, this design is perfect for those who love camping but want to enjoy some comfort and luxury.
13. Neon Lights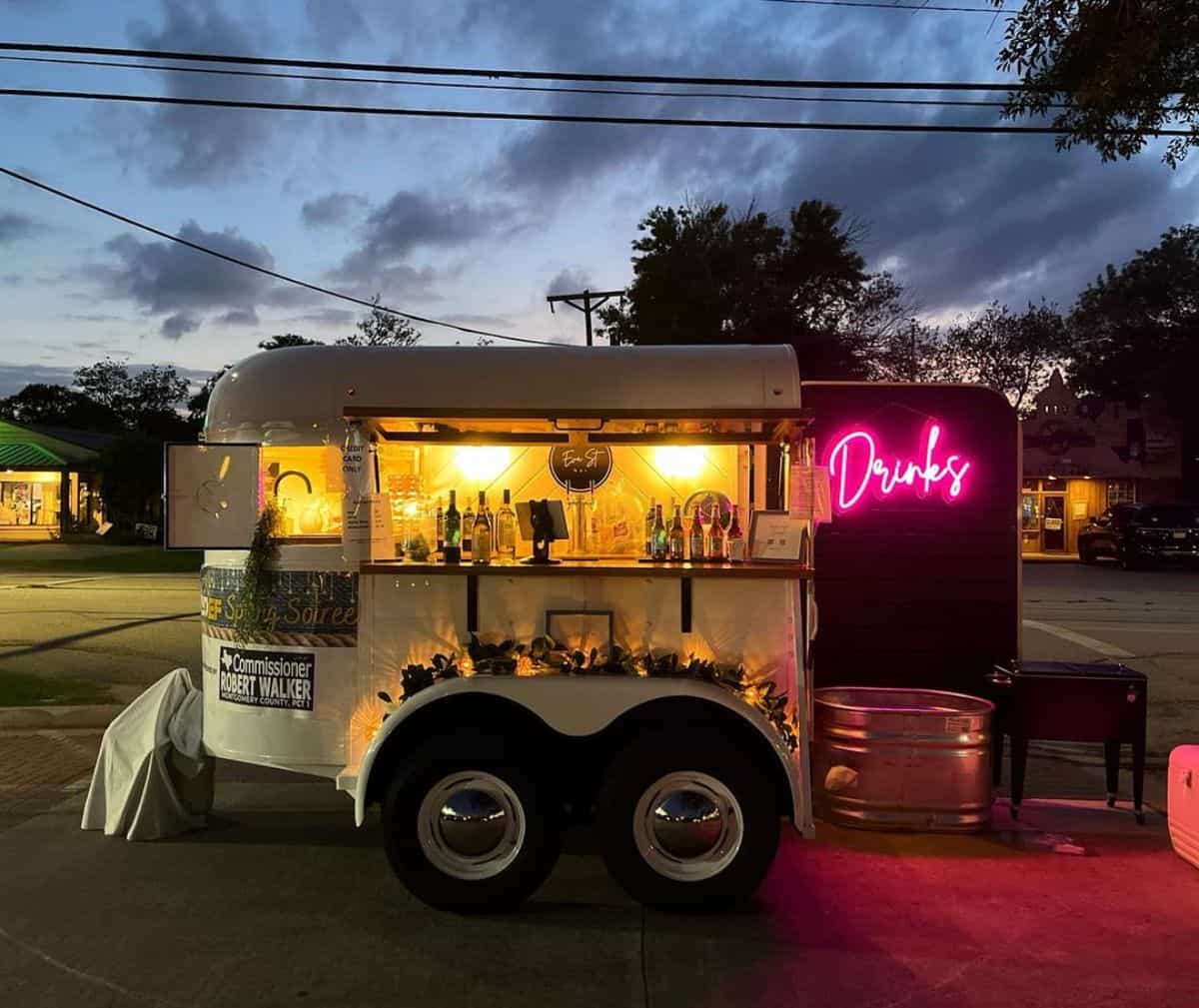 What better way to welcome Texans to your mobile bar than with a horse trailer?
The white exterior of the trailer is sleek and modern, complementing the bold and playful design elements, like the retro-glam pink neon sign and silver metallic rims and rivets.
The owners converted the trailer's interior into a fully functional bar with a wide selection of premium liquors, mixers, and cocktail garnishes.
14. Fairytale Flowershop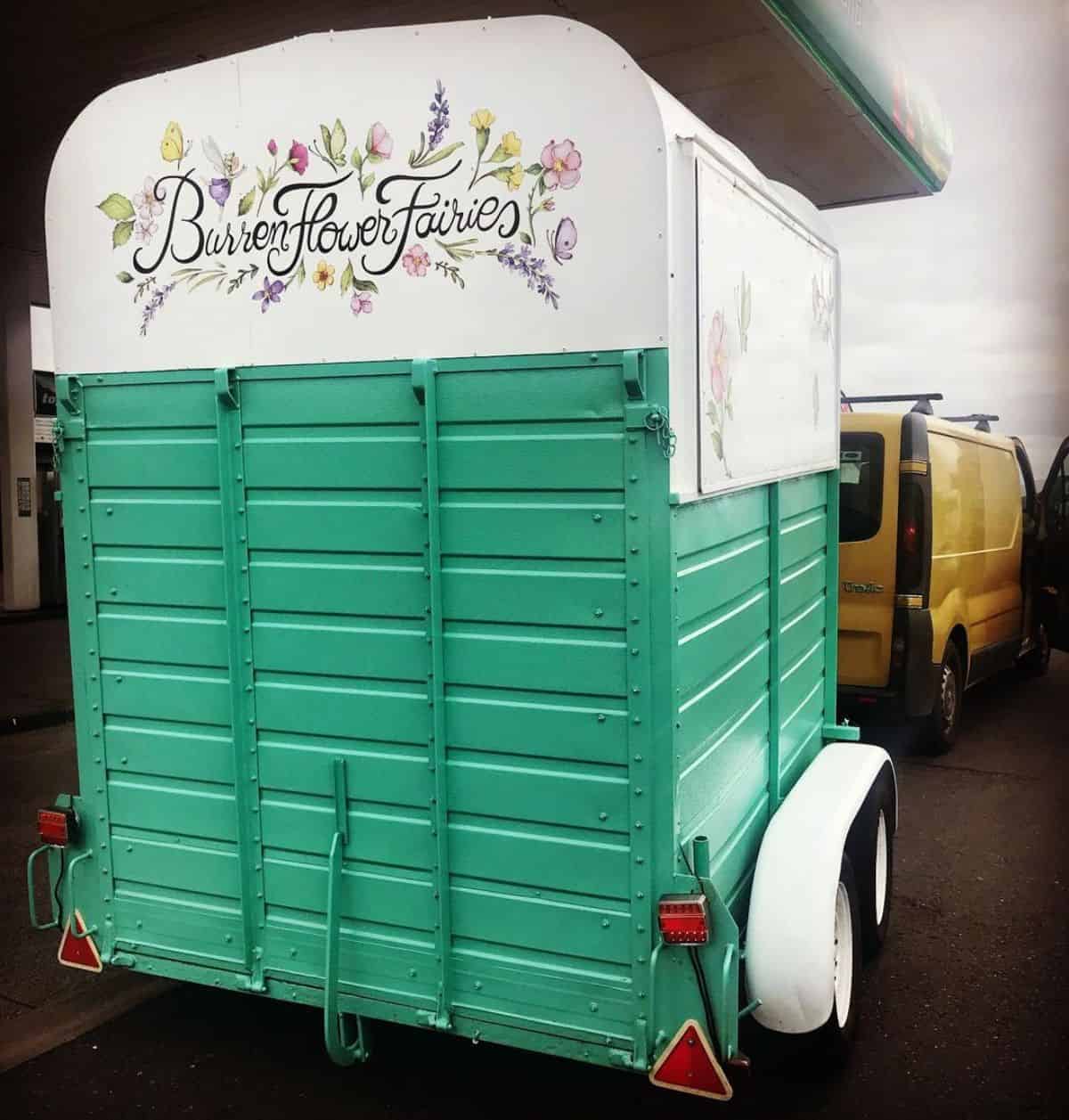 If you're considering putting your artistry to work as a mobile florist, this teal horse trailer flower shop with enchanting fairy-themed art will inspire you.
The vintage mural, featuring ethereal illustrations of fairies, flowers, and butterflies, brings a nostalgic touch of magic to transport visitors into their favorite childhood stories.
15. Functional and Fun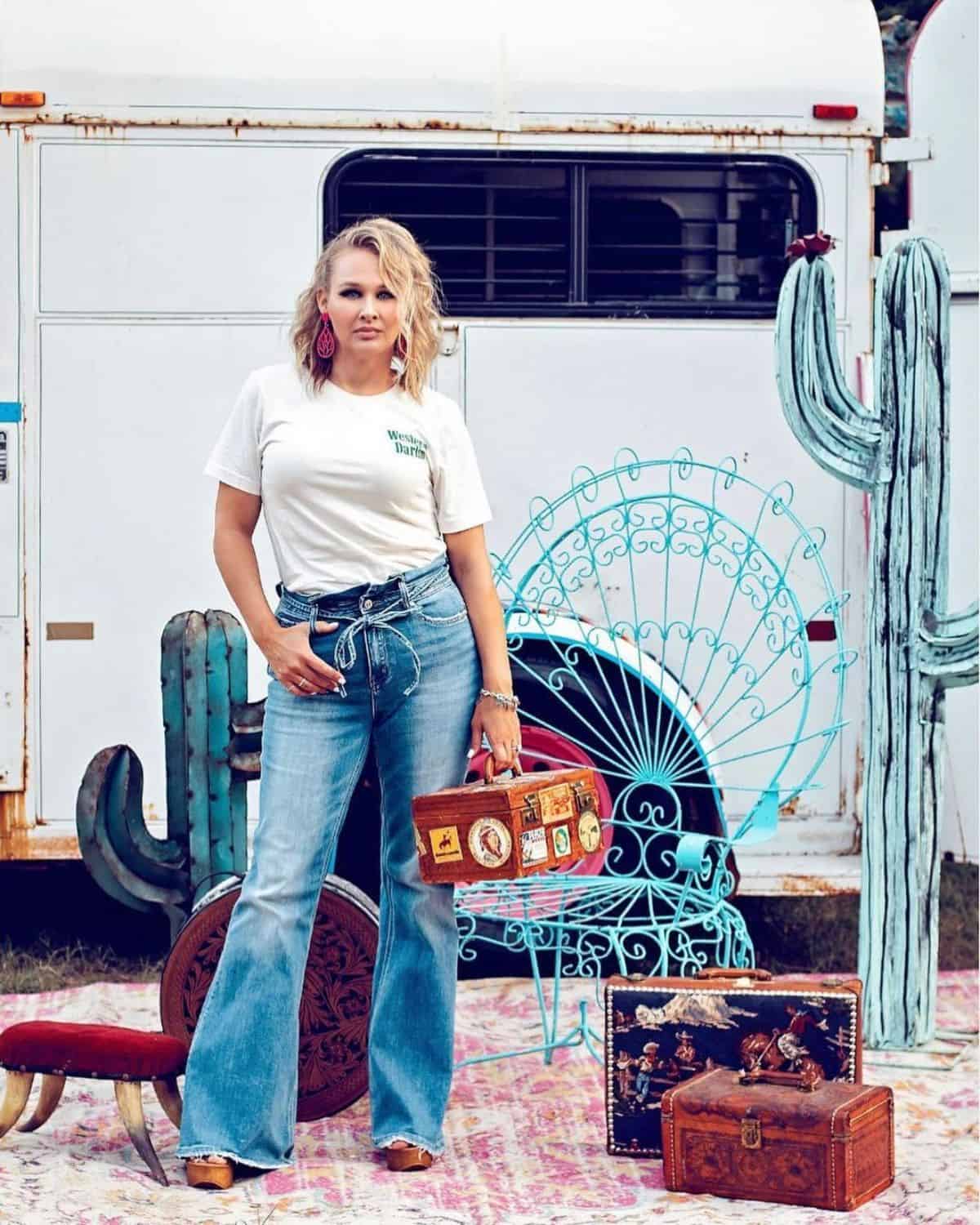 A mobile outdoor photography studio packed into a horse trailer captures the essence of creativity and innovation. The horse trailer serves double-duty as a traveling storage space and vintage backdrop for a photoshoot featuring turquoise cacti and antique luggage.
You can easily store several thematic props inside and let your customers customize their photography sessions to match their personalities.
16. Sweet Treats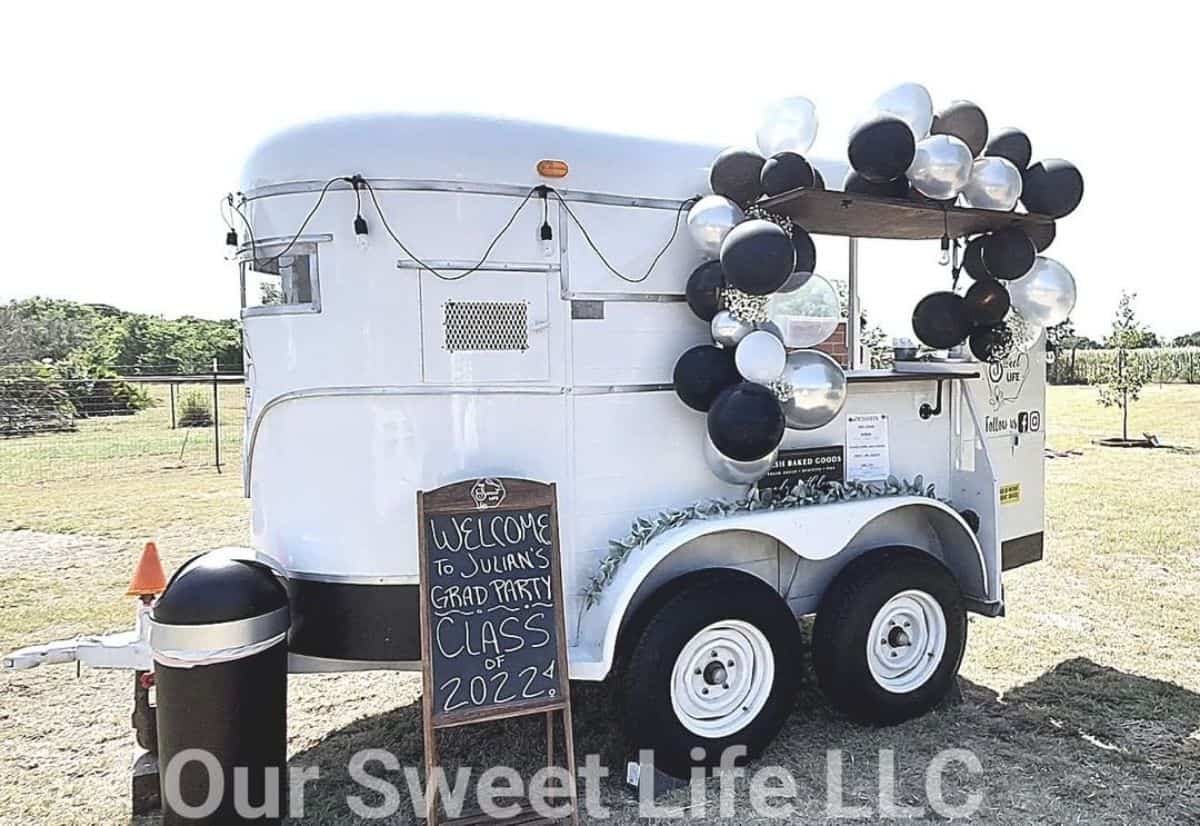 If you're looking for a sweet treat that's as Instagram-worthy as it is delicious, look no further than the Sweet Life mobile dessert bar with its sleek, glossy white job, accented by a cloud of black, white, silver, and clear balloons.
The hanging Edison lights overhead are a hipster-chic detail that matches well with the more modern design elements, making it the perfect spot to indulge in a decadent dessert for the graduate and his guests.
17. Stylish She-Shed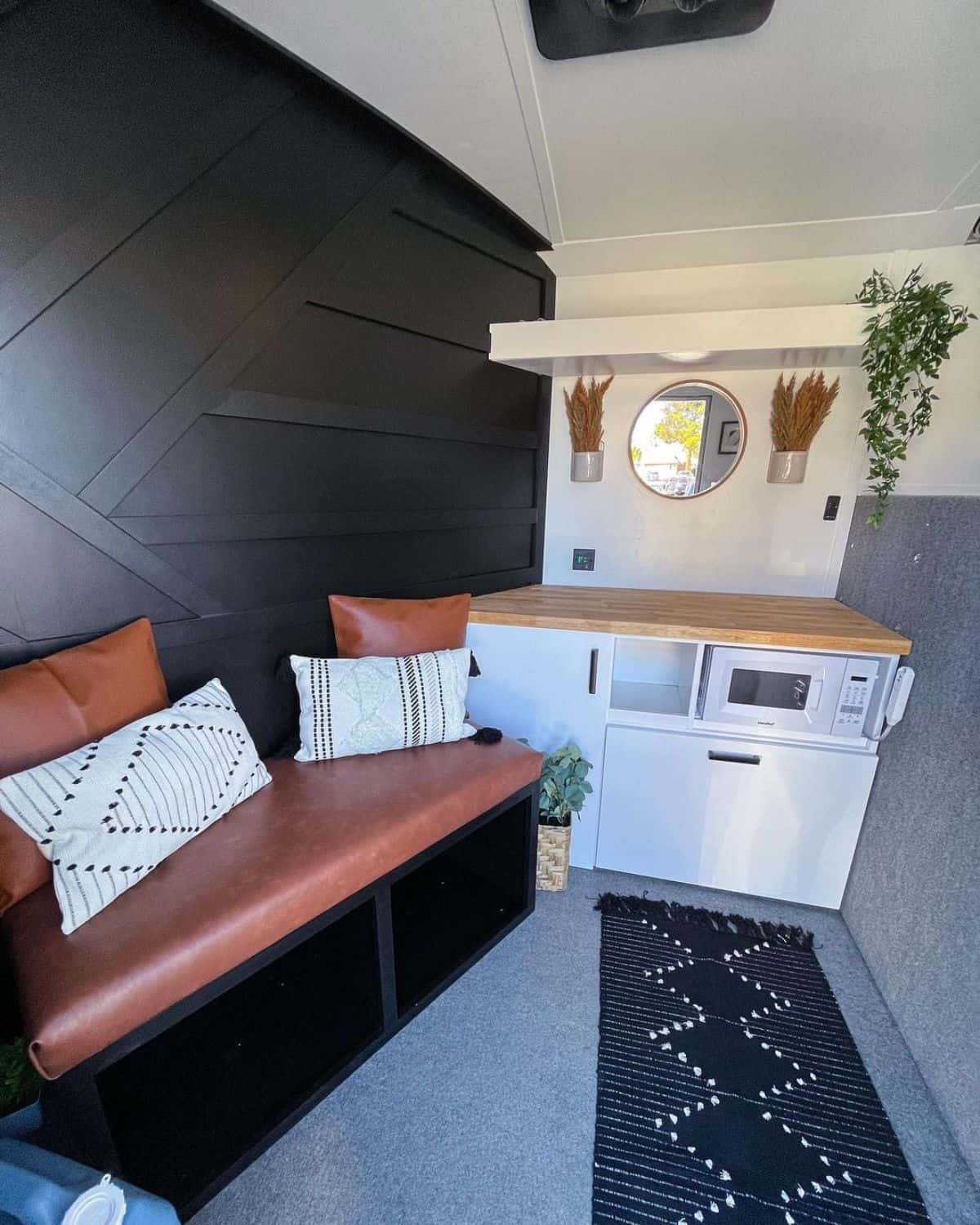 This camper-style trailer conversion is a real showstopper, with a leather-upholstered couch that doubles as a storage shelf, perfect for stowing your riding gear.
The pull-out fridge is an excellent addition for long road trips, keeping your drinks and snacks cool and refreshing.
And when it's time to turn in for the night, the queen-size lofted bed offers the perfect retreat, complete with a built-in AC unit to ensure a comfortable night's sleep no matter the weather.
Final Thoughts
There are endless horse trailer ideas that can transform a basic equestrian structure into a practical, comfortable, and fun space.
Whether the design is rustic and chic or sleek and modern, horse trailer conversions are the ideal canvas to let your ingenuity shine.