Horses are some of the most majestic and beautiful creatures. If you have a horse or two and are looking for new ways to feed them besides tossing hay on the ground, you're in luck. There are so many different ways you can feed your beloved horses.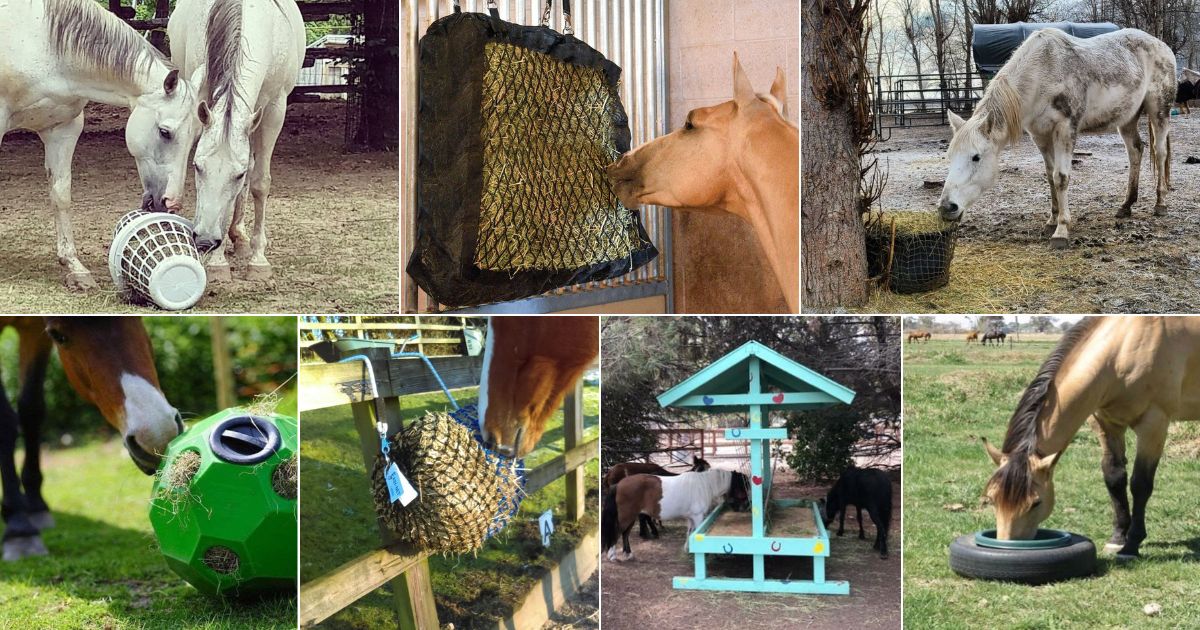 From placing hay on the ground, in buckets, or hand feeding your horses snacks, there are numerous options when it comes to feeding horses. Some are better than others, like finding new ways to encourage natural grazing behavior. If you're stumped on what to try, here are 11 ingenious horse feeder ideas for you to try.
Jump to:
1. Slow Hay Feeder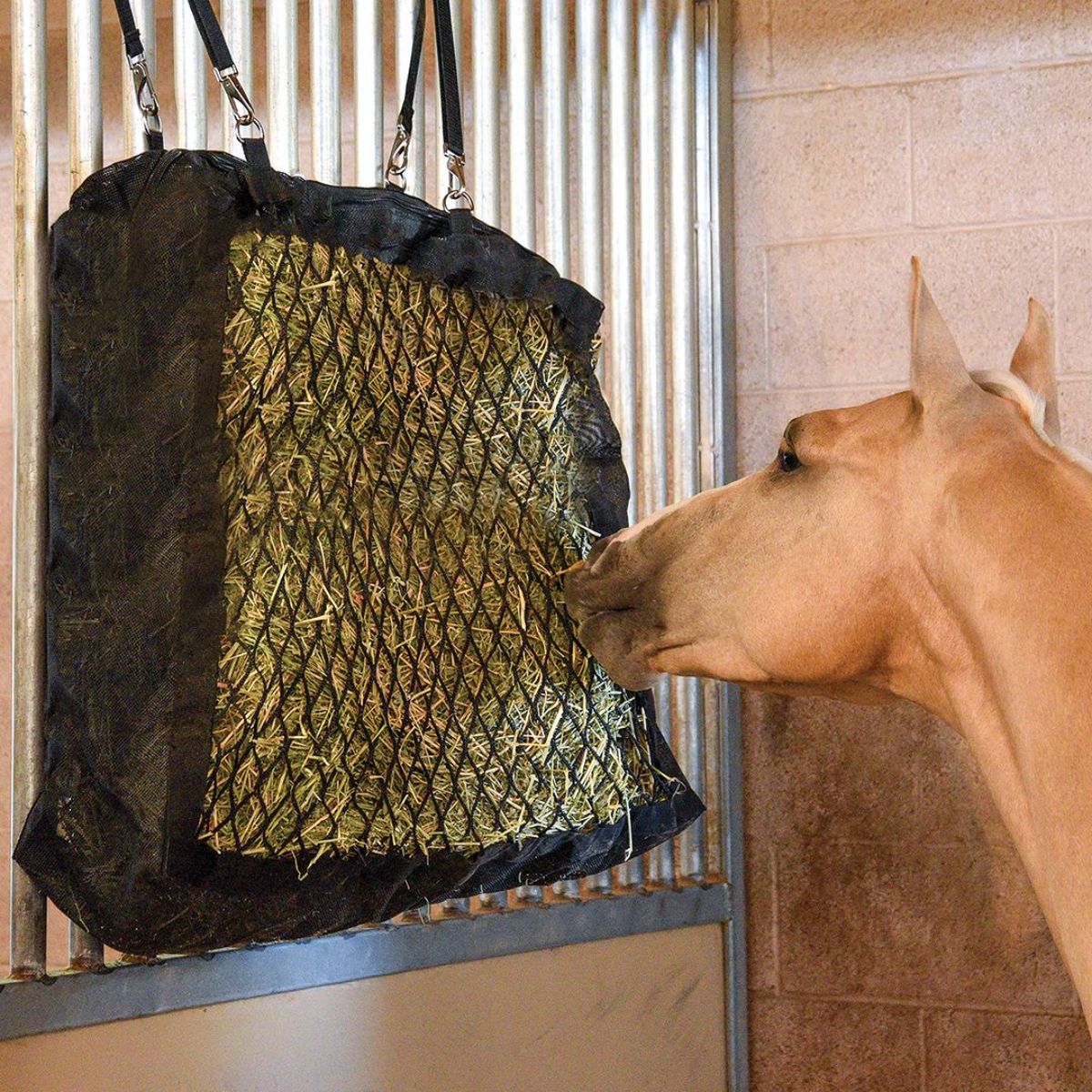 The first horse feeder option comes from Schneider Saddlery. It's a simple hay feeder that you can hang from the ceiling or wall inside your horse's stable. It's technically a slow feeder, but even if your horse doesn't need a slow feeder, there's nothing wrong with using one!
The slow hay feeder is pretty large, made with high-quality materials, and helps you reduce your hay wastage. The square slots are small enough to help your horse eat slower without making it too difficult for them to reach the hay. While it's not a horse feeder that you can necessarily make on your own, it's a great idea to consider.
2. Tire Feeder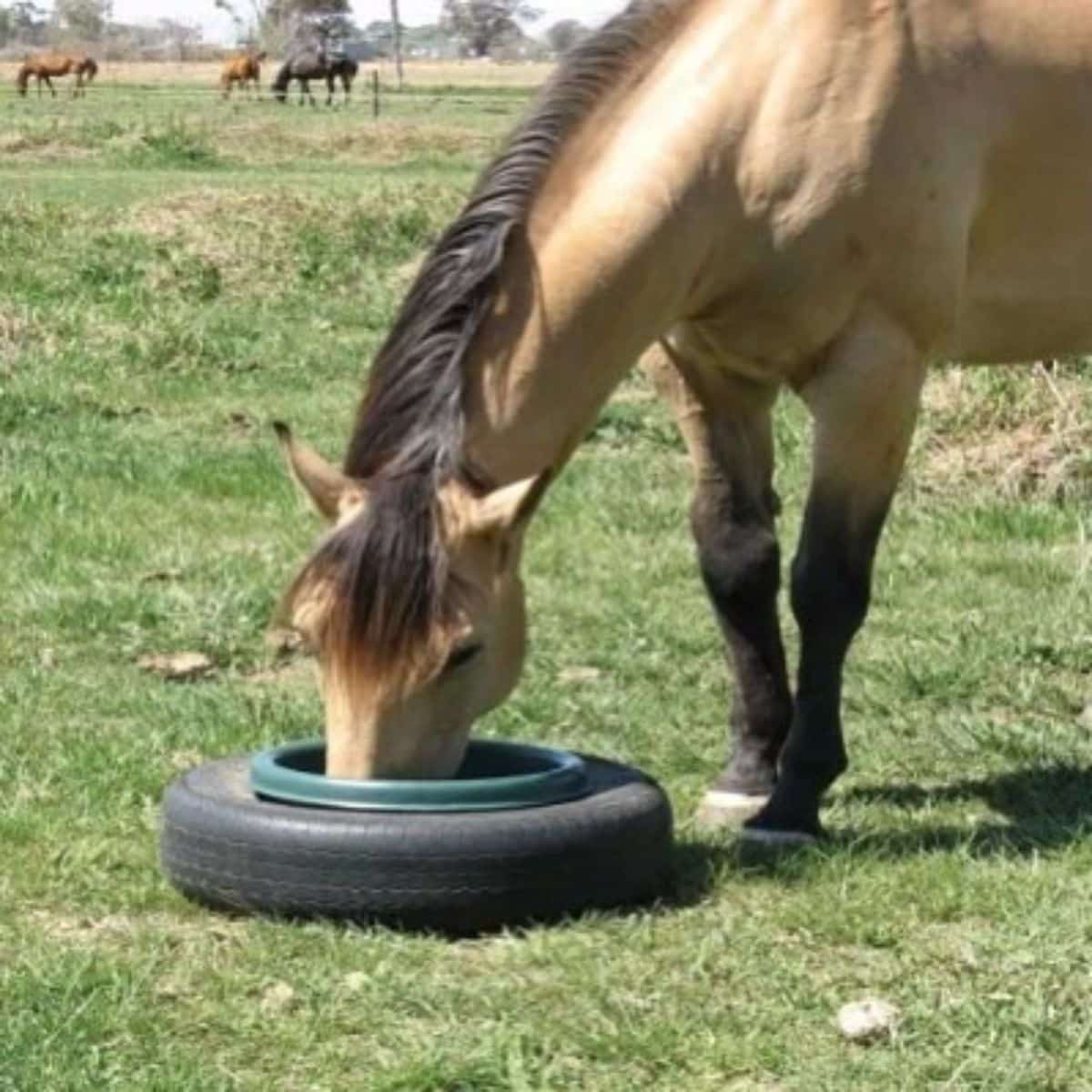 One of the most ingenious horse-feeding ideas is this tire feeder from Amacronequine! It's a simple solution to feeding your horses in the pasture or even in their stables if you prefer that location. Not only does this horse feeder look unique, but it also has several benefits.
There's a poly bucket inside the tire where you'll place your hay or other horse feed. If you have a playful or rambunctious horse known for tipping its food bucket over, the tire is heavy enough to prevent this. Plus, the wind will no longer be able to knock it over too. You can purchase it or make something similar yourself.
3. Personalized and Sheltered Horse Feeder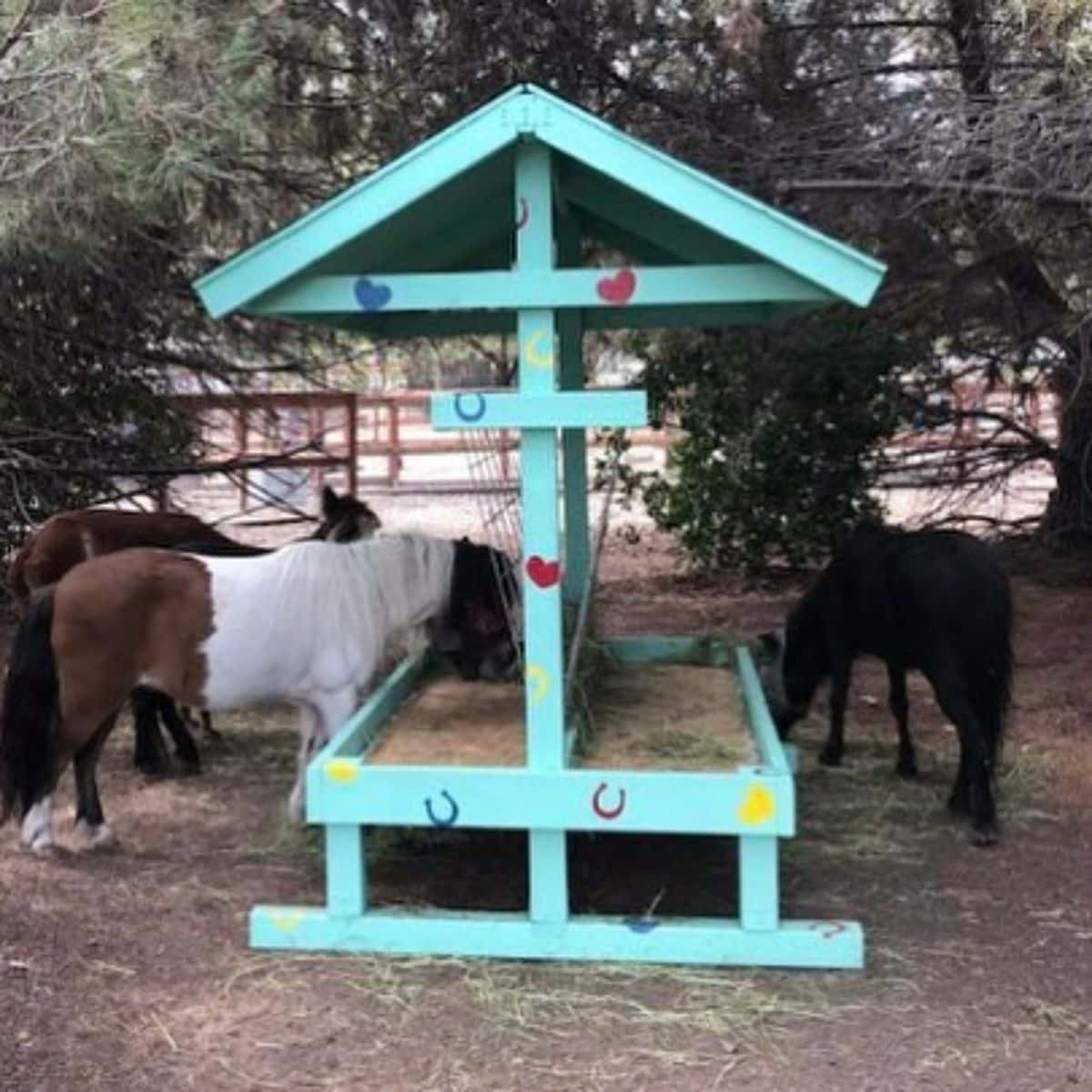 This personalized and sheltered horse feeder that Animal Assisted Happiness shared on Instagram will take you a lot longer to create, but it's a beautiful horse feeder to think about. Overall, it's a simple structure that allows you to feed multiple horses simultaneously.
You'll need someone who can build a sheltered feeder or a place where you can buy one that has plain wood. From there, you can paint it whatever color you want, add designs if you choose, your horse's name, or whatever you want. All you have to do is pour the hay into the feed trays.
4. Play Slow Feeder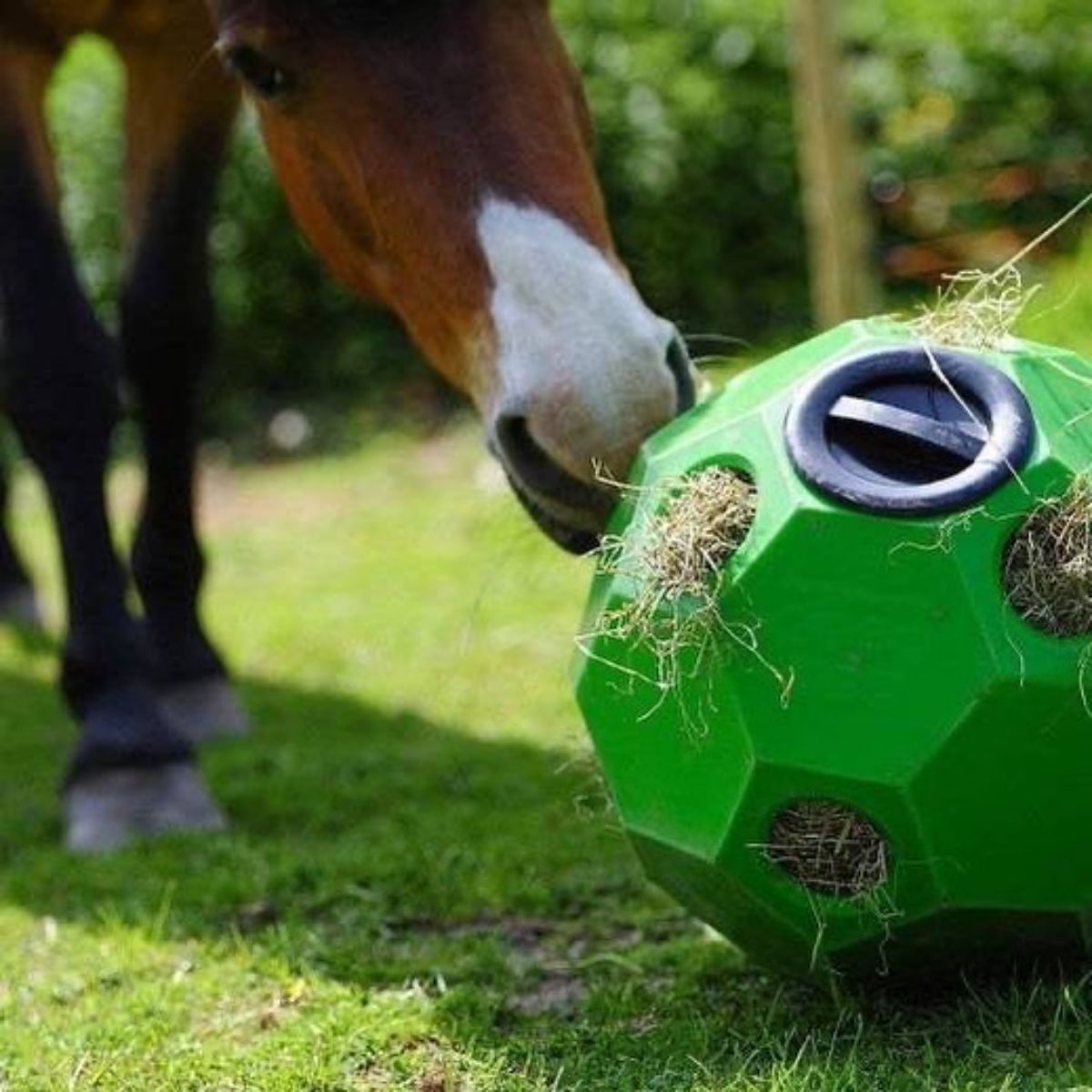 There are so many different types of slow feeders for horses, and the Hay Play slow feeder is by far one of the most ingenious horse feeder ideas. It's the perfect combination of a toy and a slow feeder to keep your horse happy.
Using this horse feeder, you'll encourage your horse to eat hay from a lower level which is excellent for them. For the playful horses, they'll love nudging spherical feeders for fun while munching on hay as they chase the ball. It comes in various colors and is easy to add hay to, unlike some other slow feeders.
5. Automatic Hay Feeder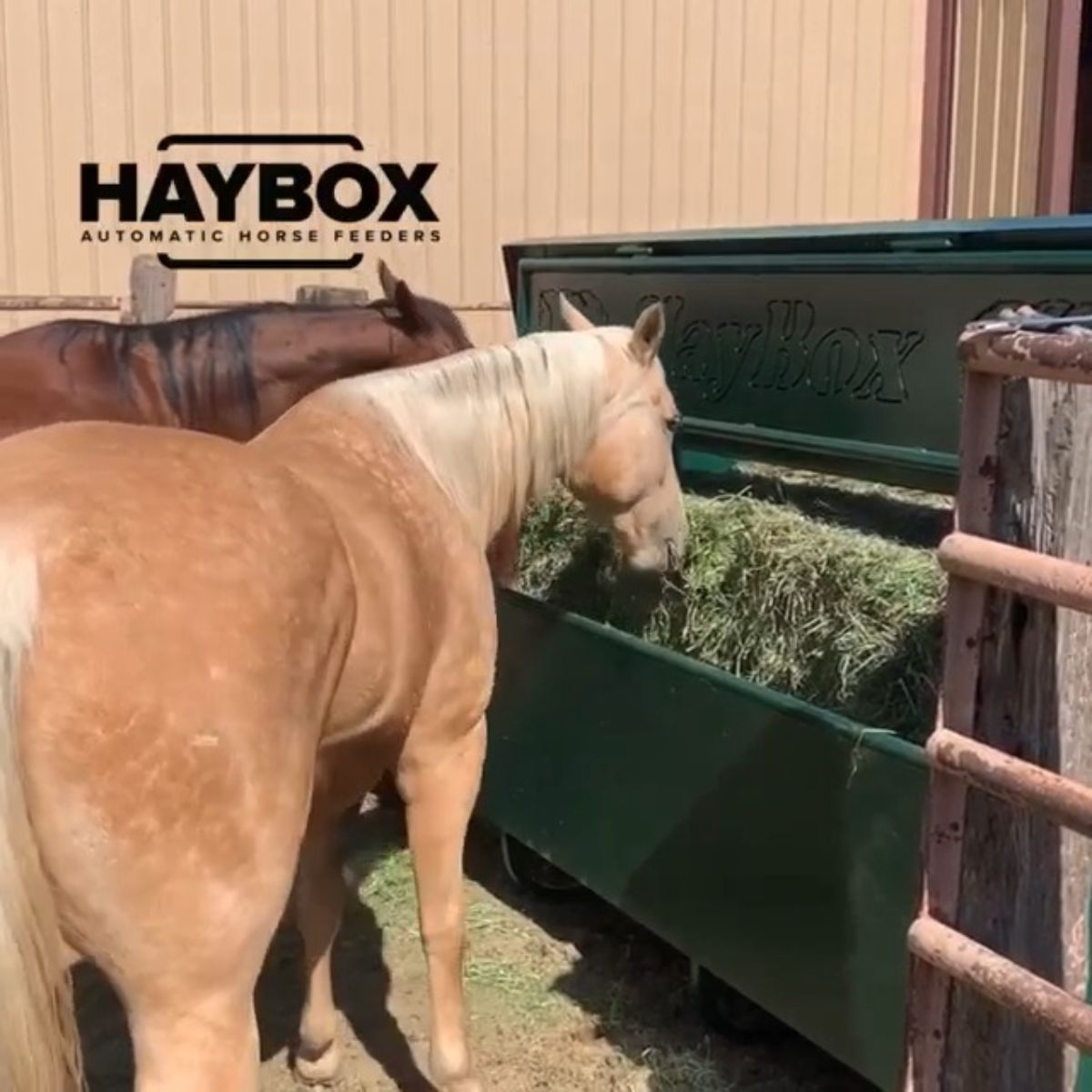 If you're a busy bee but also need to keep your horses on a strict feeding schedule, the automatic hay feeder is the solution to all your problems. It's a large, almost industrial horse feeder you can program to feed your horse at specific times.
Not only can you program the hay feeder to release hay at a specified time, but you can program it to only allow them to eat for a certain amount of time each time. It will enable you to ensure natural grazing behavior in your horses. It's excellent for helping prevent overeating.
6. Parallax Hay Saver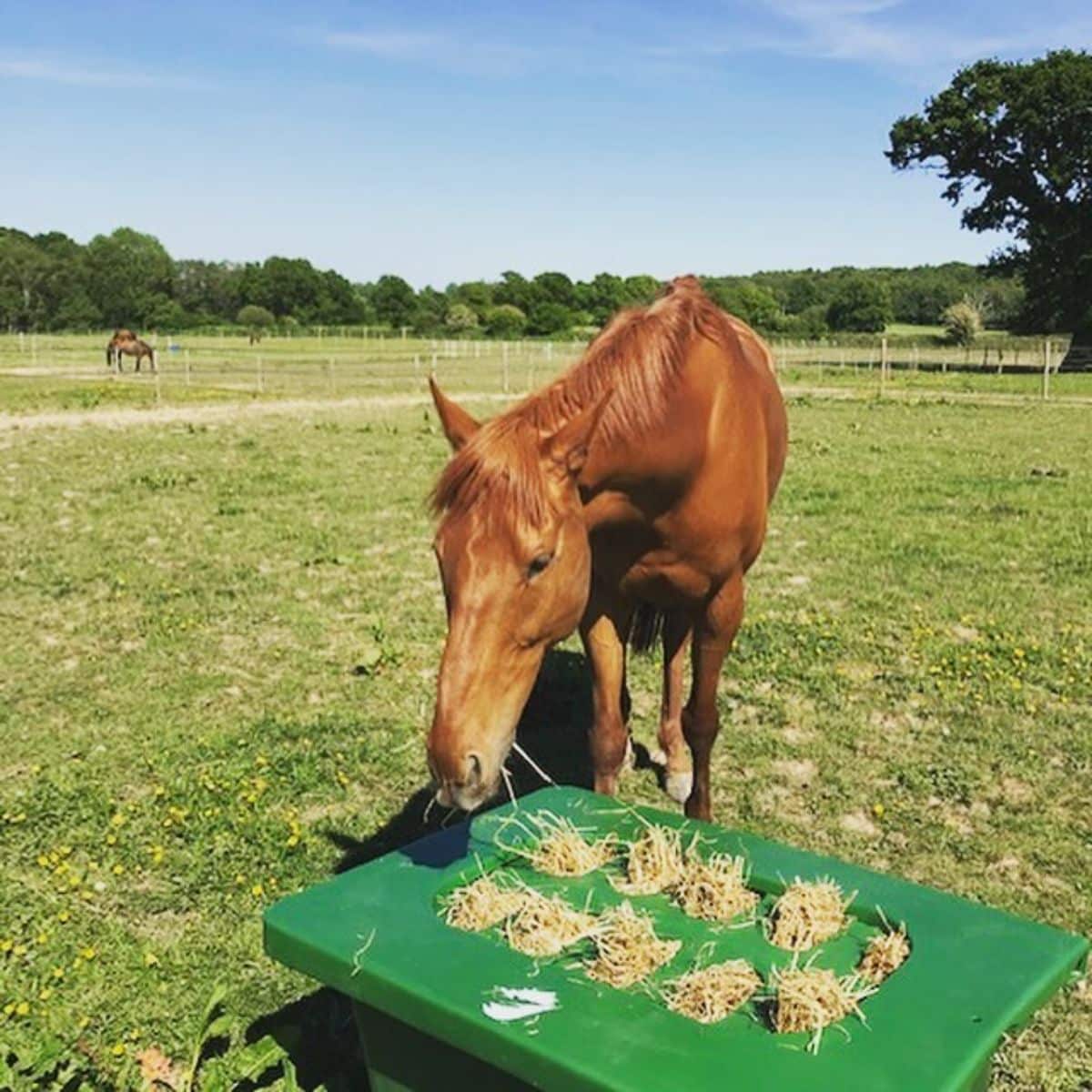 Another excellent horse feeder option is the Parallax Hay Saver. It's a large, durable plastic horse feeder that you can use in the stables or the pasture. We love that its water and frost-resistant, so you don't have to worry about it getting damaged by the elements.
This feeder comes in several colors and sizes, and the manufacturers designed it to mimic the natural feeding behavior of horses. It's easy to use too. All you have to do is slide the lid back, fill it with hay, and add the grill top. Your horse can grab hay quickly without consuming too much at once.
7. Easy Net Feeder
The Easy Net Feeder is a popular option among horse owners. The product allows you to hang your hay at various heights, making it easier for your horses to eat. The net feeder can hold more than 13 pounds of hay at a time, so you shouldn't have to fill it up constantly.
The construction isn't overly complicated, even if you don't want to purchase this specific net feeder! If you're going to make something similar instead of buying one, you'll need durable netting, clasps for the cords to attach to the net, and ropes to hang the horse feeder on fence posts.
8. Laundry Basket Feeder and Toy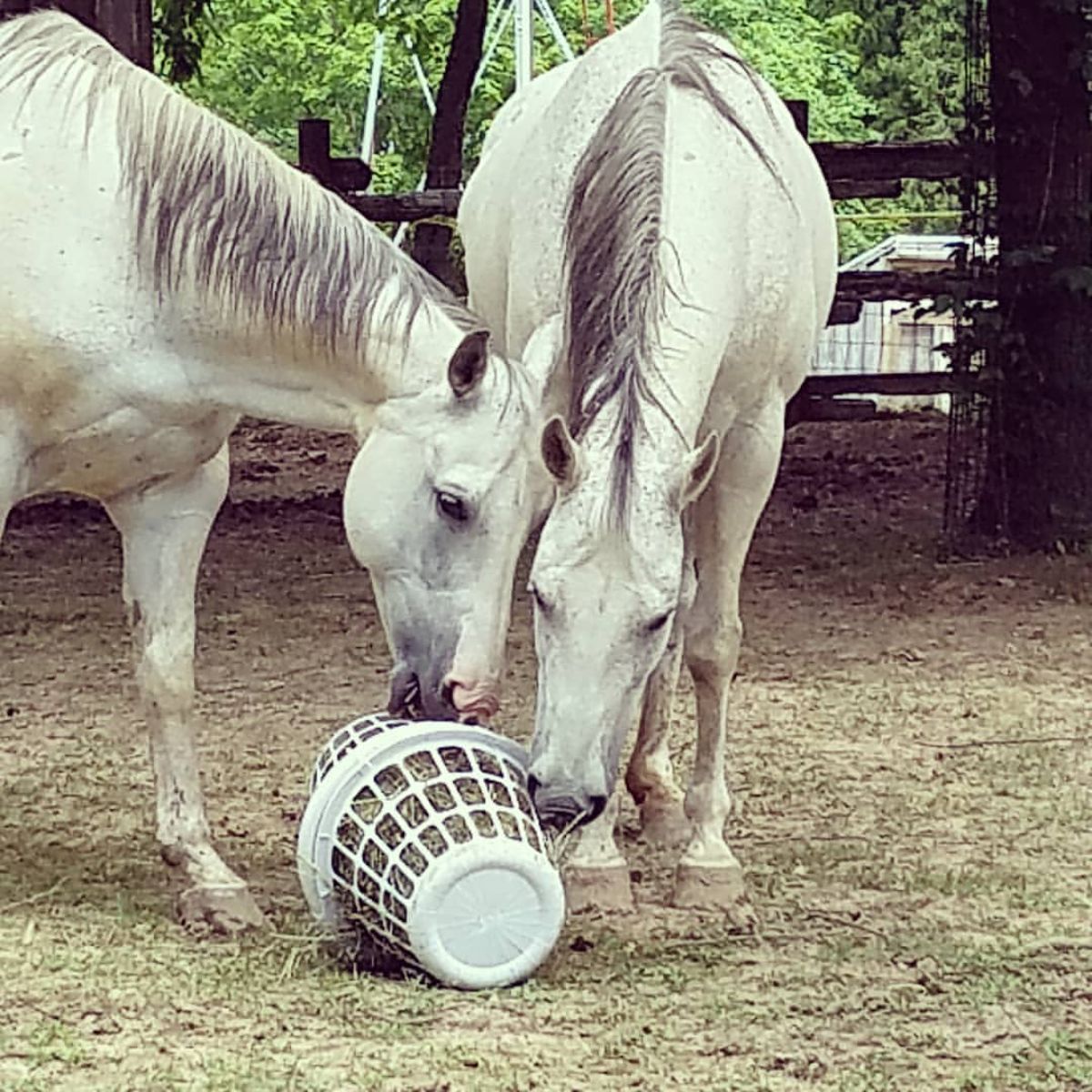 You don't need to purchase expensive feeders for your horses to have a happy and healthy life. While there's no issue with that, if you want an inexpensive, practical, and fun way to feed your horses, you have to check out this option that Wildlife Prairie Park shared.
The horse feeder that they shared is two laundry baskets with holes attached together to form a slow feeder and, in some cases, a toy for your horses. You can purchase cheap laundry baskets at most stores, and then you'll want to attach them with animal-safe glue. It's not as durable as some other options, but it's affordable and easy to make.
9. Repurposed Net and Barrel Feeder
One of our favorite horse feeder ideas that we came across is this repurposed net and barrel feeder. As a horse owner, you probably already have everything you need to make this on hand, and if you don't, they're easy enough to get.
If you have plastic barrels or any material that you let your horses eat out of, you just need that and some netting you no longer have a use for. If you like this idea, you can buy a new net, but it's a great way to repurpose materials. You'll throw the mesh over the barrel with hay in it and secure the netting so the horse can't pull it off while they're eating.
10. Hanging Ball Slow Feeder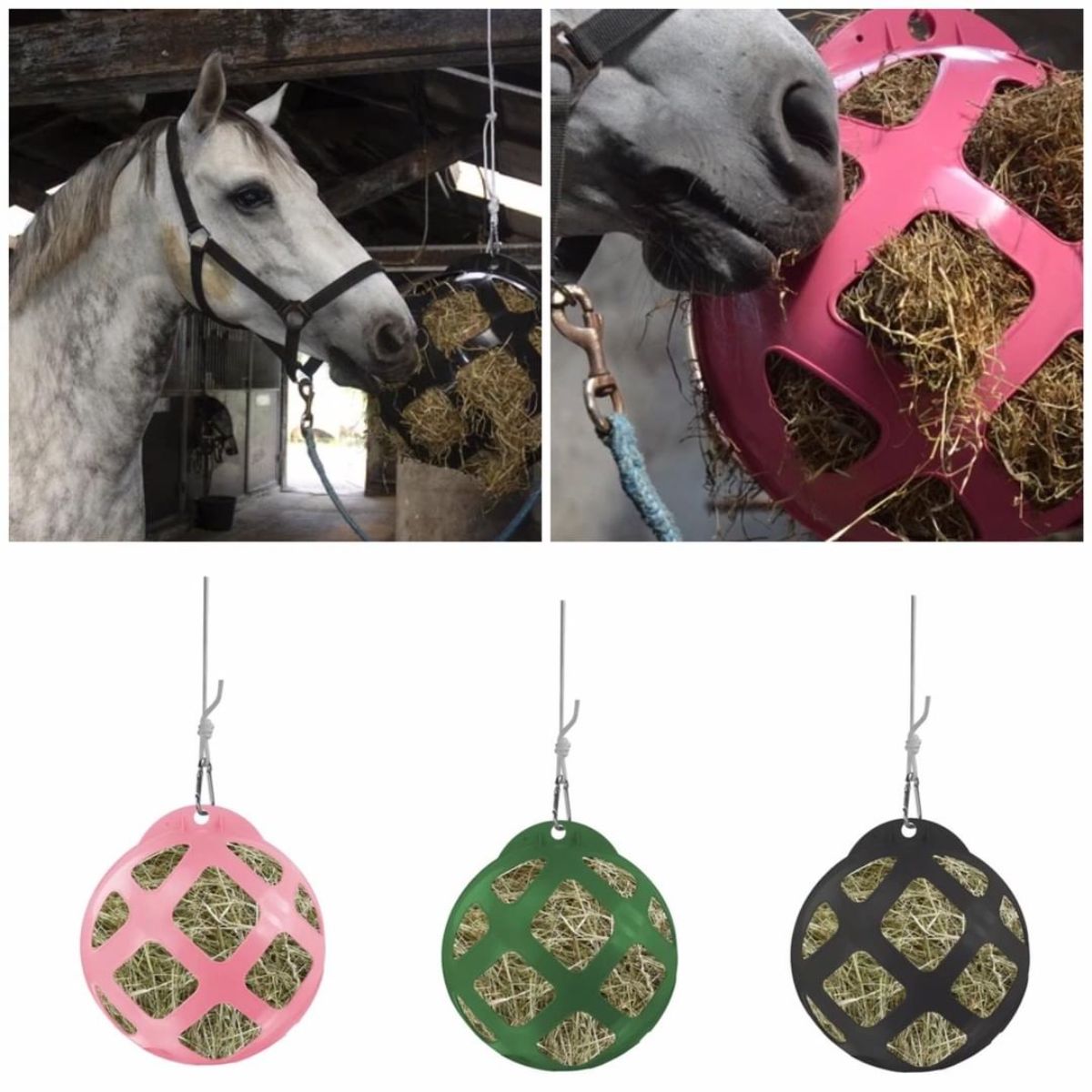 You know we love slow feeders here, and this hanging ball slow feeder is an attractive option. It looks more unique than some other slow feeders since it's the shape of a ball and has large holes for your horse to eat out of.
It comes in several colors, like black, pink, and green. It's the perfect solution if your horse gets bored quickly in their stable because it makes eating fun, and you can hang it at different heights inside.
11. Eazigrazier Hay Feeder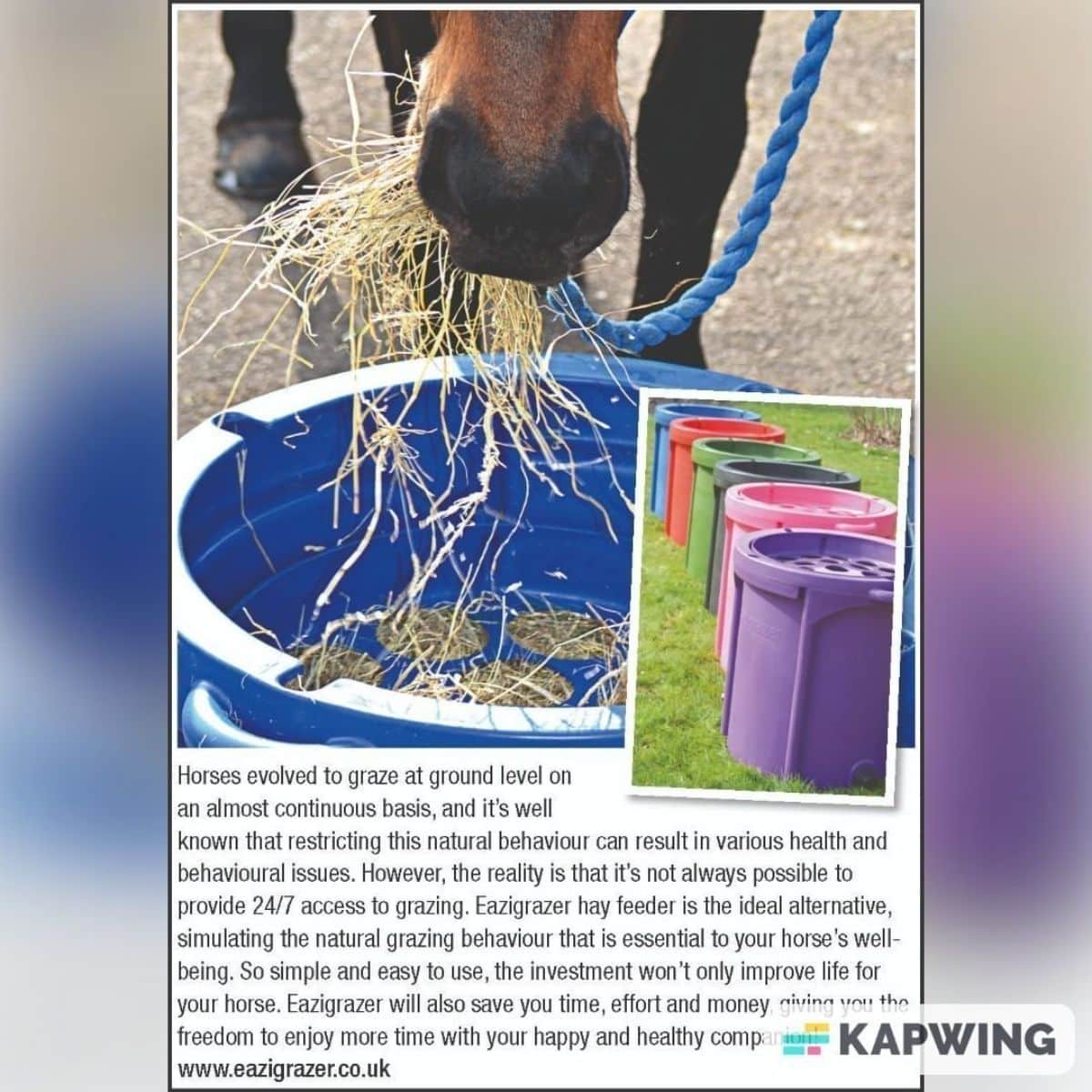 Lastly, we have the Eazigrazier Hay Feeder. This ingenious idea helps control your horses' eating habits while promoting natural grazing behaviors. It can help prevent health problems and allow your horses to live happy and long lives.
The feeder is a durable plastic bucket with a grill on top with slots. All you have to do is fill the bucket with hay, replace the grill, and let your horses go to town.
Final Thoughts
Whether you want to buy a slow feeder, a toy that also feeds your horses, or make a horse feeder out of materials you already have, these 11 ideas should inspire you.