The prognosis was grim for a shire horse named Beatrice after she collapsed due to severe colic. Her owners, Donald MacIntyre and Jane Lipington, contacted their veterinarian to euthanize her after attempting to get her back on her feet for over six hours.
But one family member was not ready to say goodbye. Watch as Beatrice's companion Beau urges her to keep fighting!
Beatrice is 16-years-old and weighs close to 1,000 pounds. After collapsing from intense abdominal pain, her heart rate and blood pressure rose to near-fatal levels. Her organs were at risk of shutting down the longer she remained lateral.
MacIntyre and Lipington were forced to make the painful decision to put her to sleep after all attempts to encourage her to rise failed. They had four farmhands helping with their efforts and even tried lifting her with a strap tied to a tractor to no avail.
Then Beau stepped in! Just 20 minutes before the vet's arrival, Beau was let out of his stall. Instead of heading out into the yard, he bolted to Beatrice's side. He nudged her and repeatedly nipped at her neck until, miraculously, she began to struggle to her feet!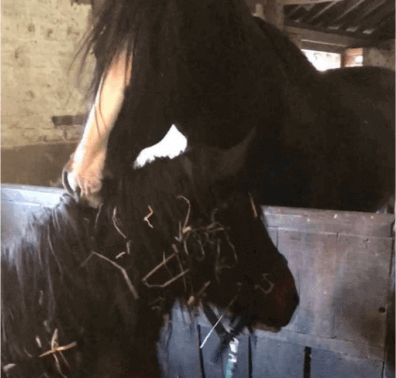 Lipington told The Sunday Express:
"It is absolutely astonishing. We were prepared to lose her and had arranged for her to be put down but Beau knew what to do.

"We let him out in the yard for a walk about but he marched across the intervening stable and leant over the partition and started nipping at her, getting hold of her halter with his teeth and shaking it. He then lifted her head up and lifted her into a more upright position.

"We all watched with amazement. He lifted her so that her chest and legs came up off the ground, with a little encouragement from us she got shakily to her feet and we quickly walked her out into the yard trying to stop her falling down.

"As we were walking her we phoned to cancel her being put down. It was that close. Our vet was astounded.

"We are used to seeing extraordinary interactions between the horses but we have never witnessed a horse saving another's life.

"Beau achieved what six hours of human endeavour with straps and machinery had failed to - he managed to lift Beatrice up off the floor which has allowed her to live on."
Beatrice has since made a full recovery!