The color you use on either business, recreational, or racing horse trailers can give them a unique appearance. With high-quality materials, you can give your trailer an edge over the competition or make a great first impression with potential customers. With either something classic or something more modern, you can create a look that stands out and won't soon be forgotten.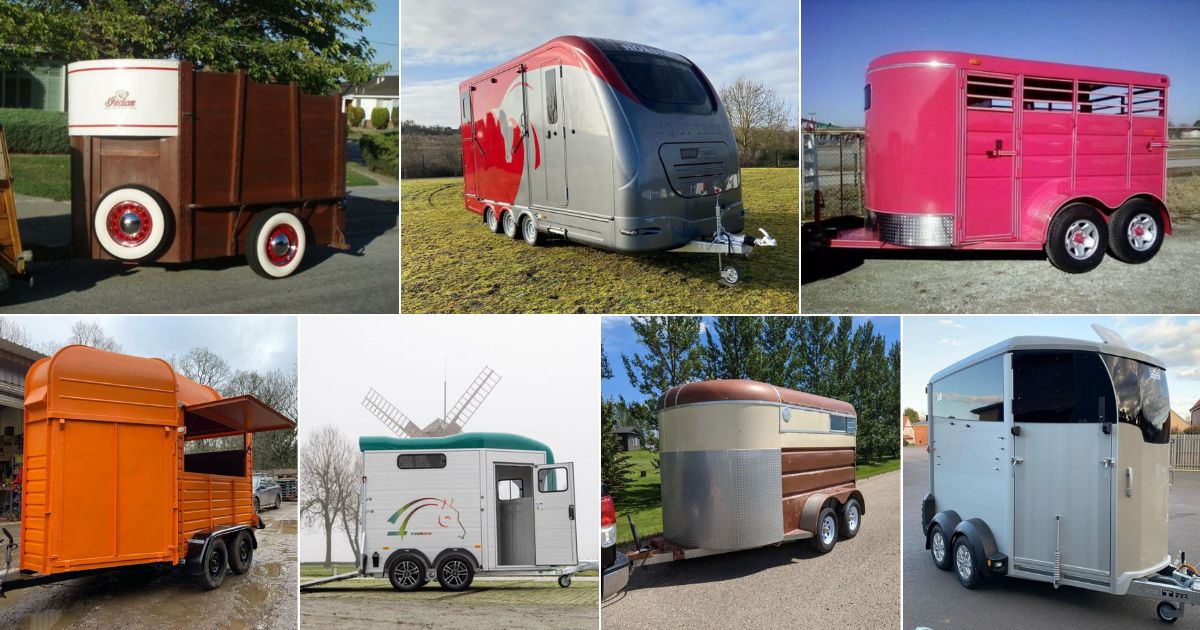 You can use classic white paint, bold patterns, white with black detailing, bright pink, ombre, two-tone with a glossy finish, creative stencils, funky designs, and even glow-in-the-dark paint. If you're feeling adventurous, use a mix of colors and decorative accents for a truly unique look.
Here are eleven inspiring horse trailer paint ideas to get you started.
Jump to:
1. Classic White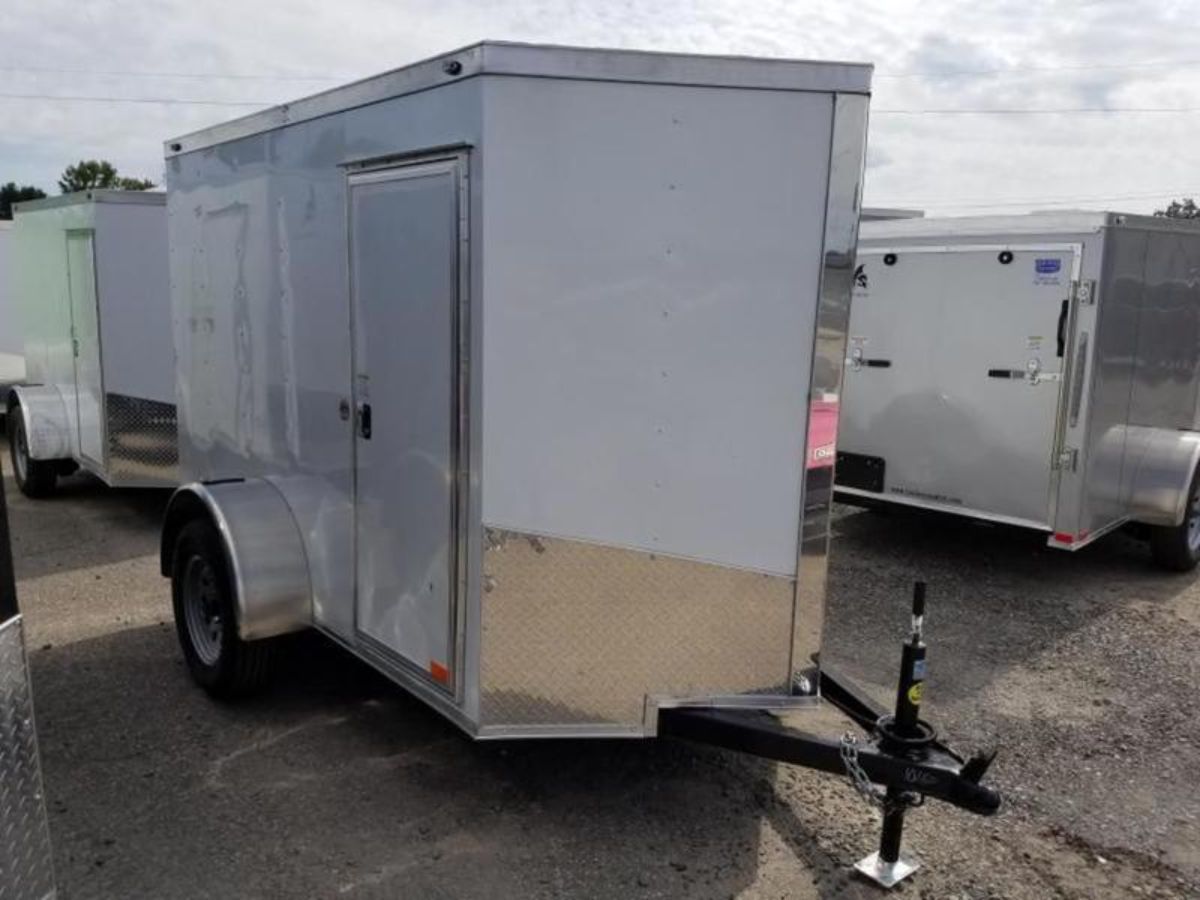 A timeless white exterior works well with any color scheme or decal. It can also add a touch of elegance and grace to your horse trailer. If you want to add some extra pizzazz, consider adding a black trim or detailing.
You can also add a glossy finish for a modern touch. However, be aware that gloss paint requires more upkeep and may not last as long. Consequently, it may be better suited for recreational use rather than commercial.
2. Bold Patterns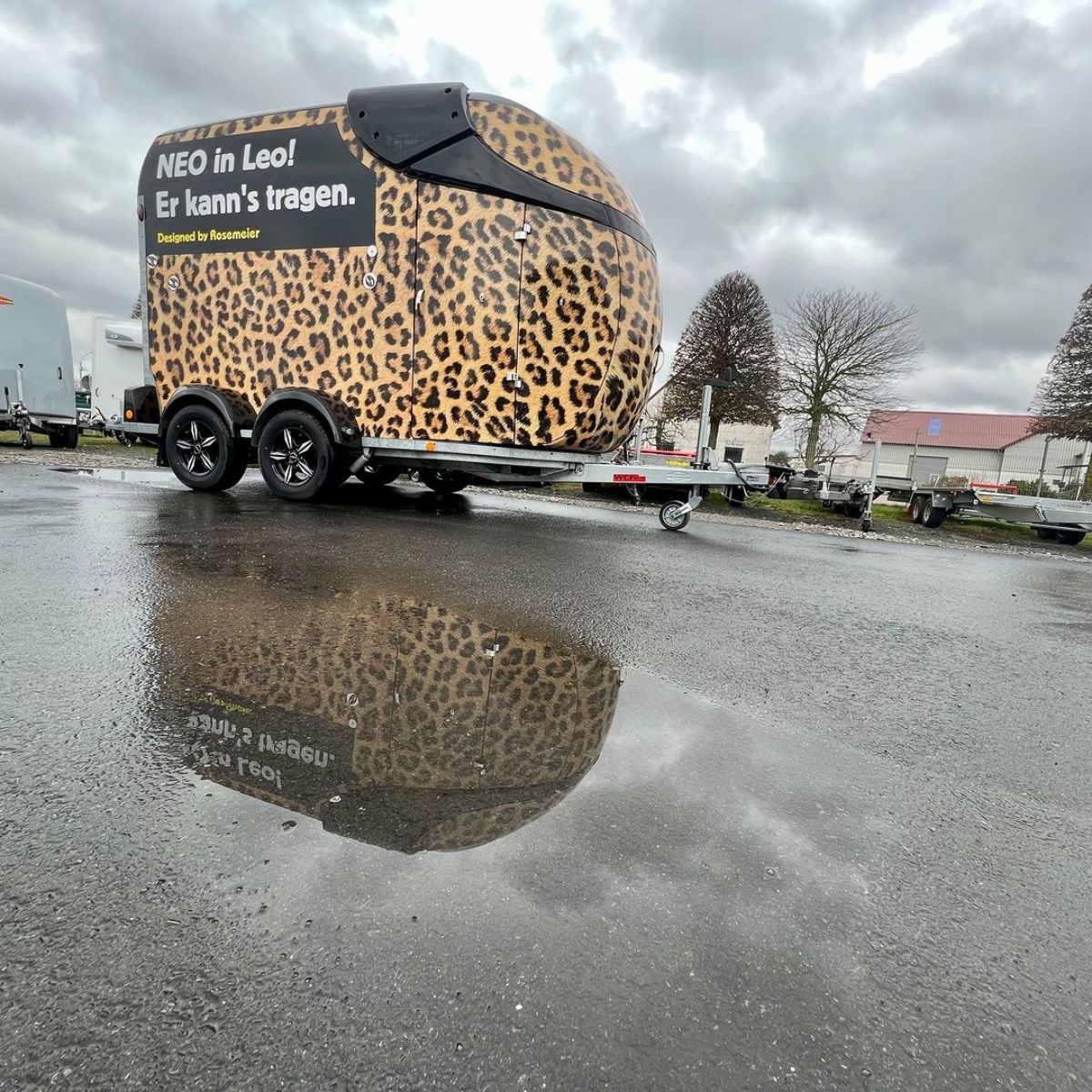 Bold patterns are great for those who want to add fun and personality to their horse trailer without going overboard. You can use bright colors like red, blue, and yellow to draw attention to your trailer. You can also add some stripes for a nautical feel.
The patterns can include drawing inspiration from animals, nature, or abstract shapes. Alternatively, you can use something more subtle, like polka dots or chevrons. If you admire the work of a certain artist, you can also use their style to create a unique and stylish look.
3. Black & White Detailing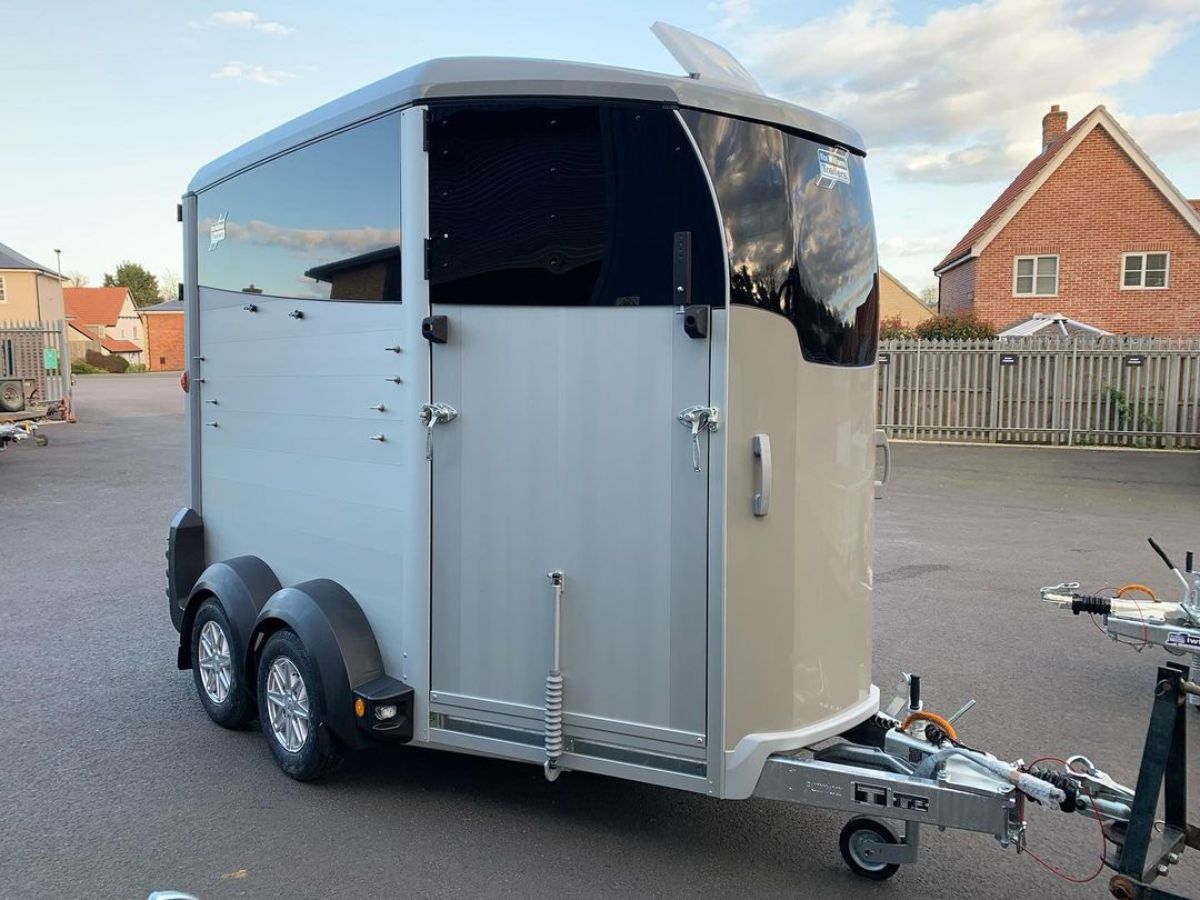 The black and white combination gives your trailer a modern and sophisticated look. You can start with a white base, then add black detailing to the trim or fender. You can also use a combination of white and black paint on the body to create a two-tone look.
You can also add some gold accents to make your trailer even more stylish. However, it may not be suitable for those who prefer a more subtle look, as it can be quite striking.
4. Bright Pink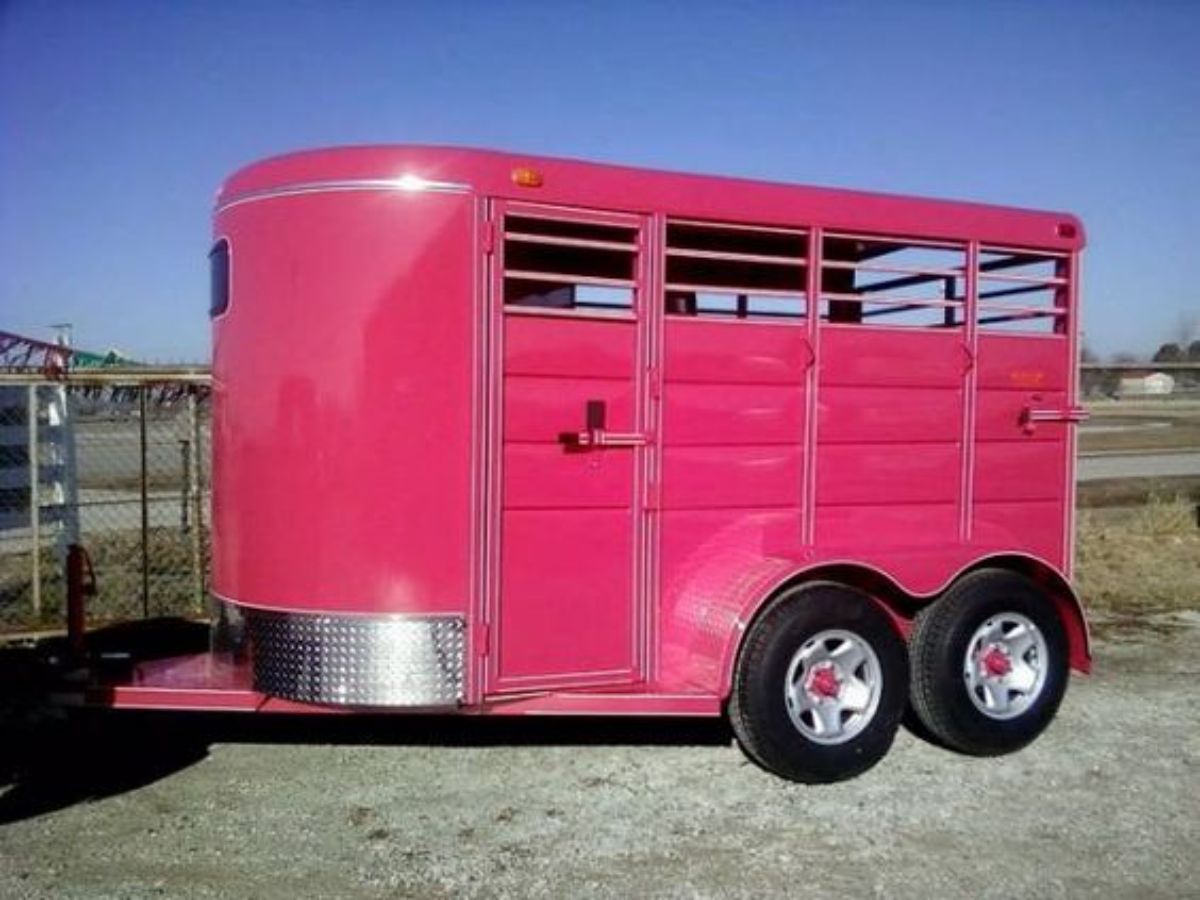 If you want to stand out from the crowd and make a statement, then bright pink is the ideal color. You can use a single shade of pink or mix it up with different hues, such as baby pink and hot pink. You can also opt for a vibrant pink paint job if you want something more daring.
To get a more classy look, you can add some black detailing on the sides or silver accents on the trim. You can also use two-tone pink and white paint for a modern look.
5. Ombre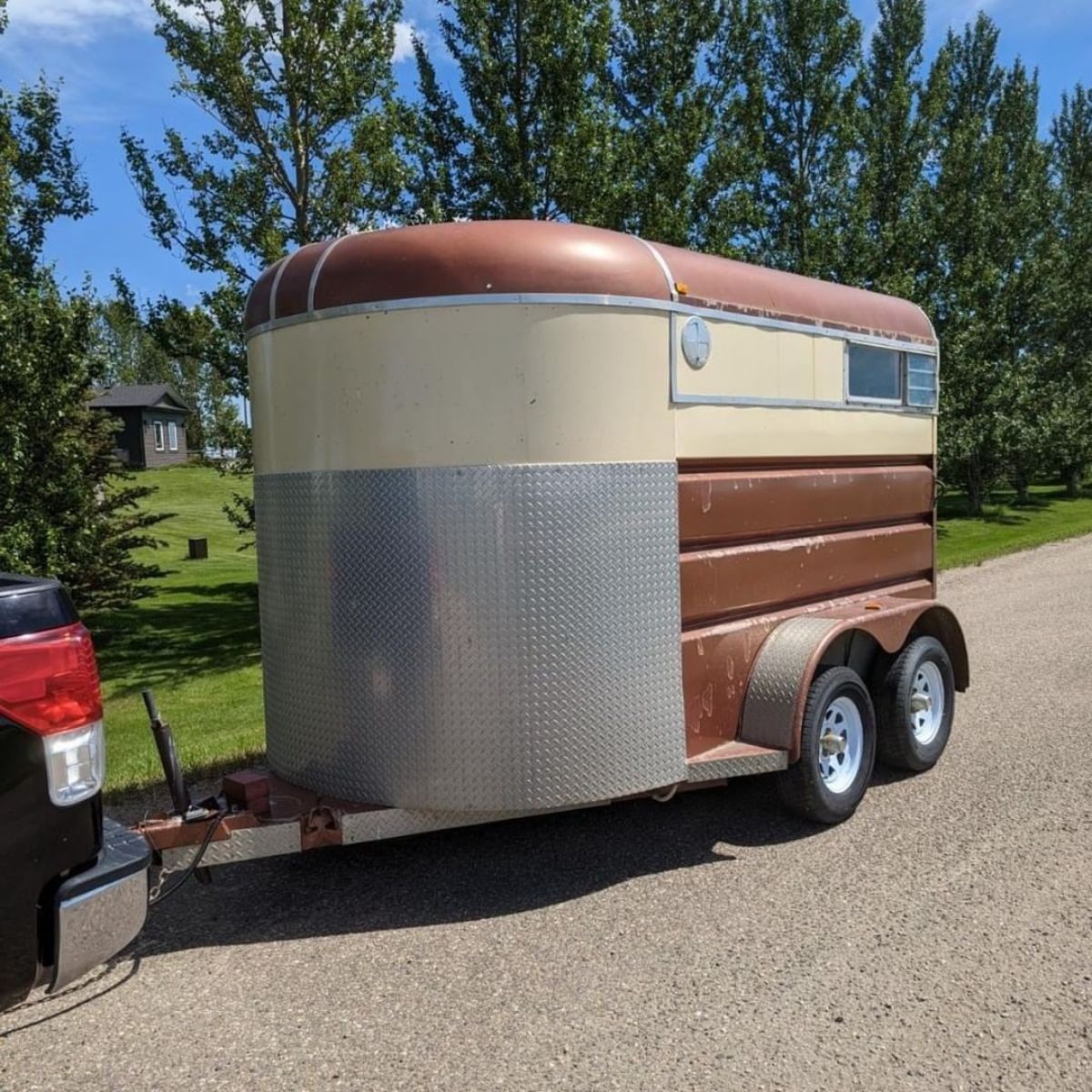 Ombre is a great way to add some visual interest and sophistication to your horse trailer. You can start with a light color at the back and gradually move to a darker shade towards the front. You can also add some metallic accents to enhance the look.
If you want a more daring look, you can use different shades of the same color. For instance, pink at the back, then purple and blue in the middle, and yellow at the front. However, it is essential to mix the colors lightly to avoid creating a garish look.
6. Two Tone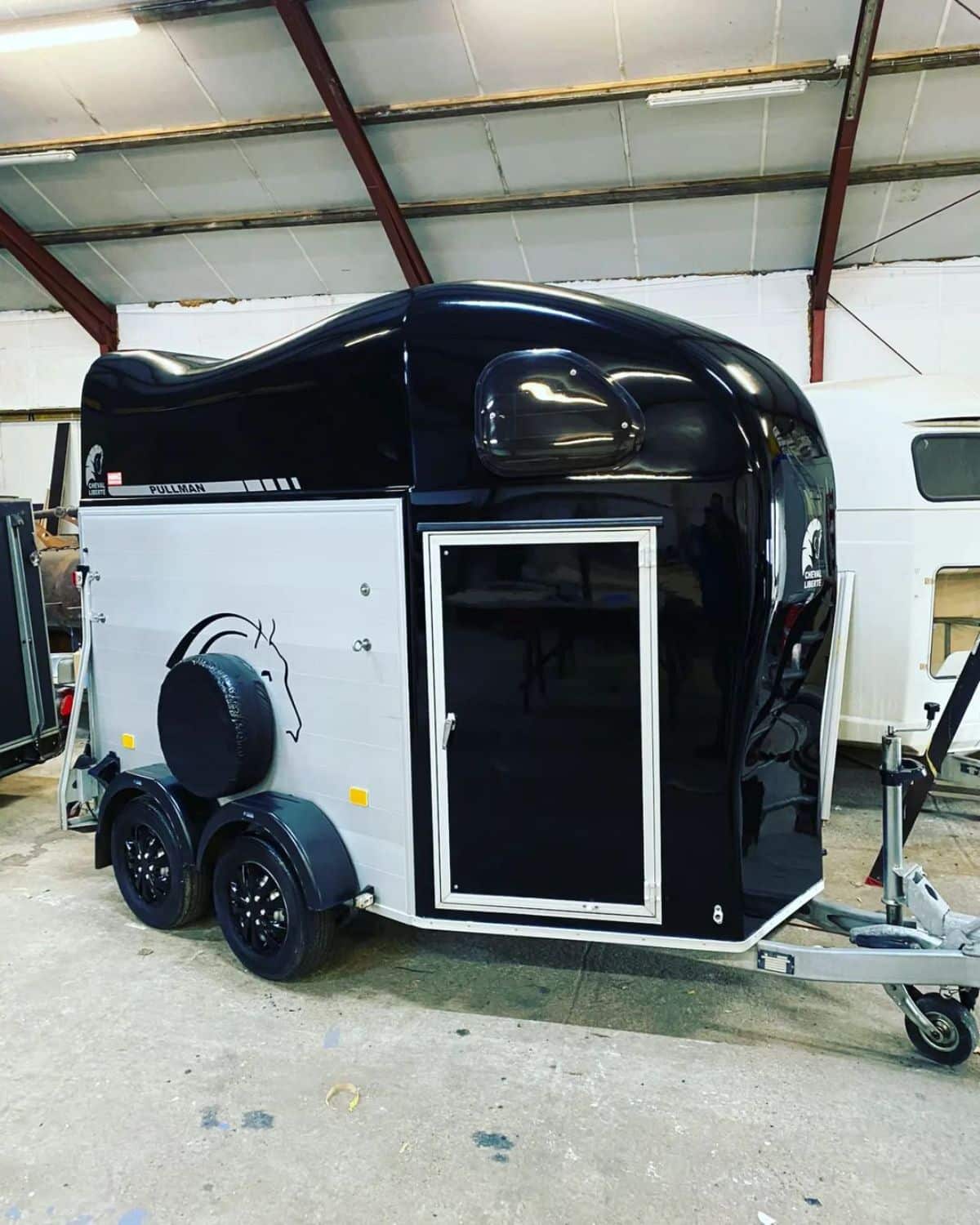 A two-tone paint job with a glossy finish is perfect for those who want a modern and stylish look. You can use two complementary colors, such as black and white or blue and yellow. You can also add some silver accents to enhance the look.
The glossy finish can add a reflective sheen that can make your trailer stand out in any crowd. However, remember that it may require more upkeep than regular paint.
7. Creative Stencils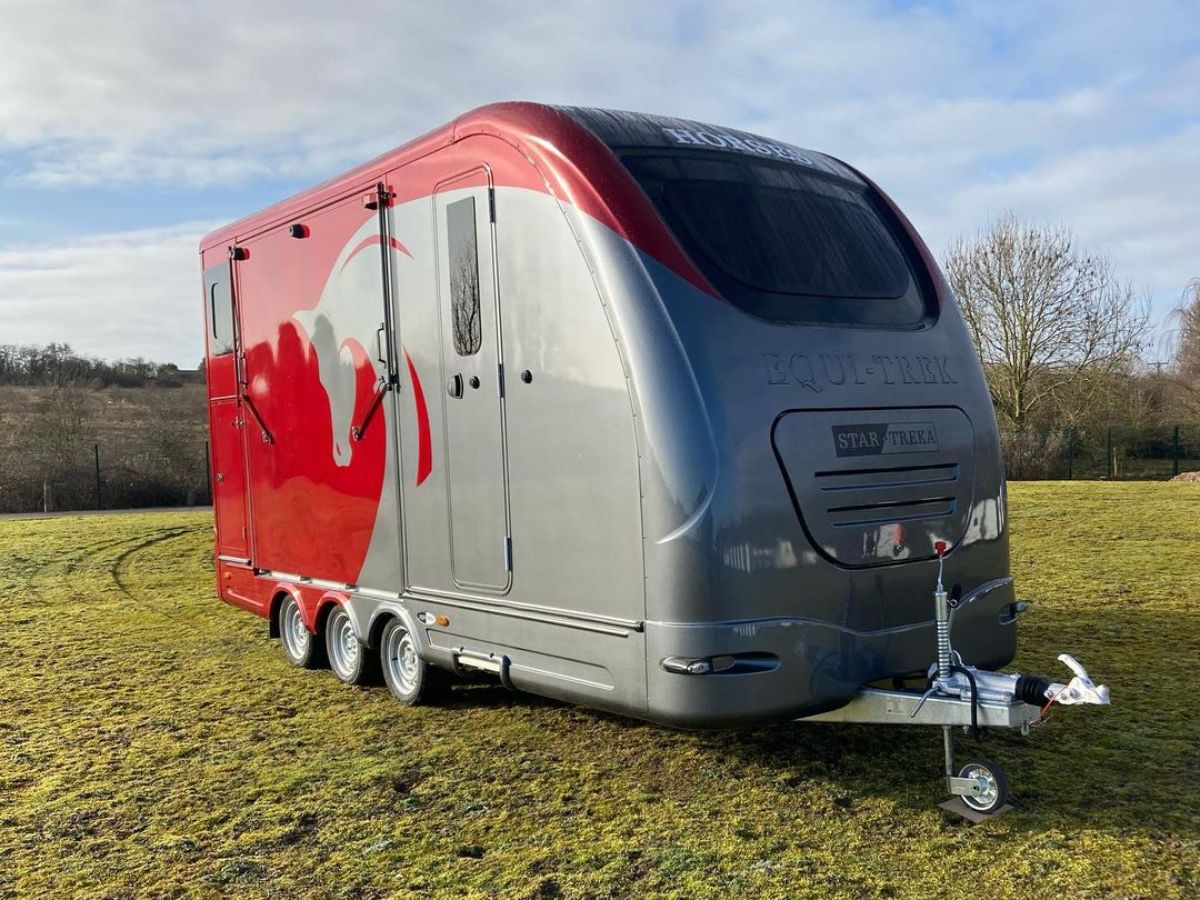 Stencils are a great way to add personality and fun to your horse trailer. You can use stencils of animals, flowers, or abstract shapes for a unique look. You can also combine different colors for an eye-catching effect.
For a classic look, you can use stencils with contrasting colors, such as black and white. You can also use bright and bold colors to make your trailer pop.
8. Funky Designs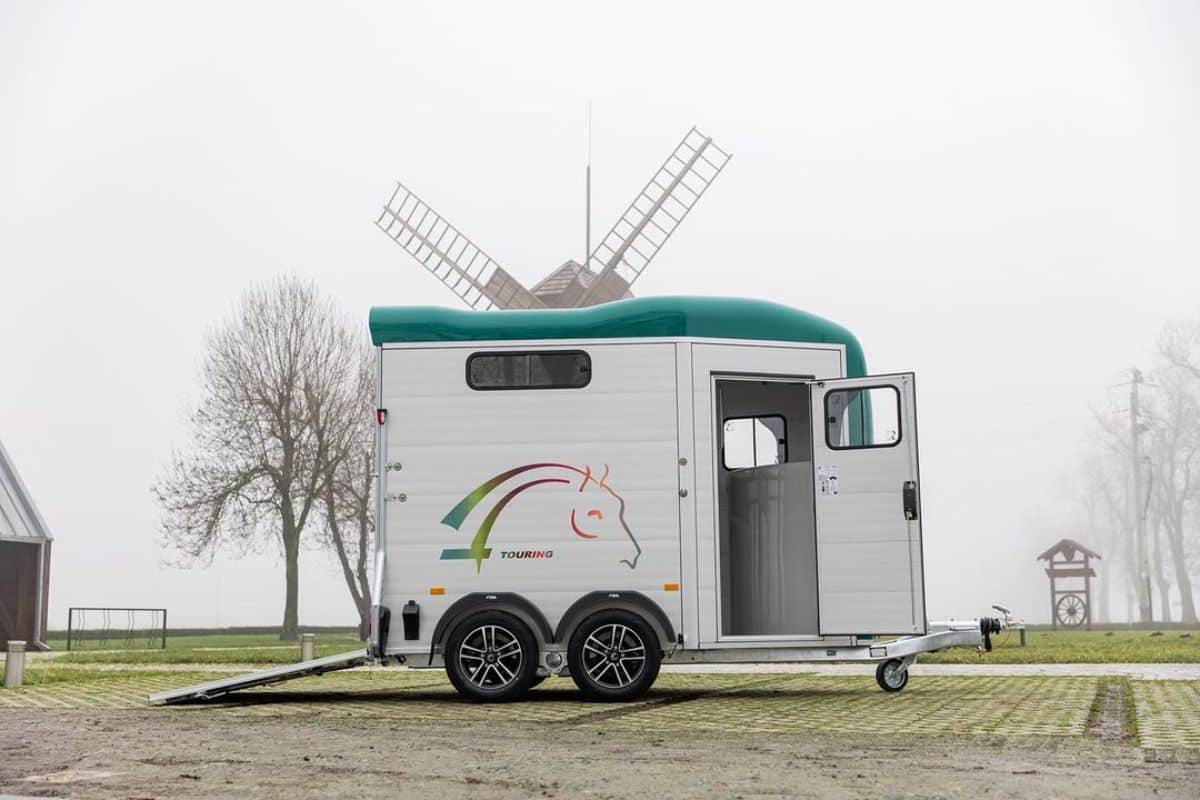 A funky design uses bright colors, patterns, and detailing to create a unique look. For example, you can use rainbow stripes or chevrons with some metallic accents for a modern touch. You can also combine different textures and materials to create an exciting look.
The designs can be simpler as they encourage personal creativity, increasing their unique nature. However, keep the design balanced to avoid an overly busy look.
9. Glow-in-the-Dark Paint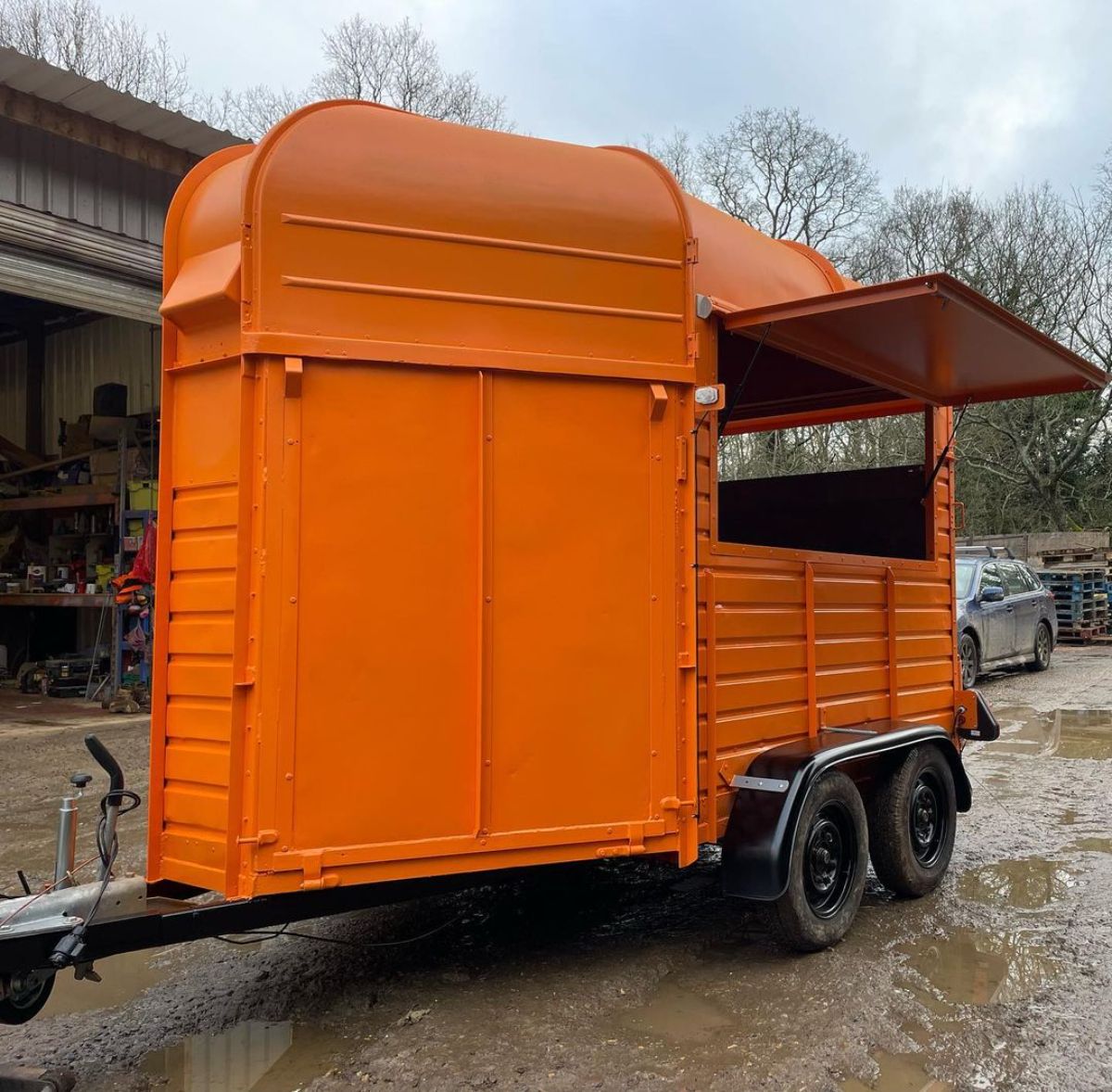 Add a unique and exciting element to your horse trailer with glow-in-the-dark paint. Choose a neutral or light color for the base, then add a glow-in-the-dark paint layer. The result is a stunning and eye-catching look.
You can also add some reflective elements, such as glass beads or glitter, to make your trailer look even more interesting.
10. Rustic Wood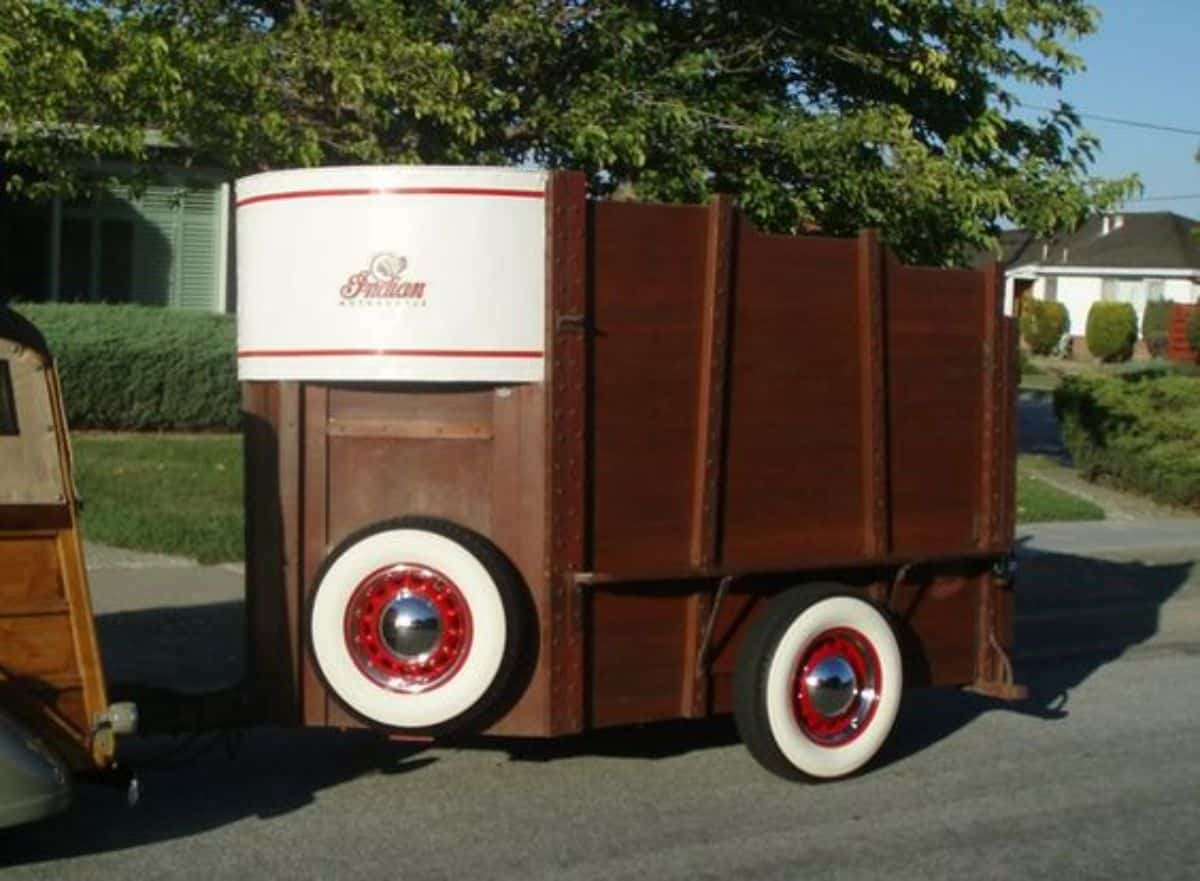 You can choose a light stain to keep the look subtle and natural. You can also consider some carvings or engravings to give the wood a unique look and create a warm and inviting appearance.
For a dramatic, modern look, you can some lights. You can also combine wood with other materials, such as metal or stone, which can also increase its durability.
11. Word Art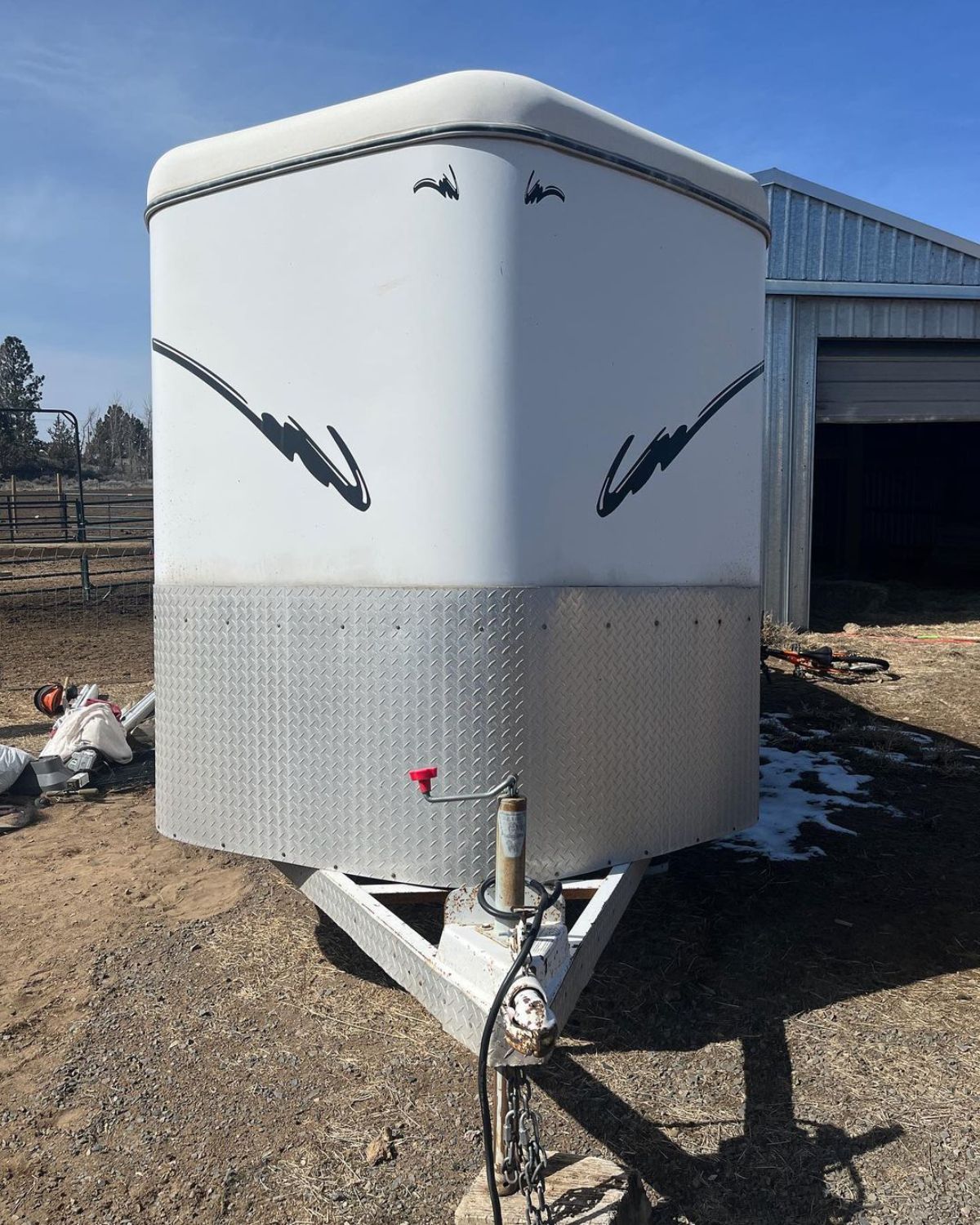 If you admire art, you can choose inspiring words or phrases and have them painted on your trailer. You can also opt for a more subtle approach using small words or initials.
You can incorporate different fonts that can add a unique touch to the design. You can also use your creative power to maximize color and texture.
Give Your Horse Trailer a Spectacular Makeover
No matter what style you choose, a fresh paint job can give your horse trailer a stunning new look. Whether you want to go bold or keep it subtle, there are plenty of options to choose from.
You can transform your horse trailer into something truly special with a few simple steps. So don't hesitate to give your horse trailer a makeover. It's sure to turn heads and make an impression.
Contact us today, and we'll help you get started.
FAQ's
A horse trailer paint job can be a time-consuming and costly project. That's why choosing the right paint job for your trailer is important. Here are some of the most common questions about horse trailer paint jobs:
What is The Best Way to Protect Your Horse Trailer Fom The Elements?
The best way to protect your horse trailer from the elements is to use high-quality, weatherproof paint. It is important to keep the trailer clean and free of dirt and debris to prevent corrosion. You should also use wax or sealant to protect the paint finish and help it last longer. By preventing your horse trailer from elements, you can reduce the expensive costs of painting.
What is The Best Way to Choose Colors For a Horse Trailer?
When choosing colors for your horse trailer, it's important to think about the look you want to achieve. Consider what colors work best with the style of your trailer and the type of horses you own. You can also mix and match different colors to create a unique look.
What Are Some of The Options For Painting a Horse Trailer?
There are several options for painting a horse trailer, including traditional paint jobs, airbrushing and spraying, faux finishes, glitter paint, and glow-in-the-dark paint. Each of these options can give your trailer a unique and eye-catching look.
How Long Does a Horse Trailer Paint Job Last?
A high-quality horse trailer paint job should last several years, depending on the type of paint used and how well it's maintained. Regular maintenance and cleaning can help preserve the look of your paint job for longer. For instance, waxing the trailer every six months can help protect the paint and keep it looking new.