Even non-horse lovers know that draft horses are large and incredibly strong. Many draft horses even have serious lifting jobs to do on farms and the like. For Petra, she's a Belgian draft horse that many know as the strongest draft horse in the world. Videos started to surface of her online a few years ago, and what she can do is most impressive.
Fun Belgian draft horse fact: Despite the widespread popularity of the Budweiser Clydesdales in America, this breed is actually the most popular draft horse breed in the US.
Petra's owner is well-versed in all things draft horse, with many other amazingly large draft horses in his possession. Her owner trains and shows Belgian draft horses in Belgium, and she and her horse mates are all stunning. But of all Stefan's horses, Petra is the world's strongest draft horse.
Since Petra's video was revealed to the world nearly six years ago, it's amassed over nine million views and counting. Draft Horse Pull competitions are somewhat popular in other parts of the world, although we might not seem as often here in the States. It's believed that the Belgian horse breed is a descendant of the famous medieval horses, so it comes as no surprise to see their brute strength.
See Petra in action below, doing what she does best!
Way to go, Petra! You show those boys that girls can do anything a boy can do. And sometimes, even better!
It should come as no surprise that Belgian draft horses hold a few prestigious world records. There's also Big Jake, who is the "Tallest Living Horses" in the Guiness Book of World Records. Big Jake stands at 20 hh, 2 ¾ inches tall and is truly a sight to behold. The average draft horse is 17-18 hands high, so Big Jake has truly earned the title he holds!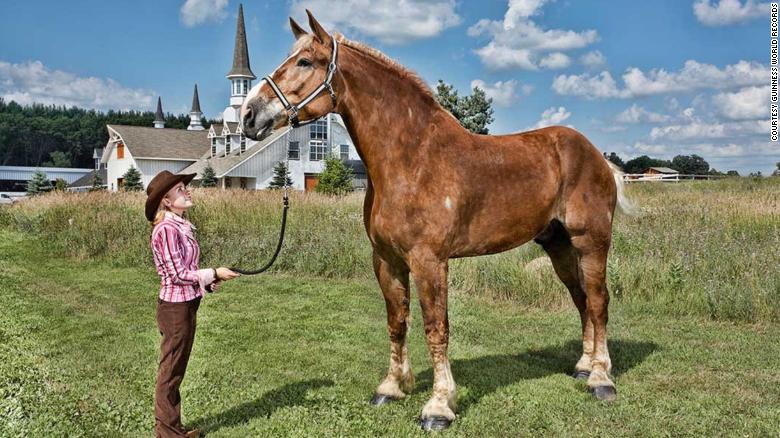 Are you a lover of the Belgian Draft Horse breed? Find out more about them here in our article dedicated to these impressively large and strong horses of the equine world.
Images of Petra Courtesy of YouTube - Robert Piessens