Two draft horses named Poppy and Tony were rescued from a hotspot in Williams Lake, British Columbia this July as wildfires raged.
Rescuers from the BC SPCA came across the desperate pair while working behind evacuation lines. It soon became apparent that both horses were in a state of neglect. They were barely able to walk due to their severely overgrown hooves.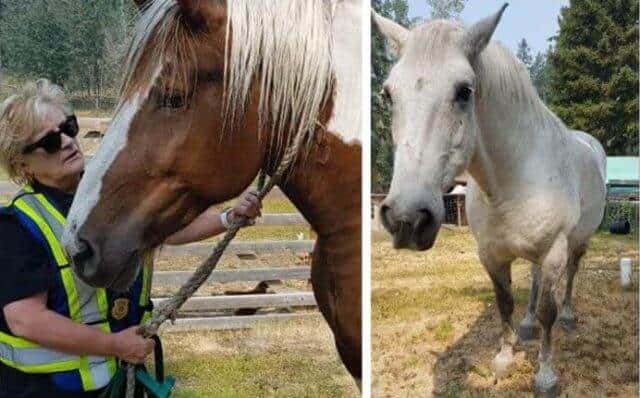 Upon their arrival at the BC SPCA, Poppy and Tony received veterinary care and a much-needed visit from a farrier. They were then transported to the Good Shepherd Barn in Surrey for continued care. In addition to their hoof issues, both horses required dietary therapy as a result of their past neglect.
"Hooves don't get that overgrown overnight – they were neglected for a lengthy period of time to be in that sort of condition," BC SPCA senior animal protection officer Eileen Drever said. "We're grateful we came across them during our work behind the fire evacuation lines – they're in a lot less pain and they've totally bloomed in our care – they can actually walk now, where before they were wary of moving because of the pain."
Poppy was soon adopted, but Tony remains in foster care, awaiting his forever home. Drever says he is still a bit shy about having his hooves touched, but he gets along wonderfully with other horses.
Drever reports the BC SPCA will be recommending charges of cruelty against Poppy and Tony's former owner.
If you are interested in learning more about Tony or arranging a meet-and-greet, email [email protected].
H/T & Featured Images via BC SPCA