Teaching your horse how to stay still is one of the most important skills you can teach it. This makes the horse more enjoyable and productive. Some horses get nervous easily, while others don't. Horses that quickly get nervous are hard to train.
There can be several reasons why a horse can't stay still. Some are naturally anxious or easily distracted, while others have negative experiences from the past. Before starting with the training, you must address the underlying issue.
To train these kinds of horses, here are seven proven methods to make sure your horse stands still:
Jump to:
1. Desensitization Training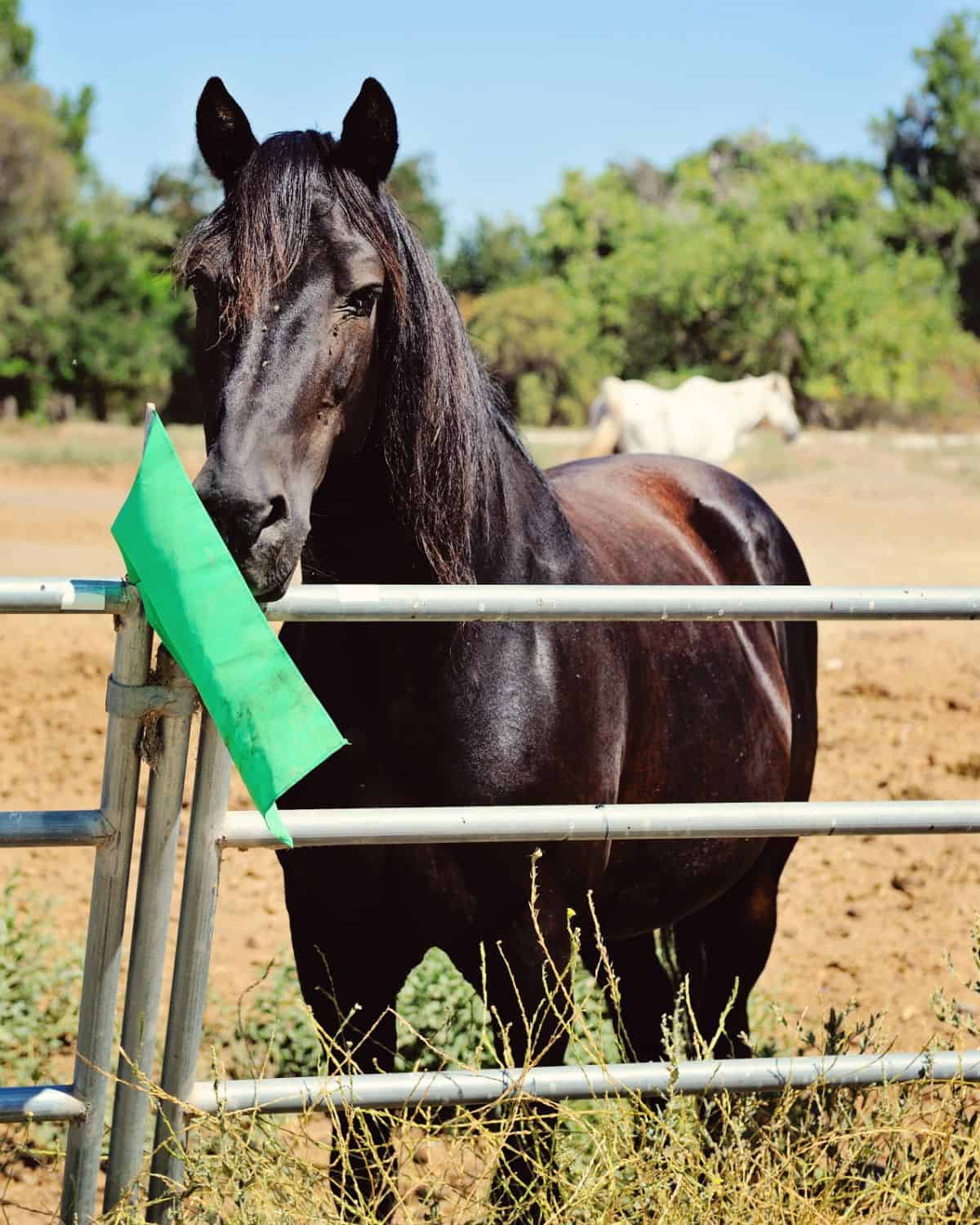 Desensitization helps horses relate better with their owners. Horses are naturally prey animals and hence are sensitive to touch and smell. Desensitization helps them not be fearful but calm when stressed, i.e., exposure to a new touch or smell.
This process involves introducing your horses to new objects. Start small with things with fewer stimuli, then move to more intense ones. This way, the horse will gradually get used to new objects.
One way of doing this is using plastics or objects that make little noise to calm the horse when there is much noise in the background.
Another way is to introduce your horse to animals like dogs or chickens. This will help them create a better relationship with other animals and react better to new sights and sounds.
Be sure to notice levels of tension, changes in eye movement, and facial expressions of the horse. Take your time so as not to fluster the horse.
Overall, if you own a horse, you must go through desensitization to them. This creates a better owner-horse relationship and makes your horse less reactive to new environments.
2. Leading and Tying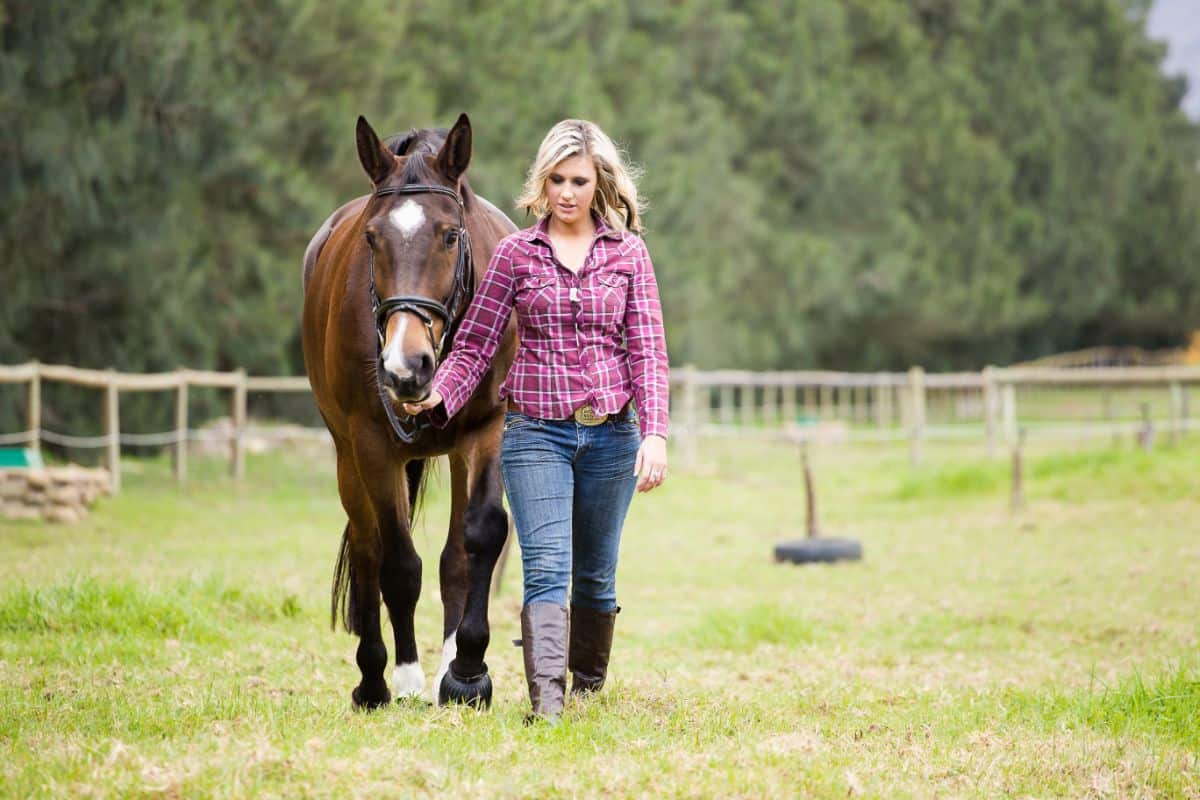 Leading and trying involves tying the horse to a pole or rail and making them follow you calmly on a lead rope. This is to ensure they don't run off and cause harm to others. This can be useful during an event where they are in a new environment.
Start this process by introducing the horse to a lead rope. The lead rope should be fastened securely to a stable structure, so it doesn't move when the horse moves. When fastening, ensure the lead rope is at the same level as the horse's eye so that the tail part on the rope doesn't keep bothering the horse.
Do it in an enclosed and quiet place so that the horse can feel comfortable and not nervous about its surroundings. Gradually start introducing distractions after that. Use a calm and collected voice and praise them for their excellent work.
The right type of knot is essential to this process. A quick-release knot can enable you to release your horse quickly, while a bowline knot is more secure for extended periods. If you intend to leave your horse unattended, always ensure they are well hydrated and securely tied.
This process is necessary to ensure your horse is a well-behaved and safe companion.
3. Ground Tying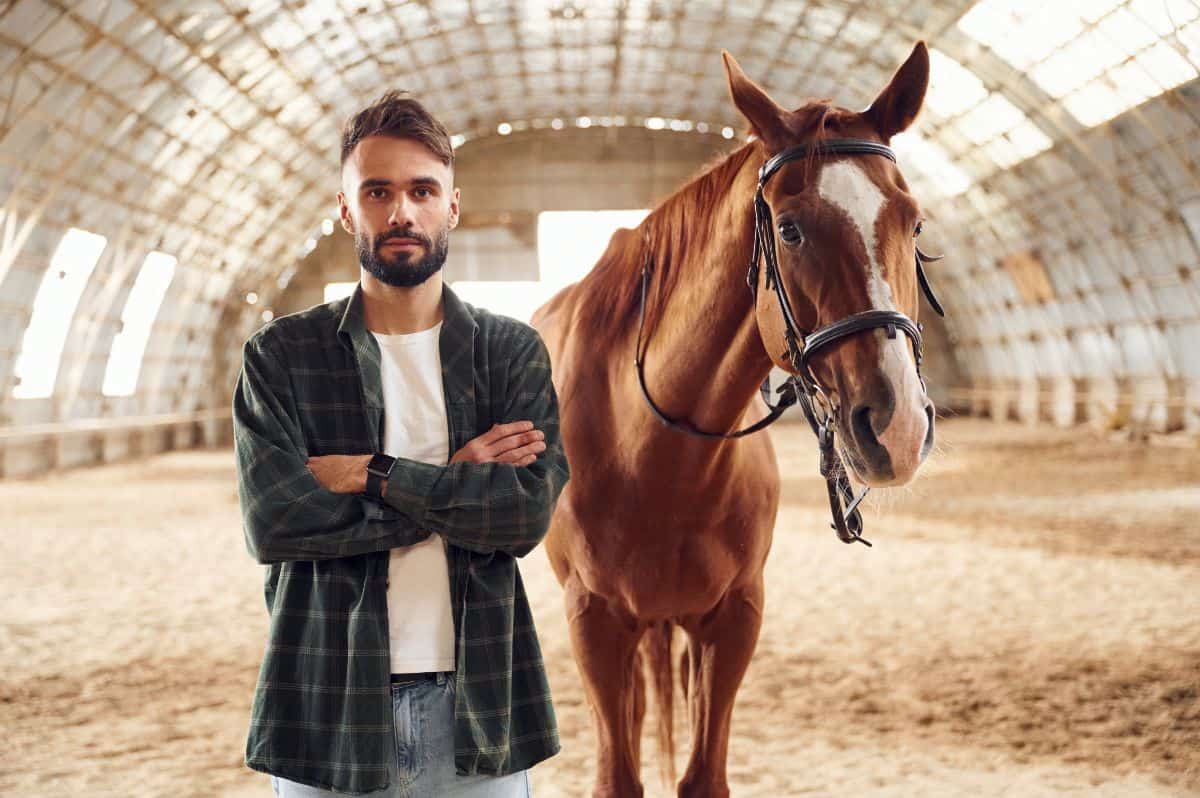 This is a technique where you train your horse to stay still by word of mouth rather than using a lead or rope. This is useful when leaving your horse unattended for a short period while dismounting.
You can start using commands like "stand" or "stay." Wait a few seconds and praise the horse by giving it a treat. You can also leave them unattended for a while. Petting them before walking away also helps. Remember, always start small and gradually increase the number of times you use the command.
Just like with lead tying, use a quiet environment with minimum distractions, which enables the horse to focus on the command. Also, find different ways to reward them. For instance, give them treats or just a gentle pat on the head.
Groundwork is essential not just for your horse but for you also. Other than preventing your horse from moving, it will help you leave your horse unattended. Furthermore, it also strengthens the bond between you and your horse through positive reinforcement training.
4. Lunging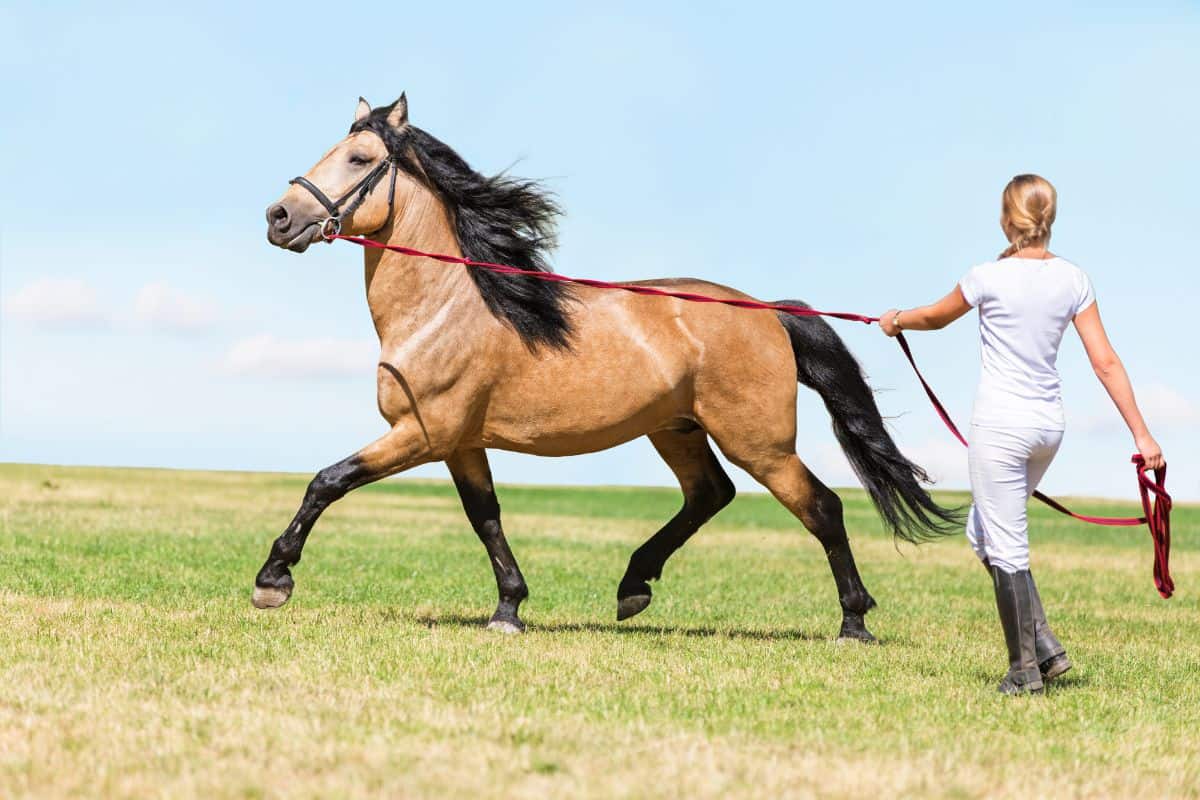 Lunging is a way to exercise your horse and bond with it. It helps improve balance and coordination, and obedience with your horse.
First, you need a properly fitting halter and a long lead rope (at least 20 feet long). You also need a secluded open place to perform this exercise.
Once you set everything up, you attach a long lead rope to their halter. Then you can start by standing at the center of the enclosed area and command the horse to move around in a circle. You can accompany the use of whips or a long stick to make your horse change direction or move forward. Once it has covered the basics, you can encourage it to move faster.
It is also encouraged that you change the direction and speed of the circle. Further, you can incorporate various obstacles in this training to keep your horses engaged and challenged.
When doing this exercise, you need to focus on the body movements of the horse. Are they properly following your commands, or do they need clarification? The problem could be an ill-fitting halter, sore muscles, or you need to train the horse better.
5. Backing Up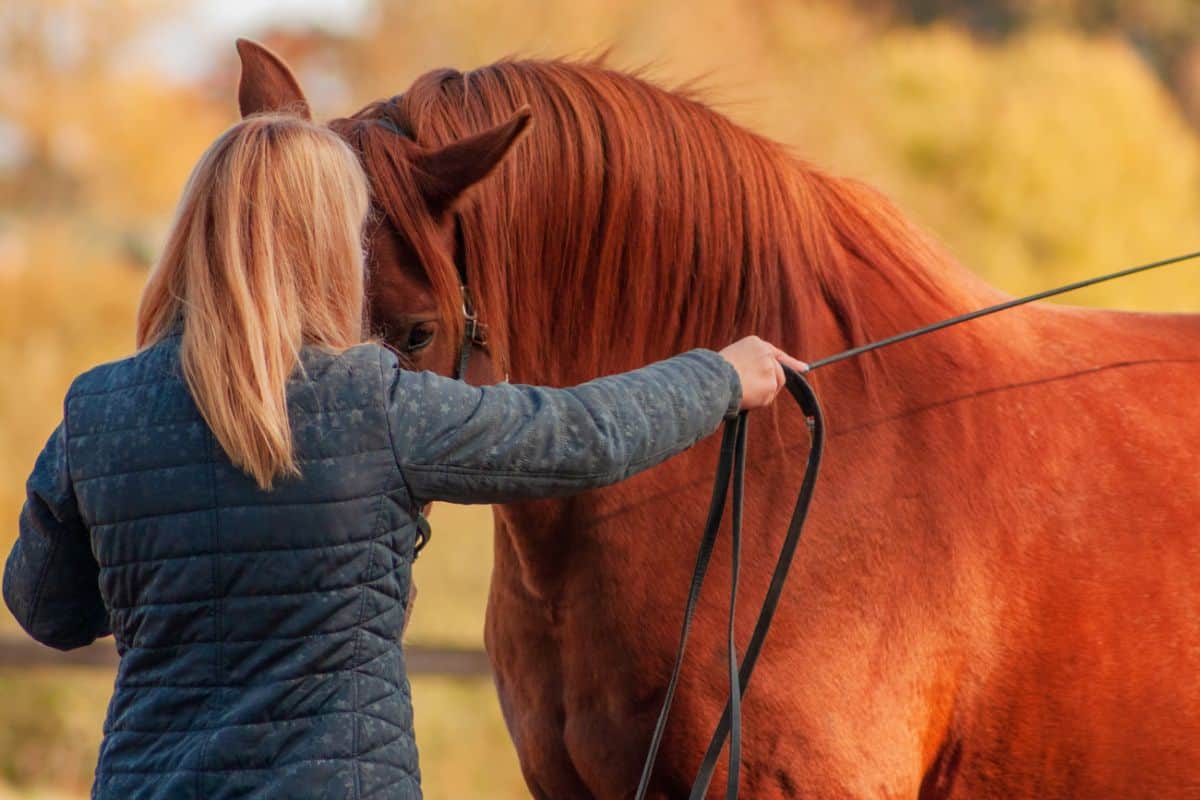 Backing up is a crucial training process, especially when dealing with an aggressive horse. It helps you avoid obstacles. You can use different methods to train your horse to back up.
One way of doing this is by applying pressure to their chest or shoulders, forcing them to back up. If they even take one step backward, reward them. Repeat this several times and gradually increase the distance they are supposed to back up.
Another way of making them back up is using the verbal cue "back up." Repeat this several times until they associate the word "backup" with moving a few steps backward.
Teach your horse to back up in different environments. You can also add various obstacles or distractions to make training more challenging.
This method will keep your horse still and ensure their safety when faced with obstacles.
6. Being Patient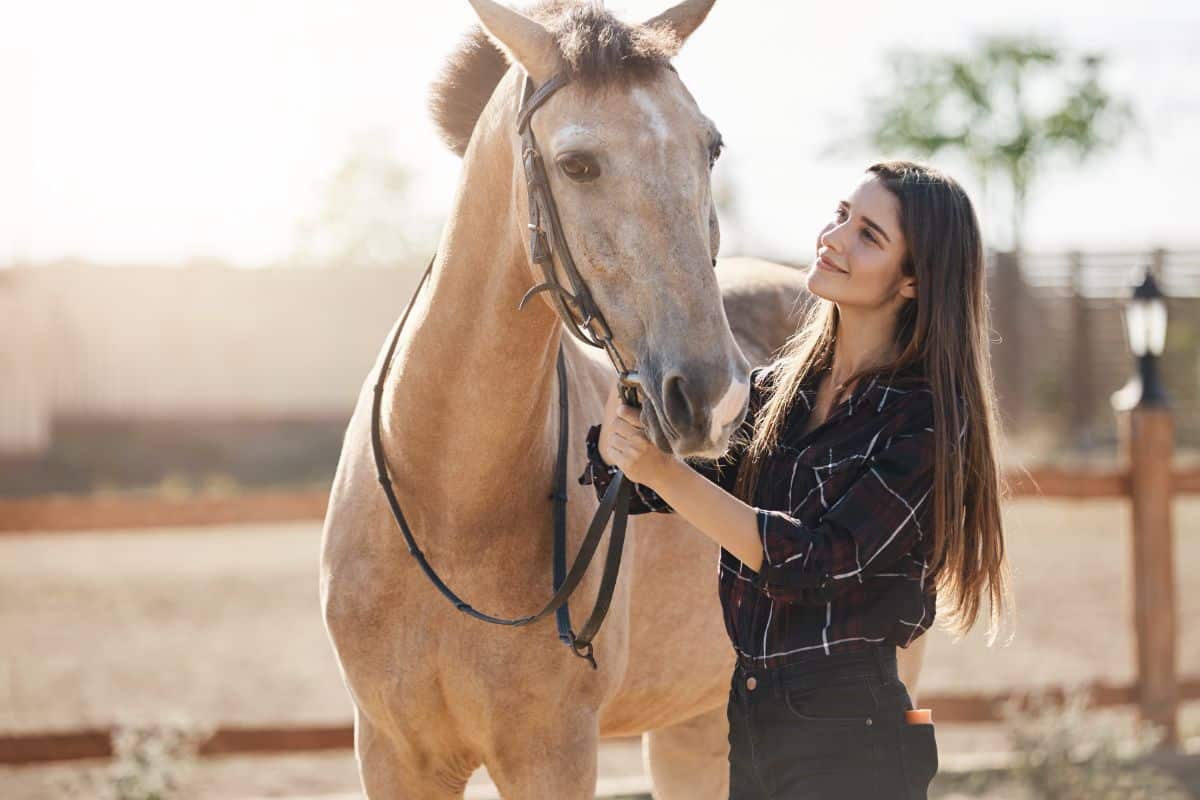 Training your horse takes a lot of patience and persistence. Training won't just last days but can take weeks or months. Break up the activities into smaller manageable steps. This will ensure you hit all the checkpoints. Start by trying to make your horse stay still for a few seconds and then gradually increase the time.
You don't need to rush the process even when you aren't getting results as quickly as you'd like. Staying calm will help you handle the frustration. Remember, every horse is different and takes their own time in training. Don't compare your horse to other horses.
7. Using Positive Reinforcement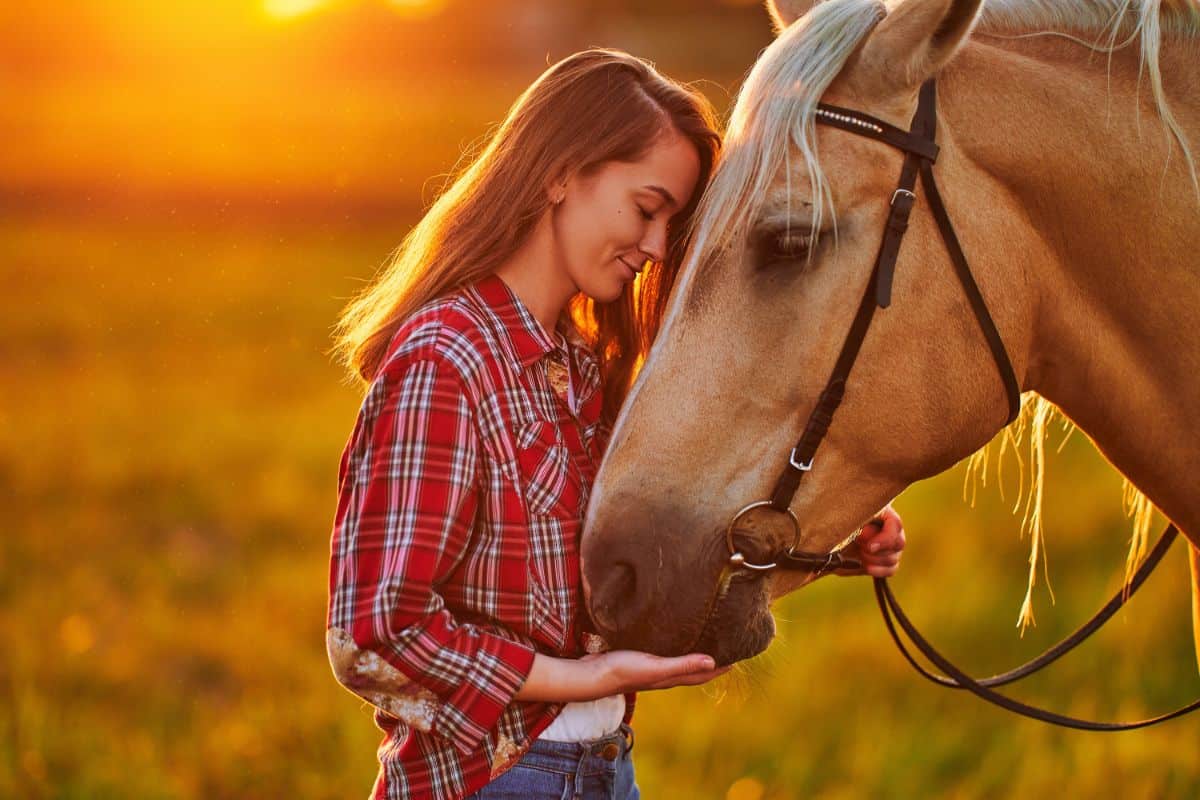 Positive reinforcement includes rewarding the horse for good behavior. These rewards include verbal compliments, giving treats, or a pat on the head. This type of training method is usually associated with the training mentioned above.
The reward must be given immediately after the good behavior. This makes your horse believe it will get bonuses if they do said behavior. Hence they will repeat said behavior, i.e., stay still. Positive reinforcements further create a positive relationship between the owner and the horse.
Also, ensure that you are consistent with the rewards, as it helps the horse continue doing good.
By using this tried and tested method, you can ensure that your horse is a safe and trusted companion. It is crucial to create a deep bond with your horse before starting the training so that it can trust you.
In addition to the above methods, you must ensure your horse is well-fed, hydrated, and given medical attention when required. This will make training more manageable as the horse will have no underlying health issues.
Overall, training your horse requires effort and dedication. It isn't a one-time thing but a long process.