Zaiden Beattie may seem like every other second grader at Winterberry Charter School in Anchorage, Alaska, but he is one of several hundred kids in the United States who lives with Ataxia-telangiectasia, or A-T. It is a genetic disease that will eventually rob Beattie of balance and muscle control, and it will also compromise his immune system.
Kristen Seiff, his teacher, told Alaska Dispatch News that the disorder is caused by a missing protein in the cerebellum, adding that eventually he will not be able to move, speak, or swallow. He will be wheelchair-bound and, as far as she knows, it's terminal.
So the family has been waiting for someone very special to not only help Zaiden with balance and support, but to be a constant friend: Gwendolyn, a trained miniature horse service animal.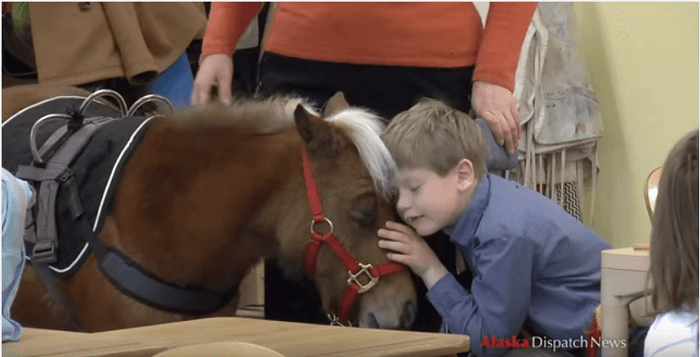 "Why a horse and not a dog is probably my number one question," Lesley Zacharias, Zaiden's mother, told Alaska Dispatch News. "Any condition that affects the balance where you need an animal that's stout and is gonna have some body mass to counter-balance if someone falls down, [a horse] is a way better choice than a dog."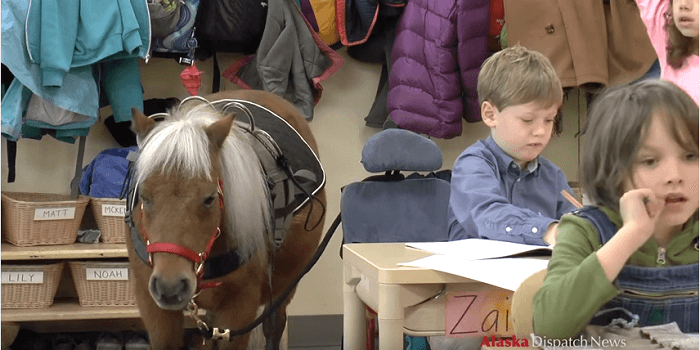 At recess, Gwen goes "off duty" and the kids can pet her and ask questions, which is a great way to get kids used to diversity:
Watch the full story below:
It's always amazing to see these stories, of how an animal can make someone's life better, especially when they are dealing with a life-altering condition. Gwen might be tiny, but she is doing something HUGE for her little boy.