After a frightening rescue from a frozen lake in Pennsylvania, two Clydesdale horses, Wilhelm and Gunther, are back on their feet at Quiet Valley Living Historical Farm near Stroudsburg.
The pair of fifteen-year-old horses were rescued just after they managed to wander outside of their home at the farm. The pair found themselves in a deadly situation as they both fell through the ice of the frozen lake nearby. Thankfully, a neighbor spotted the equine duo just in time and called for help.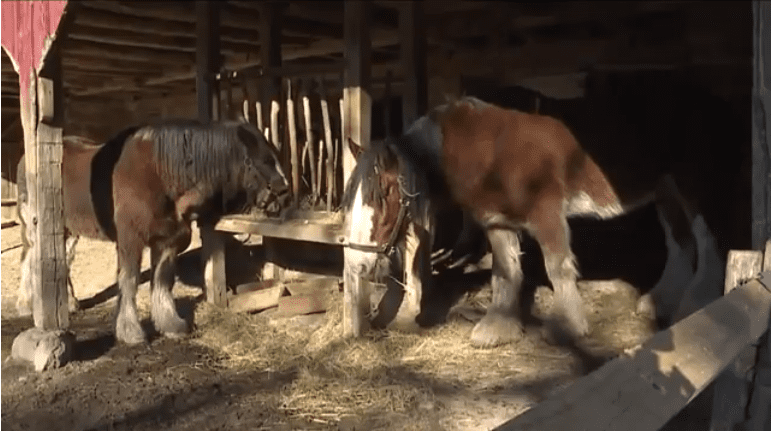 Their dramatic rescue was no easy task. Many rescue teams worked together quickly to help save the two large horses from certain death.
"There was no way we were gonna pick them up, put them on the ice, and slide them out on a boat," explained Chief Leon Clapper, Blue Ridge Hook & Ladder Fire Company.
Quiet Valley Living Historical Farm took to their Facebook page to send a public "thank you" to the brave men and women who risked their own safety to save these beautiful horses...
The rescue teams used ice picks and chainsaws to cut through the frozen lake in Hamilton Township near Stroudsburg. Digging a makeshift trench to bring the horses to dry ground, veterinarians and volunteers awaited the horses to get them dry and give them necessary medical attention.
"We were really nervous because we didn't know how long they were there. We didn't know if they were standing or if they were treading water. It turned out they were resting on a little hillock so they didn't have to tread water the whole time they were there," said Katherine Muller, Quiet Valley Living Historical Farm. "Just like people, if we fall into the water we can get hypothermia, so can horses, so we were really nervous about that."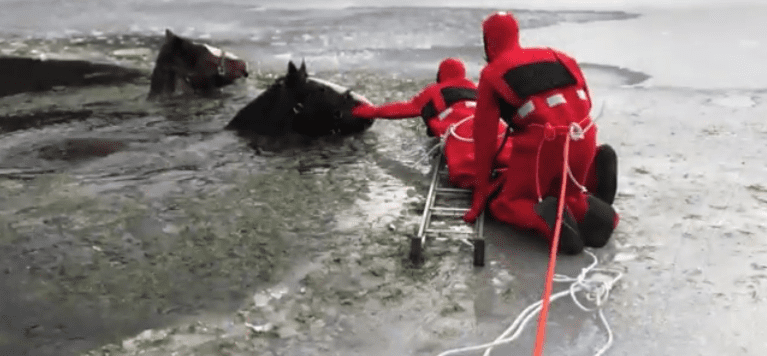 Since the time of the incident this past Saturday, veterinary professionals have been keeping a close eye on the horses' health. Clearly an incident like this can be deadly for many reasons. Muller is relieved to know that neither of the horse's are experiencing signs of colic or organ failure.
"I was worried if they were gonna have any issues getting up in the first place, but luckily they both did that pretty quickly, which was incredible, and then we always worry about muscle damage and soreness from the exertion of trying to keep themselves afloat," tells Kelly Corcoran, Cross River Veterinary Service.
The people of Quiet Valley reported to the local news that Wilhelm and Gunther are being treated for minor bumps and bruises, and that they are also in need of new shoes because theirs became detached as they exited the icy water.
"It was good to see they had a good appetite and have them both on their feet. That's always an important sign for a horse," says Deborah DiPasquale of Quiet Valley Farms.
Watch their dramatic rescue here...
Muller serves as the director for Quiet Valley, and she believes that something must have spooked her horses which caused them to wander off into dangerous territory.
For the next few weeks, veterinarians will be routinely checking on the two Clydesdales, and Quiet Valley is asking for donations from the people to assist with the associated veterinary costs.
As it states on their website, Quiet Valley Historical Farm is "a non-profit, living history museum preserving 19th century Pennsylvania German agricultural heritage. Period dressed interpreters portray descendants of Johann Depper, re-enacting daily life on the farm."
See their public plea below, which they've shared with their Facebook followers...
We'd like to also give a special shoutout to the responders of Blue Ridge Hook & Ladder who work as 100% volunteers. These brave people deserve all the recognition in the world for doing what they do each day!
"Never in 54 years has this ever happened. We've never had an animal or a human lost in the lake, so this is a first," reported neighbor, Arlene Reading.
Many onlookers were reportedly emotional, and rightfully so, as they watched and waited and hoped that these beautiful horses would survive their deadly dilemma:
"There were tears because we were worried. They are beautiful, beautiful animals. Everybody worked together and got these horses out safely."
For now, the people of Quiet Valley have surveyed the perimeter to ensure the horses will not make a habit of escaping:
"We repaired all the fencing yesterday, so we're gonna reinforce it over the next week or so and keep a closer eye on these two troublesome ones," Muller said.
I think we speak for every horse lover when we say that we sincerely hope a situation like this never happens again for Wilhelm and Gunther.