There are few things in this world that are sweeter than a foal nursing. It's just adorable. But when it's an orphaned wild horse that would have had a slim chance of survival had it not decided to nurse on the surrogate mare provided, well that's just the best thing ever.
On March 2nd, The Salt River Wild Horse Management Group (SRWHMG) came upon a lonely foal that had been attacked by the new band stallion and abandoned by the herd, according to the group's Facebook page.
"We could not leave it to die a long drawn out death," They explain. So instead, they took the foal in and a team of 30 SWRHMG foal handlers began the strenuous task of raising an orphaned foal. He needed to be fed every two hours, around the clock.
What they really needed was a mare.
And that's when they found April. April had lost her own foal after birth and was very distraught, looking for her foal. So, her owner agreed to lease her to SWRHMG to pair with the young horse.
Unfortunately, it didn't work as planned. Rosco, as they had named him, was now used to nursing from a bottle and wanted nothing to do with the mare.
But the team wasn't ready to give up. And after three days….Rosco finally showed interest.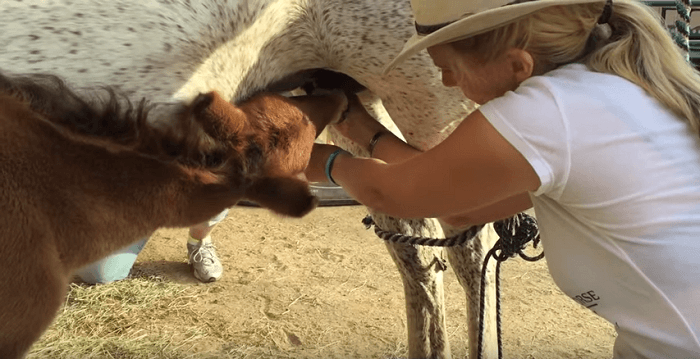 The below video, filmed by SRWHMG photographer Tyler Sichelski shows him finally latching on with the help of Simone Netherlands, the President of the SWRHMG.
The SRWHM are asking people to help them keep April so she can retire from being a broodmare and stay with Rosco. They also need to continue to pay for vet care and regular care of both horses. If you'd like to help, you can do so by donating here.